Kim Kardashian's quest for perfection continues as she plans extreme surgery to have a 22-inch waist, despite it causing serious issues with husband Kanye West
She's built an empire around her famous hourglass figure, and last week Kim Kardashian flaunted her impossibly tiny waist in LA – leading fans to label her "unnatural" and "grossly out of proportion" as she showcased her extreme curves in a skintight look.
And despite boasting about achieving a 24-inch waist last year, pals say the reality star is considering having two ribs removed to shed another two inches off her midsection, after being told it's "physically impossible" to achieve a 22-inch waist naturally.
A source says, "Kim's obsessed with having the world's most extreme curves and is constantly pushing boundaries when it comes to her body, which she knows is her biggest and most valuable asset.
"She wants to emulate her biggest idol, '50s pin-up Betty Brosmer, who was famed for her 18-inch waist. And although Kim knows her bigger frame makes that unachievable, even with surgery, her goal is to get as close as she possibly can."
Check out: from Katie Price to Kim Kardashian - celebs who look shockingly different after plastic surgery
"Kim's tried everything, from waist training to special diets and exercises, to procedures including laser and liposuction to shrink her midriff, but she's fed up of not seeing any real changes over the last year and says surgery is her only option."
Rib removal surgery – where the eleventh and twelfth floating ribs are removed to create a slimmer waistline – is considered a drastic procedure that most certified surgeons in America won't perform due to the risks involved. It leaves vital organs exposed and unprotected and can lead to infection, excessive bleeding and wound-healing problems.
Celebrity surgeon Mark Ho-Asjoe says that while the rib removal procedure would be extremely difficult to get in the UK, US surgeons are a lot more lenient. He says, "I think UK and European surgeons would struggle with the ethics of it, as it's difficult to justify.
"Also, it's a fairly complex procedure and very rare, so I suspect surgeons would be reluctant to do it in case it goes wrong on medical counts. In the US, surgeons are willing to go to further extremes – as long as the patient is willing to pay for it."
Read more celeb news
X Factor's Emma Chawner shows off new figure after dropping 12 STONE in two years
Watch: Spencer Matthews reveals Made in Chelsea secrets producer don't want you to know
But pals say Kim, 38 – who shares North, six, Saint, three, Chicago, 18 months and one-month-old Psalm with Kanye West, 42 – won't be deterred, and is even keeping it a secret from her husband, whosemum Donda died from complications after undergoing plastic surgeryin 2007 at the age of 58.
The rapper – who's previously said he blames himself for his mum's death – has openly battled with mental health issues over the years, admitting to an opioid addiction, suffering from a breakdown in 2016 and revealing his struggles with bipolar disorder.
And pals have urged Kim – who's reportedly endured numerous marital problems, and has had to shoot down divorce claims after the Chicago-born rapper announced he was leaving LA and moving back to his home city – to come clean.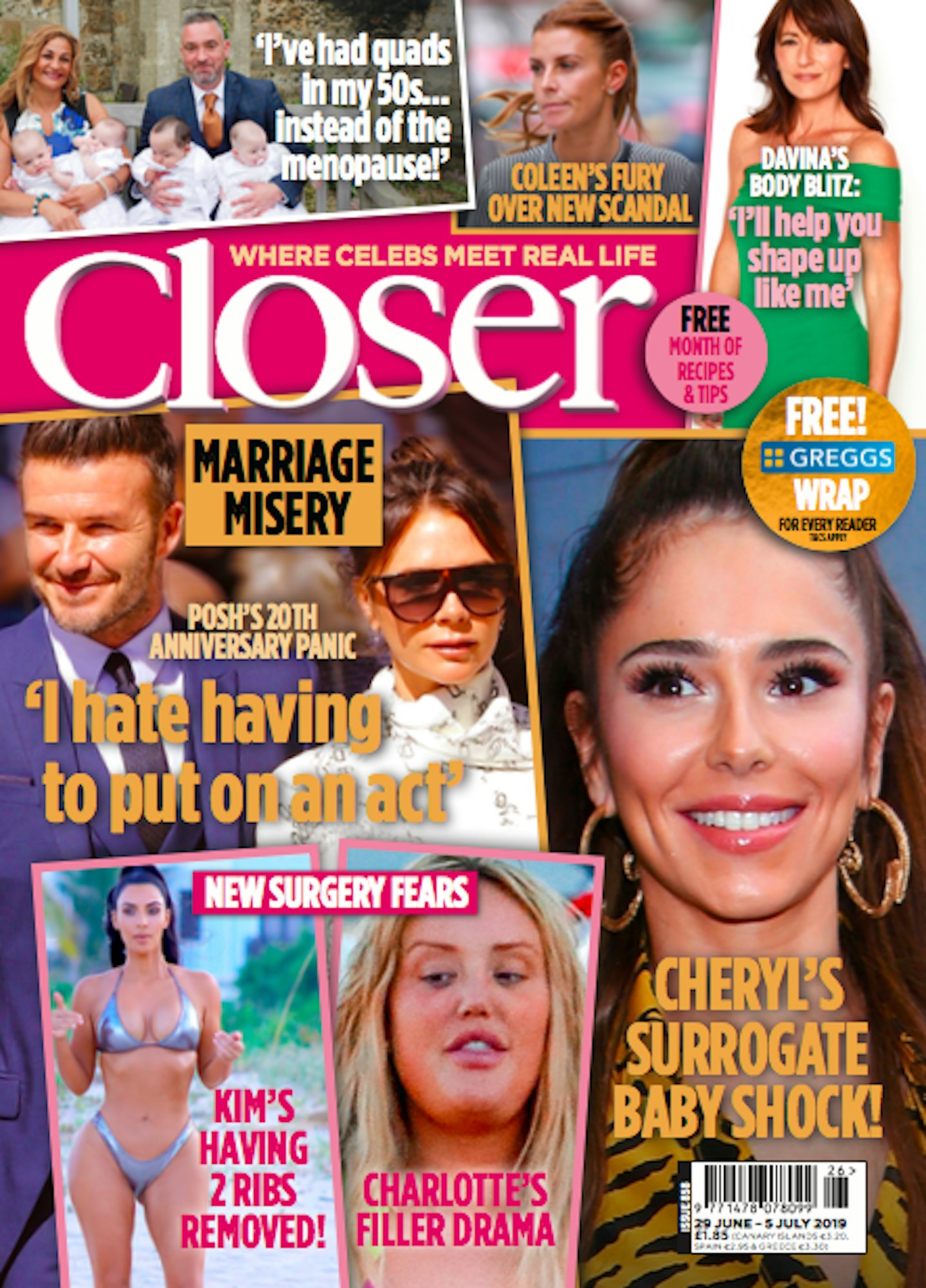 The source adds, "Everyone's warned Kim against undergoing such extreme surgery, let alone keeping it from Kanye, who will not only be furious with her, but will feel incredibly hurt and betrayed.
"It devastates Kanye that his mum died after undergoing an elective surgery to change the way she looked, and he'd never forgive Kim for doing the same – let alone hiding it from him, which would no doubt cause serious issues if not the end of their marriage.
"Kim insists she'll do it when he's away, so she can recover before he's back from his latest work trip and says that what he doesn't know won't hurt him. But pals have told her she'll risk everything and have urged her to think again as she could potentially be making the biggest mistake of her life."
Read even more incredible celeb news in this week's Closer magazine - out now.