November has arrived which means a few things here at Closer HQ: Christmas sandwiches in the office, the Christmas TV ad wars have begun, Toffee Nut Lattes are once again our drink of choice, and a Real Housewives of Cheshire special is just around the corner.
This year, a select few of our Cheshire Queens old and new – including Rachel Lugo, Lystra Adams and even OG Housewife Ampika Pickston – filmed a wild mini break at Manchester Pride and we can hardly wait to witness the campery they got up to/where the heck was our invite girls?
Missing out on last year's Christmas cruise hurt, but missing out on Manchester Pride HURT.
The special is due to air on ITVBe and ITVX later this month (at least according to some of the ladies), but let's clear up the REALLY important questions... Will Nicole Sealey be taking part in Pride special? Will she be taking part in series 17? Which of the cast is she currently friends with?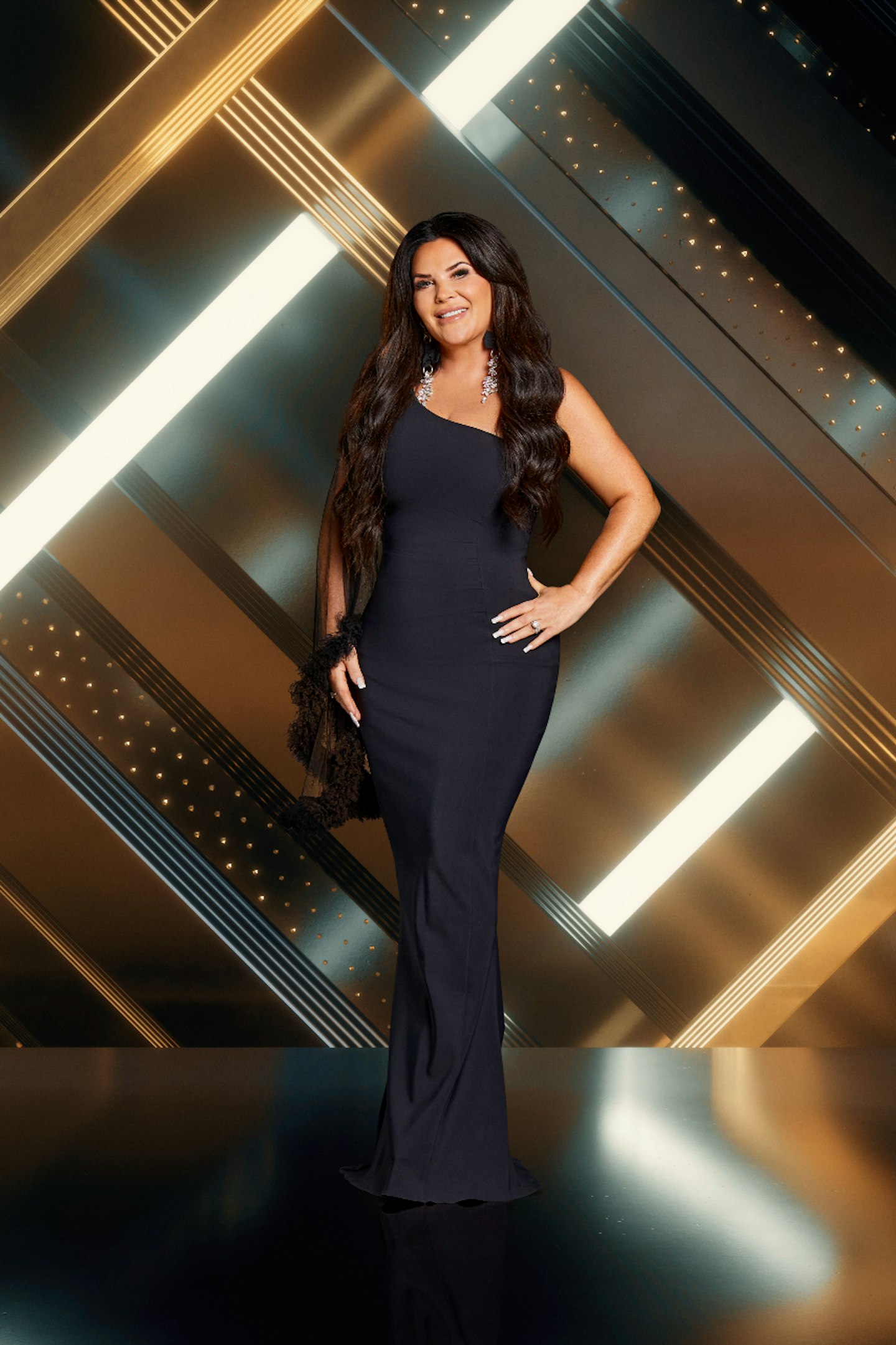 Okay... We think so. We hope so. Have you got three hours?
Has Nicole Sealey quit The Real Housewives of Cheshire?
Juicy questions first. We like you.
As far as we can tell, no. She was definitely present during filming for the Manchester Pride special in August. In fact, here's a cheeky snap of her riding the official RHOCheshire Pride float. We know... obsessed.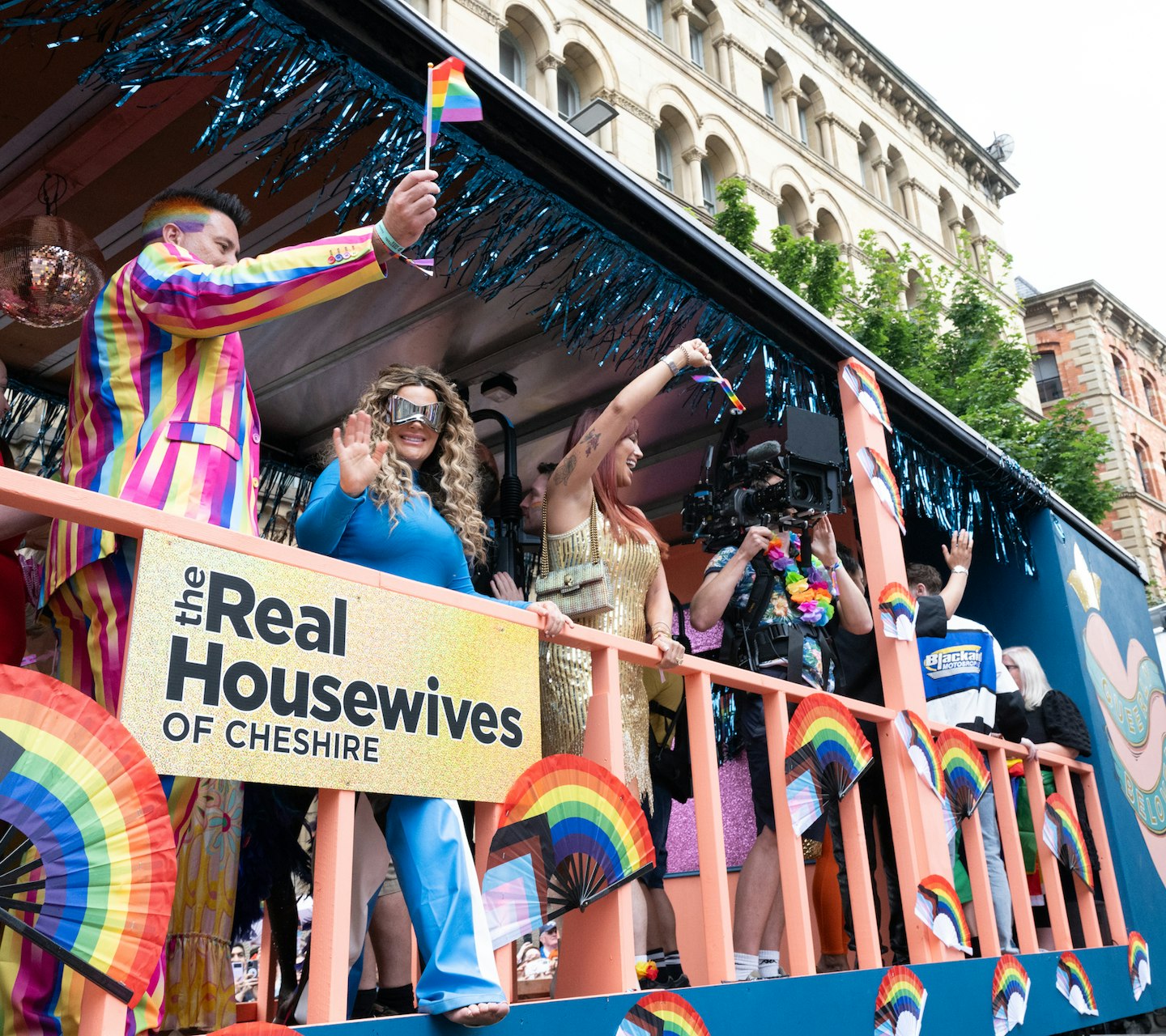 Whether Nicole returns to the fold to film scenes for series 17 remains to be seen, but that goes for all of the Housewives. Chances are contracts are being drawn up as we speculate.
This isn't the first fans have been left concerned over Nicole's Housewife status and to be fair, she storms off the set more than Lauren Simon spins in a new outfit and Rachel says shes's moving and then doesn't.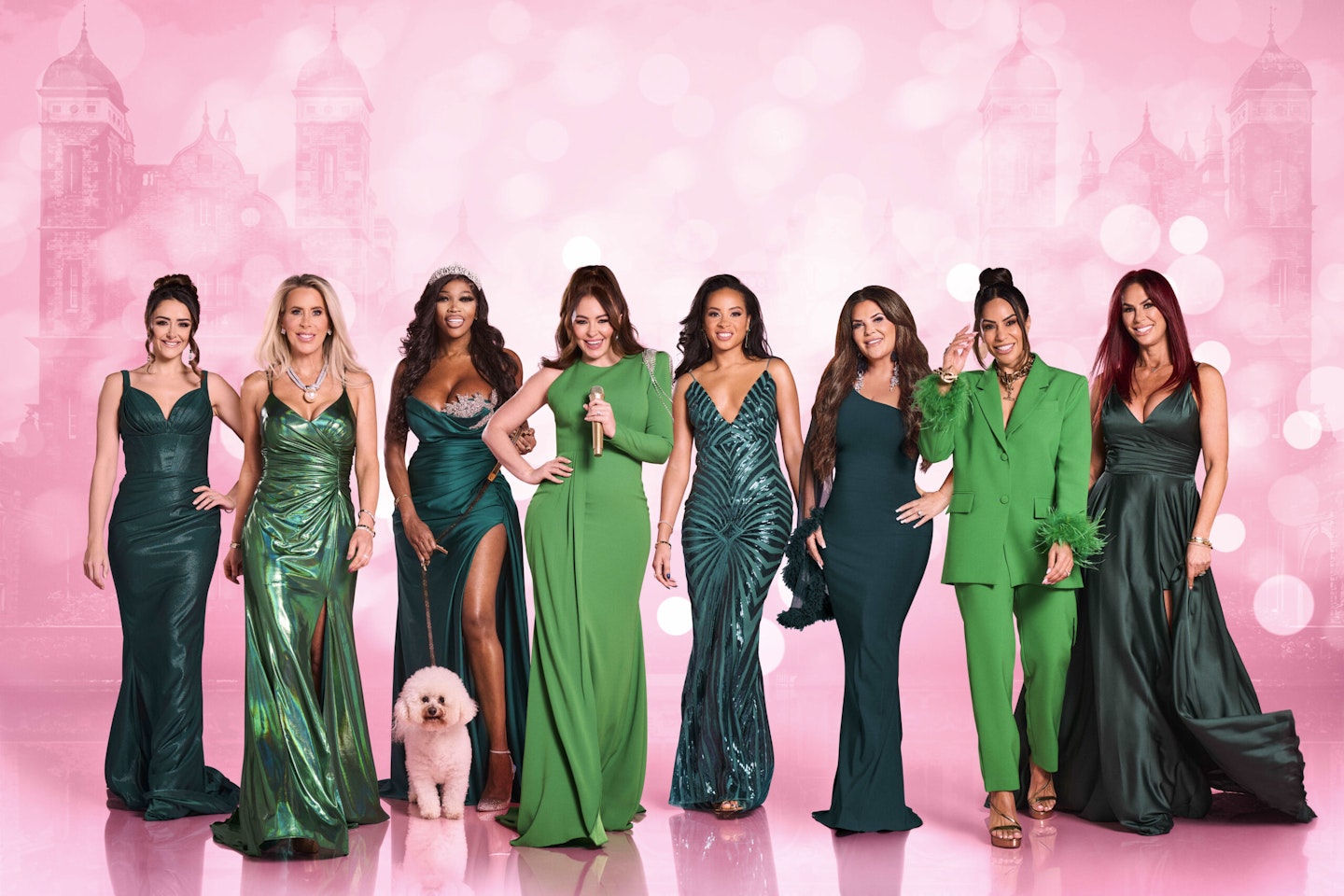 Earlier this year, the girls then began filming scenes for series 16 in and around Cheshire and Nicole was nowhere to be seen; appearing to have removed the show from her Instagram bio and going quiet on social media. It's become fairly common practice for the Housewives to promote the show in their Instagram bio in one form or another, and at the time of filming, Nicole's simply read, "CEO and entrepreneur".
Back in January, we were certain that Lystra, Rachel, Seema Malhotra, Lauren, and Sheena Lynch had all returned as fully-fledged Housewives for series 16. Hanna had also been spotted at a filming location with the aforementioned girls, suggesting that she is at least involved in the new series in a part-time capacity (she was actually a full-time cast member last series). The newest and youngest Housewife, Katie Alex, had previously suggested that she would be involved in the series, but perhaps not in a full-time capacity. But what about the drama? The moment? The icon? What about Nicole? We panicked.
We honestly still just want to hug Rachel for this one. Perhaps instead we'll just purchase one or two of the high-tech products she's constantly promoting on Instagram (because icon behaviour).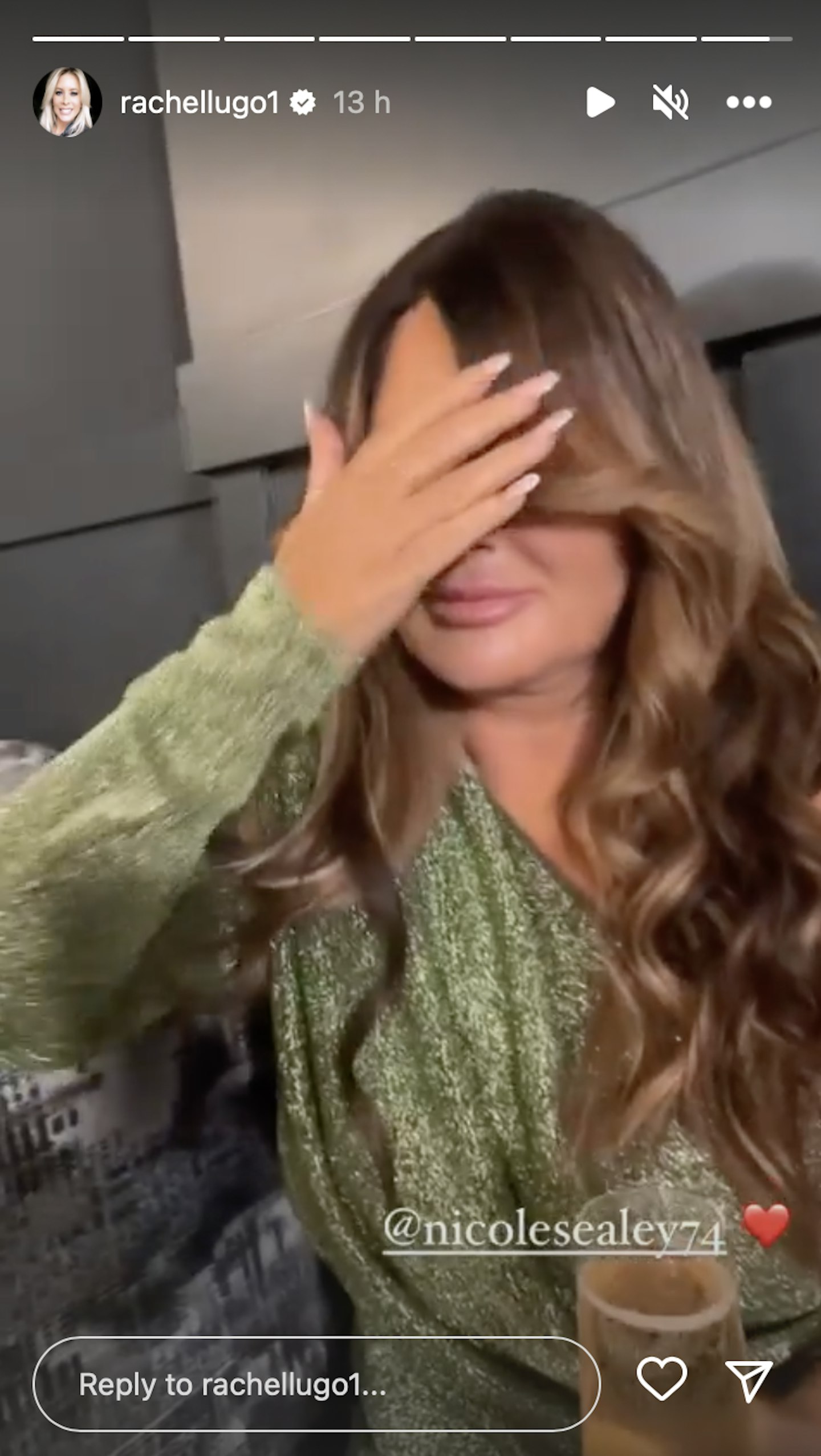 Earlier this year, Rachel took to her Instagram story to reveal that Nicole Sealey was, in fact, present while filming scenes on a girls night out with her and Lystra.
Not only that, but we got confirmation that she would be bringing the drama once again, thanks to another update on Nicole's Instagram...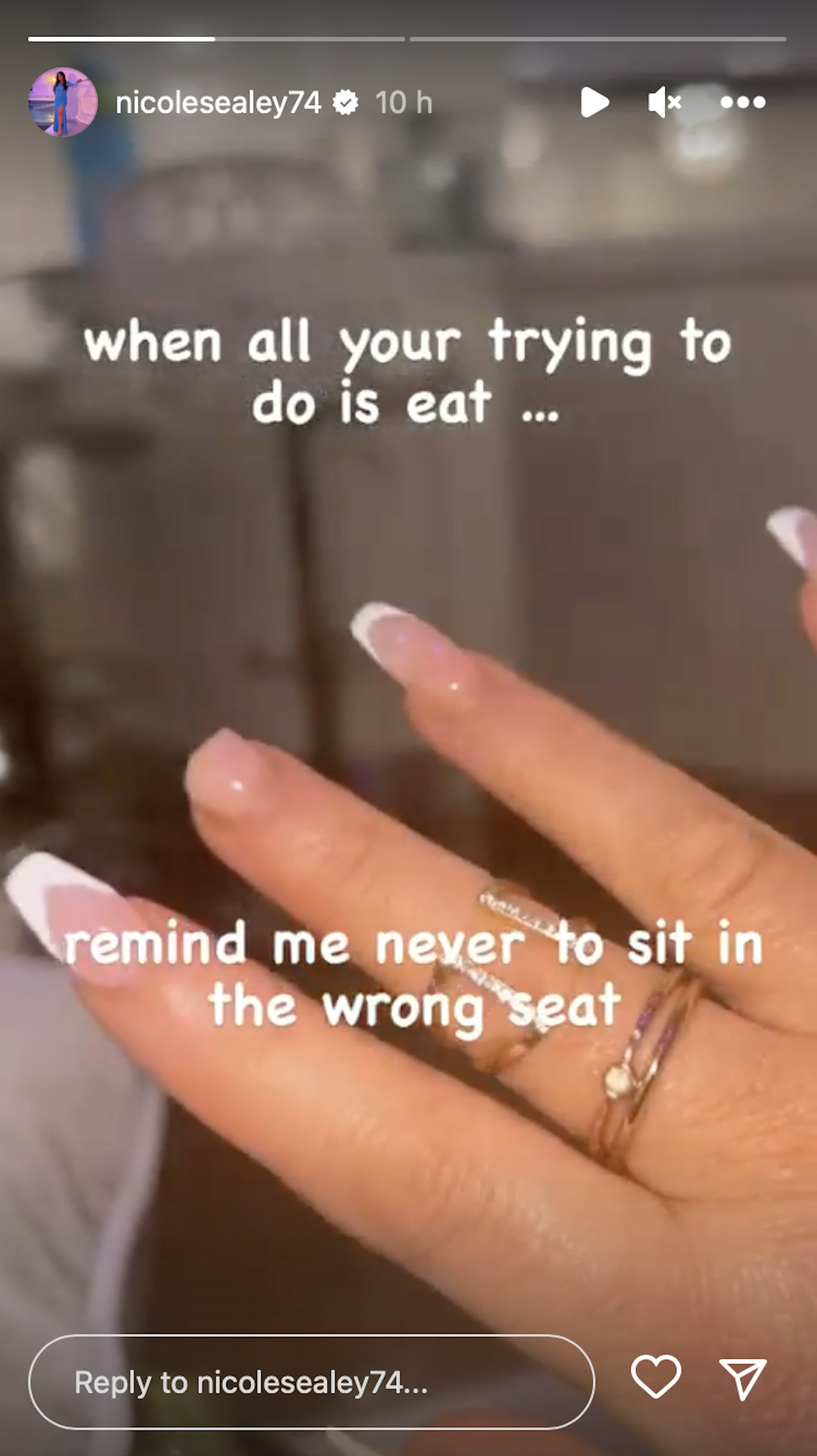 Around the same time as Rachel's post, the Housewife shared a picture of her broken nail (which was such a shame because that manicure is perfection) with her Instagram followers, captioning the image, "When all you're trying to do is eat.
"Remind me never to sit in the wrong seat."
And we all know what went down there...
Who is Nicole Sealey?
Nicole has appeared on the ITVBe show The Real Housewives of Cheshire for five series after joining the cast during season 11 in 2020 and is now one of the best known faces in Cheshire. The entrepreneur is the daughter-in-law of the late Manchester United goalkeeper Les Sealey.
Nicole regularly stuns her Instagram followers with her easy tips on how to look amazing.
Back in March, she shared a gorgeous pic of herself in a retro inspired Ralph Lauren bikini and Gucci shades from her trip to Dubai, she wrote, "Vintage with a touch of Gucci 👙 Just like me 💗".
Fans gushed over her amazing pic, with one writing, "Looking fantastic babes ❤️❤️❤️".
While another added "Omg 🔥 you are 👏 amazing ❤".
And when a third cheekily asked "You look fantastic, any diet tips? 😍", and Nicole gave her pretty impressive advice.
"Trying to steal your job," she joked, tagging her glam squad, "I even managed tip toes, decided to take pics far away the smaller I look".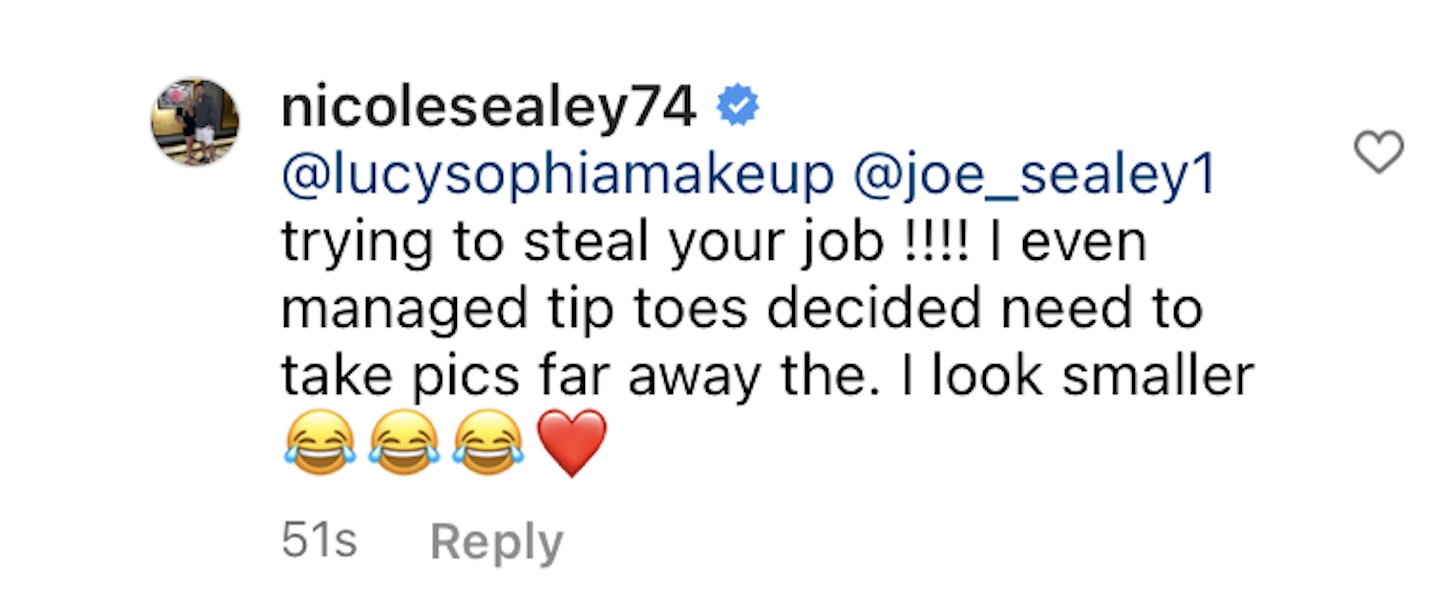 Why didn't we think of that?
"It's a good angle and the bikini has a cheeky bit that pinches the waist in, I also think the swelling in my TT [tummy tuck] has started to settle now, I just try moderation," she wrote.
"I'm going back to the one meal a day for a month and low carb it works for me xx".
How old is Nicole Sealey?
She was born in 1975 although her exact birth date hasn't been made public, which means she is either 47 or 48 years old.
Who is Nicole Sealey married to?
Nicole's husband is Joe Sealey, a former footballer who once played for West Ham. However, he stopped playing football at the age of 21 because of an injury, which forced him to leave the club.
Who is Joe Sealey's dad?
Joe's dad was a goalkeeper for Manchester United. He was Peter Schmeichel's understudy at Manchester United from 1992 to 1993, but he sadly died of a heart attack in 2001, aged just 43.
What is Nicole Sealey's business?
Nicole is a sports agent, looking after some of the most famous footballers and boxers in the country. She works alongside her husband in this role, as well as looking after their three children. The pair recently launched their own line of alcoholic drinks (a gin, a vodka, and a Prosecco) called Truth Drinks.
Who are Nicole Sealey's kids?
Nicole is a mum to her daughters Luka and Kira, and son Remi.
Who is Nicole Sealey's son?
It's safe to say that football runs in Nicole's family - her husband, dad and father-in-law were all professionals - and it looks like her son Remi is following in their footsteps too as he plays for Huddersfield Town.
How did Nicole Sealey get on The Real Housewives of Cheshire?
It's not known how Nicole Sealey was approached to be on the show. She may have been scouted by the programme's producers, or could have been put forward by one of her fellow co-stars.
How did Nicole Sealey lose weight?
Nicole who admitted that she put on a stone during the filming of a past series offered her advice to fans, revealing on Instagram how she managed to drop three stone, "Try recording your food in a diary and if you don't want to exercise just go for a walk instead don't put yourself under pressure."
Did Nicole Sealey have a tummy tuck?
Yes, Nicole underwent the procedure earlier last year.
What happened with Nicole Sealey and Lystra Adams?
It's no secret that when Nicole joined the show the series after Lystra did, they didn't exactly get on.
After one explosive confrontation where Lystra bizarrely demanded that Nicole apologise to her coat, Nicole told us ahead of series 13, "I think you'll find a little bit of a rollover [with the Lystra Adams situation, because stuff wasn't resolved.
"At the time I actually didn't bring it to the table, and I had that information for quite a long time. It kind of came out organically later on. Obviously, not by me, and so I wasn't that bothered either way about what's going on there."
However,viewers have since noticed the pair appearing pally on social media, and in September 2022, their co-star Hanna Kinsella told us, "I think Nicole and Lystra are definitely in a much better place than they were at, they were at each other's throats for a while."
All is well that ends well, eh?
Not really. We don't actually remember them saying a word to each other in series 16. We do, of course, remember chairgate.
Was Nicole Sealey paralysed?
Back in February 2021, Nicole made the admission that she suffered partial paralysis of her arm for two years before she made her telly debut.
"I caught it in a gate. It got trapped and I crushed the radial nerve. It was paralysed for two years. I don't have complete movement, but I was lucky it repaired. It was a shock!
"When it happened they couldn't tell me if I was fully going to get it back, so I feel very lucky. I'm sure that with working out it's only going to improve."
Nicole Sealey's hair transformation
Nicole has always maintained her trademark long blonde locks, but in November 2021, she unveiled a hair transformation on Instagram after chopping her tresses into a bob. She wrote, "Making some changes this week and meaning business ! Create some balance both in work and health ⚖️ #mondaymotivation".
Nicole's fans and RHOC co-stars past and present took to the comments to compliment her, with Ester Dee saying, "Love it shorter 😍" and Tanya Bardsley writing, "O I love your hair like this 😍🔥❤️".
Another fan wrote, "I love it you look so young keep the look you don't look like everyone else X", while one more commented, "You look lovely! Less is definitely more beautiful 🌸🌸".
Months later, in March 2022, Nicole went one further and switched up her hair even more by dyeing her trademark blonde locks a dark brown shade.
For the last year or so, Nicole has opted for darker locks.
Does Nicole Sealey have Twitter?
She sure does and you can follow her @nicoletsealey.
Does Nicole Sealey have Instagram?
Nicole is more active on Instagram so why not follow her @nicolesealey74.
WATCH 'I Wasn't Being My Full Self': Kyle Richards Spills Real Housewives Of Beverley Hills Secrets
Ben Pulsford is a digital writer for Closer, a London-based drag queen called Beary Poppins and The Real Housewives of Cheshire would be his Mastermind subject. As would the hairstyles of Buffy the Vampire Slayer. In his spare time Ben likes to watch re-runs of The Real Housewives of Cheshire, making him the ideal Closer employee. He's still waiting for RHOCheshire bosses to invite him on a press trip - hint hint.