Well, hasn't this season of TOWIE been quite the drama-fuelled multitude of mayhem we were all after?
We are not exaggerating when we say the current TOWIE cast hasn't been this chaotic since Lucy Mecklenburgh threw a glass of red wine over Mario Falcone at a white party. We still play that on repeat in our heads on bad days.
The latest series has seen many of the stars make amends, namely Amber Turner and anybody who ISN'T Chloe Brockett.
Since splitting with Dan Edgar, Amber has built bridges with Saffron Lempriere and Harry Derbidge and although she said goodbye to her friendship with Chloe B she has also managed to make up with Ella Rae Wise. Hell hath well and truly frozen over.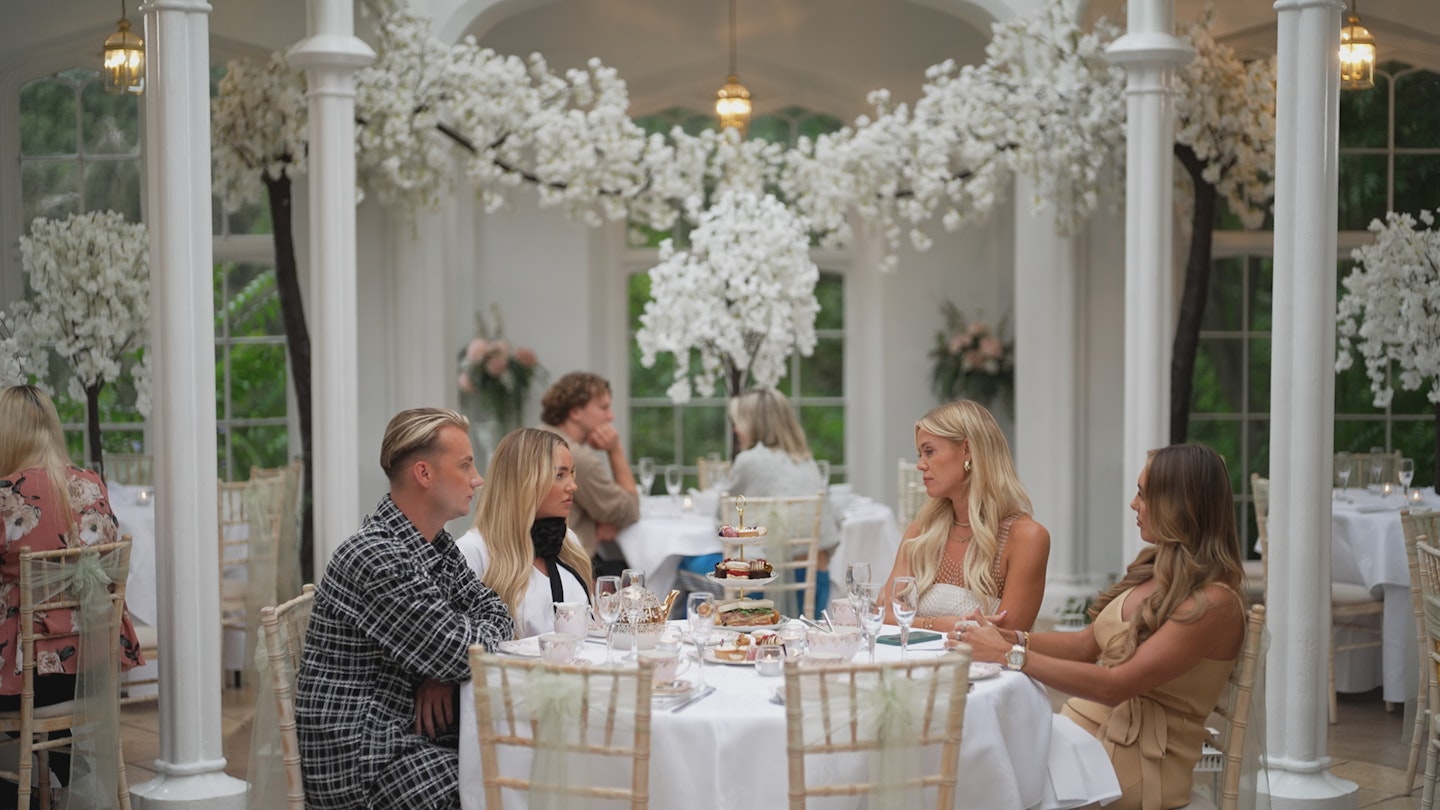 This also comes after Ella's fallout with her former besties Dani Imbert and Junaid Ahmed and although we thought perhaps the three could at least be amicable, it seems that is most certainly not the case.
The trio have been throwing shade at each other via social media posts and stories for months now and in a recent Q&A Ella opened up about friendships she is glad have come to an end and we have a sneaking suspicion she might be referring to Junaid and Dani.
A follower asked her, "Are you grateful that some friendships ended this year?"
Ella replied, "Wouldn't say grateful, I do have a heart and it was unfortunate. But when taking a step back and watching certain actions I'm fucking glad they have ended."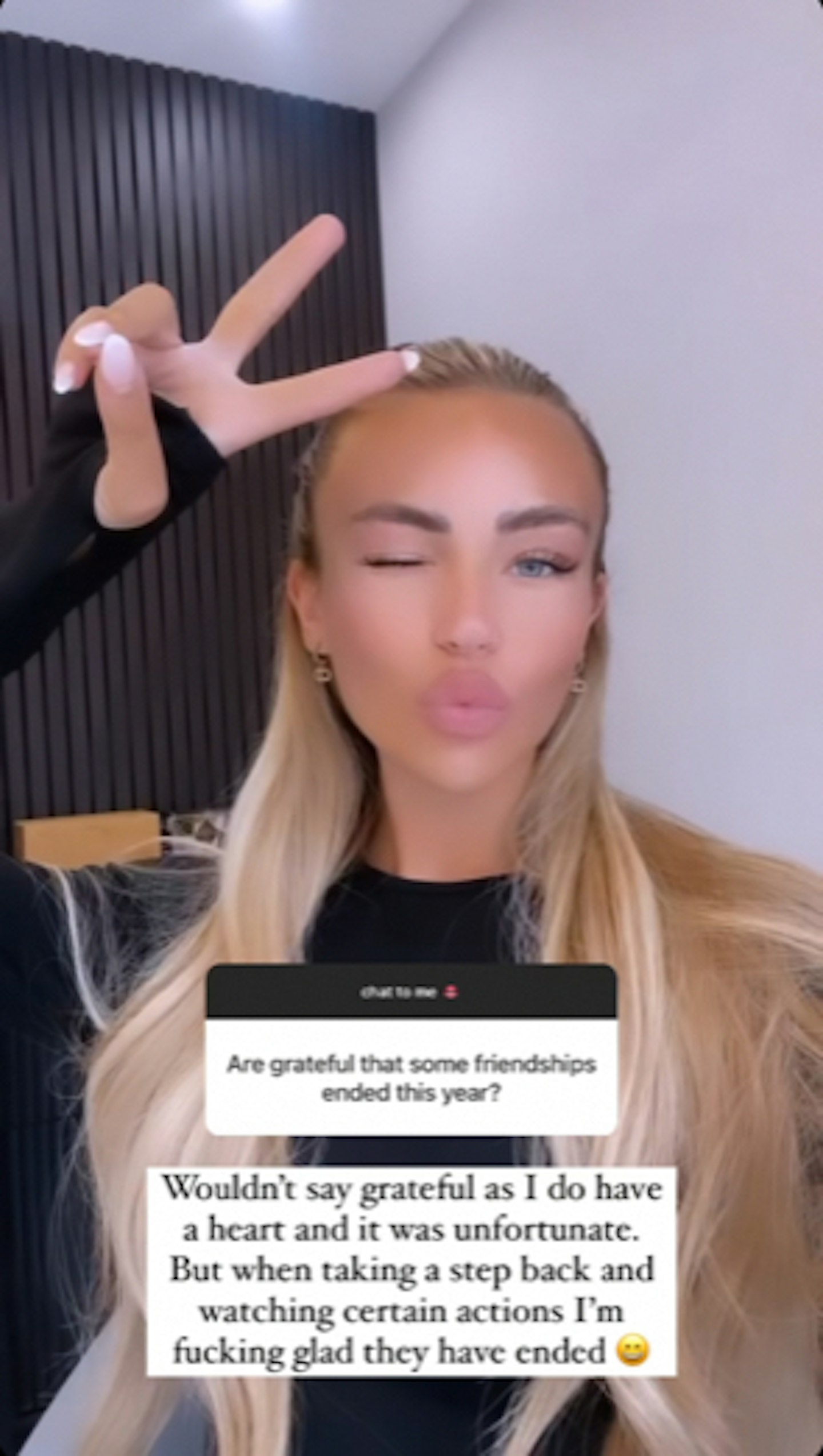 Damn, she did not hold back with that golden nugget of honesty and the shade continued when another fan quizzed, "How did you distance yourself from people that weren't happy for you? You look so happy now."
Ella went IN.
"I just knew to put myself first. Trust your gut. Why be around evil eyes?"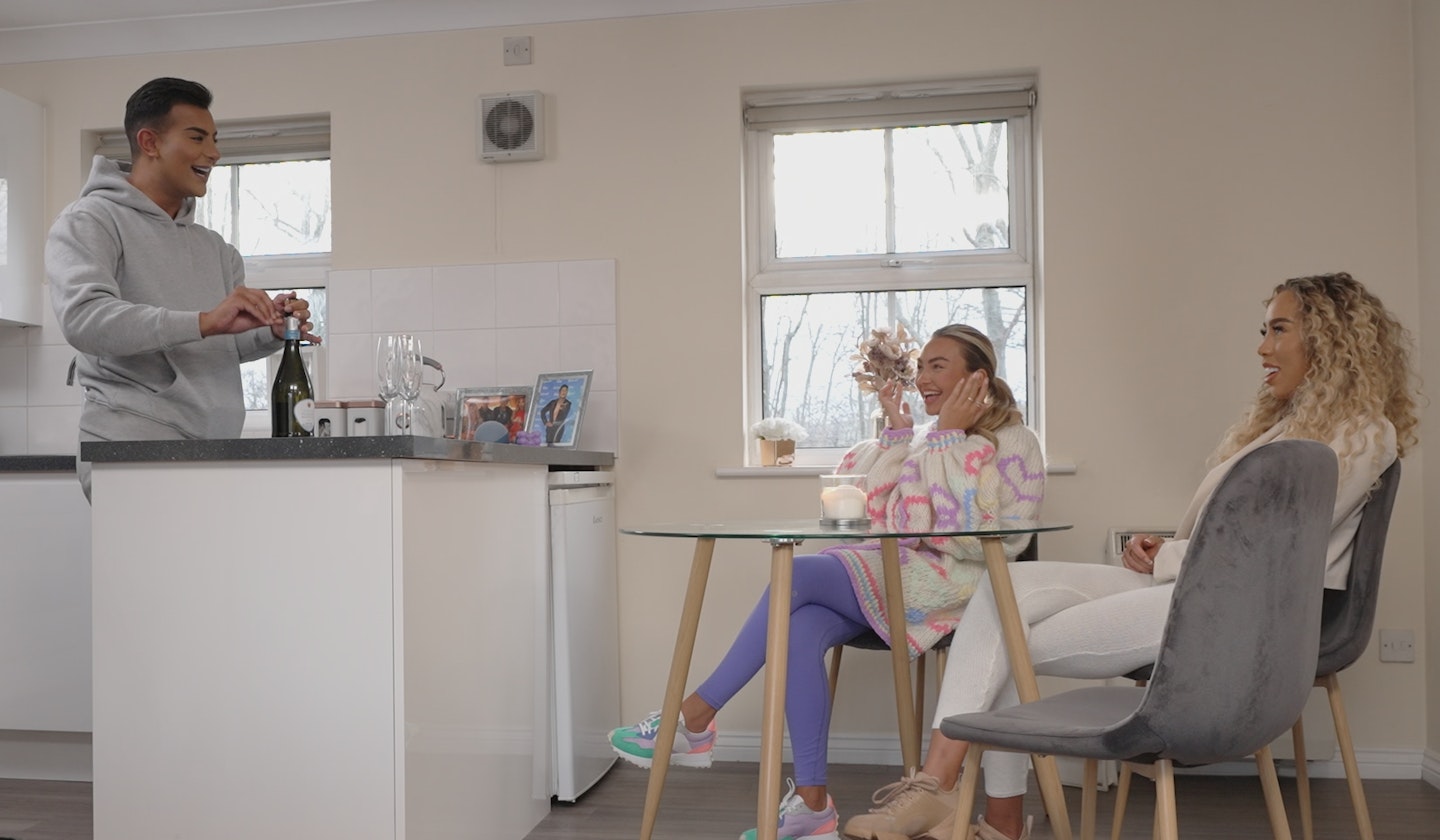 The last time Ella hinted that peace was not an option between her, Dani, Junaid and Chloe B was earlier on in the year when she shared a story that read 'VIBE OF THE DAY' followed by the message, "If the Universe removed you from a table where you used to sit it's because you were being saved from the poison they were serving."
Complete with a skull and poison emoji.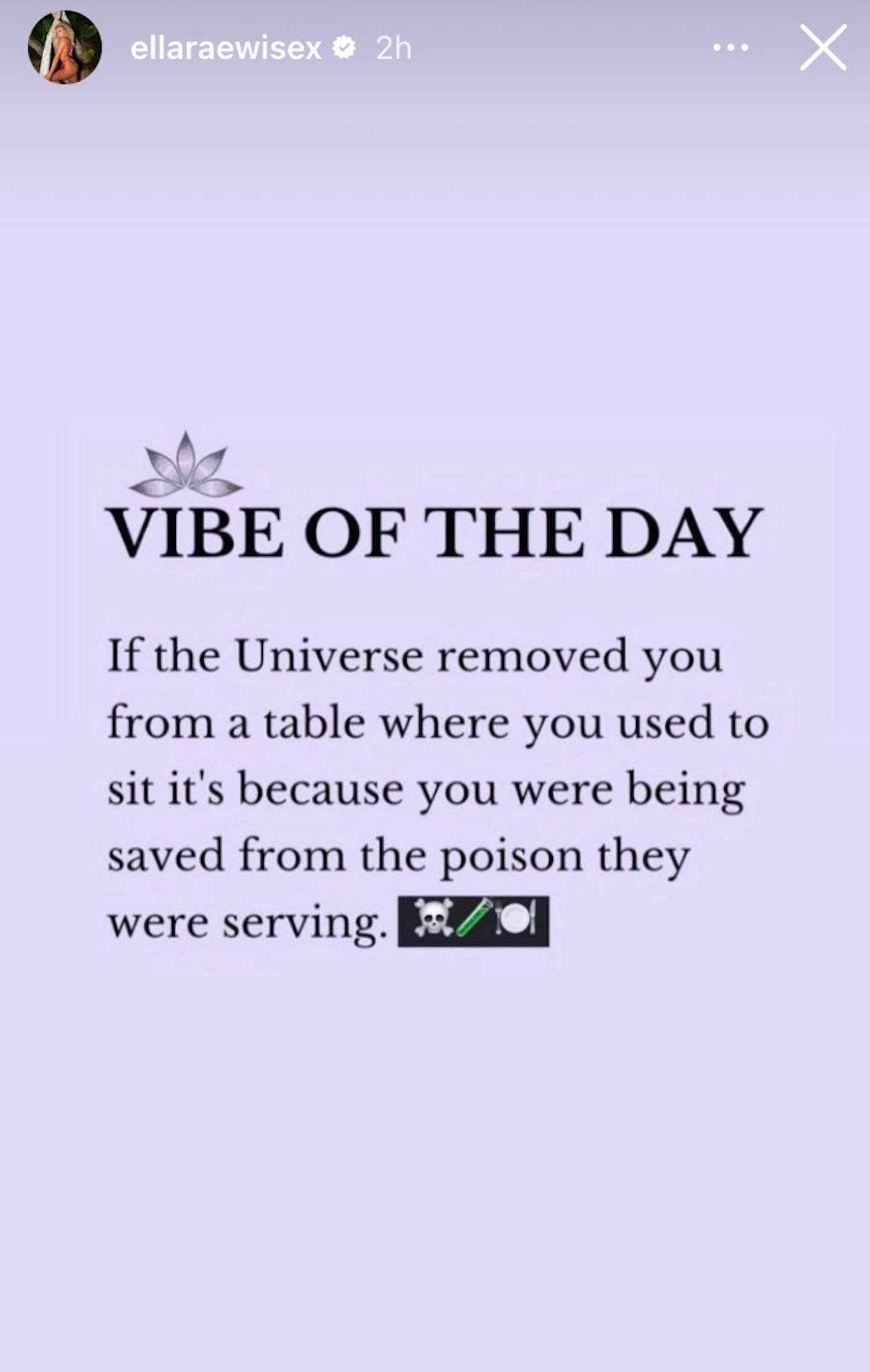 Prior to that, Junaid AKA the self-proclaimed "bitch with a heart of gold" took to Instagram to answer some fan questions about the upcoming series of TOWIE, prior to it being aired, and a fan quizzed, "Anything surprised you this series?"
"So much!! 😂 People's random issues with me, friendships I've never seen or heard of before 🤷‍♂️. I think a lot of the cast have lost their heads this series 😂."
We assume these "friendships I've never seen or heard of before" refers to Ella and Amber finally becoming pals with hints that Ella is the latest member of 'girl band,' now that Chloe B has been booted out.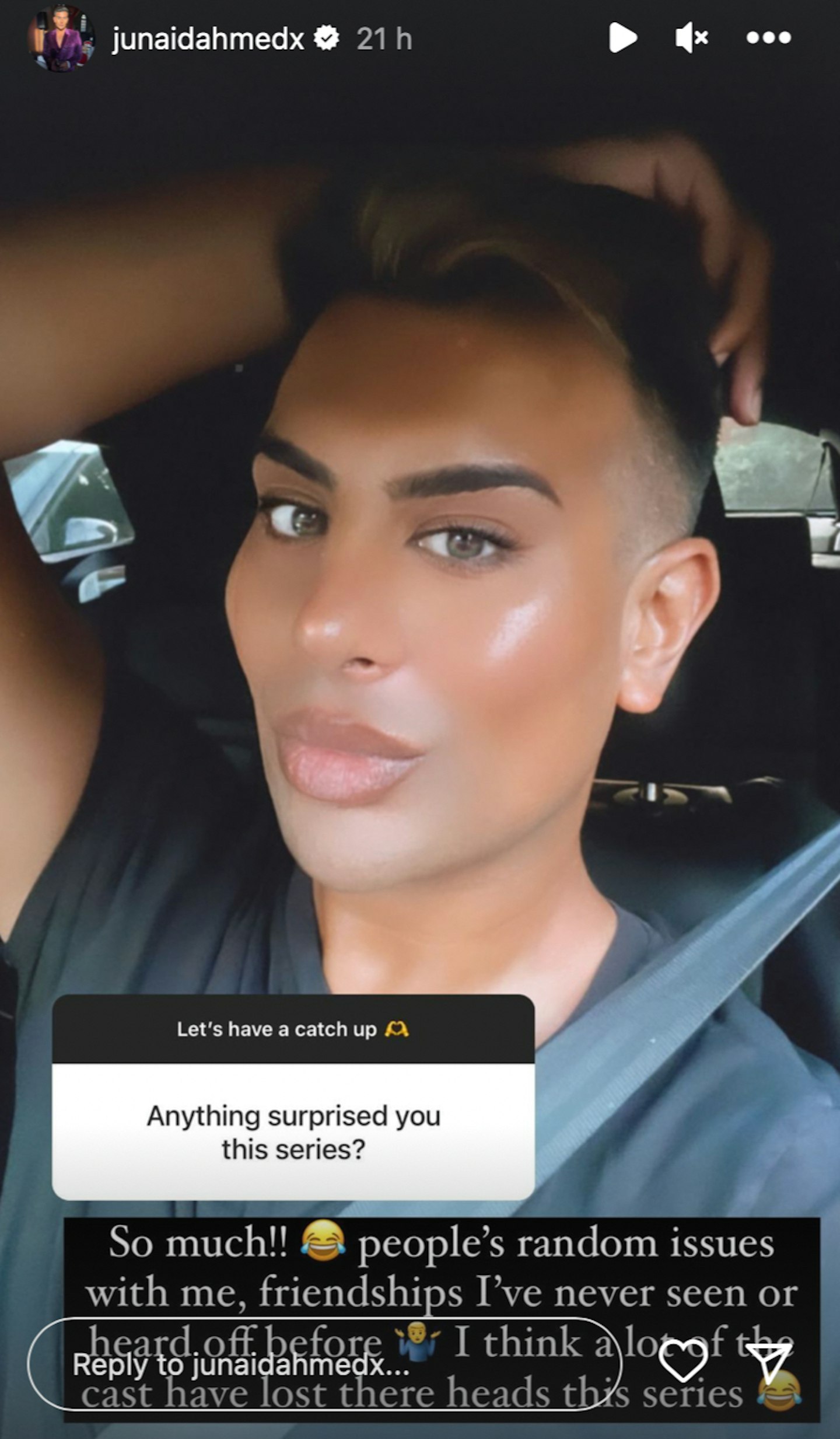 Ella also did a classic Q&A on her Instagram and called out certain people for "turning their back" on her.
Dani previously stated that we won't be seeing the end of the friendship on the upcoming series because, "It can't be covered in TOWIE."
But it turns out Ella disagrees as she wrote, "All to be explained on the new series🫶🏻"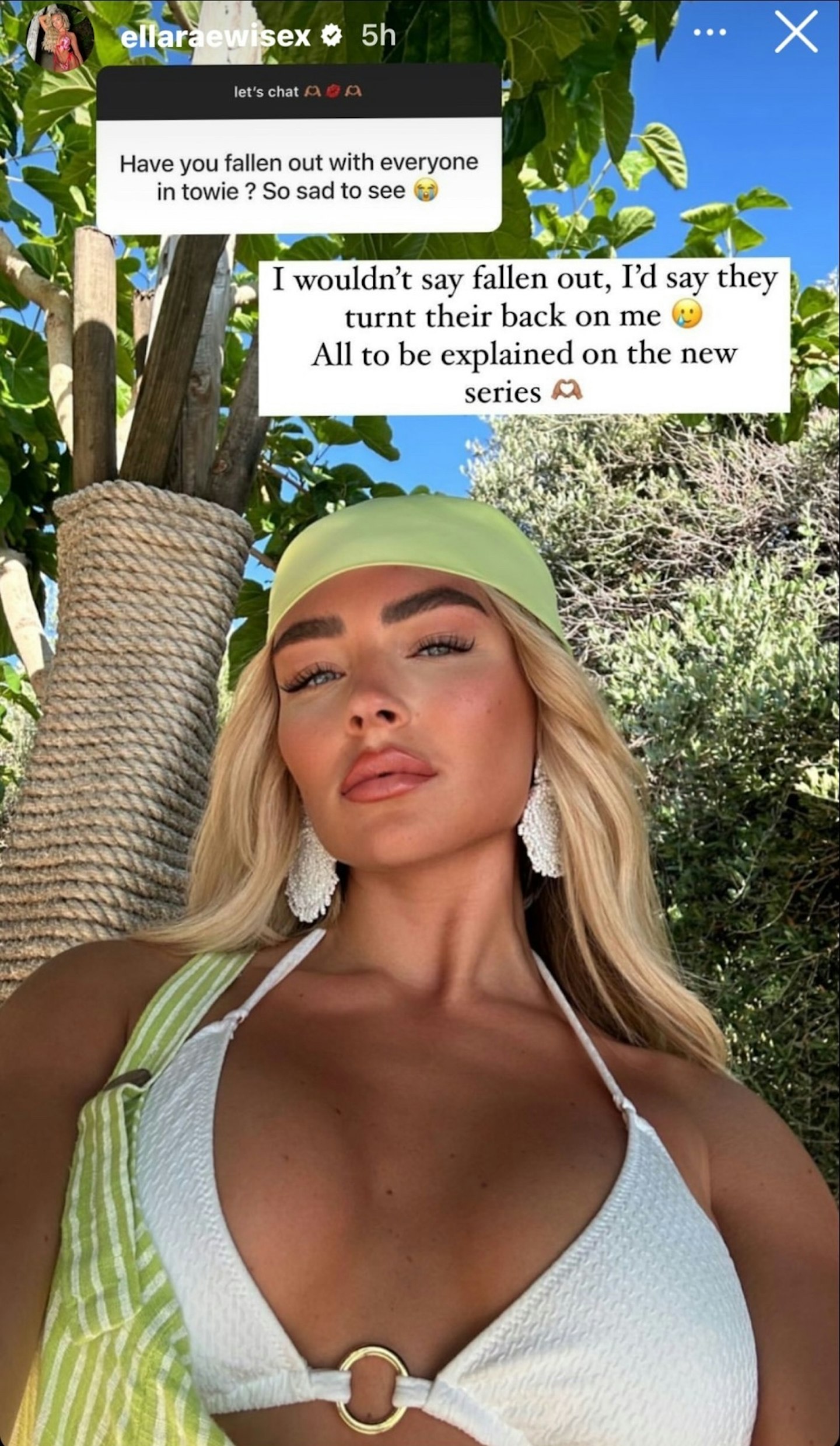 Now that we have watched the majority of this season we can see that the trio are no longer mates but the reasoning for the feud? Still a mystery.
When Ella was asked by a follower, "How's filming been so far?", she admitted, "Very emotional and hard at first. Now it's different...you'll be shocked. I'm in situations I've never been in before which will be fun to watch."
She went on to add, "I'm happier which is good 😝. Proper full circle moment✌🏻".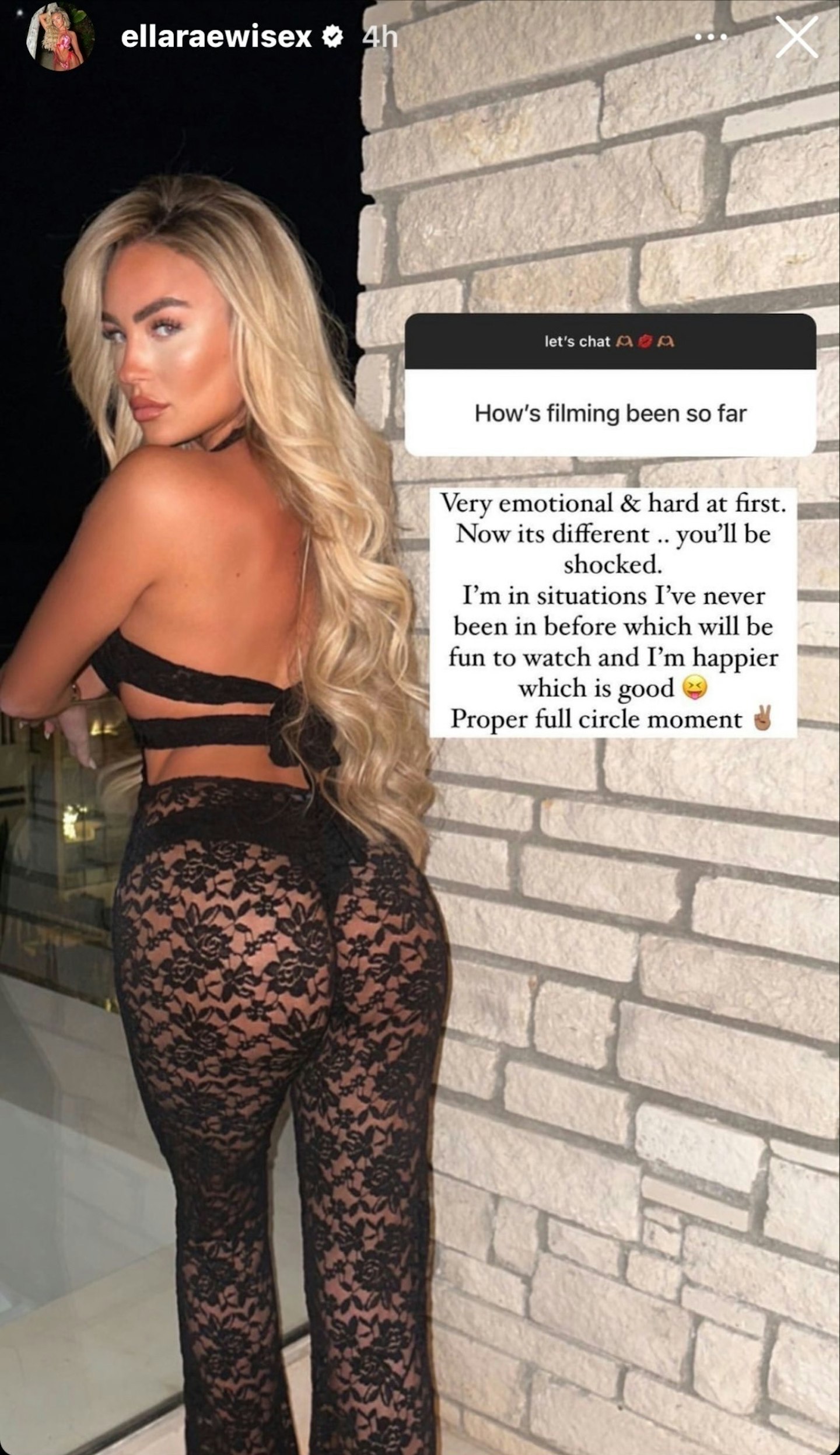 Remember how we said Dani declared, "reasons for the fall out can't be covered on TOWIE"?
That wasn't all she revealed as, you guessed it, during a social media based Q&A, Dani offered up so much more.
A fan asked her, "Are you looking forward to TOWIE airing so people can finally see you're not the problem in the fallout? X".
Of course no names are mentioned but it doesn't take a rocket scientist to work out the follower is referencing the Ella/Junaid/Dani saga. Dani responded, "Tbh no, because half the reasons for the fall out can't be covered on TOWIE for various reasons. I just think people need to realise I can be friends with who I want, it's my life."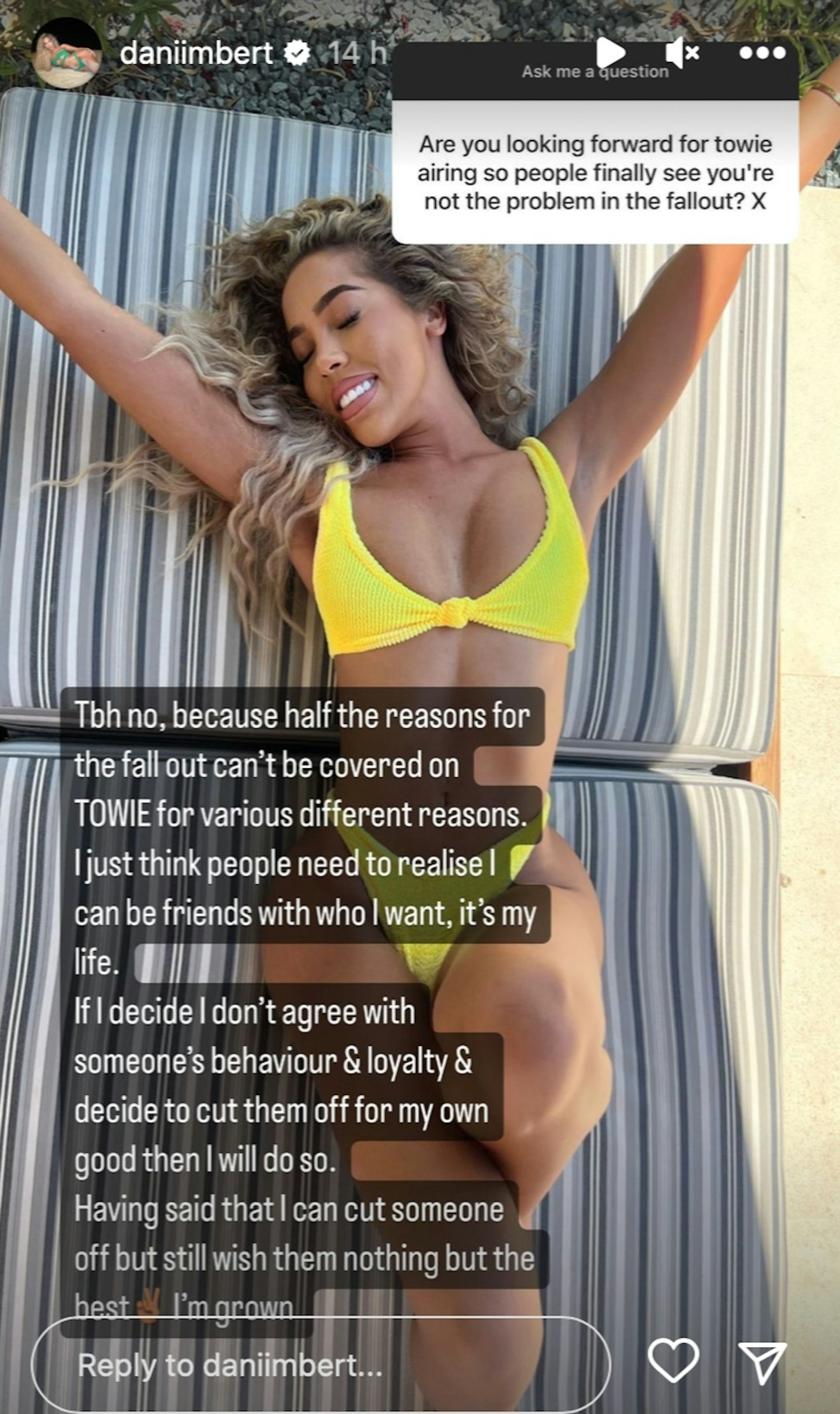 She continued, "If I decided I don't agree with someone's behaviour & loyalty & decide to cut them off for my own good then I will do so. Having said that I can cut someone off but still wish them nothing but the best ✌🏾 I'm grown."
The loyalty comment has thrown us because we were under the impression Ella was calling out Junaid and Dani for not being loyal what with them becoming BFFs with Chloe Brockett and all.
Honestly, we can barely keep up, it's like an episode of Black Mirror over here.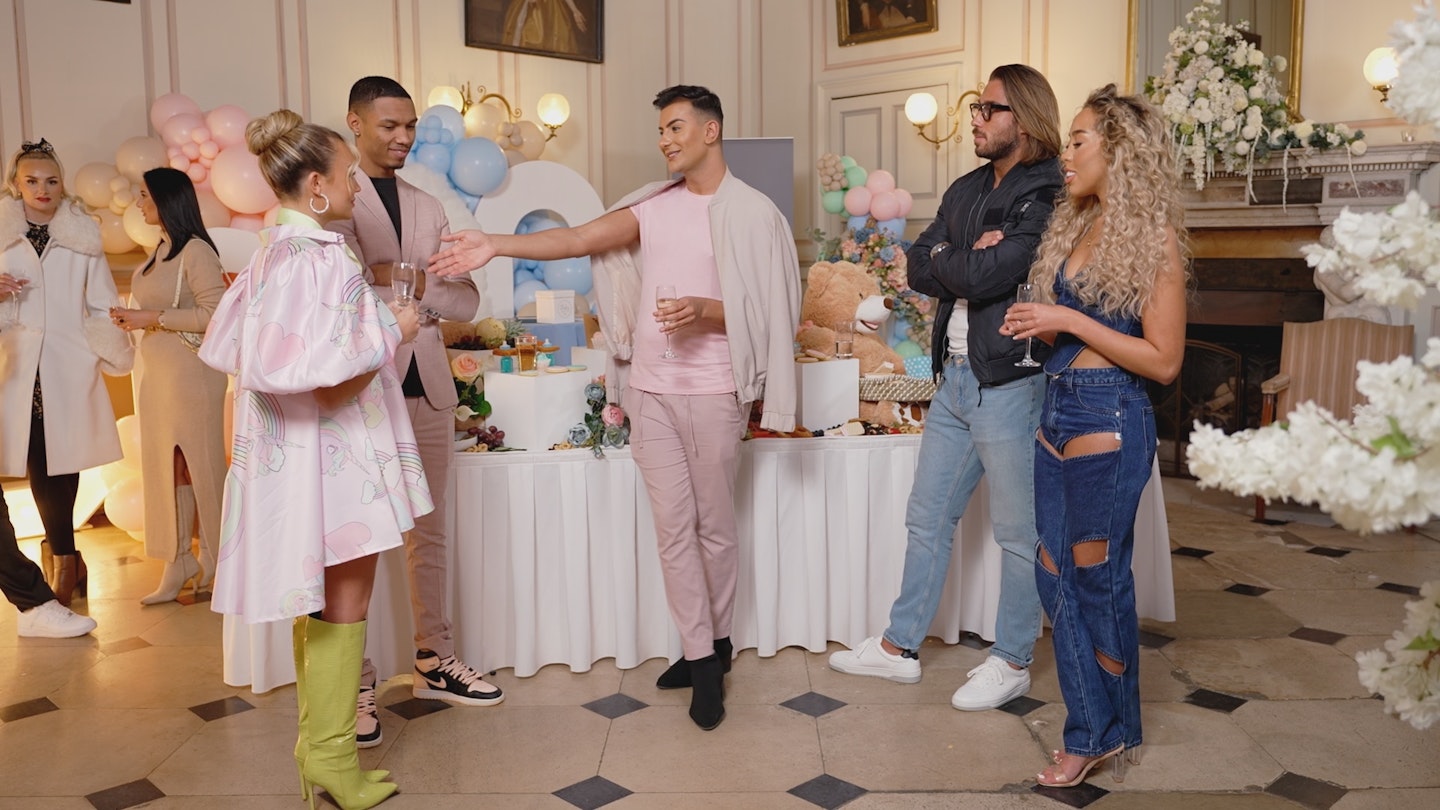 Everybody knows about the beef between Chloe B and Ella, none more so than her pals, but it looks as though the duo have forgotten that little detail as both Junaid and Dani have been enjoying nights out with Chloe, with Ella noticeably absent.
Junaid even posted a pic of Chloe and Dani on his Instagram Story with the caption, "My 2 favourite people in the world ❤️".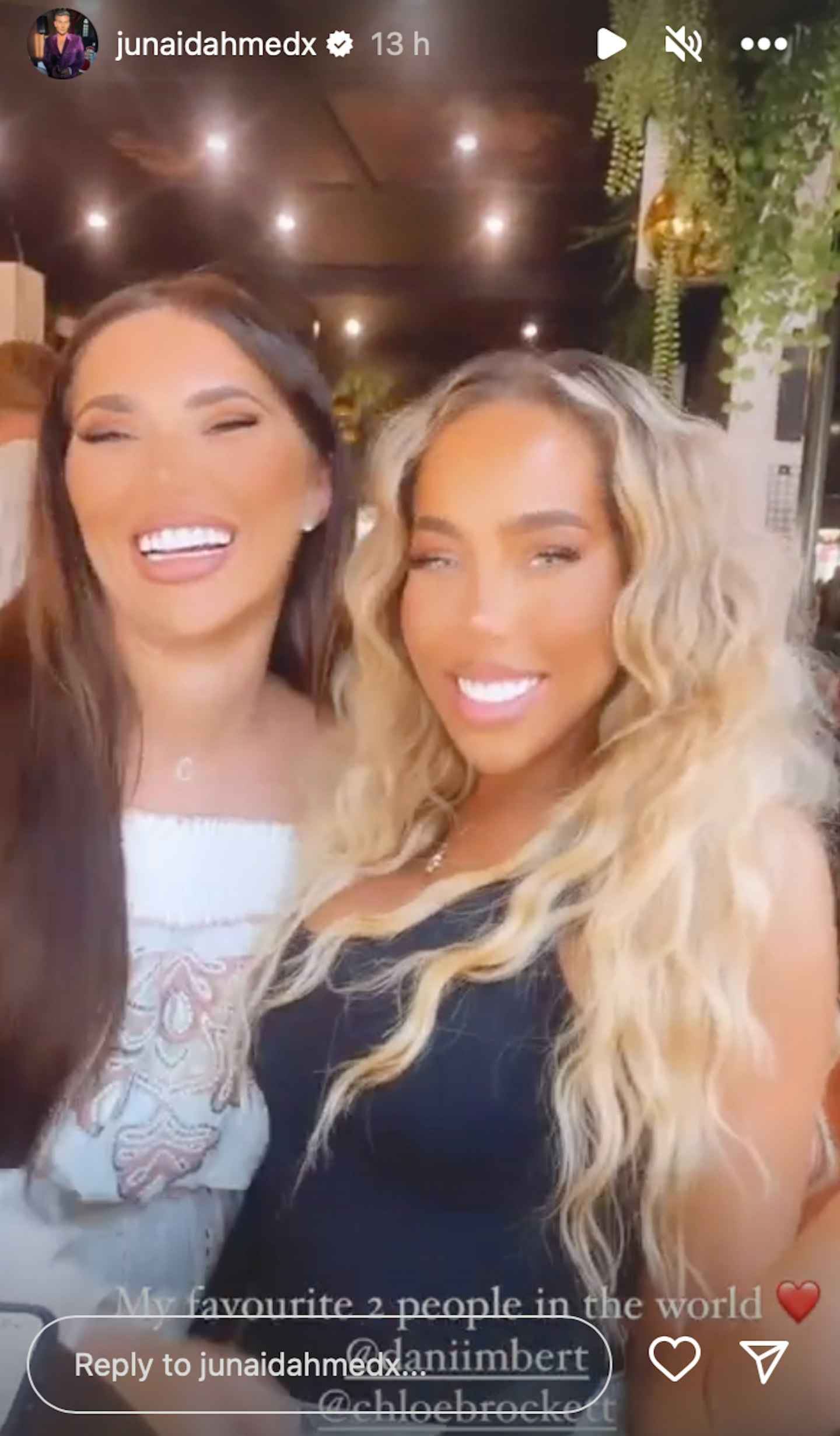 After Junaid posted a photo of him snuggled up with Chloe B and Dani with a cute little "Girly girls 🫶" caption, fans filled the comments section with their thoughts on the budding friendship and their concerns for Ella.
One person asked, "Erm where's Ella ?????" with another commenting, "Ahhh... so now you and Dani are friends with Chloe, you've dropped Ella out! 🐍🐍".
It didn't take long for Dani to enter the chat and say her piece as she thanked one of the followers for jumping to her defence and wrote, "Thank you. Everyone is jumping to conclusions. It's not what everyone thinks."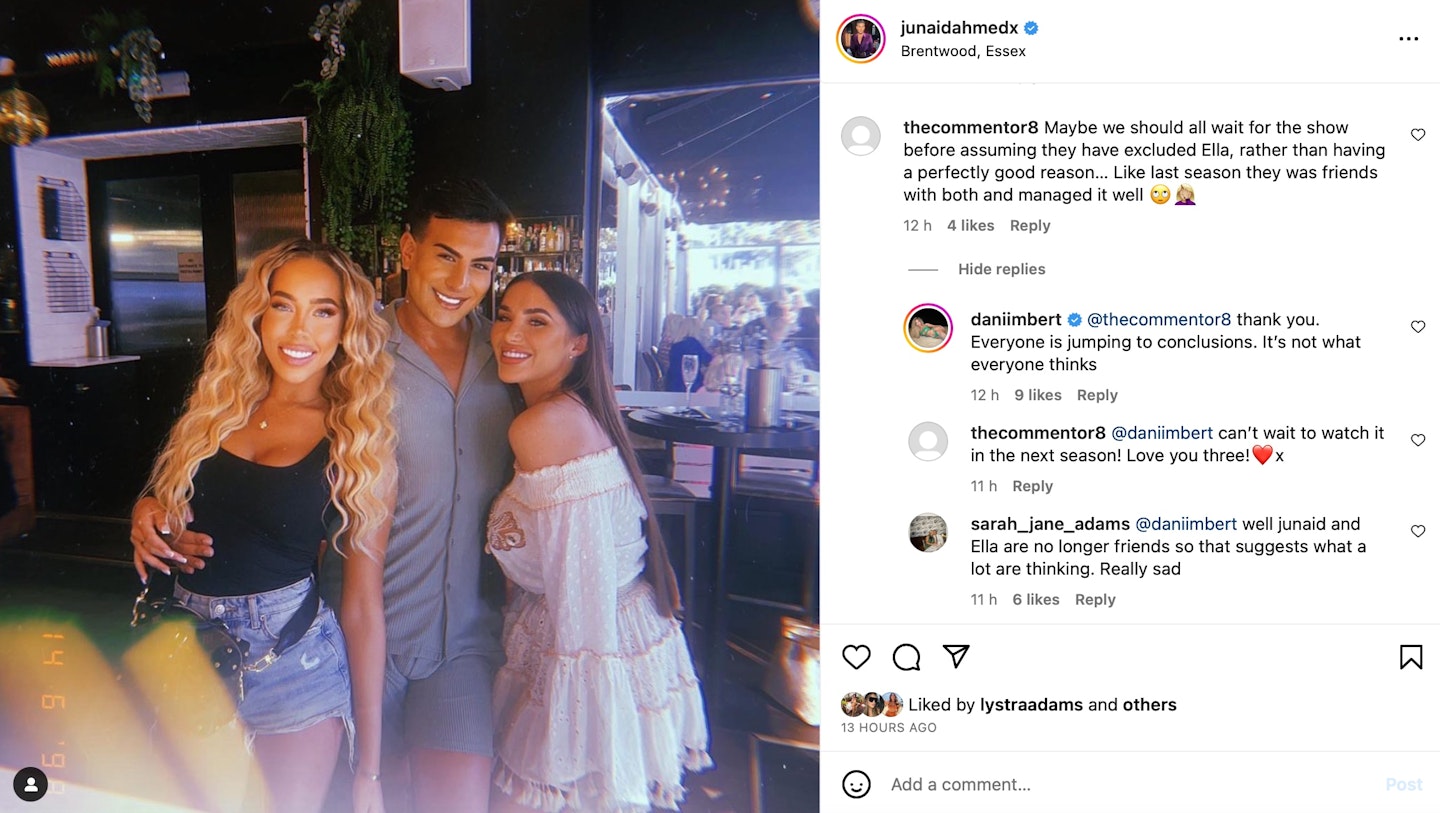 Shortly after the new trio posted selfies on Instagram and videos of them dancing and drinking, Ella proceeded to share ANOTHER Instagram quote that read, "Next time someone tries to bring you down, remember this: Confidence is quiet. Insecurity is loud."
This isn't the first time Ella has posted quotes and memes referencing loyalty, friendship and people being 'real.'
One such quote read, "This generation ain't built on loyalty it's built on attention" and another echoed a similar sentiment, "This whole year changed me, people ain't real & the love ain't either."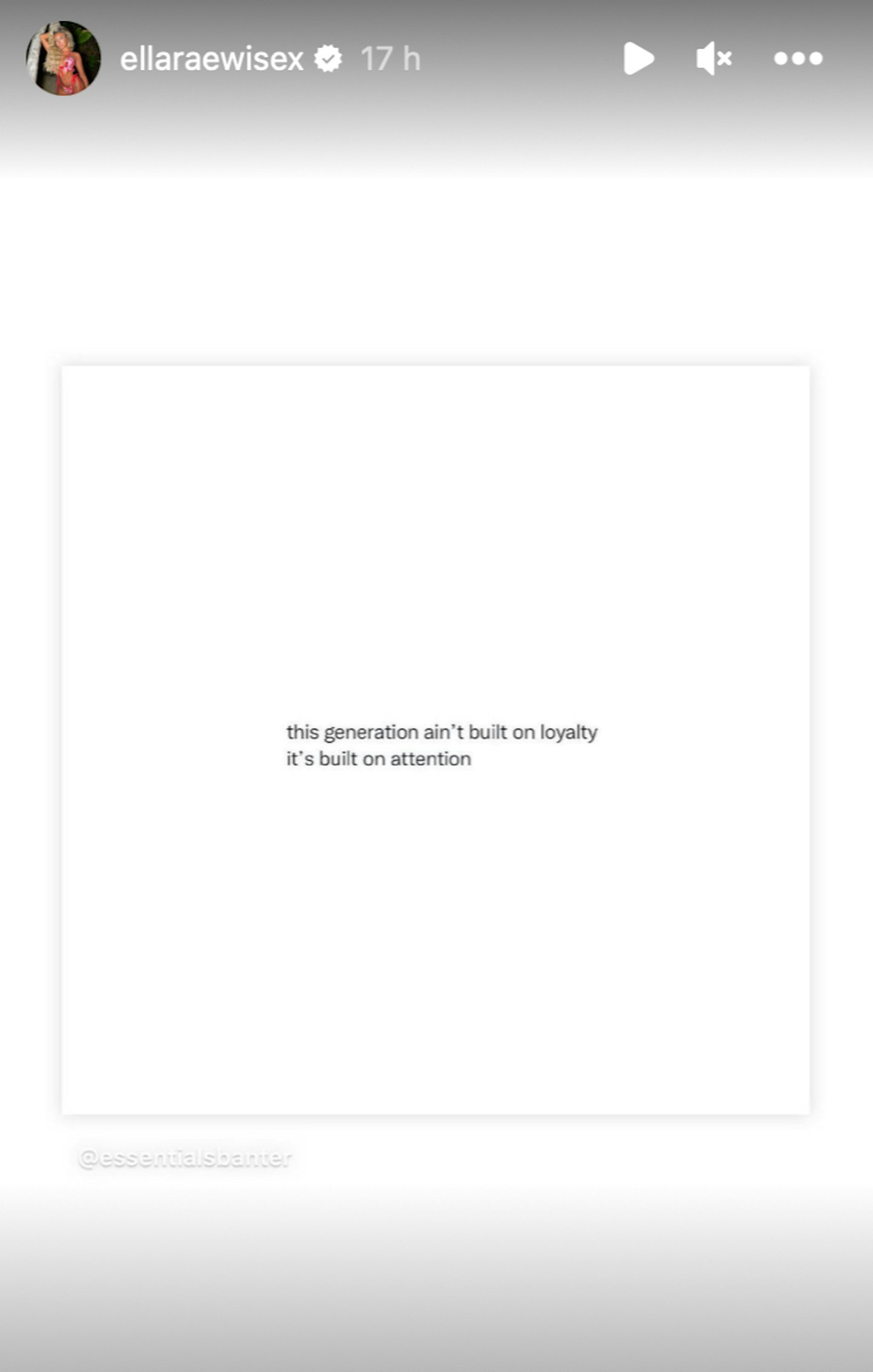 In a Q&A with her followers Ella was also asked, "How do you feel about your friends being friends with someone you aren't xxx".
A clear nod to Dani and Junaid now being chummy with Chloe. Ella simply responded, "Couldn't give a f**k."
How very Pete Wicks of her.
Ella went on to say, "I'm so happy in my life, I'm growing massively. I've got a new home, lovely new cars, gorgeous partner..."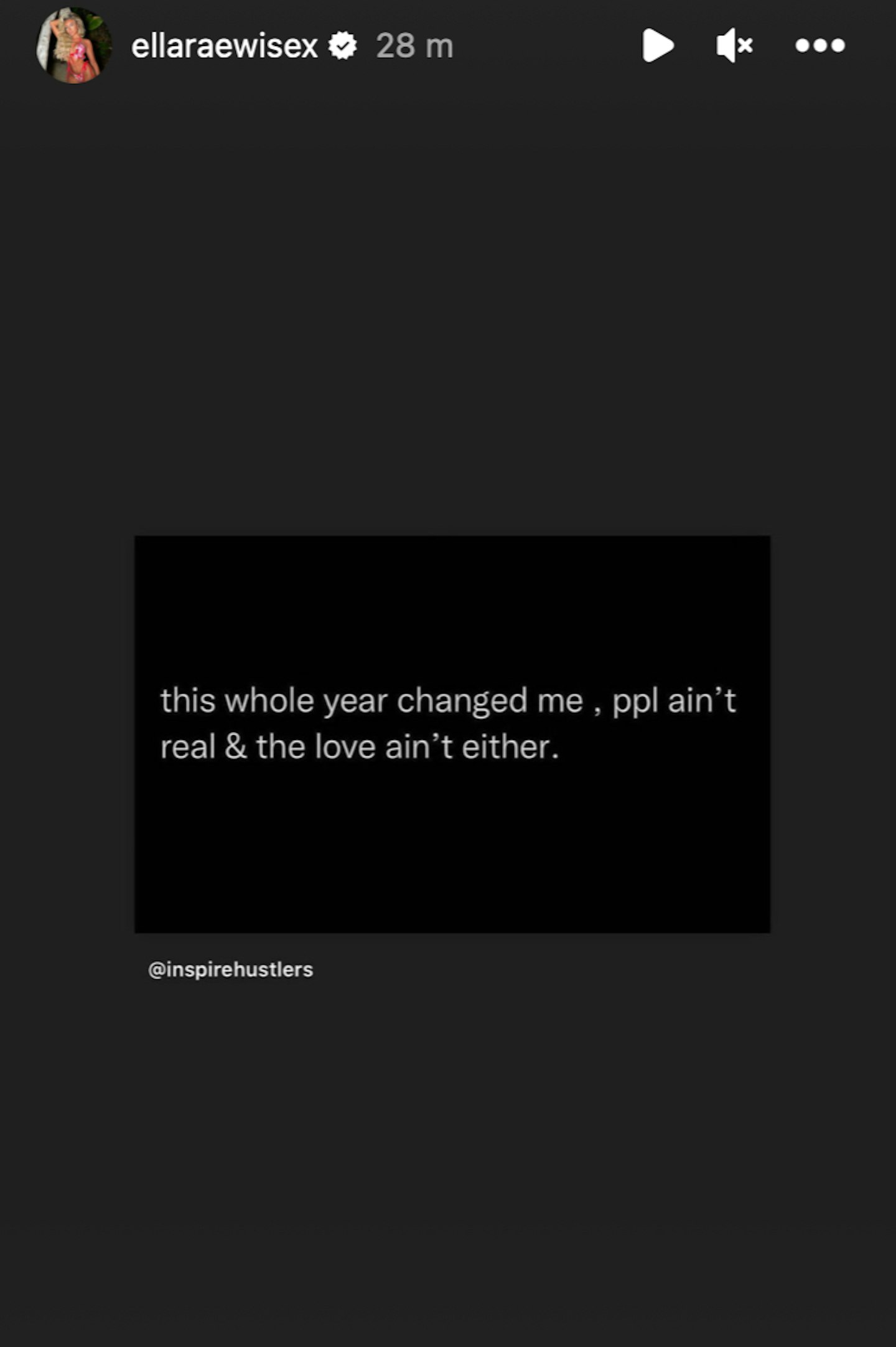 WATCH: Chloe Brockett on her secret row with Yaz, feuding with the Sims sisters and Mark Wright returning