TOWIE is back and half the Essex guys and girls have already had a row in the middle of the street.
Chloe Brockett confronted Jordan Brook about rumours that had been making the rounds, which he claimed he had ZERO idea about.
Junaid Ahmed and Harry Derbidge fell out over a random guy that they both met on a night out and, if the sneak peak for next week is anything to go by, it looks as though the 'girlband' is heading for a break up. How they manage to fit so much dramz into an hour slot is beyond us.
One cast member who doesn't seem to be involved in any of the TOWIE fall outs (yet) is Dani Imbert. Instead the reality TV star has been answering her followers questions on Instagram and revealing some interesting facts.
A fan asked, "What is your height?😎🥳? You could look tall but could be heels🤹😂😂😂".
Dani responded, "I'm 5'6. I don't think that's tall but when all your friends are 5' you may as well be a giant🙃😂".
We can only assume that Dani is talking about bestie Ella Rae Wise who offers strong Polly Pocket energy and looks as though she is approximately the same height as Tinkerbell.
Dani did also date Liam 'Gatsby' Blackwell who doesn't give us particularly tall vibes and, if Dani is strutting around in four inches heels, we can imagine she would tower over him.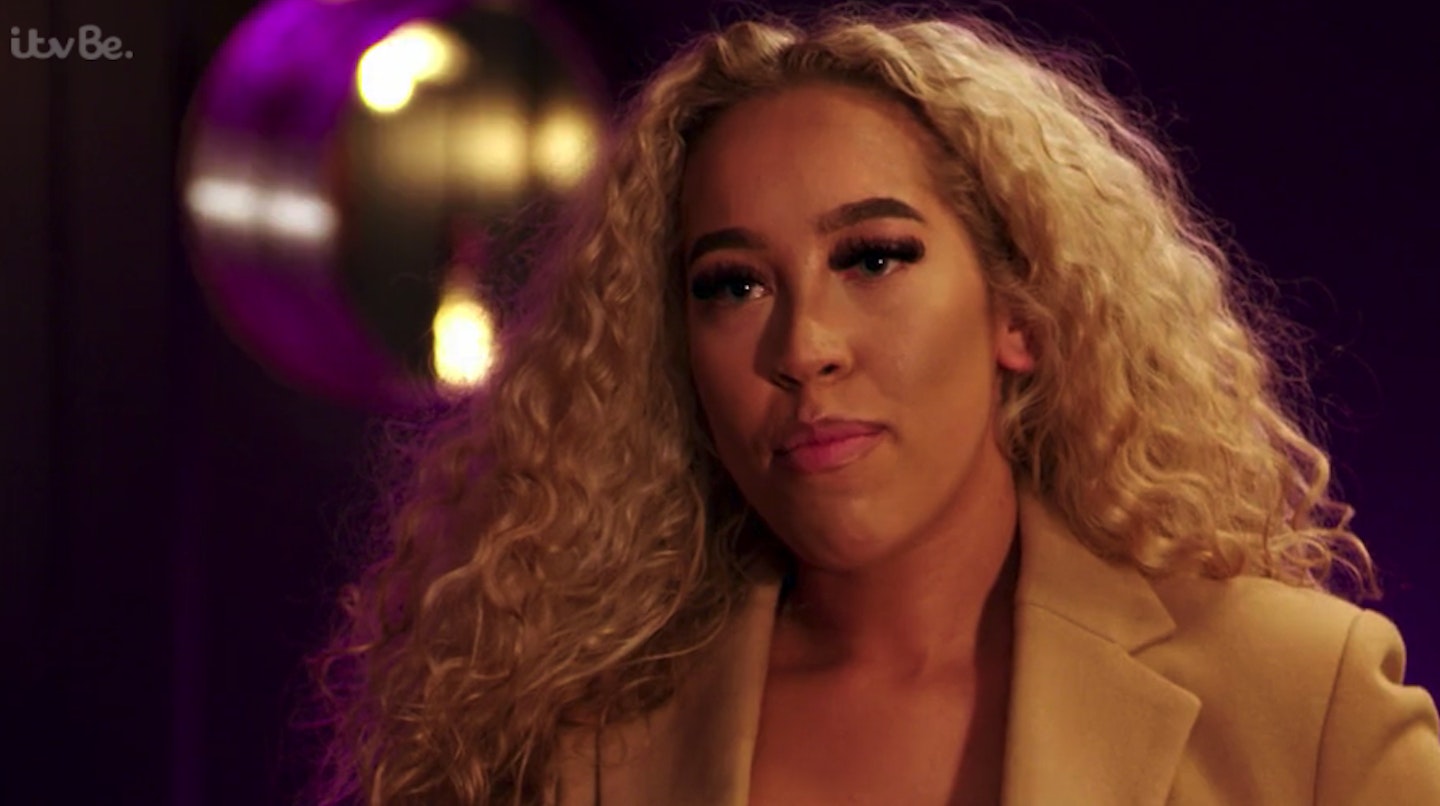 Who is Dani Imbert?
Dani is a TOWIE cast member. She joined the show in series 28, back in 2021.
She's closest to Ella, Junaid and Roman Hackett. She was also friends with Frankie Sims and Demi Sims before they quit the show.
When did Dani Imbert join TOWIE?
Dani first joined the show in series 28 when her friend Rem Larue set her up on a date with Gatsby in 2021, so the 2022 episodes was Dani's first series as a single cast member. She told us, "Filming when you're single and filming in a relationship is such a different experience. My first two series when I was in a relationship, I didn't experience how TOWIE really is filmed and what it's like to be on the show.
"This series has been the most fun to me. I've been able to just do what I want, say what I want, I have my own little group of friends on the show. This time around, being single, I've had the most amount of fun on the show than I've ever had before. It's been amazing."
Has Dani Imbert quit TOWIE?
Dani has been visibly quieter on social media in the last few weeks, occasionally hopping on to share updates on her BBL surgery, but otherwise appearing to shy away from the socials.
It seems that Dani – who joined the series in 2021 and has been at the centre of much of the show's drama since first making a name for herself in Brentwood – doesn't see herself committing to TOWIE long-term, saying "I want more', while opening up to fans.
Discussing her recent social media silence, Dani said, "Yes I'm all good! I think I'm just not as social media crazy as what I used to be. I just genuinely forget to post & set stories of what I'm up to day to day but I will be more active! X.' Other things on your mind, Dani? We're getting nervous.
When asked flat-out how long she sees herself on TOWIE for, she responded, "I'm not too sure. I do love my job, but it's not a forever thing for me, I want more ❤️."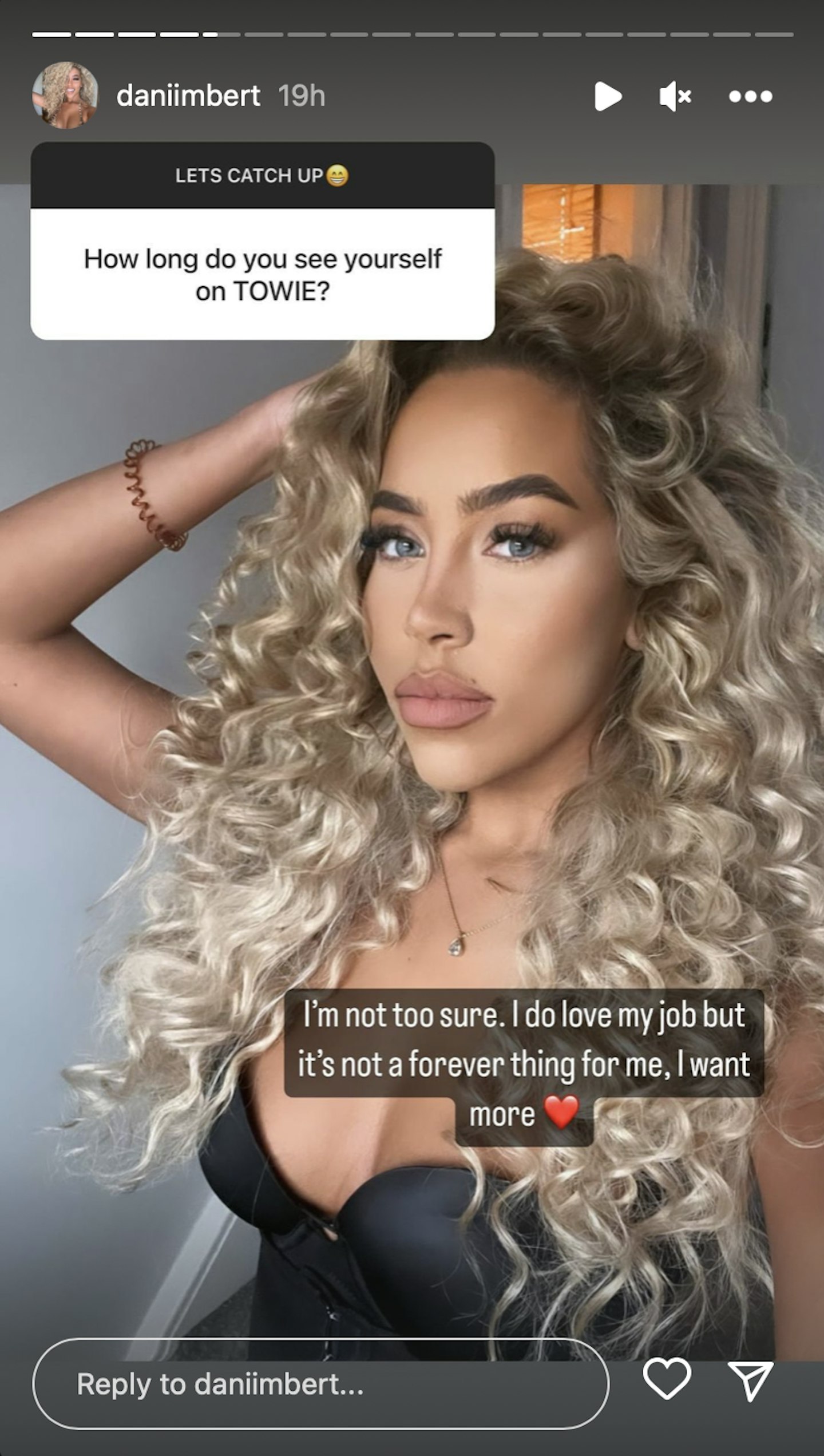 Gulp.
Then, when one fan wrote, "I hope all the drama isn't just directed at you this season", Dani responded, saying, "No it's not 😂 I've taken a back seat with all the drama this series, not intentionally, but there's nothing for me to argue about this time around. But saying that we're only two weeks in, I'm sure something will annoy me soon."
Perhaps we're just being paranoid journalists here – ones who classify TOWIE as a hobby on Tinder – but this sure does sound like Dani is slowly side-stepping away from the series – at very least keeping the series at arms length until she makes her mind up about her future.
Dani Imbert's BBL results
It feels like we have been waiting ages to see the result of the TOWIE star's Dani Imbert surgery following her trip to Turkey with pal Junaid.
And recently, Junaid shared a short video of Dani in a catsuit post-surgery with the caption, "She's just unreal 🔥."
Of course we are in total agreement.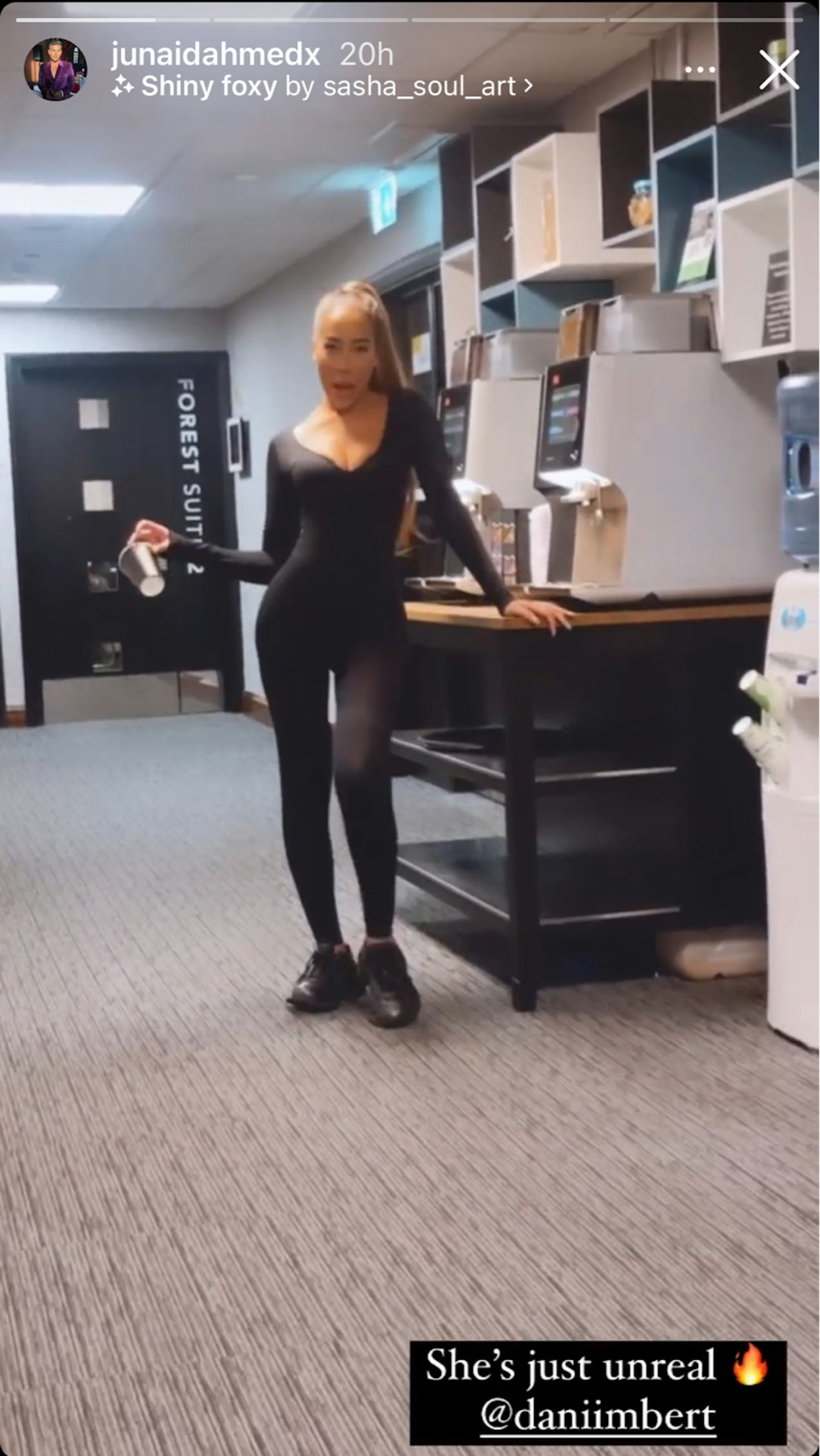 The reality star went under the knife for liposuction and a BBL in November, sharing rather raw imagery of the aftermath, updating her followers on the pain level and answering any questions they had about the procedure.
But alas, honesty is not always the best policy as it would seem some people have a few choice words about the surgery, which Dani isn't taking it lying down (pun not intended).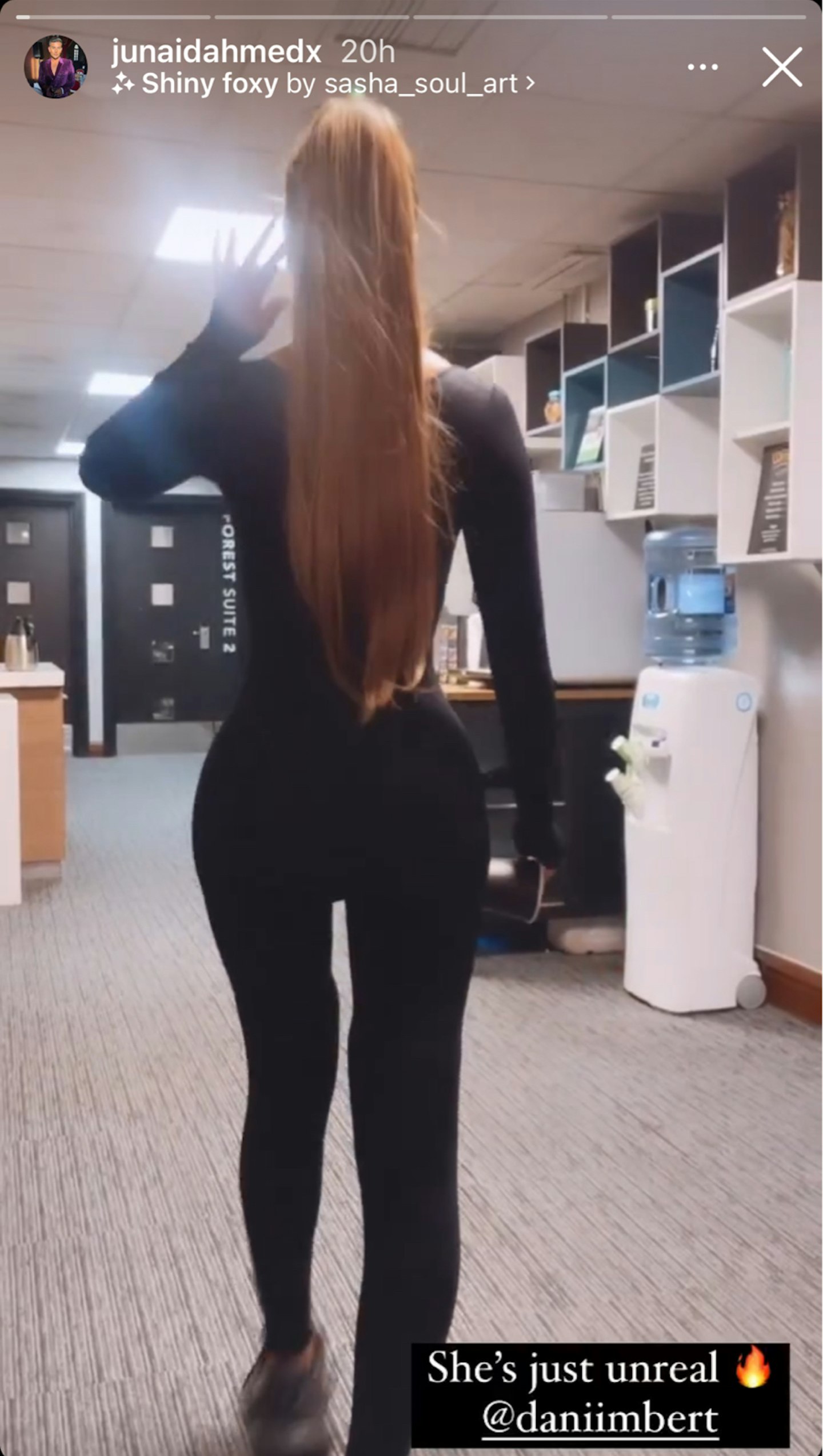 Sharing a message for the haters on her story, Dani wrote, "The irony of girls who have had cosmetic surgery themselves commenting on me and what I get done to my body is bizarre.
"Please do not preach about 'pressure on young girls' if you yourself have had surgery. Make it make sense, weirdos."
We're not sure who exactly Dani's Instagram story is aimed at, but she seems to being shading someone in particular as she later shared a meme of Nikki Grahame's iconic "Who is she?" rant.
We have to give it to Dani for keeping it real. She seems to have been brutally honest about her surgery and we respect it.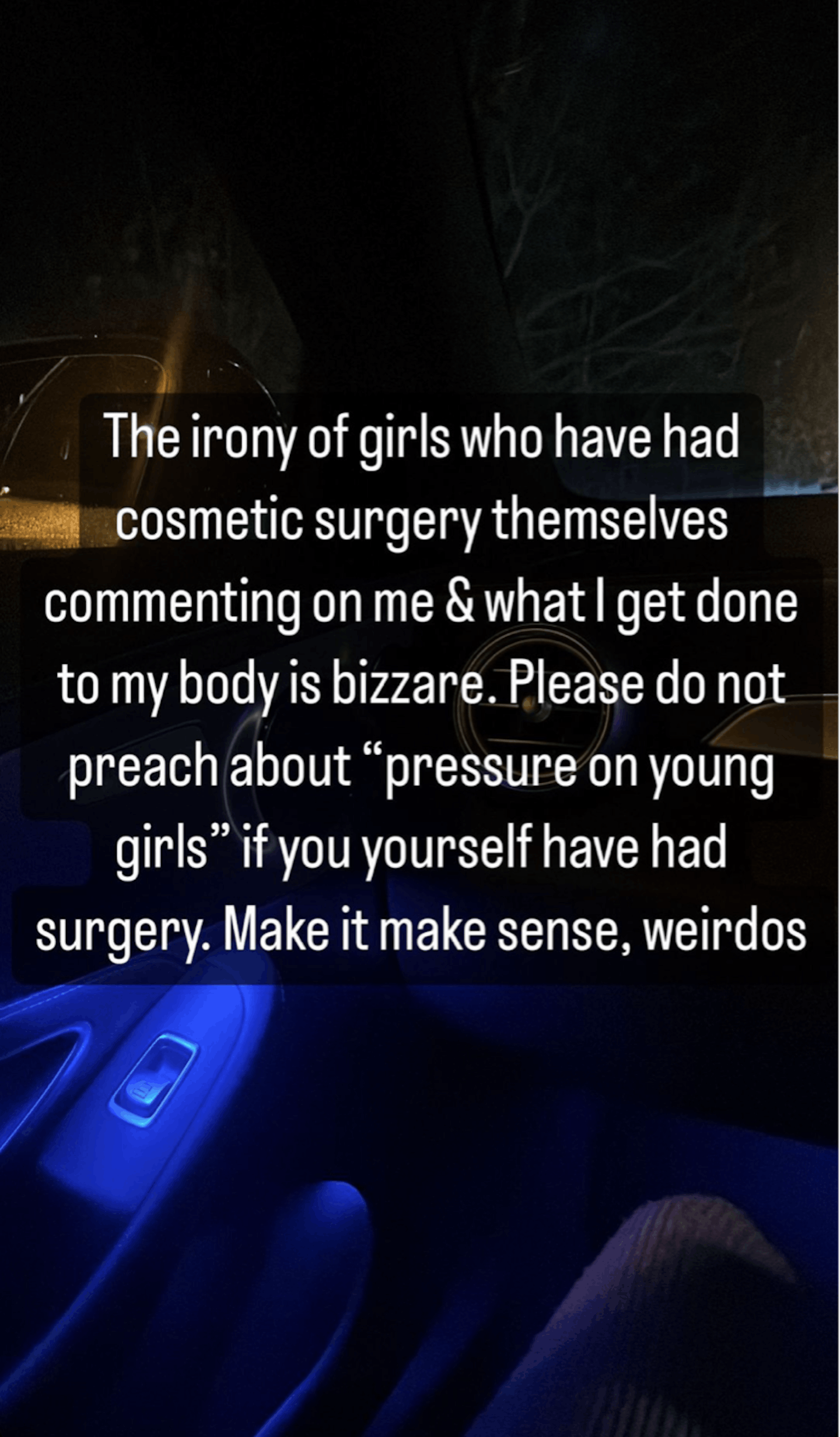 Dani has been keeping her followers in the loop via her Instagram Story to reveal that she has been "living in @junaidahmedx size 11 sliders", because her feet were too swollen to fit in any of her shoes.
She also revealed she was wearing his joggers, presumably because her ankles and legs were also swollen post surgery.
She explained, "So I'm 10 days post op and only today am I feeling back to myself and normal. Past tree days I've experienced SEVERE swelling and water retention which I never knew could be that bad so initially made me panic but have been told by professionals is completely normal and okay."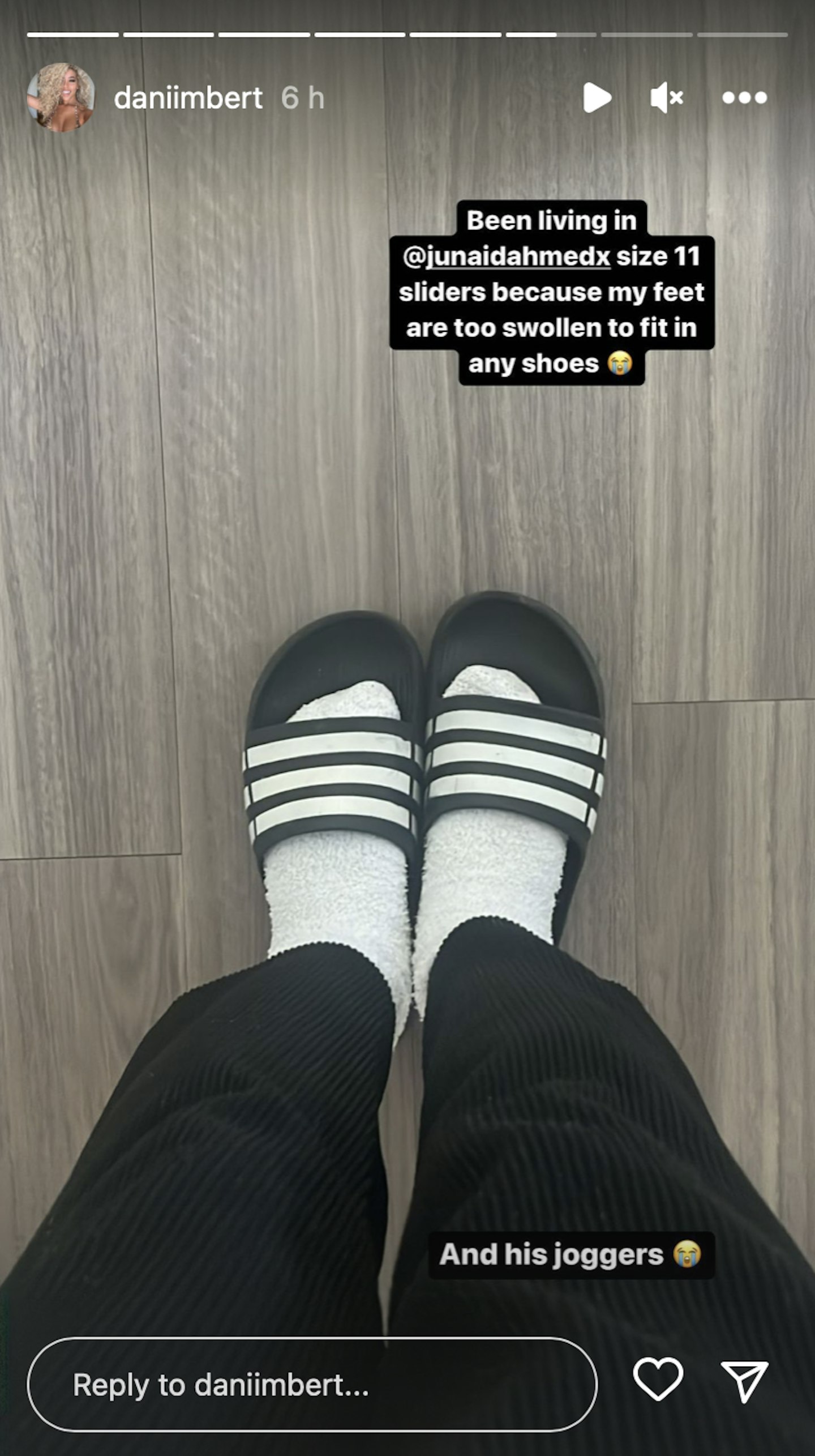 Dani continued, "My back and stomach blew up which I expected but my feet and legs I was completely shocked about but have since gone down a lot. Feeling a lot better today x."
In a separate Instagram Story she revealed a picture of a swollen (and visibly bruised) lump on her lower back explaining, "On my lower back I have a huge lump partly swollen but mainly filled with fluid. I wouldn't say it's painful just extremely uncomfortable but will ease as the days go on and the more massages I get will make it a lot better.
"Once the fluid is drained I'll be left with such an unreal arch I can't wait."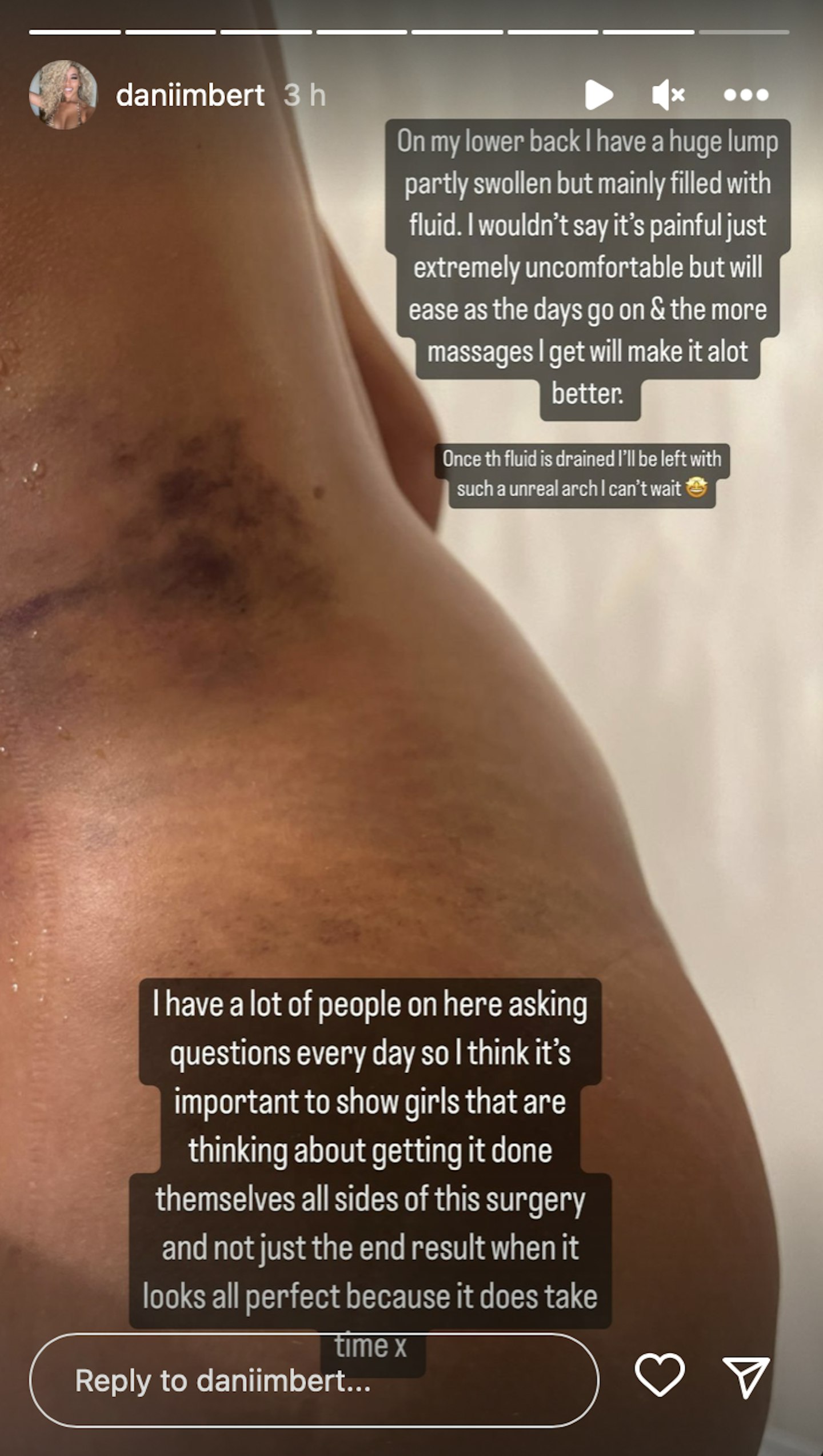 She wrote, "I have a lot of people on here asking questions every day so I think it's important to show girls that are thinking about getting it down themselves all sides of this surgery and not just the end result when it looks all perfect because it does take time x."
Prior to this update, Dani took part in a social media Q&A with her followers where she fielded questions about the procedures and shared graphic pictures of the results.
When asked what surgery she'd had done, Dani replied, "I had 360 lipo and a BBL ❤️ this has been my first ever surgery but it's something I have thought about for so many years and after a lot of thought I finally went through with it!"
Dani showed off pictures off her new bum as she revealed to her followers that she done "loads of research" before opting to have the surgery in Turkey and chose the clinic as "all [her] friends" had been to the same place.
As for why she decided to have the procedures done, Dani explained, "I just wanted more volume in my hips and bum. I've tried the whole gym scene and wish it worked for me but I just wasn't gaining in the areas that I wanted! But now I've got the shape I wanted I'm happy to maintain it in the gym too x."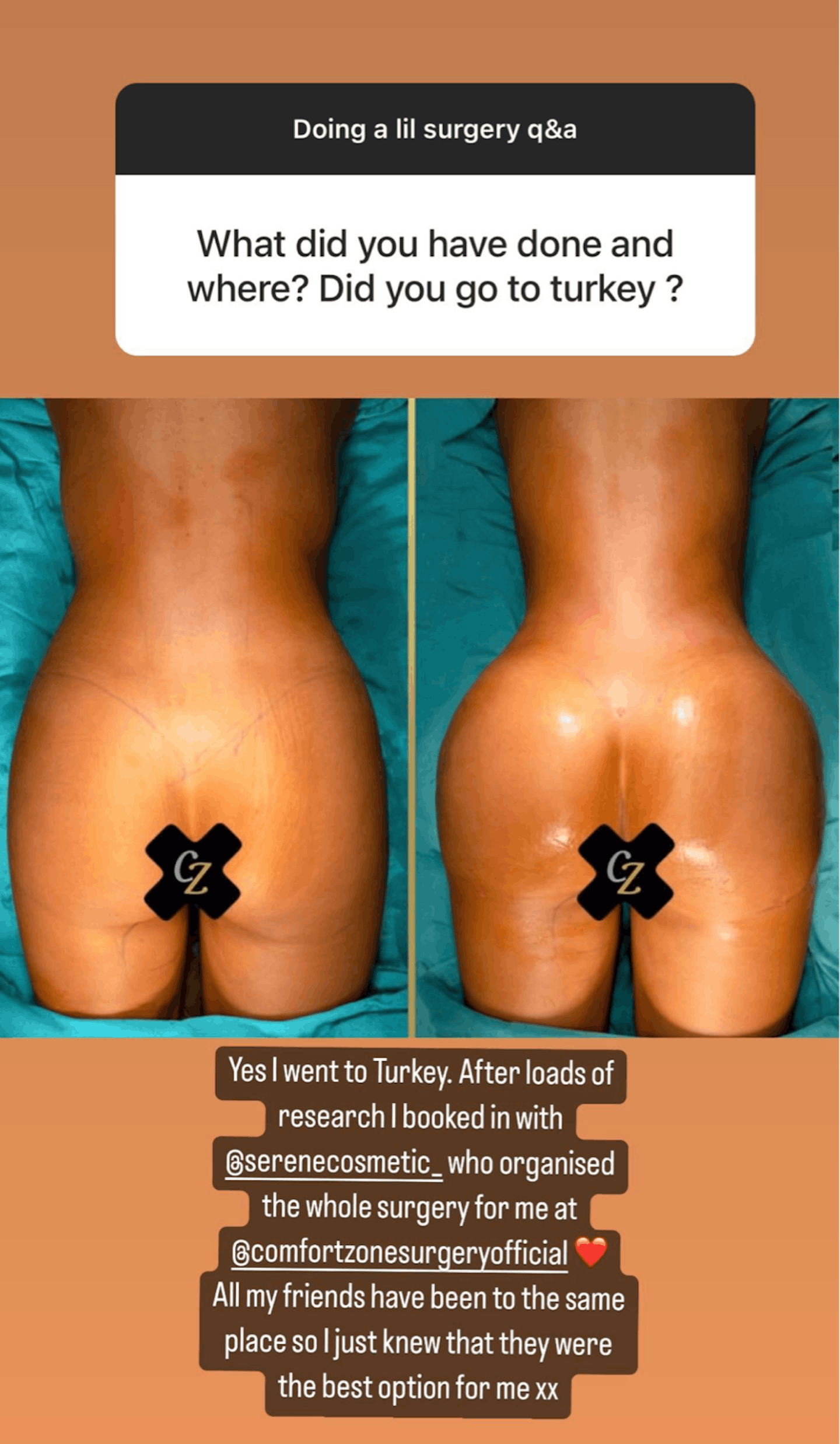 Has Dani Imbert had any more surgery?
As well as liposuction and a Brazilian Butt Lift, Dani previously admitted that she's had a little work done.
"I got a ml in each cheek. So happy with the results, they kept it natural looking like I asked.
"Can't wait to go back," she added.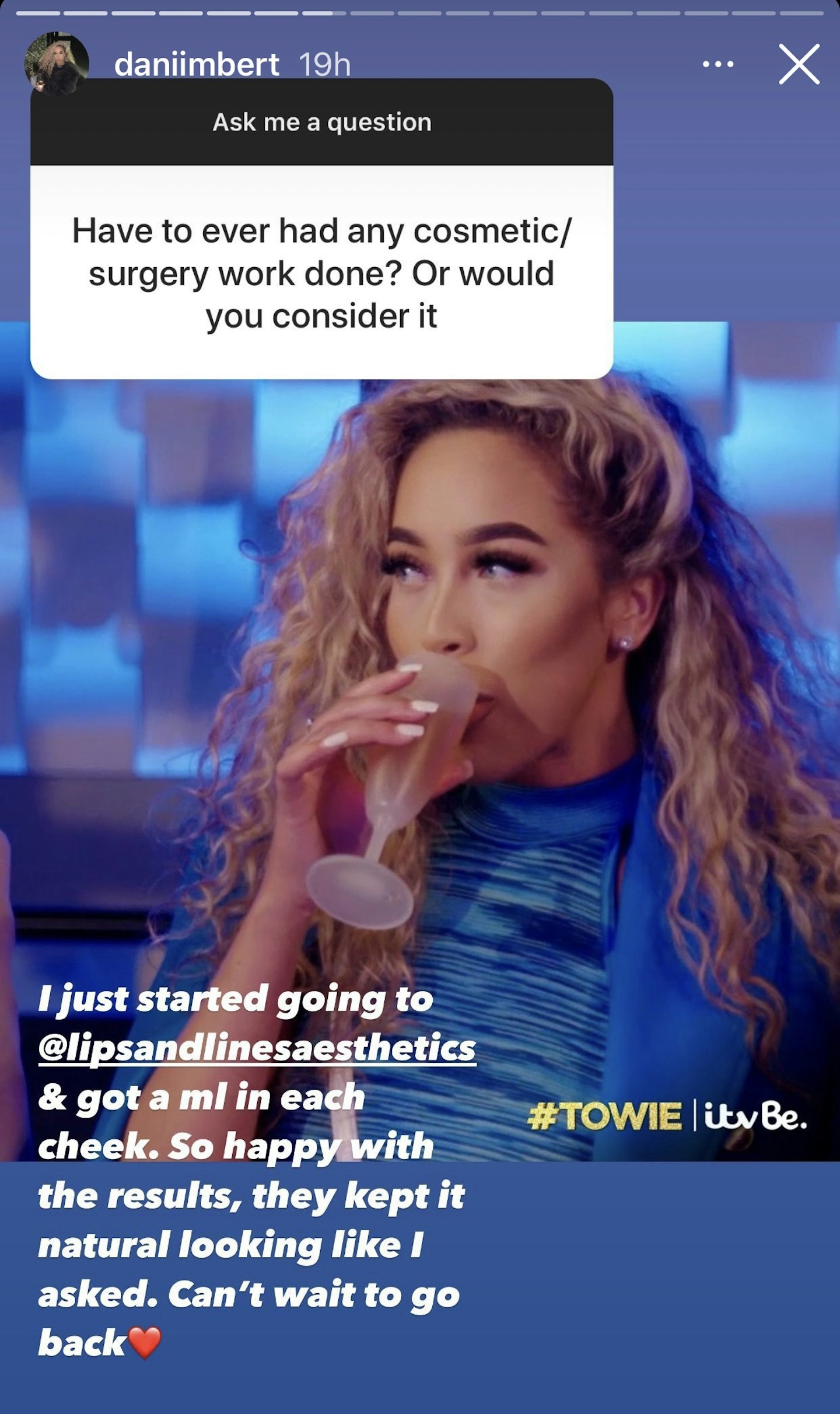 Dani Imbert's secret conversations with Liam 'Gatsby' Blackwell
Dani's surgery came after she spilled the tea about her secret conversations with ex-boyfriend Liam 'Gatsby' Blackwell that weren't shown during the latest series of TOWIE after he announced he was leaving Essex for a new life in LA.
Speaking exclusively to Closer online about the final episode, Dani explained, "On our last day of filming, we didn't film together. We didn't get the chance to really say our goodbyes, but he did come over off camera.
"We did clear the air and have a chat and just agree that there's no hard feelings. We're not friends but we have got no hard feelings at all. He wished me the best, I wished him the best and we just left it on a reality positive note."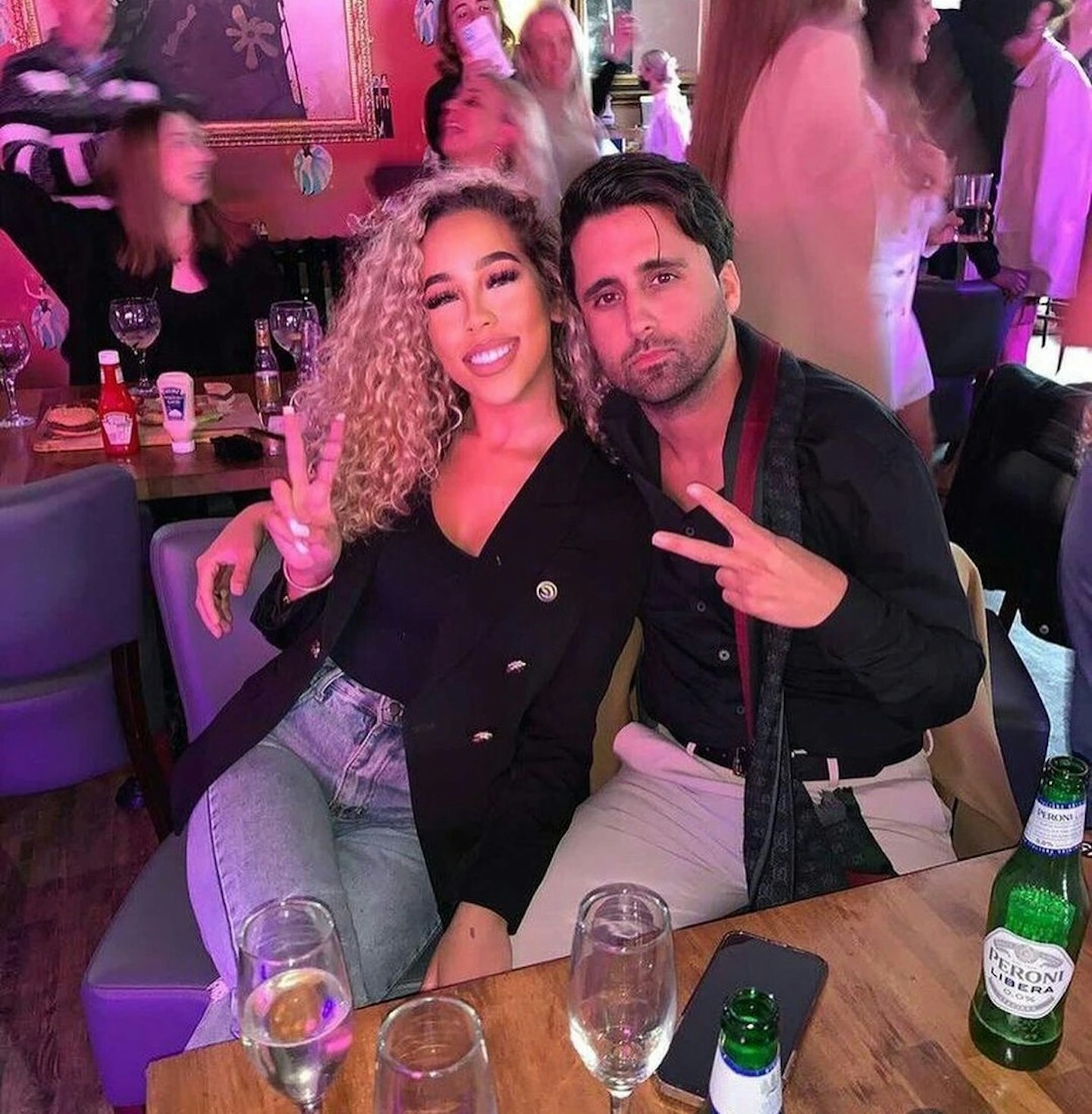 She continued, "You don't get to see that on TOWIE. We don't really speak but off camera, behind the scenes, we did have a conversation and we are on good terms, which is nice."
What happened between Dani Imbert and Roman Hackett?
They were BFFs but cracks began to show in Dani and Roman's friendship during series 29 as they rowed over her relationship with Gatsby.
Knowing what we know now it's a wonder if Roman was perhaps a little jealous as it seems that the two are now dating.
Back when they were just mates, Roman asked Dani, "Are you two perfect now then, yeah?" She then replied and said, "Not perfect, no one's perfect."
However later on he asked his BFF, "Have you said to me before you're not happy with Gatsby."
And after she responded, "Maybe I've confided in you a bit too much. Maybe it's insecurity, whatever", Roman then said, "Crack on with your fake relationship, yeah. You're a f---ing joke."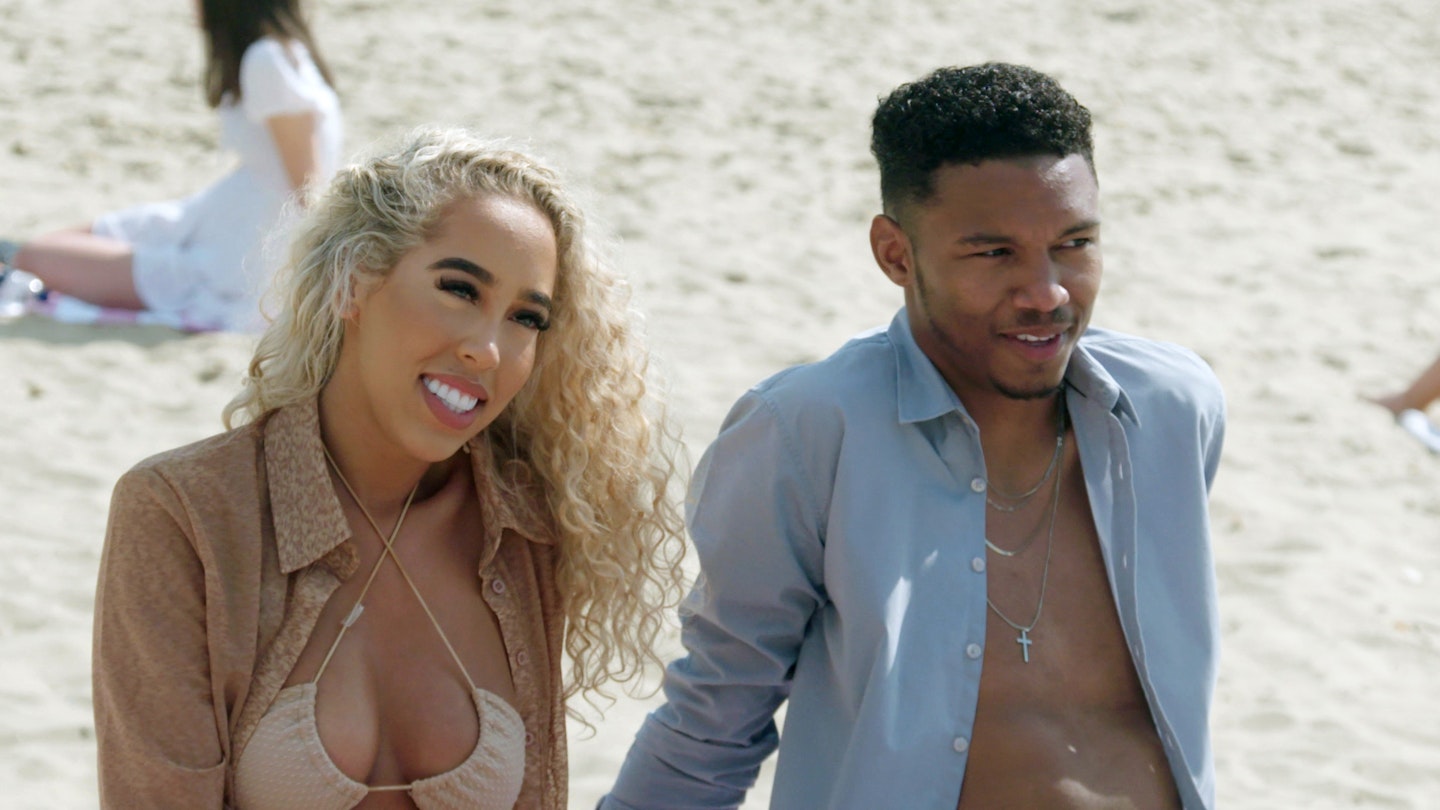 Is Dani Imbert dating Gatsby?
Gatsby wined and dined Dani (in a chicken shop, no less) when she first joined the show and the pair went from strength to strength. They continued to pursue their romance over the summer and made things Insta-official, so viewers genuinely thought they were boyfriend and girlfriend.
However in September 2021, things weren't so clear after she revealed "we're not even official yet".
Fast forward a bit and the couple became official after Gatsby whisked her off her feet (literally) on a romantic plane ride and asked her to be his girlfriend.
They have since split and parted ways amicably.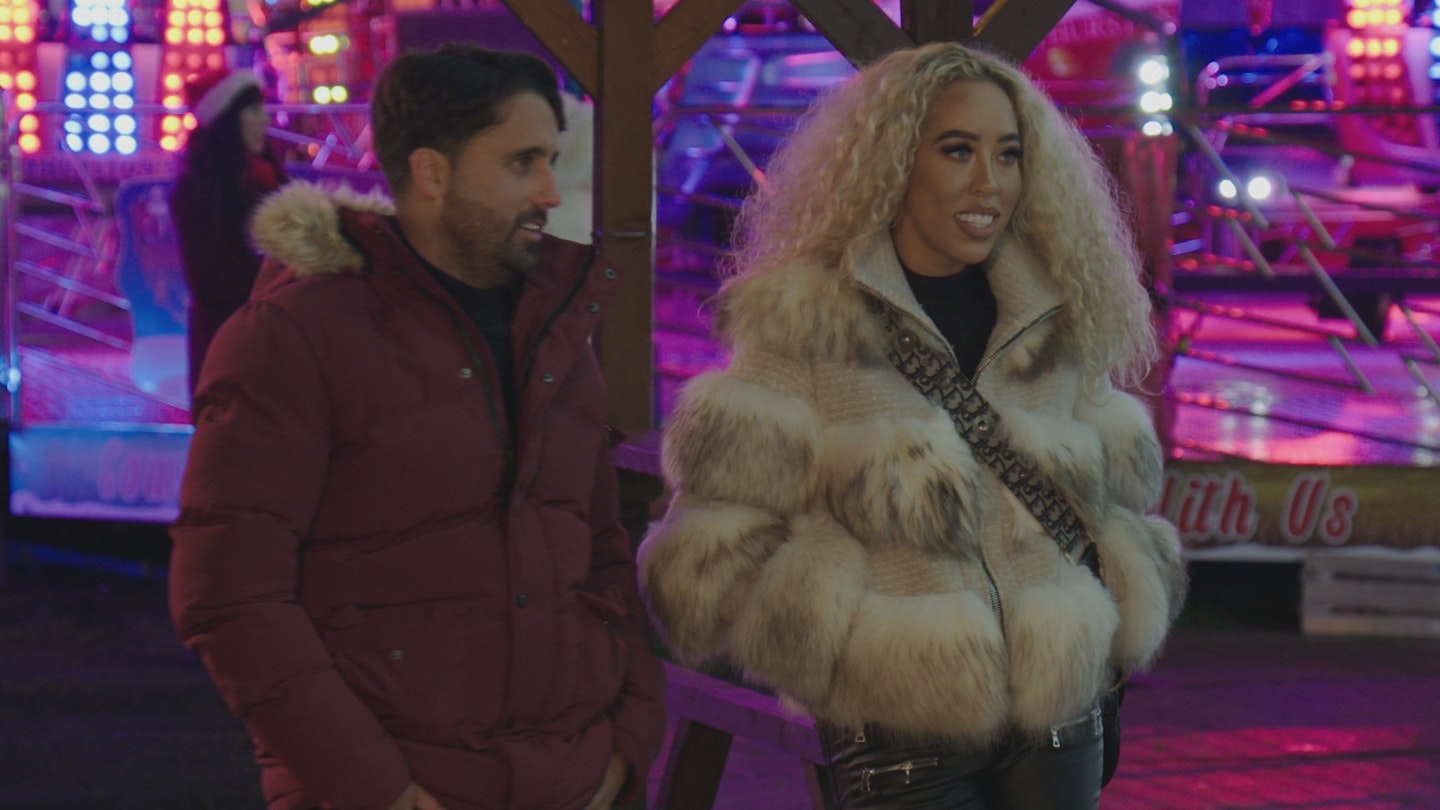 Dani Imbert and Gatsby's split
In autumn 2021 the couple were forced to deny that they had split following reports that they were 'no longer speaking' after a 'blazing row'.
A show insider told Closer, "They have not and never did break up."
Neither Gatsby or Dani commented on the break up rumours, but Dani did share a cryptic post about only have "one life".
The Instagram post read, "Been thinking a lot about life lately and it's only sunk in that you only get one life, you don't get another go at it.
"Never give a f--k about what anyone thinks about you, life's too short to be anything but happy."
Fast forward to 2023 and the pair have officially split.
How old is Dani Imbert?
Dani is one of the younger cast members, she turned 23 in April 2022.
What is Dani Imbert's job?
So it turns out Dani models for clothing brand Jessica Stone Ltd, that features on ASOS. She also used to work in finance in between filming for TOWIE but has since left that job to focus on TV and social media work.
Where is Dani Imbert from?
She's from Essex, of course. However on her Instagram Story she's told followers that she's St Lucian.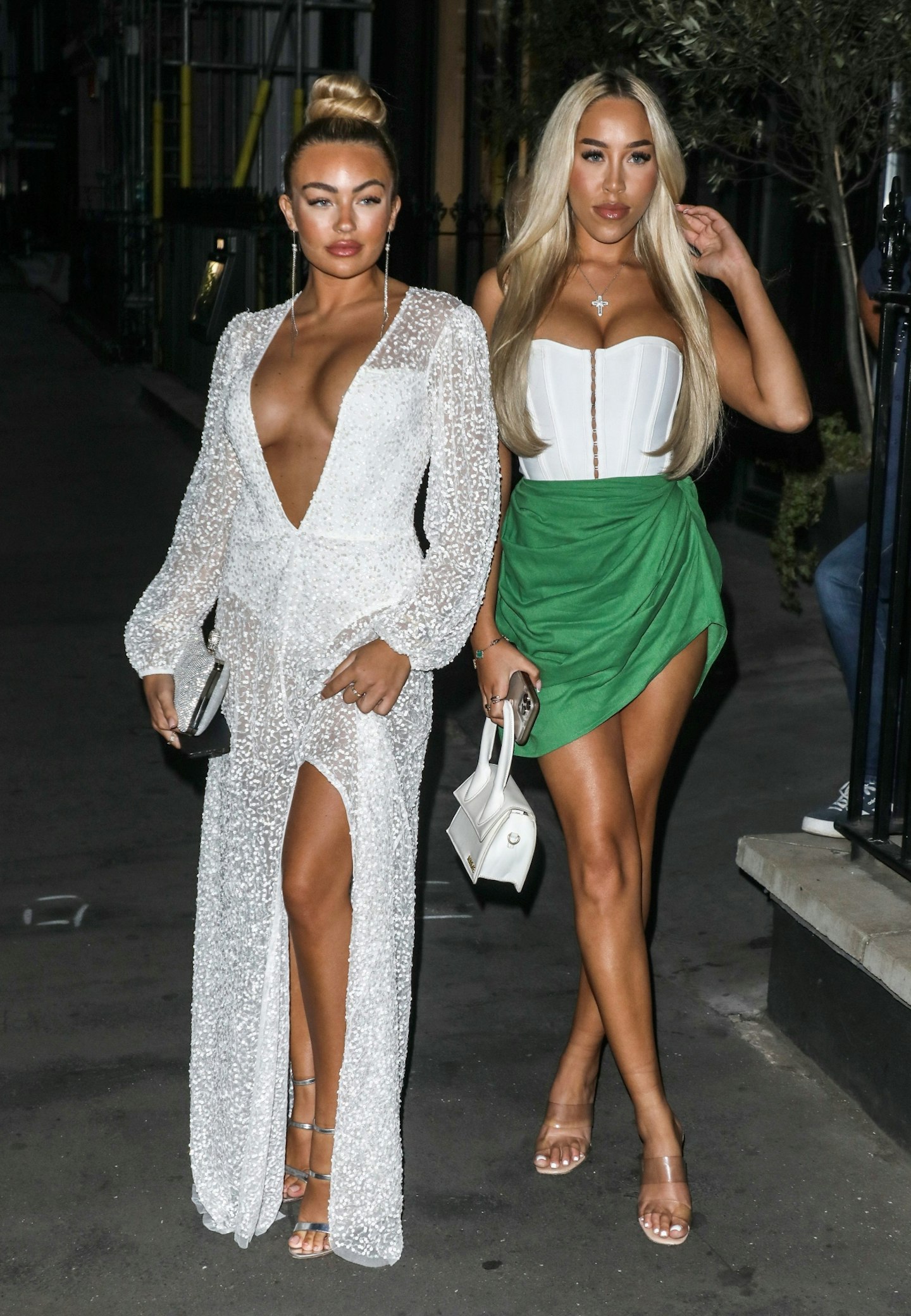 When did Dani Imbert and Gatsby first meet?
During the second episode of TOWIE series 28, Gatsby revealed that they chatted online after he liked all of her Instagram photos before sliding into her DMs.
Dani has since said that they actually meet at a bar, "He came over to me and asked me to do a shot with him".
The duo were planning to meet up in person but were forced into lockdown. But after the second lockdown ended, it came to light that Gatsby had a girlfriend.
What has Dani said about TOWIE?
Dani has opened up about her TOWIE experience and admitted that although she stars on the show, she doesn't even watch it.
During an Instagram Q&A one of her followers asked her, "How do you feel about last night's episode?"
Dani then admitted, "I don't actually watch any of the episodes back. I just live in the moment & when the episode airs I just hear what other people think of it ❤️".
Well, at least she's honest.
She recently admitted that she doesn't see herself committing to TOWIE long-term. During an Instagram Q&A, she admitted, "I do love my job, but it's not a forever thing for me, I want more ❤️."
Does Dani Imbert have Instagram?
She sure does. You can follow Dani on Instagram here: @daniimbert.
WATCH: Junaid, Roman, Saffron and Jordan spill the tea on 'catty' fights | TOWIE secrets