TOWIE's Chloe Meadows has opened up about her fancy job outside of the ITVBe show and it's very different from reality TV.
The Essex star and her bestie Courtney Green made a triumphant return to the show that made them famous earlier this year after they were axed in 2021.
And it's well known the TOWIE cast have other jobs outside of the show but despite launching a podcast with BFF Court, Chloe has also gone back to university and got herself a job.
Speaking exclusively to Closer Online at the TOWIE series 30 launch she explained, "I went to a specialist design uni in Chelsea. I did a consolidated course so I basically crammed it all in a small amount of time."
"It was really stressful. I literally couldn't go out for a long time. I didn't do anything.
"Weekends and evenings I was working but it was good for me to use my brain," she joked.
The TOWIE star went on, "I was really worried that the interior design world would look down at me because I was a TOWIE star so I just really struggled with it.
"But that's why I wanted to go back to uni and actually get a qualification so nobody could say to me 'Oh, you can't do this.'"
After getting her qualification Chloe then went to work, "I did a six-week internship, every day going into the office which was bizarre for me and then I flew to Dominican Republic for three weeks and now I have a job for another company."
And, funnily enough, it was Chloe and her boyfriend moving house that sparked her career turn, "[Me and] my boyfriend were just renting a flat - I got all the furniture and just decorated it - and then when we went to buy a place, people were coming in to view the flat and the first people were like 'We want it and we want to buy all of your furniture, down to the mirrors and picture frames.'
"And I thought 'Oh, okay I really enjoyed doing it maybe there's something in this', so I started looking into it and was just like this is what I'm going to do."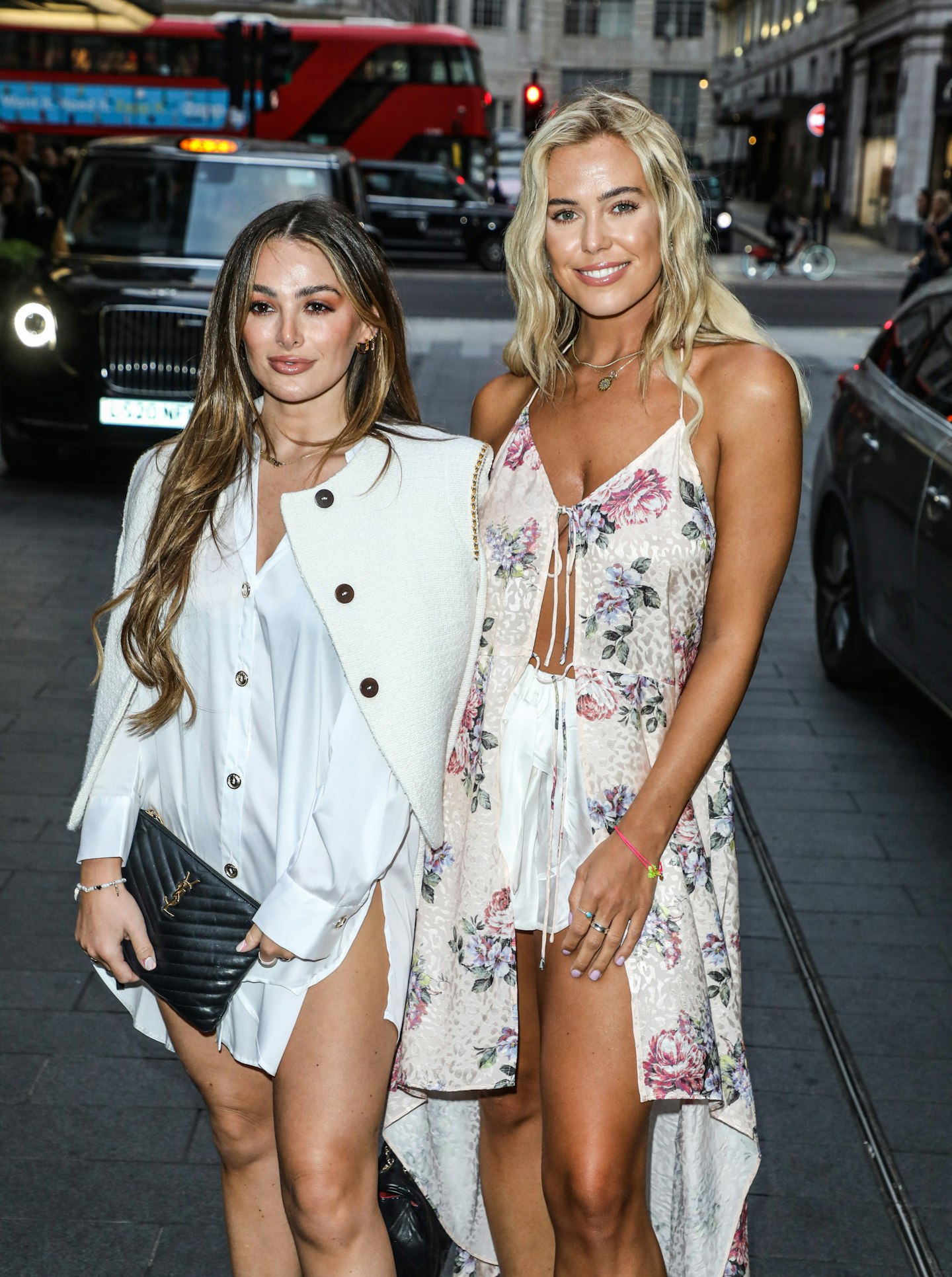 Earlier this year, Chloe took to Instagram to share with followers her pass for an interior design show.
Sweet work.
In March, Chloe told her followers that she had just completed her interior design course.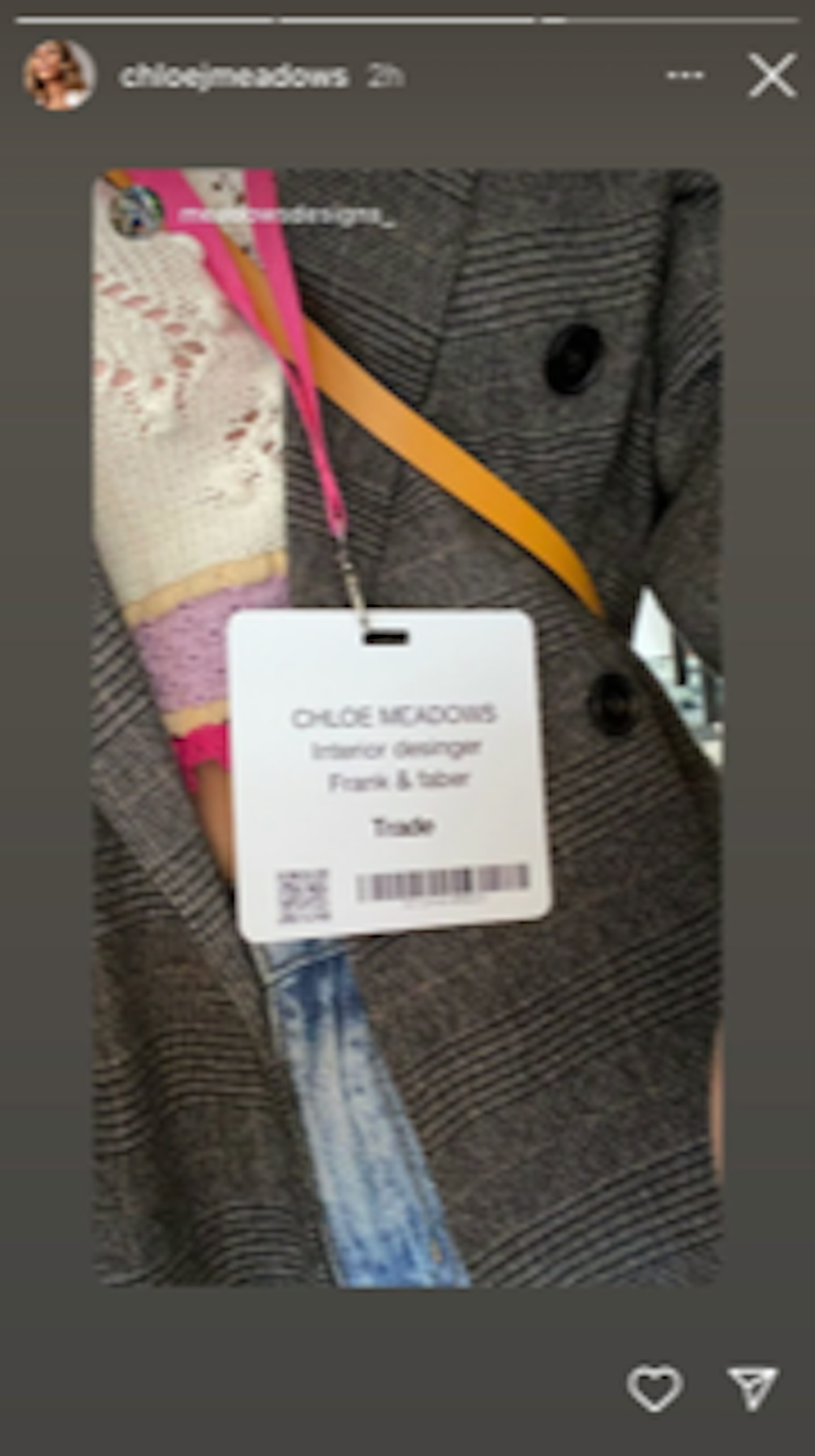 She wrote, "Am I an interior designer yet? Celebrating graduating last week with the girls that have got me through i.e Kev's babes 👩‍🎓🎉❤️."
When did Chloe Meadows join TOWIE?
Chloe joined the cast of TOWIE way back in 2014 and was introduced as a best mate of Megan McKenna. Despite appearing fair and calm (different from the other cast), Chloe has definitely had her fair share of drama, including a HUGE fall-out with her former BFF Megan and arguing with Courtney's ex-boyfriend Myles Barnett.
In 2021, Chloe and Courtney returned to TOWIE to finally confront Gatsby over his fall out with best pal Chloe Brockett.
Who is Chloe Meadow's boyfriend?
She's happily loved-up with her long-term boyfriend George Wales, and she tends to keep her relationship out of the limelight. However, Chloe and George are big fans of showing of their incredible houseand dreamy walk-in wardrobe.
George is a city-trader and they have been dating on and off since they were teenagers. Awwww!
Speaking about her relationship with George back in 2019, Chloe gushed, "He's called George and is a trader for a bank. We went out when we were younger before TOWIE, we then split-up but got back together about a year ago.
"We are loved-up and really happy. I have never been this happy in my life. When you know you know. It is just so easy. Relationships are supposed to be easy and have fun. You're not supposed to have agg and drama. I'm praying he is the one."
How tall is Chloe Meadows?
We don't know for sure, but Chloe is said to be 5"6, although she looks much taller thanks to being friends with Courtney, who is 5"1.
Why did Chloe Meadows argue with Dani Imbert?
Chloe's feud with Dani first began when Dani started dating Chloe's long-term friend Liam 'Gatsby' Blackwell. Gatsby accused Chloe and Courtney of meddling in his relationship when rumours started flying around Essex and the BFFs later claimed Gatsby "mocked their failures" after they were axed from the show.
But, following their return to the show, Chloe and Courtney quickly made amends with Gatsby and suggested that Dani was the reason they fell out with him. It later claimed to light that Chloe, Courtney and Gatsby had recorded shady videos of themselves singing Justin Bieber's Love Yourself aiming the very pointed lyrics at Dani.
Dani fumed, "Like why are you indirecting me, I'm not indirecting you? You've got to think, when I was with Liam, they tried to clear the air so many times. The girls didn't want to know, they literally told Liam to do one, pretty much. As soon as I am out the picture, they're best friends. Did you want to make up with Liam because you wanted to make up with him or was you just trying to annoy me the whole time?"
What happened between Chloe Meadows and Junaid Ahmed?
Junaid Ahmed joined the cast of TOWIE ahead of series 30 and although he was a new face on our screens, he had history with the like of Chloe, Courtney, Amber Turner and Chloe Brockett as they used to be friends. Junaid claimed that Amber had "dropped him out" and then he became friends with Dani, Ella Rae Wise and Yazmin Oukhellou.
Junaid supported Dani in her row with Chloe and Courtney, branding Chloe a "plain Jane".
WATCH: Chloe Brockett on her secret row with Yaz, feuding with the Sims sisters and Mark Wright returning