There is always someone rowing in the world of TOWIE and at the moment there are currently about twenty different feuds kicking off between the cast.
Ella Rae Wise may have built bridges with Amber Turner, but the ones she once shared with former besties Dani Imbert and Junaid Ahmed are well and truly burnt.
Chloe Brockett is also no longer BFFs with Elma Pazar and has officially been booted out of Girl Band after falling out with Queen Bee, Amber.
She has also found herself in hot water with not only Jordan Brook but also his girlfriend and reality TV icon, Sophie Kasaei.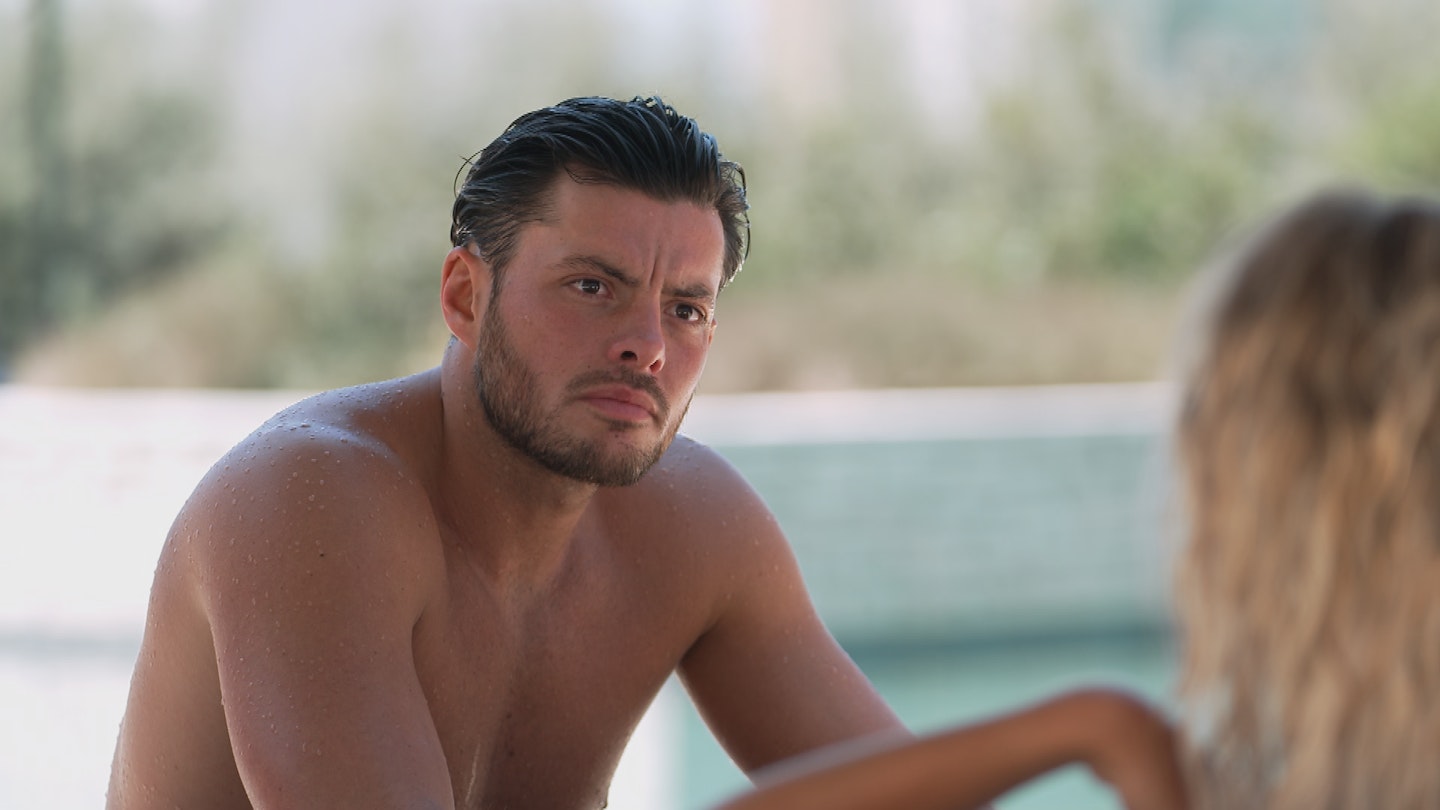 We caught up with the Geordie Shore turned TOWIE star and asked her about life in Essex and where stands with the recent Jordan/Chloe/Junaid dramz.
"Jordan and I are such easy-going people, and we get on with everyone. TOWIE's a lot different to GS – sometimes I really struggle to get a grip on the fact that scenarios happen for drama," she admitted, "When Jordan has these scenes and scenarios, yes we do speak about."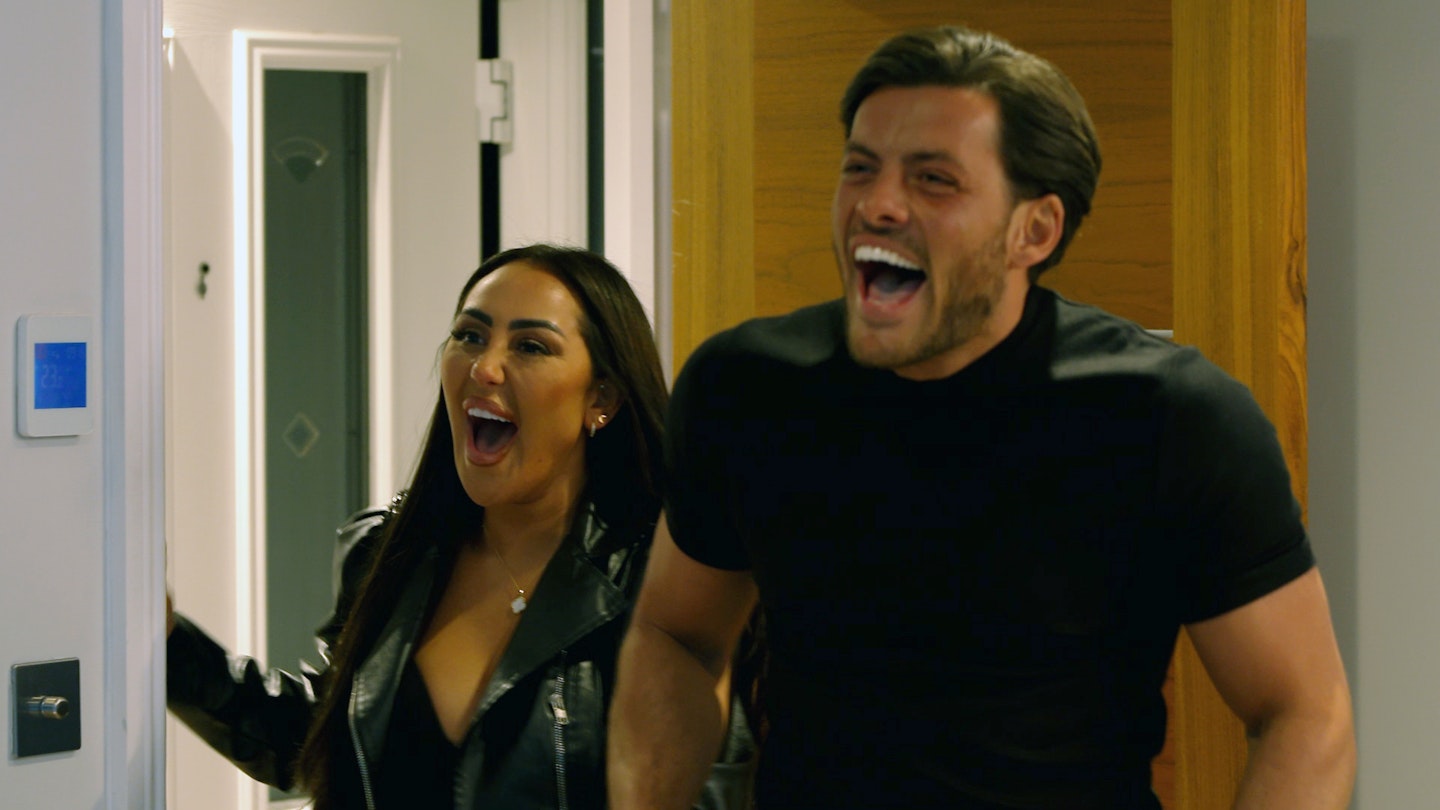 "Trying to come for Jordan, anyone on that show, they're coming for the wrong guy. He's a got a good heart, they're not going to get what they want, he's got nothing to argue about."
Jordan often finds himself on the receiving end of Chloe Brockett's rants and the barber recently confessed that he "lost his head," at Junaid in an upcoming episode of TOWIE series 32.
"For now, I'm 34, I don't want to be a TV show arguing with kids about irrelevant things when I'm trying for a baby," Sophie went on, "I've got bigger fish to fry. I get a lot of comments, like 'omg she said this about Jordan, why aren't you coming for me?' at the end of the day we know that GS is about girls who are aren't afraid of holding back, but these days I'm more grown. Of course, you don't want to see your boyfriend have an argument on TV and it hurts."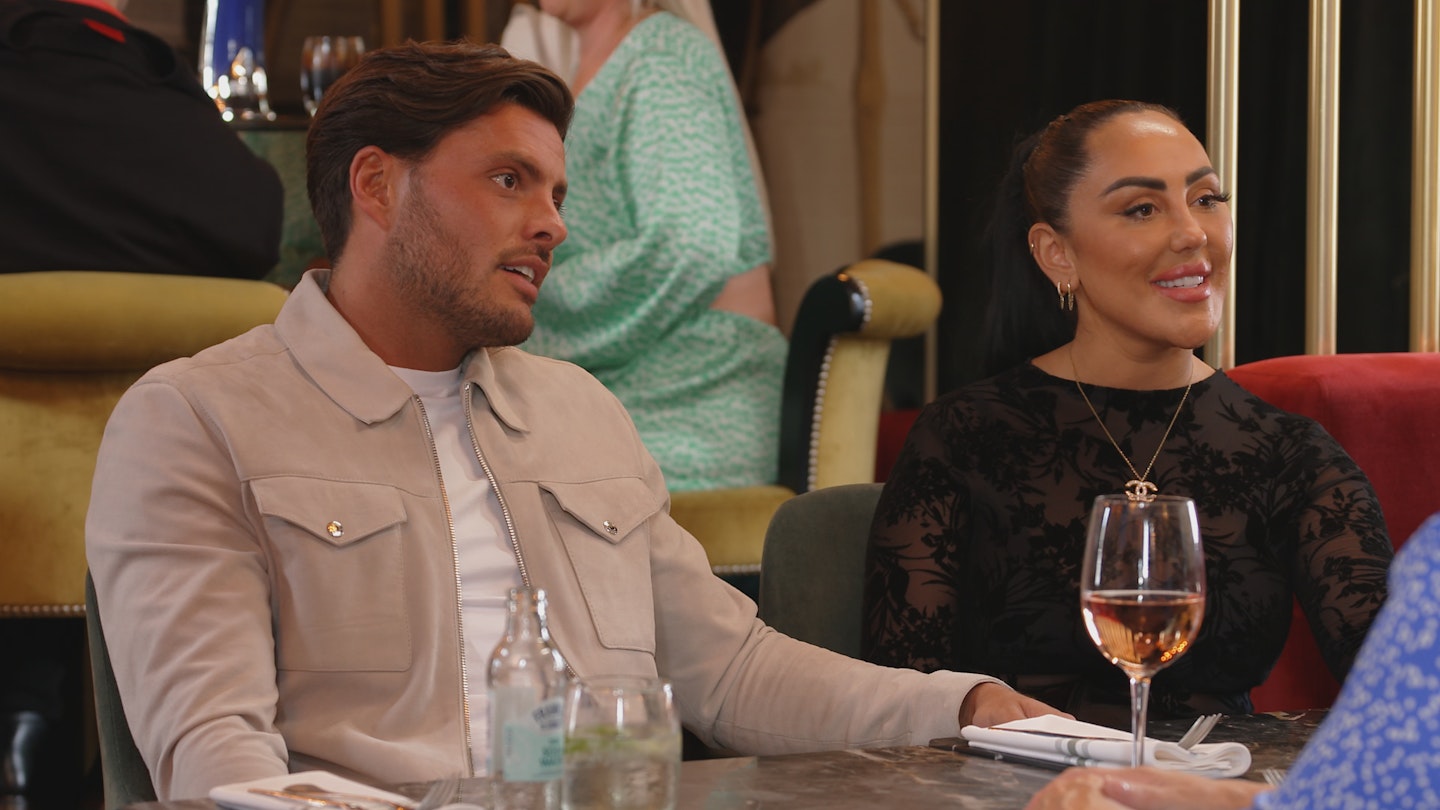 Jordan previously spoke out after Chloe accused him of "selling stories" about her following reports of a secret romance between the co-stars (pre Sophie, obv.)
When Jordan returned to the Essex scene after four years away he quickly set his sights on Ella Rae Wise while they were holidaying in the Dominican Republic. After serenading her on boat, the pair went on a date when they returned to the UK but things fizzled out.
It was then reported that Jordan had started dating Ella's nemesis Chloe but had dumped her when filming came to an end. She was quick to hit back on social media, accusing Jordan of "begging" her to post photos of them together and even suggesting that he sold the story to the tabloids himself.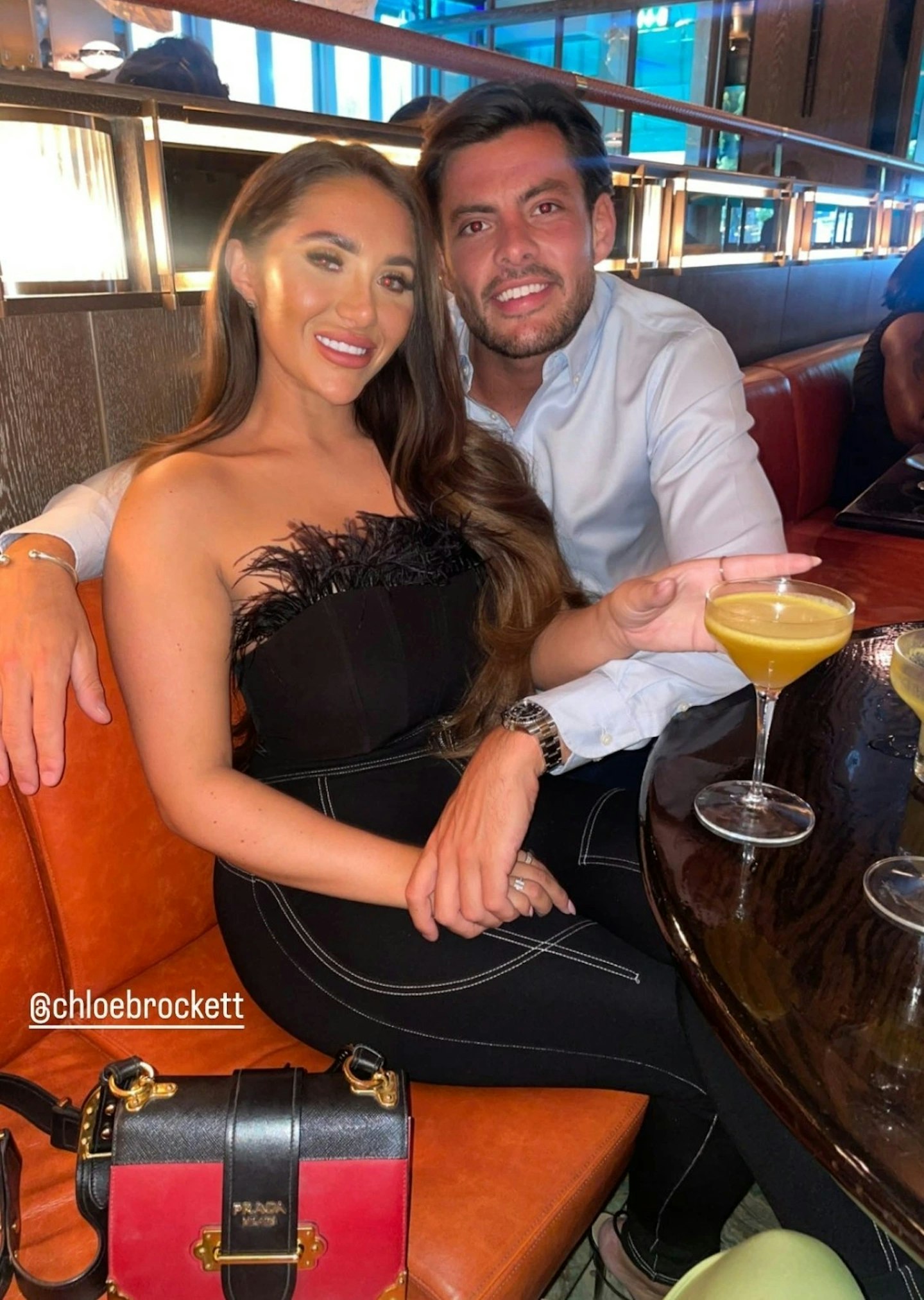 During the fiasco we caught up with Jordan and his co-stars Saffron Lempriere, Junaid and Roman Hackett - and were able to ask what went down between him and Chloe.
Jordan said, "Listen, me and Chloe, we went and had a good time and that was that. There was no item there, we wasn't ever a couple. There was a bit of flirting going on and that was that.
"I've got no hard feelings whatsoever but I know she's got whatever she wants to say about me."
Addressing Chloe's accusations that he sold stories to the tabloids, Jordan added, "I don't need to respond to that. I'm incredibly busy. With Chloe, she got her back up a few things and she can say whatever she wants to say. I don't want to dig her out at all. She's a young girl doing what she wants to do.
"You'll see that unfold on the show, whether that works out or not. I think it's pretty clear."
"He crossed lines between two girls that don't like each other. It was never gonna go down well," added Saffron.
Following Chloe's comments, Jordan was defended by his co-stars, with Junaid saying, "For her to say the comments that she said about Jordan is not right." Roman added, "It was uncalled for."
We aren't so sure Junaid would be Team Jordan if such a story was still going on today as the self-confessed 'bitch with a heart of gold,' is now basically besties with Chloe B.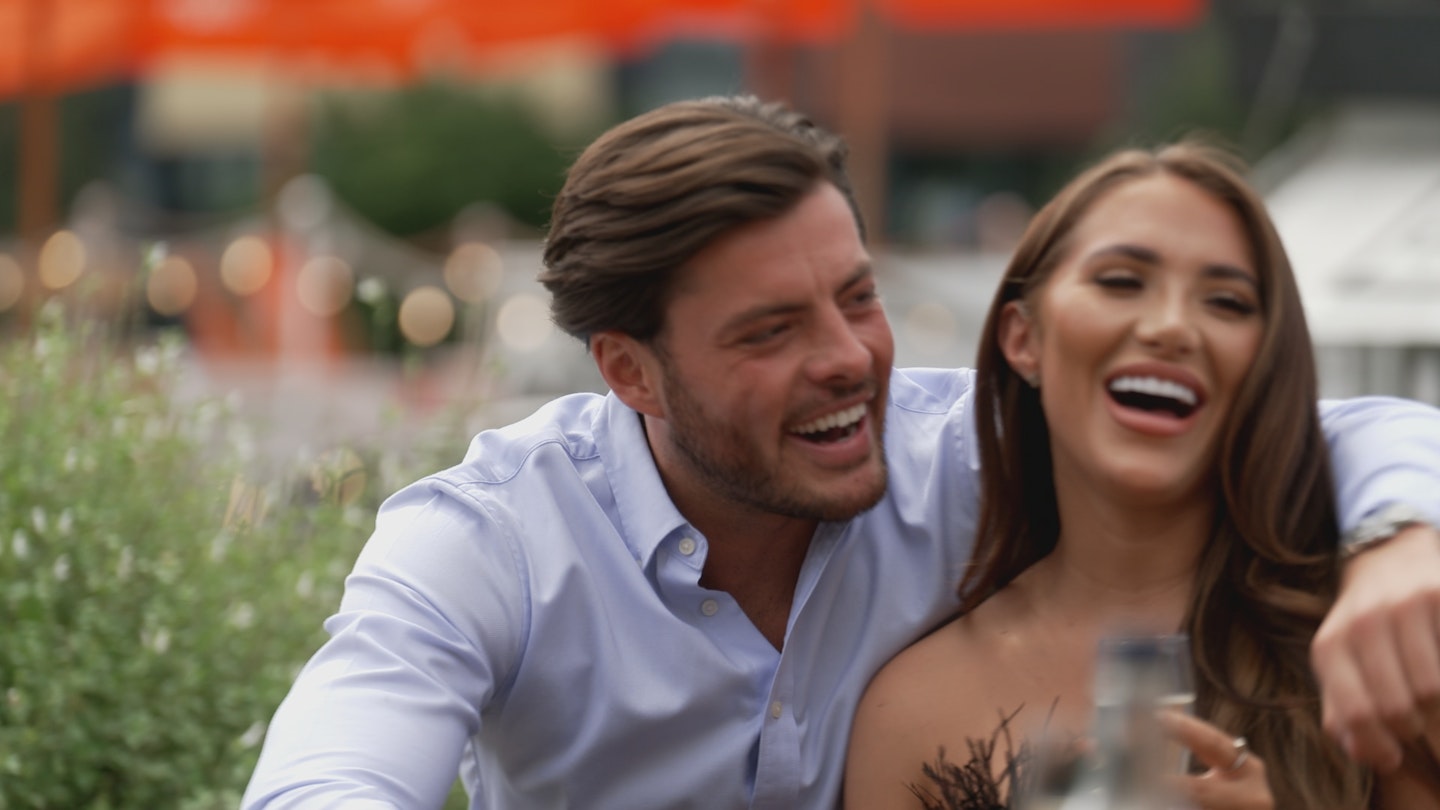 In a now-deleted Instagram post, Chloe claimed Jordan had "begged" her for pictures on a night out and accused him of selling stories about their alleged romance.
According to a source close to the show, Chloe and Jordan had "grown close" during filming but he "ditched" her when filming ended – leaving her convinced he was only interested in a "showmance".
But Chloe hit back on social media and wrote, "I have NEVER dated Jordan Brook.
"I went on one night out with him as a group…he posted a photo of us two together…next thing you know we're linked.
"I have no clue where these sources are coming from…but I'm pretty sure it's the same person who begged me to repost the picture after it was taken (himself)."
She continued, "This is the last time I will be speaking on this, I will not be giving any time or energy to someone who I have had all of five conversations with in person. We are NOT LINKED, NEVER HAVE BEEN, NEVER WILL BE! Please go and sell some stories on your up and coming singing career 🥱."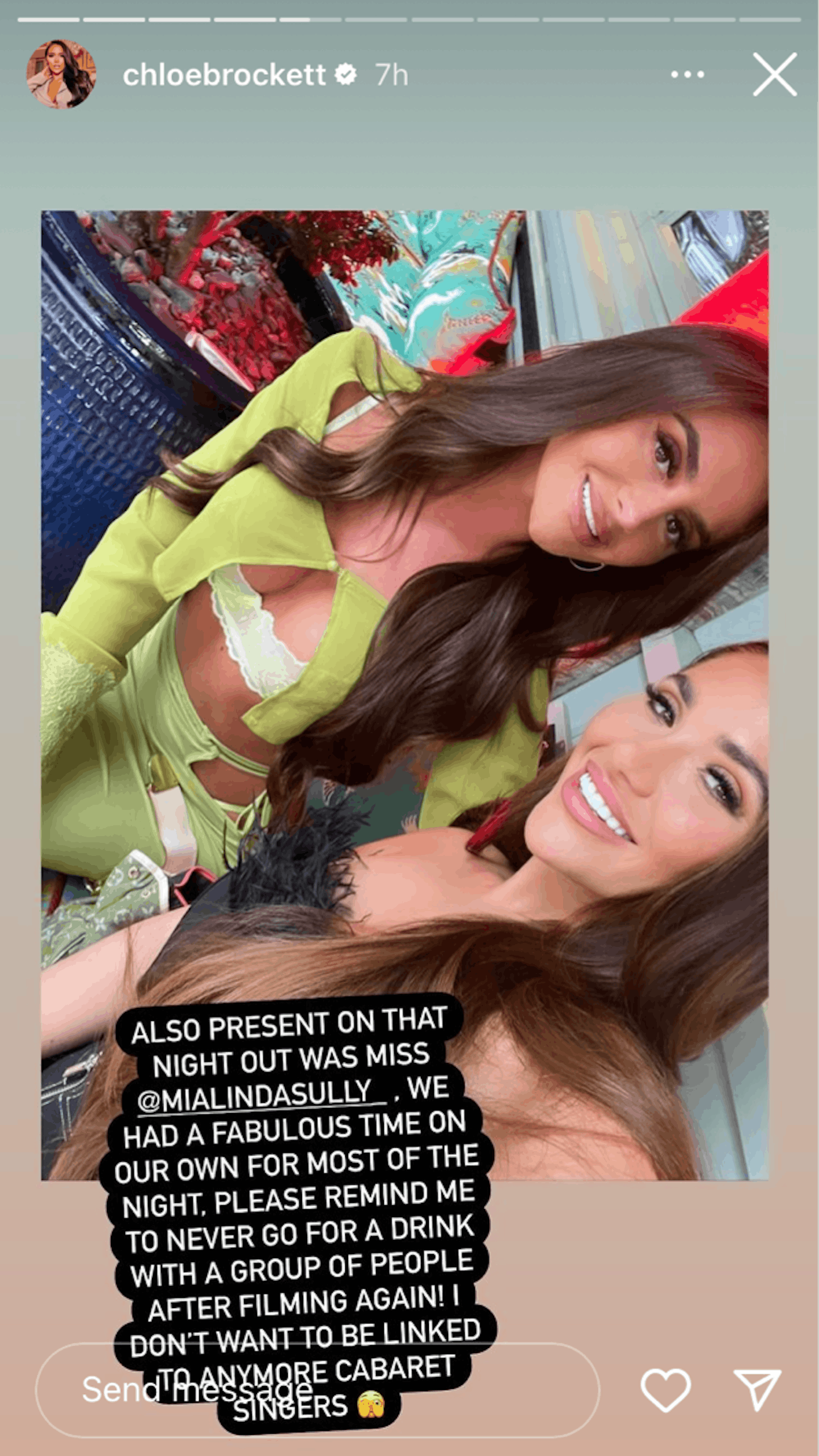 In a separate post, Chloe threw shade at Jordan's singing – after he serenaded Ella during an episode of TOWIE – and told her followers, "Also present on that night out was Miss @mialindasully_. We had a fabulous time on our own for most of the night.
"Please remind me to never go for a drink with a group of people after filming again! I don't want to be linked to any more cabaret singers."
Chloe also spoke about her feud with Jordan during an appearance on the Saving Gracepodcast when she was asked who she would 'Snog, Marry and Avoid' out of James 'Diags' Bennewith, Jordan Brook and Liam 'Gatsby' Blackwell and she immediately admitted that she would avoid Jordan.
"Avoid Jordan Brook, I'm sorry. I really don't like him. It was straight away. Everything he says is sincere, I've never met someone who makes the smallest thing so deep. He's not for me. I had exploded at Jordan at the finale filming off camera. He's just too much, he's annoying."
She then chose to marry Diags because "they'd laugh all day long" and snog Gatsby because they "don't hate each other anymore."
WATCH: Chloe Brockett speaks out on Lauren Goodger returning | TOWIE Secrets
Emily Vierke is a digital writer who has dabbled in the world of celeb, beauty and fashion. She has watched TOWIE since Lydia Bright had her micro-pig and her favourite scene is Gemma Collins asking James Lock, "What's up? You ill?"