Every so often, we get the itch to cut and colour our hair to change up our locks, and with silver hair dye coming in as a trend thick and fast, we can't help but want to mix up our hair look too. We're all about the best hair dyes - specifically, that of the silver variety. Yes, the silver fox look is in.
Rest assured, we have done extensive research on the best at-home hair dyes, including dyes that are free from ammonia, whether to go with semi-permanent dye or not and which are the best value for the money. We're not going to lie, we've been banging on about the silver fox look ever since.
In a hurry? Here's our best silver hair dye at a glance:
Best silver hair dye (Editor's Choice): Garnier Olia 9.11 Silver Smoke Permanent Hair Dye, £10 on Amazon
Best silver hair dye for beginners: Schwarzkopf Live Ultra Bright or Pastel, £16.50 on Amazon
Best silver hair dye for shade customisation: SHRINE Drop It Hair Colourant Silver, £9.95 on Shrine
This article isn't going to bombard you with clichés about reinventing yourself after a bad breakup with some purple hair dye or a completely new trim. This is about doing you, whether you're single or not. Either way, it doesn't mean you can't be a little playful with your look. Now is the time to shine and go for that silver hair dye.
Even our fave celebs love to rock a bit of silver, from the likes of Kim Kardashian to our pop queen Rihanna, oh and of course, we can't forget about our man Zayn Malik, who is a big fan of the silver mop. Clearly, their hairdressers know which of the best hair toners and hair dyes to use.
SHOP: The best silver hair dye 2023 UK
Remember: Always do a patch test before using a hair dye.
Best silver hair dye for shade customisation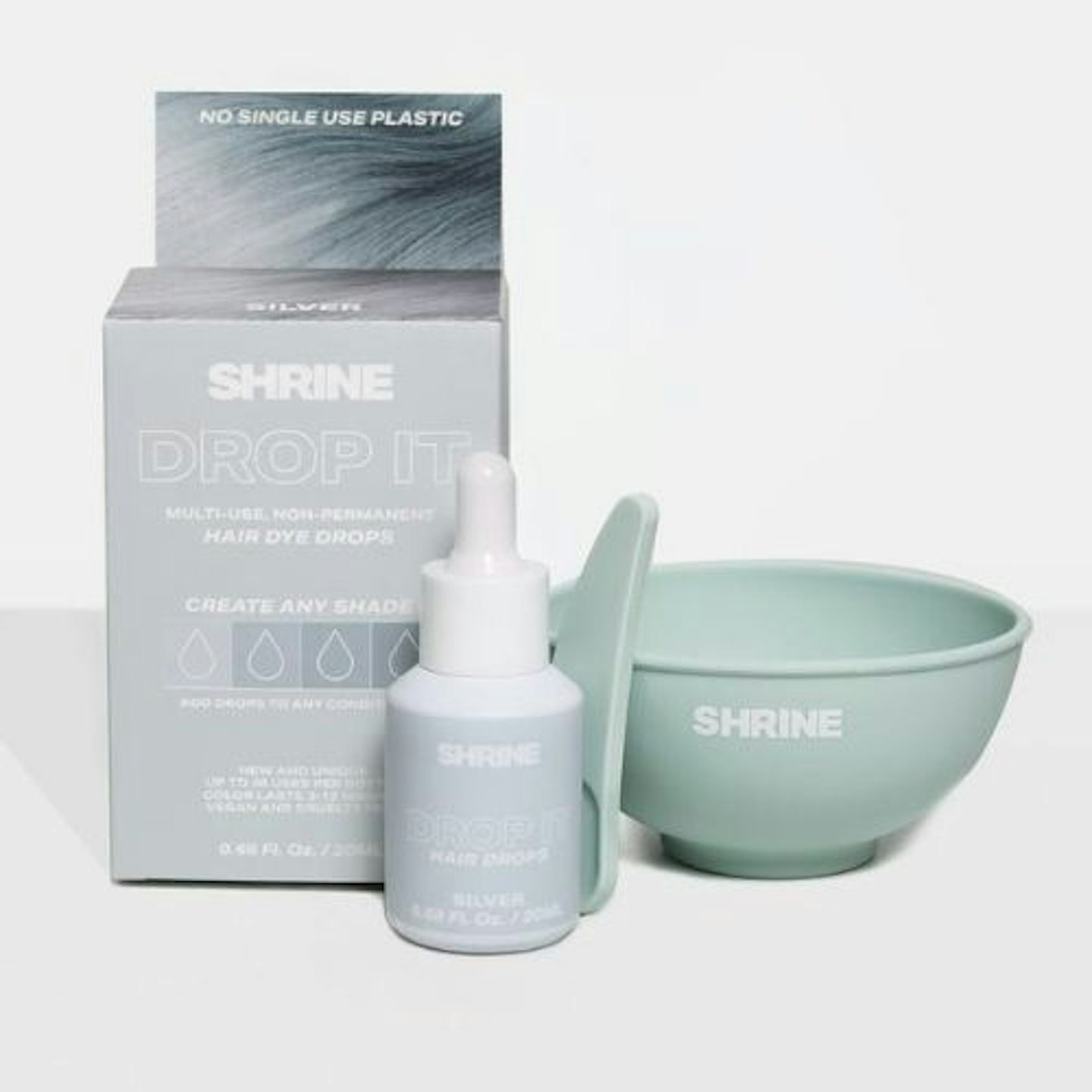 shrine
Description
Looking for a semi-permanent alternative that is affordable and customisable? SHRINE have released
Pros
Customise exactly the amount of drops and, therefore, the exact hue of silver you want
Add the drops to your own conditioner, so this is ideal for already fragile/bleached hair
Cons
Make sure the conditioner you add the drops to has no oils or silicones
Best silver hair dye for beginners
On Sale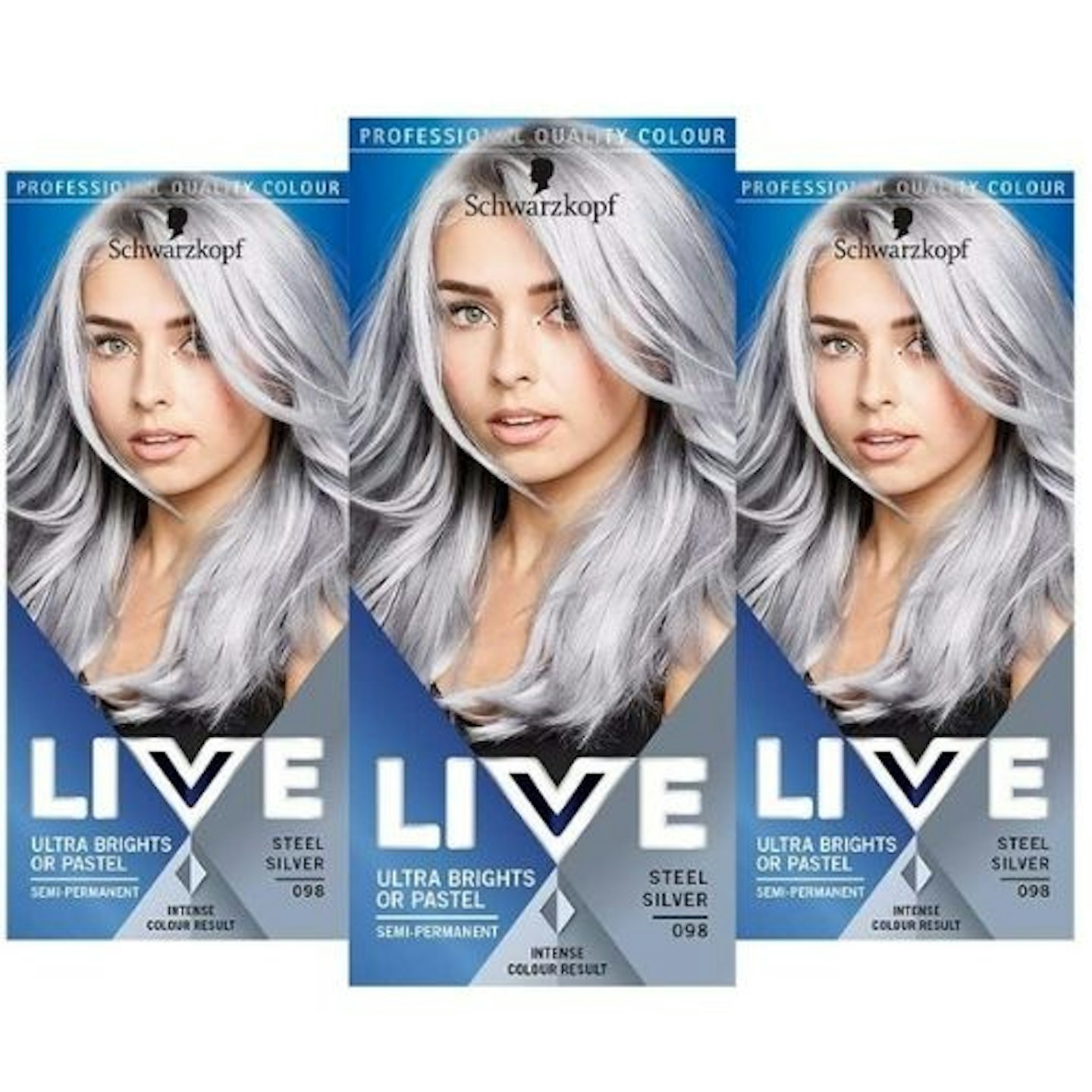 amazon
Description
For those looking to go full silver fox, this Schwarzkopf Live Ultra Bright or Pastel dye in
Pros
Comes with three boxes, so you will have plenty to cover your hair with
Leaves hair super glossy
Cons
You may need to try it on dry hair if it does not take to your wet hair
Best silver hair toner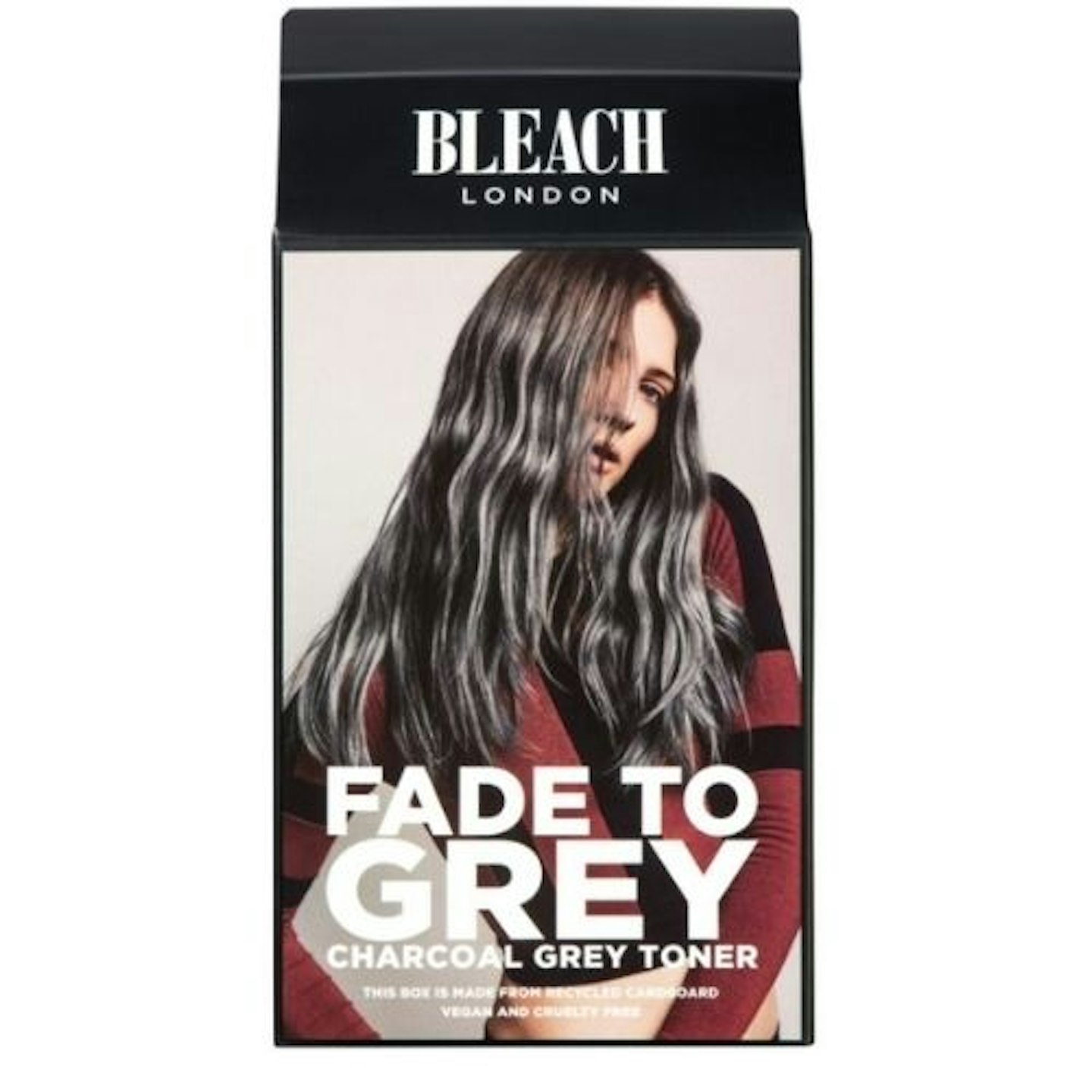 cult beauty
Description
This BLEACH London Fade To Grey Kit semi-permanent formula adds charcoal grey tones to
Pros
Ideal for those with pre-lightened hair who want to switch up without damaging their strands further
Rids of brassy yellow tones in bleached blonde hair
Cons
Due to it being a toner and not a dye, this product will wash out after a week or so
Best silver hair dye (Editor's Choice)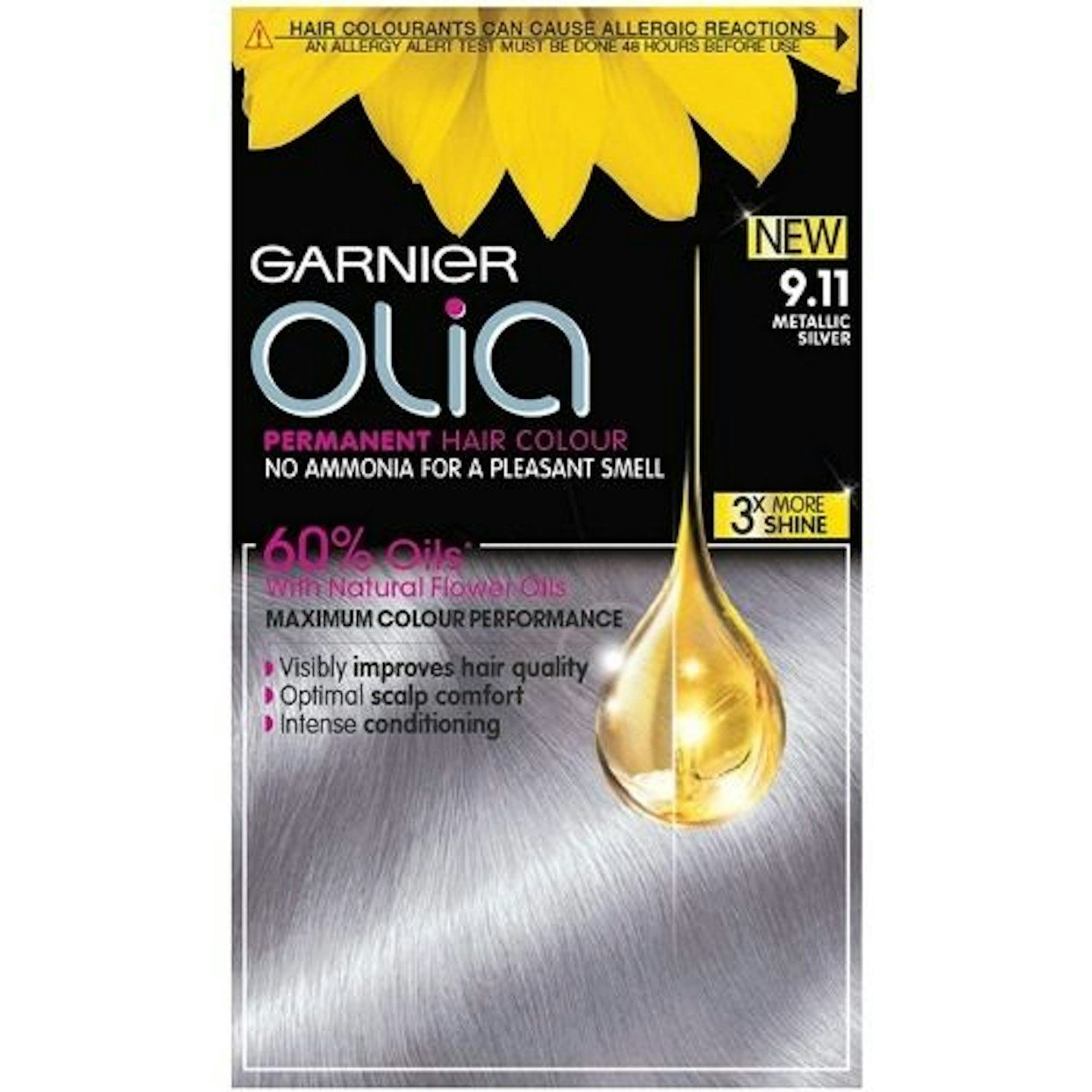 amazon
Description
Pros
Different silver tones layer together to create a dynamic look
When the colour fades after around three washes, it leaves a silver-ashy tone and then a platinum-white icy tone after more washes
Cons
This has a slight lavender hue to it at the start
Best silver hair dye for long-lasting coverage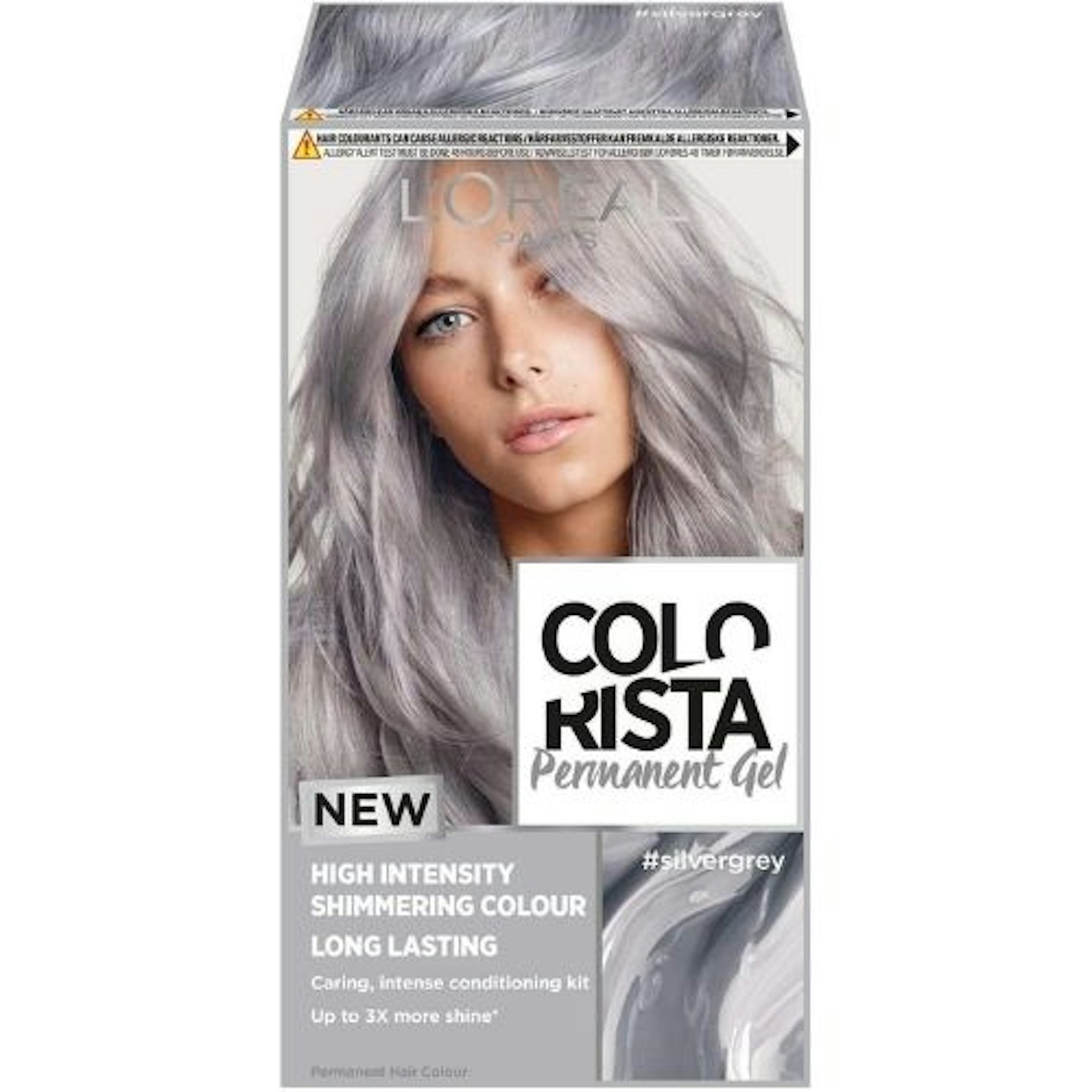 amazon
Description
For a high-intensity shimmer, look no further than the L'Oreal Colorista Silver Grey Permanent
Pros
Eight weeks of full coverage and up to three times more shine
100 per cent grey hair coverage
Cons
The formula can be drippy, so make sure to dye your hair in a cleanable place
Best silver hair dye for enhancing naturally grey hair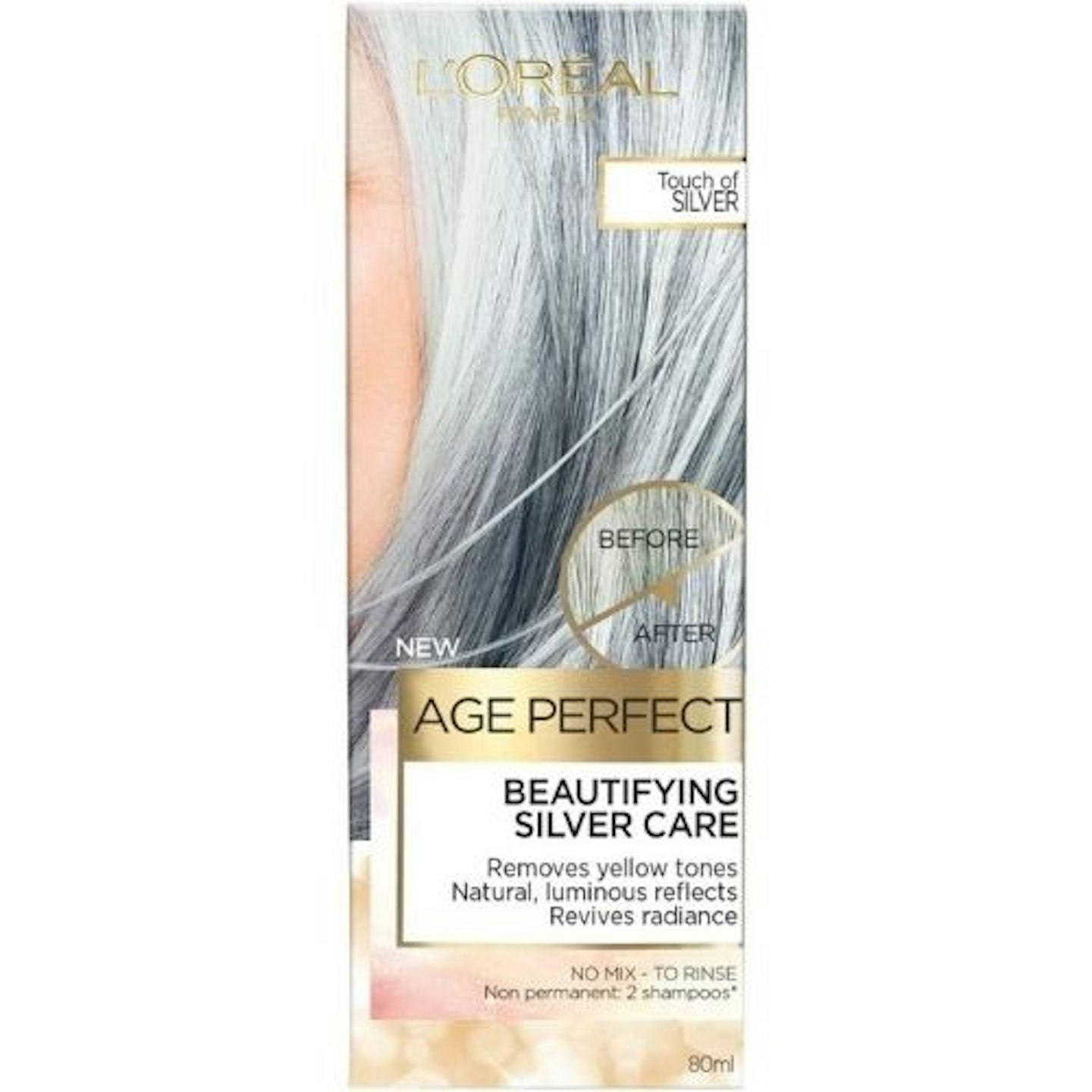 amazon
Description
Embrace the beauty of ageing with this grey-enhancing L'Oreal Age Perfect Colour Care in Silver.
Pros
No blocky colours or root lines
Eliminates any brassy, yellow tones from your natural grey hairs
Cons
Only lasts for around three washes
Now that you've decided which dye you're going to try out, it's time we answered some questions about how to use these hair products.
Silver hair dye FAQs
Why is silver hair dye blue?
This type of dye is commonly blue because it helps to lighten brassy colours such as blonde. If you leave this on for too long or use a purple shampoo when washing, you may find that your hair has tinges of blue in it.
Is silver hair dye permanent?
This depends on the type of dye you use and the colour of your hair. Most aren't permanent, but if you bleach your hair before using the dye, then this will last a lot longer.
How long it will last will also vary on the type of dye you use and how much maintenance you put into your hair. Once a week, make sure you use a hair toner to keep the colour in for longer.
Will it work on dark hair?
It's unlikely for this type of lighter dye to show up on dark strands. If you have black or brown locks, you'll need to bleach your hair blonde and tone your hair beforehand. If you are certain that a silver colouring would not work on your hair, why not opt for embracing your darker side and look for the best black hair dyes instead?
New to colour and hair dye? Here's what you should look out for at home dying kits:
Dying your own hair at home can be daunting, therefore, finding the right box dye that guarantees great results is a must. Here's what you should look for in a box dye:
• Easy-to-use applicator bottles.
• High-quality gloves are a must – box dye gloves can be thin and prone to breaking, so make sure you have some spare disposable gloves at hand.
• An after-care treatment/conditioner – after-care is crucial to maintain soft, silky and healthy hair.
• Easy to follow instructions - this is pretty self-explanatory, but every brand's dyes are slightly different, so following clear instructions is crucial.
Caitlin Casey is a Senior Beauty & Fashion Products Writer for heat, Closer, and Grazia. She covers shopping, women's lifestyle, popular culture as well as all things trending.