After 13 years of drama, we're fairly used to the TOWIE cast throwing us curveballs – but never in our wildest dreams did we think we'd be writing about Chloe Brockett's new wedding dress snaps ahead of the arrival of series 32.
Especially in the same week that she was spotted picking her ex up from the airport. Can you say, the only way is...up the aisle? Just what the heck is going on?
Chloe seems to have turned her turbulent TOWIE life around ahead of the launch of the new series later this summer. Not only has she got a new clique in the form of Junaid Ahmed and Dani Imbert, but she's squashed (some) old rows and even eliminated a Regina-esque frenemy or two.
As such, we were fully expecting to sit back and watch a whole new Chloe on our screens in a few weeks time, but never in our showbiz lives did we anticipate wedding bells in our girl's near future. After all, the last guy she had a dalliance with on-screen was Roman Hackett and that was, well, wingless.
The TOWIE icon recently shared several snaps of herself looking radiant in a stunning wedding dress on her Instagram story with her 407K followers – on the same day she was busy filming scenes for series 32 of the ITVBe series, we might add.
Oh, and did we mention that this was roughly 24 hours after she picked her TOWIE ex, Love Island star Jack Fincham, up from the airport after his lads holiday.
Again, WHAT IS HAPPENING?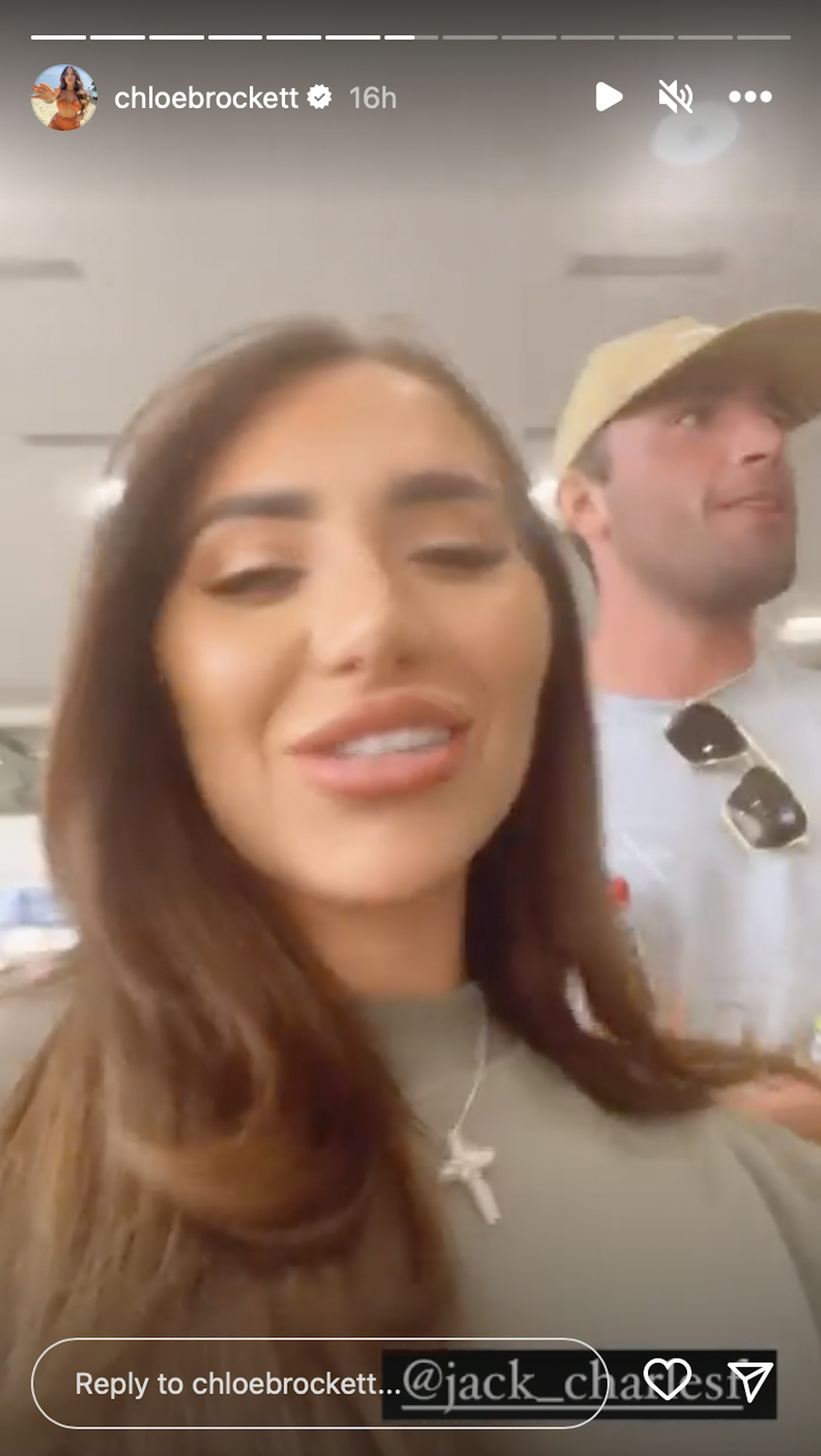 As with a fair few of the world's problems right now, the answer revolves around the subject of AI. The TOWIE star was, in fact, not wearing a wedding dress at all in her recent social snaps; she'd merely edited her face on to a another bride using an app called Remini, an AI photo enhancer.
Chloe captioned the stunning deep fakes, "This Remini app is too weird...me as a bride. Who's marrying me then?"
We're guessing not Jack Fincham then.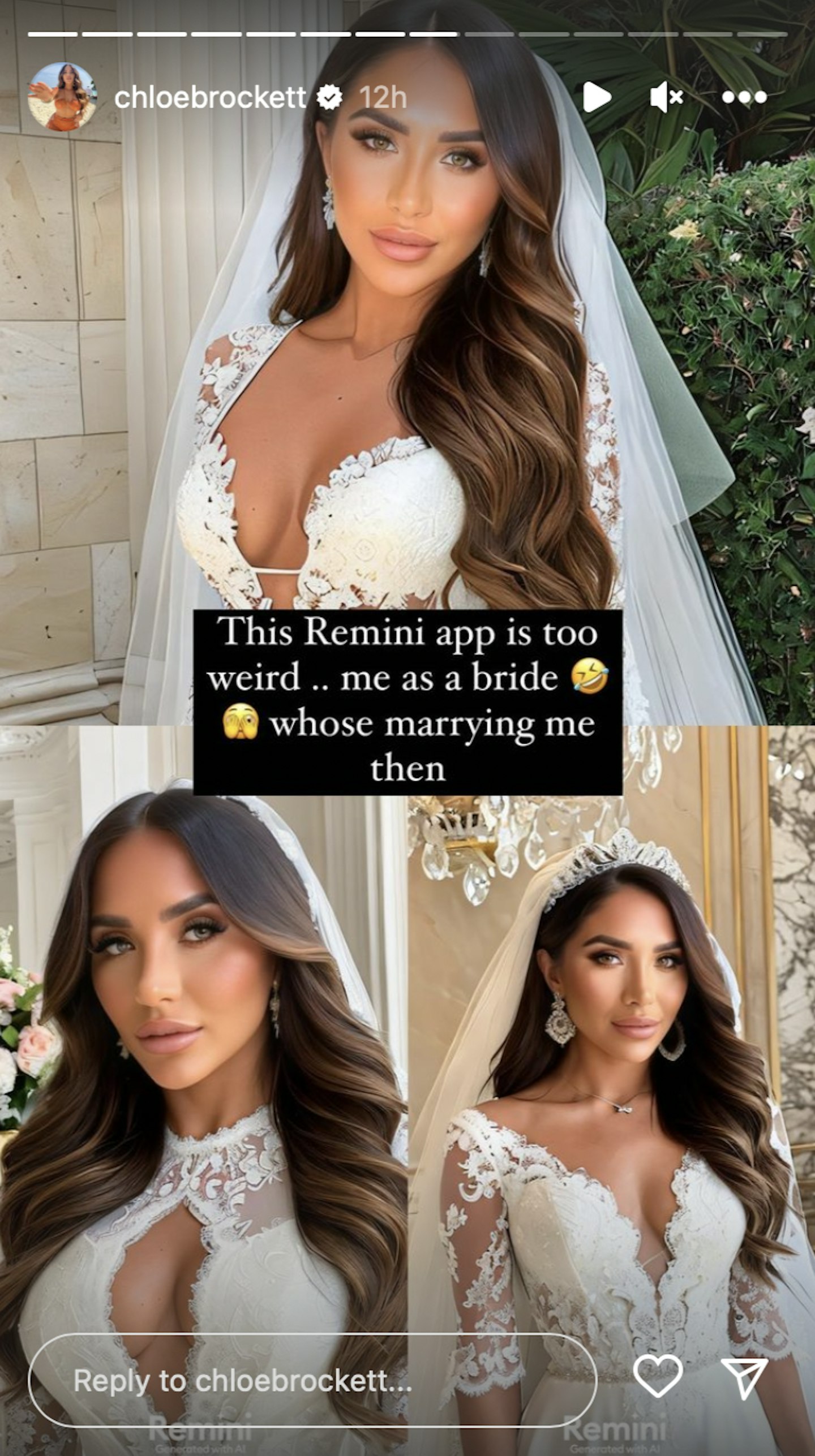 Jack was previously linked to Chloe back in 2019, with the pair calling it quits in May 2021. The former flames have remained pretty tight-knit – shortly after they split, Chloe said, "Me and Jack were friends for a long time before we dated and I'll always be there to support him as a friend" – which has naturally led to a fair bit of speculation.
But to be fair, Chloe, if you pick your Love Island ex up from the airport and then post pics of yourself in a wedding dress the following day, you're going to raise an eyebrow or two at Closer HQ.
As far as we can tell, our girl is currently single and living her best life with friends and family on and off the show that made her a household name, and regardless of what her Instagram posts might suggest, she is not getting married, nor is she preggers, nor does she have a baby (yep, she got AI to do all that, too – the future is here and it's deeply fake and deeply confusing).
WATCH: Chloe Brockett speaks out on Lauren Goodger returning | TOWIE Secrets