What colour should I dye my hair? With so much hairspo out there, it can be overwhelming settling on a shade, but if you're looking to switch up your look, there's no better time than the present. From Hailey Bieber's dreamy candlelit brunette to the Kendall Jenner-approved copper red, you're sure to find something to spark a salon visit, even if it's as simple as a few face-framing highlights or a low-maintenance, hand-painted balayage that screams summer.
That being said, we don't advise making any rash decisions. In fact, there are a lot of factors to consider before changing your hair colour. From paying attention to budget, your personal style and also colour theory (more on that later) we've called on a pro colourist, to find out what you should be asking yourself before booking into the salon. After all, you don't want to be stripping the colour out after a few days. Do your research and keep reading instead...
What is colour theory?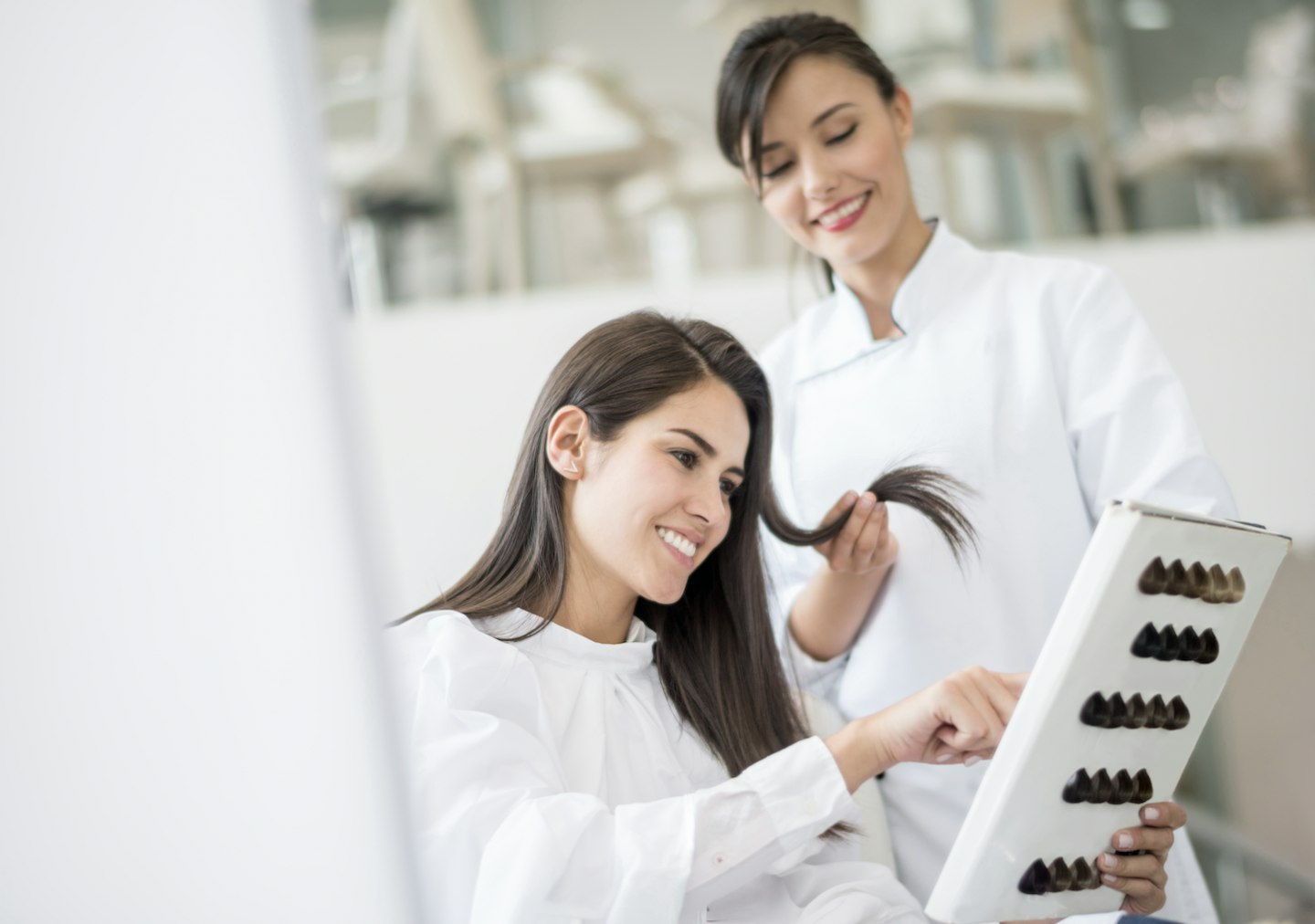 As far as hair trends go, experimenting with colour is certainly the most fun, but as tempting as it can be to play with fun, funky colours, you'll want to decide whether you actually like your natural colour first, explains Skye Haynes, Colourist at Larry King Salon. "If so, then it's just a case of adding things to your hair, for example, baby lights or balayage, as this will add dimension to the hair, while also keeping it looking soft and sunkissed." Both techniques are also designed to grow out evenly, meaning less touch-ups. So, perfect if you're on a budget!
"If you're a blonde wanting to tone things down, you can add darker sections to break up your natural colour – this is called reverse balayage," Skye says. "But if you'd like to embrace your blonde, I'd recommend highlights," she adds. "This keeps the blonde looking bright and powerful but also subtle and soft, allowing your natural shade to peek through".
Wanting to ditch your blonde strands for brown? If you're committed to going dark, book in for a full tint says Skye. "But personally, I always advise my clients to do a gloss first – as it's semi-permanent, so you can see how you feel with the colour before making the switch."
What hair colour suits me?
People dye their hair for a number of reasons. To keep up with trends, to make a statement or even to cover up greys – but when finding your most flattering hair colour, there are a few things you should consider: eye colour, complexion, undertones and your natural hair colour. This is something we call colour theory! Notice with your clothes, how some shades wash you out and some are super flattering, well, it's the same with hair. Pick the right colour and you can look younger, more vibrant and well, more you! We'll leave it to the experts to explain...
"Knowing tones of the hair that compliment your skin tone is a bonus. Let's start off with ash toners," Skye says. "These cooler toners suit those with warm undertones as they work by neutralising any yellow and warm hues, whereas a warmer toner works great on those with darker features, as makes the hair feel brighter and bolder. She adds: "If you have fair features, however, opt for something in-between the both, keeping the hair quite neutral."
What is the most attractive colour to dye your hair?
"Your hair is something special that shows you off in your own unique way, so while colour theory exists, it's not about what's most flattering – it's about choosing what you love and what caters to you and your lifestyle," notes Skye. "For example, although more and more of my clients have been opting for the natural, relaxed look in recent years, I think that funky, wild colours are so great to experiment with," she adds. "Not only is there a huge variety of shades to pick from, such as purple, pink, green, blue – and so on – but most of them only last for around 10-12 washes, so they fade quickly, and you can top them up to your liking."
With these fun, festival-worthy shades, you don't necessarily need to do an all-over dye either. "It's all about using your imagination," Skye says. "If you're feeling creative, add pink in your balayage – or opt for deep blue roots and highlights, going into light blue ends."
The trendiest hair colour ideas for 2023
While Greta Gerwig's highly-anticipated Barbie movie has thrust platinum blonde hair into the spotlight this year, not everyone's scalp can stand that amount of bleach – and frankly, if you're not naturally blonde, expect to pay a fortune to keep it looking fresh!
The good news? There are tons of other trends to jump on, including glossy brunette, fiery reds, peachy hues and even two-toned tresses – or Gemini hair, as TikTok is calling it. For something that'll grow out seamlessly, go for balayage. Think something timeless like the expensive brunette trend or a sandy, beachy blonde for summer. And for a pro-ageing take, embrace your grown-out greys with trending silver. You'll just need some purple shampoo to keep it from looking dull. Need some inspiration? Save these in your favourites folder!
Cowgirl Copper
Candlelit Brunette
Sandy Blonde
Midnight Black
Malibu Barbie
Perfect Peach
Sparkling Silver
Expensive Brunette
Buttery Bronde
Cherry Cola
Barbiecore Pink
Gemini Hair