You might think the best shapewear garments (AKA Bridget Jones pants) are something to be ashamed of, but we insist you wear your suck-it-all-in tummy control shapewear with pride. There are loads of great options with heaps of benefits, from smoothing out VPL to improving your posture. Seriously, there will be shapewear to cater to any and all of your needs.
We've pulled together some pieces that can be worn under anything and everything. Think school runs to glam evening looks.
Closer's best tummy control shapewear at a glance:
Best tummy control shapewear for all sizes: Maidenform Ultimate Slimmer WYOB Shaping Bodysuit, £37.99 on Amazon
Best budget tummy control shapewear: SURE YOU LIKE Women High Waist Body Shaper, £12.99 on Amazon
Best tummy control shapewear for backless dresses: Spanx Plunge Low Back Thong Bodysuit, £132 on Harrods
Plus, there's no need for your smoothing pants or shapewear leggings to break the bank as we've found super affordable options from just under £14. Take a look at the best ones that we found below.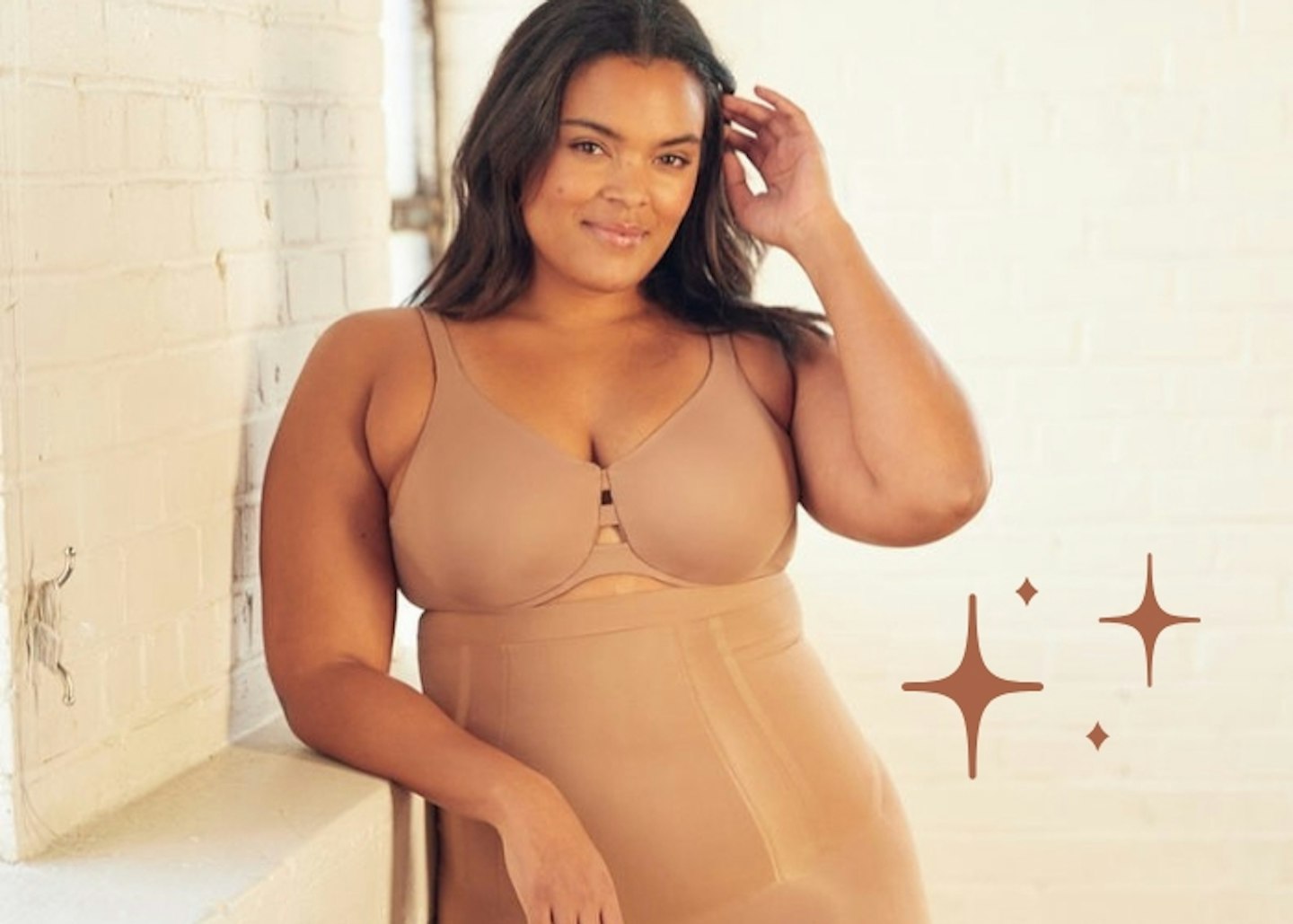 You can buy butt-lifting shapewear to tummy-flattening shapewear. You can use them to create a Kardashian-like SKIMS silhouette, using the real deal, or some cheeky SKIMS dupes. Or, simply to feel your best in a slinky LBD using a shapewear dress. And, we've even put in some strapless shapewear, for those fiddly dresses with teeny straps. You're welcome.
SHOP: Best tummy control shapewear UK 2023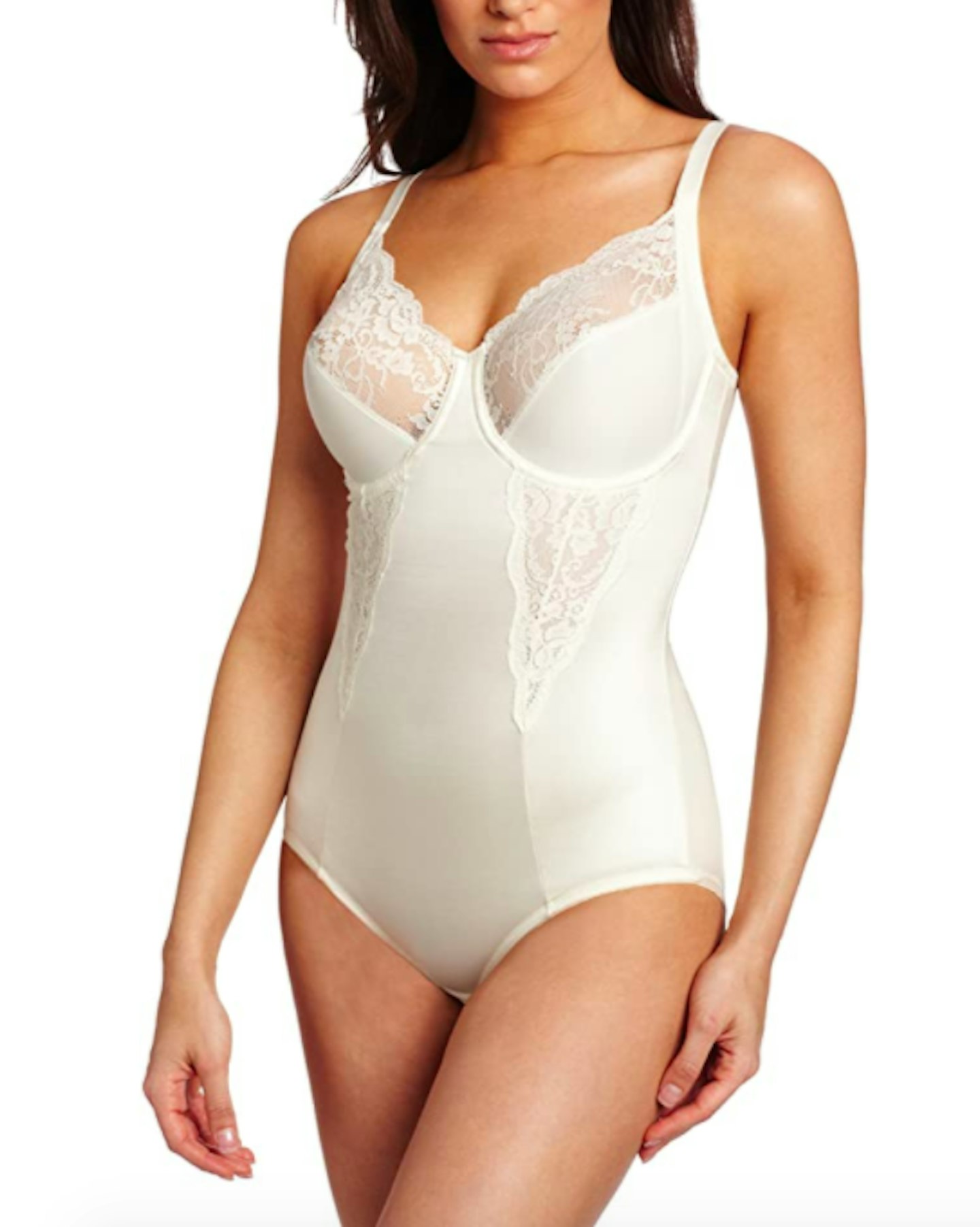 1 of 9
CREDIT: Amazon
Maidenform Women's Ultimate Slimmer WYOB Shaping Bodysuit
Best tummy control shapewear for all sizes
This bargain shapewear bodysuit from Amazon looks and feels like pretty lingerie while also providing great support and smoothing power. Amazon is a great place to shop for shapewear that delivers.
Pros: A great price point and stellar reviews with some even saying it makes them look like they've lost a stone.
Cons: Some reviews say to definitely size down from your usual sizing as it comes up larger than normal.
One reviewer wrote: "The quality and fit for the price is incredible. Everything about it is perfect and having sat down to a meal and danced all night I was so comfortable I couldn't believe it. I won't lie, it was a squeeze to get on initially partly because the bra part does not have a band with hook and eye like some models, but once on it fitted perfectly. The straps are adjustable and, best of all, the gusset has hook and eye fastening, not poppers, so no rushing off to the Ladies to keep doing them up! I would thoroughly recommend this item."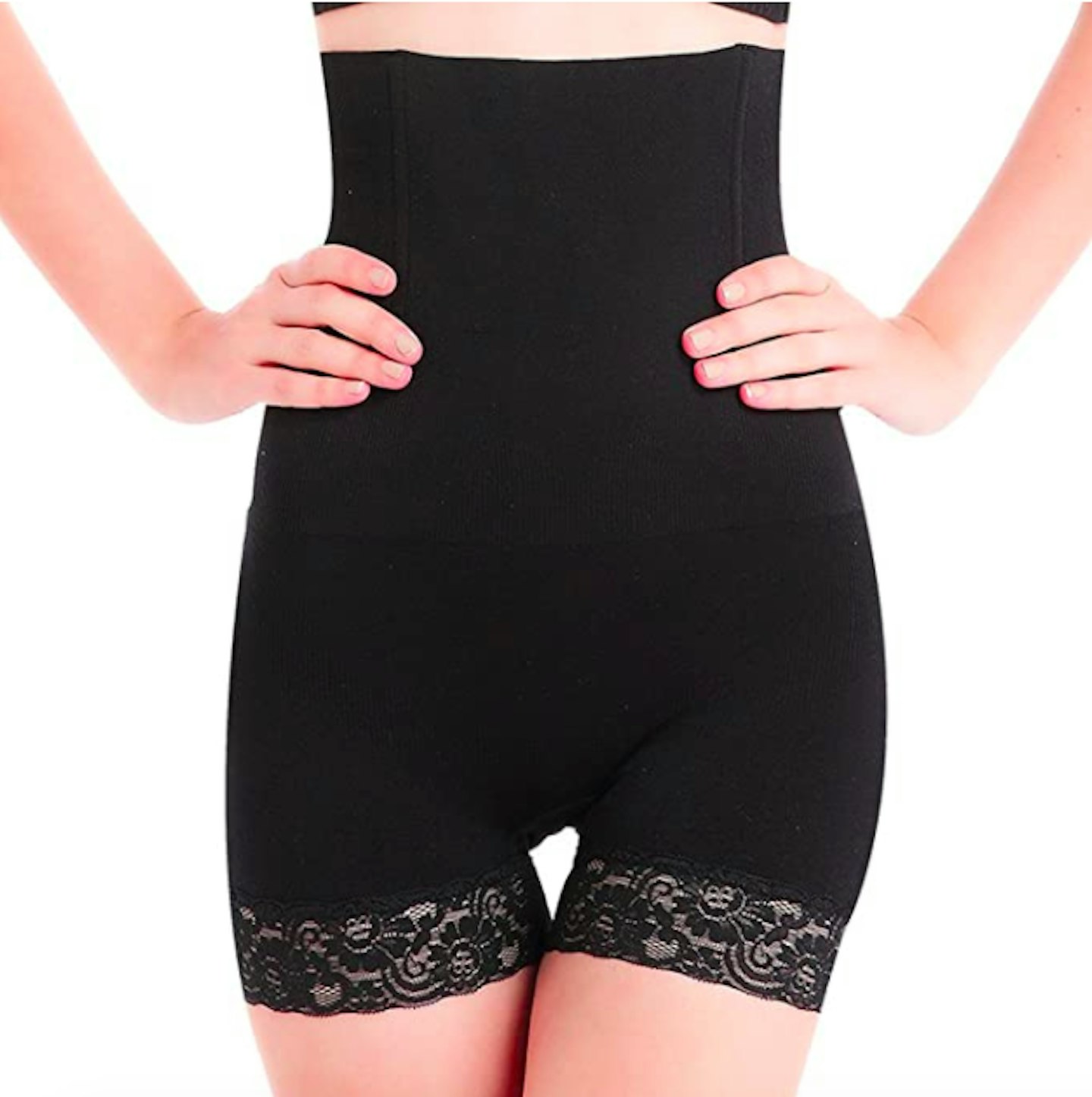 2 of 9
CREDIT: Amazon
SURE YOU LIKE Women High Waist Body Shaper
Best budget tummy control shapewear
These support shorts are the cheapest option on our shapewear roundup but don't be deceived by their price. Not only does it hold in the tummy, but shapes the waist and lifts the butt. Be wary that these might not be suited to mini dresses.
Pros: A great price and all-day-wear comfort.
Cons: Some reviews say the legs come down a bit too far to wear with short dress styles.
One reviewer wrote: "Well I wasn't expecting miracles because of the price. Merely a pair of pants that might smooth lumps and bumps under tighter clothes. But oh my gosh, wow, these are incredible."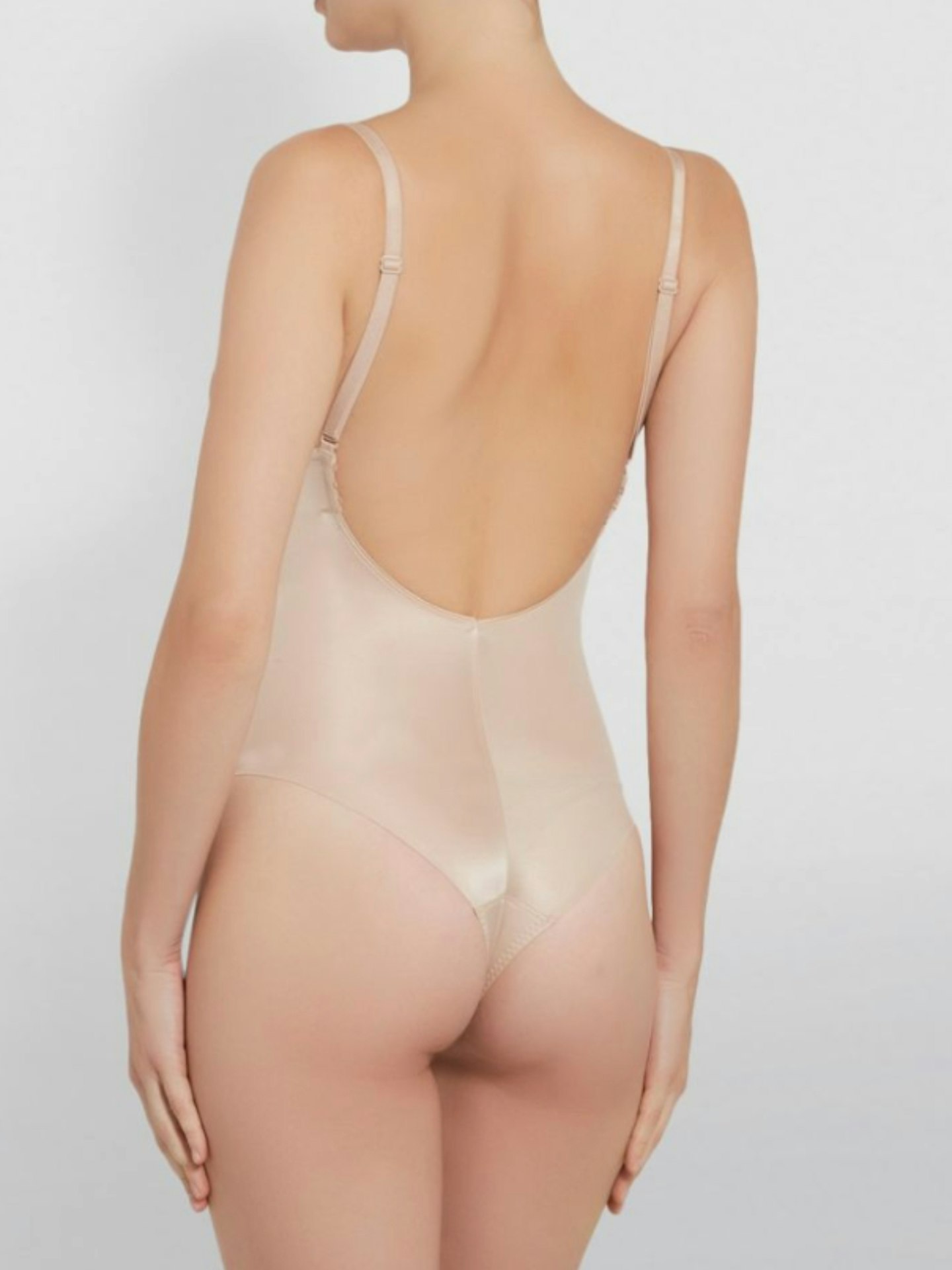 3 of 9
CREDIT: harrods
Spanx Plunge Low Back Thong Bodysuit
Best tummy control shapewear for backless dresses
If you're going for a slinky backless dress but still want the power of some tummy-tucking shapewear, this bodysuit is the one for you. It comes with adjustable straps that can be placed in a variety of ways.
Pros: A totally seam-free silhouette and tackles plunge neck and backless dresses.
Cons: It's an investment piece.
One reviewer wrote: "This is the perfect foundation garment to wear under my plunge neckline, low back evening jumpsuit. It gave the perfect amount of cleavage, held me in, in all the right places, and was really comfortable to wear. As a woman of a certain age, a defined waistline and flat stomach were a distant memory but this marvellous garment made me feel a million dollars in my evening outfit."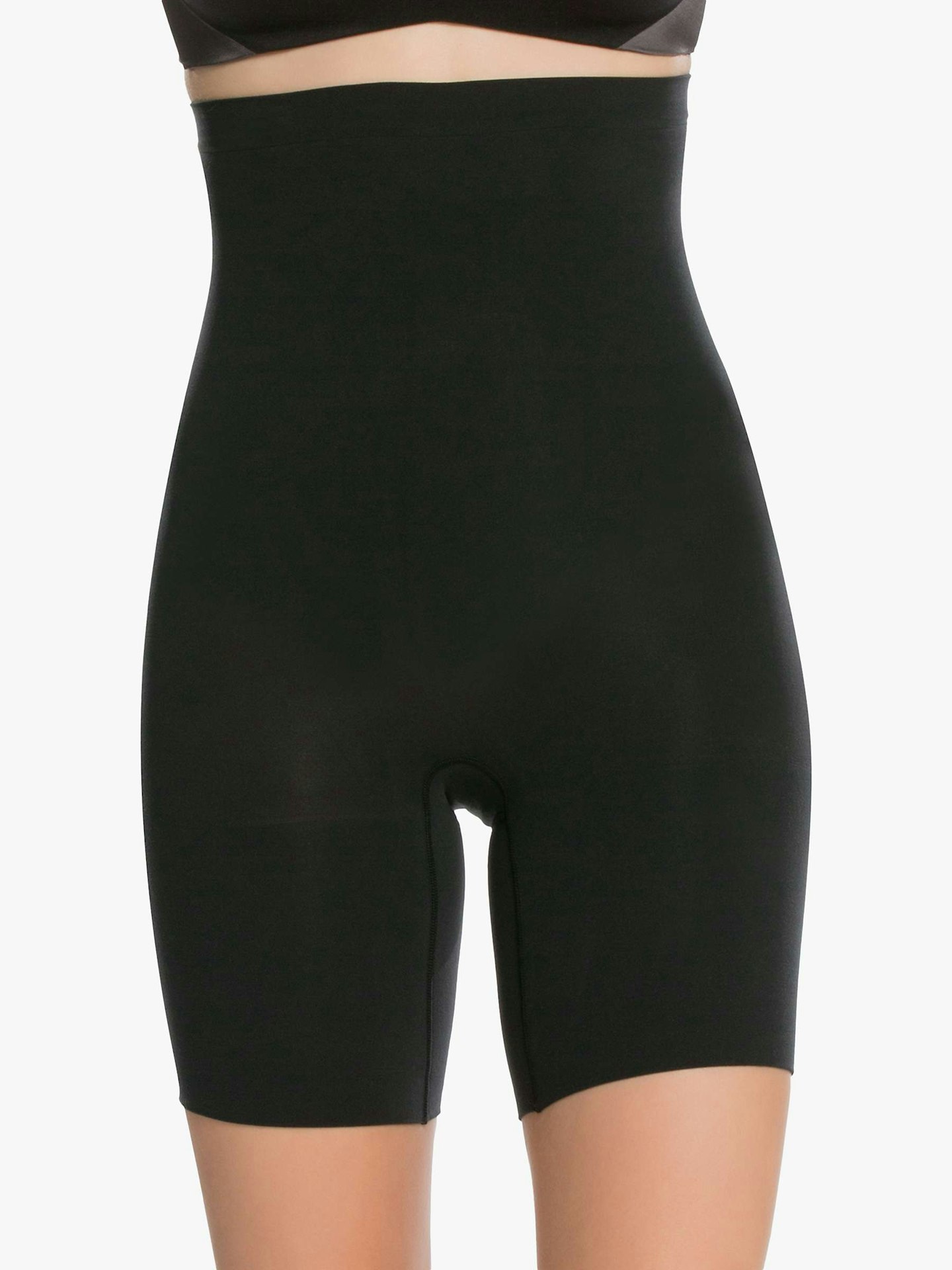 4 of 9
CREDIT: luxury legs
SPANX Higher Power Shorts
Best tummy control shapewear for a figure-hugging dress
Where would we be in the world without SPANX? These shorts are a much more affordable alternative to the full SPANX bodysuit at just £35. Plus, in the summer, their anti-chafing abilities are a life saver.
Pros: A super smooth finish, and the design prevents issues like the muffin top.
Cons: Reviews say to be careful when purchasing if you're petite, as the top can roll down when sitting down.
One reviewer wrote: "A bit tricky to get into, but makes me feel great. Smooths out all bumps and lumps and gives me a smoother silhouette."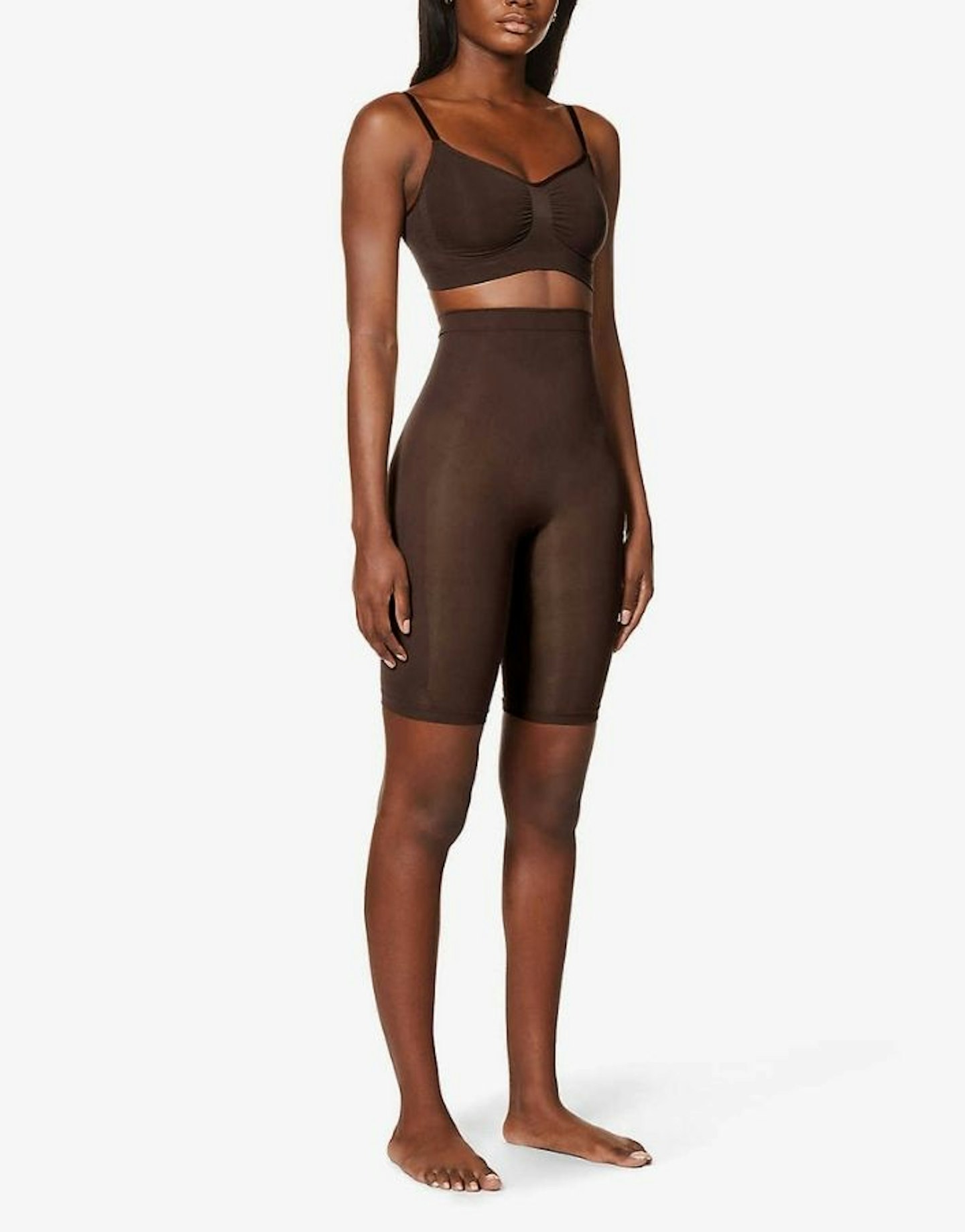 5 of 9
CREDIT: selfridges
SKIMS Sculpting High-Rise Stretch-Woven Shorts
Best shapewear for colour options
We could hardly create a list of the best shapewear without including Kim Kardashian's SKIMS, which has absolutely taken the shapewear industry by storm. The sculpting high-rise shorts are unbelievably comfy, seamless and with full coverage at the back.
Pros: Very inclusive sizing and colour options.
Cons: A few reviewers complained about rolling down at the top with movement.
One reviewer wrote: "This was so comfortable I did not realize I was wearing it! I wore this for my daughter's wedding for over 10 hours straight and it was great!"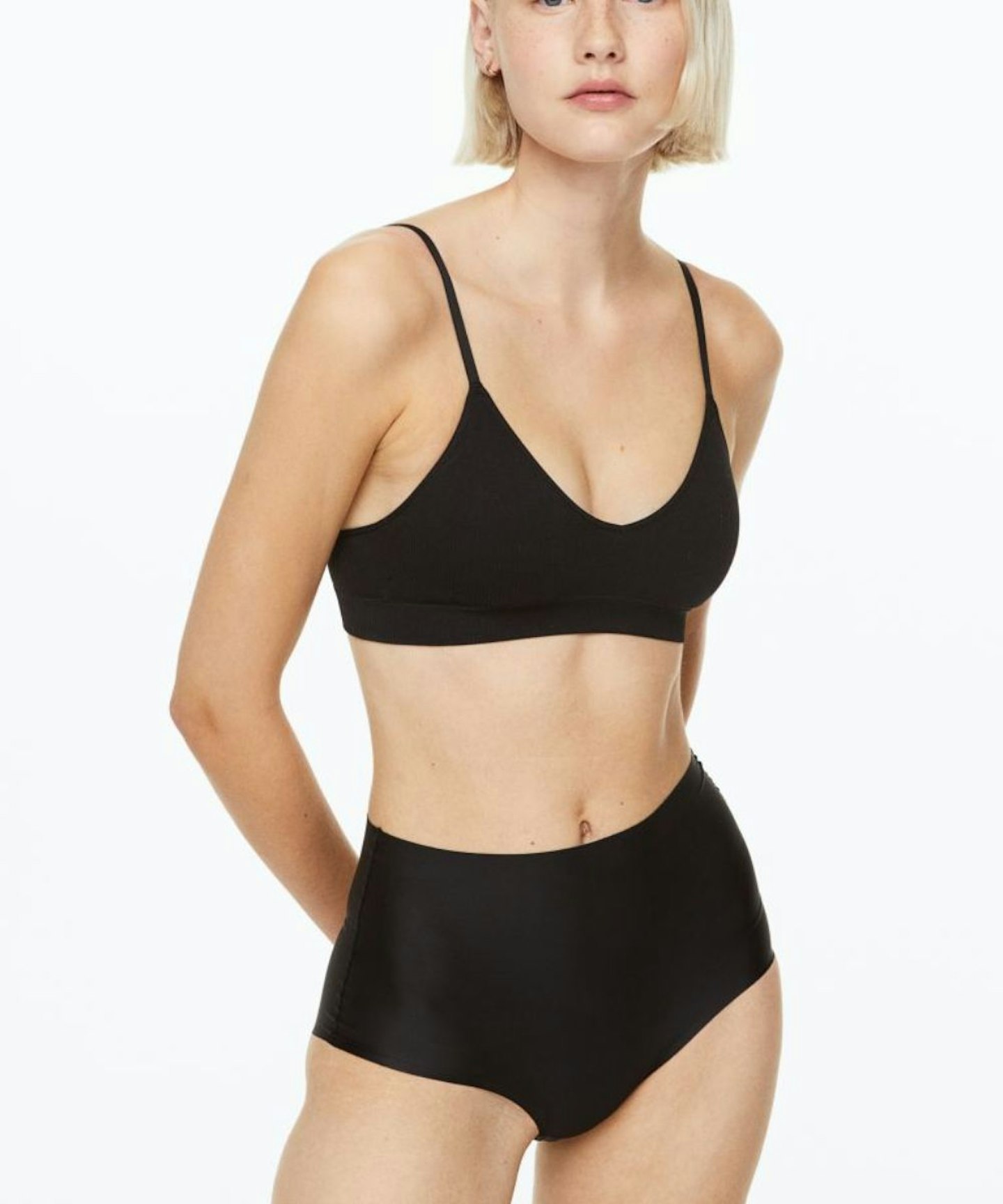 6 of 9
CREDIT: H&M
H&M 2-pack Invisible Light Shaping Briefs
Best invisible tummy control shapewear
H&M offers a great range of really affordable shapewear, and these briefs are no exception. You can get a set of two in either black, dark beige, dark brown or beige.
Pros: The set of two means you are only paying £7.50 per shapewear brief.
Cons: Some reviews say they can become a bit sweaty in very hot weather.
One reviewer wrote: "Fabulous briefs You actually don't feel as though you're wearing any as they're so comfortable. They're high-waisted and the light shaping just improves the look of what's on top of them. The laser-cut finish ensures there is no visible panty line. For the price, they seem like much more expensive briefs."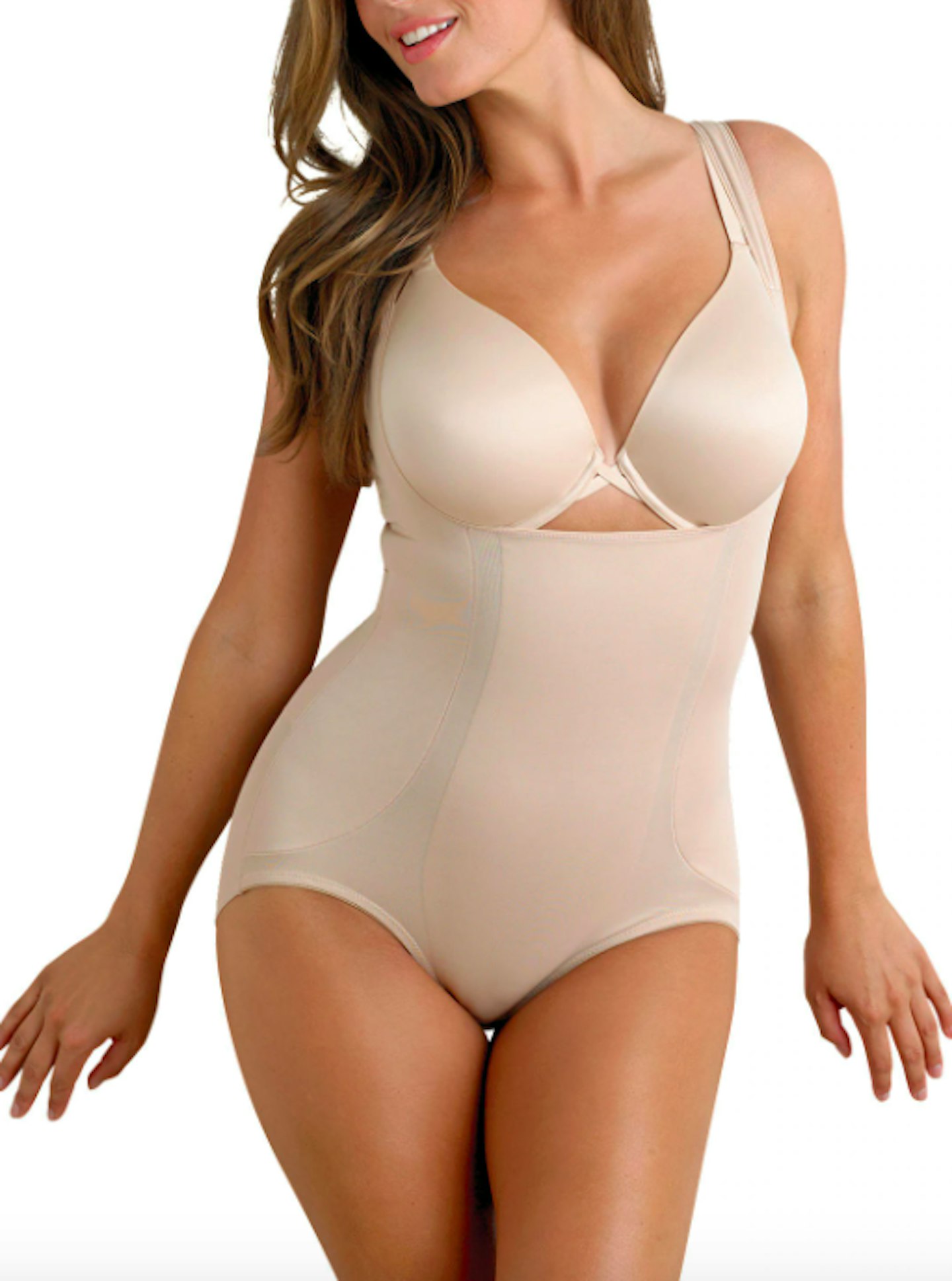 7 of 9
CREDIT: John Lewis
Miraclesuit Shape Away Extra Firm Body Briefer
Best tummy control shapewear that supports your back
This all-in-one shaper smooths away lumps and bumps on your back, midriff and tummy, making it a great everyday option. The Wonderful Edge® design at the backs of the leg openings means no lines and no ride.
Pros: A piece that'll last you a lifetime, this shapewear has powerful abilities and you can even wear your favourite bra as it doesn't have one built-in.
Cons: Very few, but some reviews say the stitching can get a little uncomfortable after a while.
One reviewer wrote: "Not too tight yet still supportive and slims you. Highly recommended."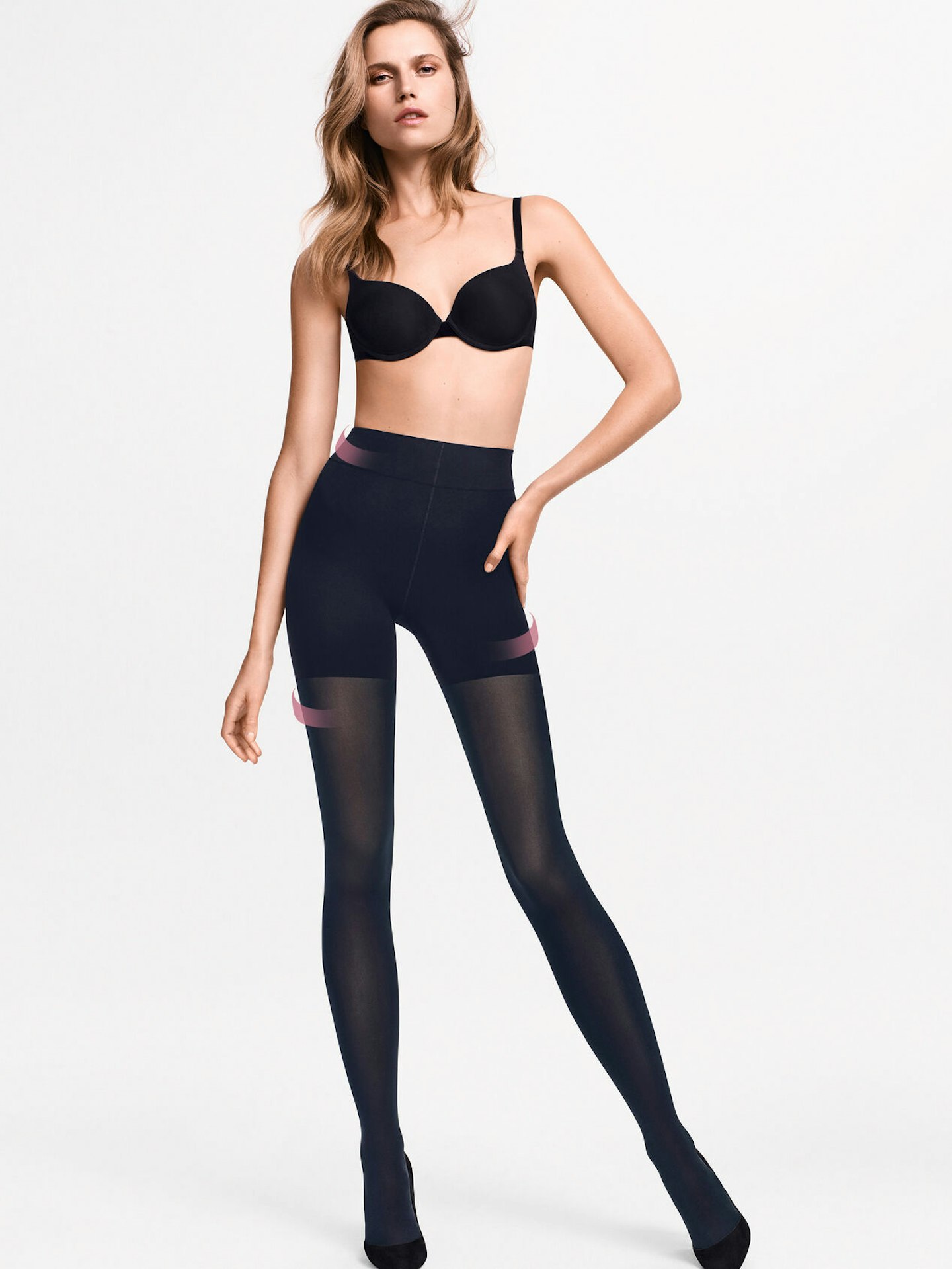 8 of 9
CREDIT: Wolford
Tummy 20 Control Top Tights
Best tummy control shapewear for the colder weather
Perfect for winter wear, these tights, with a shaping panties section, are the ultimate suck-it-in pair to wear all winter long. Wear with a dress or underneath trousers to sculpt your thighs and carves.
Pros: The thicker panel at the top banishes hitching up tights for good.
Cons: No less ladderable and rippable than other tights, so quite pricey for a potentially laddered pair.
One reviewer wrote: "Wolford are the best and last the longest - great product."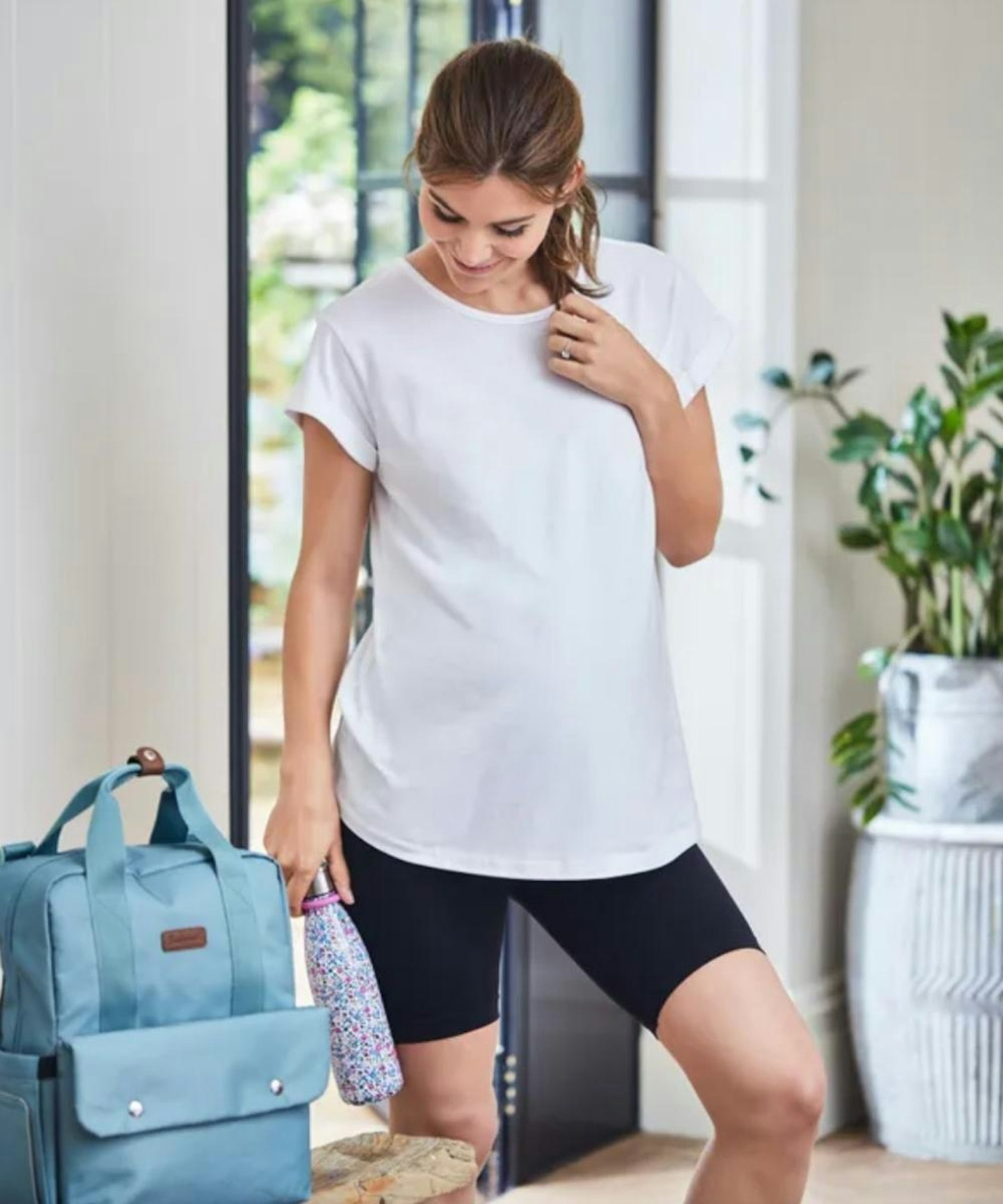 9 of 9
CREDIT: jo jo maman bebe
Dual Support & Slimming Maternity Shorts
Best tummy control shapewear for maternity
Jo Jo Maman Bébé shapewear is fantastic for accommodating your new curves. You'll love the elasticated waistband and bodycon fit combo. Because who wants to wear proper trousers when they're pregnant?
Pros: Comfortable and stretchy enough for bump and mumma. It also smoothens your silhouette for a thigh-slimming effect**.**
Cons: Looser than regular shapewear due to accommodating a pregnant belly.
One reviewer wrote: "I was a bit apprehensive given the reviews, however, these shorts have been a lifesaver. I was so paranoid about having a 'B' shape non-typical belly. These shorts helped to smooth me out and provided some support, as well as preventing chaffing on my thighs."
How do I choose tummy control pants?
What tummy control pants you choose totally depends on the look you want to achieve.
If you want to smooth out your hips, thighs, or tummy, it's best to go for a cycling shorts style. But if you just want to suck in a muffin top then go for a more classic knicker style. Brands such as SPANX or John Lewis are guaranteed success.
Should I go a size down?
You should buy shapewear in your regular size but always check the reviews - as some people will recommend sizing up or down. Consider ordering multiple sizes if you're ordering online.
Where to buy shapewear swimwear?
There are plenty of online stores to buy slimming and smoothing swimwear, so you can feel a little less paranoid at the beach this summer. For example, Kim K has released a SKIMS swimwear collection and we're slightly obsessed. This includes swimsuits, bikinis and coverups.
Louella Berryman is the audience development executive at Bauer Media, where she works in all things digital for Grazia, heat, Closer, Yours & Mother&Baby.