We're a nation of dog lovers. You only need to look at the range of treats and toys available in pet shops or watch faithful owners going for walks in the pouring rain, to see it. There's nothing like the love of a good dog (and they are ALL good dogs!) That's why this Valentine's Day you should get a gift for your dog too.
These pampered pets who often go for pricey haircuts, get looked after by professional dog walkers or enjoy play dates with their pals aren't cheap to keep, but as any owner will tell you, they're worth every penny. After all, whatever you give, you get back a hundred times in wags, licks and general puppy-eyed adoration.
If you spoiled your pup with special dog-friendly mince pies or a squeaky Santa Claus (claws?) over Christmas, you'll know how much they appreciated the fuss.
So we say, why should the fun stop there? Show your beloved hound that they're more than just a pet (they're family, obviously) by lavishing them with treats. You know they'd do the same if they were able.
All together now: "And they call it, puppy looooove…."
The best Valentine's cards for dogs
First, let's get into the best cards you can get for your pooch. Yes, they're totally necessary.
Valentine's Day cards for your dog in 2023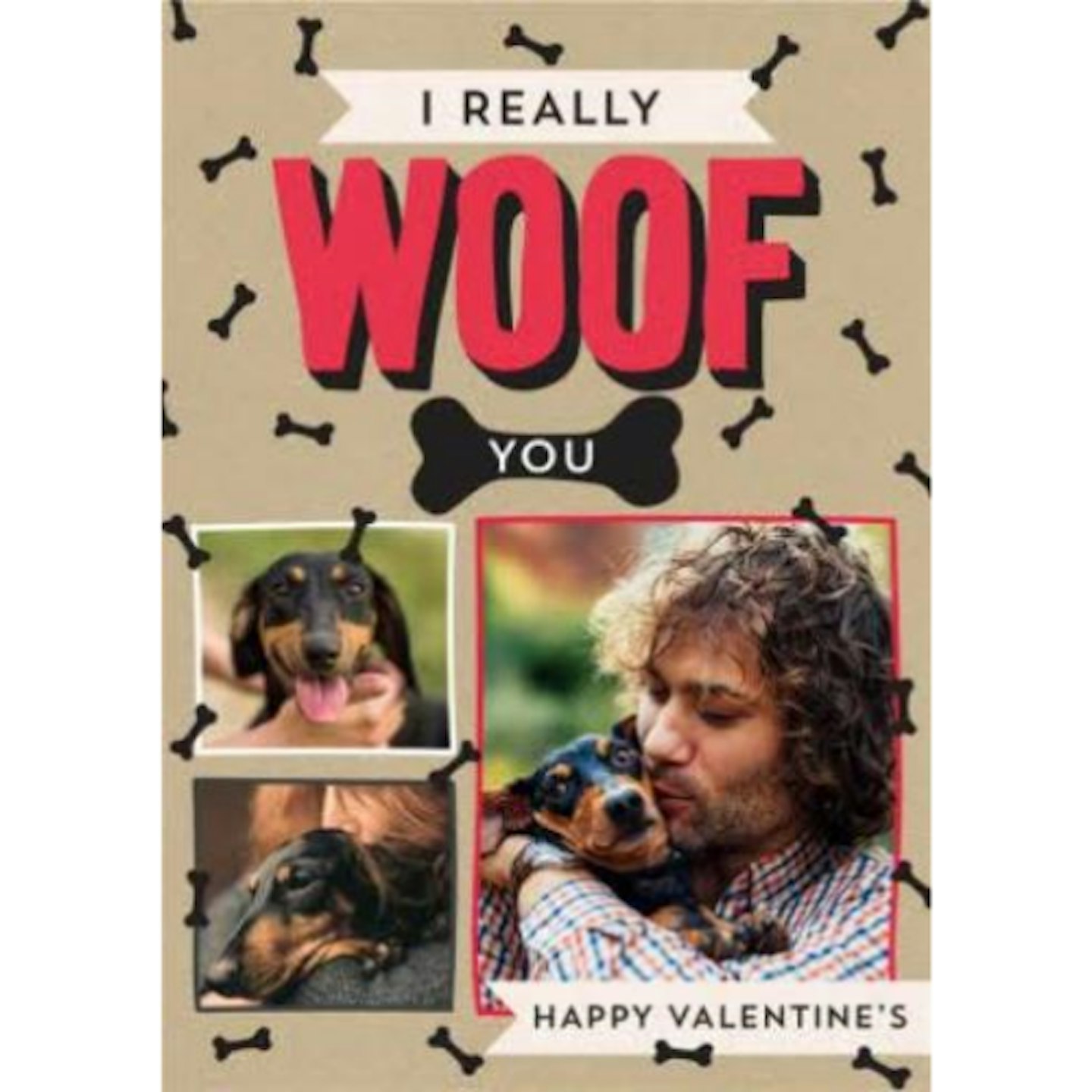 1 of 5
CREDIT: moonpig
I Really Woof You Dog Valentine's Day Photo Card
Personalised cards are so lovely to display on your mantlepiece. Show your dog off with pride with some gorgeous pics.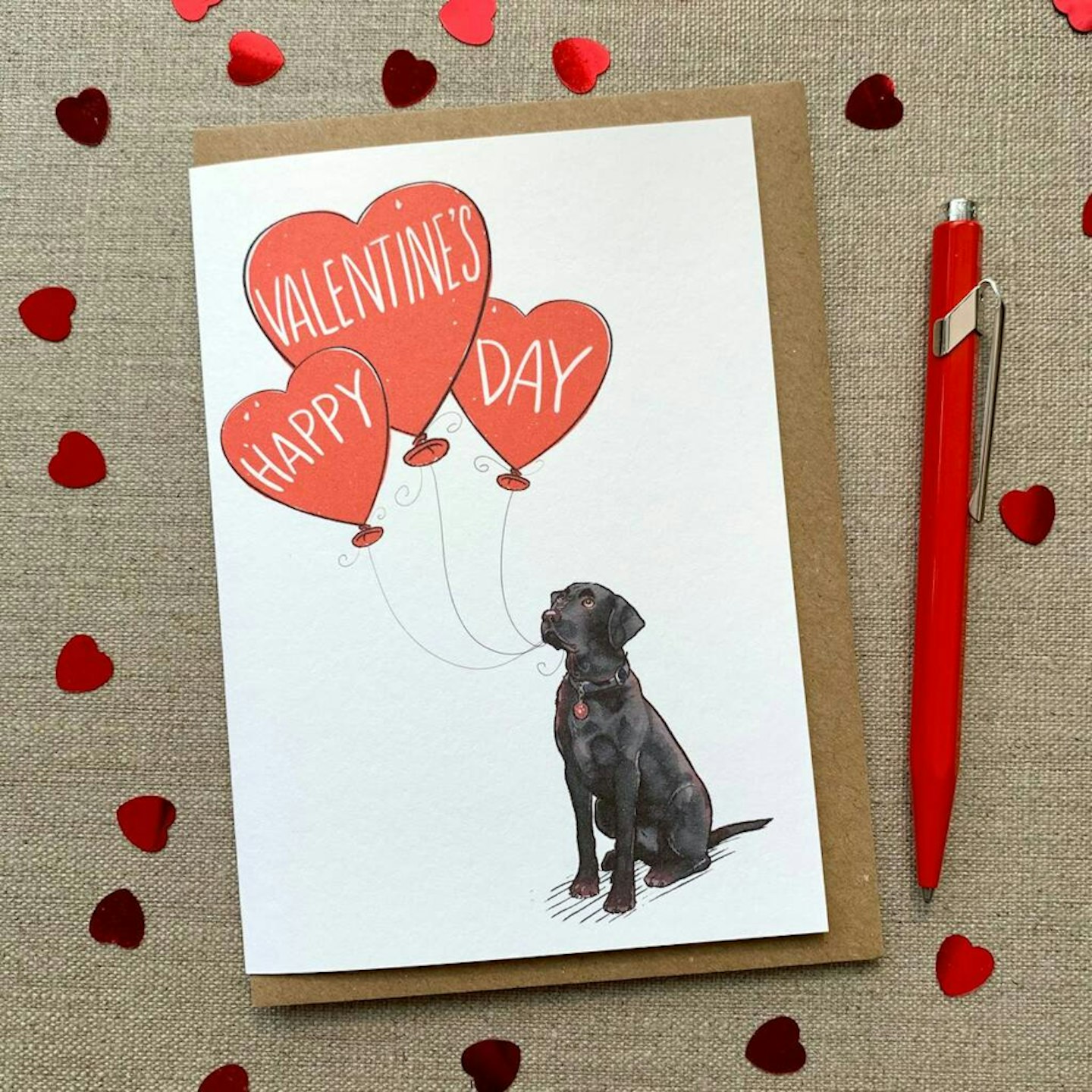 2 of 5
CREDIT: not on the highstreet
Personalised Labrador Happy Valentine's Card
As well as this Lab example, the shop Have A Gander does personalised cards for a majority of dog breeds so you can specialise your card to represent your furry friend.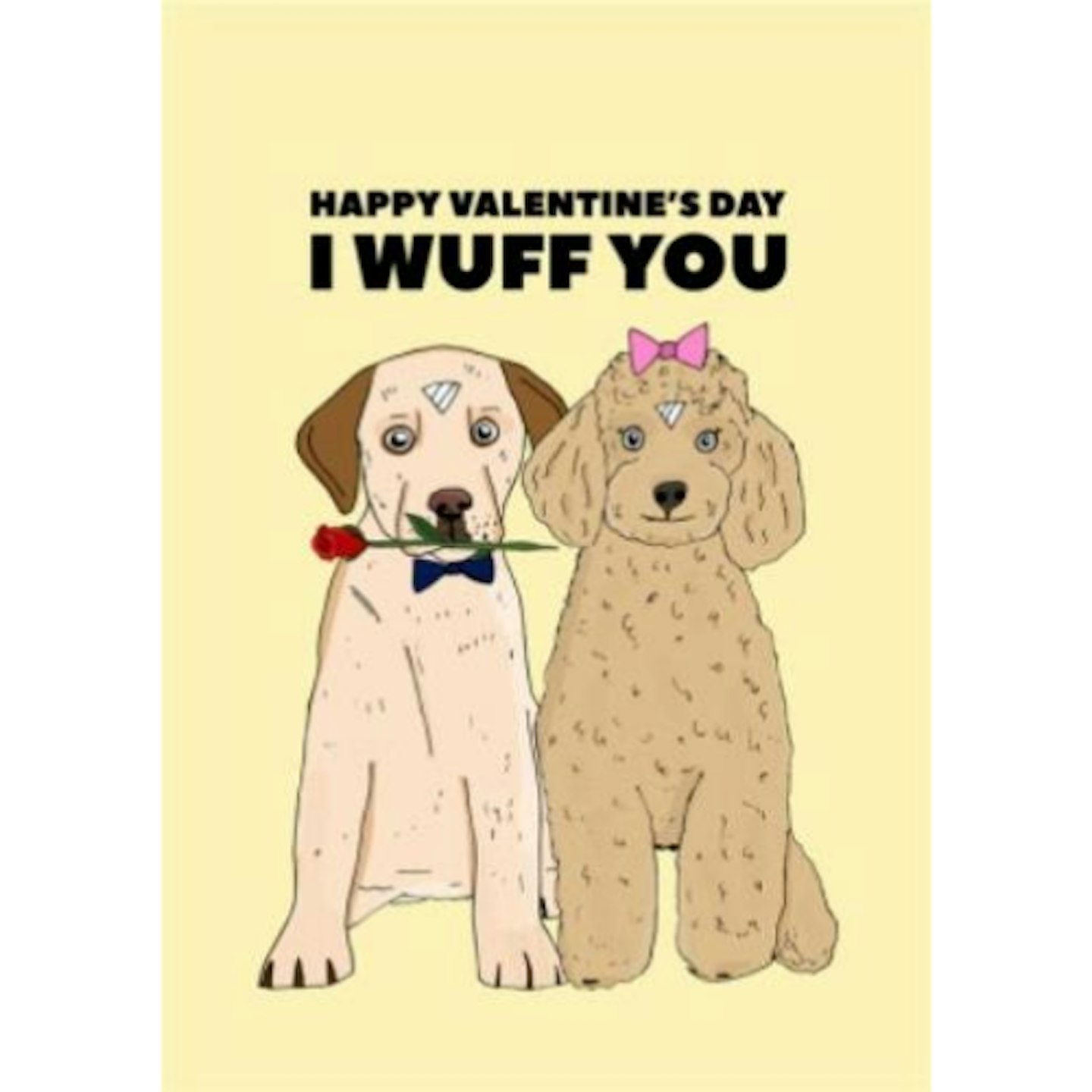 3 of 5
CREDIT: moonpig
Cute Illustration Happy Valentines Day I Wuff You Card
Classic dog-related wordplay. It can't be beaten.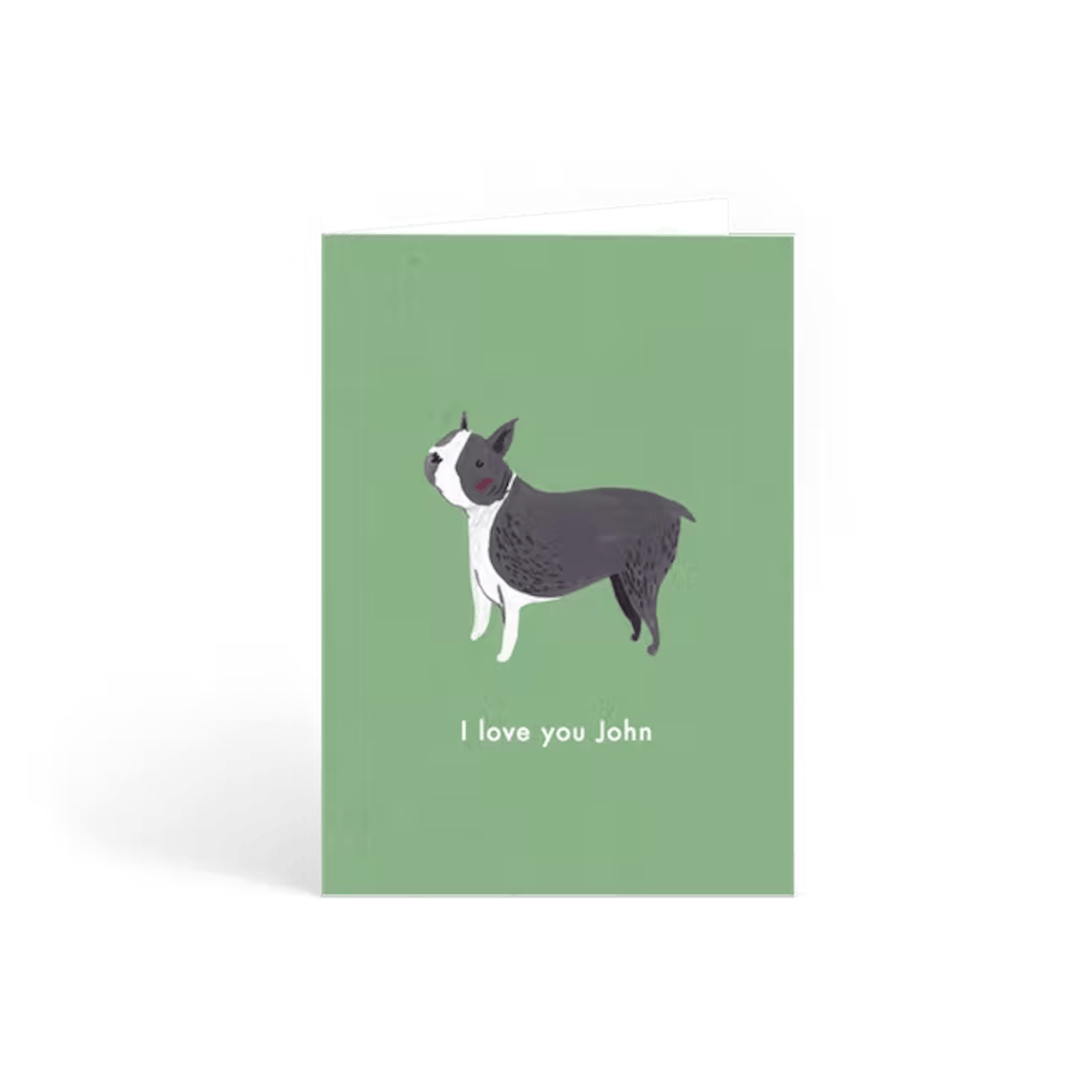 4 of 5
CREDIT: papier
Boston Terrier Valentine's Day Card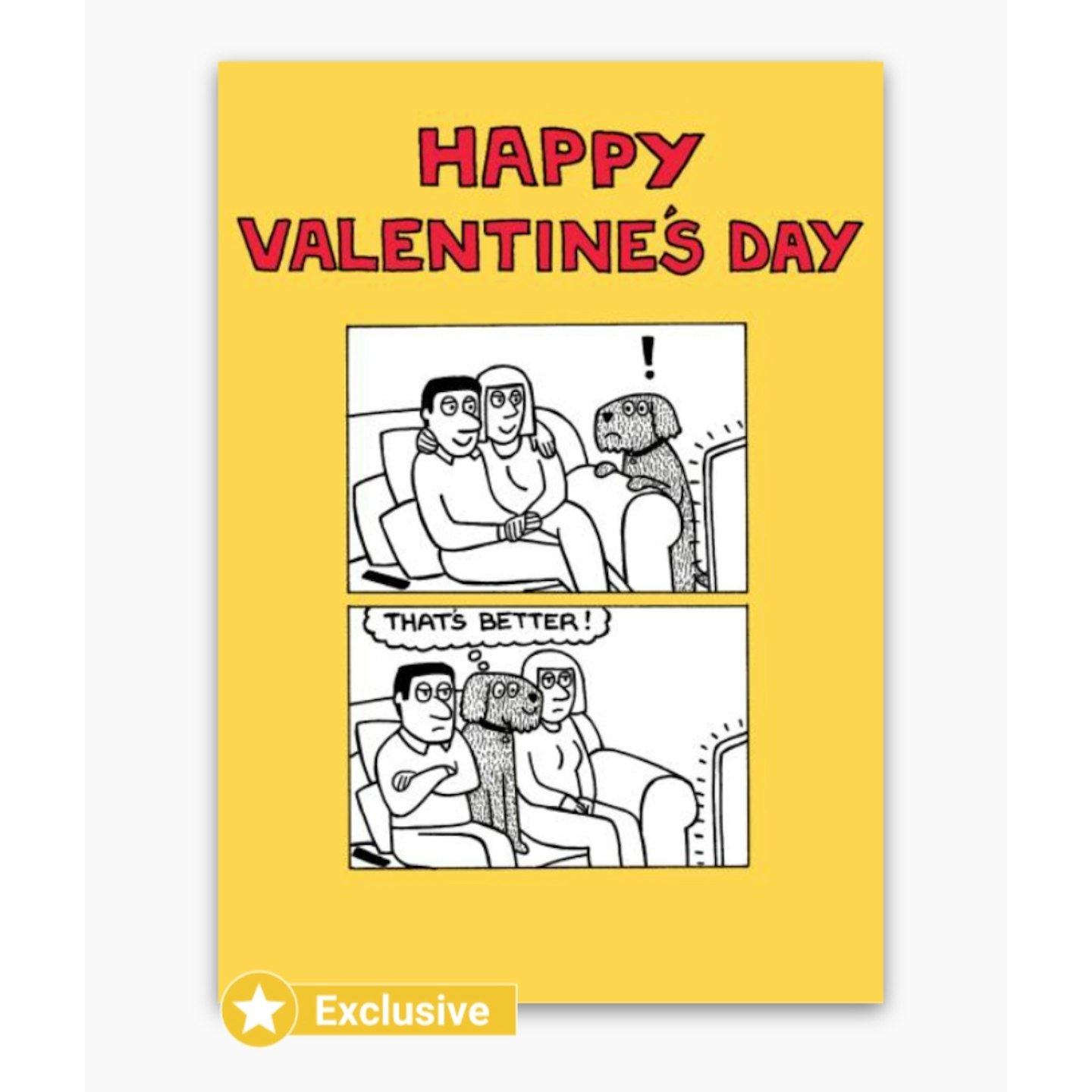 5 of 5
CREDIT: thortful
Funny Valentine's Day Card - Dog Comic - That's Better
Painfully accurate, your pup will surely relate.
SHOP: Fun and practical gifts for your pup this Valentine's Day
Up next, let's get to the meat and potatoes and look at some presents to gift your pooch this Valentine's Day. No, we don't mean wrap up a plate of meat and potatoes for your dog. Although, they would probably love that.
Valentine's Gifts For Dogs 2023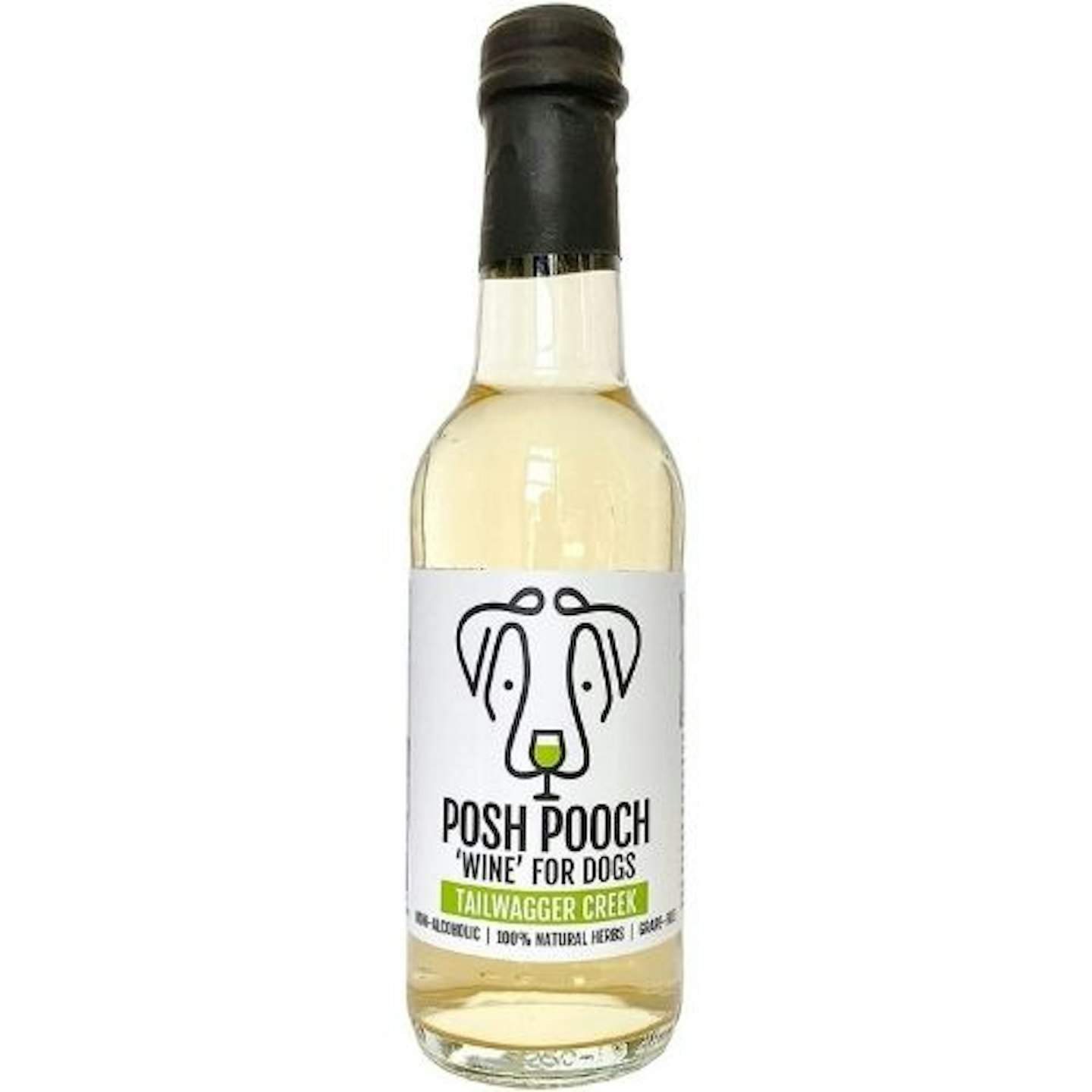 1 of 13
CREDIT: Amazon
WOOF&BREW Posh Pooch Dog White Wine
Hate to drink alone? Raise a toast to the best dog in town with a special glass (or bowl) of Pawsecco. Designed with help from vets, it's a herbal infusion that pets go nuts for. It's grape-free, non-alcoholic and can be served as a drink or poured over food. Prepare for some serious tail wags.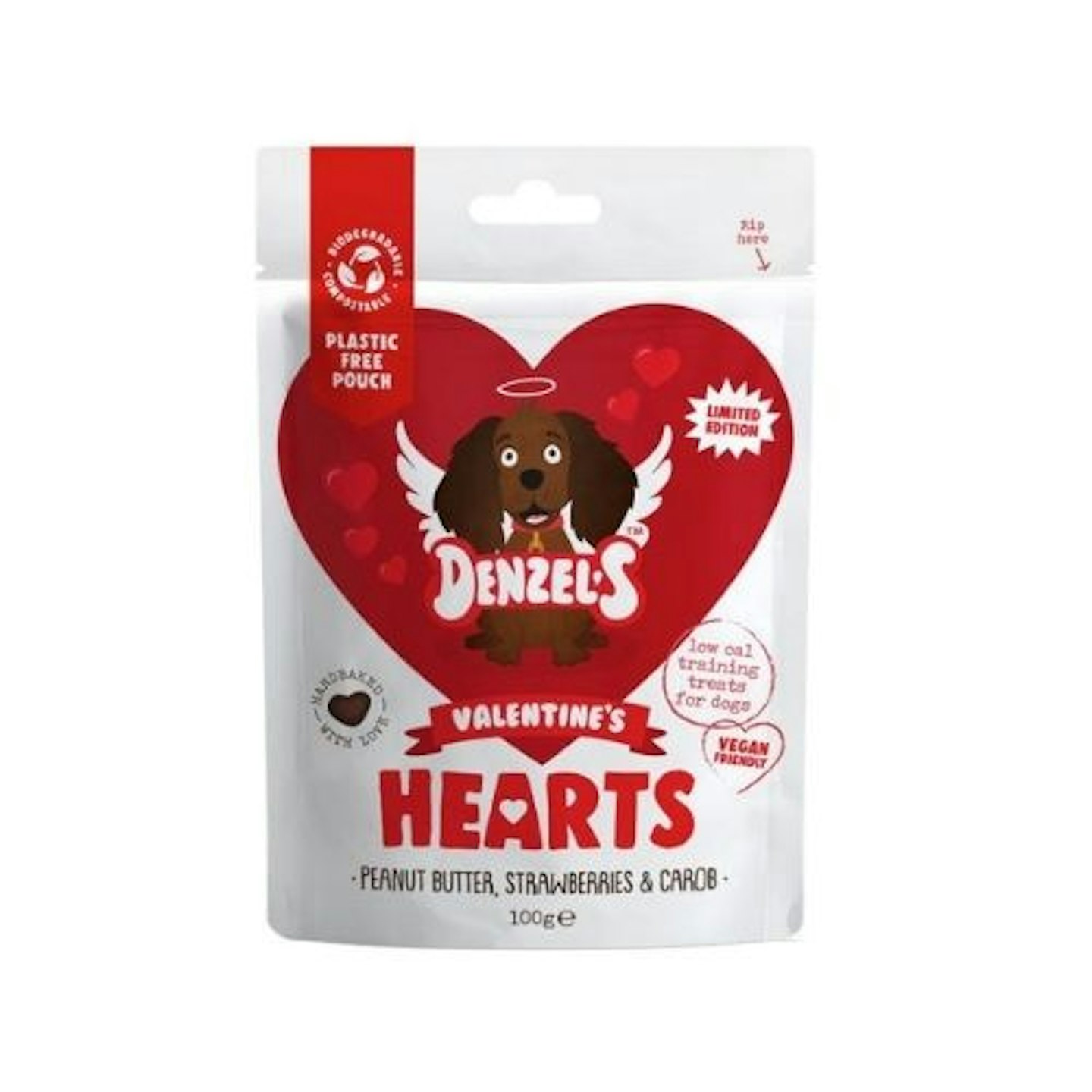 2 of 13
CREDIT: Peace with the wild
Valentine's Hearts Dog Bites
Denzel's Valentine Hearts bites are also a great source of healthy oils and fats which help fight against cholesterol, they are palm oil-free.
Read our tried and tested review below to see how the treats went down with our in-house tester, Charlie.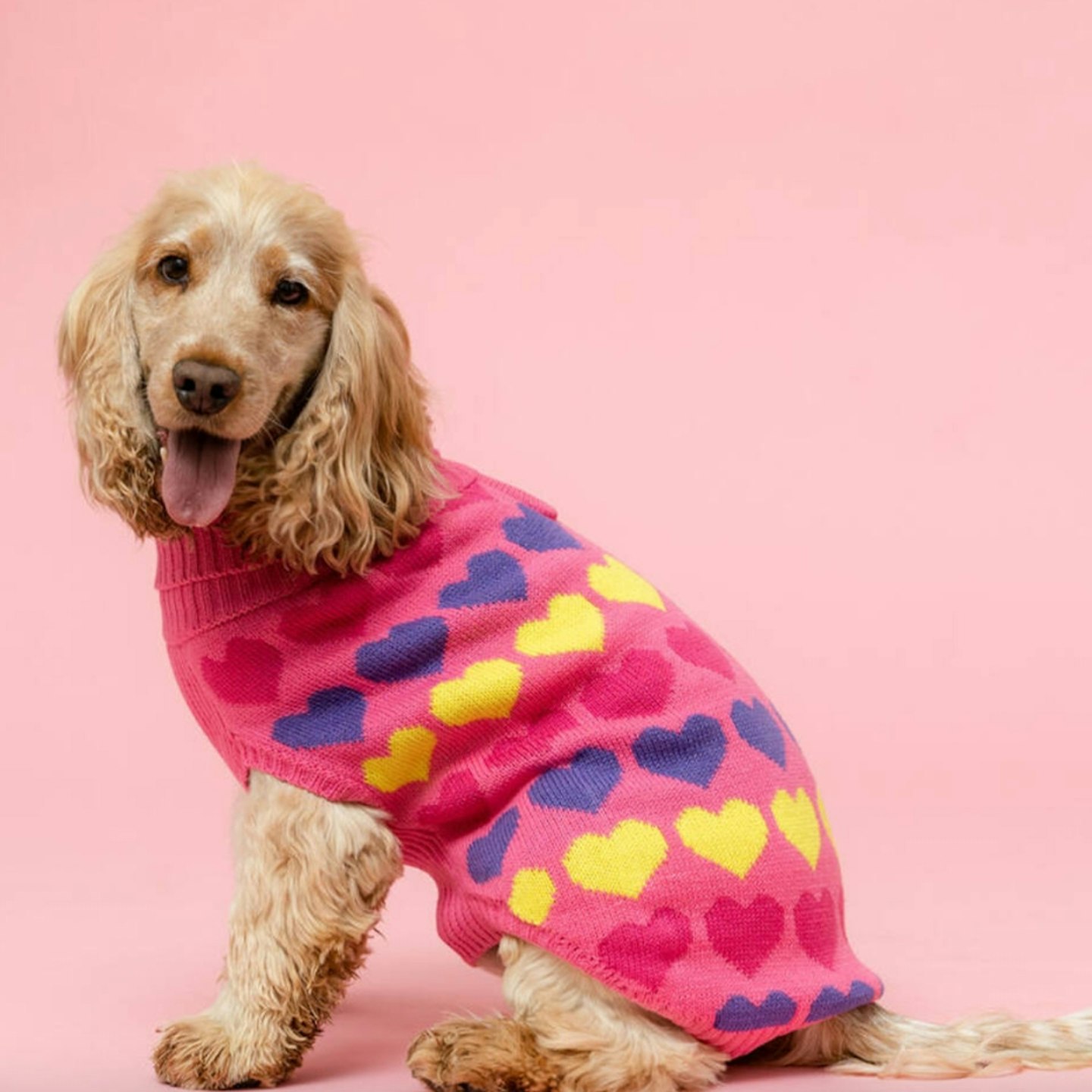 3 of 13
CREDIT: not on the high street
Loveheart Knitted Dog Jumper
Upgrade your four-legged friends' wardrobe just in time for Valentine's Day, with this dreamy Love Heart Jumper. Simply too adorable to resist.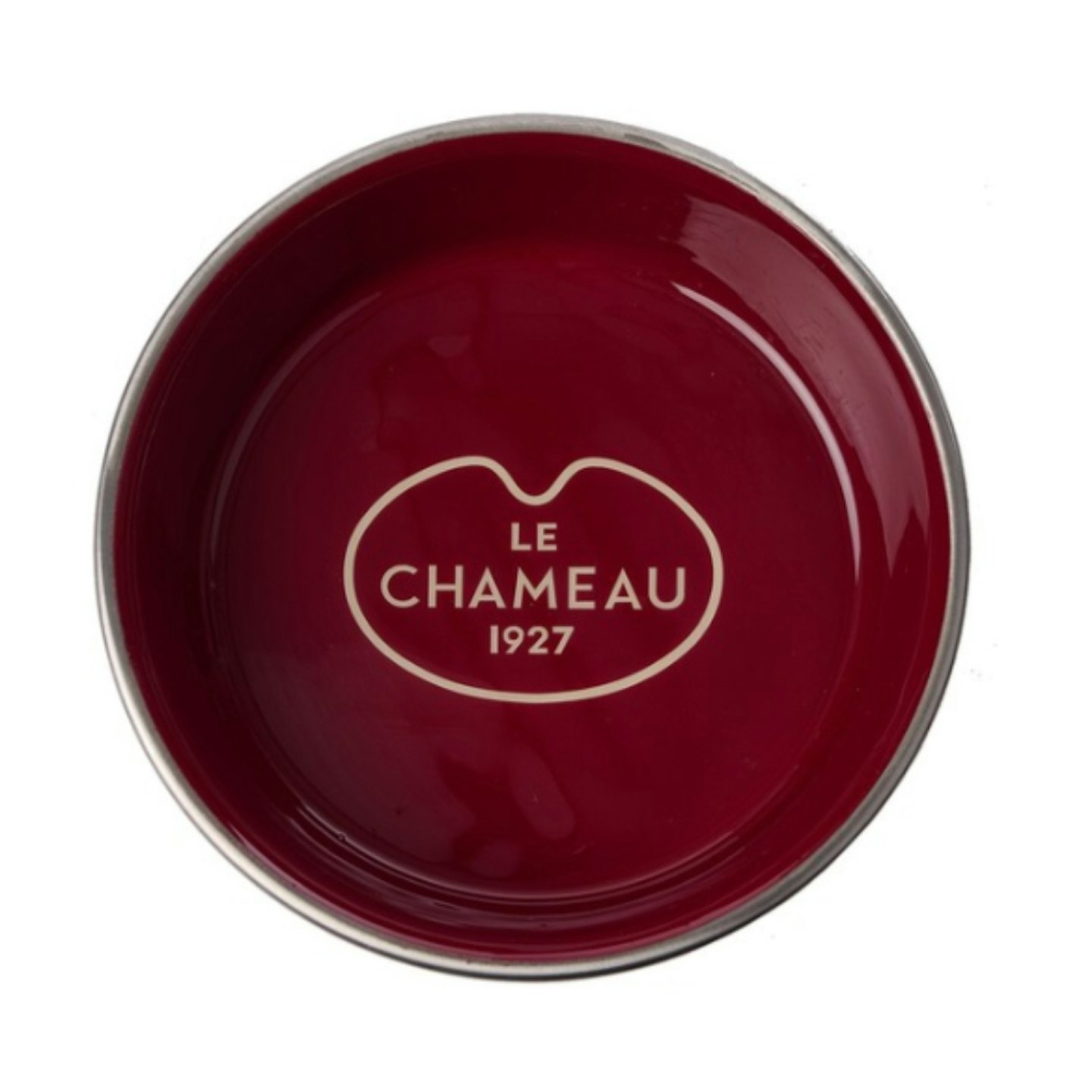 4 of 13
CREDIT: le chameau
Stainless Steel Dog Bowl Rouge
Dogs love food (I mean, we relate) and so, why not treat your pooch to a beautiful new dog bowl by the French brand Le Chameau?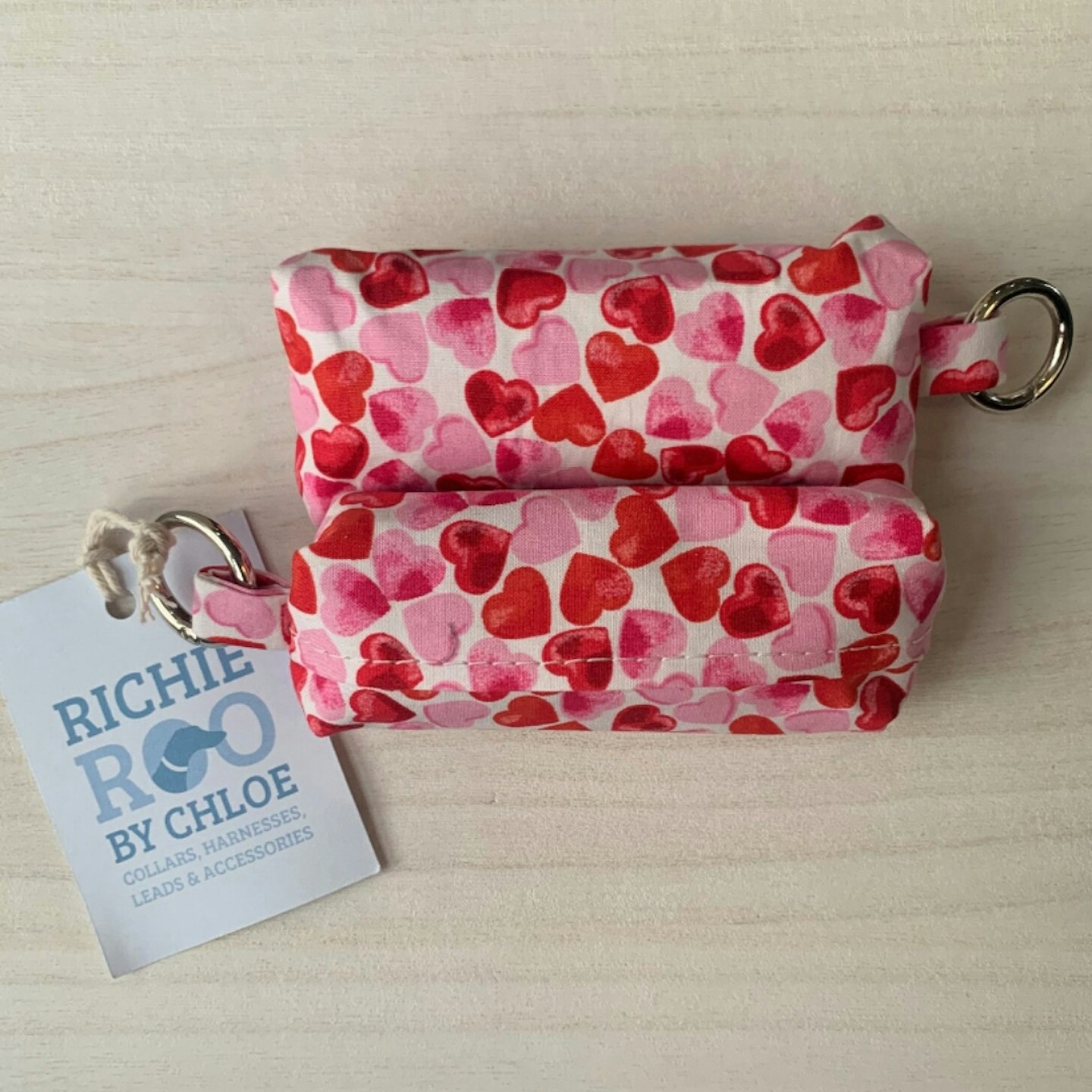 5 of 13
CREDIT: etsy
PANDORA - Confetti Hearts Valentines Dog Poop Bag Holder
A fashionable pick for both owner and pup, this printed poop bag holder will make all the neighbourhood dogs jealous on your walkies. Plus, every poop bag ordered comes with one free roll of 25 poop bags. Who knew poop bags could be so cute?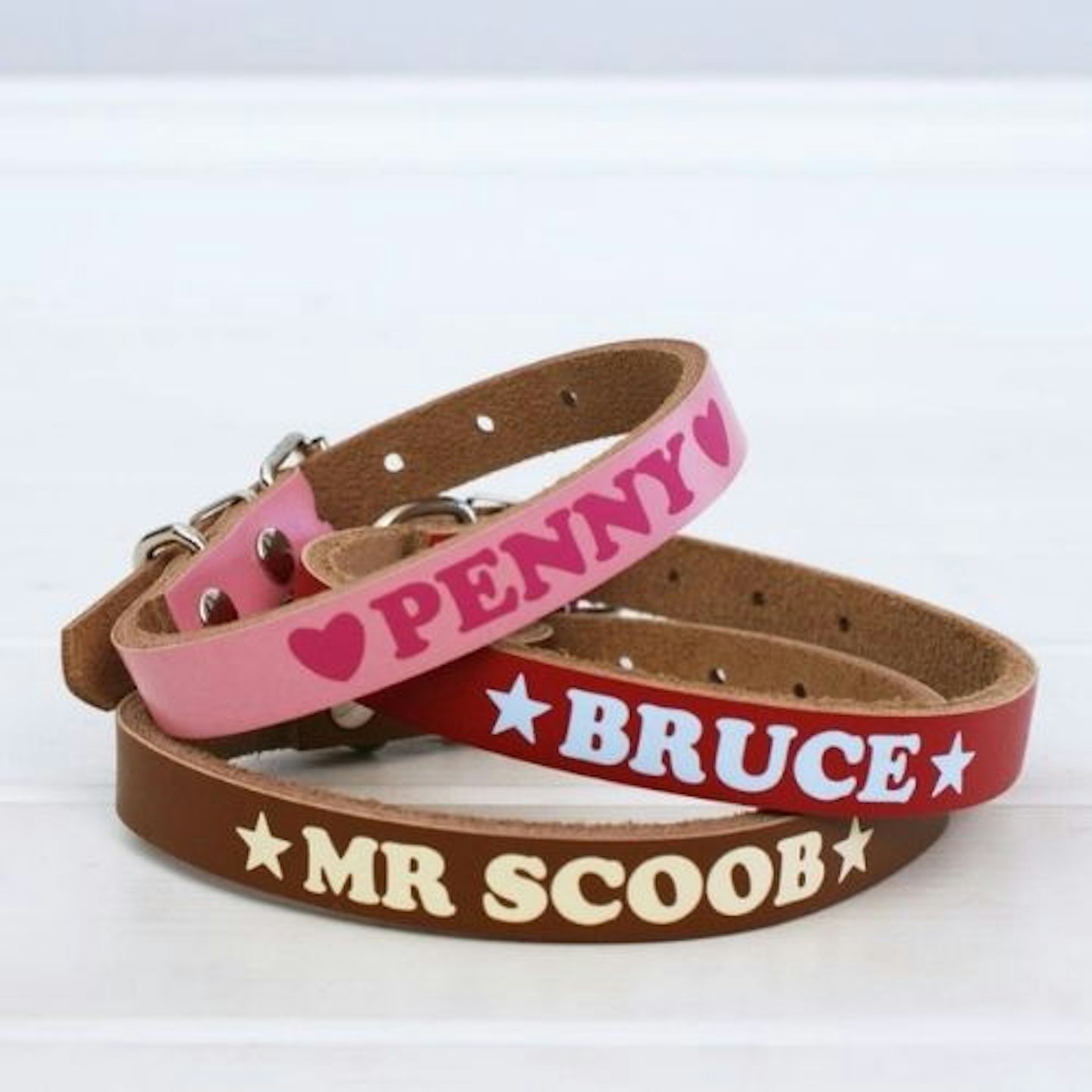 6 of 13
CREDIT: Not on the Highstreet
Personalised Colourful Dog Collar
These gorgeous collars will make your dog stand out from the pack – as well as ensure no one at the park gets his name wrong again. Made in leather and available in a range of colours including sparkly pink and red (perfect for Valentine's Day) these collars come in four size ranges and have five holes so you can adjust as necessary.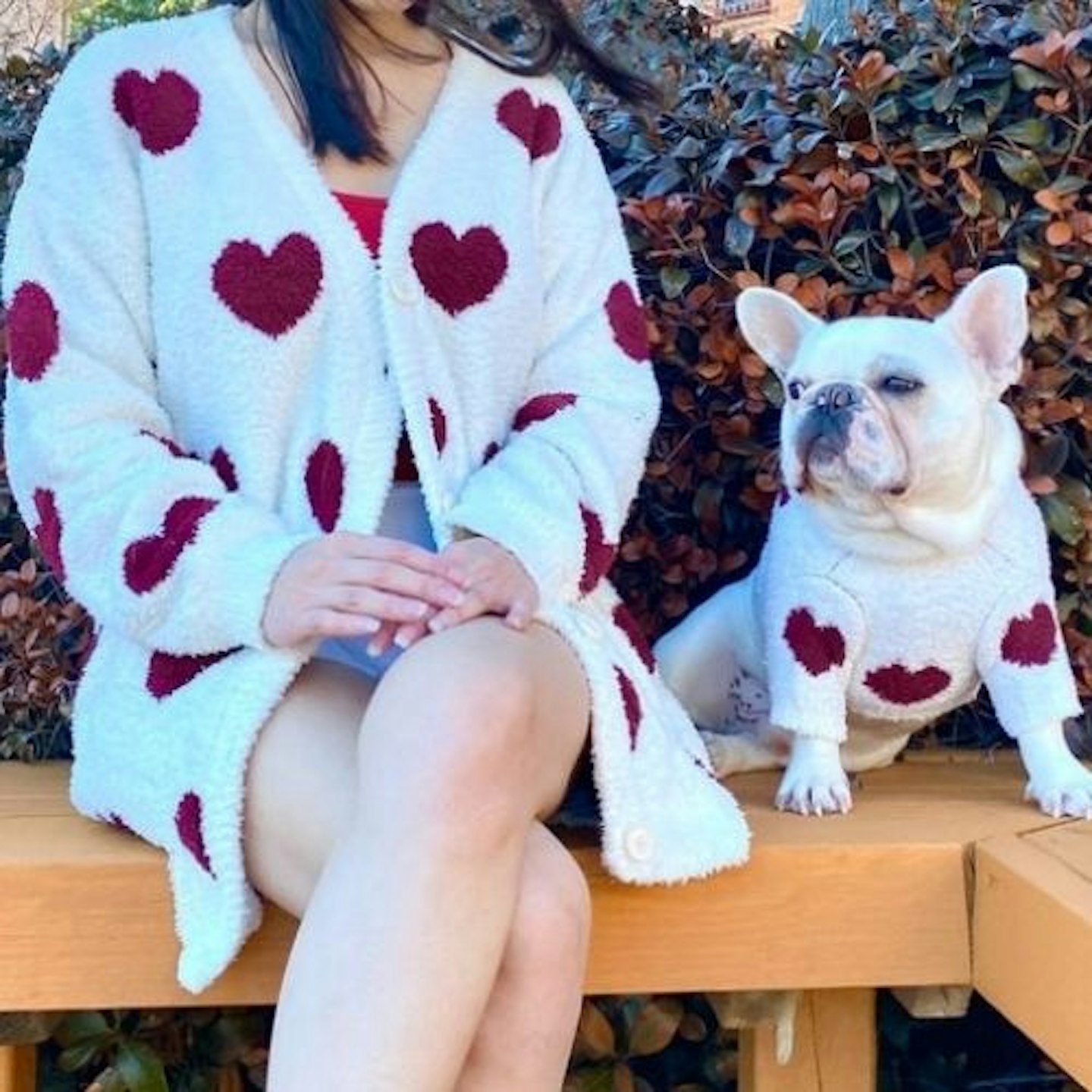 7 of 13
CREDIT: Etsy
Matching Pet/Owner Red Heart Sweaters
Twinning! Go all out this Valentine's Day and rock matching outfits with your furry friend. Stay cosy with this amazing love print cardigan-sweater matching set with your pet. Great for taking your pup out for a walk or to the park and both looking your best. Available as a set or individually too.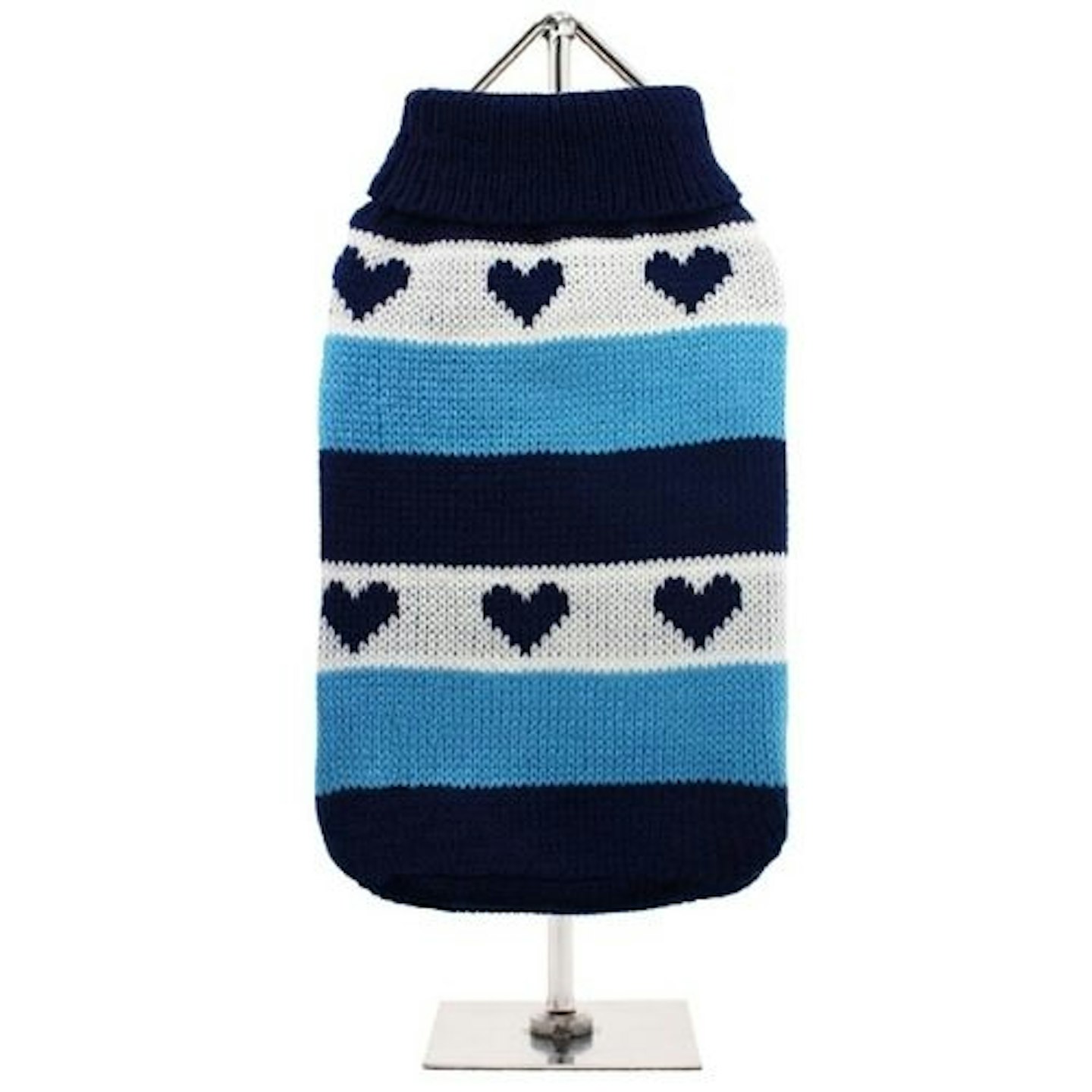 8 of 13
CREDIT: amazon
Blue Hearts Striped Sweater
For a more low-key look and different from all the red and pink that won't be everyone's cup of tea, this blue knit is ideal. Still on theme with a few hearts, this jumper can be worn all year round and not just on Valentine's day. A great gift for pups that love to stay cosy and look cute.
9 of 13
CREDIT: Pooch and Mutt
Pooch & Mutt Valentine's Probiotic Meaty Treats
These love-ly lamb treats are packed with goodness for your dogs this Valentine's Day. There's no better way to tell your pooch that you love them than with some heart-shaped food.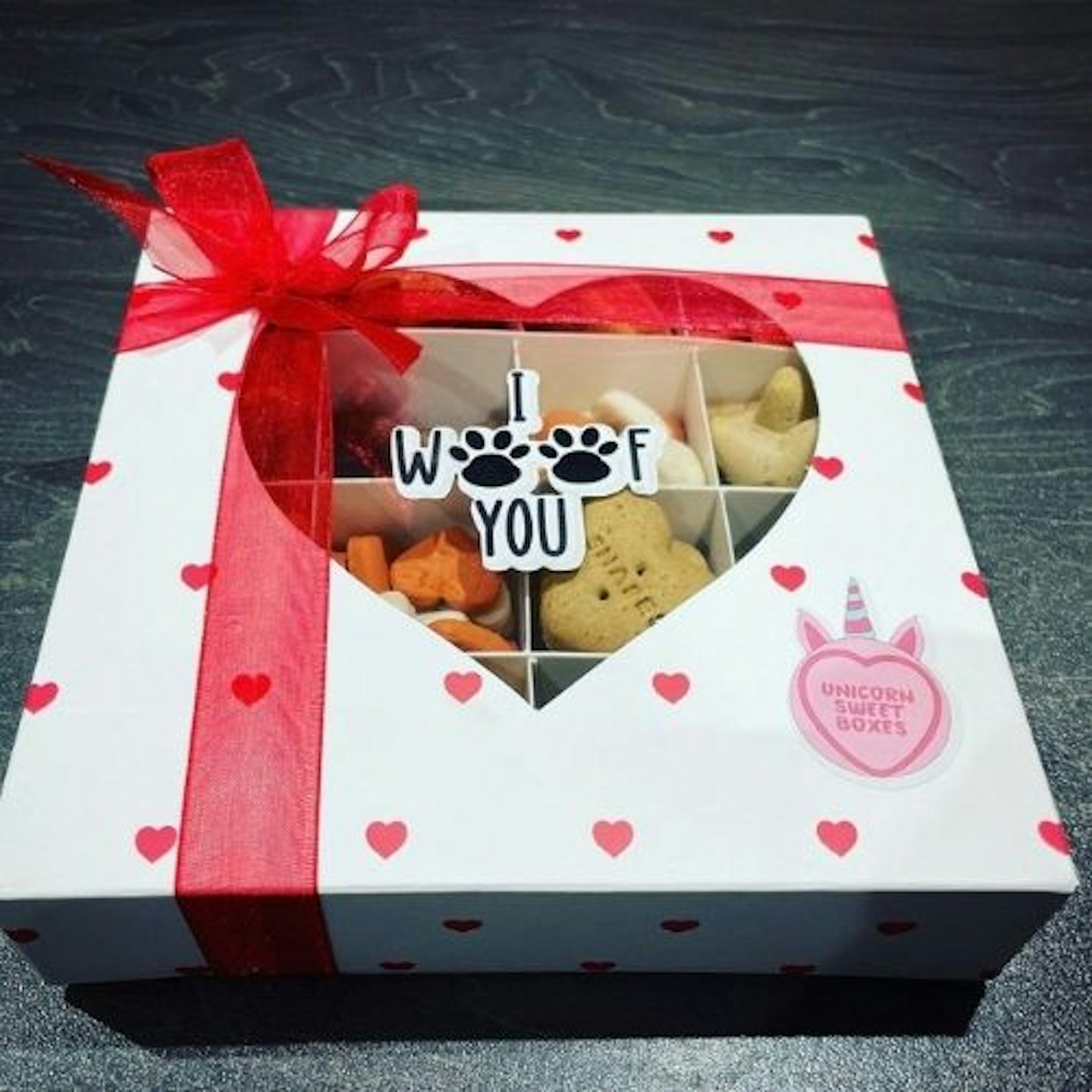 10 of 13
CREDIT: Etsy
Valentine's Dog Pick N Mix Treat Box
What dog doesn't love treats? This pick-n-mix style dog treat box is the perfect gift for your furry friend and comes gift-wrapped and decked out in hearts, fit for the occasion.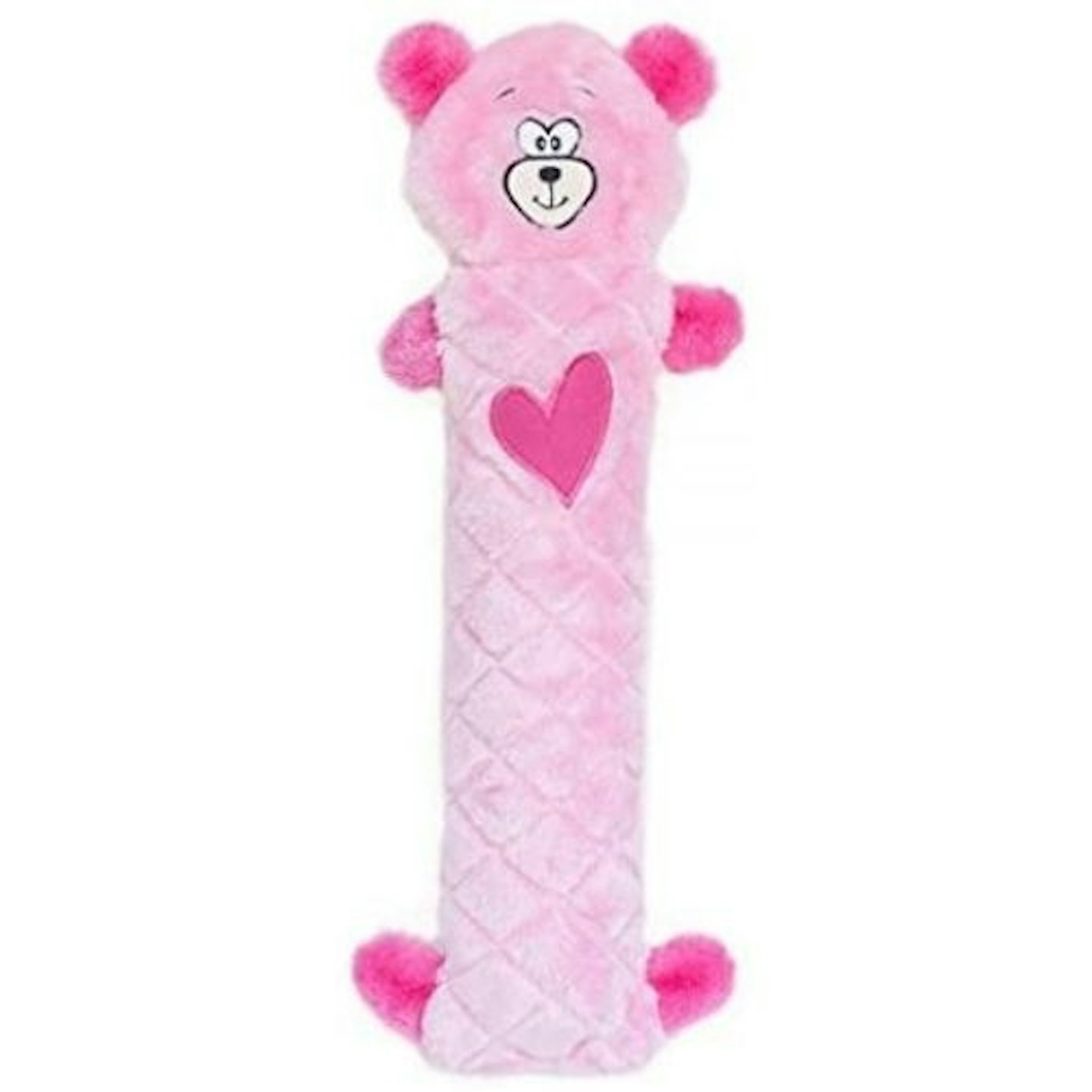 11 of 13
CREDIT: Amazon
ZippyPaws Jigglerz Pink Bear Plush Dog Toy
A fun new toy is a perfect gift for your pet for any special occasion. We love this beautifully designed and high-quality pink bear that is durable enough to withstand rough playtime. The Jigglerz are made with exclusive jiggler noisemakers that squeak when shaken from side-to-side to keep your best friend entertained.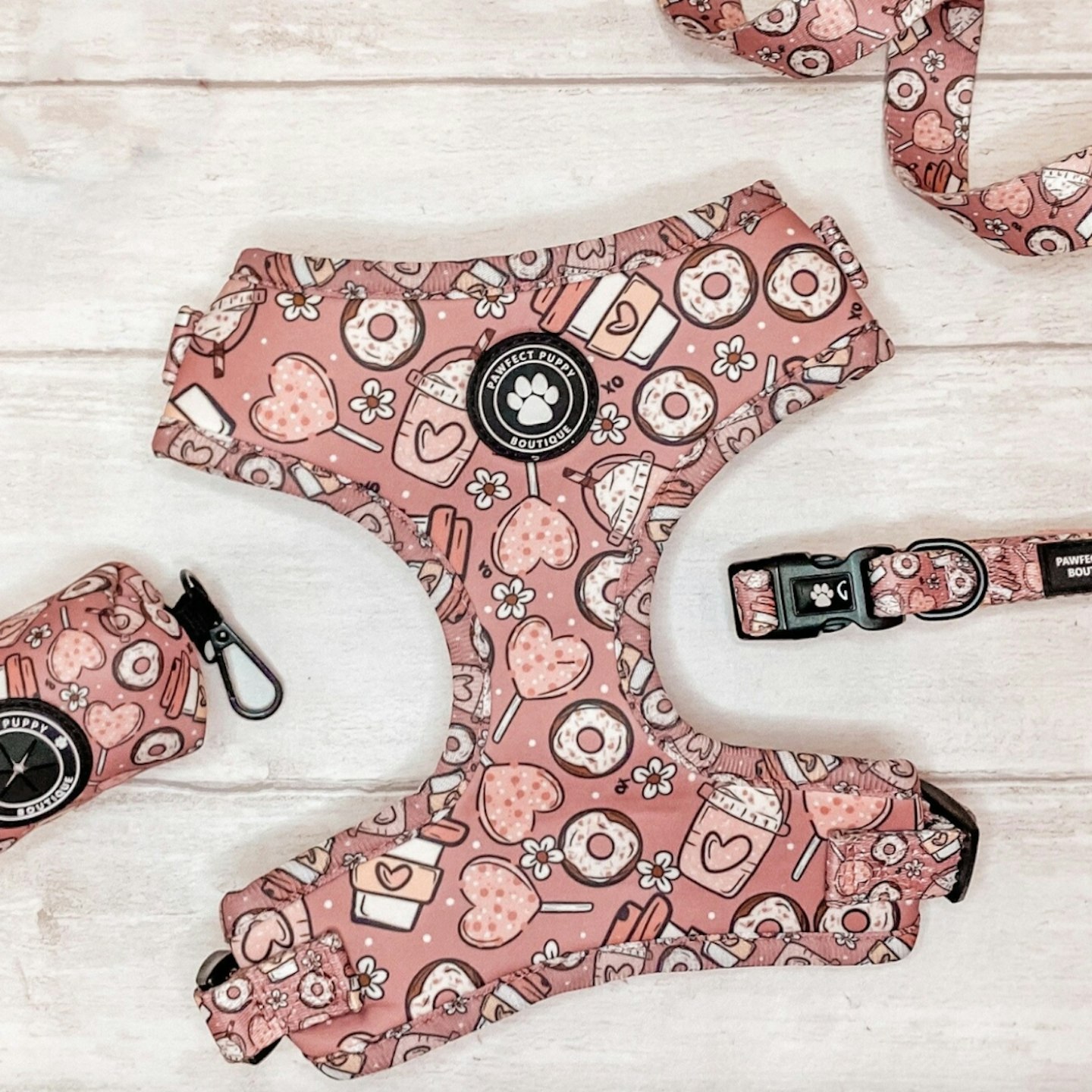 12 of 13
CREDIT: etsy
Pink Dog Harness 4pc Set
Doggo is where the heart is, right? What better way to show your dog you 'woof' them than in this adorable heart-themed set? This full accessory bundle has everything you need for glamorous walkies, currently half-price on Etsy!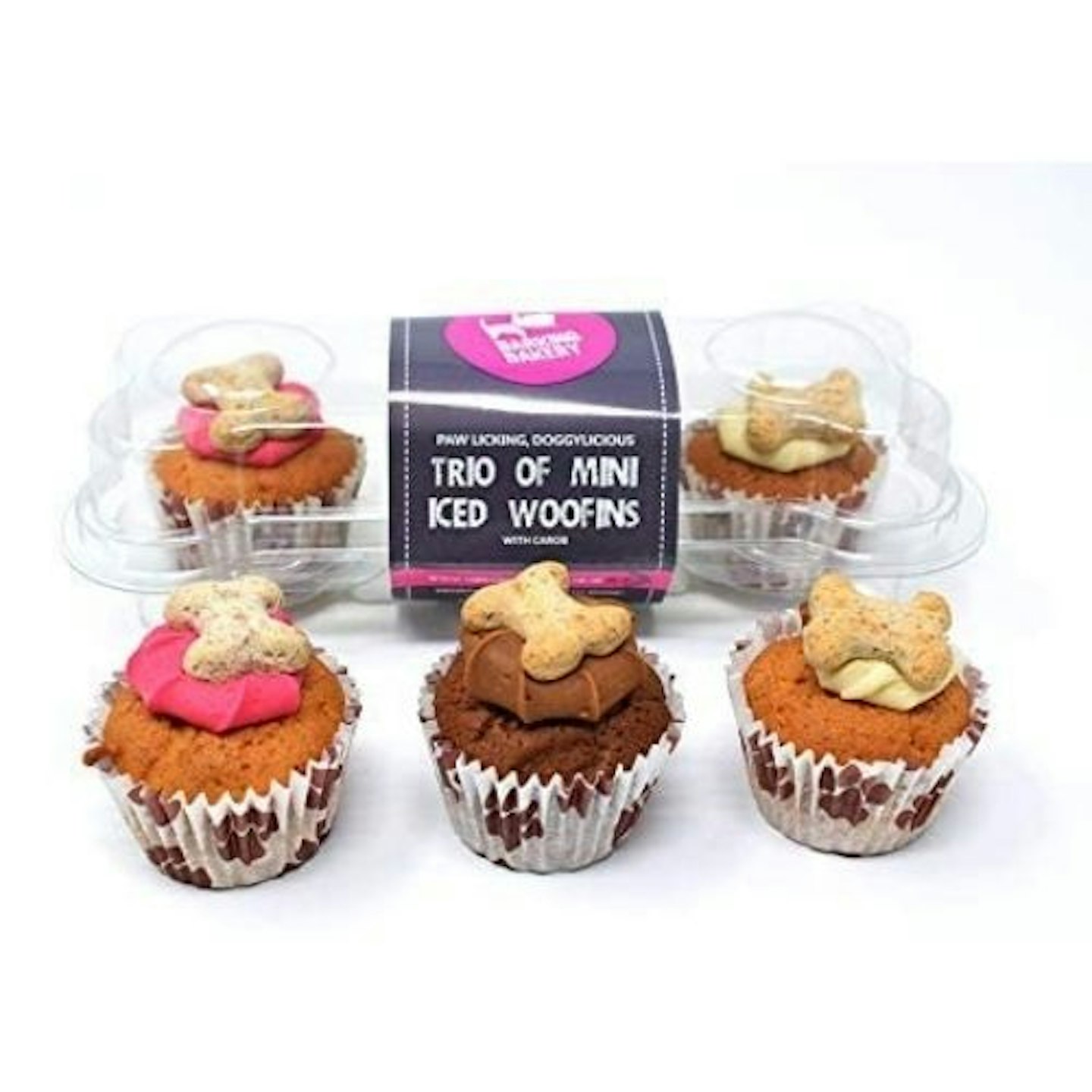 13 of 13
CREDIT: Amazon
Trio of Mini Iced Woofins
The perfect sweet snack to dive into on Valentine's Day, this trio of mini cupcakes will go down a treat.
Tried and tested: Denzel's Valentine's Hearts Dog Bites
We put Denzel's Valentine's Hearts Dog Bites to the test with our in-house treats taster, Charlie, this is what he had to say: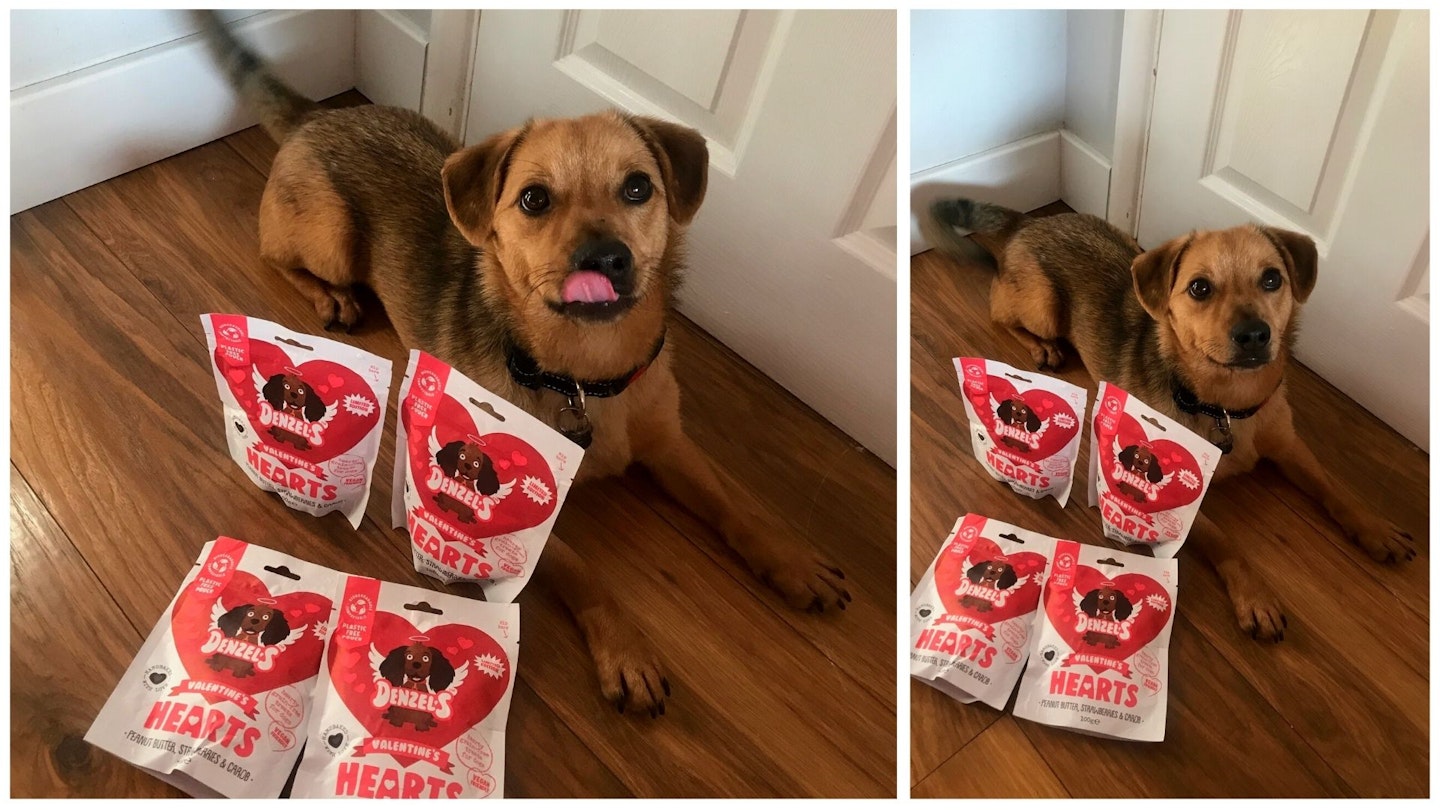 "Hi I'm Charlie and I woof these new heart-shaped treats from Denzel's. Because my humans love me very much and I've been a good boy, they've let me try these Valentine's Day treats early. I found the peanut butter, strawberries and carob very tasty. My owners love that these are vegan-friendly, low sugar and low calorie too because it means they're good for training on our walks."
Tried and tested: Pooch & Mutt Valentine's Probiotic Meaty Treats
Our in-house treats taster, Charlie, has been busy again putting Pooch & Mutt Valentine's Probiotic Meaty Treats to the test. Here's what he had to say: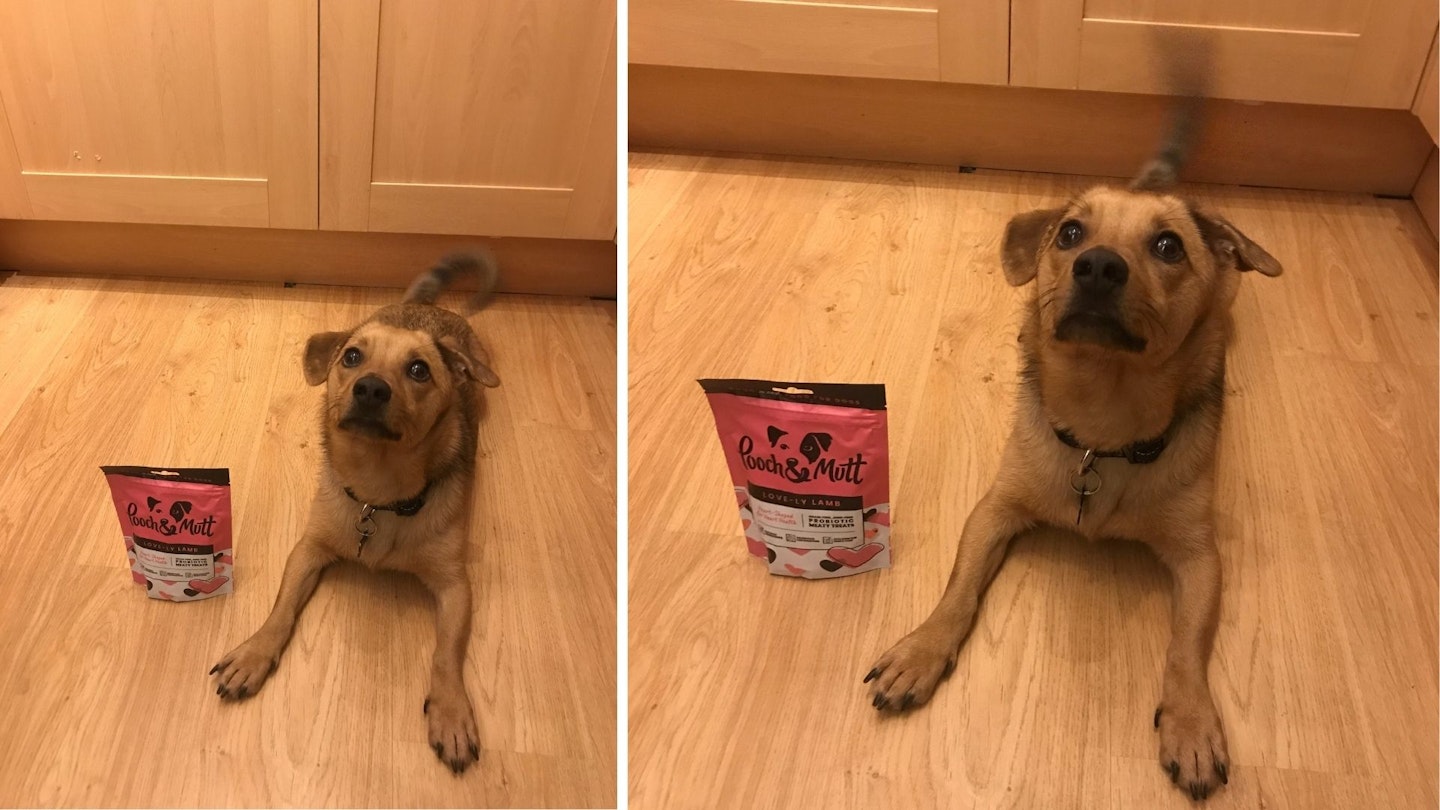 "Leading up to Valentine's Day, my owners have been spoiling me with these naturally hypoallergenic treats and I love them. I have been learning how to sit before crossing the road and get one of these as a reward. These get paws up and tail wags from me!"
Stuck on what to buy all the wonderful people in your life for Valentine's Day? We've got you covered:
For him
Shopping for men isn't always the easiest task, to get you started we've got some amazing gift ideas from last-minute affordable finds to practical and cheesy romantic gifts.
For her
From new mums that could really use a special treat right now, to thoughtful gifts from independent stores, our gift guides have you covered no matter what her interests are.
To treat yourself
If there's anyone that deserves a special treat this Valentine's it's yourself and what better way to celebrate the occasion, whether you are single, taken or it's complicated than buying yourself a new pair of gorgeous pyjama's.