Whether you're spending Christmas Day lying on your couch in a comatose state from your Christmas dinner or going somewhere a little fancier - you'll need a Christmas jumper. Being pregnant doesn't change that, and if you're further along than four or five months, you'll want something with a bit of room in so you and bump are feeling good.
The best Fair Isle print Christmas maternity jumpers
Before we get to general Maternity jumper gallery below, here are the top five Fairisle print maternity jumpers, if you're looking for a more understated look this Christmas.
Monochrome Fair Isle Maternity & Nursing Jumper, £65 from Seraphine
Cream Floral Fairisle Maternity Jumper, £40 from River Island
Cashmere Mix Fair Isle Stripe Maternity Christmas Jumper, £35 from JoJo Maman Bébé
Maternity Christmas Jumper with Placement Fairisle Pattern in Green, £22 from ASOS
Maternity Baby Pink Fairisle Oversized Christmas Jumper, £18 from PrettyLittleThing
Finding any maternity clothes you like is hard, let alone a maternity Christmas jumper. However, this year, we've done our research and rounded up the best maternity Christmas jumpers at the moment, and you're sure to find something you like on our list. Trust us on this one.
Shop our top picks below.
SHOP: The best maternity Christmas jumpers UK 2023
Editor's Choice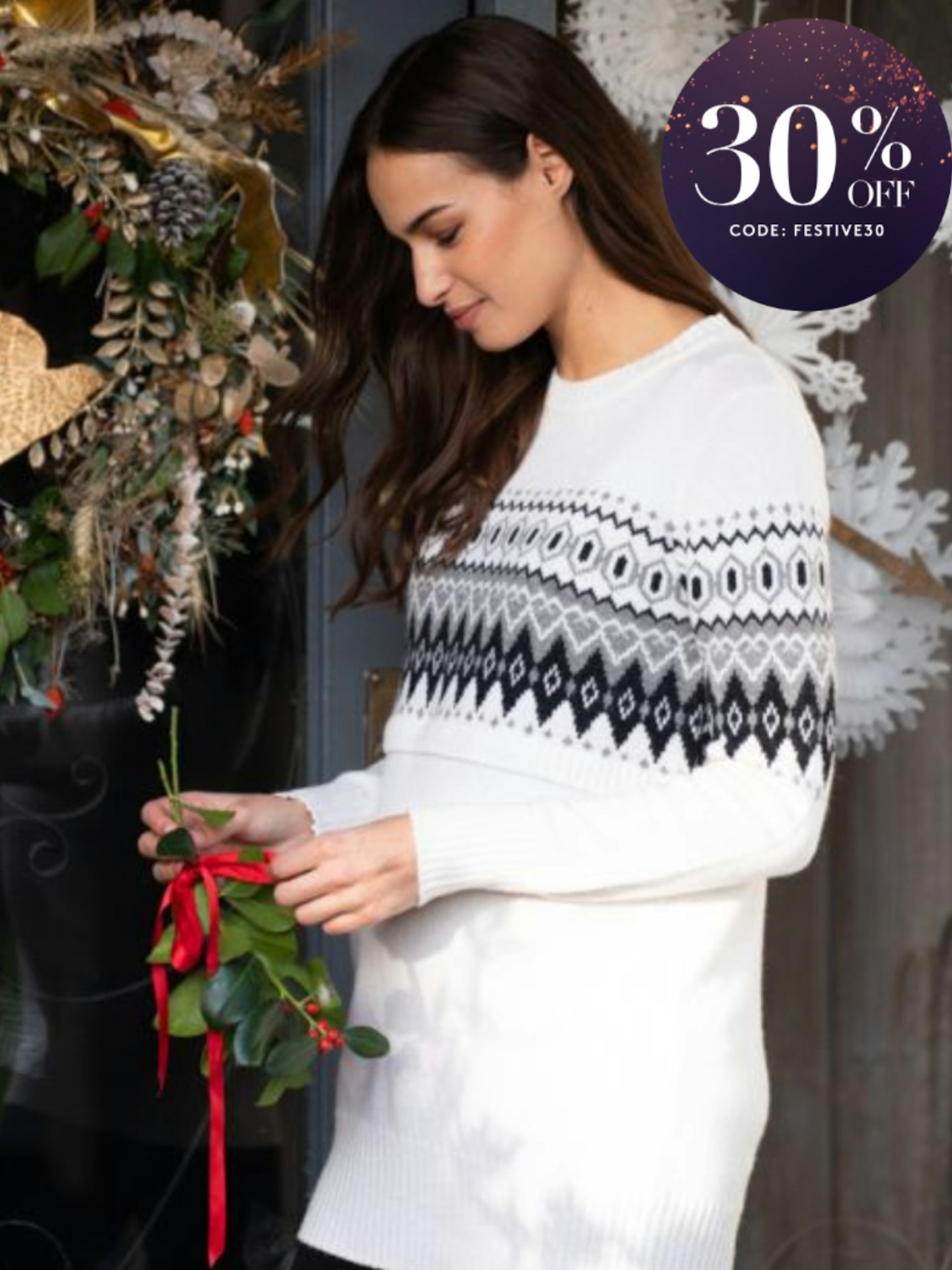 seraphine
Description
Cosy up on colder days in Seraphine's Monochrome Fair Isle Maternity & Nursing Jumper – perfect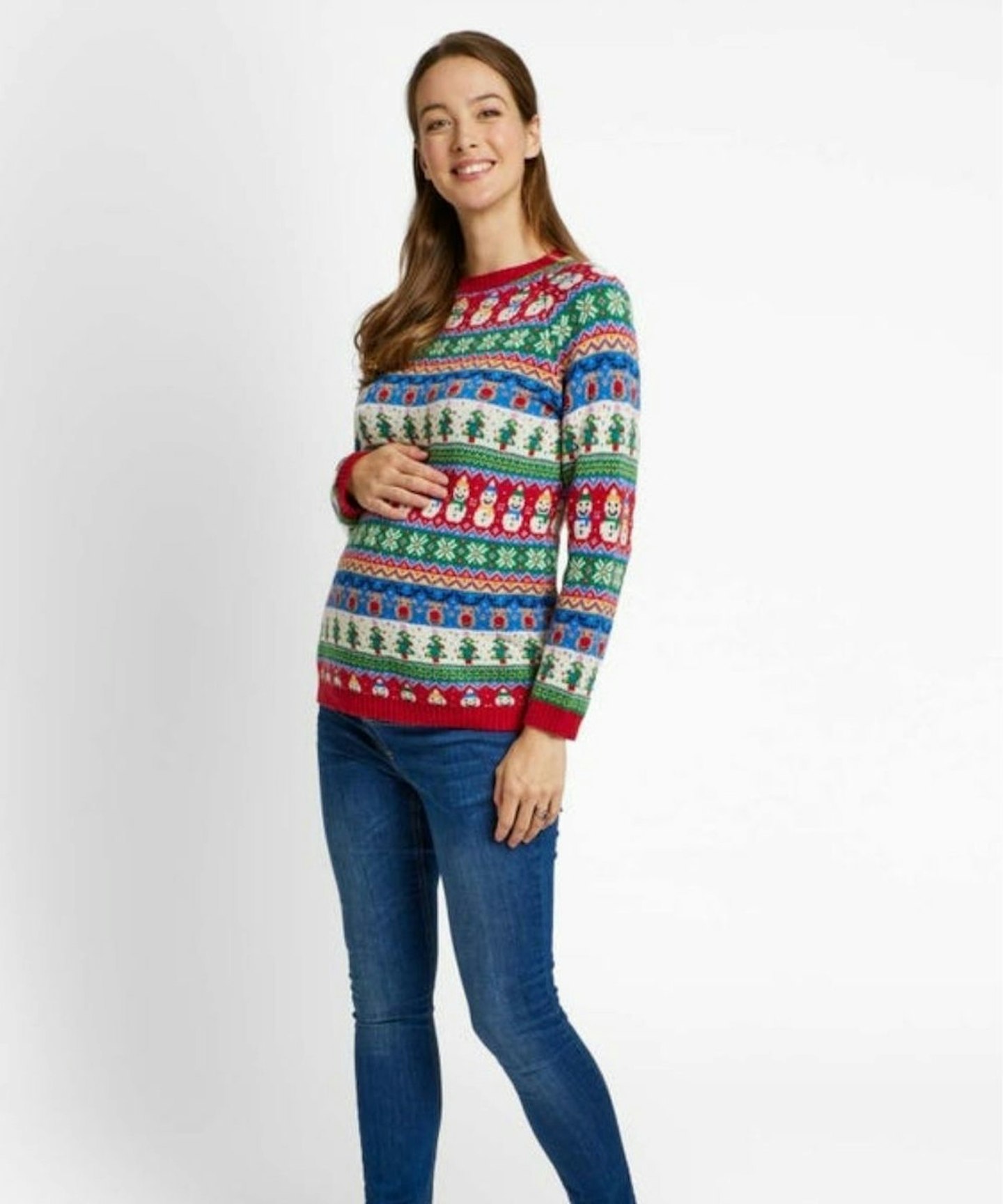 JoJo Maman Bébé
Description
Looking to match with your bubba? This multi-colour jumper is available in baby AND men's - we can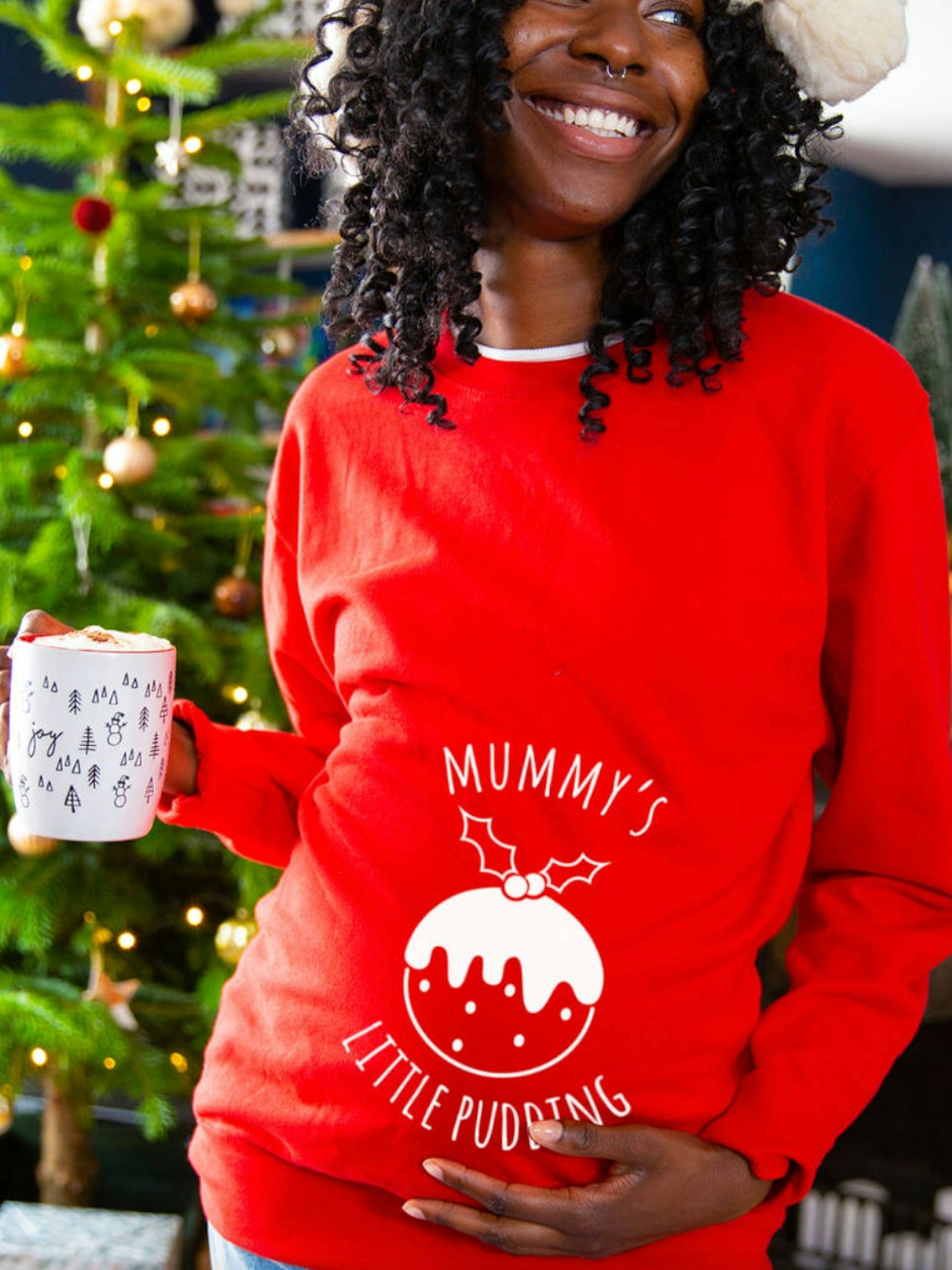 not on the high street
Description
Isn't this adorable? Not On The Highstreet's Mummy's Little Pudding Jumper will make everyone at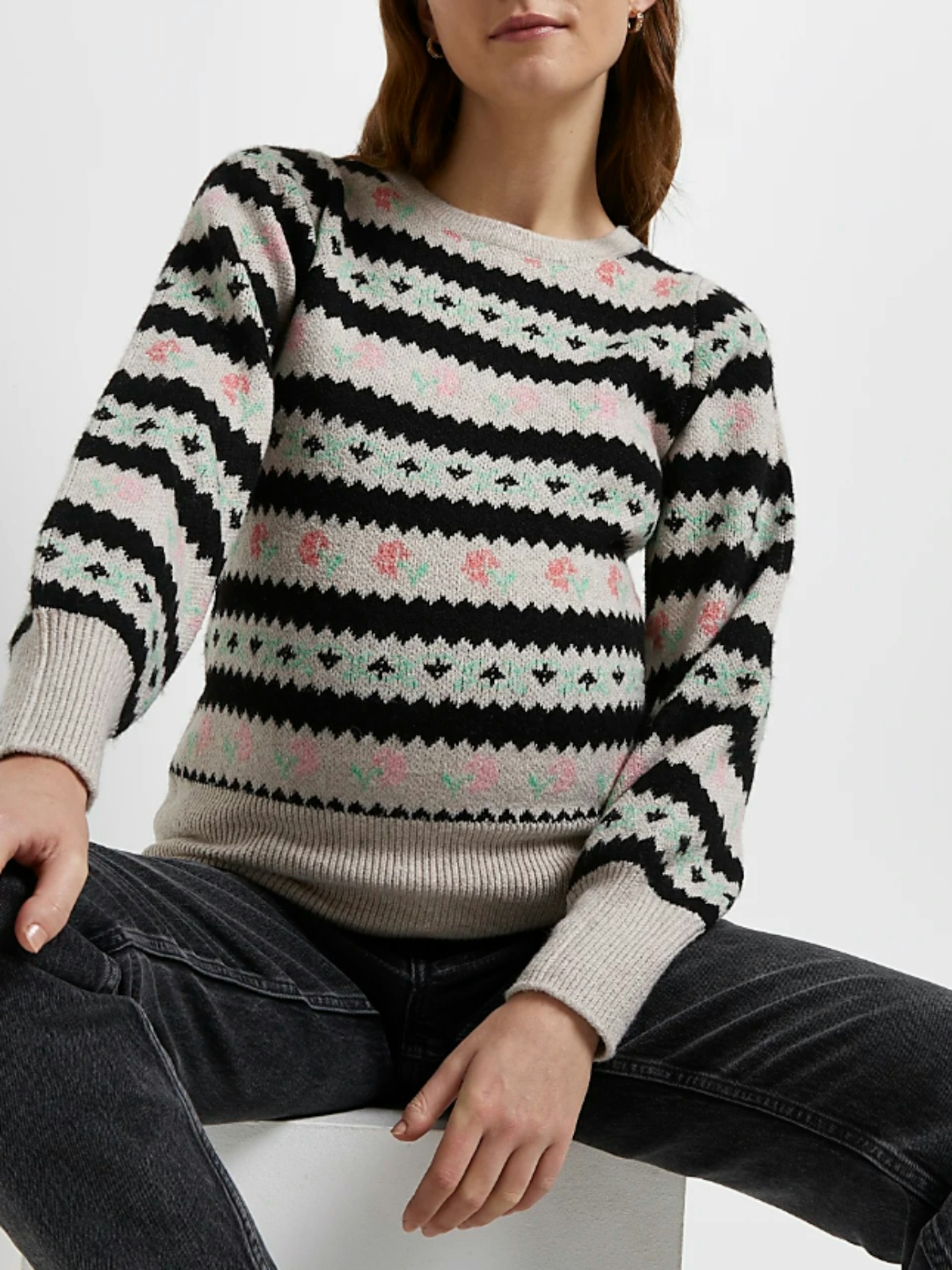 river island
Description
For a slightly more understated look, the River Island Cream Floral Fairisle Maternity Jumper is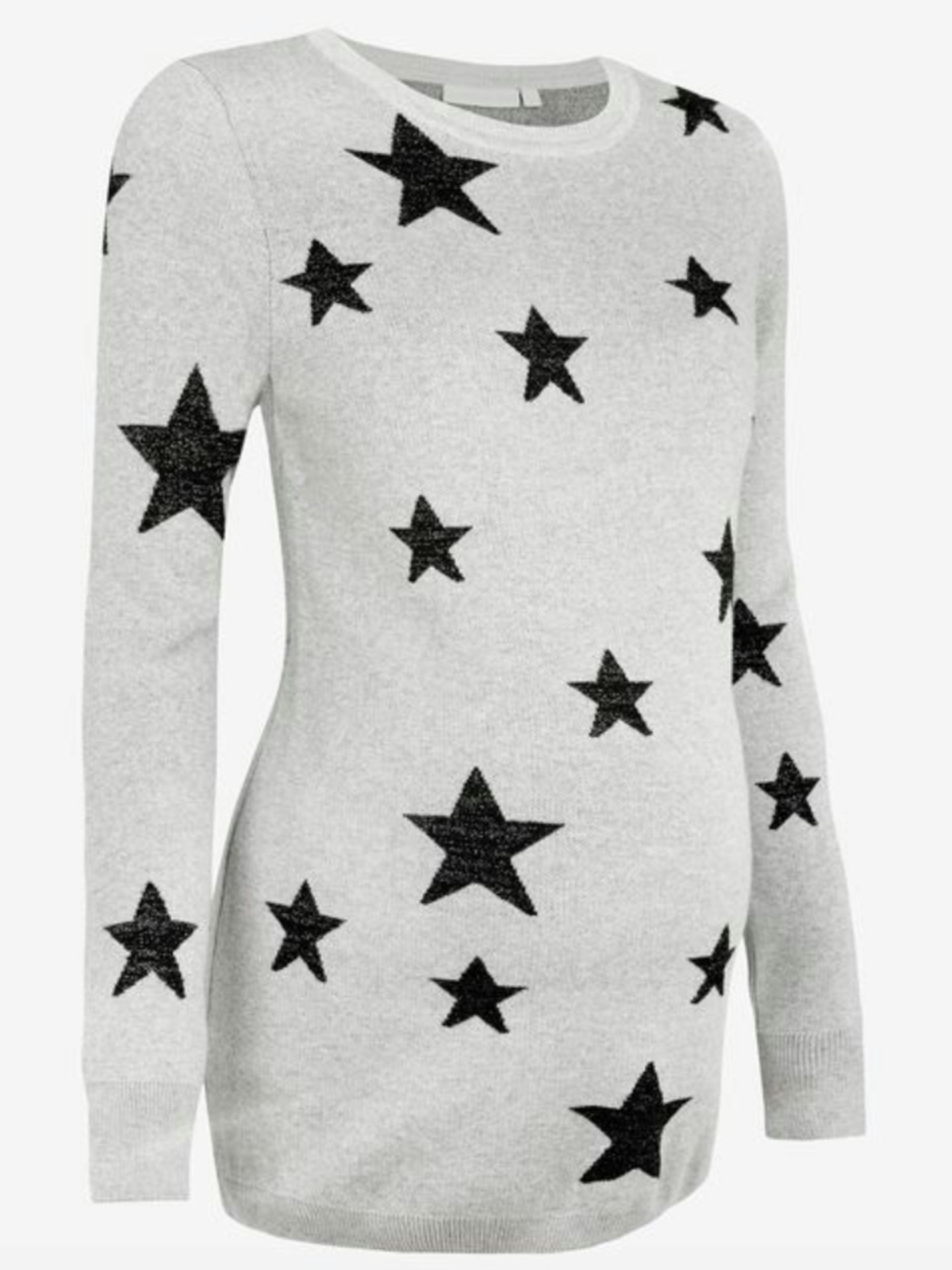 JoJo Maman Bebe
Description
Loving the star design of this JoJo favourite, and you could wear this into the New Year too as
Description
We love jolly ol' jokes at Christmas time, and this Special Delivery Maternity Jumper is sure to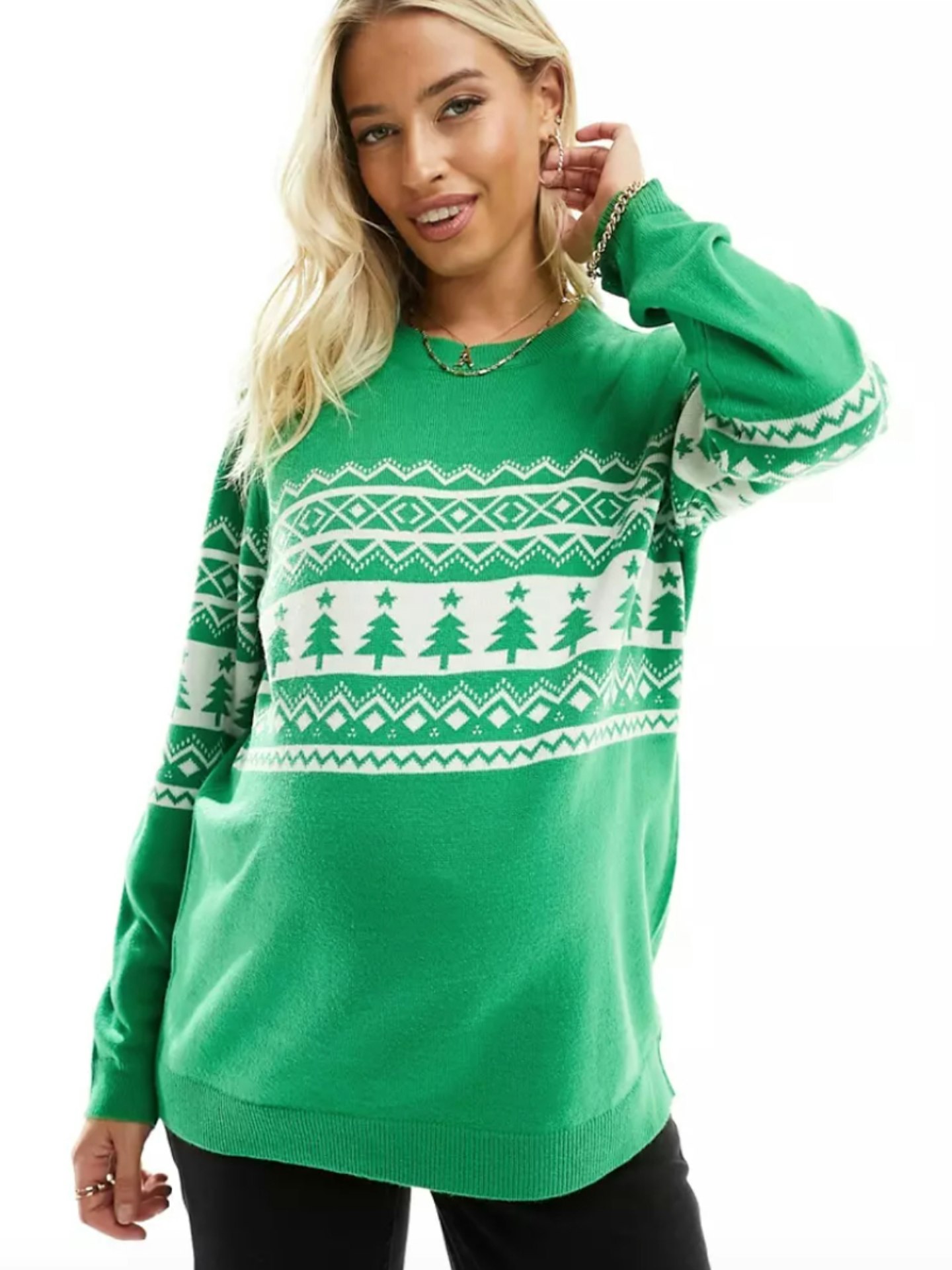 asos
Description
If you're sick of the reddish hues and want a festive but fresh colour, why not go for green? This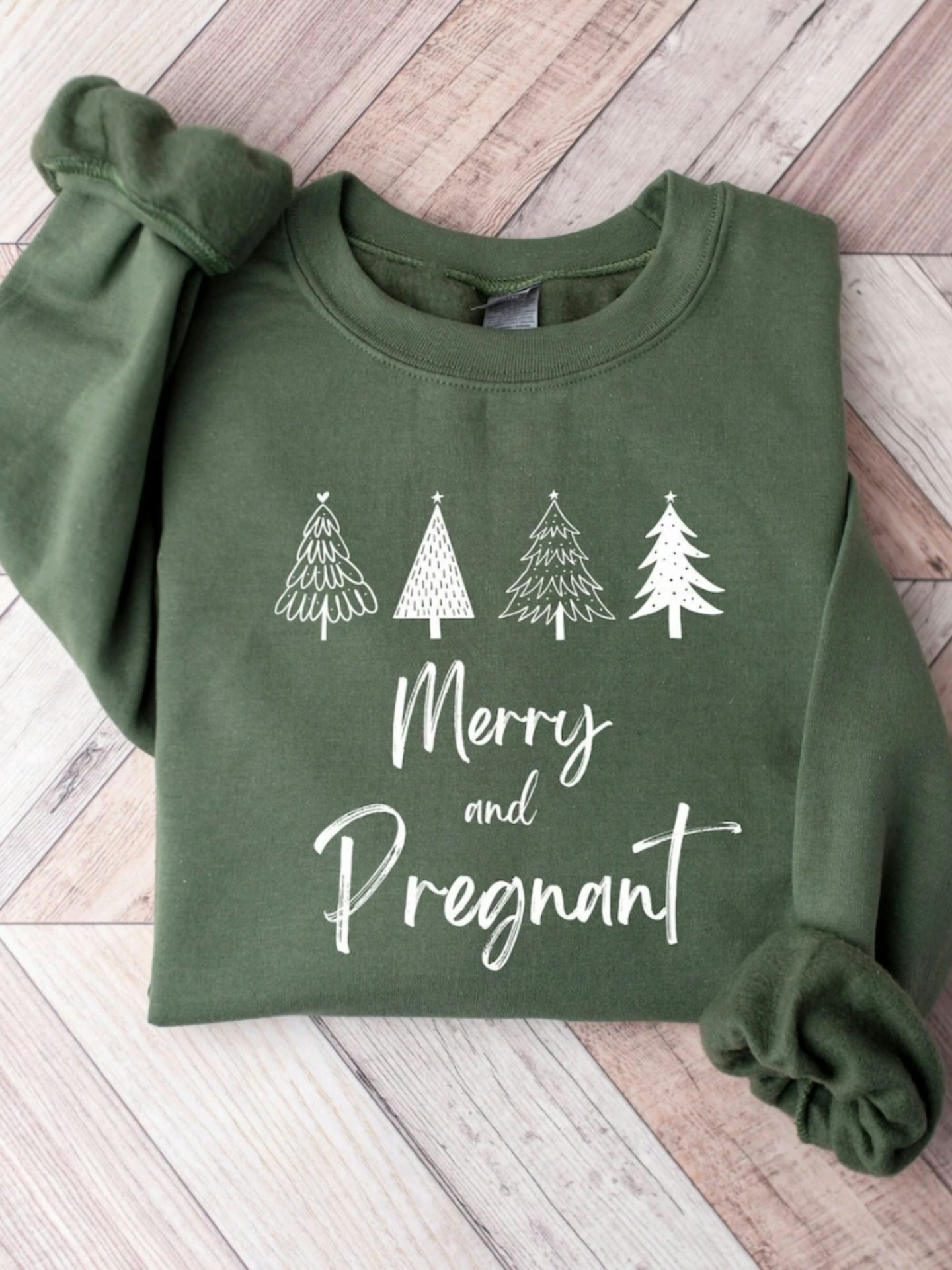 etsy
Description
Use your jumper to announce the happy news to family members this year, with this Pregnancy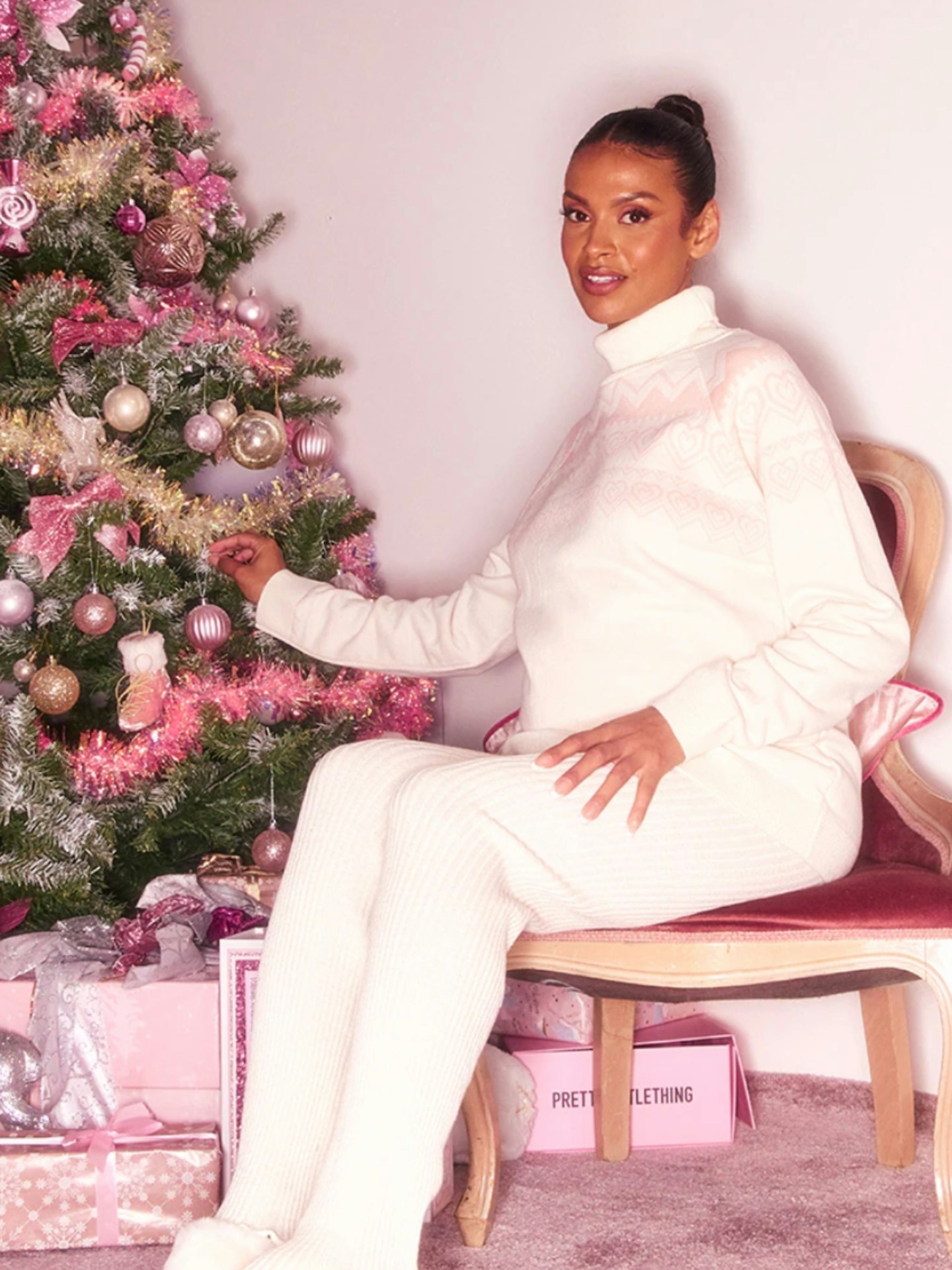 plt
Description
If you prefer a cosy, oversized look, the PLT Maternity Baby Pink Jumper will be your jam.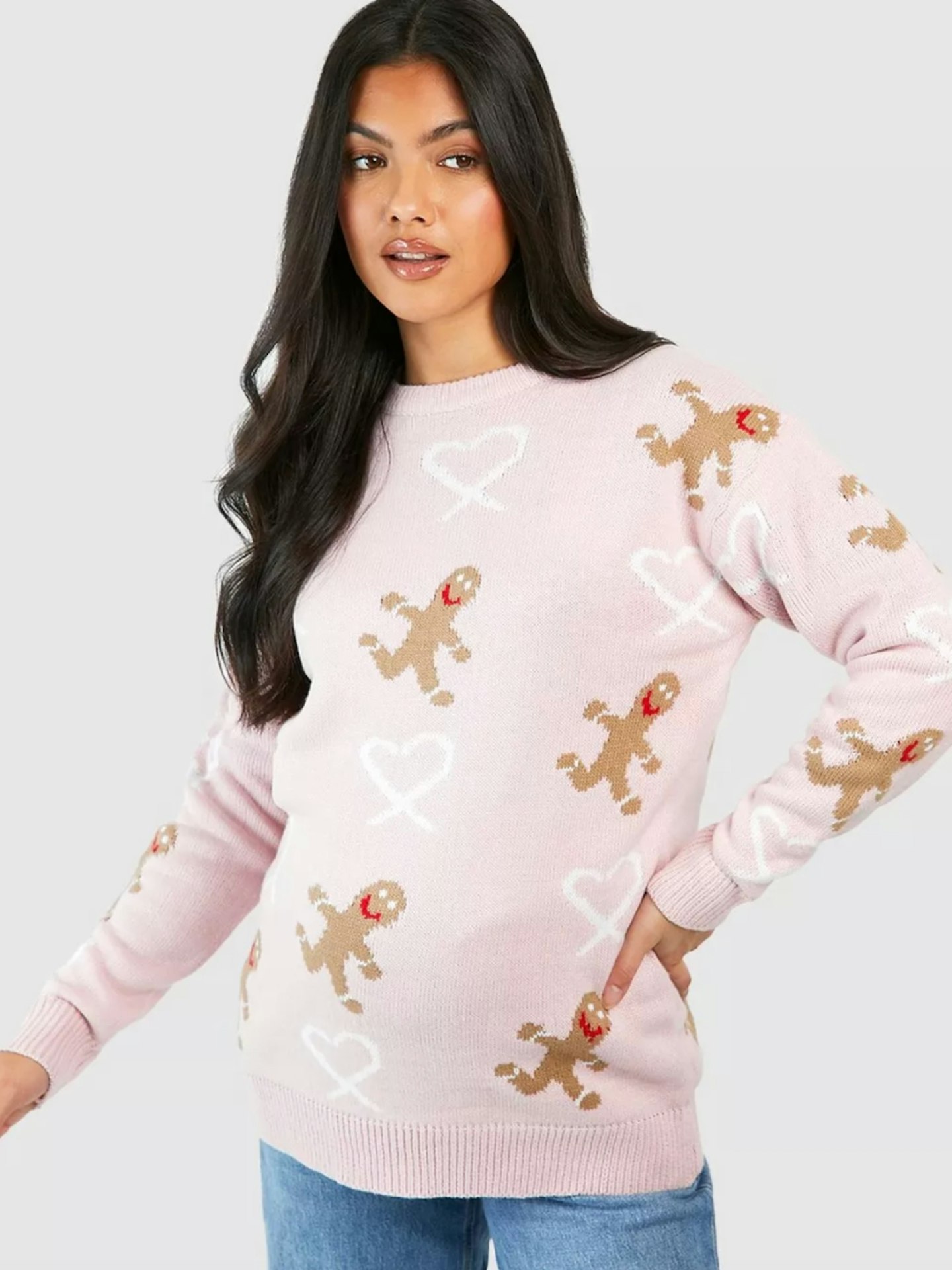 debenhams
Description
We can't wait to be stuffing ourselves with gingerbread this Christmas, so why not celebrate the
Description
It's not exactly a jumper, but how sweet is this top from JoJo Maman Bébé? The polar bear is
Description
A long-sleeve T-shirt might be a bit cooler than a jumper, especially when you're carrying a baby
Description
If you prefer a jumper dress to a regular jumper, this outfit would be so cute and festive on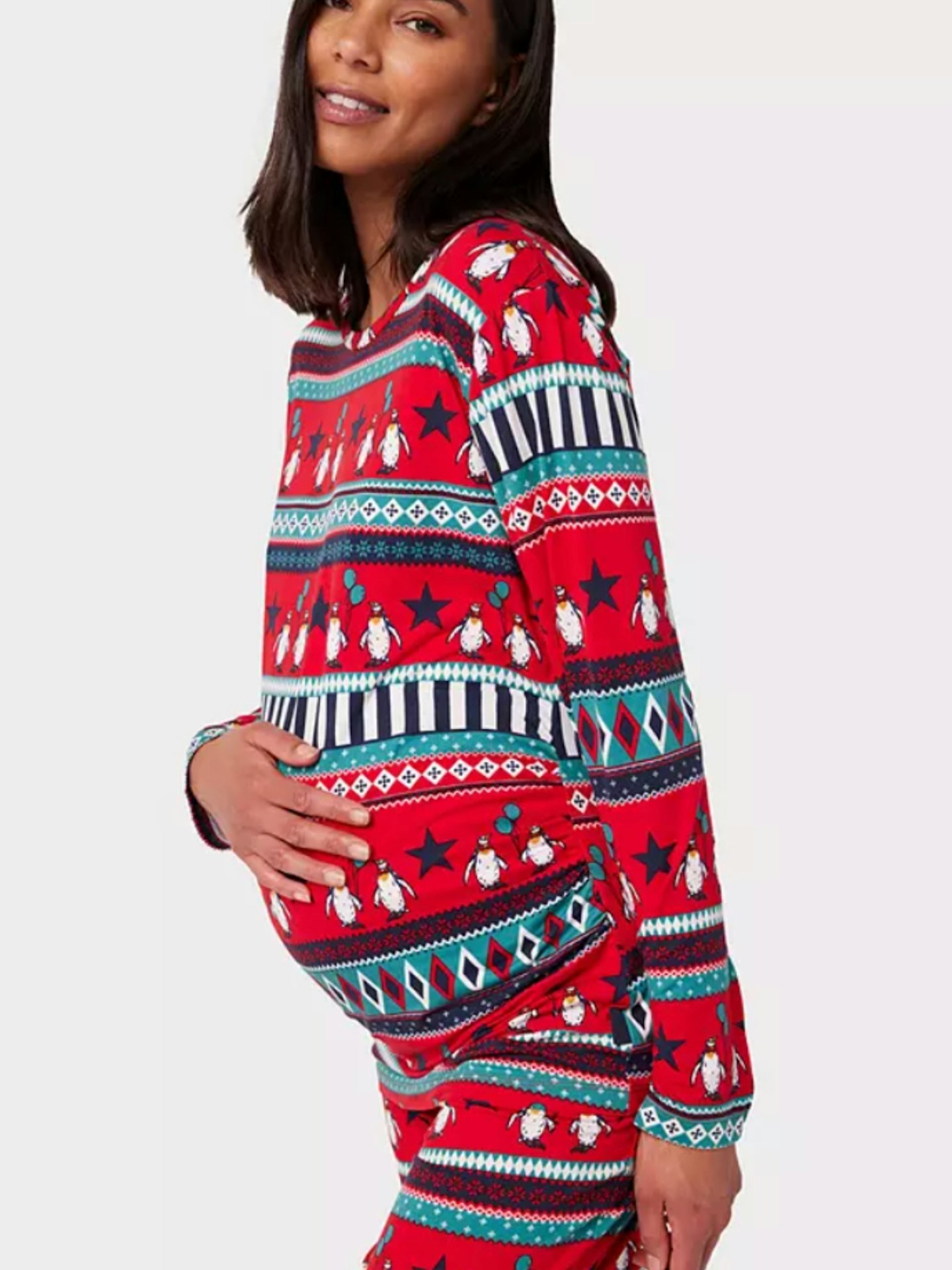 john lewis
Description
It's Christmas, so it's the only time one can wear matching pyjamas without judgement from the
What's the best maternity Christmas jumper to buy?
According to the style experts at boohoo, searches for Christmas jumpers, which can be delivered in time for National Christmas Jumper Day 2023, have surged by a massive 3,604% across the UK.
According to Boohoo: "Christmas time is ideal to embrace the cheesiness of novelty knitwear, with additions like flashing lights, tinsel, sequins or 3D elements are encouraged, as they allow you to capture the child-like joy of the season.
"However, if you'd like to wear your festive knitwear in a more subtle, stylish way, perhaps when attending your work's Christmas Jumper Day event, there are some ways to do this."
The experts say:
Choose a Fair Isle print in muted tones to add classy and timeless appeal to your outfit.
Pair with on-trend bottoms to elevate the overall stylishness of your outfit. For this time of year, the ideal pairing for your festive knit would be a black mini skirt, translucent tights, and knee-high winter boots for an extra bit of warmth.
Alternatively, faux leather trousers are a stylish staple with any knitwear for the winter season and can easily take any knit from day to night when paired with some simple heels and accessorised with statement jewellery.
If you want something cosier, choose a festive-inspired co-ord set. Matching sets are the height of trendiness right now, and they're also perfect to keep warm as the colder weather hits. Styled with some fluffy-lined boots and a cute, oversized scarf, loungewear can easily be outerwear and perfect for a day of Christmas shopping.
Ruby Barry is a Product Writer for Closer Online, specialising in fashion and beauty. The team has nicknamed her "dupe queen", as there's not a product in the world she can't find a cheaper alternative for.