As the summer season merges into autumn and the days get shorter, it can only mean one thing: cosy weekends in front of the telly and there's nothing like thirteen weeks of ballroom dancing to keep us occupied.
*Circles BBC's Strictly Come Dancing in the TV guide*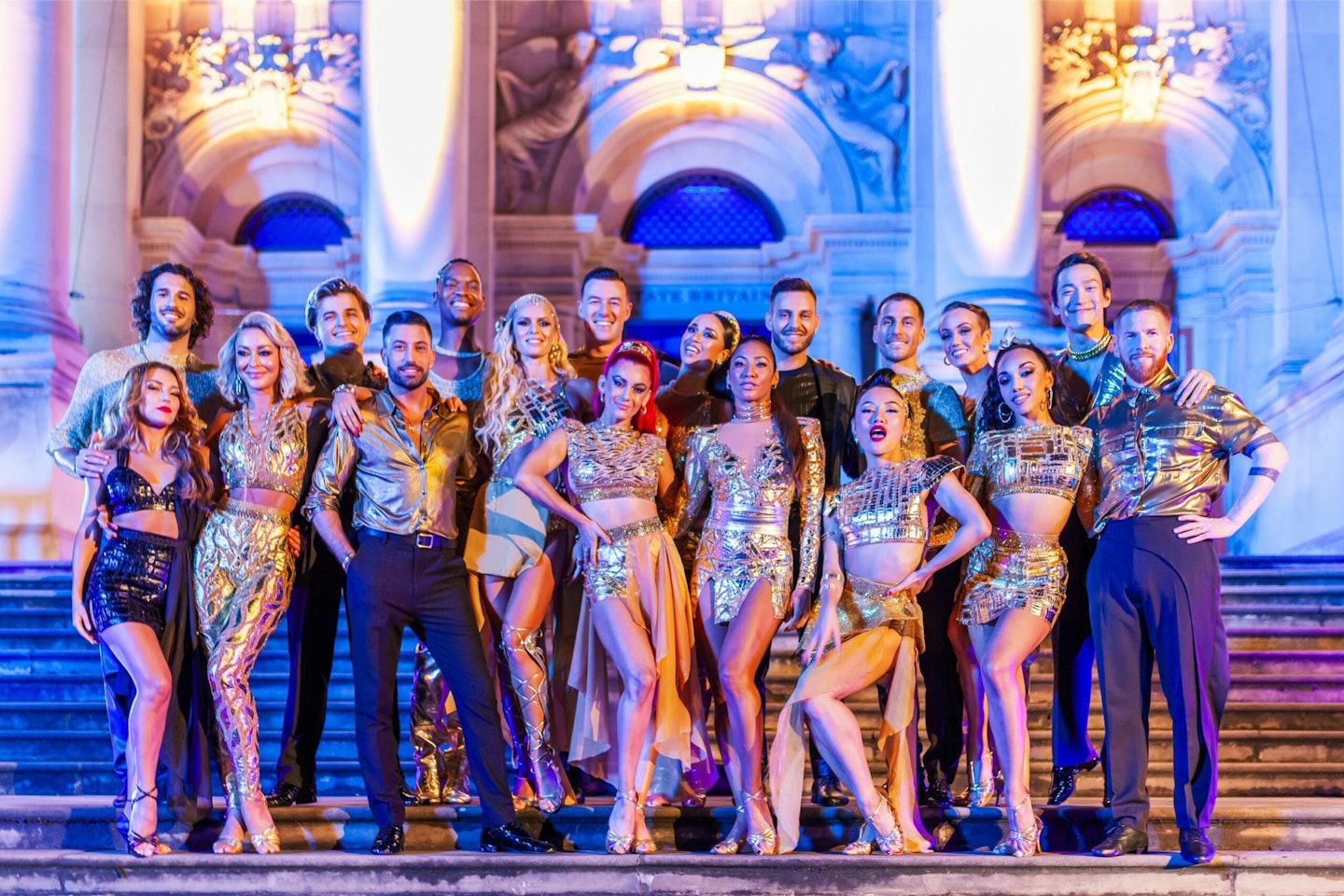 As soon as the celeb line-up for Strictly 2023 was announced we were more than happy so say goodbye to summer nights.
From EastEnders' hottie Nigel Harman to Love Island bombshell Zara McDermott, this year's stars battling for the glitter ball trophy are some true celeb icons who are more than ready to show the judges what they're made of.
Who was eliminated from Strictly Come Dancing 2023?
Week one - no one
There was no elimination during the first week; just a bit of fun and some introductory song and dance.
Week two – Les Dennis
After finding himself in the dance-off alongside radio DJ Nikita Kanda, national treasure Les Dennis was the first celeb to say goodbye to the ballroom.
The British presenter claimed to have had "the best time" and chatted affectionately about his professional dancer partner, Nancy Xu.
"This lady has been amazing, a great teacher, she's really put me through my paces."
Week three - Nikita Kanda
Radio DJ, Nikita was voted off Strictly in episode three after facing Love Island 2018 star, Zara in the dance off. Performing alongside her professional partner, Gorka Márquez, Nikita's last dance was the Jive.
Talking about her time on the show Nikita admitted she wasn't ready to go, "I don 't want to leave yet, I feel like I've let him [Gorka] down."
But Gorka was quick to shoot those thoughts down as her replied, "I am beyond proud of her, for someone that doesn't have any dance experience or performance experience to come on this show and dance in front of millions of people – for three weeks, I think it's incredible."
Week four - Jody Cundy
After dancing the salsa, Paralympian Jody Cundy faced comedian and presenter Eddie Kadi in the dance off and was picked by all four judges to be sent home.
Talking out his Strictly experience Jody revealed, "You know what, when I signed up for this I thought what an earth am I signing up for and we did that first live show and I absolutely loved every second of it. And just being able to dance and do something I've never done before and get completely out of my comfort zone and with this amazing person."
Jody was matched with Jowita Przystal, who won the show last year alongside Hamza Yassin, the professional dancer opened up about how proud she was of her partner.
"I hope, one day when you look back at all of this, you will say to yourself I'm proud of myself, because that will be my biggest achievement."
Week five - Eddie Kadi
Eddie faced Zara in the dance off and ended up being the next celeb to be voted off Strictly.
Chatting about his time on the show the comedian revealed, "This has been the highest moment of my career – it's the happiest I've ever been, but not just for me – my family - my little baby girl is at home doing the Men in Black dance. More importantly, this little African boy,  I just wanted my culture to shine."
Eddie was coupled with with strictly professional Karen Hauer who chatted about her and Eddie's future as friends, "We're going to take up Congolese dancing. I just want to thank you so much for being so positive and bringing such light and smiling, just a beauty to all of us, I want to thank you so much."
Week six - Zara McDermott
After finding herself in the dance off for the third time, Love Island 2018 bombshell Zara said goodbye to Strictly at the end of week six.
Her Halloween inspired Charleston wasn't enough to keep Zara in the competition when she found herself going head to head with actor Adam Thomas and his dance partner, Luba Mushtuk.
Talking about her time on the show the reality TV star turned documentary maker showed love for her professional partner Graziano di Prima, adding "I have had the time of my life. Just to be here is incredible. Thank you to the judges and my amazing partner obviously. My fellow contestants are just incredible. It has been the most amazing experience. I can't believe it's over but I am going to be here in spirit every week supporting them."
Week seven - Adam Thomas
The latest celeb to be voted off Strictly is Emmerdale's Adam and his dance partner Luba.
Speaking out following his exit, he said, "Seven weeks wow what a journey. I thought I would be leaving in week two so I'm proud of myself. I've had an amazing time from start to finish.
"I came here to learn how to dance but I've learnt so much more about myself. I have so much more confidence and self-belief, it's out of this world.
"I'm very lucky. I know my kids are crying at home but daddy is ok. I wanted to teach my kids it's not about losing, it's about taking part."
Week eight - Krishnan Guru-Murthy
The celeb contestant who just missed out on dancing at Blackpool and was sent packing after they failed to make waves with their Samba was newsreader Krishnan Guru-Murthy.
Finding himself in the dance off with Angela Rippon, three of the judges chose to send him home with just head judge Shirley Ballas wanted to keep him in the competition.
Talking about his time on the show, Krishnan showed his love for dance partner Lauren Oakley.
He said, "The thing that has made Strictly really special is Lauren. She is most incredible teacher, partner, friend. She is the real Strictly star and I am so delighted I am the first partnership you have had. She is going to go a long way and I am very proud of her."
Week nine - Angela Rippon
Angela found herself in the dance off against Eastenders star Bobby Brazier in Blackpool, but the judges voted unanimously for Angela to be set home.
Talking about her Strictly experience, Angela spoke fondly of her dance partner Kai Widdrington, "He's an old soul on young shoulders. He's 28 and I'm 79; there's a 51 year difference in our ages. He has looked after me so brilliantly; he's a wonderful dancer, a great choreographer, but he's a terrific teacher and he has the patience of a saint!"
Week ten - Angela Scanlon
Angela found herself in the dance off against west end star, Layton Williams, after her Cha Cha failed to keep her safe.
Angela, who was partnered with professional Carlos Gu, opened up to Tess about her time on the show, "It's been honestly incredible, I'm gutted, really gutted that it's finished now, but it has been the most wonderful experience."
Week eleven
Technically nobody was eliminated from the show this week but soap star Nigel Harman and dance partner Katya Jones had to leave the competition due to Nigel sustaining a rib injury.
The duo returned to the show and chatted with Claudia about what had happened, the Eastenders actor revealed, "I was leaping off a rostrum and was about to be caught by some very handsome men, and as I flew I was Peter Pan and as I landed I was in A & E. So I've done something to my rib basically, and it's quite painful."
Katya opened up about her experience with Nigel and confessed, "It's quite hard to talk right now, I'm not going to lie. I have absolutely loved every moment of us creating magic on the dance floor. I know the reasons you did this, for your daughter and for your parents and especially missing out on this number, I know your parents will be very, very proud of you."
Who won Strictly Come Dancing 2022?
Helen Skelton, Fleur East, Hamza Yassin and Molly Rainford all competed in last year's Strictly final, but only one could take home the Glitterball trophy and that person was Hamza.
Hamza and his professional dance partner Jowita were crowned champions after topping the public vote.
Following his big win, Hamza said, "I am absolutely over the moon, I can't believe it. I didn't believe I would make it past week one, let alone make it to the final and lift that Glitterball. This wouldn't have been possible without Jowita, she have been my absolute rock through this entire experience and I wouldn't have wanted this journey with anyone else, and for that I will be eternally grateful.
"I can't put into words what this means to us and I'm so thankful for everyone who has voted, it's made the long hours of training and hard work worthwhile. Everyone deserved to win tonight, the performances were outstanding, and it was such a brilliant final which topped off the most amazing experience."
When did Strictly Come Dancing 2023 start?
The series 21 launch show premiered on Saturday 16 September 2023 and the first live show on Saturday 23 September.
Where is Strictly Come Dancing 2023 filmed?
Strictly is filmed in the Elstree Studio, Borehamwood, London, but part of the series will also be shot at Blackpool Tower Ballroom.
WATCH: Strictly Come Dancing star Katie Piper talks more kids, fitness and home life