Let's face it - EastEnders' Christmas Day episodes are as much a part of our festive celebrations as the iced Baileys and tubs of Cadbury's Roses. From tragic deaths to illicit affairs being dramatically exposed, and even a shocking baby swap, EastEnders never fails to leave us screaming "O-M-G!" at the TV between mouthfuls of turkey.
Last year, viewers were left shocked when it was revealed that Sharon Watts and Phil Mitchell were behind the attack on Ian Beale. The pair plotted to kill Albert Square's longest-running resident as revenge for his part in the death of Sharon's son Dennis. Another major storyline over the festive period was the breakdown of Mick and Linda Carter's marriage as he shut her out after realising he was abused in a care home when he was younger.
Some fans called it the best Christmas special in years, so what will happen this year?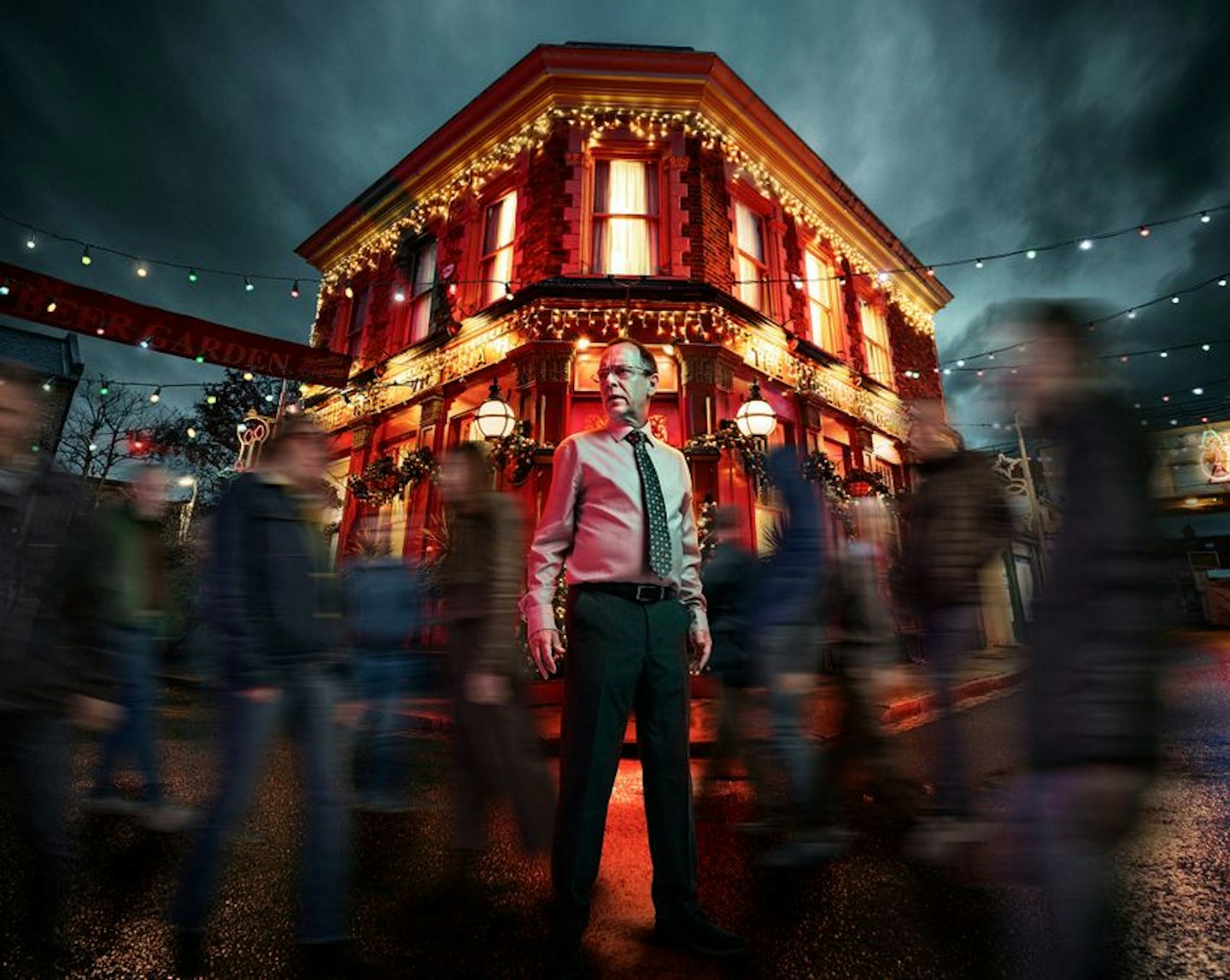 Well, we know that there's set to be a double wedding as Gray Atkins and his pregnant partner Chelsea Fox tie the knot alongside her mum Denise, who is marrying Jack Branning.
It's rumoured that the villainous lawyer could finally be exposed by Whitney Dean for murdering his wife Chantelle as well as Tina Carter and Kush Kazemi. But will he really get found out? And what will happen if the truth comes to light?
So, while we continue watching until it all kicks off in the Square, let's take a look at then ten best ever EastEnders Christmas episodes ranked.
Here's our ultimate ranking of EastEnders Christmas episodes...
Eastenders Christmas Day episodes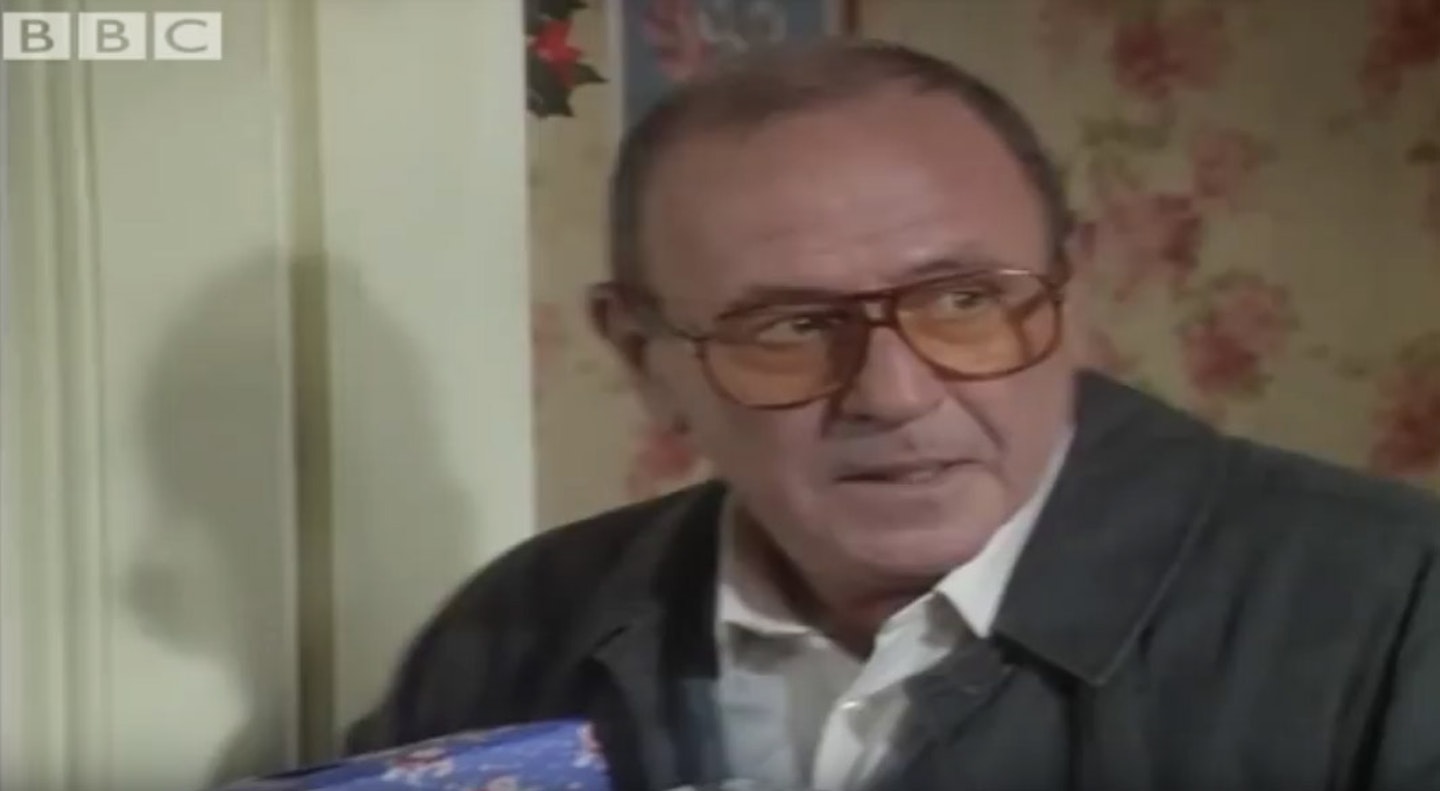 1 of 10
CREDIT: BBC
10. Frank Butcher RETURNS
Who could that be knocking on the door on Christmas Day? Santa? Rudolph? No, it's Frank Butcher of course! Frank made his return to Albert Square on Christmas Day 1995 after over a years absence, much to the horror of Pat, who'd recently shacked up with fellow car dealer Roy Evans. Awks!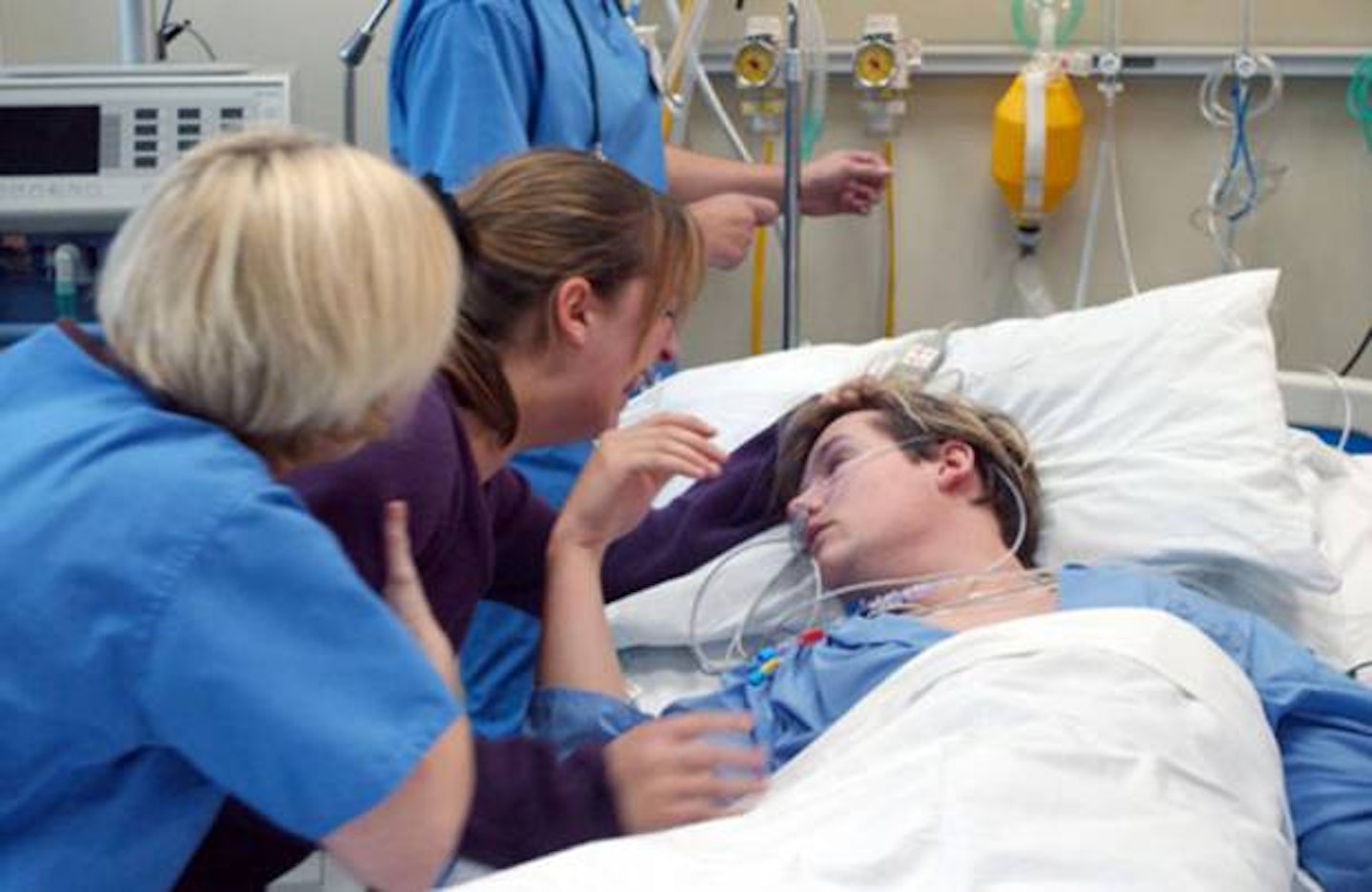 2 of 10
CREDIT: BBC
9. Jamie Mitchell's heartbreaking goodbye
One of EastEnders' saddest Christmas Day moments has to be when we said goodbye to the adorable Jamie Mitchell. His relationship with Sonia may have been short-lived (thanks to Martin Fowler, who accidentally knocked Jamie down in a dramatic hit and run), but it was definitely the real thing. Jamie and Sonia's love story came to a tragic end on Christmas Day 1998, when Jamie took his final breaths in hospital with Sonia by his side as the couple declared their undying love for each other. In true EastEnders style, Jamie's heartbreaking final moments were shown alongside scenes of Mo and Billy's marriage vows to the soundtrack of 'Stand by Me'. Basically, the whole nation was left bawling into their family-sized tubs of Celebrations.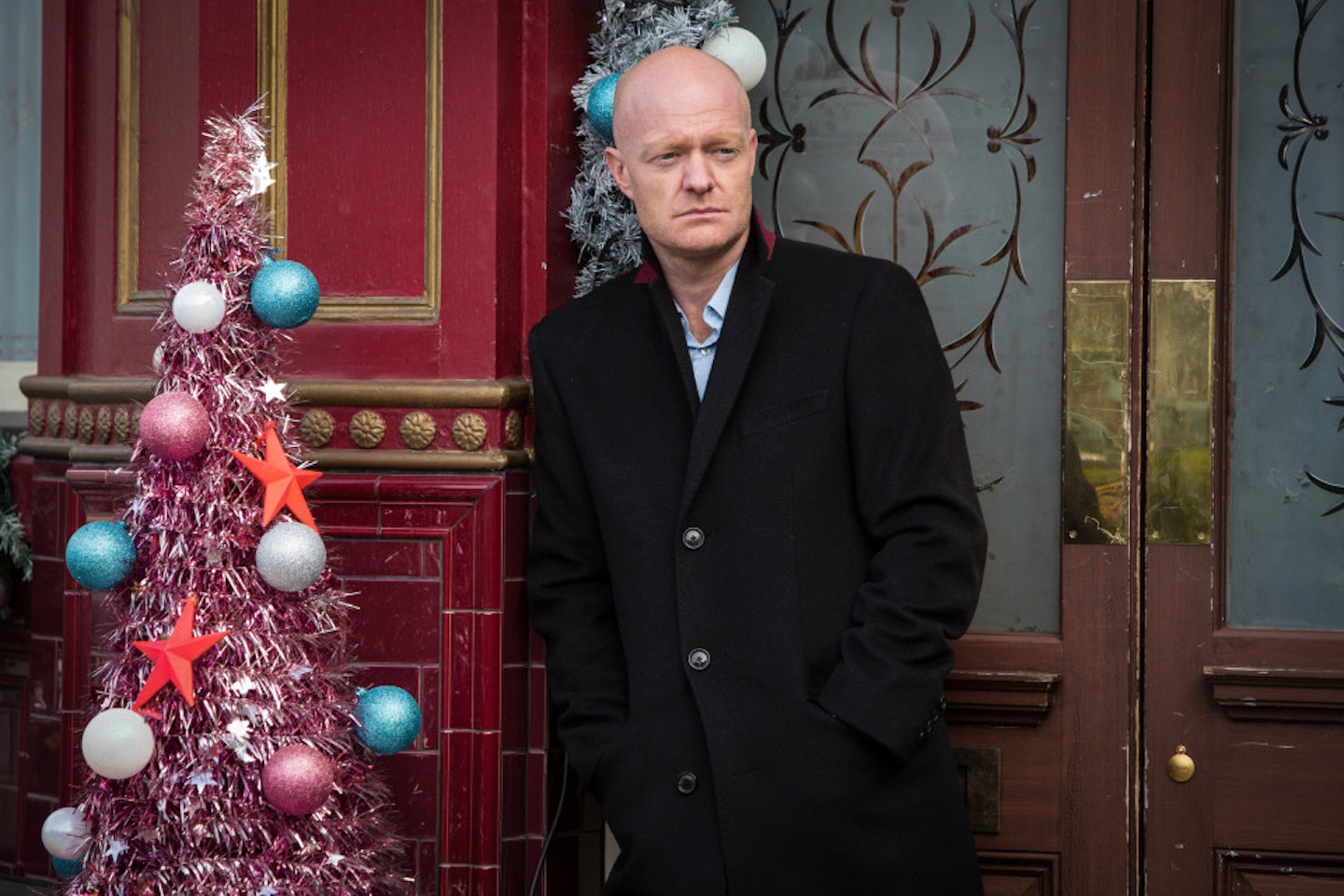 3 of 10
CREDIT: BBC
8. Max Branning comes back to Albert Square
Christmas Day 2016 saw the shock return of the infamous Max Branning. After serving time in prison after being falsely accused of Lucy Beale's murder, a bitter Max returned to the square in the last 30 seconds of the Christmas special. The 'duff duff duff' left us all gawping at our screens wondering what this meant for the residents of Albert Square - especially the Beales!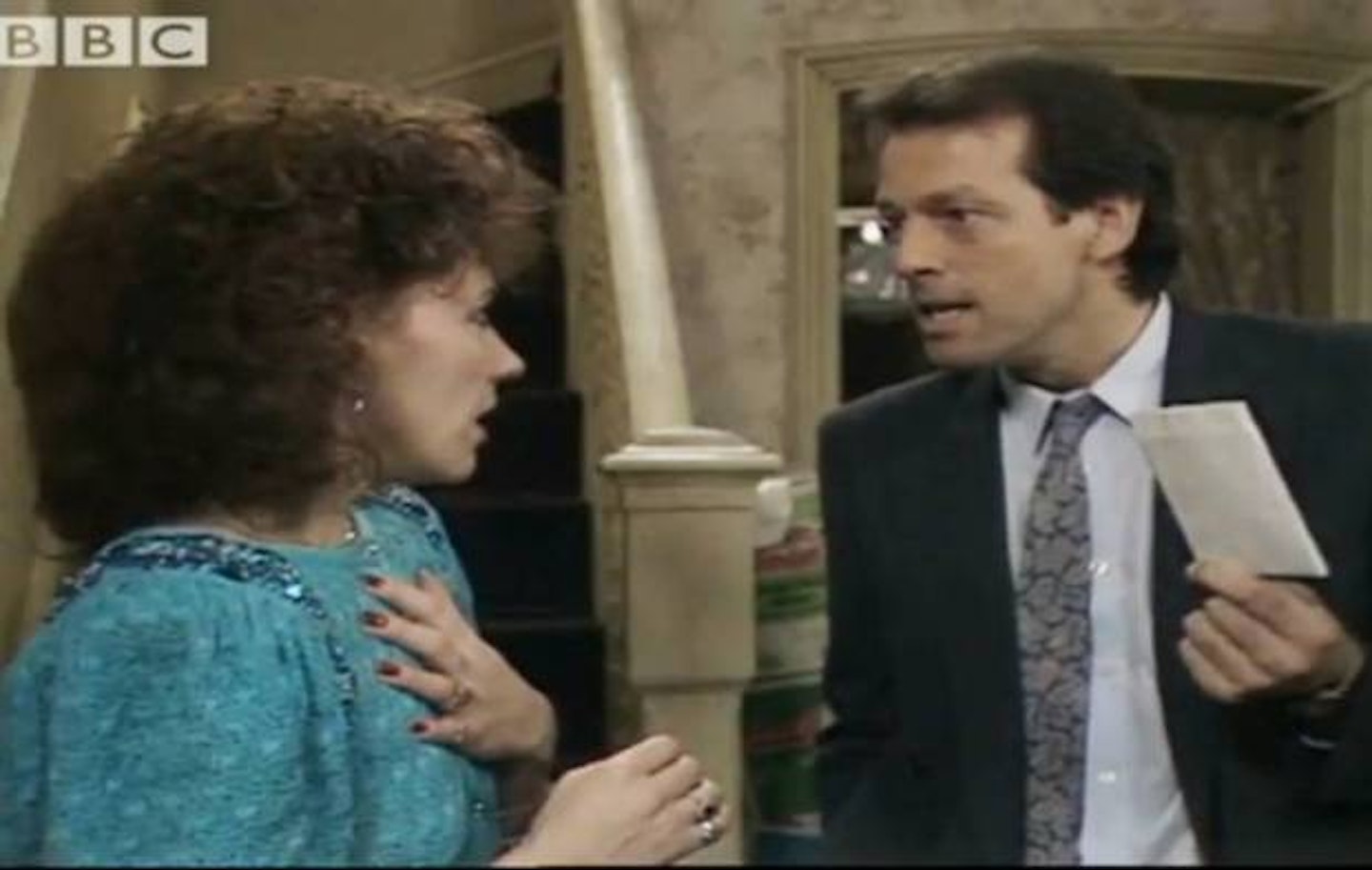 4 of 10
CREDIT: BBC
7. Dirty Den serves Ange a divorce
We couldn't write an ultimate ranking of EastEnders' most SHOCKING Christmas Day episodes without throwing it back to the 80's when Den and Ange were the landlords of The Queen Vic (we know, nostalgia alert). Who can forget Christmas Day 1986 when Dirty Den presented Ange with a divorce-shaped Crimbo present, after finding out about her cancer lie. Only on EastEnders, eh!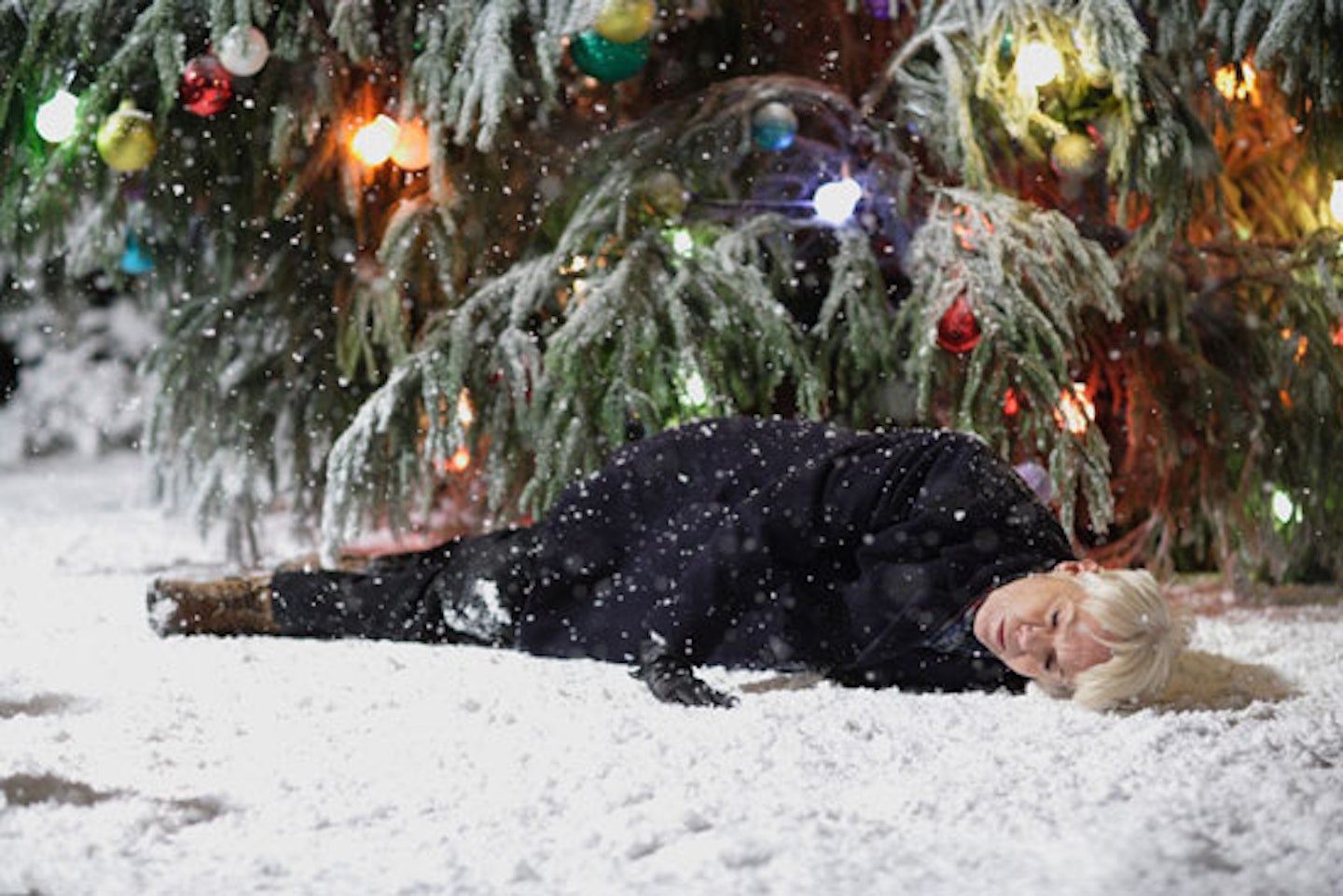 5 of 10
CREDIT: BBC
6. Pauline Fowler passes away (under the square's Christmas tree, of course!)
Feisty Pauline Fowler was in EastEnders for an incredible 21 years, so we have to admit, we were a little disappointed that her death was so, well, low key. After a bust-up with Sonia in The Queen Vic, Pauline took a little lie down under the square's Christmas tree... and never woke up again. It may not have been dramatic, but it was certainly moving.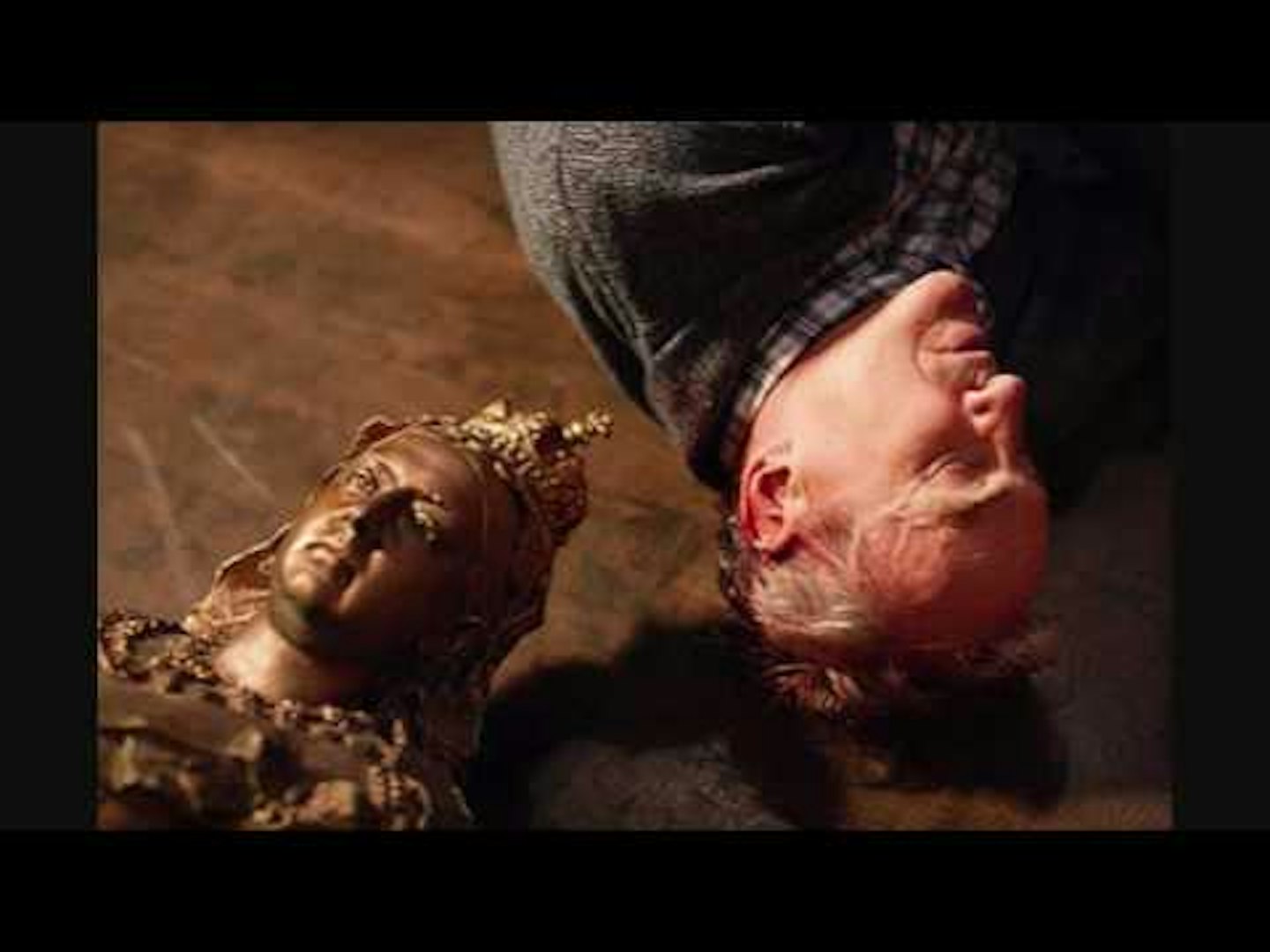 6 of 10
CREDIT: BBC
5. Archie Mitchell meets his maker
Villainous Archie Mitchell may have only been in EastEnders for a year and a half, but caused all sorts of trouble in that time. Things came to a head (pun intended!) on Christmas Day 2009, when Archie was whacked over the head with The Queen Vic's iconic bar statue in front of 10.9 million viewers. What a way to go.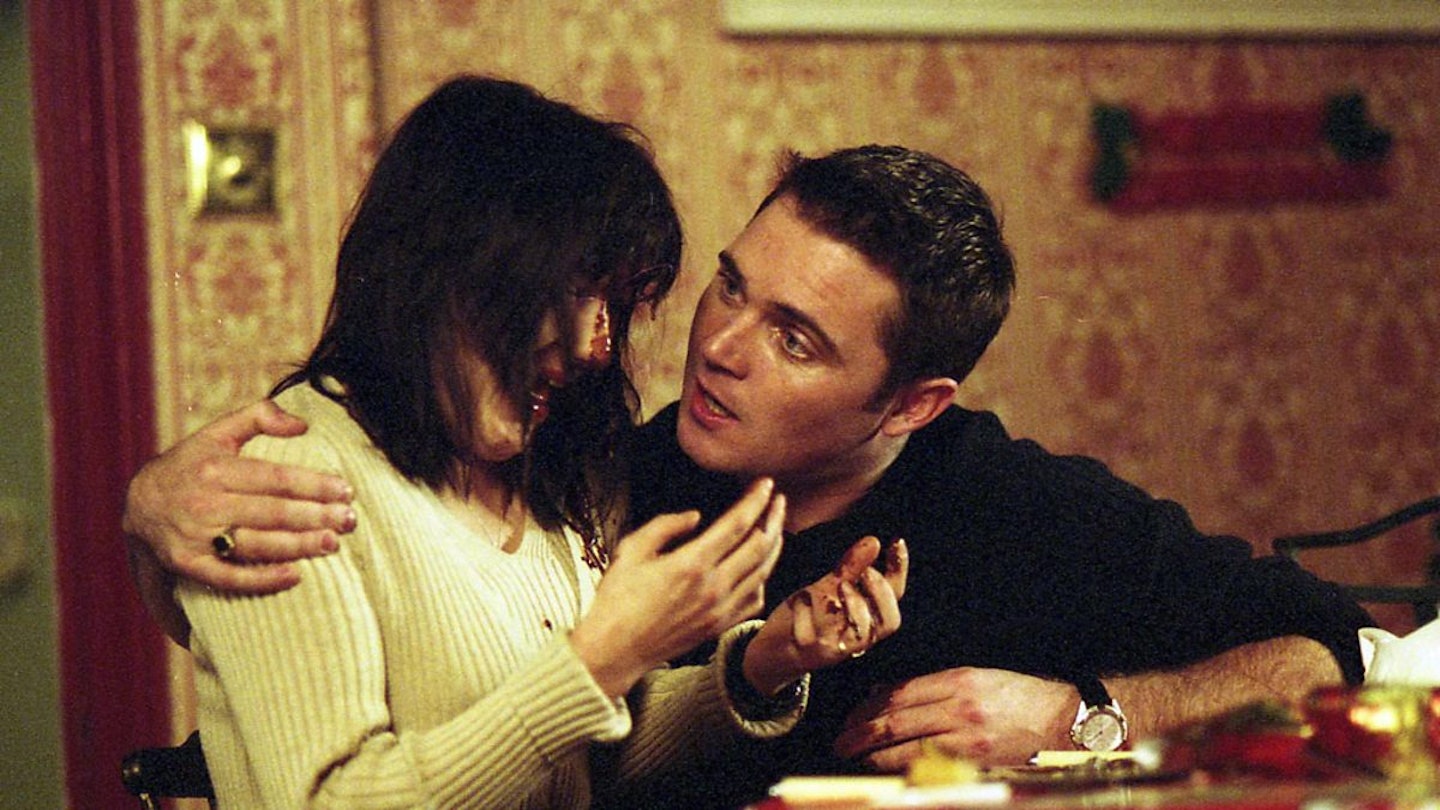 7 of 10
CREDIT: BBC
4. Evil Trevor torments Little Mo
Christmas 2001 was quite possibly EastEnders' bleakest festive showing of all time, as it focused on Little Mo and her abusive husband Trevor. The nation held its collective breath as we watched evil Trevor overflow Mo's Christmas dinner with gravy, before shoving the whole lot on the floor and making his terrified wife eat the remains off the carpet. Cheery it was not.
8 of 10
CREDIT: BBC
3. Abi and Lauren fall off the roof of the Queen Vic
The Brannings are never far from the drama at Christmas and 2017 was no exception as Abi and Lauren headed to the roof of the Queen Vic to save their dad Max who was threatening to jump. But, in a dramatic turn of events, it was the girls who ending up falling off the roof, leaving pregnant Abi dead.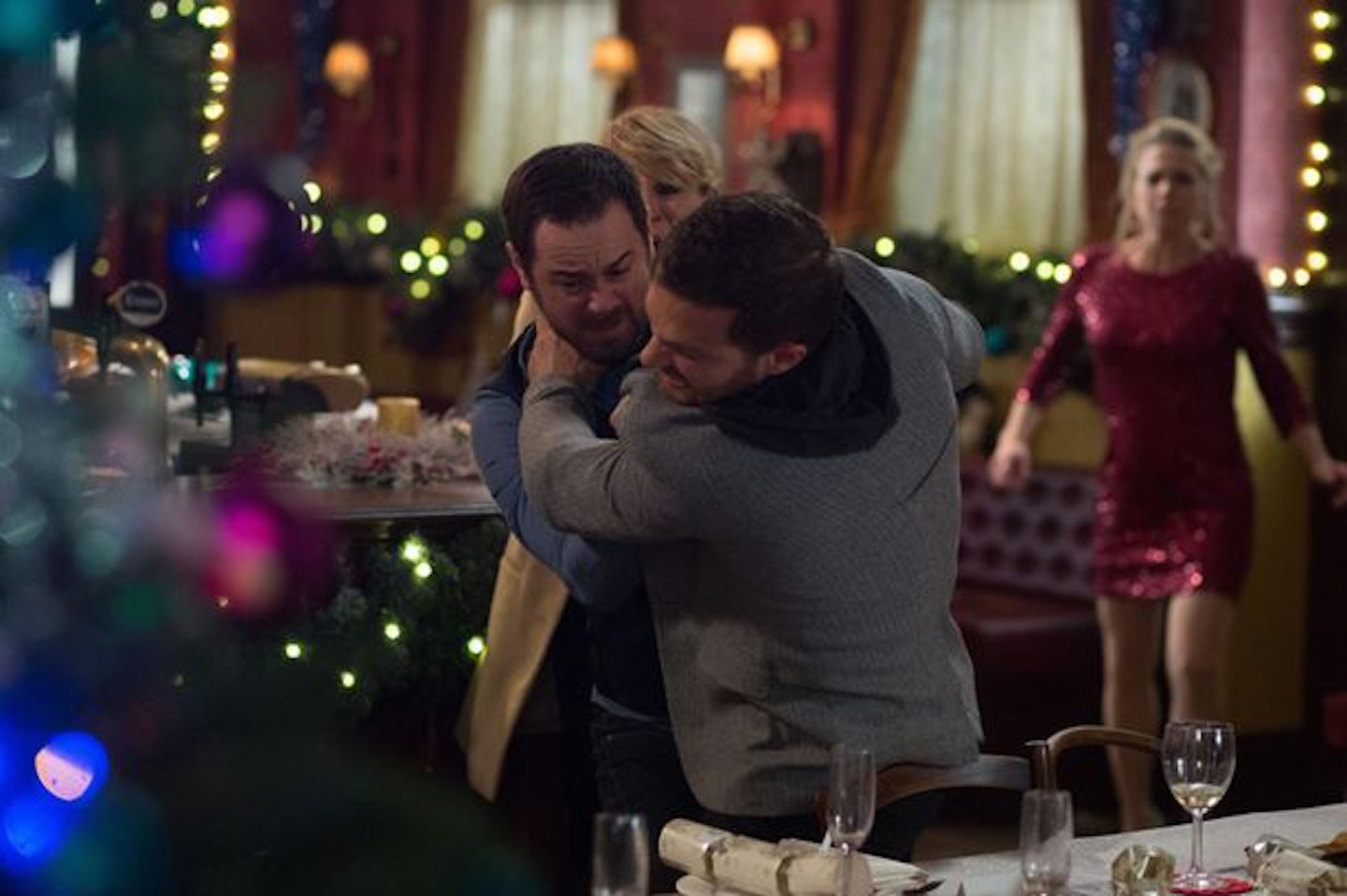 9 of 10
CREDIT: BBC
2. Mick FINALLY discovers Dean raped Linda
Christmas Day 2014 saw Mick Carter go full Danny Dyer when he FINALLY found out about Dean raping Linda. After months of tension, Linda finally cracked under the pressure of Mick's romantic proposal and revealed that Dean attacked her. Naturally, furious Mick went straight for Dean's throat (destroying their Christmas dinner in the process), only halting his attack when Shirley dropped yet another bombshell – that Dean and Mick are brothers! What. A. Day.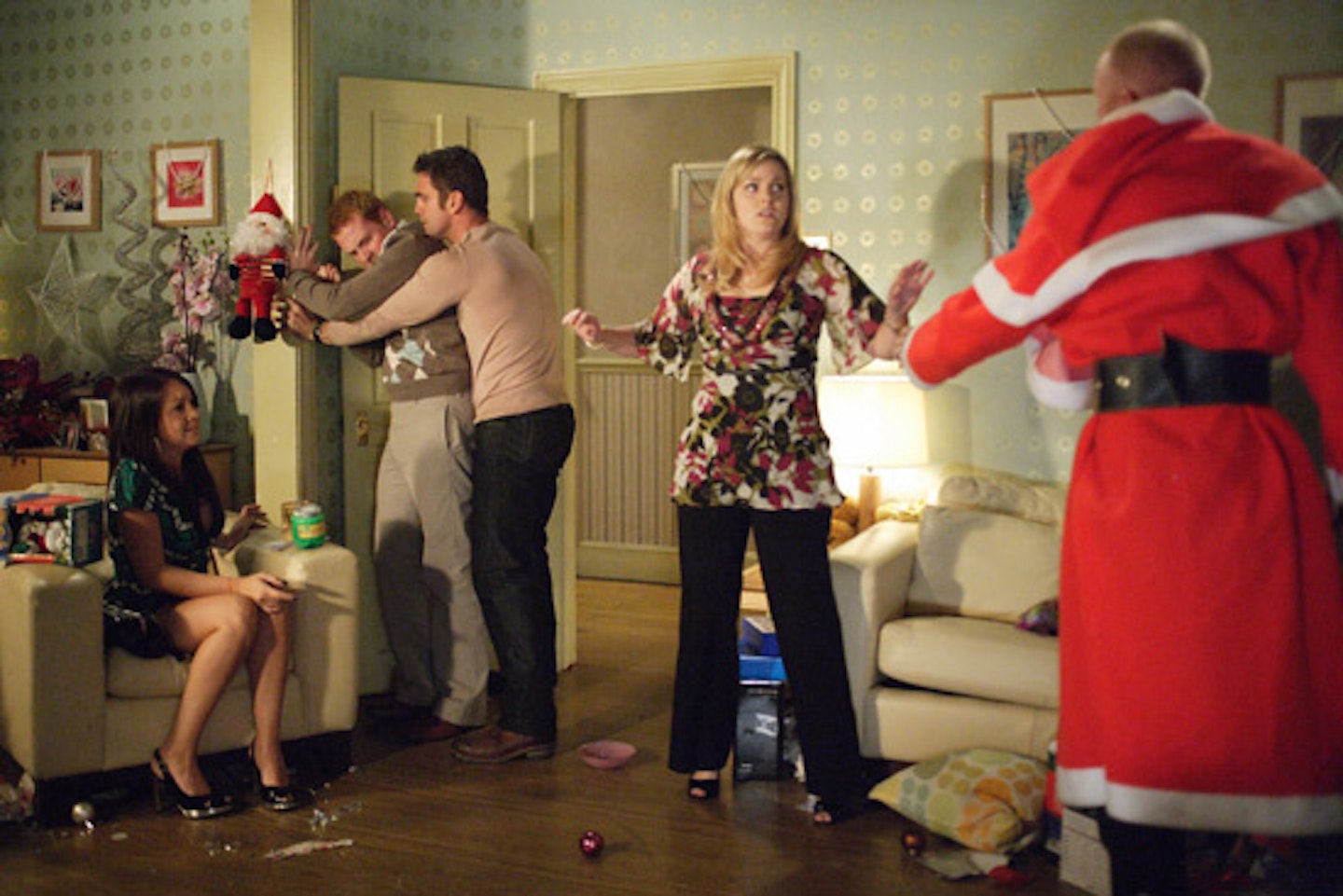 10 of 10
CREDIT: BBC
1. Max and Stacey's affair is revealed!
Christmas 2007 was an absolute corker of an episode that will be forever imprinted on our memories, as it was the year Max and Stacey's torrid affair finally came out into the open. For those who have forgotten (HOW COULD YOU?), the horrible truth came out when little Lauren reluctantly gave Bradley a copy of his wedding video for Christmas… although it turned out she'd actually caught Max and Stacey snogging each other's faces off on camera, much to the horror of the extended Branning family and, in fact, the rest of the nation.
WATCH: Emmerdale's Ryan Hawley reveals funny David Tennant story
READ MORE:
17 Christmas gift ideas for the Strictly Come Dancing superfan in your life
EastEnders Christmas Day episode 2021
It looks like Gray Atkins will finally get his comeuppance for murdering Kush Kazemi, Tina Carter and his wife Chantelle as Whitney Dean gathers the evidence to prove he's a murderer just as he prepares to tie the knot to pregnant fiancé Chelsea Fox.
That's not the only secret that could be exposed over the festive period either as an unexpected guest threatens to reveal Rocky Cotton's true identity. Will Sonia find out that he's not really her dad?
And with Linda Carter not returning to Albert Square to spend Christmas with husband Mick and their family, Janine Butcher sets her sights on the pub landlord.
We cannot wait to see all the drama unfold...
Which is your favourite EastEnders Christmas Day episode? Let us know over on Facebook or Twitter.