TOWIE's Saffron Lempriere confirmed her romance with a raunchy renderer was over during a recent episode of the ITVBe series. And it seems she's already moved on as she's been pictured locking lips with someone new.
It's claimed that Saffron met her new fella on a night out in Manchester after watching Love Island's Tommy Fury defeat KSI in a boxing match.
The pair were then seen cosying up and sharing a kiss in a series of videos posted on Instagram.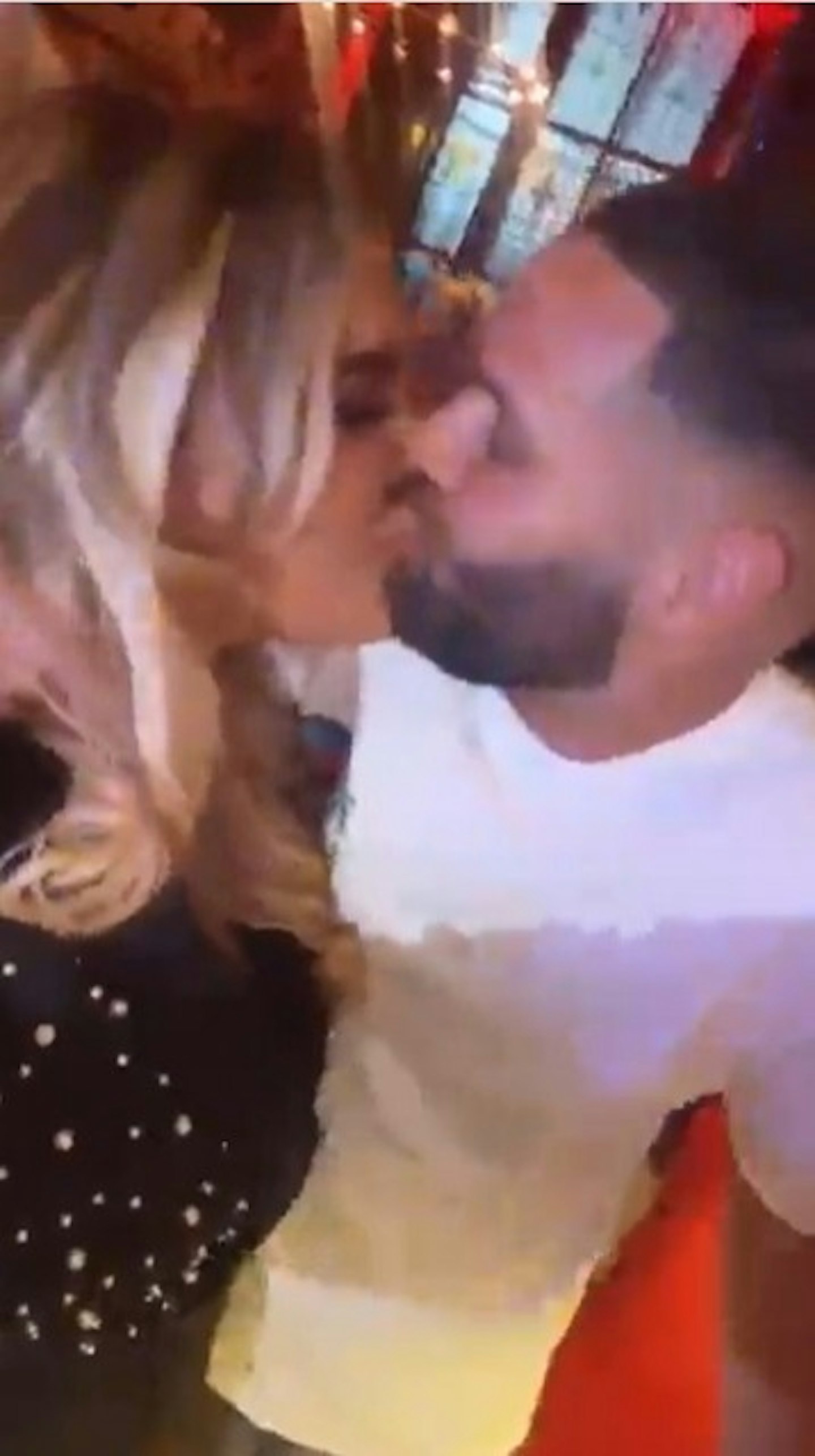 So far, the only info we know about the lucky man who got to smooch Saffron is that he's called Elliot.
But, according to reports, he and Saffron are getting to know each other and seeing where things go.
"Saffron and Elliot seem to get on really well but it's only early days and the pair are still getting to know each other," a source told The Sun.
"She's not been lucky in love over the years, so it's nice to see that she's met someone new and is open to finding love again. The pair are taking things slowly and just seeing where things go."
Diehard TOWIE fans will remember the cheeky moment back in series 30 when Saffron revealed that her house wasn't the only thing that got rendered when she was visited by a particularly eager-to-please handyman.
Saffron told her pals that she was giving the romance "a proper try" and a couple of weeks later that seemed to be the case as she went Instagram official with the one known as 'the renderer'.
Although she didn't identify the man in question as her boyfriend, Saffron's co-star Chloe Brockett seemingly confirmed he was the hunky handyman when she commented, "Oh wow it's a couples pic."
However, an episode of the latest series which aired on Sunday 24 September 2023, revealed that it wasn't all smooth sailing for Saffron and her renderer fella.
During a catch up with Elma Pazar, Saffron implied the romance had come to an end but there ARE still the odd pic of the couple on her Instagram account and Saff hasn't officially confirmed the relationship is over, so it's anyone's guess at this point.
Prior to her relationship with the renderer, Saffron was in a long-term relationship with her ex-boyfriend and she recently appeared to throw some shade his way.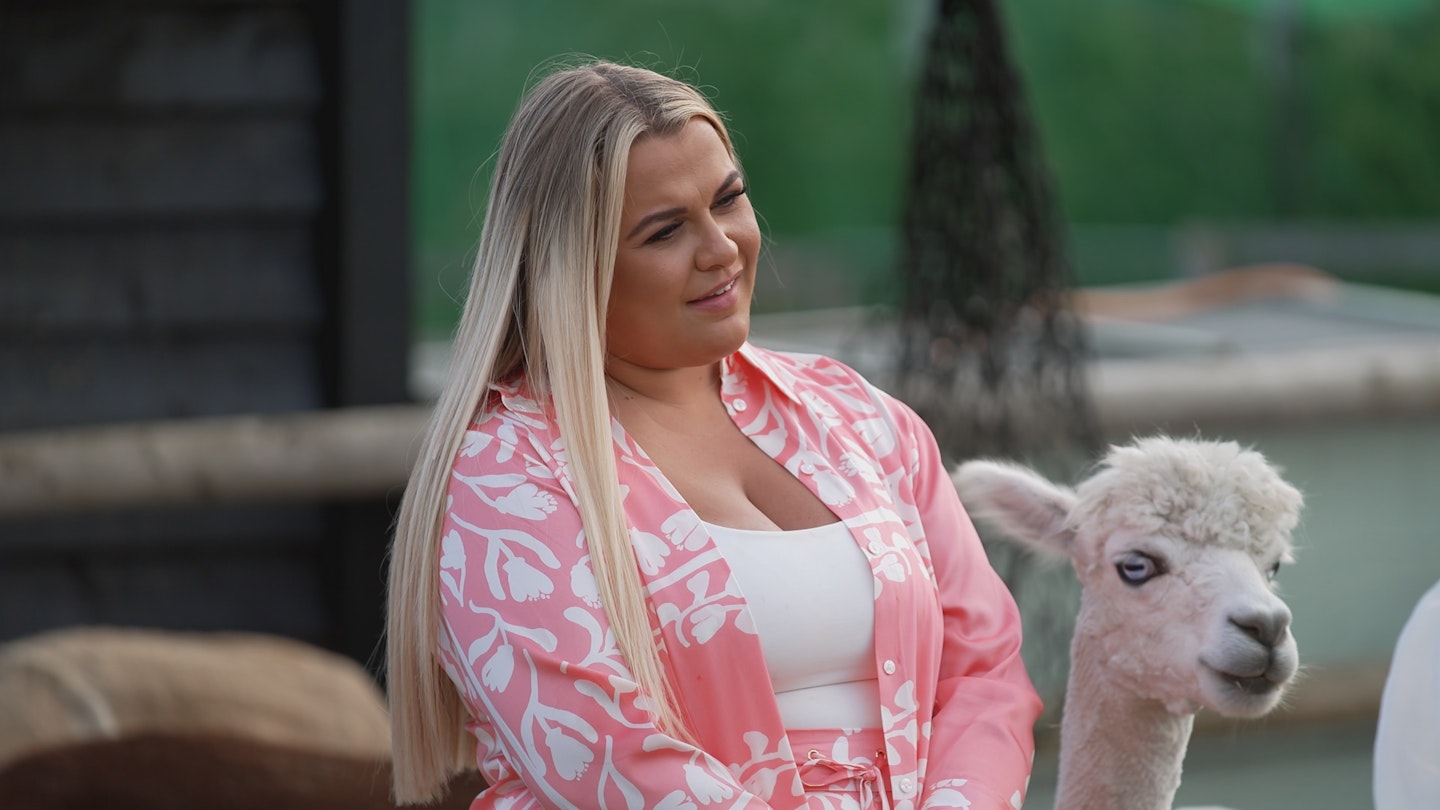 Taking to her Instagram last month, Saff uploaded a half face selfie with a "lunch time thought" for her 160K followers.
Never have we heard of a "lunch time thought" before, but we're here for it and if they are as insightful as Saffron's latest quote we're going to need them on a weekly basis.
The TOWIE queen wrote, "Lunch time thought... I lost lots of fun, energy, time, emotion in the last of my 20s to a complete drip gained a lot of lessons though. Note to you all do you for you keep the dress on party until the morning & don't let anyone dull your f*****g sparkle. Time is precious spend it wisely 🫶🏻."
Is it just us or did everyone else need that tidbit of advice on this gloomy autumn day?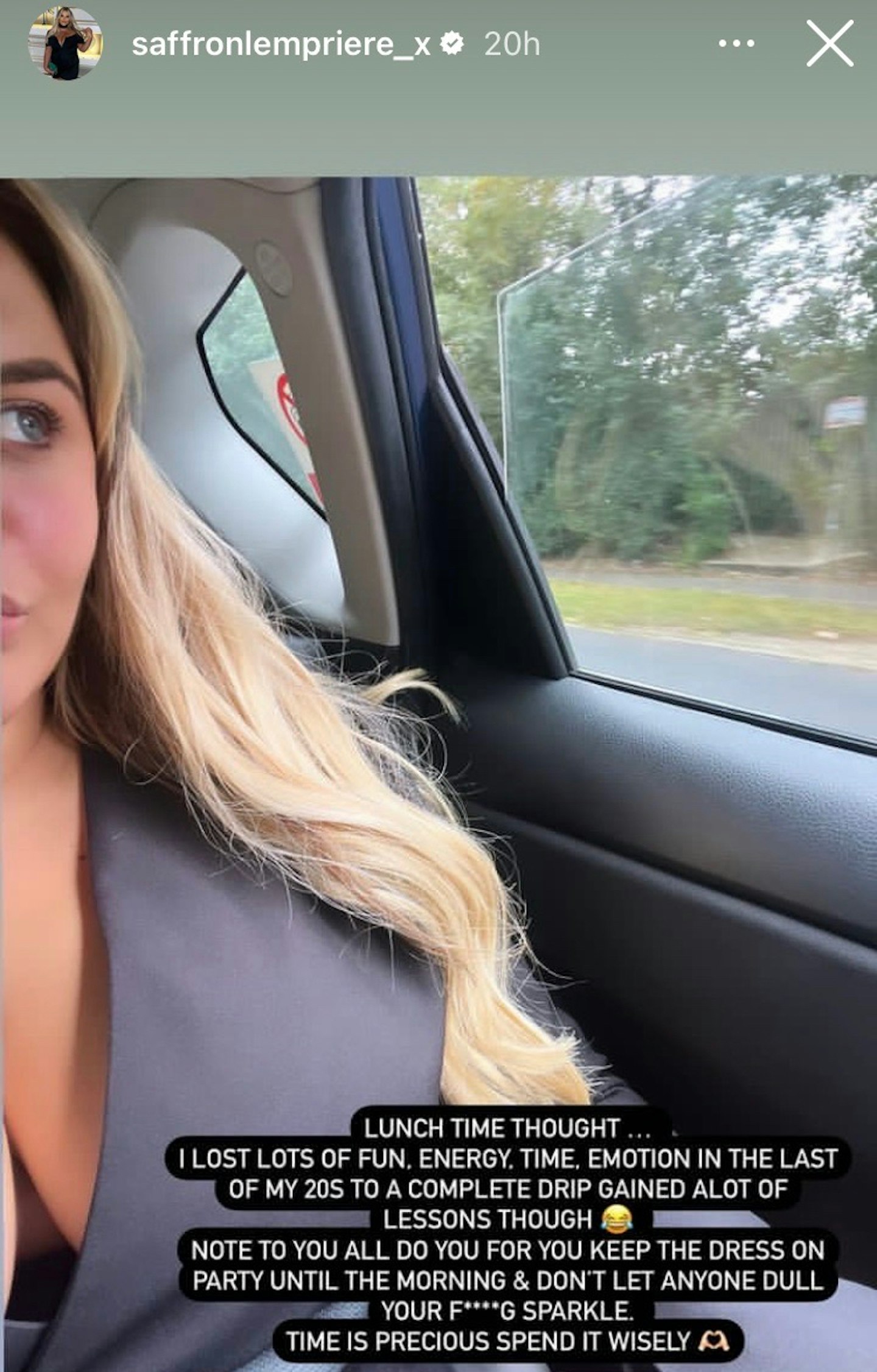 Saff dropped no names during her rant, but it doesn't take much to workout who she is referencing.
How could we ever forget the iconic TOWIE reunion with her ex where she declared, "I'm ready to be civil now. I'm healed. I know I was the best thing that happened to you."
We love to see the confidence and so did everybody else when the scene aired, just checking out the TOWIE post you can see the comments section was filled with praise for Saffron.
"Yes Saff !!! 🙌🙌" wrote one with another agreeing, "YAAASSS girl!"
WATCH Junaid, Roman, Saffron and Jordan spill the tea on 'catty' fights | TOWIE secrets