Whether you're a trickle lover, or you're all about the gushing thunder, this list of indoor water fountains is the best place to find your perfect feng shui centrepiece.
Our top picks of the best best indoor water fountains for your home
Geezy Indoor Water Feature
Moylor Indoor Tabletop Water Fountain
Creative Touch Cascading Stone Bowls
GEEZY Crystal Ball Fountain
Transcendence Garden Feature Walnut Log
Creative Touch Ganesha with Water Cups
Much like a desktop Zen gardens, the constant splashing of water and the calm visuals of miniature cascading torrents can really help to ease your state of mind - perfect in this day and age of go go go.
We've got some great choices here, from the Buddhist-inspired oasis of tranquility, to more modern designs. Each is perfect for your feng shui abodes, whether you're a master of using natural energy forces to harmonise your friends and families, or somebody who is searching for the peace of solitude, you'll find something strangely soothing about these features.
CHECK OUT: the best indoor water fountains for your home
Whilst we may receive commission for purchases made through our links, we never allow this to influence product selections.
The best indoor water fountains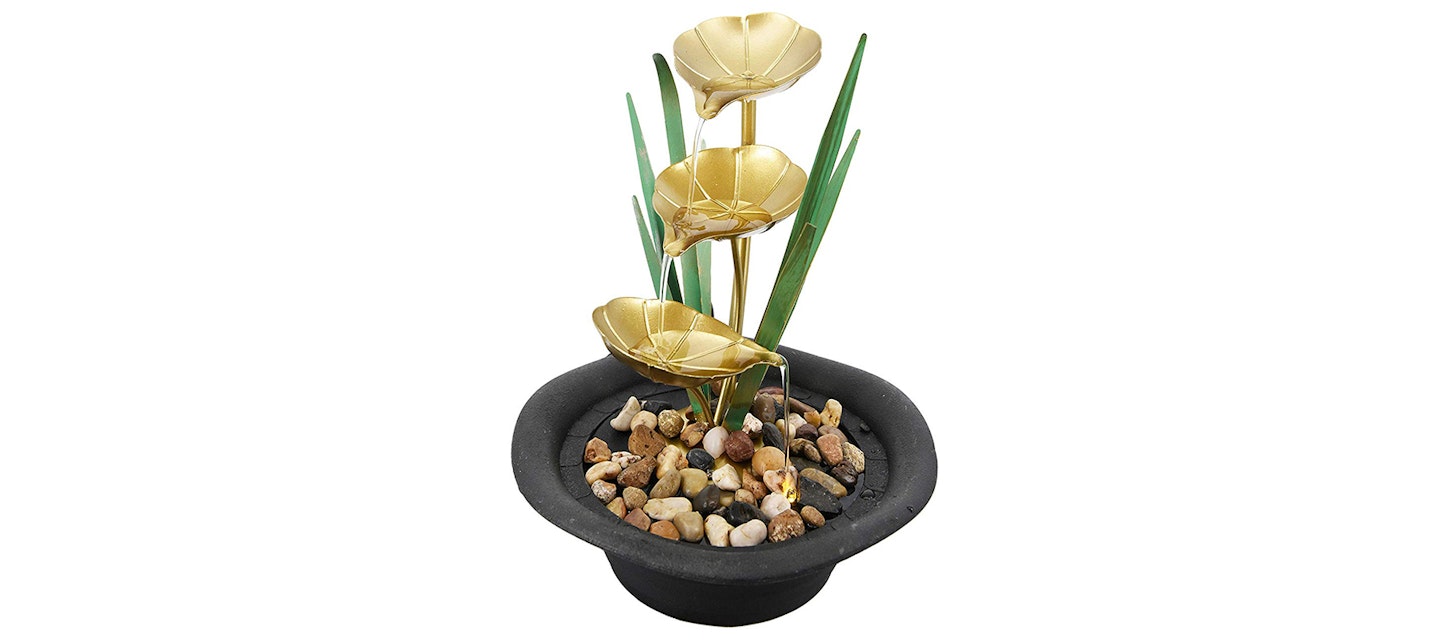 1 of 8
Geezy Indoor Water Feature
Looking like a gilded lily in a garden of pebbles, this water feature plugs straight into the mains to power the electrical pump and LED lights. The poly-resin construction means it's solid yet light, and watching the water cascade from one leaf to another, before falling onto the pebbled bottom, can create a true spot of calm whether at the office, or in your own home.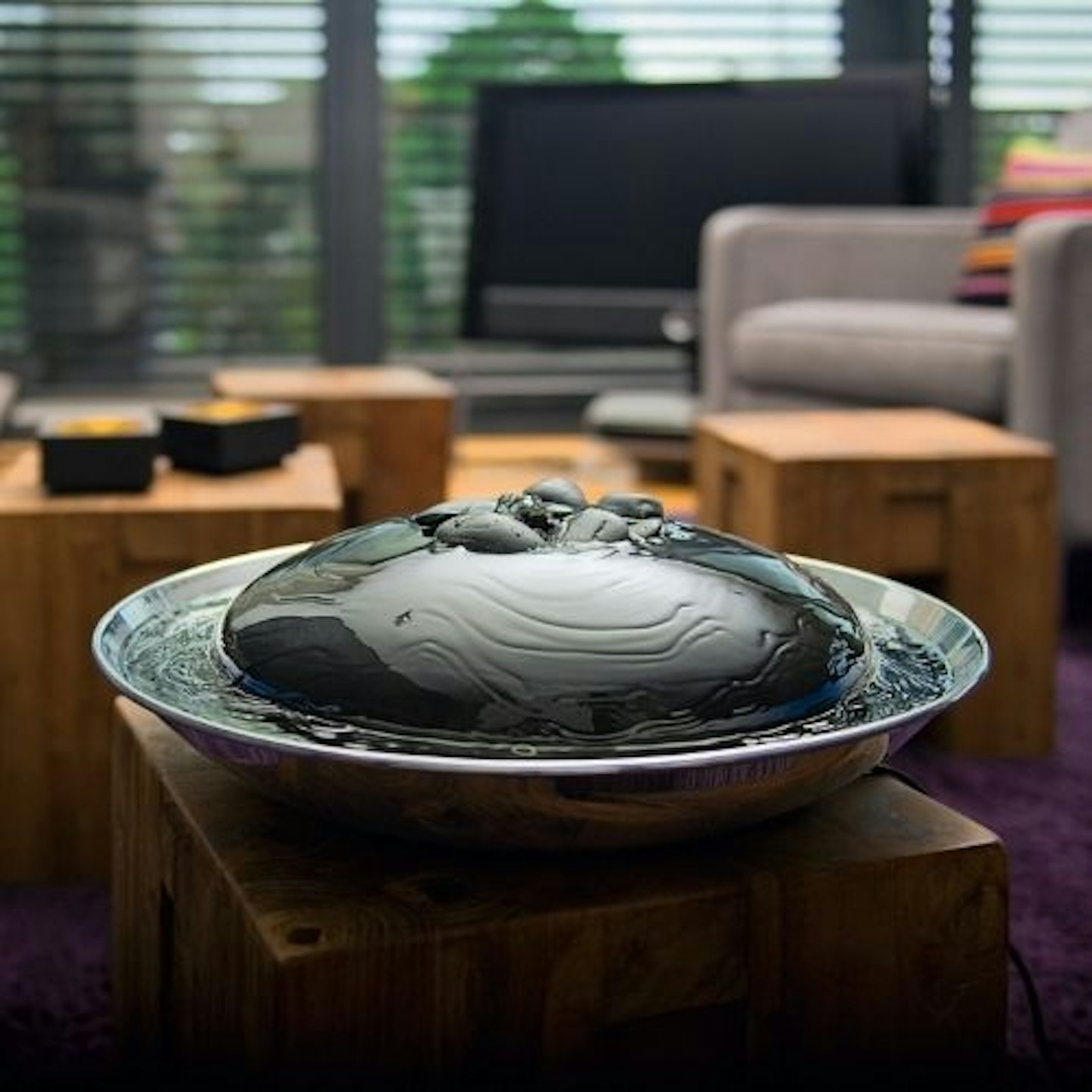 2 of 8
Anniversary Indoor Water Fountain
Splash out on this gorgeous indoor water fountain from Not On The High Street. This statement feature will bring life to any room with its stainless steel and polished aluminium design. We love that you can rearrange the stones on top to create different sounds.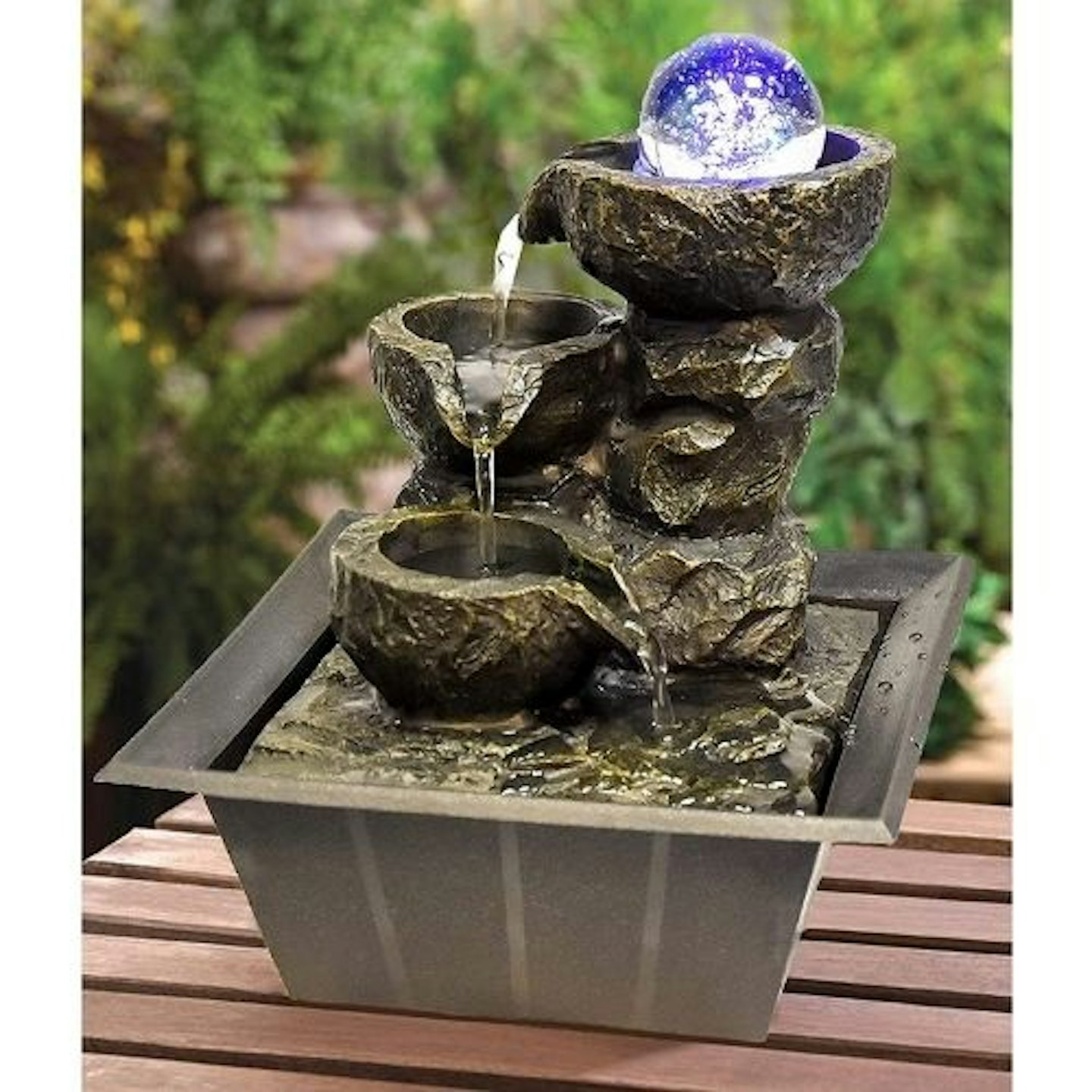 3 of 8
GEEZY Crystal Ball Fountain
We might not be able to tell your future, but we do know that this crystal ball fountain is on the cards for your home. This easy to set up water feature will bring the chill atmosphere to your reading nook or living room.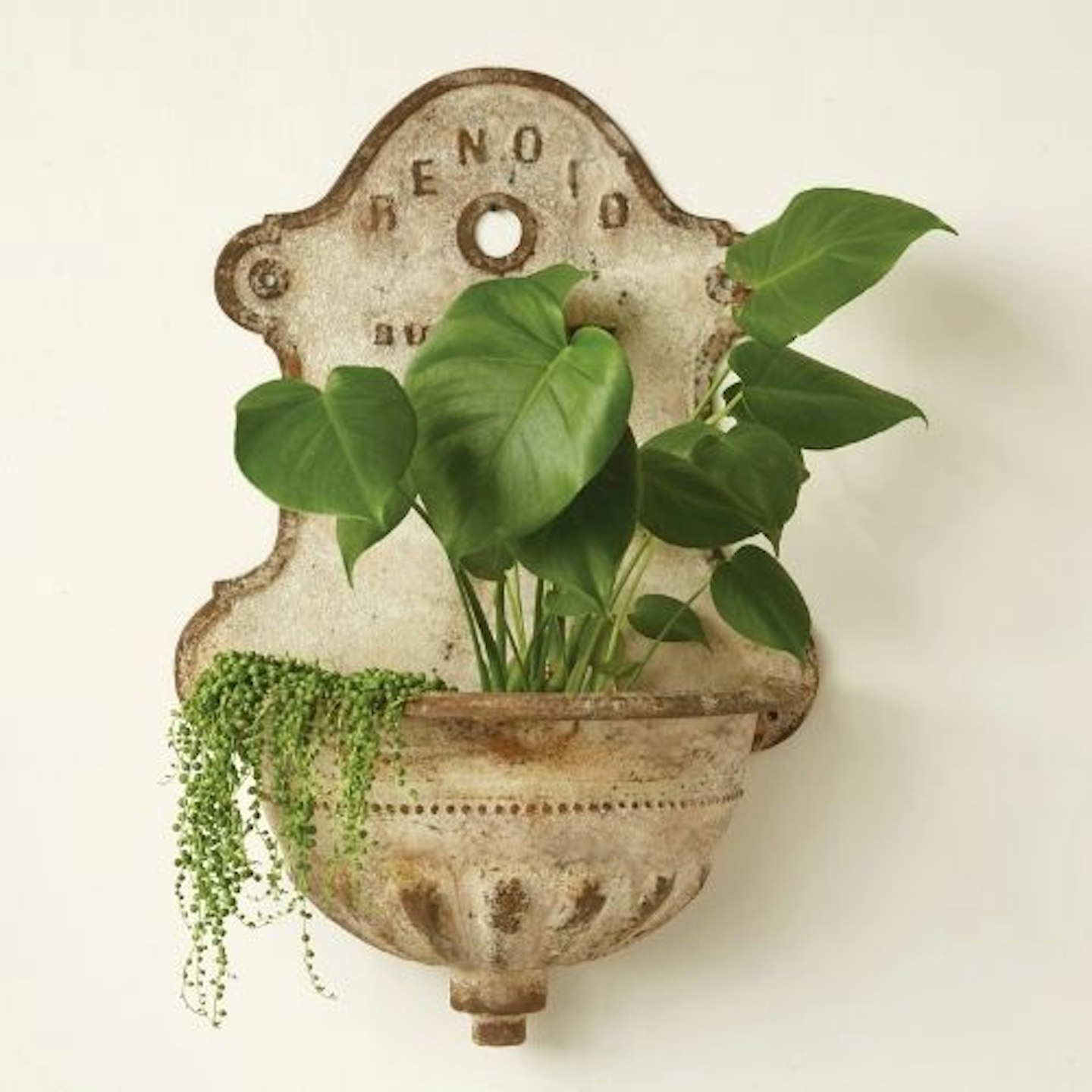 4 of 8
Acrylic Water Fountain
OK, so this is just a decorative water fountain, but we love it nevertheless. It's a great statement piece that will give your home a relaxing vibe.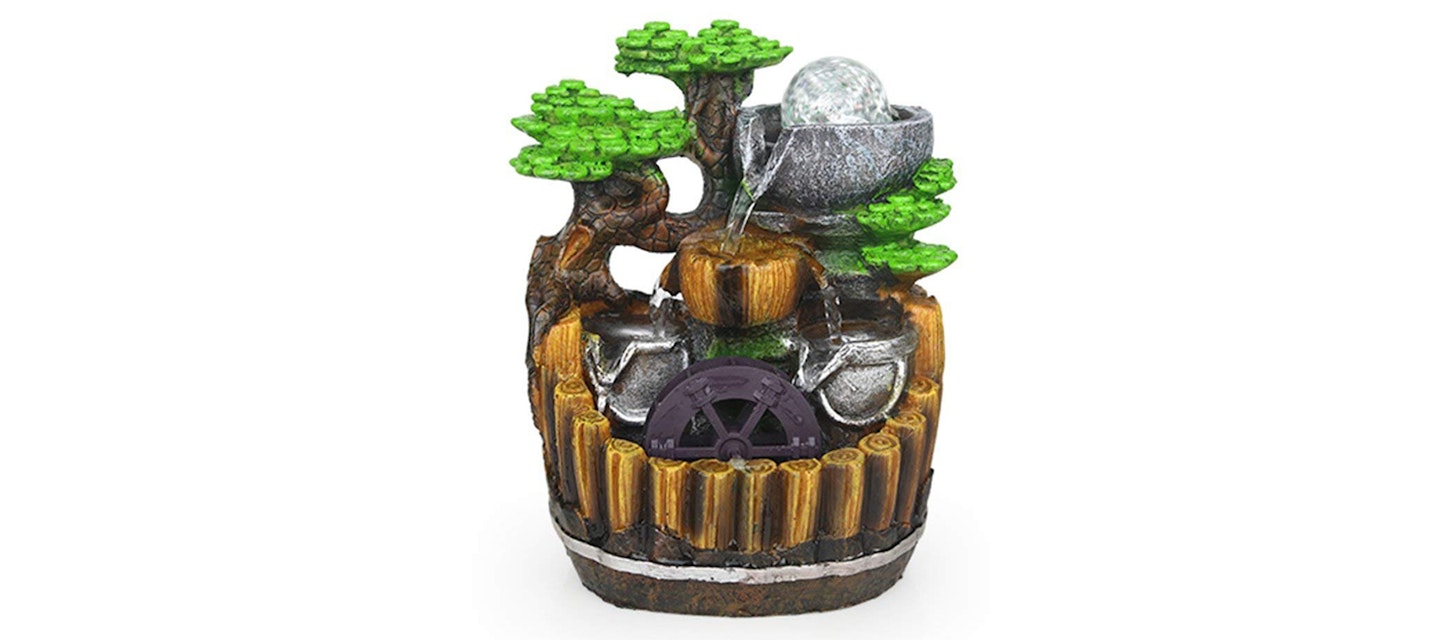 5 of 8
Moylor Indoor Tabletop Water Fountain
Like a scene from middle earth, this decorative water feature stands just under 10 inches tall, and comes with a LED-lit fortune ball at the top, and water wheel feature at the bottom. The pump has an adjustable speed control, and it's easy to plug in and play to bring joy to any Feng Shui home.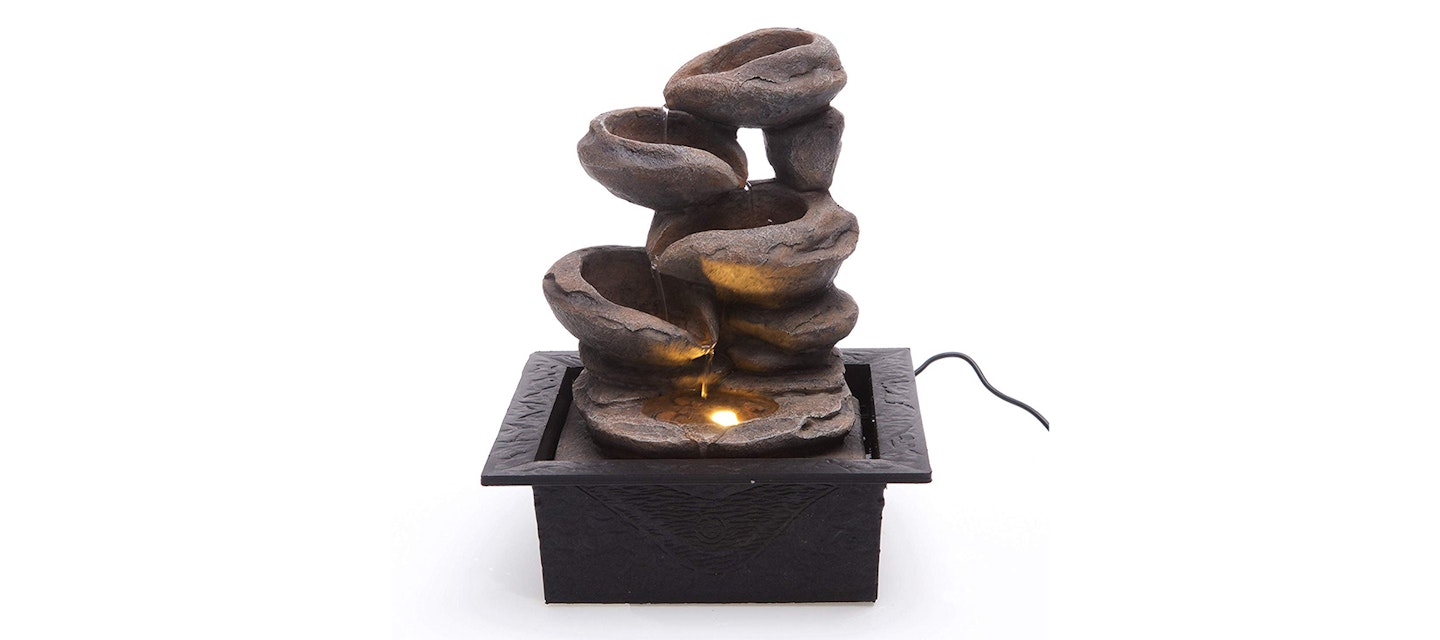 6 of 8
Creative Touch Cascading Stone Bowls
As relaxing as it is minimal, this feature stands at nearly 10 inches, as with the Moylor, and includes a series of poly resin "stone" bowls for the water to trickle across and down to the LED-illuminated pool. Thanks to the light, it also gets some light illumination during the night time, really adding to the calming effect.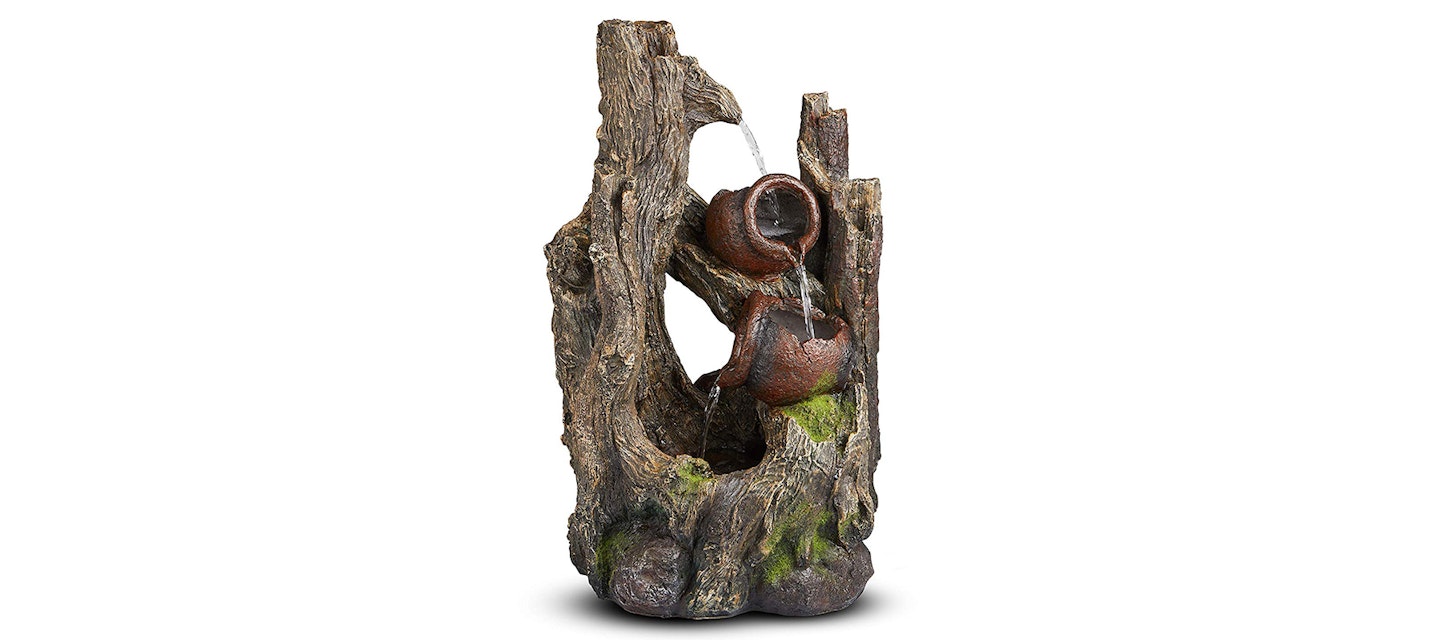 7 of 8
Transcendence Garden Feature Walnut Log
We're mixing it up with this one, but as well as being an indoor feature, it's also perfectly fine to use outdoors so you can take the peace and quiet with you. It stands nearly 25 inches tall, has an ultra-quiet pump and set up is as easy as plugging it in. The walnut log design is impressively detailed, and the jugs, from whence the water falls, can be illuminated for an extra level of joy and attractiveness.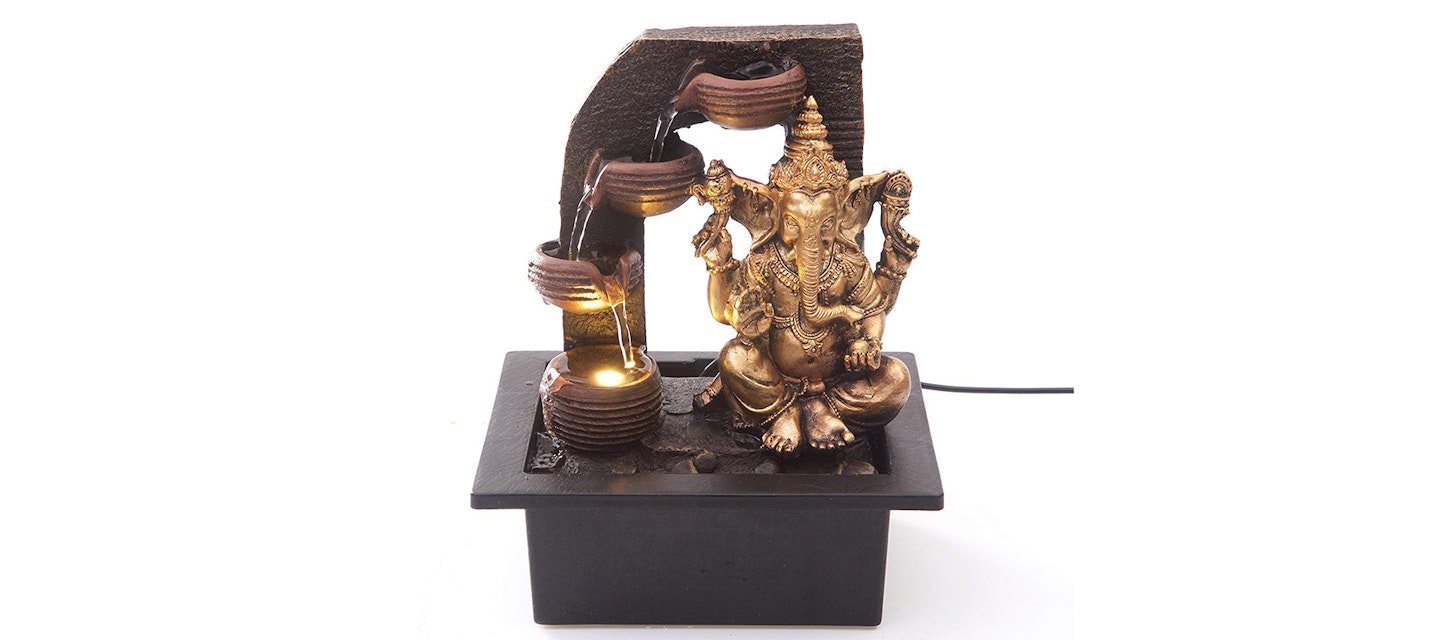 8 of 8
Creative Touch Ganesha with Water Cups
If you're looking to mix your spirituality with your tranquility, this mix of dark and gold design allows its pool of water to splash down a series of bowls before climbing back up to start atop Ganesha for its journey once more. The fourth, and final bowl, includes an LED, which gives the fountain a natural stone-coloured glow when the lights go down… bliss.
In fact, even if you've never heard of feng shui (seriously, give it a Wikipedia!), you can still benefit from the peaceful falling of water in your own home, whether it's using it as relaxing white noise to send yourself to sleep, or accompany a good book in the conservatory.
Of course, when we're talking about indoor fountains, you don't have to go down the route of a fancy corporation with 30m-high jets and thousands spent on indoor plumbing, all of these picks will be more than happy with a mains connection and a bottle of mineral water.
What to read next
I tried a menstrual cup for the first time and here's what I REALLY thought