Katie Price can't sing, but the fact she has the confidence to keep trying is a lesson to us all
Almost everyone who watched Katie Price performing her new single, I Got U, on Loose Women today will agree that singing isn't really her forte (sorry luv).
But here's the thing – Katie doesn't care what any of us think, and I bloody love her for it.
Pricey has been trying to break into the world of pop for over a decade. Back in 2005 she put herself forward to represent Great Britain in Eurovision (dressed in a pink latex catsuit, of course), and in 2006 she had a taste of success when her album of duets with then-hubby Peter Andre actually reached number 20 in the UK album charts (yes, really. We know! We're shocked too).
Throughout it all, Katie has been mocked and derided for her lack of talent. Still, she has soldiered on belting out tunes regardless, and I think that should be congratulated.
Why? Because she bucks a really rubbish trend.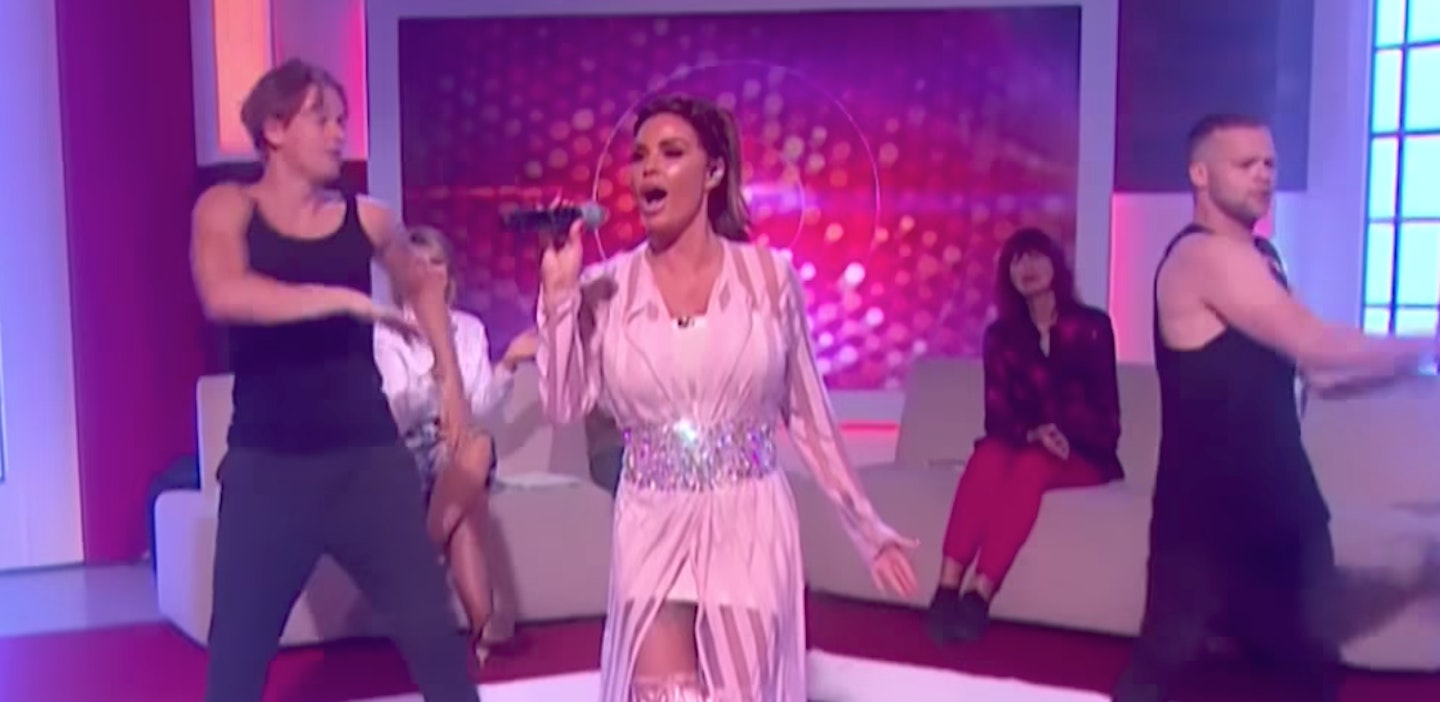 Study after study has highlighted the fact that huge numbers of the female populations suffer from low self-esteem in almost every area of the lives. And most upsettingly, it seems that girls start to develop these feelings of inadequacy from a very young age.
One such study, published earlier this year by researchers from Princeton University, found that girls start thinking they're less smart than boys from the age of six.
As girls get older, their insecurities spread to encompass their looks too. A study by Dove published in 2013 found that 47 percent of girls aged 11-14 refused to participate in activities – such as swimming or performing in school plays – due to lack of body confidence.
So it's hardly surprising that by the time women reach the work place, so many of them suffer from imposter syndrome (i.e. the fear of being exposed as a fraud who is unworthy of their success) – an anxiety which is regularly cited as one of the main reasons why women don't ask for, or receive, pay rises or promotions.
But then we have Katie Price. Gloriously uninhibited, unswervingly confident, Katie Price.
So what if she's tone deaf. So what if even her manager doesn't back her singing career. Does KP give the slightest damn? Does she heck!
"It won't be a flop. I'm confident. I'm doing this because this is my passion… I can do it, and I will do it!" she announced to her bemused Loose Women colleagues when they questioned why she was even bothering.
So yes, we could all sit around and snigger and slag her off on social media, or we could congratulate Katie on chasing her dreams, ignoring the haters, and showing the rest of the female population that you don't have to be the best to give it a good old go!
Seems like an easy decision to me.
Do you think Katie Price should be congratulated for her self-confidence? Let us know on Facebook or Twitter
READ MORE...
Katie Price left unimpressed as Kieran Hayler picks out conservative outfit for TV appearance