Our skin is the biggest organ in our bodies and our first layer of defence, so rightly deserves looking after. Setting up a good skincare routine is at the foundation of everything, but we promise it's not as overwhelming as it may seem.
Just like mastering make-up techniques such as shaping brows and applying eye liner, perfecting your skincare routine can involve a little trial and error. So don't panic if you don't get it right straight away. Each complexion is different from the next, so when it comes to skincare it's all about finding what works best for you.
The benefits of implementing a regular and consistent skincare routine will ultimately help set your skin up for life. Following the basic steps will keep your complexion hydrated and healthy. As we age our skin loses moisture, brightness and elasticity. Investing in nourishing products is therefore key to reducing signs of ageing and promoting a youthful appearance. Not forgetting, our skin is the largest barrier between the outside world and the body, so looking after it will also protect you from sun damage, bacteria and environmental factors. Plus, a good skincare routine is essential for prepping your skin for flawless make-up application, because nobody wants patchy foundation right?!
The non-negotiables in a skincare routine
Cleansing
An absolute must in any skincare routine, washing your face keeps your complexion clean and healthy. Cleanse every morning to remove any overnight shedding and double cleanse every night to remove SPF, make-up and daily build-up of grime and impurities. A cleansed complexion also allows for better penetration of skincare products that are applied afterwards.
Moisturising
Hydration is key to happy and healthy skin. No matter your skin type, it is always important to moisturise morning and night to lock in moisture and boost your skin's natural barrier. Dehydrated skin can lead to a whole host of problems including breakouts, uneven skin texture and soreness. Not to mention, hydration is essential for reducing signs of ageing. A well-moisturised complexion will lead to plumper, softer and more supple skin.
SPF
Sun protection is not just for summer, it is an all-year round non-negotiable. Even in the winter when it is cloudy or snowy the sun's rays are still present and can cause skin damage. Therefore, it is vital to use a broad-spectrum SPF as the last step of your morning skincare routine for protection against skin cancer, aging and sunspots.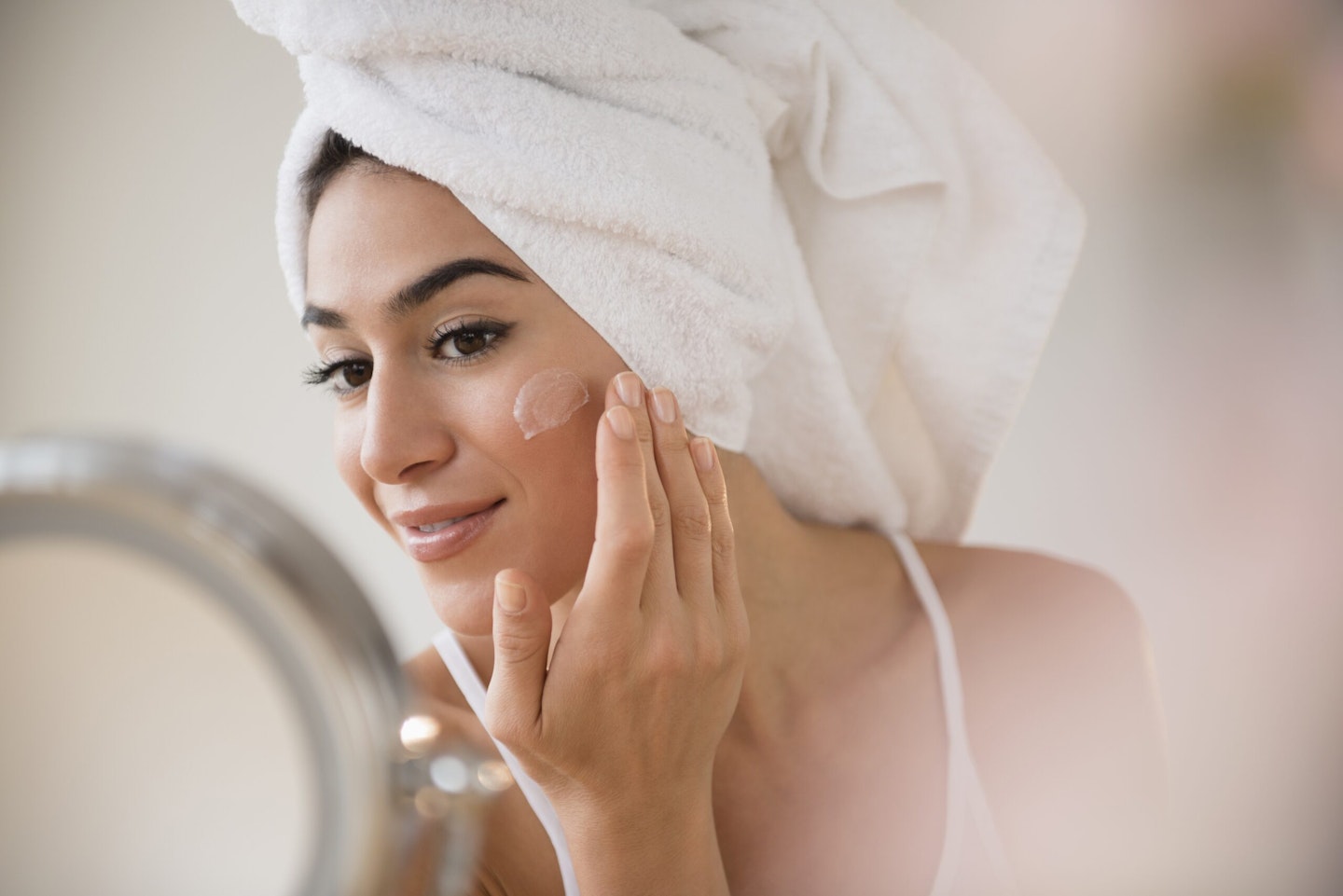 Step by step morning skincare routine
1. Cleanse
As previously mentioned, it is still important to wash your face in the morning as sweat, bacteria and oil can build-up overnight. You can use the same cleanser as you would at night, but you only need to cleanse once. A morning cleanse will also help awaken your skin and leave your complexion gloriously glowy.
2. Exfoliate
Apply an exfoliating acid toner to freshly cleansed and dry skin to remove dead skin cells, smooth skin texture, unclog pores and brighten your complexion. The three key chemical exfoliants are glycolic, lactic and salicylic. If you are new to acids, it is important to start slowly. Begin by using once or twice a week and increase based on your skin's response.
3. Eye Cream
While one moisturiser can certainly work well all over your complexion, using a dedicated eye cream will help treat puffiness, dark circles and fine lines around your eye area. It is best to apply eye products prior to serums, moisturisers and SPFs, so they can absorb properly without interference from other products.
We love... La Roche-Posay Toleriane Dermallergo Soothing Eye Cream £19
4. Serum
Adding serums into your routine will both treat and protect your complexion. They are designed to deliver a concentrated dose of powerful ingredients that can help address several skincare concerns, from wrinkles to pigmentation. A Vitamin C serum is a great option for your morning routine as the antioxidant-rich ingredient works to protect from free radicals.
We love... NeoStrata 15% Vitamin C + PHA Serum £59
5. Moisturiser
The next step is to moisturise, to keep your complexion youthful and healthy. Choose your moisturiser based on your skin type. For oily or acne-prone skin opt for a lighter moisturiser, such as lotion or gel that will absorb quickly and not clog your pores. If you have dry skin try a rich cream formula to soothe and replenish. Sensitive complexions should look out for hypoallergenic formulas that are free from fragrance and alcohol.
We love... CeraVe Facial Moisturising Lotion £15.50
6. SPF
Sunscreen should always be the last step of your skincare routine and worn year-round no matter the weather. Even if your foundation features an SPF, this is not sufficient protection from the sun's harmful rays. Thankfully there are a host of SPF formulas that sit wonderfully under make-up without leaving a white cast or any greasiness. Apply approximately one finger-length of SPF to your face and don't forget your neck and ears.
We love... Grown Alchemist Natural hydrating sunscreen SPF30 £33
Step-by-step evening skincare routine
1. Double cleanse
Unless you have been indoors all day without any make-up on you should always double cleanse. A cleansing balm or oil is a great option for your first cleanse as the hardworking formulas are super effective at dissolving stubborn make-up and SPF. For your second cleanse opt for a lighter formula such as a cleansing milk or gel to leave your skin feeling clean and balanced and ready for the rest of your evening skincare routine.
We love... Medik8 Calmwise Soothing Cleanser £16.50
2. Acids and retinol
After cleansing, depending on the skincare benefits you are after, you can either apply an acid toner or Vitamin A product, also known as retinol and retinoids. Acid exfoliants are great at re-surfacing skin and improving acne-prone complexions, while a retinol product is an anti-ageing superhero. Retinol can be very potent, so only ever use it at night and introduce it into your routine slowly. Always wait 20 minutes after applying retinol before your eye cream or moisturiser.
We love... Minimalist Granactive Retinoid 02% £7.19
3. Eye cream
Same as your morning routine, using an eye cream specifically designed for your delicate eye area will have additional benefits to just using your regular moisturiser. If you typically wake up to puffy eyes, opt for a lightweight gel eye cream as opposed to a rich cream. Always apply with your ringer finger so you don't damage your under-eye area.
We love.. Grown Alchemist Age-Repair Eye Cream £55
4. Treatments, facial oils, face masks and moisturisers
This is where you can really ramp up the TLC and give your skin some much-needed attention. You won't need to use all four in one go, but it's useful to have a few products on rotation that offer different benefits. For example, you may want to use a spot treatment followed by a moisturiser if your skin is breaking out. Or if your complexion is feeling parched you may want to opt for a hydrating treatment and an ultra-replenishing oil.
We love... Plantopia Dusk To Dawn Night Oil £28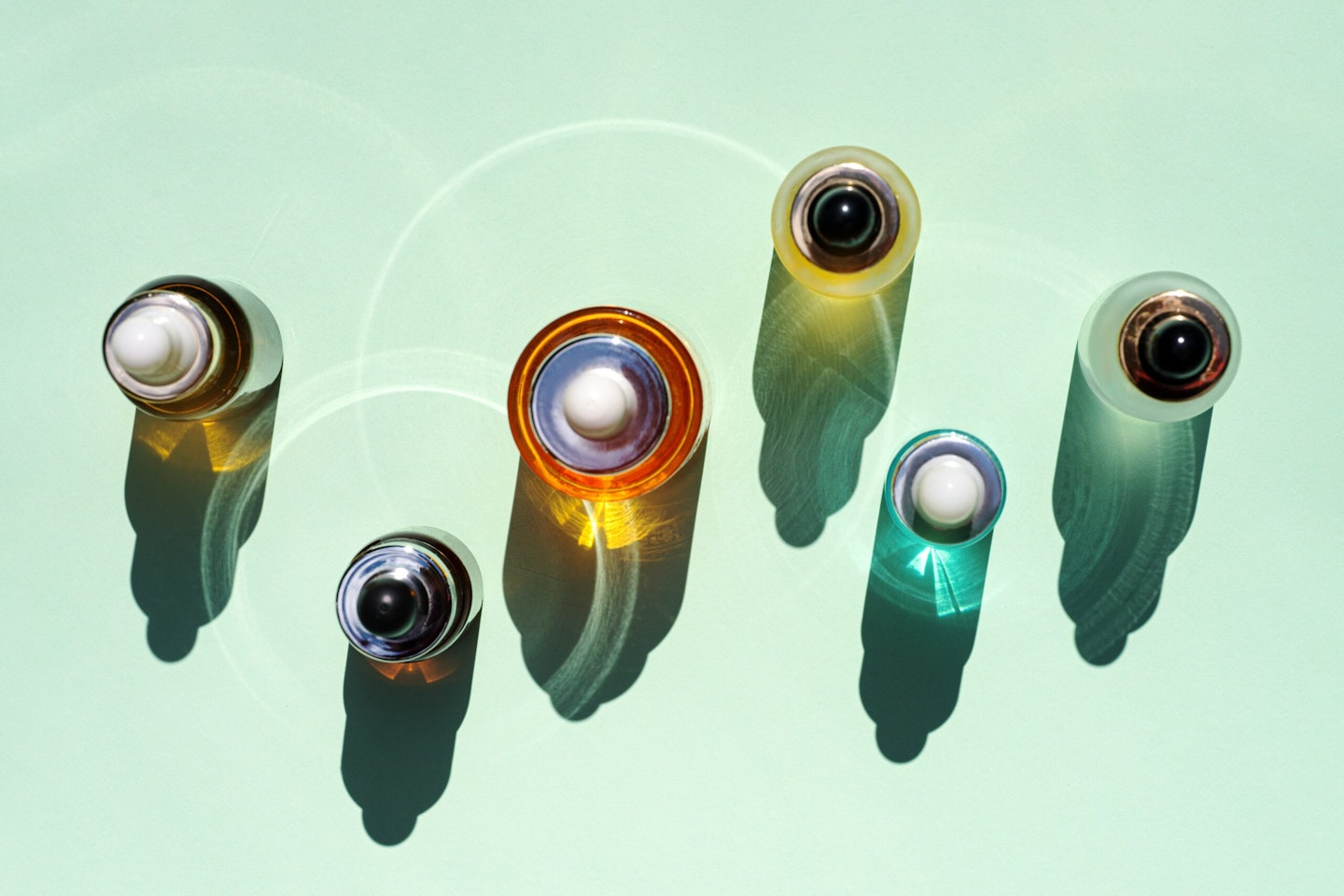 Beneficial ingredients to look out for
Niacinamide
Also known as Vitamin B3, niacinamide is a super versatile ingredient that is suitable for all skin types. It helps to minimise enlarged pores, improve uneven tone and brighten your complexion. Niacinamide also reduces the impact of environmental damage thanks to its ability to strengthen your skin's barrier. The powerhouse ingredient can be found in a multitude of skincare products, as well as foundations, concealers, setting sprays and even body products.
Vitamin C
Hailed as one of the all-time best skincare ingredients, Vitamin C offers incredible anti-ageing benefits and protection against pollution, environmental damage and sun damage. The most popular way to incorporate Vitamin C into your routine is usually with a serum, but the ingredient also works well in eye creams and moisturisers.
Salicylic, glycolic and lactic acids
Alpha hydroxy acids (AHAs) and beta hydroxy acids (BHAs) are both skin exfoliants used to treat enlarged pores, uneven skin texture and fine lines. Salicylic acid is the most popular BHA that has incredible blemish-busting abilities, while glycolic and lactic acids are popular AHAs that help promote a glorious glow. The hardworking ingredients are key for clearer, smoother and brighter skin.
Retinol
Retinol is a form of Vitamin A that boasts amazing anti-ageing benefits. It has the ability to activate skin cell renewal and increase collagen production, in turn reducing the appearance of fine lines and wrinkles. Since it's a powerful ingredient, begin by using it every other day to allow your skin to become accustomed. Then use up to once a day as part of your evening skincare routine.
Hyaluronic acid
A hydration hero, hyaluronic acid is a naturally occurring substance in our skin that works to retain moisture. Incorporating hyaluronic acid products into your skincare routine will deliver a dose of extra hydration for soft and supple results. Since our skin loses the ability to retain moisture as we age, hyaluronic acid is a great youth-boosting ingredient to help with firmness, elasticity and plumpness.
Some words of advice
When forming any skincare routine always go easy and listen to your skin. It's never a good thing to go from 0-100 and start using several powerful ingredients all at once. If you have overdone it, or your skin feels like you've gone too far, pair it back to the non-negotiables, a cleanser, moisturiser and an SPF, and then start introducing additional products from there. It's also important to remember to give it time. No skincare routine will offer an instant fix, consistency is key and over time your skin will reap the rewards.