For the average person, an in-depth knowledge of all makeup and beauty is basically impossible.
Which red lipstick will suit which skin tone? What type of foundation is right for which skin type?
Luckily for you, dear reader, we're in the business of beauty myth-busting - and our latest mission is primers. What is a primer, do you really need one and which ones are the best for keeping your makeup on your face throughout the day available on the high street?
The current trend is for silicone primers - but if you've got sensitive or dry skin, they might not suit you so well. There's also the environmental impact to consider as we're now moving away from using plastics in beauty products. Some of the products we tried have tiny amounts of silicone in, but aren't silicone-based.
Since we're not COMPLETE makeup experts ourselves, we sought advice from a professional makeup artist to find out exactly what the deal is. Katie Moran works for Polish makeup company INGLOT, and told us everything we need to know.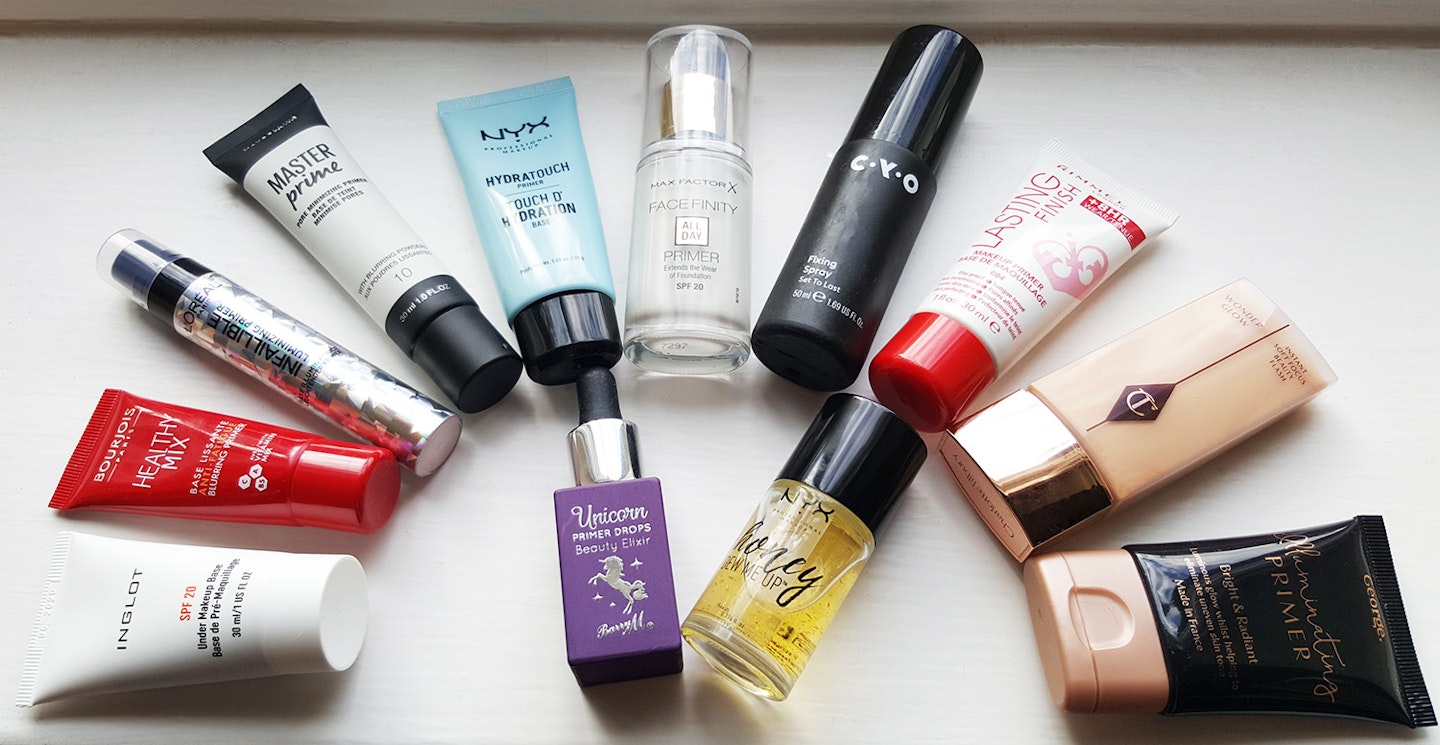 What is a primer?
A primer is a makeup product used before foundation to improve coverage and to lengthen how long the makeup will last. You can get primers for every skin type (dry, oily or normal) to even out your skin tone and to neutralise a certain skin type.
It acts as a barrier between your skin and the foundation to hide and fill imperfections such as lines and pores. Some primers contain colour-correcting properties to disguise red skin or broken capillaries in the skin such as Inglot's HD colour correcting primers.
Are primers an essential part of the makeup routine?
A primer is a very essential part of a makeup routine! Prepping the skin with a primer before applying makeup will be the making or breaking of how the makeup will sit, cover and last on the skin.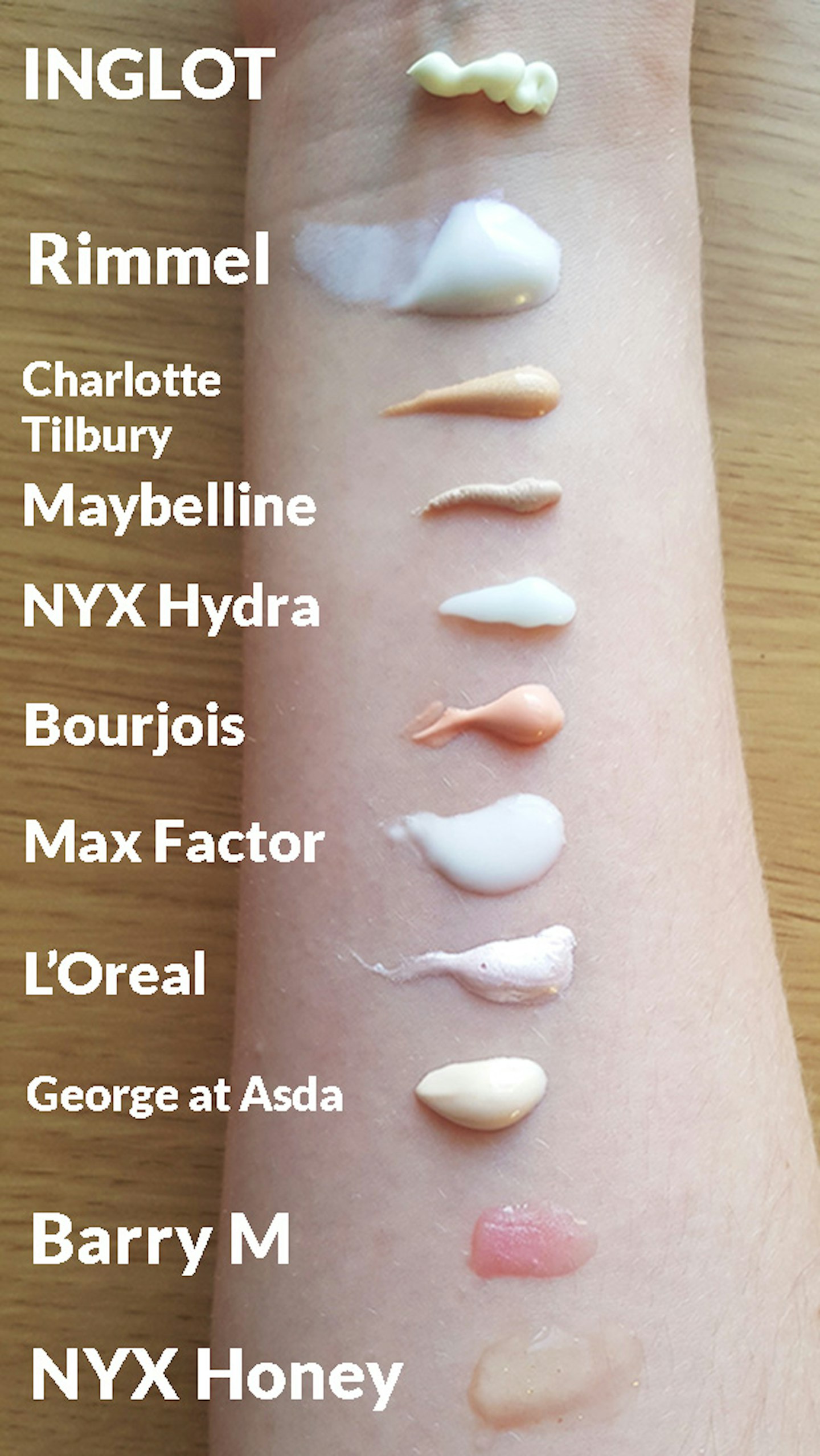 Which primers are best for sensitive skin?
While we may receive commission for purchases made through our links, we never allow this to influence product
The best high street primers
1 of 11
CREDIT: Lu2019Oreal
L'Oreal Paris Infallible Primer Shots Luminising Primer
Good for: "Ultra-fine pearl pigments enhance the complexion for a super-luminous, glowing look."Feels like: This primer is quite runny and thin in consistency, but the pump helps you to not release too much in one go. It settled into the skin very quickly and easily.Application: I was a bit overwhelmed by the sheen when I first put it on as it left my face VERY shiny - however, once I added foundation, concealer and powder, it looked really lovely and as though I had a natural glow. It would be great for someone who likes to apply highlighter every day, as it looked as though I had put some on when I hadn't.Staying power: This particular primer lasted really well, and kept my foundation on pretty much all day. It wasn't quite as intact as when I put it on, of course, but overall it seemed to stay.4/5
2 of 11
CREDIT: Bourjois
Bourjois Healthy Mix Primer
Good for: "Conceals signs of fatigue by covering redness and dark circles, and evens out colour and covers skin irregularities."Feels like: It looked as though it would be a pretty thick consistency when it came out, but as soon as I rubbed it in it was much thinner. It dried almost instantly, which meant that it didn't mix in with my foundation. Thumbs up! Application: With all primers, it feels like you get a lot from a little - but that was definitely the case with Bourjois. A tiny pea-sized amount was pretty much enough to cover my entire face and it sunk into my skin fairly quickly.Staying power: The primer was able to keep my makeup on pretty much all day, although I could see my foundation over the top of my skin later in the afternoon, which wasn't ideal.4/5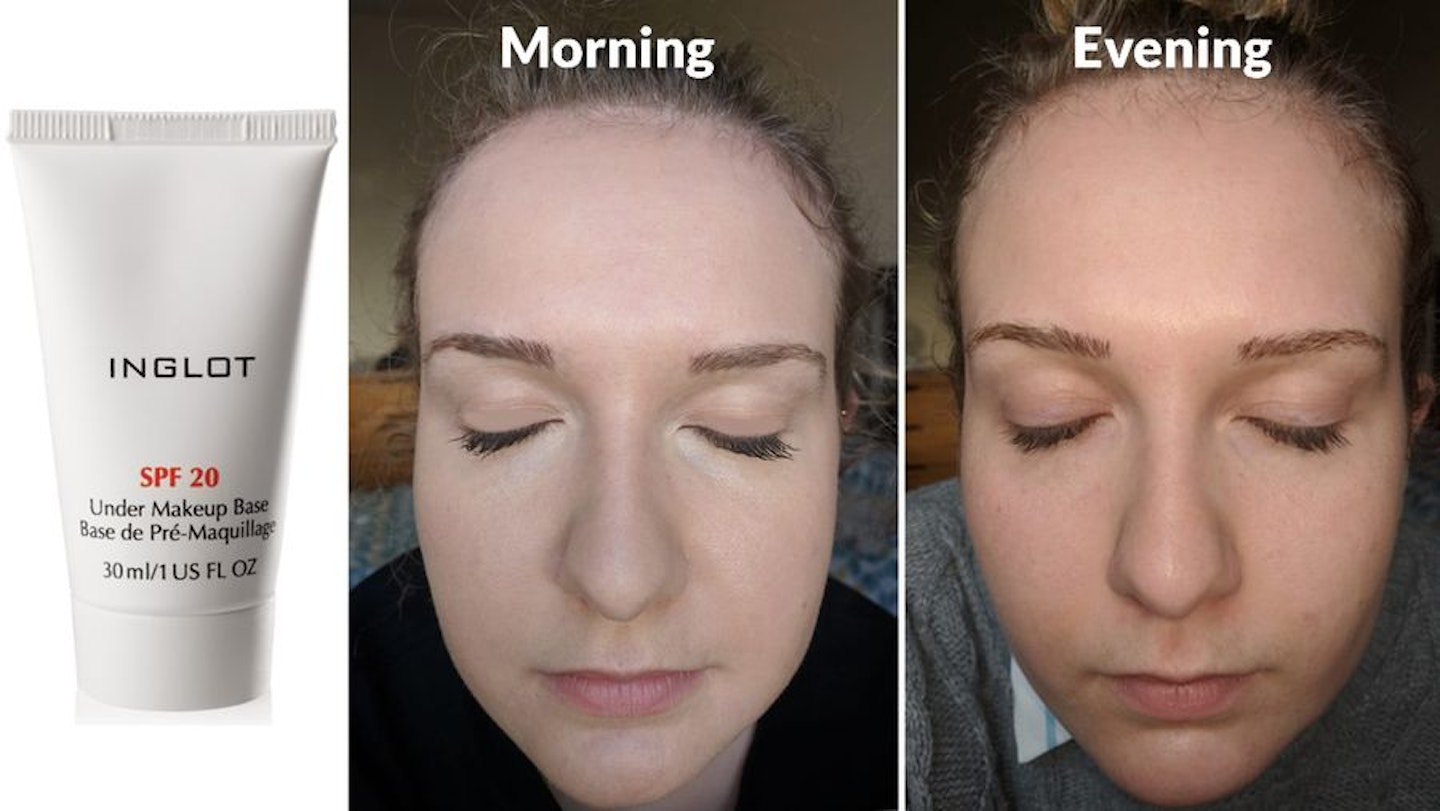 3 of 11
CREDIT: INGLOT
INGLOT Under Makeup Base SPF 20
Good for: "Hypoallergenic Under Makeup Base with SPF 20 sunscreen will let the makeup remain fresh and vibrant while protecting the skin from the negative impact of the sun. The black pearl extract perfectly moisturises and smoothes the skin."Feels like: This is a very thick primer - it's no surprise that there's SPF in it as it does feel a little like suncream. However, once rubbed in, it really did make the skin feel smooth.Application: Aside from the thickness, it did dry quite quickly and was easy to apply makeup over.Staying power: Although it didn't quite last all day, I wasn't unhappy with how my makeup looked at the end of the day.4/5inglotuk.com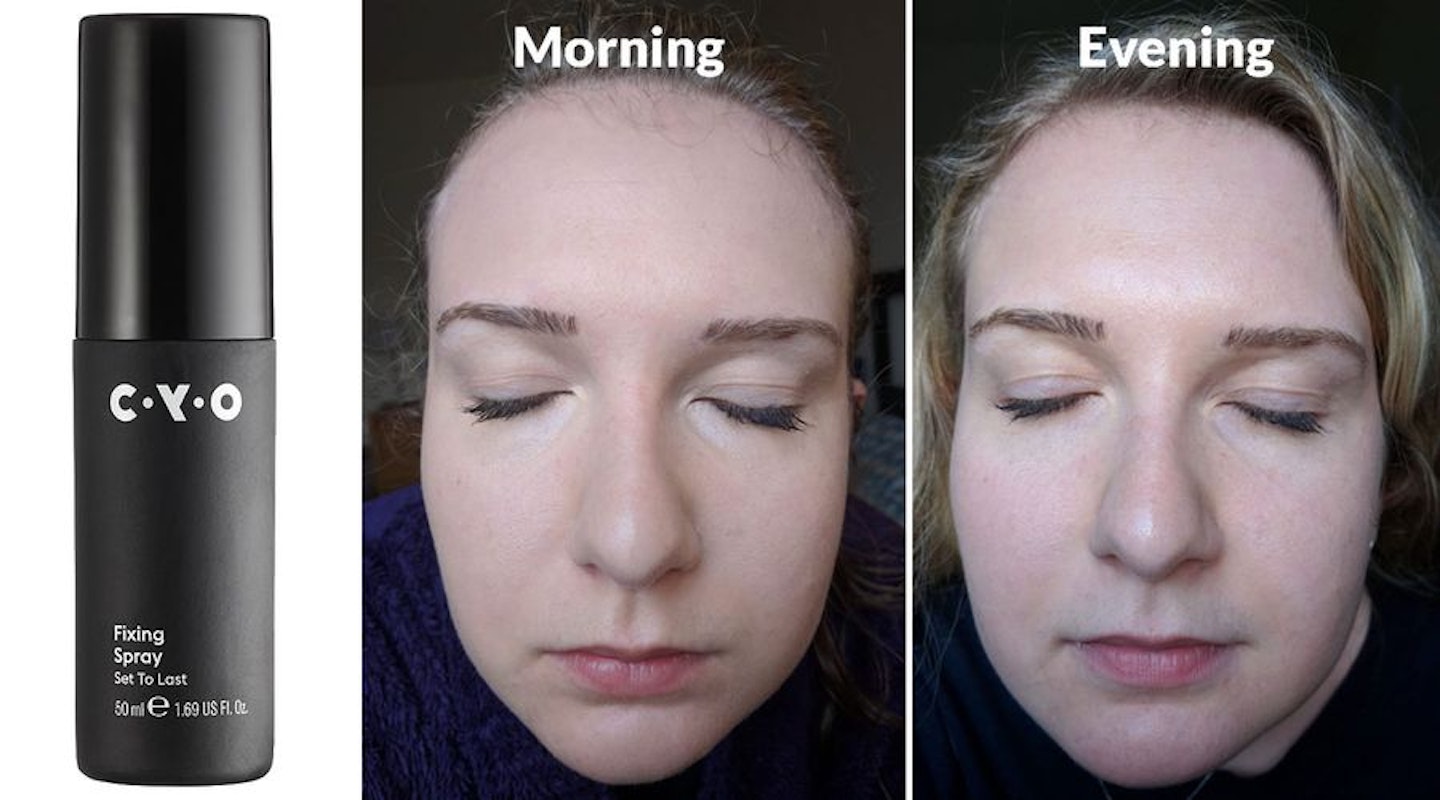 4 of 11
CREDIT: CYO
CYO Set To Last Fixing Spray
Good for: "For looks that stay put. No smudge. No budge. Fresh-faced, all weathers."Feels like: This fixing spray was indeed lightweight. I had reservations about how it would stand up when used BEFORE applying makeup, and unfortunately, I was right.Application: It was simple enough to spray onto the skin - just don't overdo it.Staying power: I can't speak for how well it works when used after applying makeup, but as a primer, it didn't keep my makeup on very well. I barely had any on by the end of the day!2/5 - For use as a primerboots.com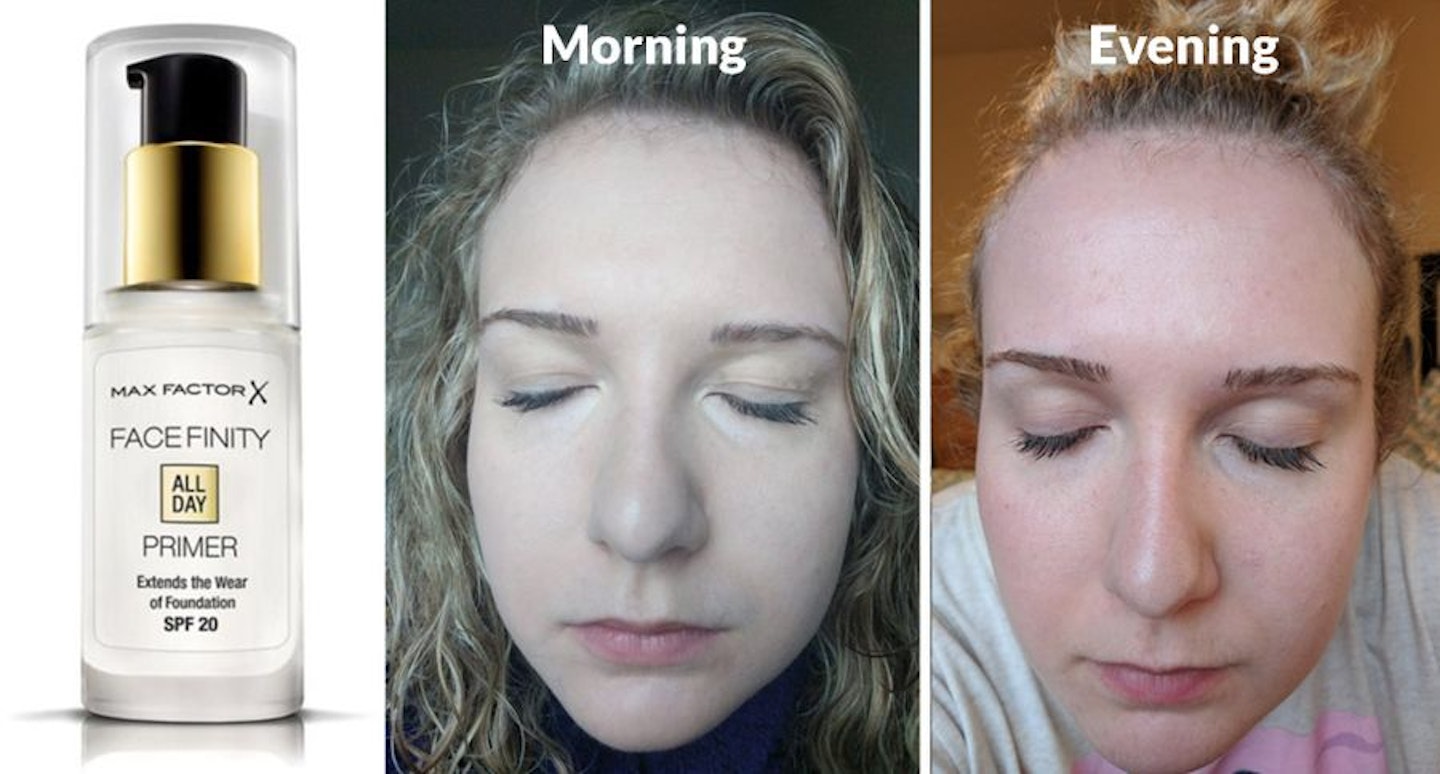 5 of 11
CREDIT: Max Factor
Max Factor Facefinity All Day Primer
Good for: "This mattifying primer contains micro correctors which banish excess oils, making it a great oil control primer that both mattifies and holds foundation in place."Feels like: This primer is a thin cream that settles into the skin pretty well.Application: It has a pump that means you won't release too much in one go, and was pretty easy to distribute around the face.Staying power: Unfortunately, I didn't feel like it kept my makeup until the end of the day. It made my makeup look really nice as soon I applied it, but it didn't look flawless by the end of the day.3/5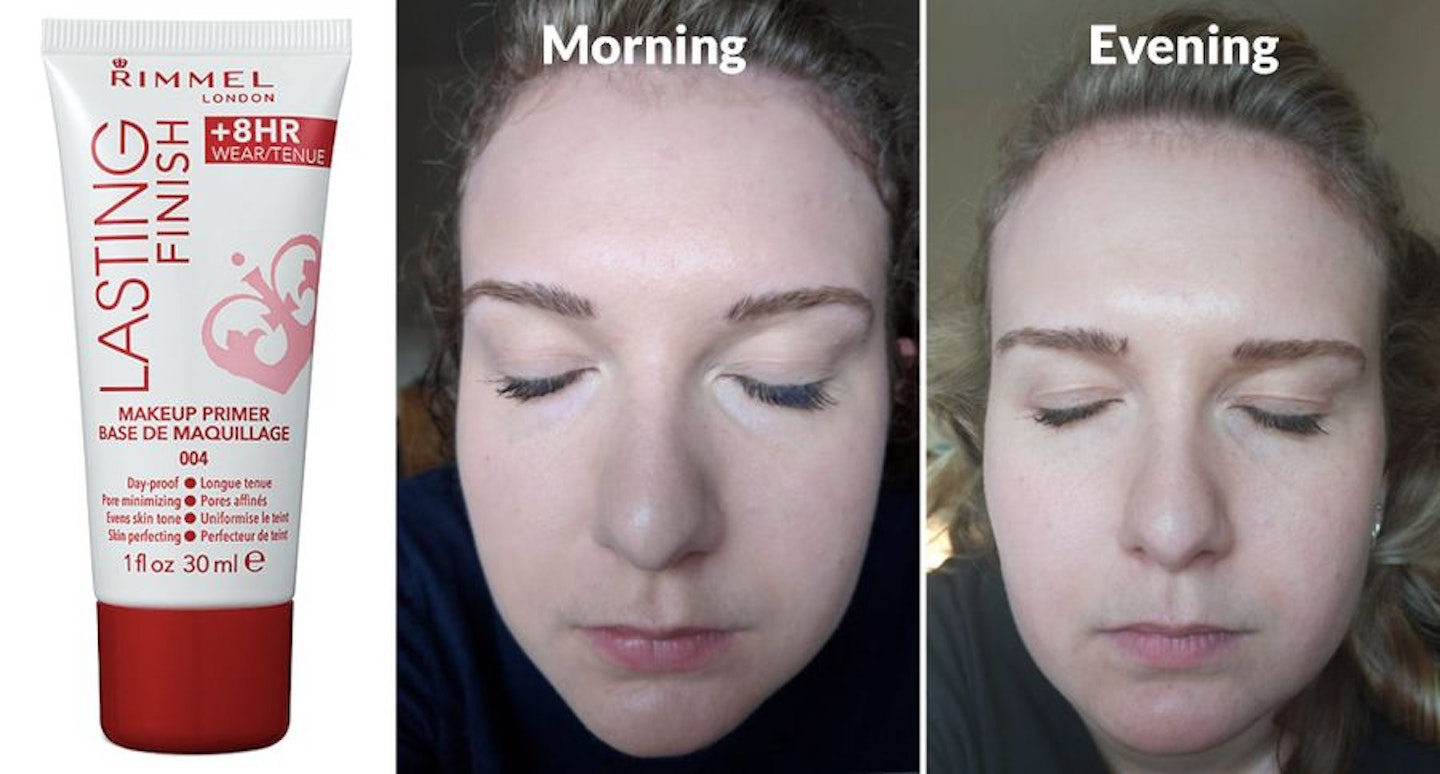 6 of 11
CREDIT: Rimmel
Rimmel Lasting Finish Primer
Good for: "This primer helps to minimise the appearance of pores and evens out skin tone by banishing excess oils whilst providing endless comfort and mattifying the skin."Feels like: It was a VERY thick cream which felt like factor 50 suncream and took quite a long time to rub in. HOWEVER - it did feel as though my skin had been smoothed out.Application: The thick consistency did mean that it took a while to rub in, but as soon as it was rubbed in it was very easy to apply makeup over.Staying power: It genuinely did last all day! Aside from the obvious thinning where I'd touched my face, it pretty much stayed put.5/5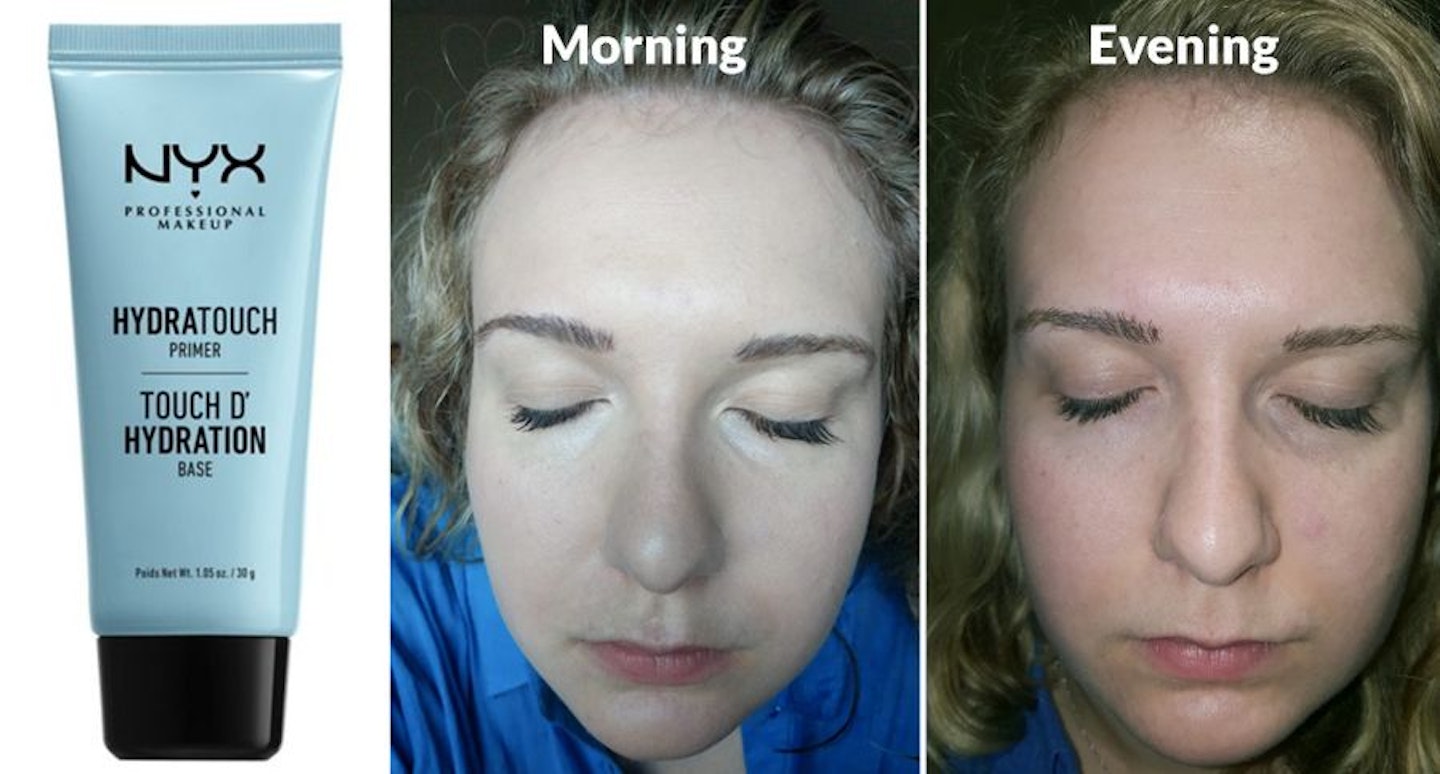 7 of 11
CREDIT: NYX
NYX Professional Makeup Hydra Touch Primer
Good for: "This versatile, hydrating primer creates a smooth, glowing canvas for flawless coverage while its skin-loving ingredients smooth and refresh skin."Feels like: It was NOT how I expected it to feel - it was almost like a thin gel. The only problem was that it didn't dry quickly at all, which wasn't conducive to a quick getaway in the morning before work.Application: It was very easy to apply thanks to the gel-like consistency, but as previously stated it didn't dry very quickly, which isn't ideal if you don't like to spend hours in front of a mirror in the morning.Staying power: I really wanted this to last all day but unfortunately it just didn't around my eyes, which rather alarmingly returned to their natural state. However, it did stay perfectly around my forehead, which often gets a little oily by the end of the day - so if I wanted to use two primers, this would be fantastic for oil control.3/5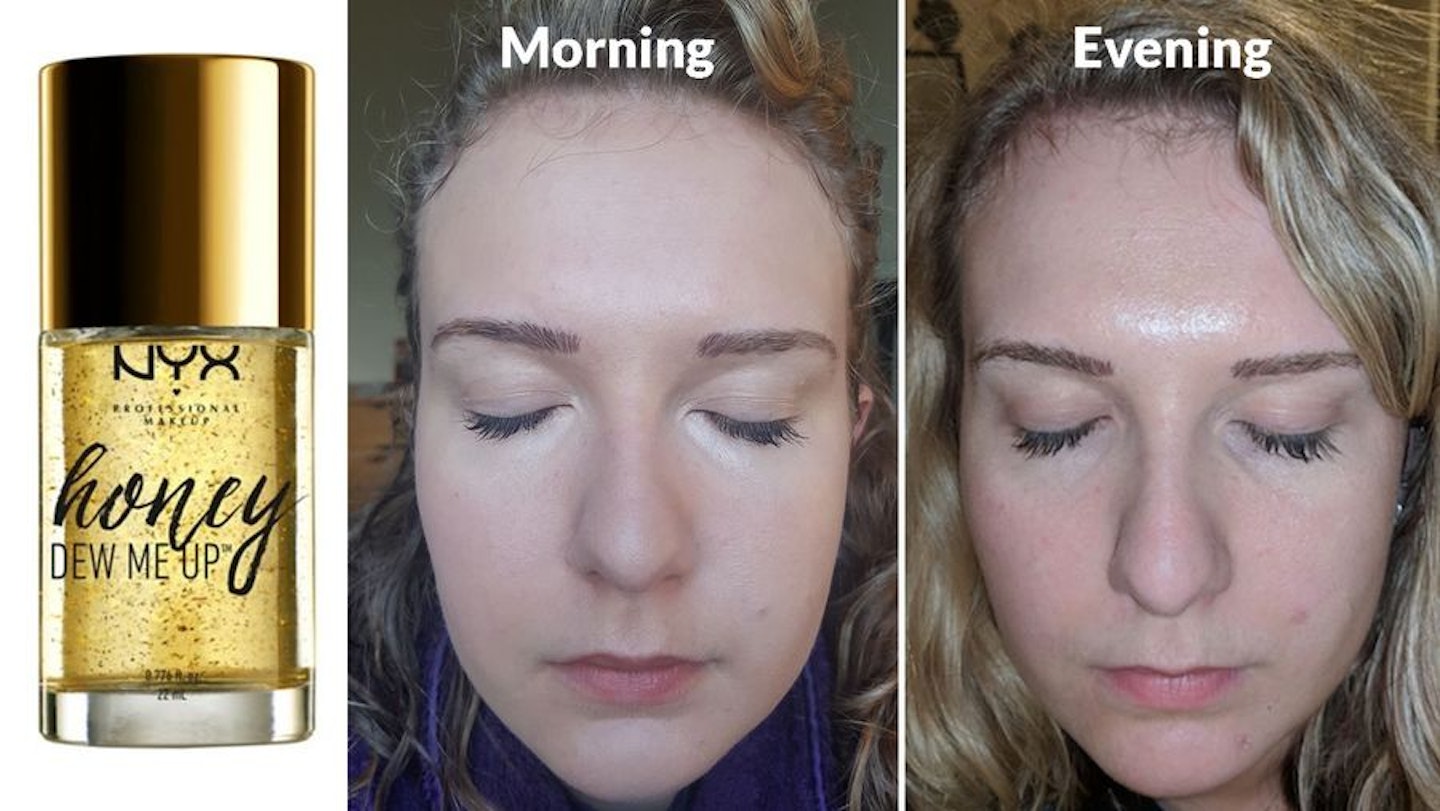 8 of 11
CREDIT: NYX
NYX Professional Makeup Honey Dew Me Up Primer
Good for: "This primer neutralises the appearance of discolouration and redness. The innovative light-reflective gold flecks create a luminous look that will help keep your skin looking radiant all day, whilst its skin-loving ingredients will provide the skin with many benefits."Feels like: This primer is unlike anything I've ever seen before - it's almost like a smooth jelly. According to the ingredients, it contains honey, a natural antiseptic, gold flakes which increase skin radiance and collagen for smoother skin.Application: It's in a small glass bottle with a mini spade in the lid for easy application - although, it's quite hard to tell how much you should be putting on. It dried very quickly and I could feel a significant difference in my skin.Staying power: My foundation stayed on pretty much all day, although my concealer didn't stay quite as long where I had a blemish. It also wasn't able to prevent my slightly oily forehead which normally occurs at the end of the day, but overall I was happy.4/5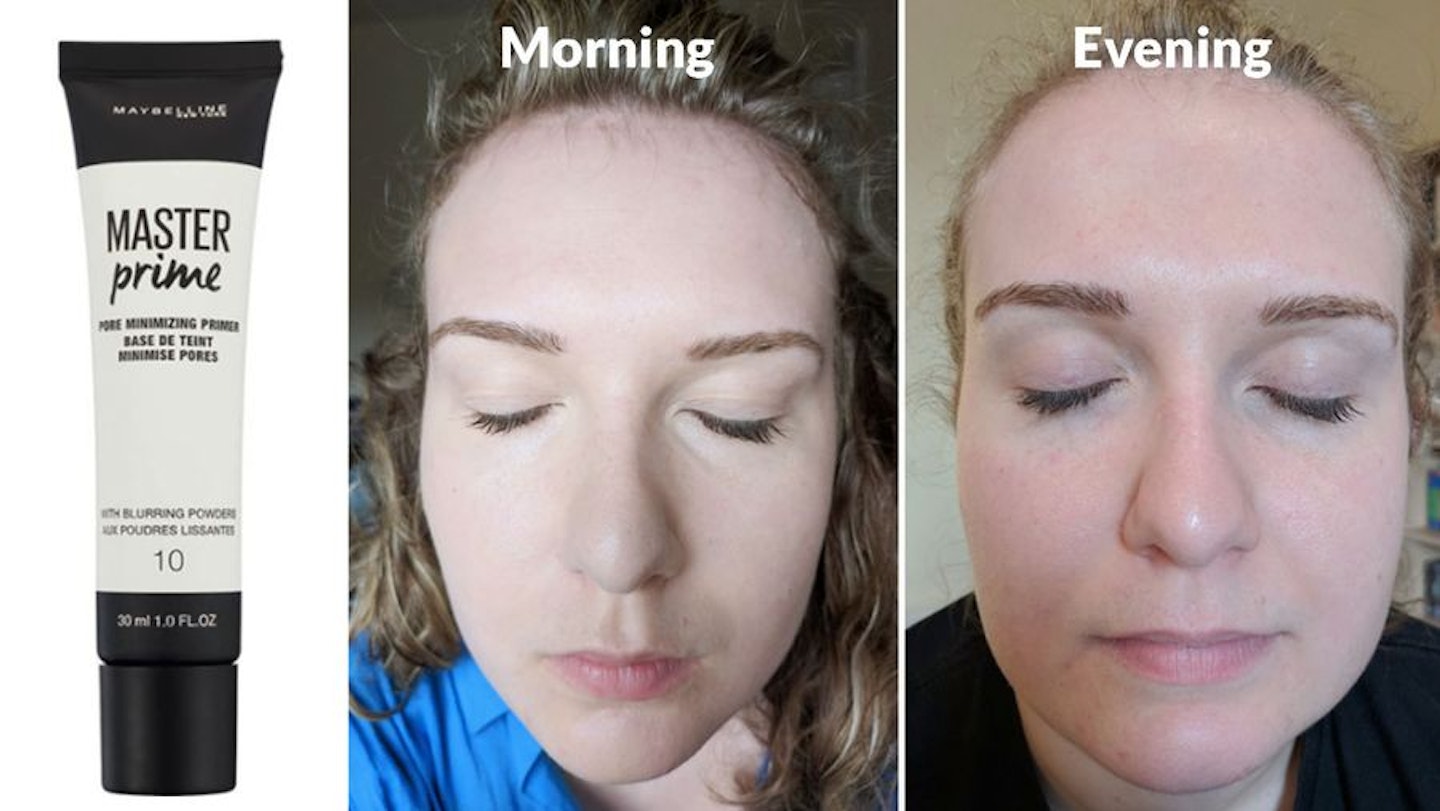 9 of 11
CREDIT: Maybelline
Maybelline Master Prime Pore Minimizing Primer
Good for: "Pore minimizing primer to blur fine lines and smooth uneven skin."Feels like: Again, this was a really odd consistency. It's sort of a gel but it also feels like a powder somehow... Imagine if clay was creamy. It's one of three - this one is to minimise pores, and there's also a pink luminising primer and a green anti-redness primer in the same range.Application: It's in a tube, so it's very easy to apply. It rubs in SO easily and really did leave my skin feeling soft and smooth. It was so easy to apply foundation over the top once it had dried.Staying power: I am an absolute convert to this primer. It made my skin feel amazing and kept my makeup on all day - apart from the concealer around my eyes, so I would have needed to top that up on a normal day. 4/5feelunique.com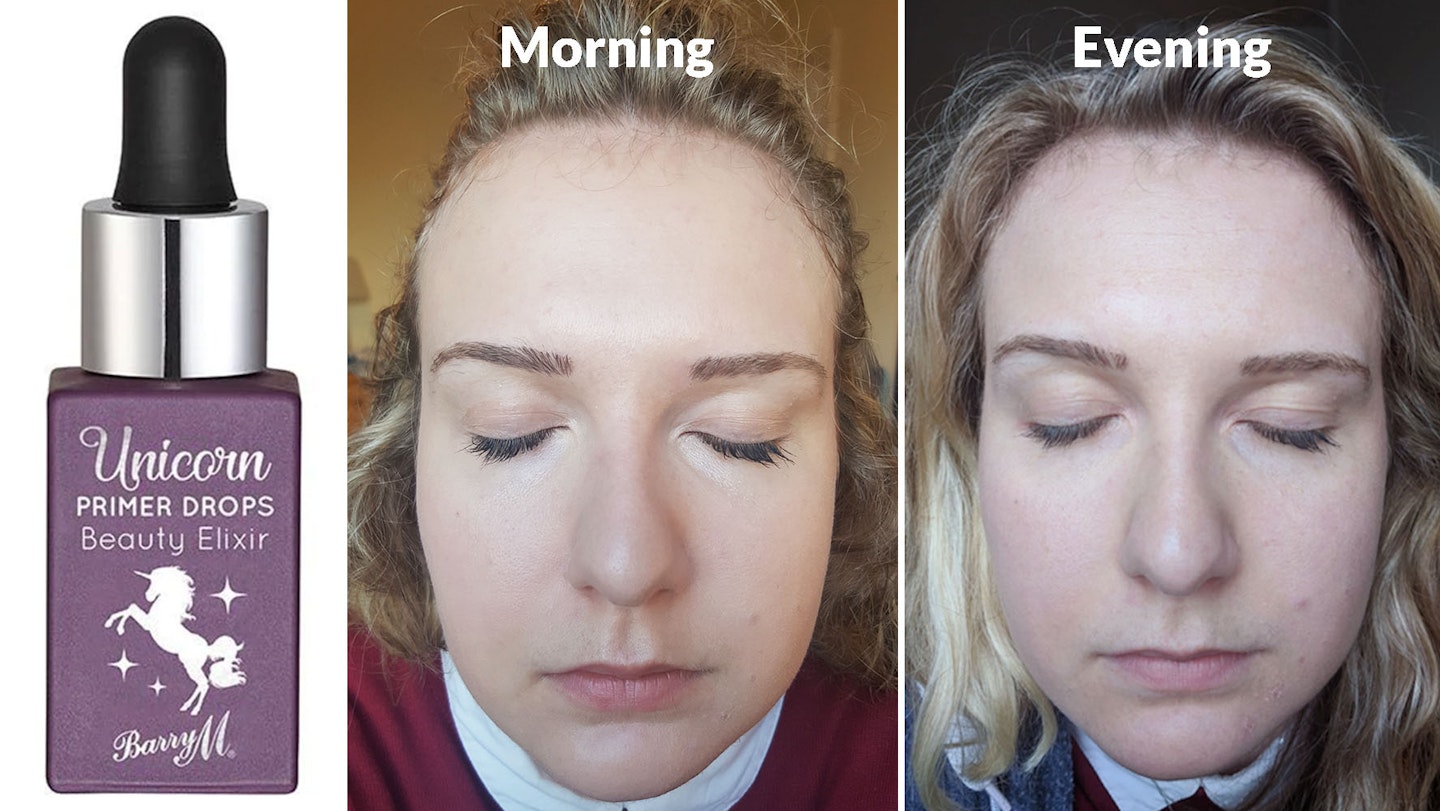 10 of 11
CREDIT: Barry M
Barry M Unicorn Primer Drops
Good for: "This innovative oil-free elixir is packed with superfruits such as acai berry, goji berry and watermelon. The hybrid-serum brightens, detoxifies, hydrates and smooths the skin for the perfect primer and skin care treatment."Feels like: I am a big fan of beauty products made up of natural ingredients, so was very excited to try this as I've never seen a primer like it. It's a similar sort of gel to NYX's Honey Dew that smells delicious and has a slight sheen to it.Application: The Unicorn Primer comes in a little bottle with a pipette to apply it to the face. It's not super easy to get out of the bottle - however, as it's the first time this product has been released, Barry M might pick up on that and develop a better pipette in the future. It felt lovely on my skin and dried pretty quickly. Thankfully, it isn't obviously pink once it touches your skin!Staying power: It didn't keep everything on perfectly, but it was still an improvement than if I was just wearing foundation. My makeup had rubbed off in a couple of places but my face wasn't noticeably bare. 4/5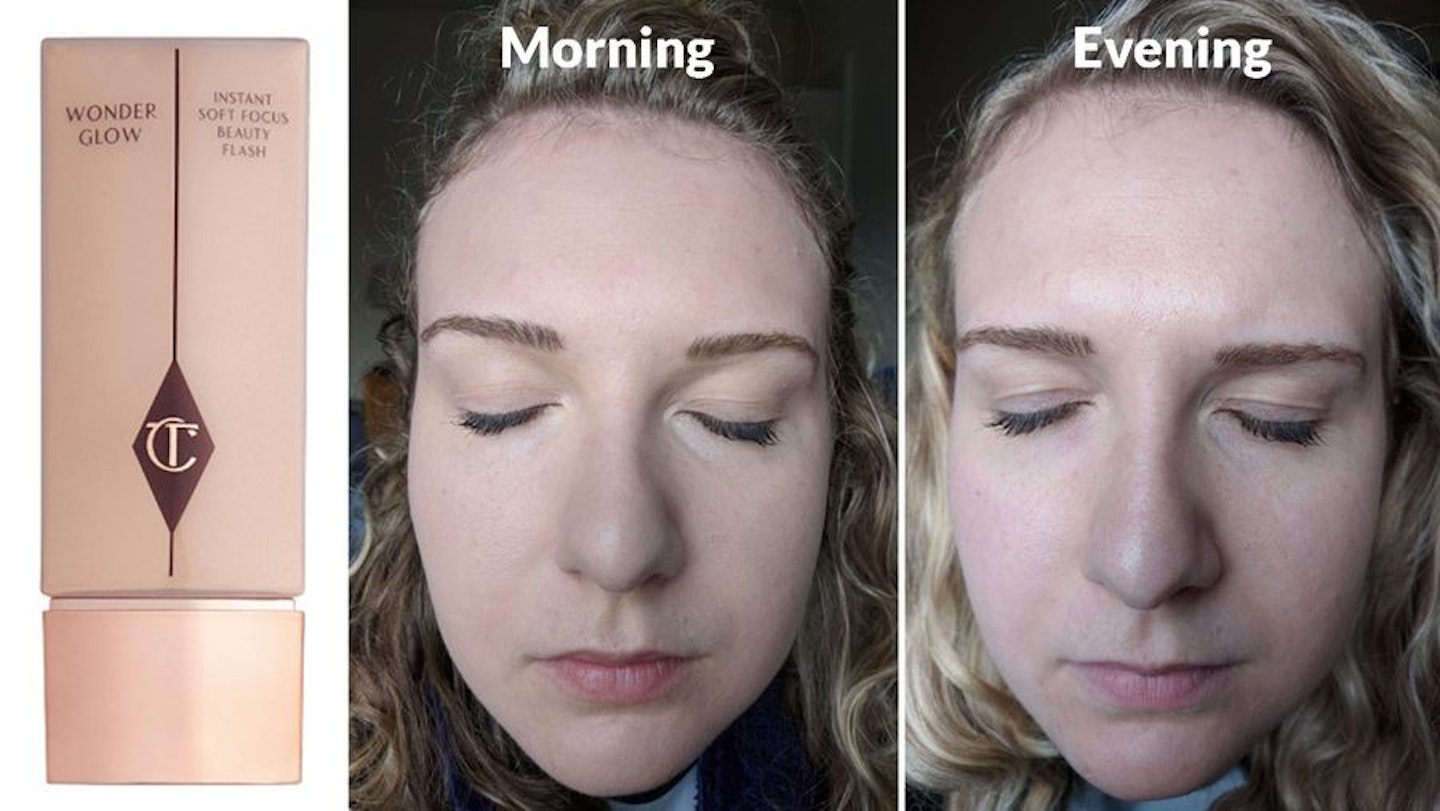 11 of 11
CREDIT: Charlotte Tilbury
Charlotte Tilbury Wonder Glow, Charlotte Tilbury
Disclaimer: I wear Charlotte Tilbury's Light Wonder foundation, so there's an advantage here.****Good for: "This primer gives your complexion an instant pick-me-up to create an effortlessly dewy look. State of the art fluorescent core light diffuser absorbs UV particles from the sun and reemits their energy as visible light, illuminating your skin."Feels like: It's a super-light cream that contains little sheen-y particles which make your skin look all dewy and healthy. A helping hand for those of us who just ALWAYS look tired.Application: It comes in a squeezy bottle, so it's easy to either apply straight onto the face or into your hands and rub on. Although it's much more expensive than the other products, it's a really wonderful product. Staying power: As previously stated, I do wear Charlotte Tilbury foundation, so it's no surprise that the two work well together. It kept my makeup on all day - although it didn't fully control my end-of-the-day oily forehead, it did a good job. 4/5
Also wearing:
Benefit Cosmetic's Boi-ing! Industrial Strength concealer in 01.
NOW WATCH Billie Faiers' false eyelashes tutorial
READ MORE beauty tips and news
Get Love Island Megan Barton Hanson's sexy crimped hair in just six easy steps
Are silicone primers good?
The main purpose of a silicone primer would be to mattify the skin. It reduces the appearance of sebum (oil) in the skin and leave you with a silky finish. This primer should only be used on oily to combination skin as it will reduce the presence of oils and ensure that the foundation will last much longer on the skin than without it. But it would not be good for dry skin.
Are non-silicone primers good?
A non silicone primer would be better for dry to normal skin as most of them are likely to contain oil which is what dry skin needs. Some primers even contain an SPF, protecting your skin from the drying rays of the sun and keeping It moisturised all day long - for example, Inglot's SPF 25 primer.
Are there any other benefits of using a primer?
Primers such as the SPF-containing primers can be used as a moisturiser to keep your skin feeling soft and fresh all day long and is a beautiful alternative to makeup when mixed with a liquid illuminator or B.B. cream. Colour-corrective primers, such as a peach primer, give a subtle but lovely coverage to the skin.
Have you ever tried any of these primers? Which was your favourite? Do you think they're a con? Let us know...