*Magaluf has introduced a disgusting new game to their local bars - and it has left our blood boiling. *
The game, dubbed "mamading", is a contest in which women are encourage to performa as many public blow-jobs in as short a time possible - all in exchange for free drinks.
And now one particularly disgusting video, which features a young British girl performing 24 blow jobs on strangers, has gone viral on Twitter and Facebook
Egged on by the person filming on a mobile phone, the girl moves from one man to another as music blares in the background.
The clip ends as the music stops and a DJ's voice can be heard, congratulating the girl and awarding her a bottle of Cava - worth no more than three Euros.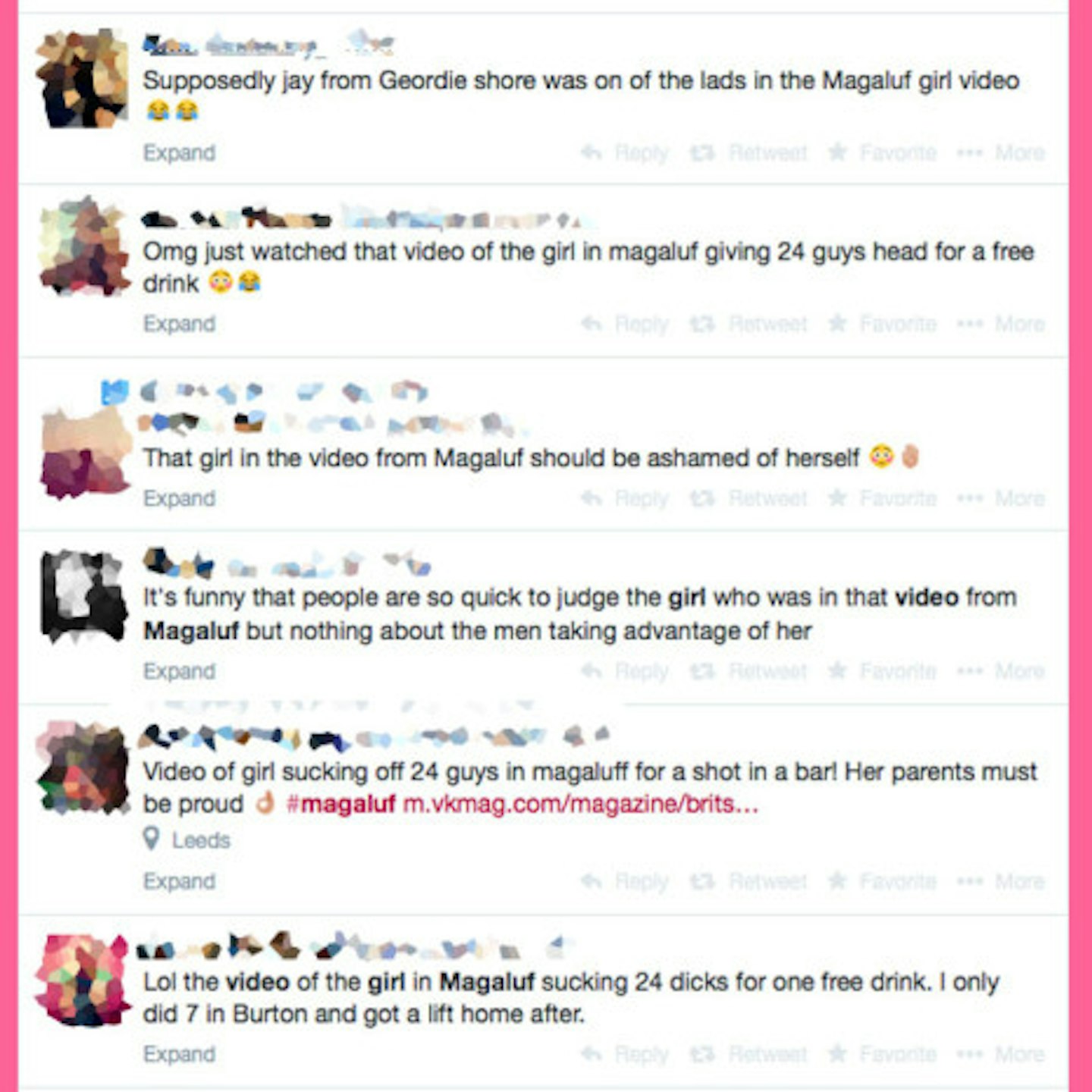 Yet, despite the fact the girl is clearly drunk and being egged on by all around her, absolutely no one has shown her any sympathy on Twitter, damning her as a 'slut' or a 'slag'.
One person wrote: "Disgraced by the girl in Magaluf and her antics with 24 men for a free drink! Morals and self respect should be taught from a Young age. [sic]"
Another added: "Omg that video of the girl in magaluf is shockin!! Dirty whore [sic]"
One more said: "I feel sorry for the next guy that goes near the girl from the Magaluf video.He better hope that she didn't forget her toothbrush at home [sic]."
And still one more added: "Stay classy you British sluts [sic]."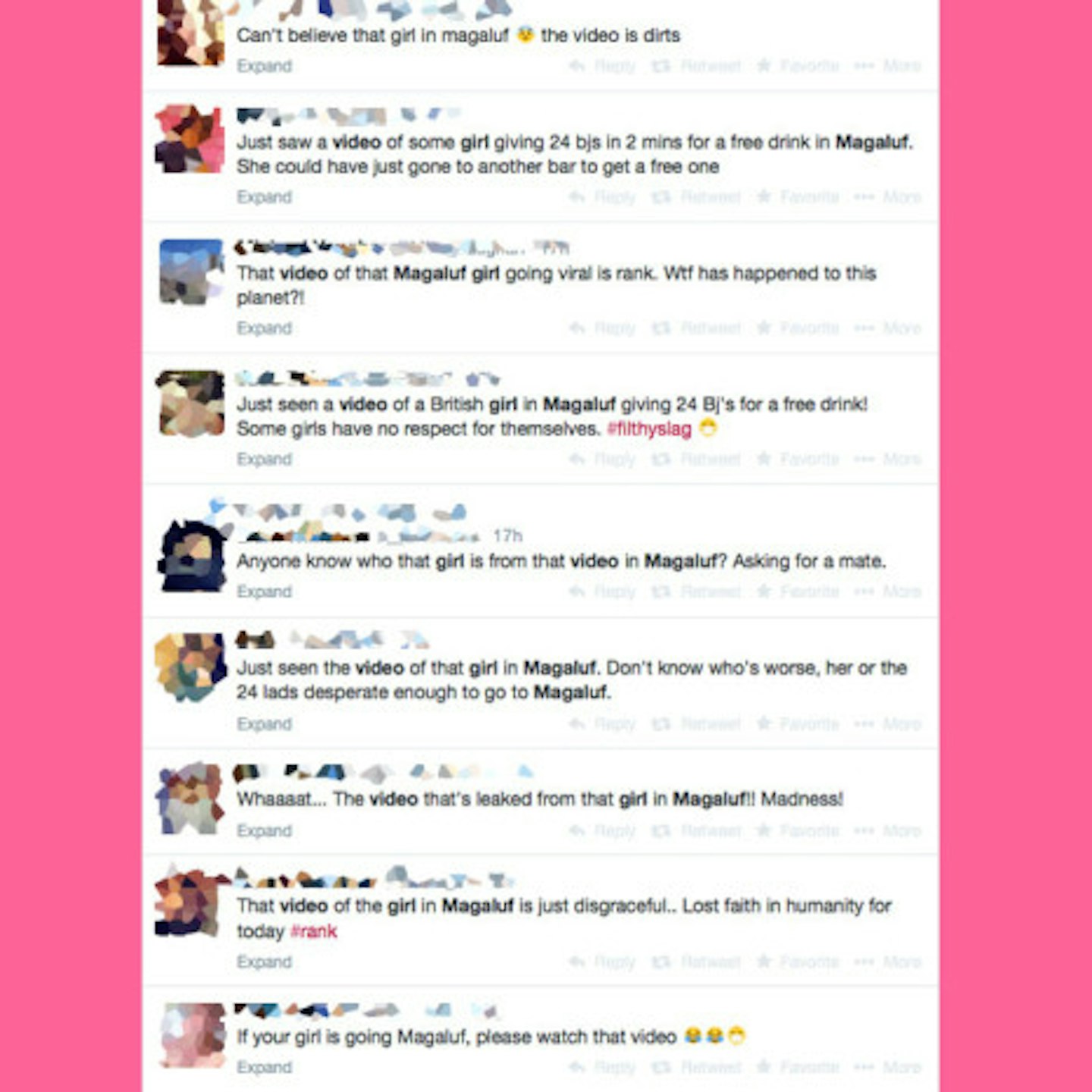 Absolutely nobody commented on the fact that 24 men all undid their trousers and allowed a strange woman to suck their penis. Or the fact that an entire crowd - including the bar's employees - were cheering the girl on.
Mamading is a sick, sick game, pushing women - when they are already drunk and disorderly - to performa sexual acts on strangers for free alcohol.
SEE: OUTRAGE AT PLASTIC SURGERY APP WHICH ENCOURAGES GIRLS TO MAKE CHARACTERS 'THIN AND BEAUTIFUL'
It is sexually degrading, humiliating and has led to a spate of slut-shaming on Twitter.
But, thankfully, there are still some out there who recognise that this is wrong - on so many levels.
So what's wrong with calling someone a slut?
Calling someone a slut may seem harmless. Slut-shaming may also seem to be useful as a kind of cautionary tale — helping "good" girls from making sexual "mistakes", or even being sexually assaulted and/or raped, by making an example out of the "bad" girls. But, in fact, the very opposite is true:
Leora Tanenbaum, the author of Slut! Growing Up Female with a Bad Reputation, explains: "A reputation acquired in adolescence can damage a young woman's self-perception for years. She may become a target for other forms of harassment and even rape, since her peers see her as "easy" and therefore not entitled to say 'no'"
Men are called studs, women are called sluts - and this is helping to perpetuate a rape culture in modern society.
How many times has rape been discounted because a woman was deemed a slut? The sexual double standard is a lot more dangerous than we'd like to think - and something needs to be done about it.
What can be done about mamading?
Thankfully, a local mayor Manuel Onieva has ordered a police investigation into so-called 'mamading' bars in his municipality.
He told the Mallorcan Daily he "completely rejects" the activities and has warned the bars face closure if they are found to have broken the law.
The president of the Balearic Institute of Women, Isabel Llinàs, has also condemned the "intolerable shame" of the game.
Llinàs said the act goes "far beyond acts that offend women. [They] actually strip the dignity of both men and women."
However, she acknowledges that "we are legally in limbo. Persons performing these activities are adults and do so voluntarily in private places. We're looking up and down the legislation to see where to act".
In short, this needs to be stopped, immediately. But do you agree? Let us know via our Comments Box below.
Do you believe this woman is responsible for her own behaviour?