Steve and Leeana, the breakfast hosts on American radio station K98.3 FM, received a message from the dads, who were really hurt when they received this RSVP to their daughter's birthday invitation.
The message read: "Tommy will NOT attend.
"I do not believe in what you do and will not subject my innocent son to your 'lifestyle'.
"I'm sorry Sophia has to grow up this way."
The mother left her phone number at the bottom of the invitation if either of the fathers too "issue" with her shocking message.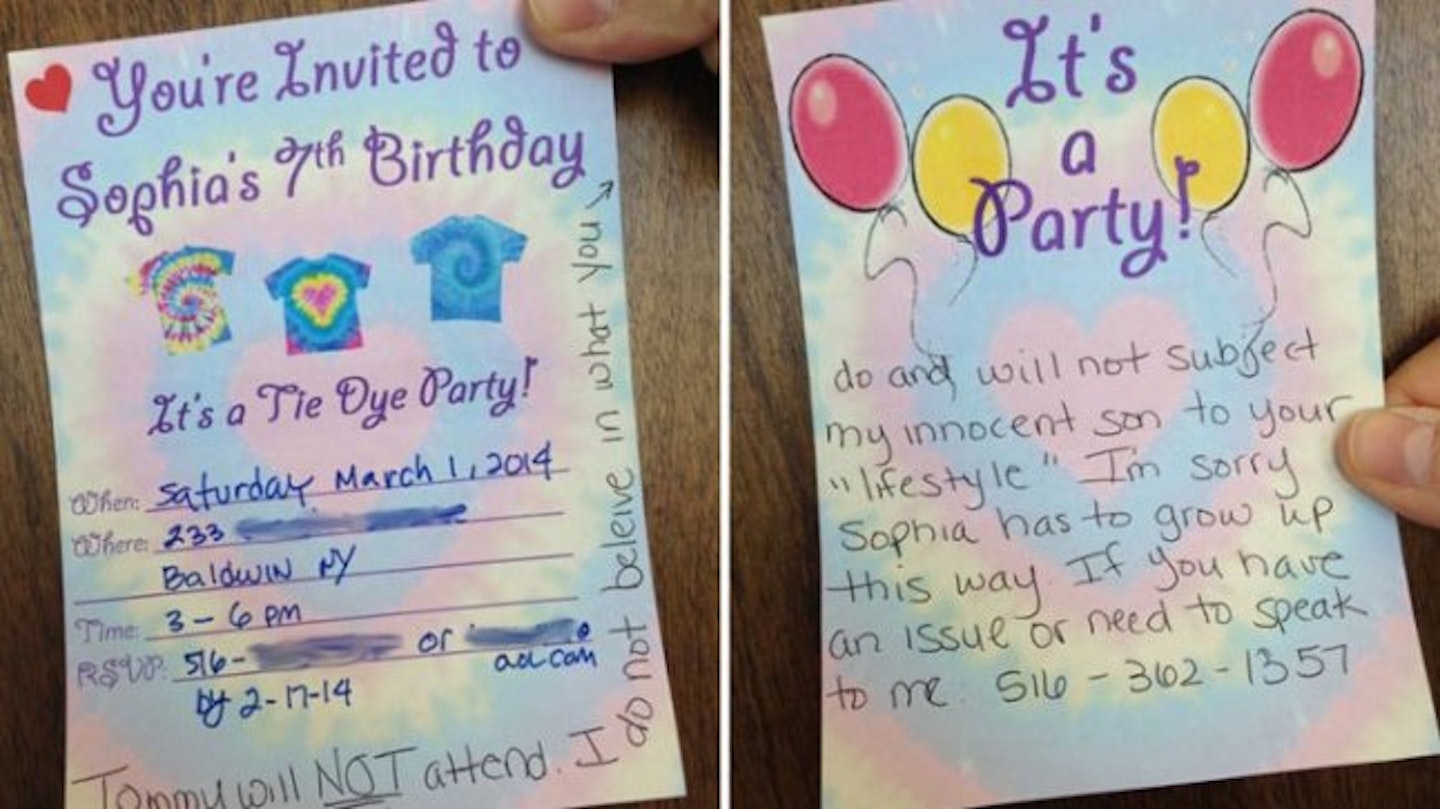 Plenty of people have responded to the note on Facebook, with most slamming the mother for being bigoted and closed-minded.
BellaDonna Flower said: "And so they are gonna hide little Tommy from the world. What are they gonna do when little Tommy grows up to be gay, or he could become Tammy. Let the kid go have fun, OMG."
Amy Fennell added: "Wow! Some kids don't get to grow up with ANY dad in their life and this little girl gets TWO! Love is love gender means nothing. That is a horrible way to respond to a SEVEN year old kids birthday invite!"
PARENTS SHARE TOUCHING RESPONSES TO CHILDREN REVEALING THEIR SEXUALITY
Tony Trotter also slammed the mother, saying: "I SO look forward to the day when this will no longer be an issue. Having two adults raise a child is a beautiful thing... some kids don't get that.
"I pity Beth and her narrow mind. Hate will eat you from the inside out... and he'll either grow up to resent you or be JUST LIKE you. Welcome to the world, Beth. No one is the same, not everyone thinks like you do... if we all thought and did the same, the world would be boring as hell."
What do you think of this woman's response? Let us know via the Comments Box below now.