In June 2015, loved-up teenagers Leah Washington and Joe Pugh decided to celebrate becoming "official" with their romance with a trip to Alton Towers.
But what was supposed to be a fun date at the theme park turned into a nightmare. The pair were on The Smiler roller coaster when their carriage collided with another in front, in what experts later described as "like a 90mph car crash".
Leah, then 17, had her left leg amputated above the knee, while 18-year-old Joe suffered two shattered kneecaps. The horrific accident also made headlines, and Leah and Joe had to come to terms with life-altering injuries, while being propelled into the spotlight.
Happily, the young couple are still in love and now have something to celebrate, after Joe, 25, popped the question.
Leah, 24, who lives with her fiancé in south Yorkshire, says, "If you'd told us during the weeks after our accident that we'd be planning our wedding now, we wouldn't have believed it."
On that fateful day seven years ago, the teens had headed straight for The Smiler, queuing for hours, then excitedly taking their seats at the front.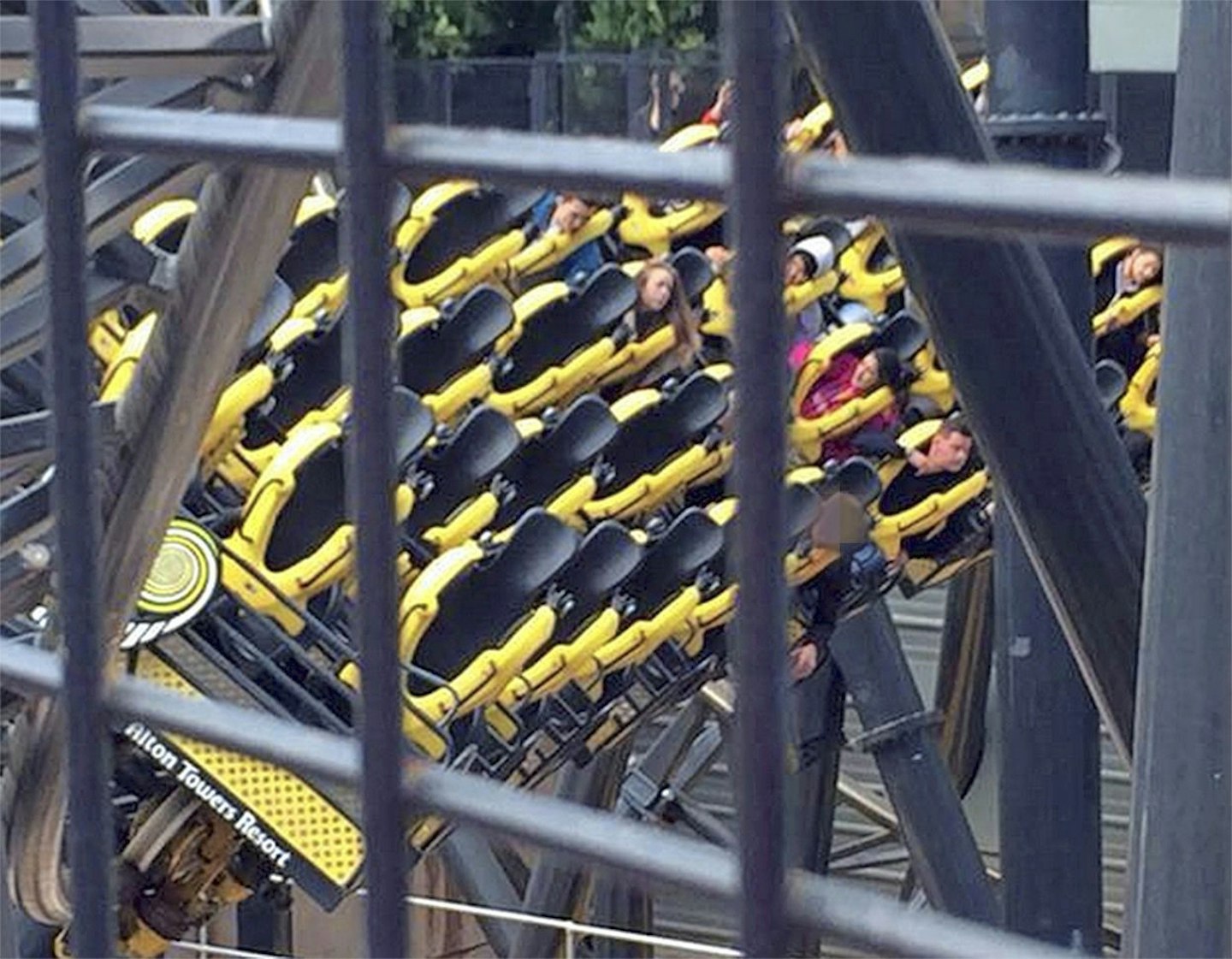 But within minutes, their carriage came to a halt, and technical issues kept them waiting for 15 minutes above a 90ft drop.
It later transpired that, after a warning light had been spotted by the operator, a test carriage had been sent around the ride but had become stuck without anyone realising. When the ride began to operate again, the passengers were headed towards disaster when their carriage hit the test one.
Leah recalls, "There was screaming and so much blood. I had my eyes open, so I saw it coming, but I had no idea how bad it was going to be. We were trapped, with my legs caught between the safety bar and carriage in front."
When they were finally freed four hours later, Joe was rushed to hospital by ambulance, while Leah was airlifted there because her injuries were judged to be more severe.
She says, "I was given lots of drugs, gas and air, so I was going in and out of consciousness. I can only remember bits and pieces, like arriving at hospital."
The couple spent that first week apart, as due to their ages, Leah was classed as a child, while Joe, then 18, was sent to the adult trauma ward.
Leah says, "My time in hospital was a blur, but learning that my leg had been amputated was extremely traumatic. I couldn't stop crying. Joe and I both had therapy to deal with the trauma, and I was given
a wheelchair, which I used for three months."
Joe recalls, "Although we'd been texting on the wards, it was so awkward when we were reunited a week later. We didn't want to talk about that day – we wanted to block it all out."
Leah adds, "I was nervous about what Joe would think of me as my leg had been amputated, but he reassured me that it didn't matter. Luckily, I have quite a strong, positive mindset, so I knew that this was my life now and that I just had to get on with it."
Due to Leah's life-changing injuries, she had to put her university plans on hold. She was fitted with a prosthetic leg two months after the crash, so her days were a cycle of physiotherapy and hospital appointments, while Joe was able to continue with his university plans.
Leah says, "It was upsetting, but I had to focus on my health and adapt to this new way of life. Before, our biggest concern was that we were going to different universities. There were times when we both thought we wouldn't make it as a couple, especially as we rarely saw each other. But we texted every day."
But bonded by their experiences, the couple's relationship grew stronger. Six months after the crash, they supported each other when they were invited back to the park, when it was closed to visitors during the off-season.
Joe says, "Leah was hesitant at first, but it was part of our closure. We cried the whole time, even on the drive there. It was so surreal to see the ride that changed our lives."
Leah said, "It was actually mine and Joe'simmediate family who were affected the most by what happened. Our parents struggled to deal with how much our lives had changed."
Along with the other victims, Leah and Joe successfully sued the owners of Alton Towers for £5million, and in 2017, Leah bought a bungalow adapted to her needs.
Initially her parents lived with her, but in November last year, they left and Joe moved in. Joe says, "I lived with Leah and her parents during lockdown as a trial run, and it went really well. It's so nice having our own space."
It was on a city break holiday to Venice this March that Joe decided to propose.
He says, "We'd spoken about marriage before, but Leah didn't suspect a thing. I knew she wouldn't want a public proposal, so when we went down a deserted side street on our second-to-last day, I decided to pop the question. We were taking photos for Leah's Instagram account, and I told her to turn around so
that I could take pictures of the back of her outfit.
"While she was facing the opposite direction, I got down on one knee. When she turned back, I showed her the ring."
Leah says, "I burst into tears. It was such a surprise. After everything we've been through, we've had to grow up quickly, so I didn't want to rush into marriage. But the time felt right."
The couple celebrated with drinks on a rooftop bar and called their loved ones to tell them the news. Although still early into their engagement, Leah and Joe are planning to tie the knot in May 2024.
Their happy ending has sparked well-wishes from those who remember them from the accident, but for Leah and Joe, that day is well and truly in the past.
Leah says, "Even now I think, 'Wow, that actually happened to me.' Although certain triggers, like seeing something on social media, can bring back memories, most of the time, it doesn't cross my mind any more.
"We want to spend a lifetime appreciating each other, seeing the world and just being happy. That's all that really matters."
Get the best real life stories each week in Closer magazine.