There's no point denying it; when we were little girls, almost all of us fell in love with Disney. And, now that we're older, we can see why so many of us plan weddings inspired by our favourite Disney films. After all, every classic fairytale features a gorgeous gown - and what could be better than a Disney-inspired wedding dress?
For those in the know, Disney do actually have their own official bridal range - which means that, yes, you can buy a gown inspired by your favourite Disney princess.
From Frozen's Elsa to Beauty And The Beast's Belle, check out the newest additions to the gorgeous Alfred Angelo collection below.
THE DISNEY WEDDING DRESS COLLECTION
Elsa - Frozen
Glistening like ice and snow, this ethereal gown recreates all of Elsa's frozen magic - complete with a dazzling sheer tulle cape. Which, as we're sure you'll imagine, will make for one seriously spectacular entrance! We have a feeling that this gown would suit any bride as empowering and strong as her princess inspiration.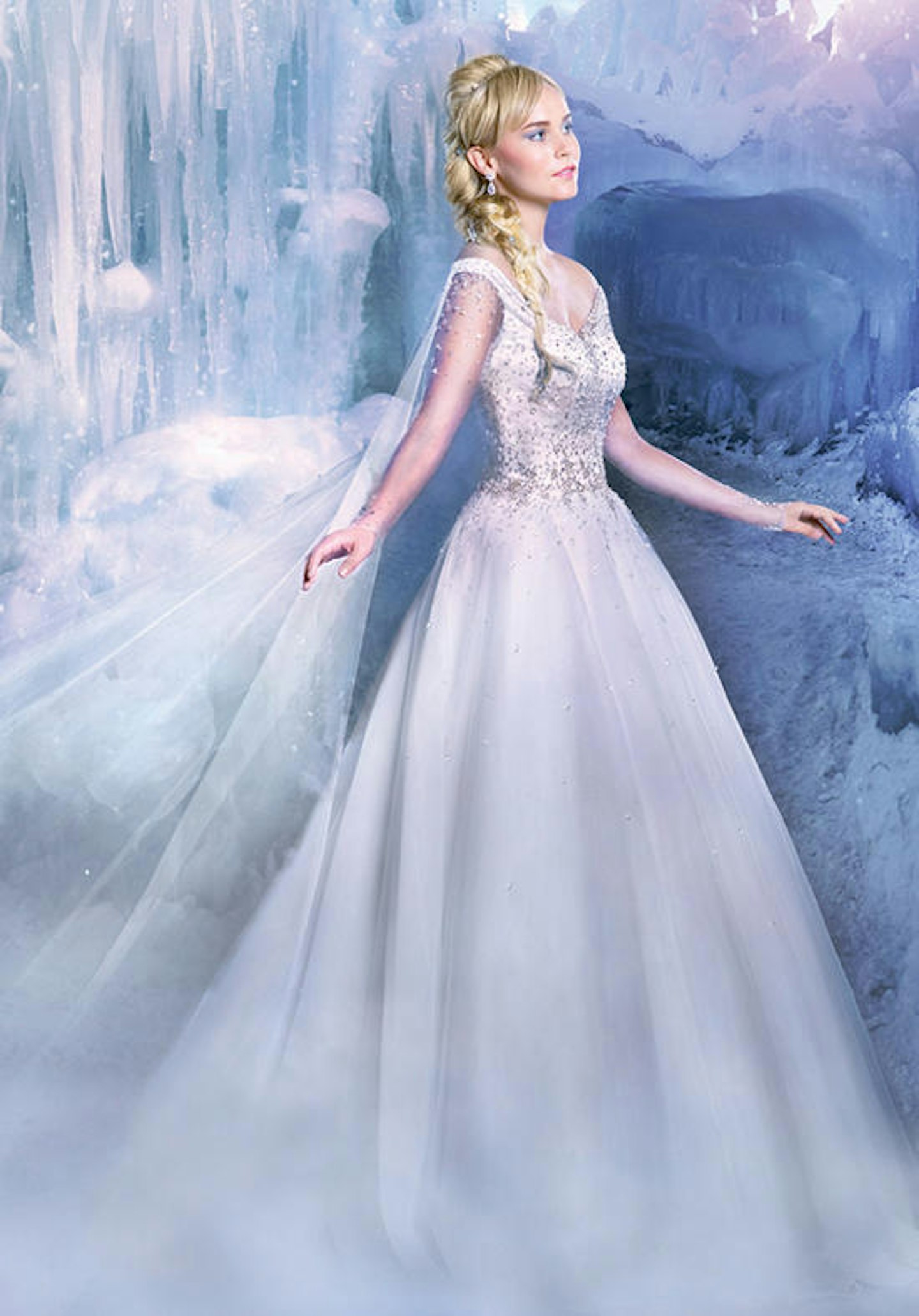 Elsa, £1497, Alfred Angelo
Ariel - The Little Mermaid
This adventurous, graceful and free spirited gown truly embodies the unconventional princess of the sea - and we love how the organza sit has been carefully ruffled to look like frothing ocean waves. We desperately want to make it part of our worlds right now!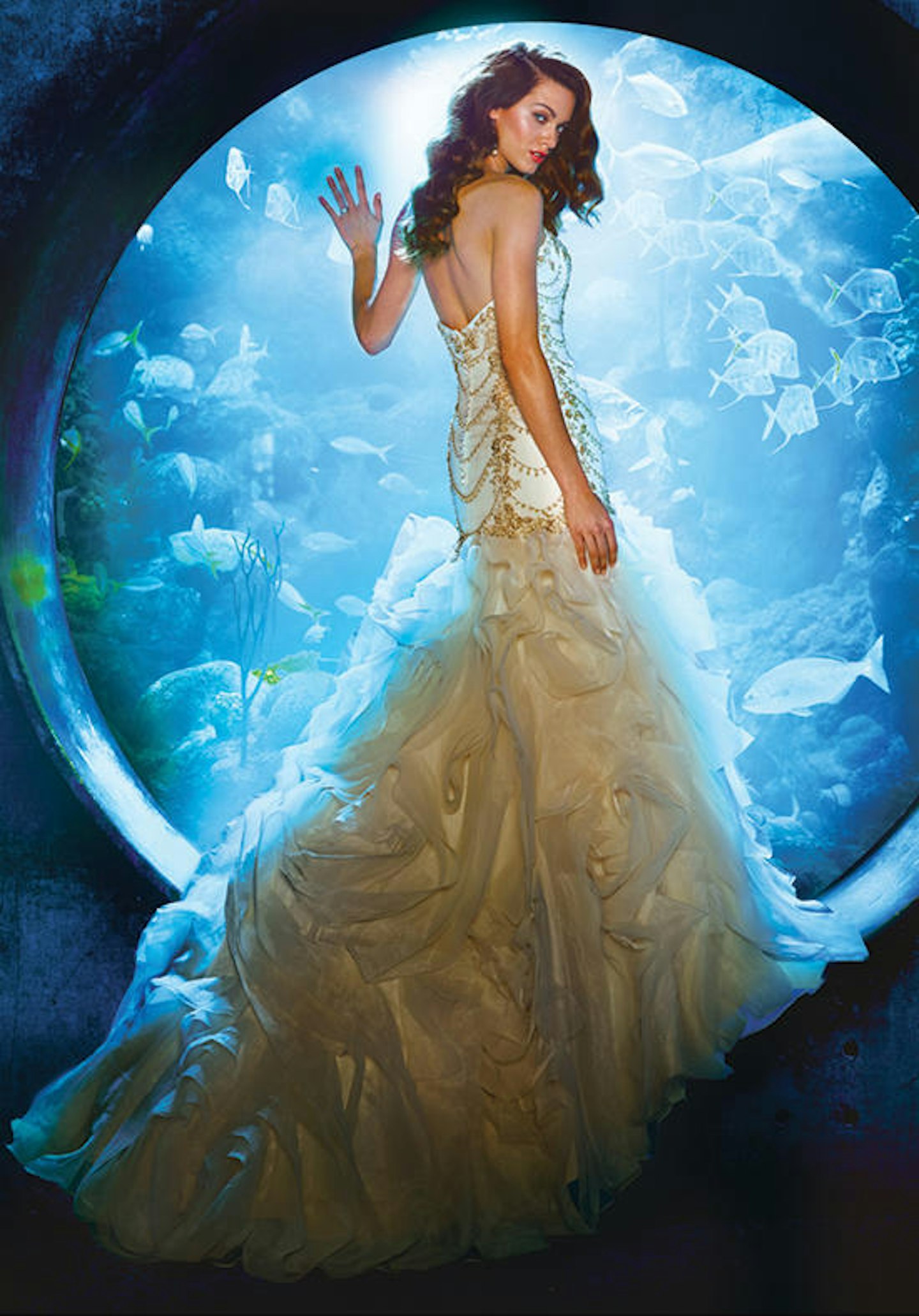 Ariel, £1425, Alfred Angelo
Cinderella
Cinderella's dress remains one of THE most memorable of all time - so it makes sense that the clever folk at Disney Bridal have put a lot of effort into recreating it for the modern-day bride. Think clean, classic, and timelessly beautiful - with a touch of regality for good measure. You'll want to stay up dancing long past midnight in this one!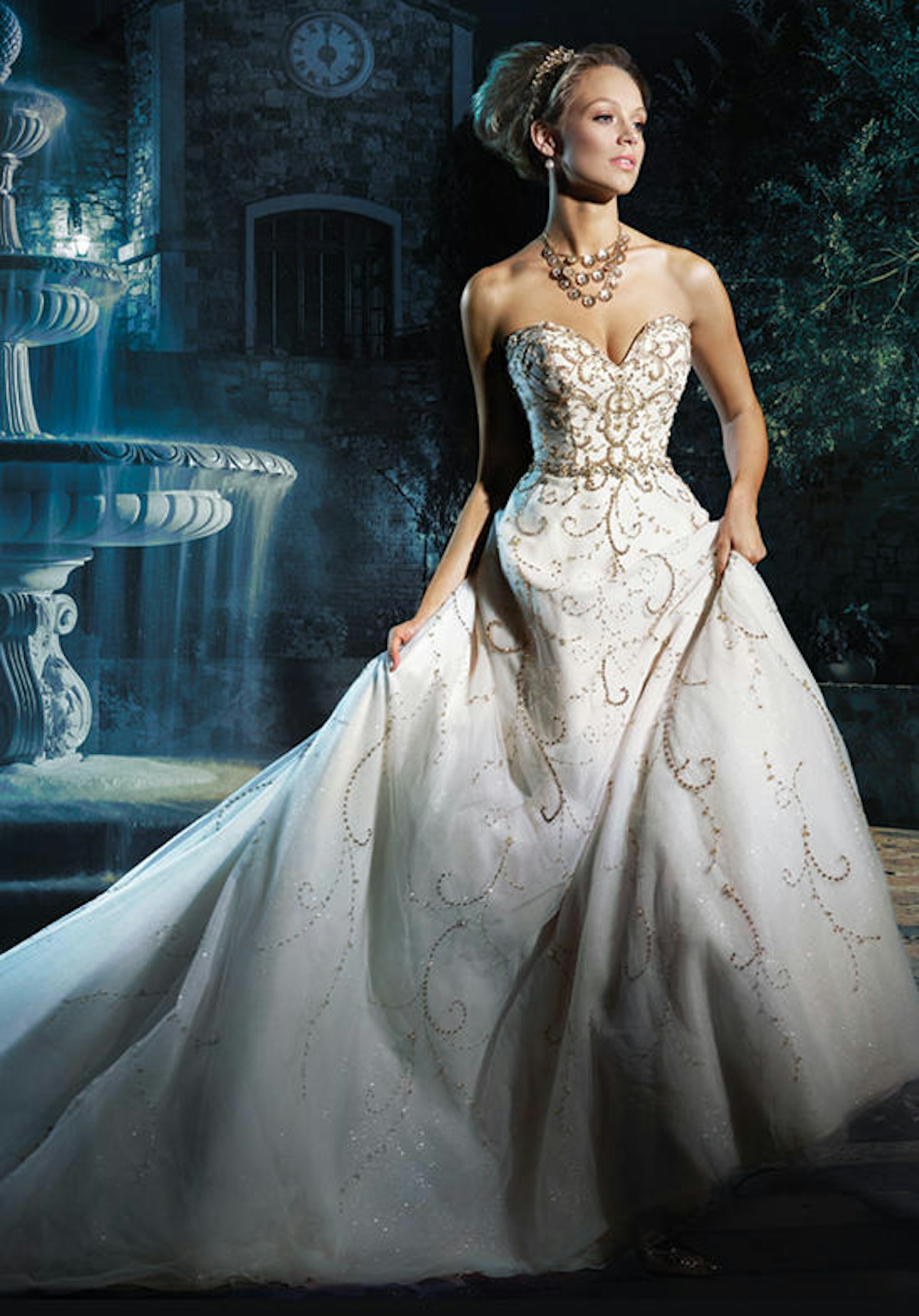 Cinderella, £1497, Alfred Angelo
Jasmin - Aladdin
Glittering like the sands of Agrabah, this strapless tulle and glitter net gown is bold, sexy, and exotic - perfect for any adventurous Jasmin ready to embark on a magic carpet ride with her future hubby. We love the detailing to that sweetheart neckline; anyone else planning on asking the genie for one of these?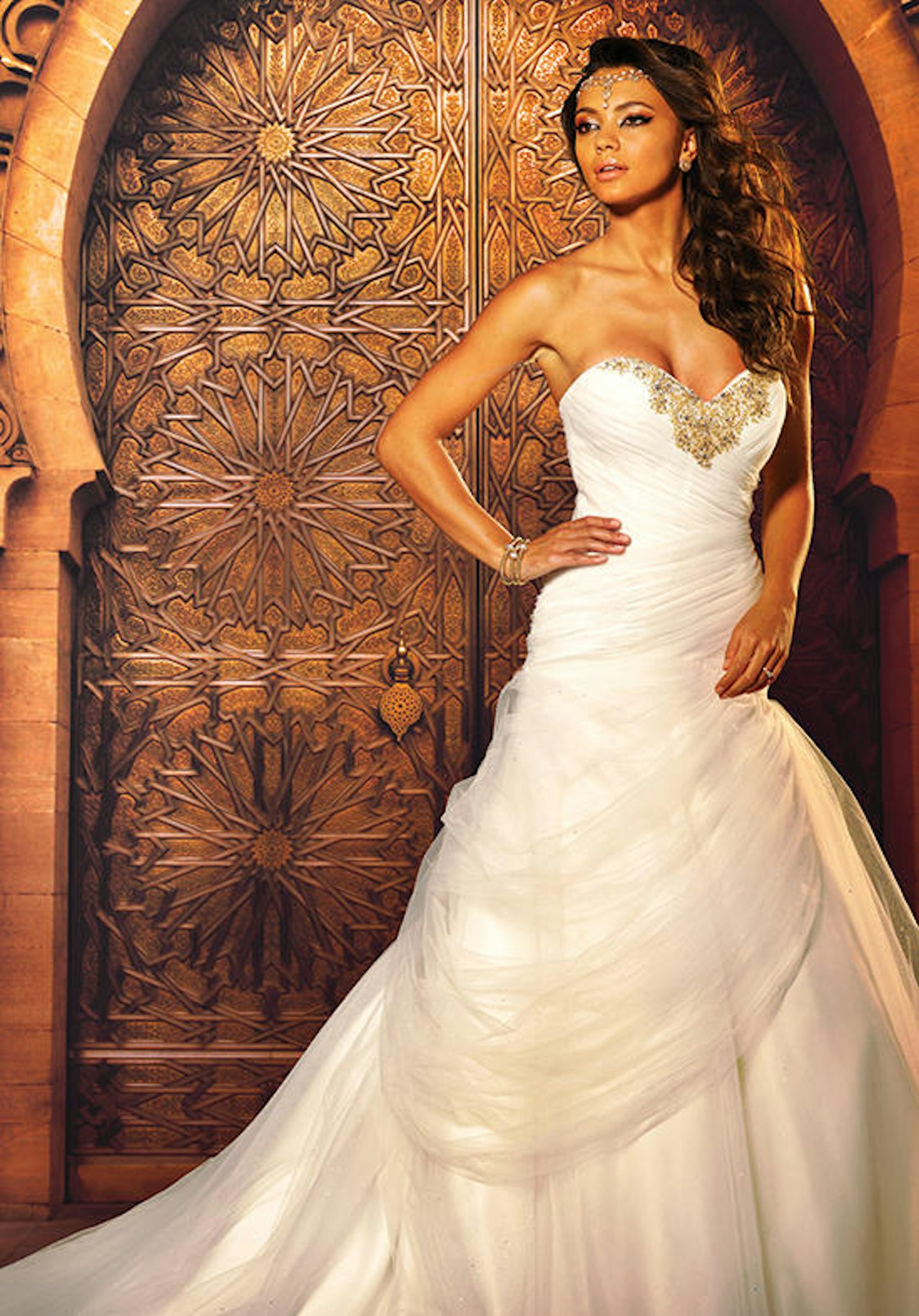 Jasmin, £999, Alfred Angelo
Aurora - Sleeping Beauty
As fans of this classic Disney fairytale will remember, Aurora donned a magical dress that changed colour as she danced across the ballroom floor - after having a REALLY good night's sleep, that is! This reimagination of her gorgeous gown is feminine, stylish and graceful - and all that organza means that it floats as if it was once upon a dream. Perfect.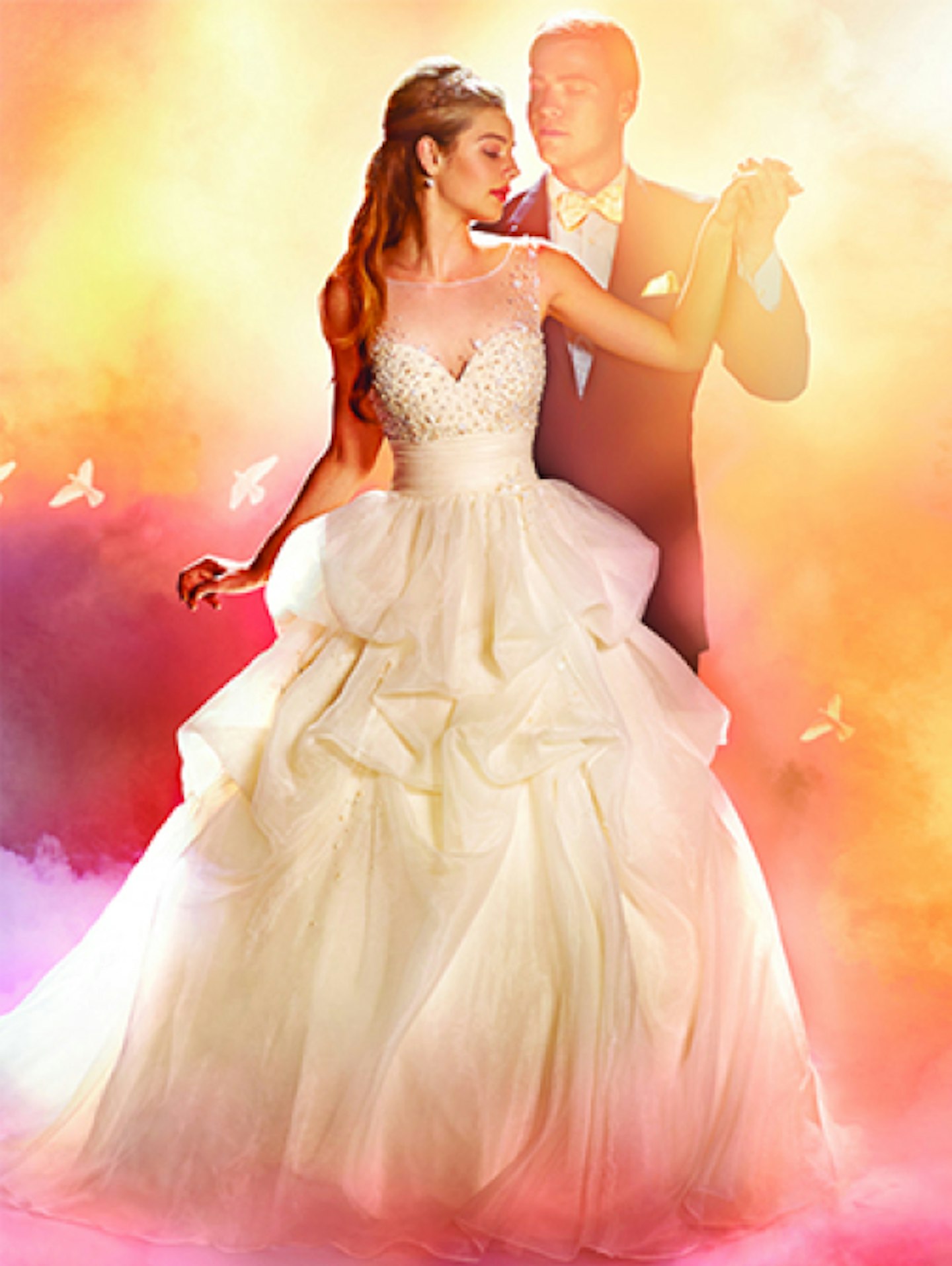 Sleeping Beauty, £1275, Alfred Angelo
Tiana - Princess & The Frog
This lavish embroidered gown captures all the glamour of the 1920s - and all the spirit of New Orleans. Think lots of tulle, crystals, golden embroidery and sheer, delicate material for a wedding dress that is truly fit for a hard-working princess.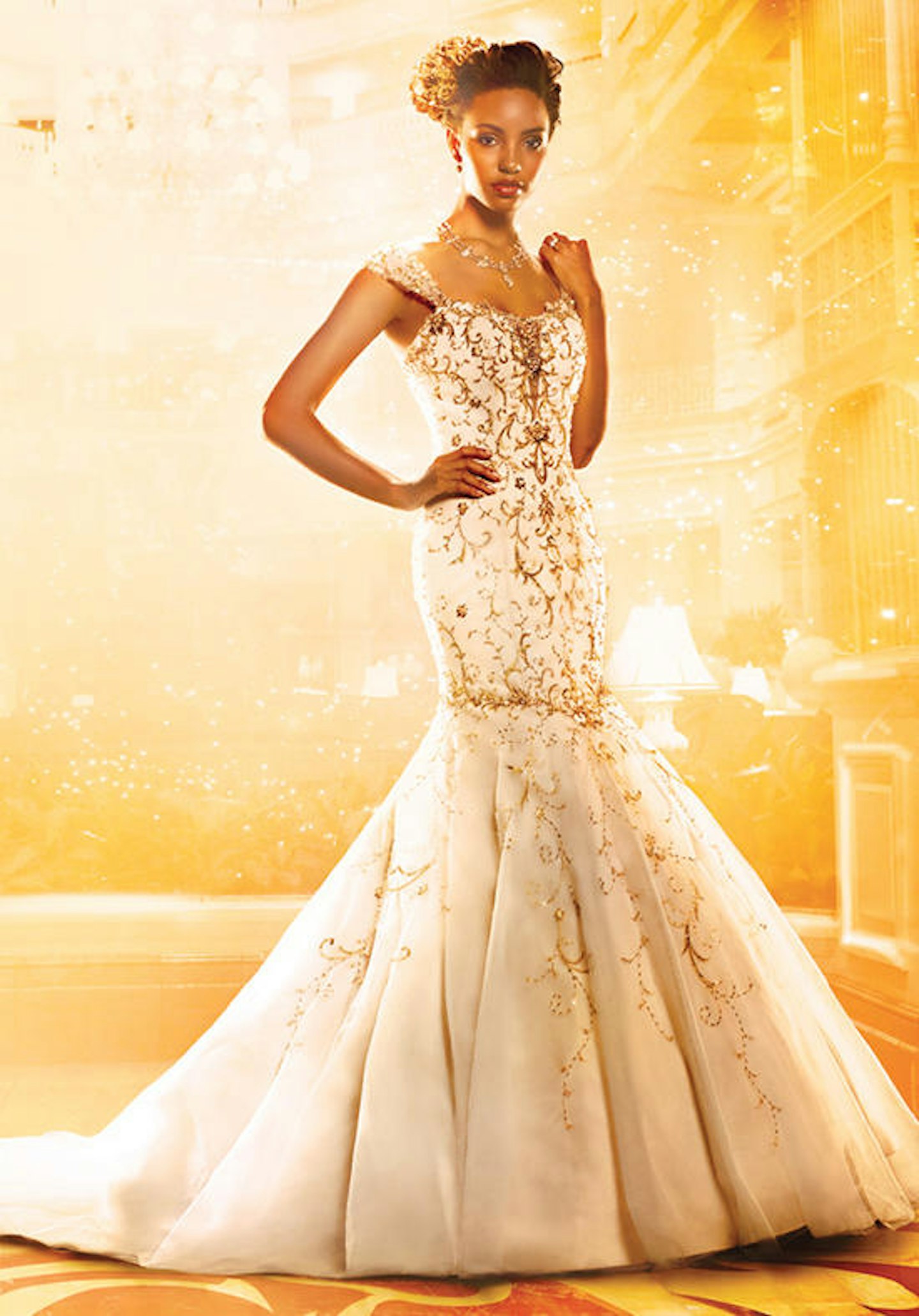 Tiana, £1455, Alfred Angelo
Belle - Beauty & The Beast
This luxurious gown has been beaded with pearls, crystals, metallic beading and rhinestones - and it features the same draped skirt design as Belle herself wore in the original Disney film. Throw in the intricate bodice and the chapel-length train and you have something truly beautiful.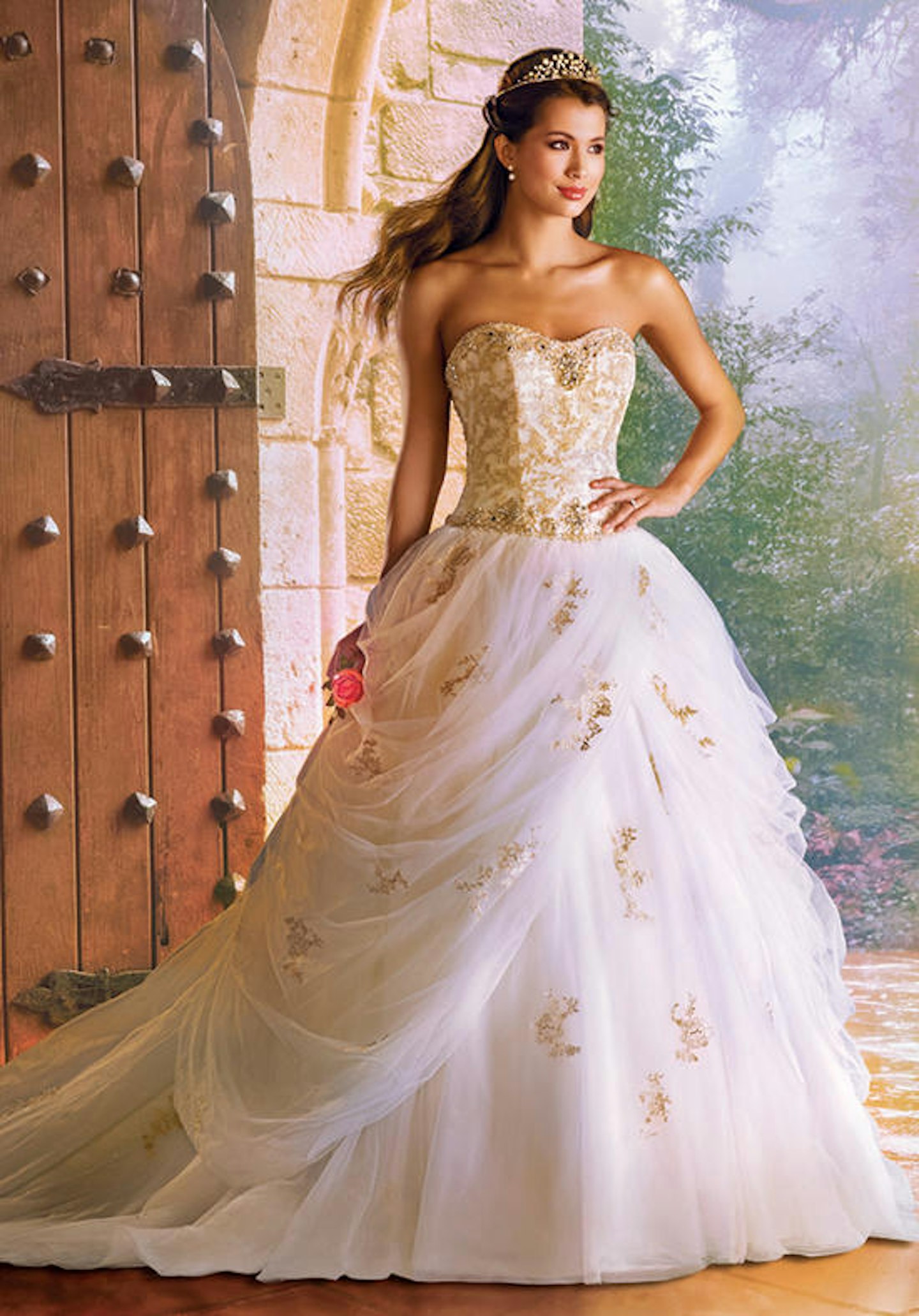 Belle, £1575, Alfred Angelo
Rapunzel - Tangled
Rapunzel may have worn an ill-fitting purple raggedy dress for the majority of her movie, but the adventurous heroine soon swapped it for a whimsical gown befitting a true princess at the end. This gown encapsulates all of that royal glamour, with shimmering tulle and dramatically trailing lace. We love it!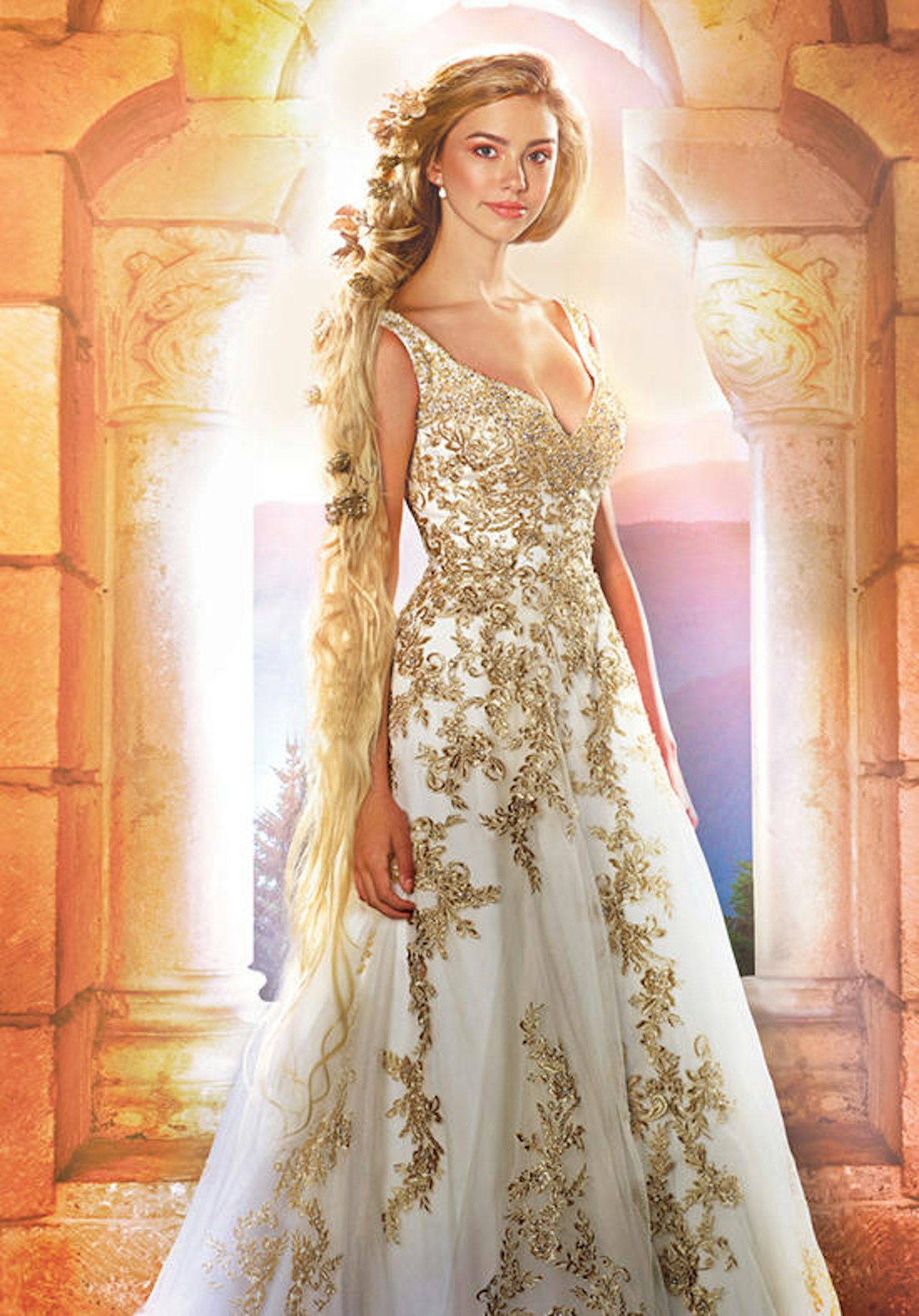 Rapunzel, £1497, Alfred Angelo
Snow White
She was the first iconic Disney princess - and the folks at Disney Bridal have truly done the fairest in the land proud when it comes to reimagining her stunning gown. Think delicately feminine details, a deep sweetheart neckline, floral embellishment, and ultra-regal lace. The result? A classic gown with a unique twist - perfect for exemplifying your natural beauty.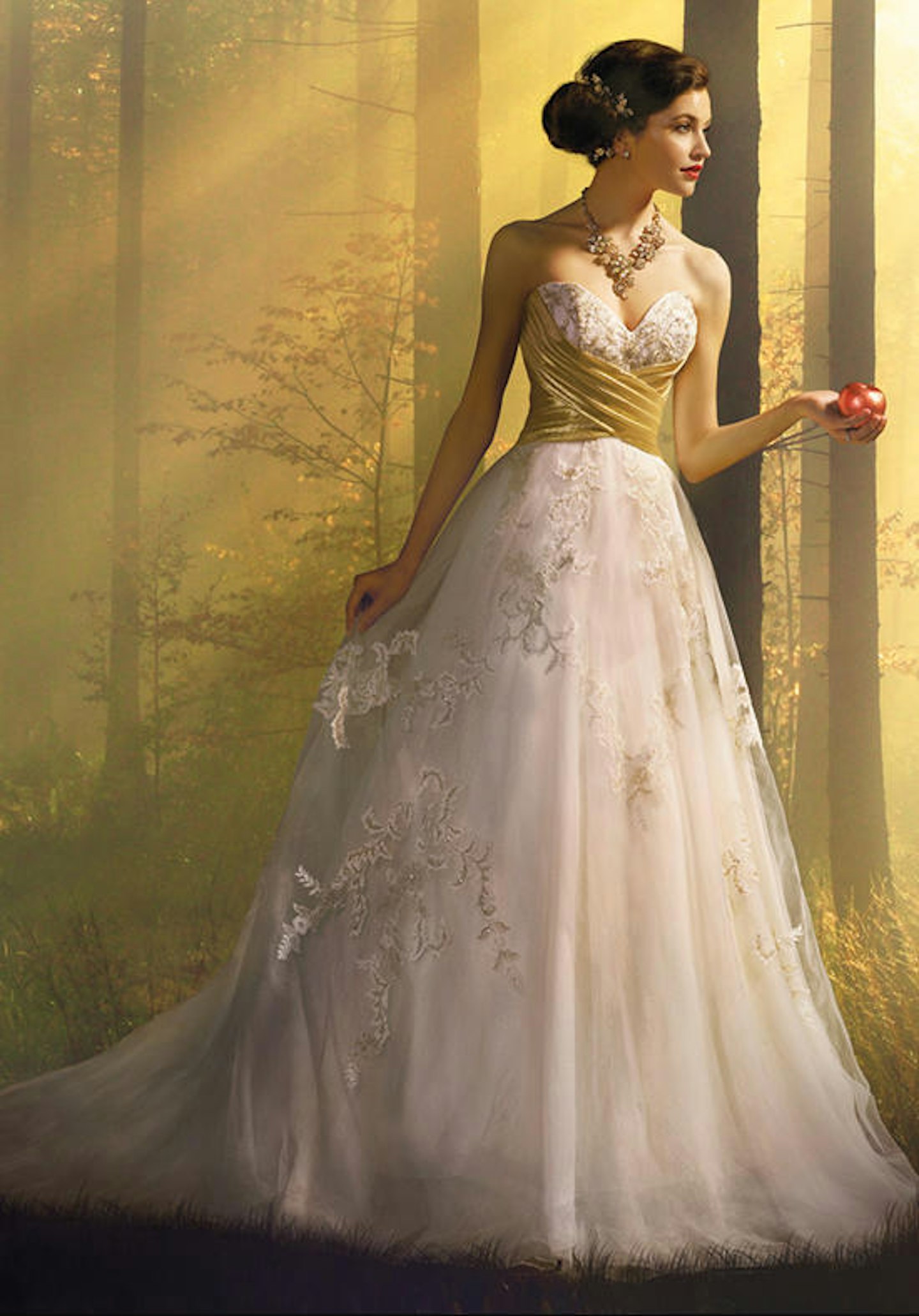 Snow White, £1455, Alfred Angelo
Which of these Disney wedding dresses is your favourite?
Let us know via Facebook or Twitter (@CloserOnline) now.