Look, I'm not going to lie. When it comes to holidays, I'm very much a four - five star all-inclusive kind of woman. I work full time, I have two small children (aged six and two), I have – seemingly – signed up to decide every single meal that gets made and eaten at home. So, when it comes to holidays I want to r-e-l-a-x.
I'm also, sadly, not a millionaire. So, once my little boy hit school age it became clear that there's no way the four of us can go on a sun-soaked holiday during the scandalously spenny school summer holidays.
OR CAN WE?
Spoiler: we very much can. We went to Eurocamp and it was – honestly – fantastic.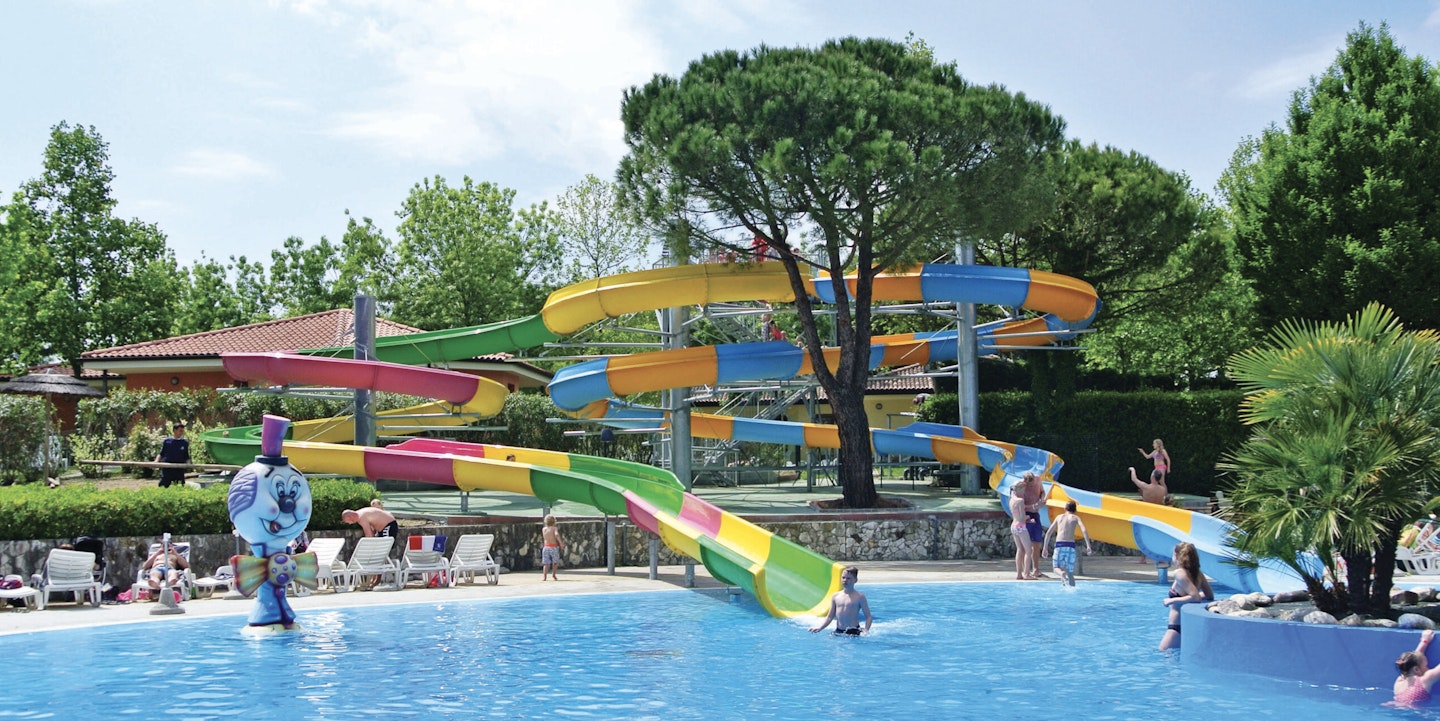 Eurocamp Bella Italia Lake Garda
For our first ever Eurocamp experience we went to Eurocamp Bella Italia on Lake Garda.
We chose it because it's within taxi ride distance of Verona airport, we could fly direct from Gatwick for a non-insane price with British Airways, and because the kids' pools looked good. Also because it's a five star resort as some habits die hard.
And the pools are amazing. In fact, let's call it a pool complex. It's a lot bigger than I'd appreciated from the website. There's a pool deep enough for jumping in that has three slides and daily aqua aerobics. There's a pool that I think is meant for actual swimming that enforces a swimming hat rule, there's a sweet toddler pool, and two more pools with three more sets of slides. Slides galore! Also a splash park. AND more pools that we didn't get around to visiting. Basically, if your kids are water babies they'll love it.
You'll read lots of reviews online in which people complain about a lack of loungers. This wasn't an issue for us as the children are so young they can't be in the pool unsupervised, so we left our towels on the buggy and when we wanted a rest we sat in the outdoor snack bar which always had seats. The lounger situation didn't seem any different to most hotels I've been to though.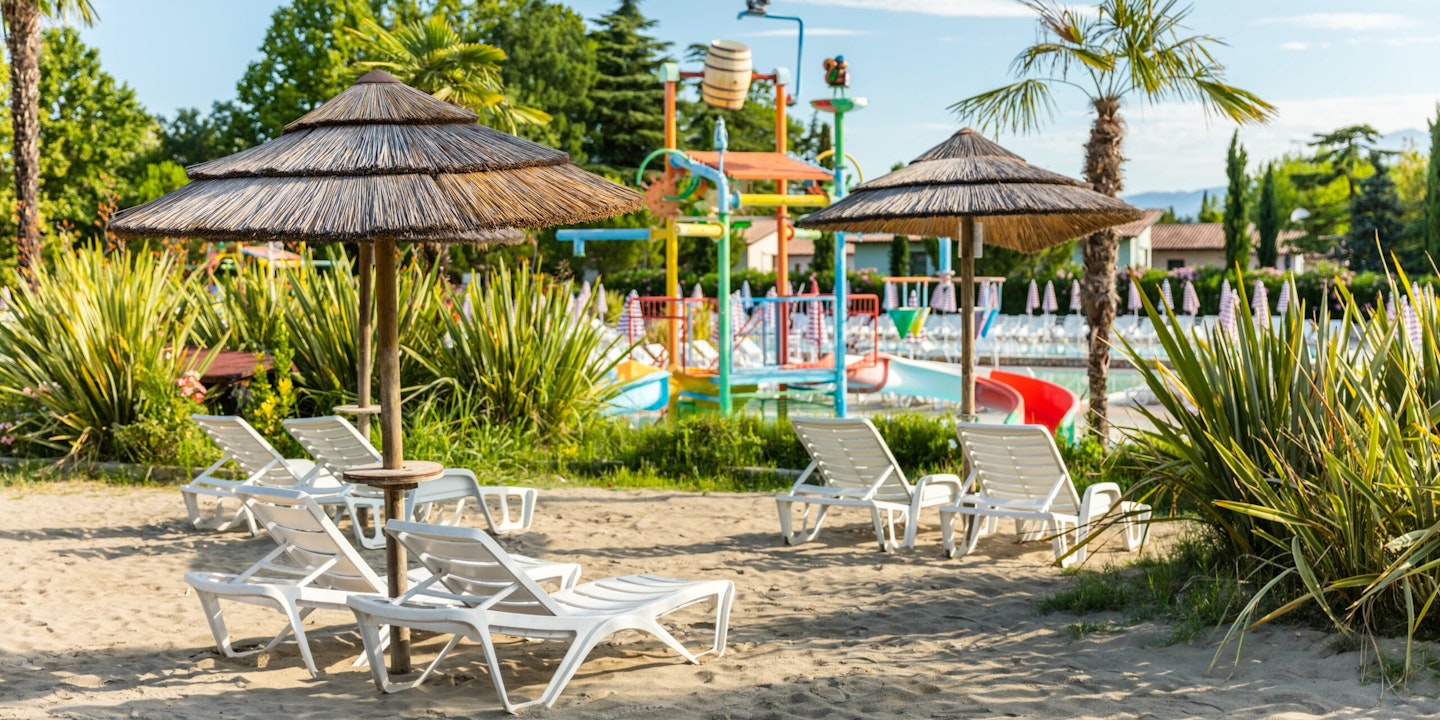 Things to do in Eurocamp Bella Italia
During the day, there's a kids' club for children over the age of four, there's lots of little playgrounds scattered throughout the site, and a sports area with trampolines. I thoroughly recommend going to the onsite bouncy park that's open from 5:30pm – 10:30pm. It's 5 Euros a child but well worth it.
There's also a mini disco which my six year old liked, and a little fairground that's reasonably priced at 2 Euros per ride.
Honestly? There's not a lot to do if it rains, which it did for two days of our trip. But hats off to the lifeguards who heroically opened the pools on day two of the rain.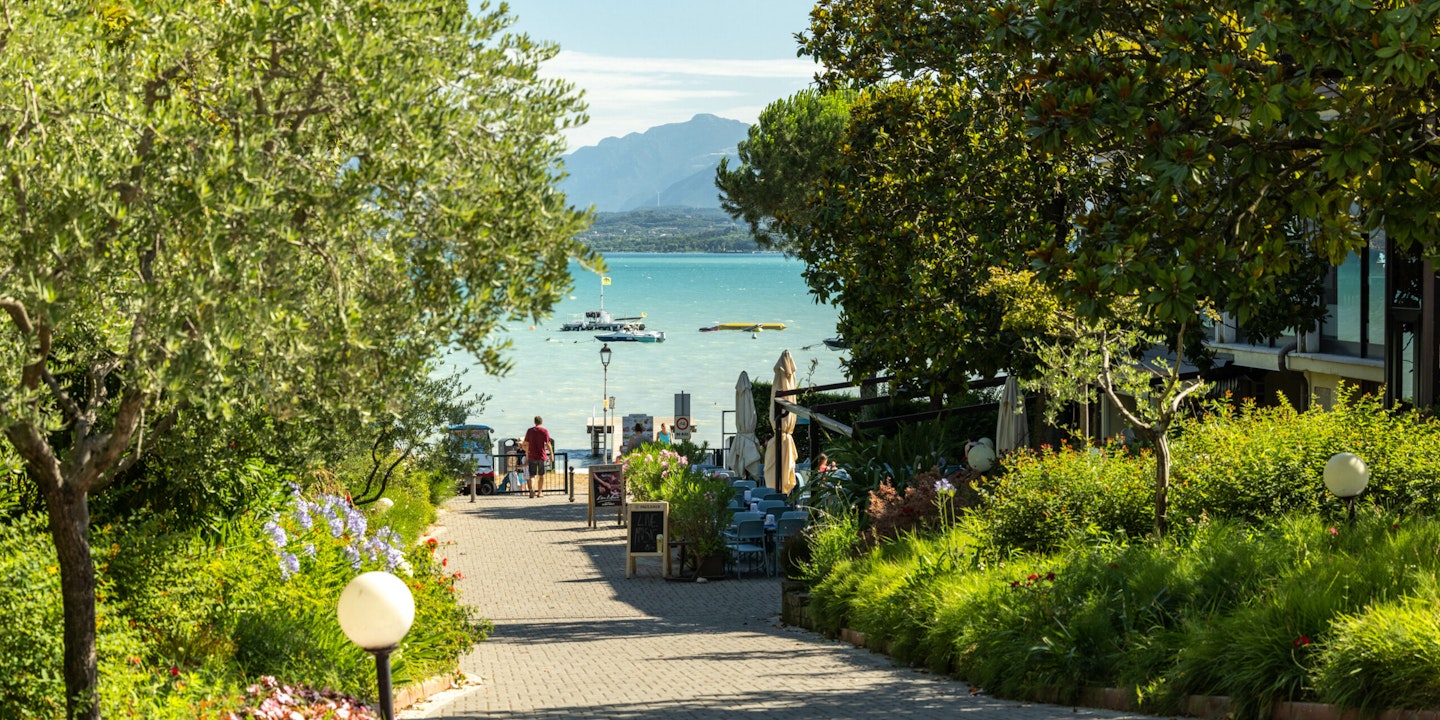 Things to do in Lake Garda
Lake Garda is just gorgeous. The water's warm and clear and there's no chance of a jellyfish getting you (just me?). There are decently priced activities such as pedalo hire for 8 Euros for 30 minutes, or a canoe for 10 Euros.
You can also walk along the lake to the nearest town, Peschiera, in about ten minutes.
Restaurants in Bella Italia
We tried two out of the four. Le Terrazze has a view of the lake and, Corte Riga a pizzeria in an impressive setting in a courtyard. They're both fine and reasonably priced but honestly? We much preferred walking into Peschiera for an evening meal.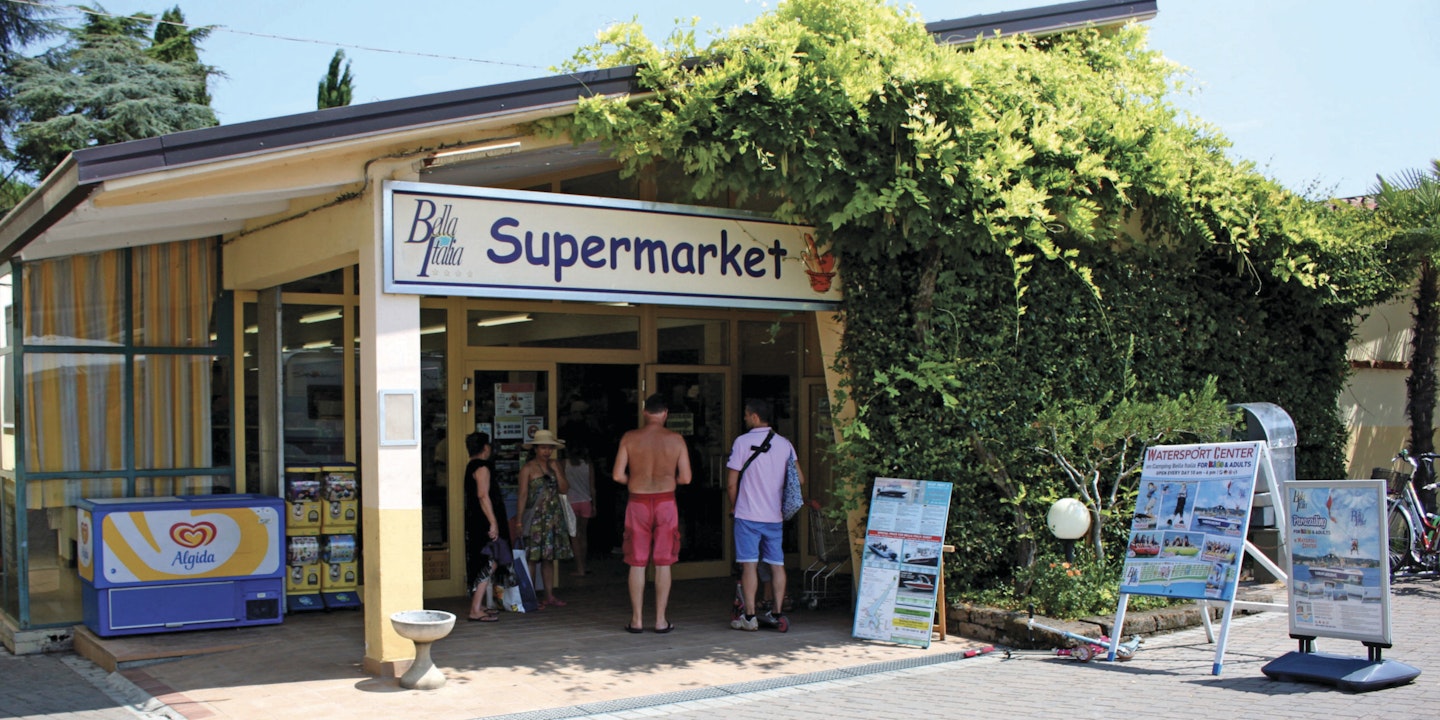 Food in Bella Italia
We ate our breakfast and lunch on our lodge's terrace. There's a supermarket and greengrocer on site and prices vary from reasonable to mad: 5.6 Euros for butter is a LOT (but sadly much the same as in the UK). Wine is, of course, cheap though, so swings and roundabouts. There are two Lidl supermarkets within walking distance of the site and we did our big shops there. But our kids loved queuing at the onsite supermarket in the morning for fresh bread and choosing between a huge selection of croissants each day there. They strongly recommend the chocolate ones.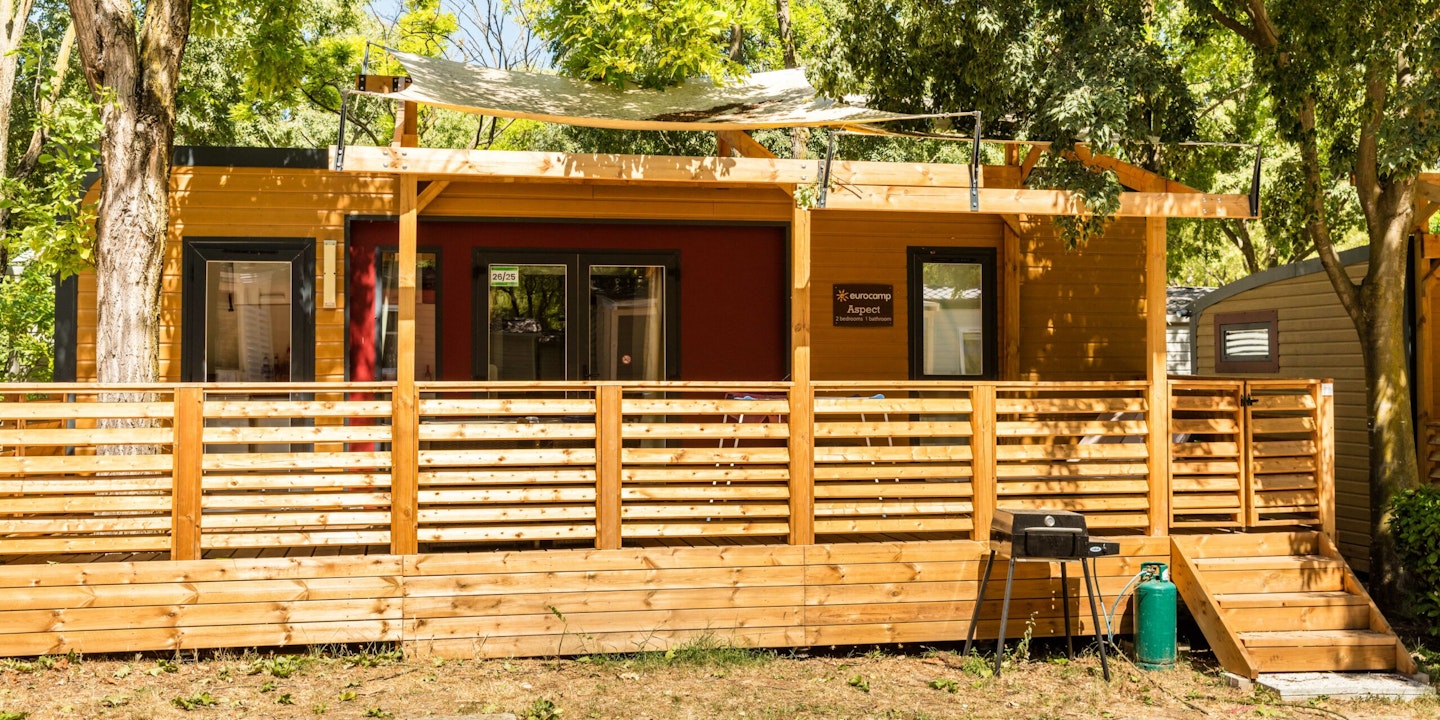 Eurocamp accommodation at Bella Italia
We stayed in a three bedroomed Azure comfort plus home. The bedrooms were pretty compact but the living space large and the deck a treat. And it was extremely clean, as was the whole site – there's not a bit of litter anywhere.
We pre-ordered towels and linen, which I'd recommend, but make sure you take some laundry tablets with you as towels and linen are not changed during your stay. There are a number of laundrettes on site and a 30min wash is 5 Euros.
You need to pay a 100 Euro housekeeping deposit, which I think is pretty standard for European holiday parks, and you will need to clean before you go. Eurocamp let you leave your key behind in the lodge, rather than handing it in at reception, which is great.
Speaking of leaving, we were absolutely gutted to go, and I'm completely converted to a Eurocamp holiday. See you next year? I hope so.
A seven night stay for four people in August 2024 at Eurocamp Bella Italia starts at £1,706.00.