Grab a tissue and have a look at our pick of the 15 most romantic moments from our favourite group of Friends.
Ross and Rachel's first kiss
Probably one of the most iconic moments from Friends' 10 year run, this marked the beginning of Ross and Rachel's on/off/on again/off again relationship. The passionate kiss, the rain, the music – it's just perfect.
Monica and Chandler's proposal
This episode had our emotions all over the place. While Chandler was trying to convince Monica he hated the idea of marriage to keep his planned proposal a surprise, damn Richard was trying to win her back. Chandler thought he'd lost her but Monica was planning a surprise of her own. Who knew a joint proposal could be so romantic?
Carol and Susan's wedding
Finding out your wife is leaving you can be hard, and it can make you resent them and their new partner. But, when Ross' ex wife Carol got cold feet about her wedding to new partner Susan, he put his feelings aside and made her realise it was the right thing to do and that she and Susan belonged together. And we love that, even though they broke up, Ross and Carol were still such good friends.
">
Chandler in box
Kissing your best friend's girl/boyfriend is wrong, never do it. Chandler did do it though, and then took it one step further by falling in love with Joey's girlfriend Kathy. When Joey found out, he banished Chandler to a box to 'think about what he's done.' When Kathy came to break up with Chandler – through said box – Joey cracked and let Chandler chase Kathy to stop her leaving.
Joey and Janine
When Joey started to have feelings for Janine, he desperately tried to score a kiss with her at the premature New Year's Eve event they were both working on. His attempts failed but, back at the apartment, she finally kissed him and the pair started dating.
Rachel is over Ross
This episode taught us that you should – no matter what – never get drunk and tell someone you're over them, via voicemail, when you never even told them you were, erm, under them. Poor Ross, he spent his whole life being in love with Rachel and, just as she started to feel the same, he was with Julie. But we all know how that one turned out…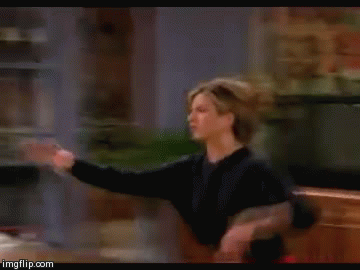 Mike proposes
We were devastated when Mike and Phoebe broke up, so when he went to Barbados to try and win her back we were definitely rooting for him. Sure, we felt a bit bad for David, but Mike had tried twice before. You know what they say about third time lucky…
Monica and Chandler find out they can't have children
While this may not seem romantic, finding out you can't have children can put an incredible amount of strain on a relationship. This could have very well spelled the end of Monica and Chandler's relationship, but they promised each other they would get through it together. It gives us faith that true loves conquers all.
He's her lobster
Ross had made a list of good and bad things about Rachel. She found the list and was so, understandably, angry, that we thought the pair would never get together. Cue a video of Monica and Rachel's prom, where we see Ross preparing to take Rachel to prom before she leaves with another guy. Touched, Rachel kissed Ross, and Phoebe happily announced that Ross was Rachel's lobster.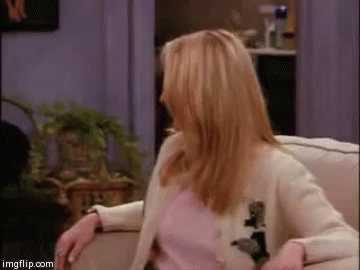 Monica's chicken dance and Chandler's 'I love you'
Ever the great girlfriend, Monica tried cheering Chandler up by dancing with a chicken on her head. So happy with this, Chandler blurted 'I love you' for the first time, confirming our hopes that these two were going to be together for a long time.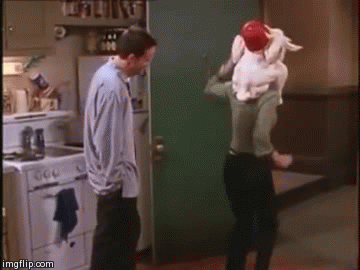 Ross says 'no'
When Rachel's dad had a heart attack, in an emotional state she came on to Ross. Putting his attraction for her aside, Ross said 'no', not wanting to take advantage of her. This is romantic because it showed just how deep Ross' feelings for Rachel were, and made us want them to stop being stupid and get together even more.
Joey and Rachel stay friends
They tried, they really tried, but Joey and Rachel just weren't meant to be together like that. Eventually they realised, and in a show of true friendship, they put the awkwardness behind them and decided to stay best friends. This taught us that sometimes you have to decide whether you friendship with someone is something you would be willing to risk losing to try and take things up a notch.
Phoebe and Mikes wedding
Throughout the series, we learned that Phoebe didn't exactly have the best life. So when she and Mike got engaged, we were so happy for her. But her emotional speech during their wedding – after Chandler walked her down the aisle – about everything ever missing from her life was standing in front of her (Mike), left us unable to control our emotions.
Rachel gets off of the plane
Possibly one of our favourite Friends scenes ever, this was what we had been waiting for for years. In the last episode (sob), Rachel was gong to Paris, leaving behind her friends and Ross. However, on the plane she realised that she can't leave him and calledto tell him that she loved him and that she was going back. While on the phone, she tried to get off of the plane but the annoying flight attendant wouldn't let her. This left Ross listening to the message in distress, shouting out, questioning if Rachel ever got off the plane. 'I got off the plane.' Those three words were – and still are – the cue for our floods of happy tears.