Keeping fit and maintaining a healthy lifestyle is a surefire way to feel your best, but how do the celeb lot do it? Is it a fancy juice plan? A PT to the stars? Sauteed kale that's been whipped up by a personal chef? Or do they have plenty of wellness tips that the rest of us could steal to help us on our own well-being journey? Believe it or not, it's often the latter. We speak to celebrities and influencers to find out exactly how they stay fit, look after themselves inside and out and ultimately feel great.
This week it's all about Saffron Barker, the YouTuber and Strictly star who provides us with plenty of workout motivation, chatty vlogs and fashion inspo.
Saffron lives and breathes fitness and despite being just 21-years-old, has already racked up many sporting accolades including running the London Marathon (more than once!), being an ambassador for Bulk and Gymshark and sharing her journey into the world of callisthenics (a strength-training and gymnastics hybrid which focuses on bodyweight exercises).
Saffron chats exclusively to Closer Online about her callisthenics journey, protein Coco Pops and her game-changing running tip for beginners...
What does your current workout routine look like?
So, before I was doing lots of running as I was training for the London Marathon last October. However, my workouts have changed recently because I've started getting into this thing called callisthenics, which is almost like street gymnastics, but it's all lifting your own bodyweight. It's my new passion, I'm genuinely obsessed with it and it requires a lot of strength.
My workouts still include walking and running, but most days I focus on upper body and callisthenics. I can't train the bottom part of my body because I get heavier and it's going to be harder for me to lift myself.
With callisthenics, I have a trainer and there isn't really a workout plan I follow as everyone moves at their own pace. Being able to lift your own body weight is one of the hardest things ever. Even if you could lift that weight in the gym, to be able to lift your body strength is just ridiculously hard.
I've been training for about three and a half months now and I still can't do some of the things people expect me to, but I've definitely made progress and it's an amazing feeling.
My end goal is to do a human flag, which I explain to people is like the lampost stunt George Sampson did on Britain's Got Talent.
What are your go-to healthy meals?
I have porridge most mornings and I'm obsessed with peanut butter, I'm constantly adding it to things. Another thing I like to eat in the morning is fruit, crumpets and peanut butter.
I eat a lot of chicken, I'm always making healthy fajitas or lots of veg with chicken wraps. I also am obsessed with the Richmond Meat-Free Sausages, they are the best thing ever and they taste so good, I like making my own fajita-style meal with the sausages as well.
What are your daily wellness habits?
For me, it's about having time where I can completely switch off. I love having a bath, I honestly have a bath most days. I love going for dog walks with my mum, that's something I pretty much do every day. I also love listening to podcasts. I love Katie Piper's podcast, Extraordinary People and Steven Bartlett's, The Diary of a CEO.
Do you take any supplements?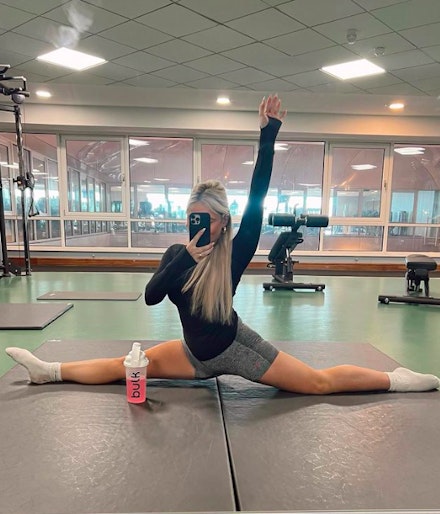 I have a lot of protein because I'm trying to build muscle. I love Bulk for protein powder (£21.99), they have so many amazing flavours. Honestly, the caramel salted flavour is the best thing ever. I have a lot of protein shakes and it sounds a bit weird, but I have Coco Pops and protein powder as a pre-gym snack. A lot of bodybuilders and people training for bikini competitions do this and it tastes so good.
What's a fitness tip you wish you learned sooner?
It took me a while to realise that fitness is just a mindset thing. Now I always tell myself how far I'm going to run before I leave the house. Otherwise, if I see how far I get, I'm more like to stop when it gets difficult. Whereas if I'm like, 'I'm running 10 miles today' I won't stop until I get to those 10 miles. This tip changed the game for me massively.
Another thing, I used to go to the gym because I wanted to change my body and look amazing, whereas I didn't really care about feeling amazing. Now I go to the gym for a completely different reason and I have longer fitness goals I want to achieve. For me, it's all about having that end goal rather than just worrying about my body image.
Who are your favourite fitness influencers to follow online?
I love Alice Liveing, I think she's really sweet and great for body positivity. I love following Nutty Foodie Fitness and she's actually one of my really close mates. She's all about body positivity and fitness and she's just amazing. I also love Anna Archer Fitness, she's a really similar age to me and posts about fitness and her workouts.
Quickfire round:
Go-to gym wear brand? Gymshark.
Favourite healthy snack? The Bulk Vegan Brownies (£1.99), they are delicious.
Usual bedtime routine? Around half 10.
Something that's always in your fridge? Almond milk.
Quote you live by? Your attitude determines your direction.
Read more on Closer Online