Let's talk about periods. For many of us, menstruation is the time of the month when we feel bloated AF, irritable and break out.
As well as tackling all the side effects that coincide with our cycle, we have the job of deciding what sanitary products work best for our bodies as well as the environment. So not a lot of pressure, then?
If you're thinking of switching from tampons and pads to menstrual cups, period pants, or even period leggings, here's what you need to know.
What are period pants?
Period pants are different everywhere you look. Some help you keep your pad in place while others help you absorb up your period if you leak. The best period underwear on the market will replace tampons or pads on your lighter days.
We spoke to period pant expert Tara Chandra, FLO's co-founder and 'SHE-EO' to see what she had to say about these nifty products.
Tara says: "Period underwear is designed to be worn like normal underwear, the difference is in the 'magical gusset'! The gusset is made of three protecting layers: a wicking layer, an absorbent layer and a bottom cotton layer (ours are made from BCI cotton).
"The wicking layer pulls your blood into the absorbent layer keeping you dry throughout the day and the bottom layer holds it all in place. We found that most people use one pair during the day and one during the night, but it all depends on your menstrual FLO!"
So, here are the best period pants that don't leak.
SHOP: The best period panties 2022
Shop period underwear UK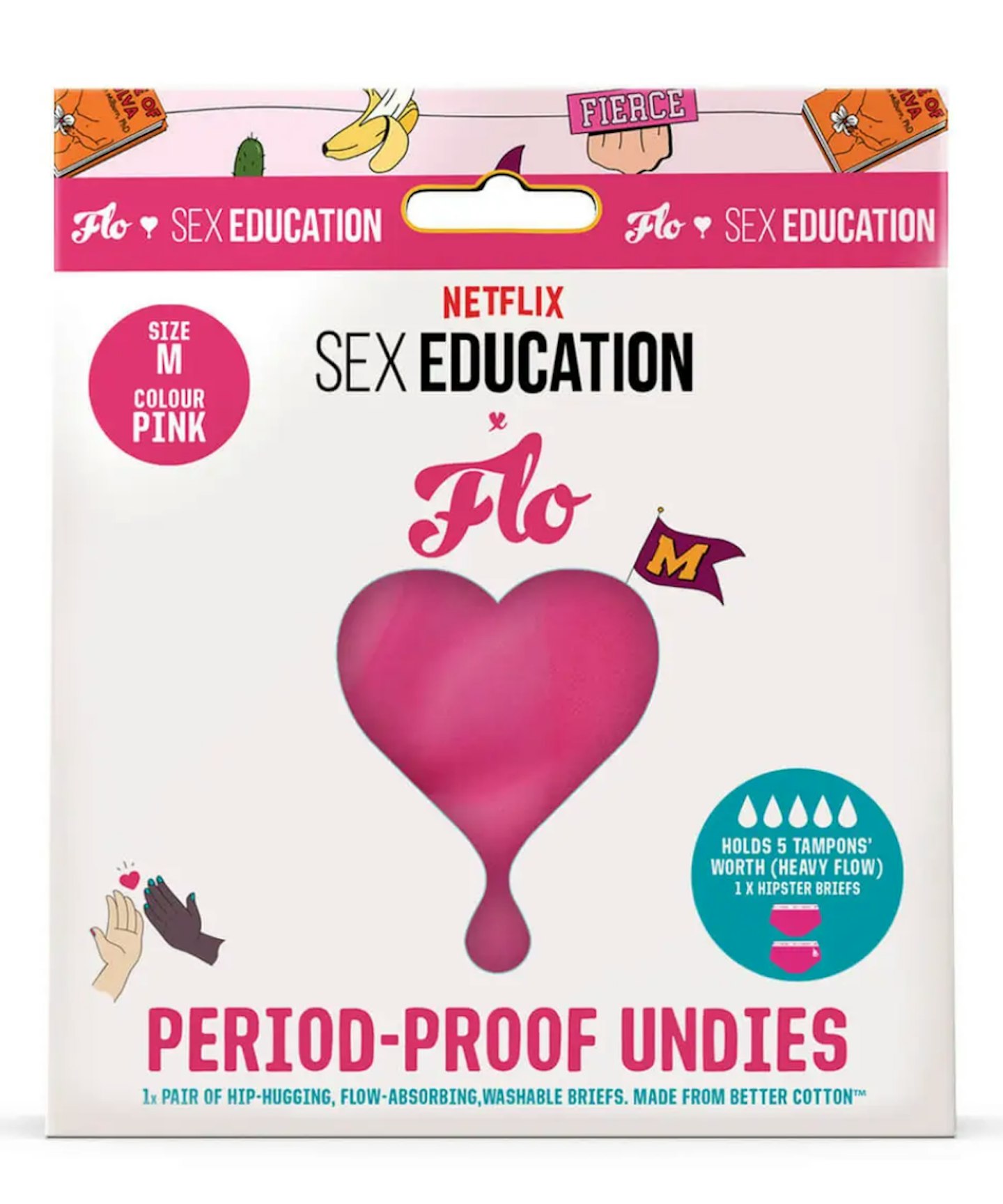 1 of 7
CREDIT: amazon
FLO Period Proof Undies
FLO has teamed up with Netflix for heavy-flow happiness in these period-proof undies. They hold up to five times the amount of tampons and are 100% organic cotton, making them an eco-friendly option.
Tried & tested by Commercial Content Writer, Caitlin Casey: "My period life has completely changed with these genius pants and I will be using them every cycle. I struggle with choosing a comfortable option for nightwear and often pads will cause leaks for me. These FLO period pants keep me locked in and are cosy to make even the heaviest of nights easy. It doesn't even feel like I'm wearing anything, which I love. Size up for full comfort."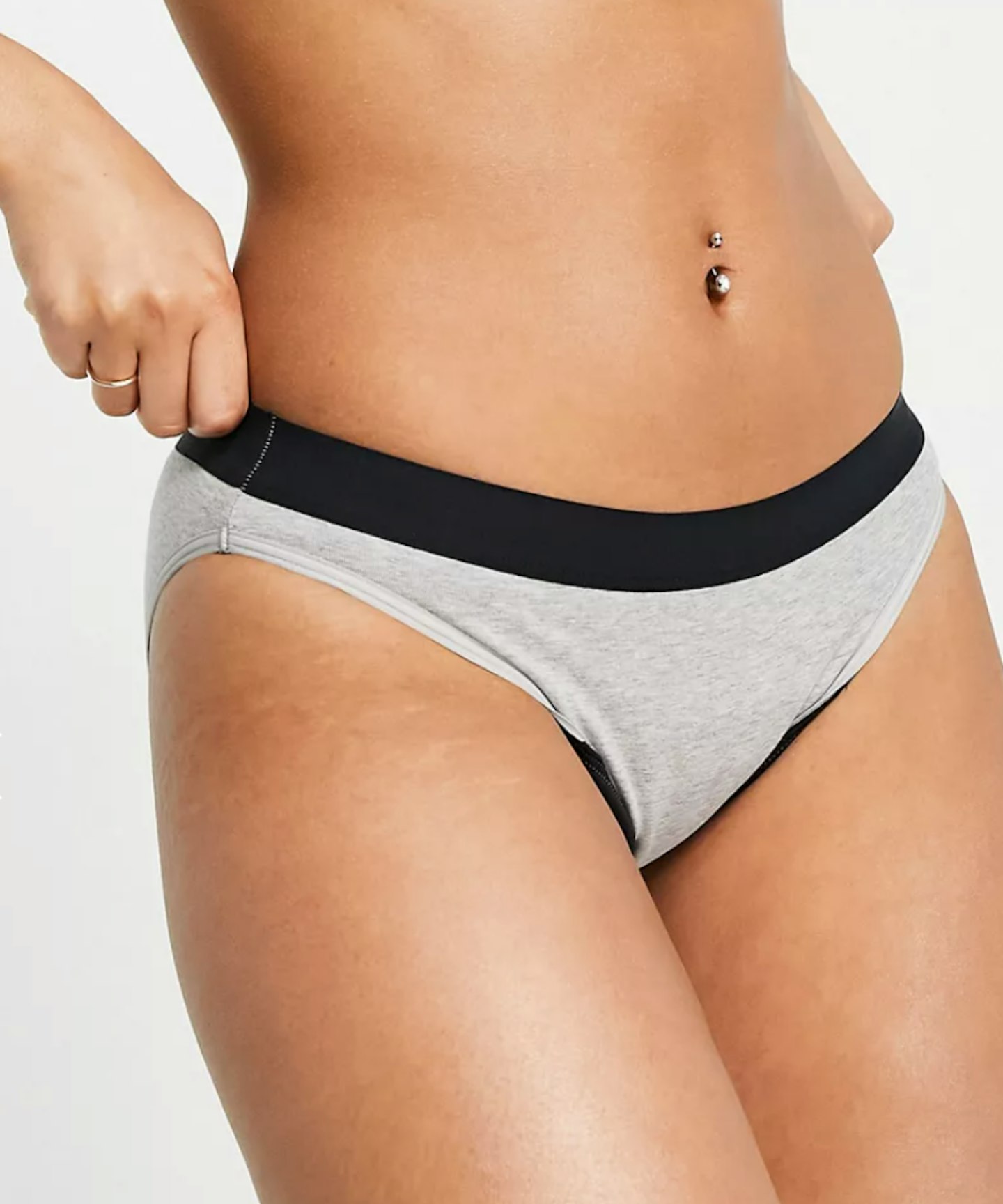 2 of 7
CREDIT: asos
Thinx For All Cotton Period Proof Bikini Shape Brief with Super Absorbency
Available in XS to XL, these Thinx For All period-proof briefs will give you that period confidence. We love how comfortable they are and how they replace single-use pads and tampons.
Review: "Nothing else gives me peace of mind and allows me to still feel beautiful on my period like Thinx! I use them as a backup for my menstrual cup. They have made periods tolerable."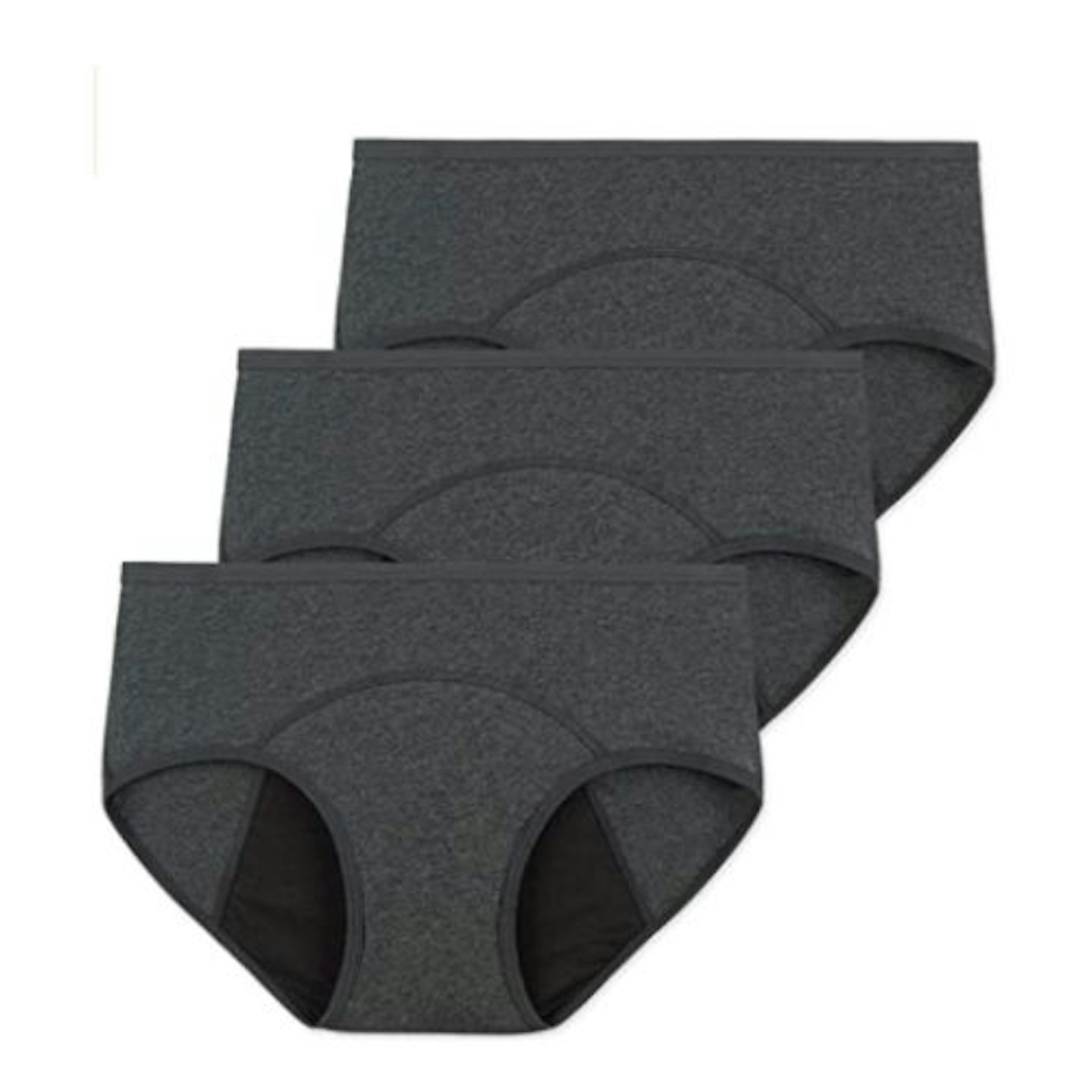 3 of 7
CREDIT: amazon
INNERSY Womens Menstrual Period Underwear
These aren't going to be the sexiest pants in your drawer, but these budget period briefs will get the job done. Available in sizes eight to 20, these will prevent any unwanted leakage at the start or end of your cycle.
Review: "I'm absolutely in love with this underwear by Innersy! To start with, as normal underwear, they're comfy and have good stretch but not too much like some cheap imitations. They're not sheer at all, with great coverage but smooth under clothes. They're perfect for the lighter bleed at the end of your period. I will be buying more of these and definitely give them ten out of ten!"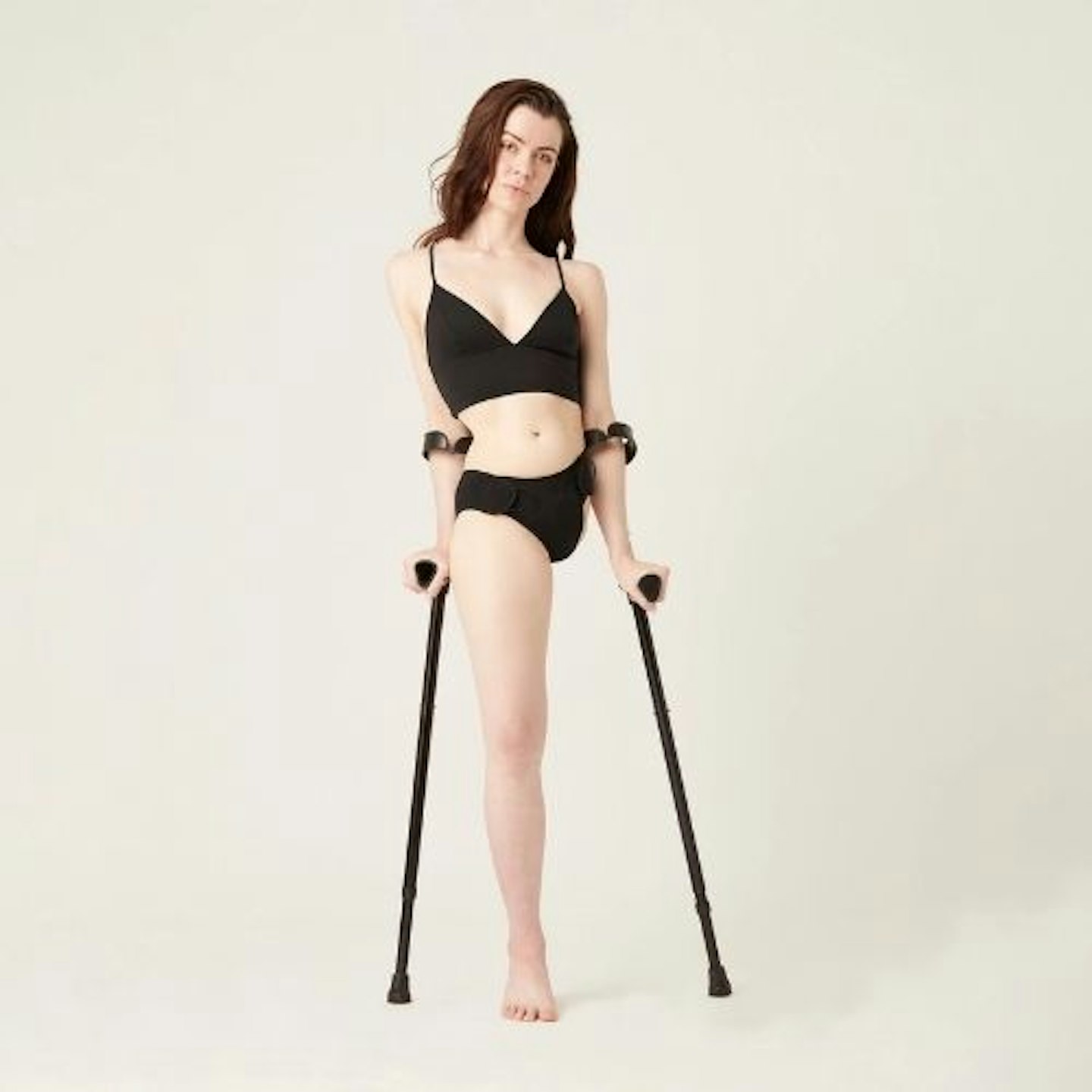 4 of 7
CREDIT: modibodi
Adaptive Boyleg (Heavy-Overnight Absorbency)
The Adaptive Boyleg is designed with disabilities and mobility challenges in mind. It features a leak-proof lining, hook & loop tape fastening and elastic hoops, which are easy to grasp, making changing simple and stress-free whether standing, sitting, or lying down.
Review: "The adaptive design actually works and is super handy for managing medical devices, and they're so comfortable."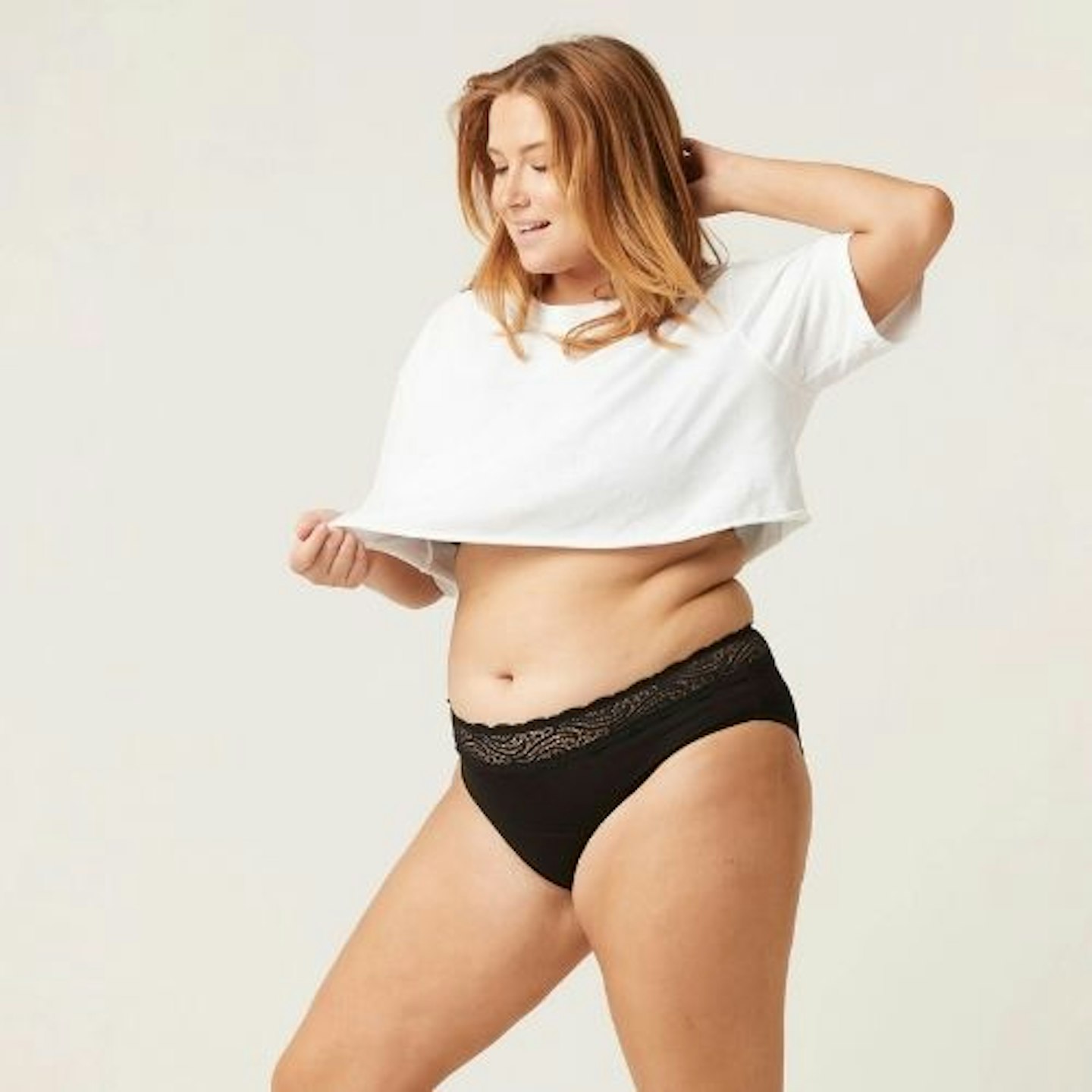 5 of 7
CREDIT: modibodi
Sensual Hi-Waist Bikini
The Sensual Hi-Waist Bikini is the ideal starter period pant because of its comfortable fit and bold design. It's for anyone whose period is light to moderate. We'd recommend using these on lighter period days or combined with a menstrual cup on heavier days.
Review: "I have worn the active briefs from Modibodi for years now and love them but I fancied trying something a bit prettier - these are so lovely!! I also love that there is no elastic waistband cutting into my tummy."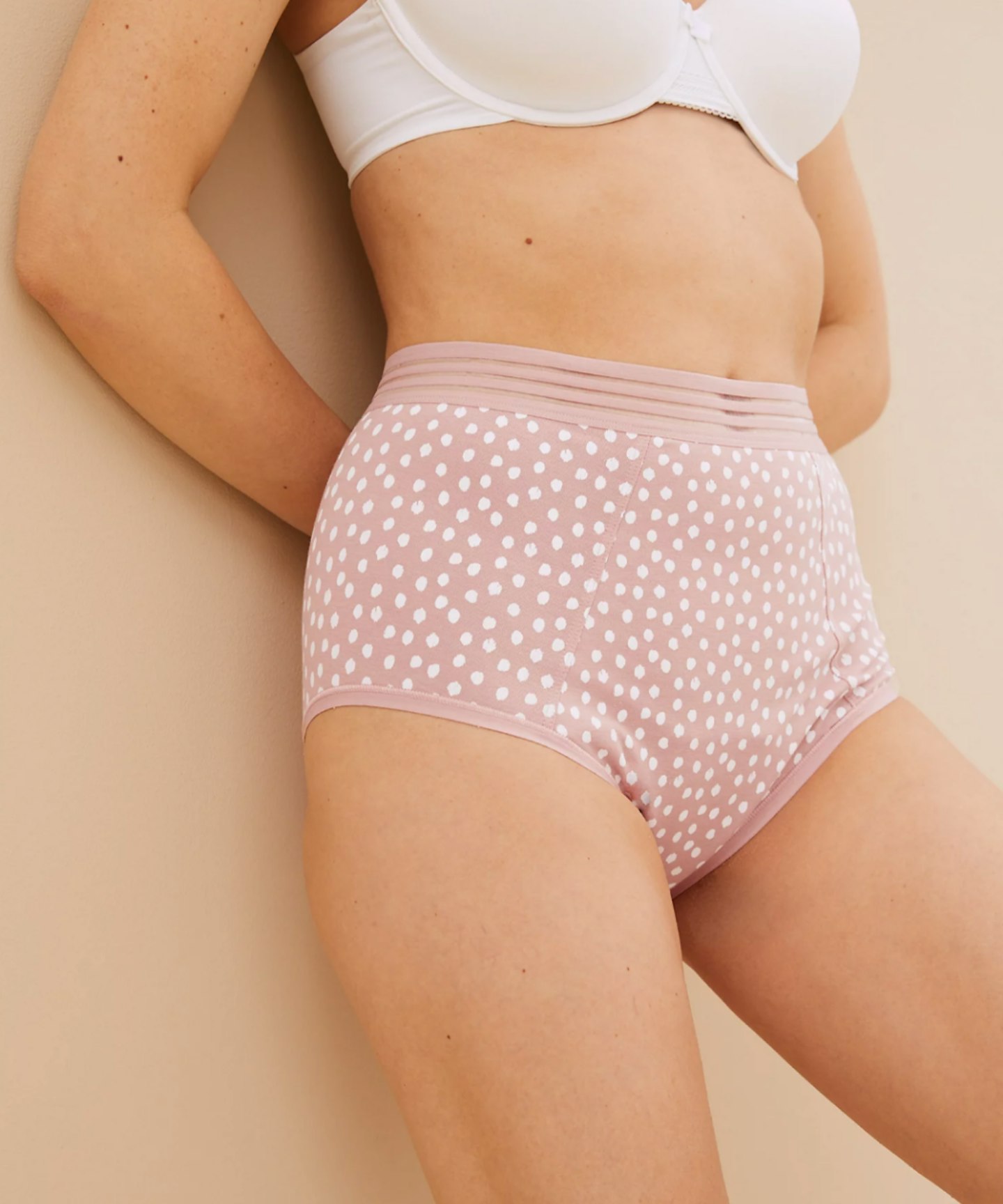 6 of 7
CREDIT: marks and spencer
3pk Heavy Absorbency Period Full Briefs
These cute period panties are all about confidence. The three-layer gusset draws moisture away from the body, with an anti-odour middle layer. Plus- the StayNew™ technology used ensures their fabric retains its softness and colour after washing.  What's there not to love
Review: "Fantastic knickers, great absorbency and wash really well."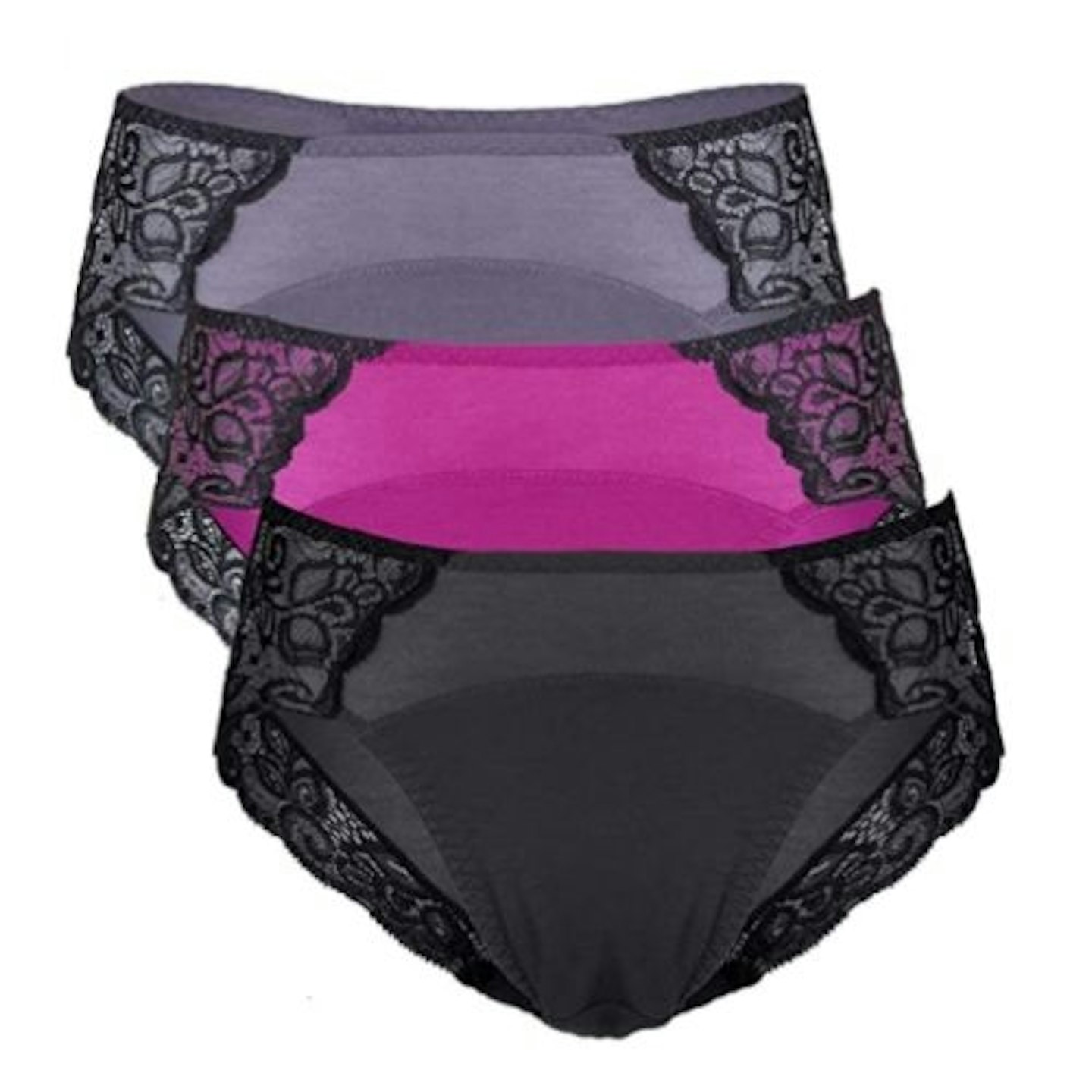 7 of 7
CREDIT: amazon
Neione Period Pants
Are you looking for extra protection for your heavy flow? These hipster knickers are the foolproof backup. As well as three different packs to choose from, these pants are available in sizes eight to 22.
Review: "These feel very silky on the outside, and hug the curves in a gorgeous way. They make me feel sexy when it's harder to feel sexy. Like with all the other period pants, these feel a little uncomfortable on heavier days. Haven't leaked on me, but I just don't enjoy the wetness. I tend to use them with a cup or on their own on lighter days. "
Period Panties FAQS
Should I still wear a pad, tampon or cup with period underwear?
There's no right or wrong answer for this, it depends entirely on your body as well as the underwear. Make sure you check the period panties' absorbency level before you buy, if you think they're right for you - try them out.
Will I still leak when wearing period panties?
Again, this depends on how heavy your cycle is and what day you're on. If it's your first time using them, we'd recommend carrying around a spare pad just in case.