We've seen him as landlord Mick Carter in EastEnders since 2013 so we're pretty sure we know everything about Danny Dyer.
However, we've rounded up all the good stuff just in case, you know, you're not fully up to date.
Who is Danny Dyer's wife?
Danny Dyer is married to Jo Mas. The pair were childhood sweethearts and they've been together since 1992 - when the actor was 19. They married in 2016 after Jo Mas proposed to Danny on Valentine's Day.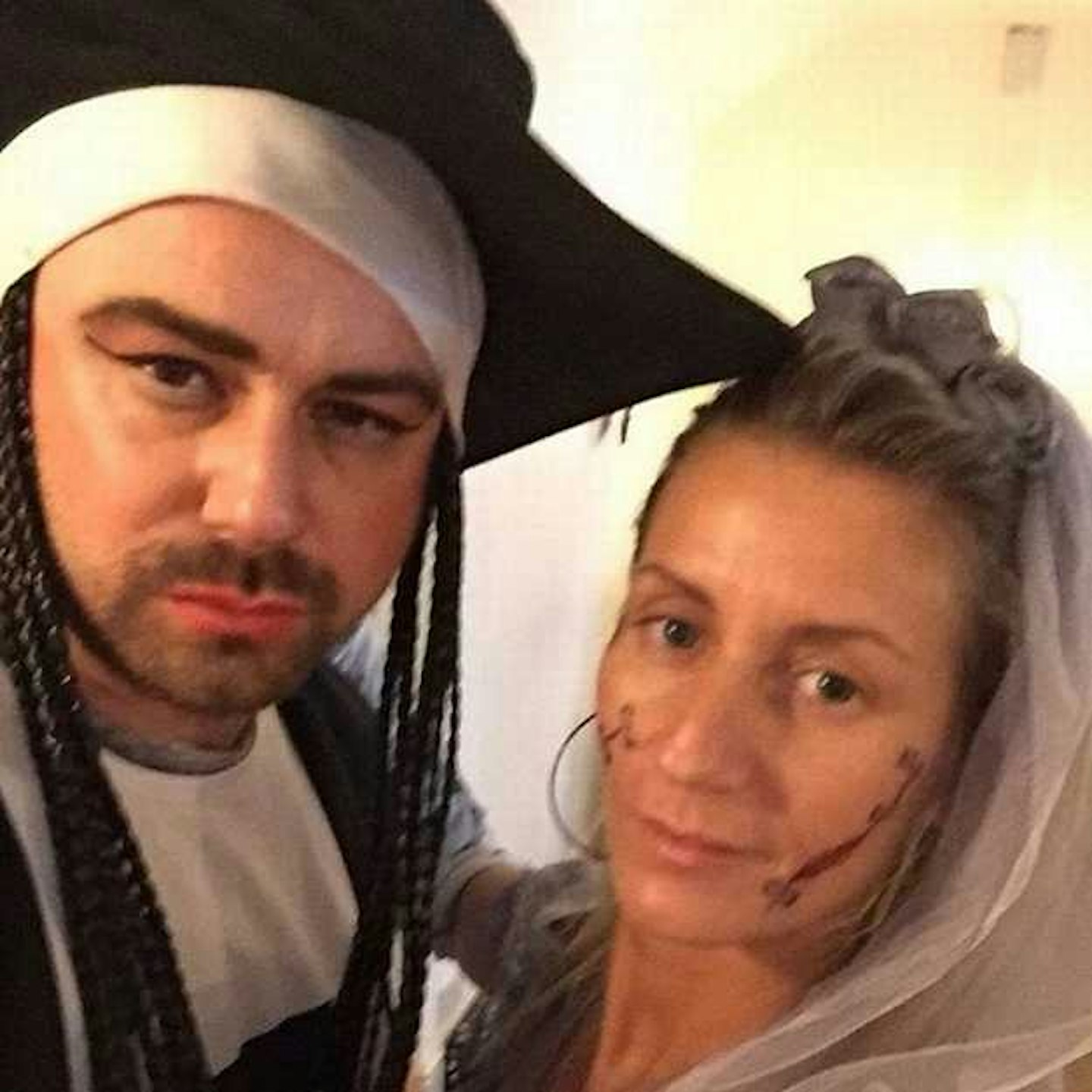 Although generally quite private about their personal life, Danny sometimes shares photos of himself and his wife letting their hair down and having a knees up.
When did Danny Dyer get married?
Danny and Jo's Hampshire ceremony in 2016was a beaut. Speaking in the run up to the big day, Danny said, "I have left it to the missus. At this stage, I am just a guest. I don't even know the postcode."
How old is Danny Dyer?
Oi, cheeky. But if you must know, Danny was born on 24 July 1977. He was raised in East London, obvs.
Who is Danny Dyer's daughter?
Unless you've been living under a rock, you'll already know that Danny Dyer's daughter, Dani Dyer, took part on Love Island back in 2018.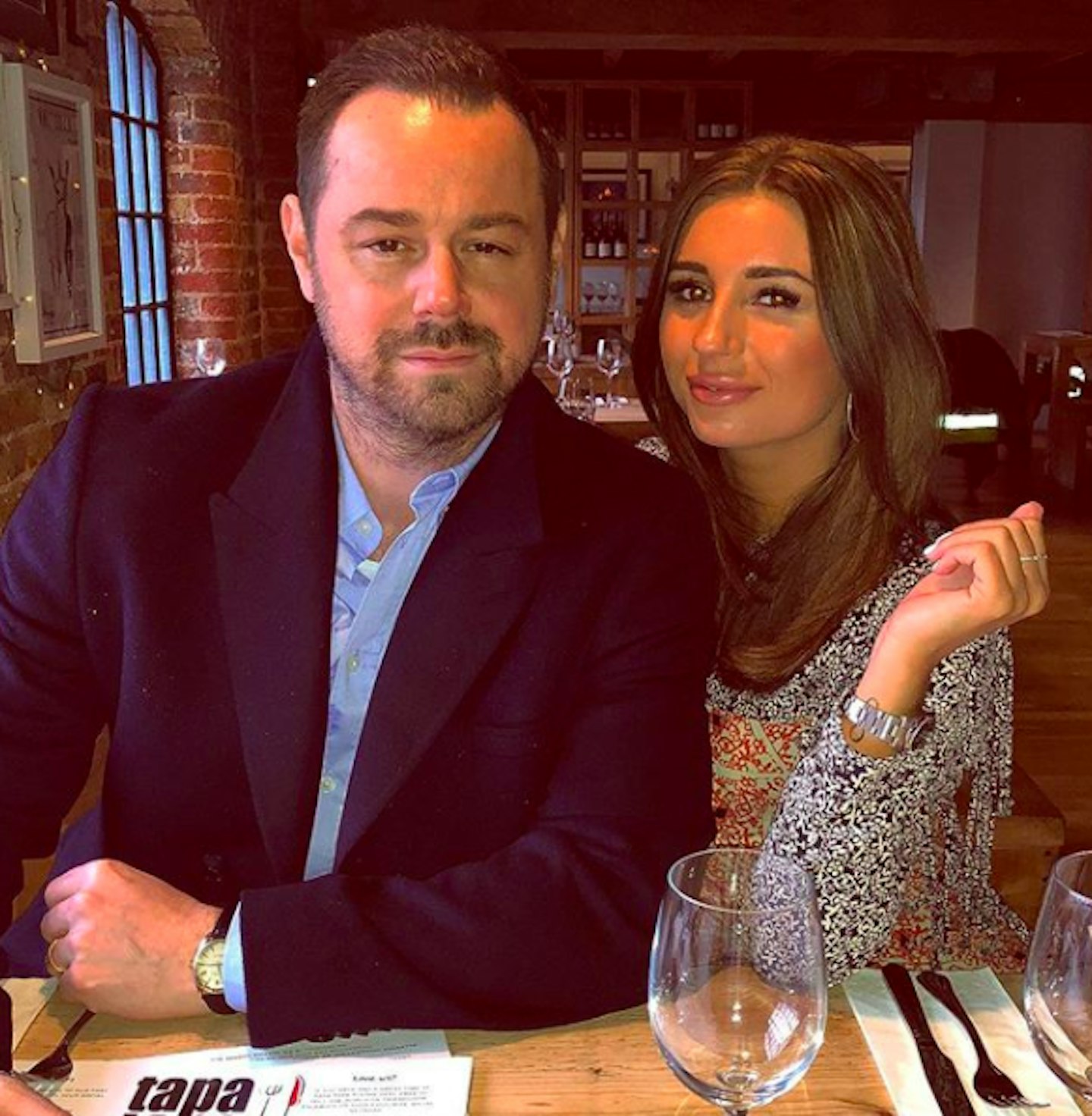 It was rumoured that Danny would make a guest appearance on the show and although he didn't turn up physically in the villa, he did show his face on Skype.
Danny and Jo are also parents to their younger children, Sunnie and Arty.
Check out: EastEnders' most heartbreaking deaths
33 of the most shocking, heart-breaking and dramatic EastEnders deaths of ALL TIME - SLIDER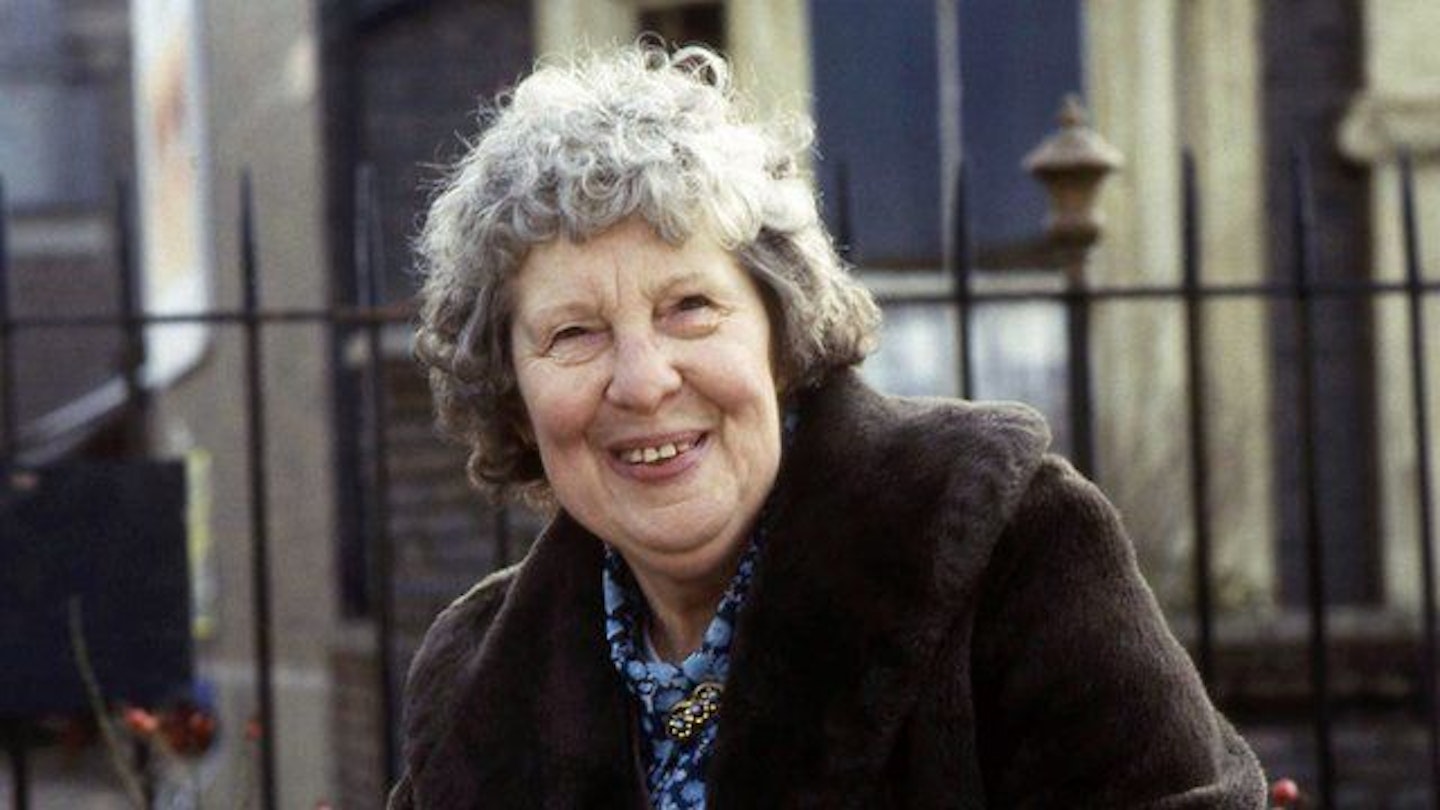 1 of 35
CREDIT: BBC
Lou Beale's death
Labelled the rock of the Beale family, Lou was notoriously strict, tough and had an almighty temper. However, during her character's older years, viewers got to see a softer side to Lou. Which is probably why we all shed a tear at her simple yet heart-breaking death.Sorting out her extended family's problems for the last time, Lou uttered: "I can go now", before peacefully dying in her sleep.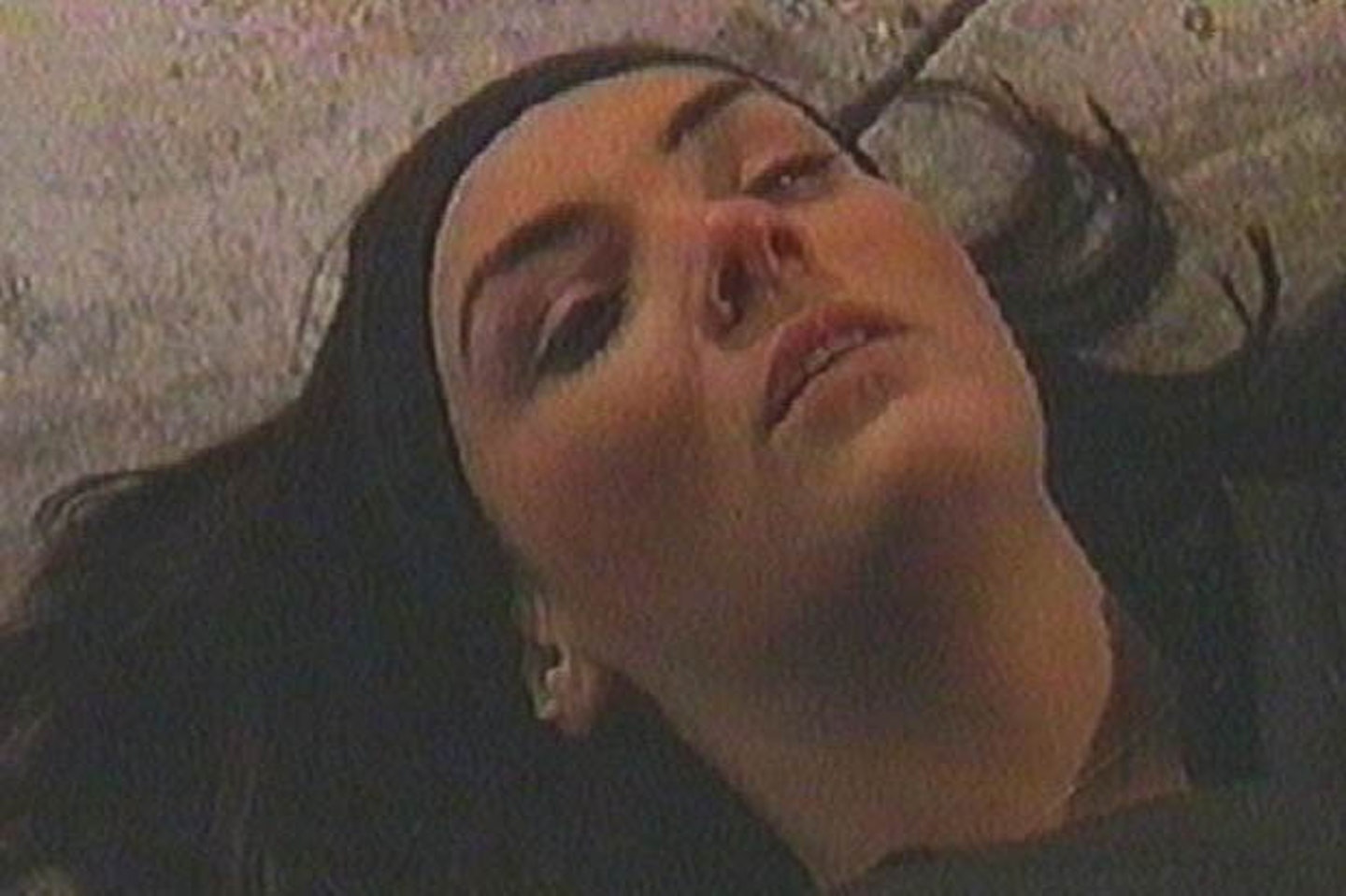 2 of 35
CREDIT: BBC
Tiffany Mitchell's death
Take yourself back to New Years Eve 1998, and Tiffany has big plans to leave Walford with her daughter Courtney – far away from her ex-husband and Courtney's father Grant Mitchell, who was desperately trying to stop her from fleeing with their baby daughter.However, Tiffany never even had a chance to glimpse her happy ending, as she was run over by Frank Butcher and died on the scene – leaving Courtney without a mother and the Mitchell family devastated.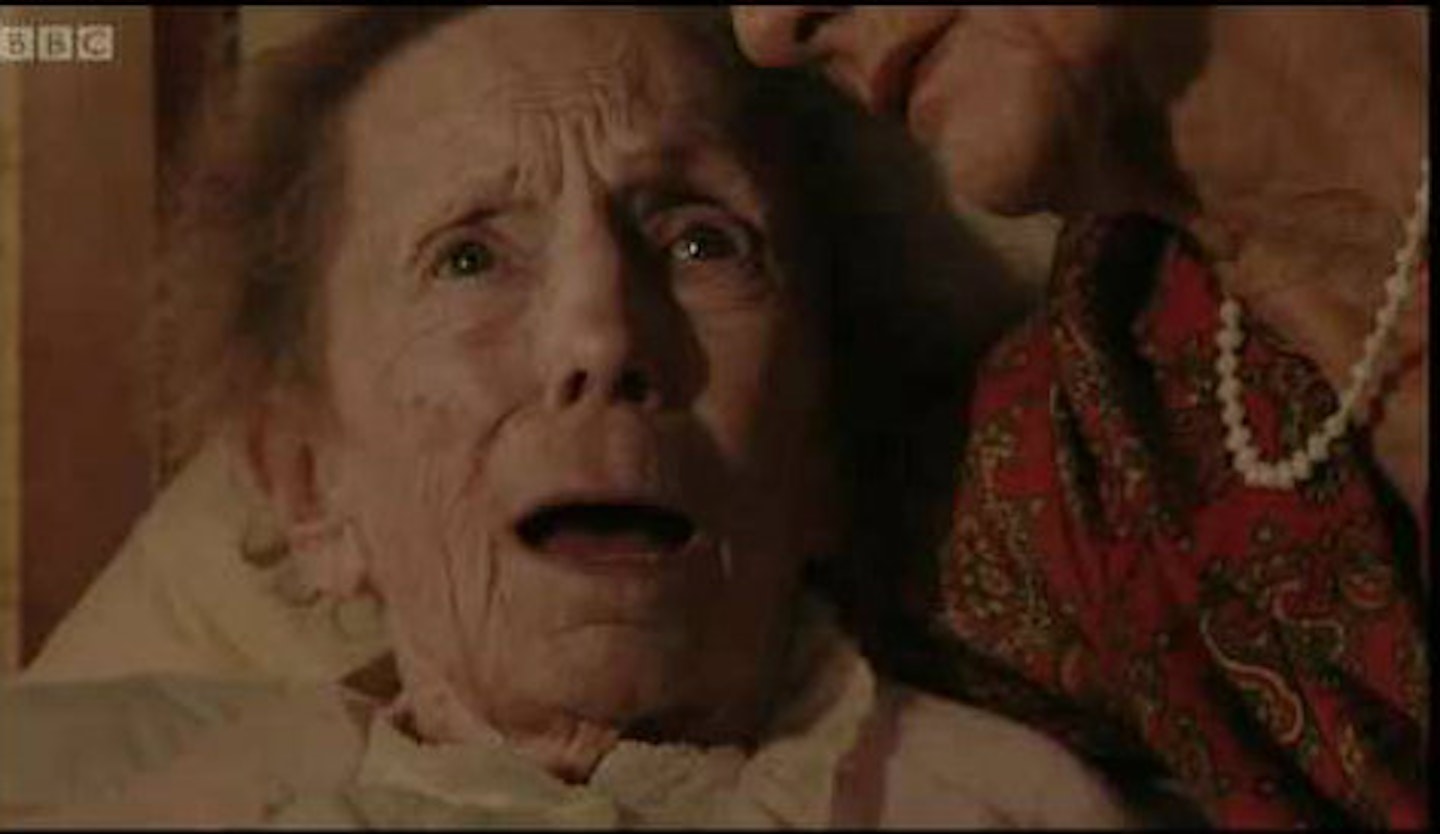 3 of 35
CREDIT: BBC
Ethel Skinner's death
EastEnders made headlines in 2000 with Ethel Skinner's controversial assisted suicide storyline. After Ethel was diagnosed with inoperable cancer, she pleaded with best friend Dot Cotton to help her die the way she wanted to – peacefully in bed surrounded by her loved ones.Going against her religious beliefs, which tore her up, Dot finally agreed to help her best friend die. Cue the tears.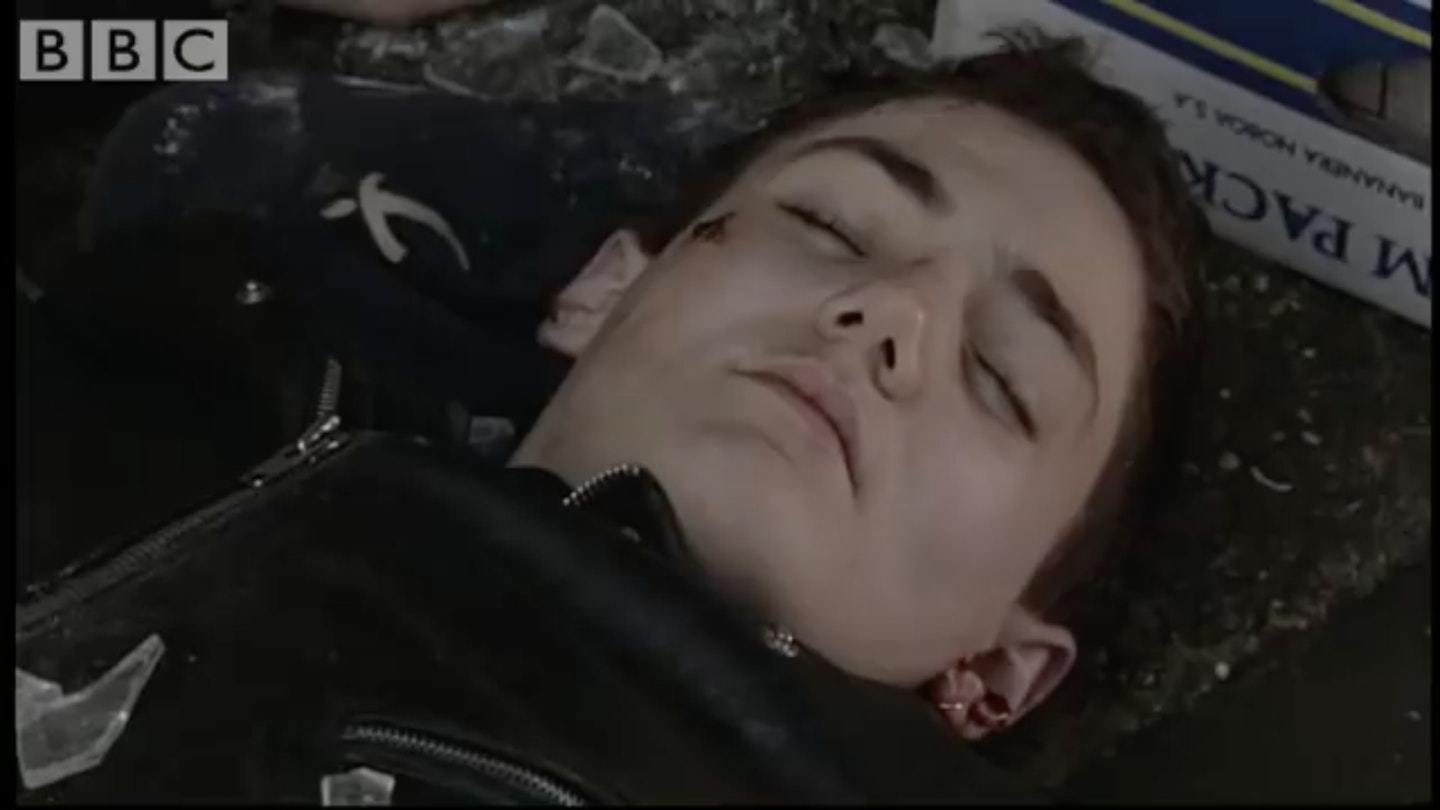 4 of 35
CREDIT: BBC
Ashley Cotton's death
17-year-old Ashley Cotton died instantly when he drove his motorbike (that was tampered by his father Nasty Nick Cotton) into the window of the launderette, leaving his dad riddled with guilt.After Ashley's funeral, a devastated Dot Cotton kicks her son out of the house.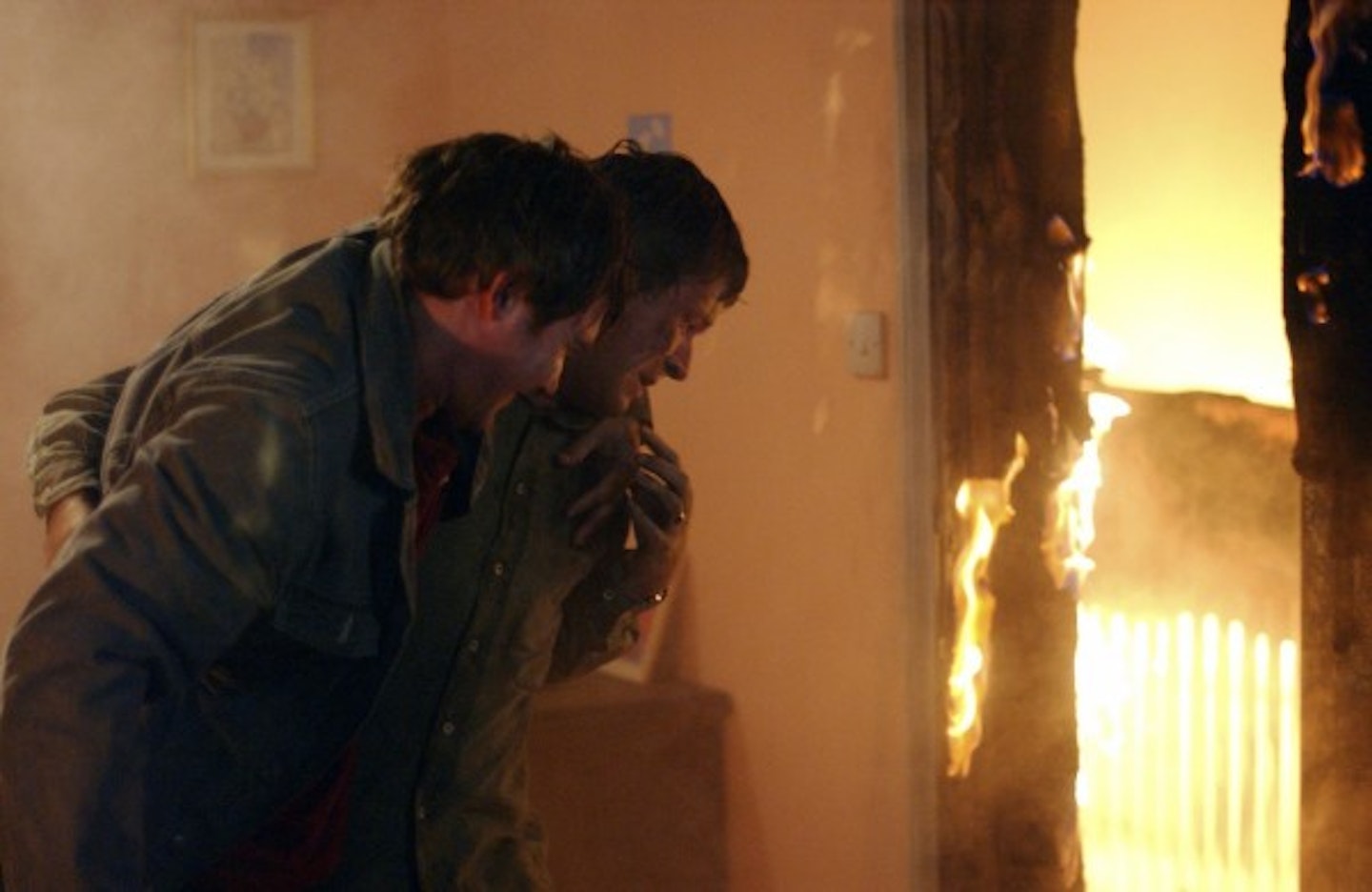 5 of 35
CREDIT: BBC
Trevor Morgan and Tom Banks' death
Evil Trevor Morgan – who spent the majority of his time on the square mentally and physically abusing his partner Little Mo – went up in a blaze of glory in 2002, in a house fire he started himself. Thankfully, Little Mo was saved from the blaze but the same couldn't be said for Sharon's hunky firefighter husband Tom Banks – who risked his life trying to save Trevor.Yeah, we're still not over it…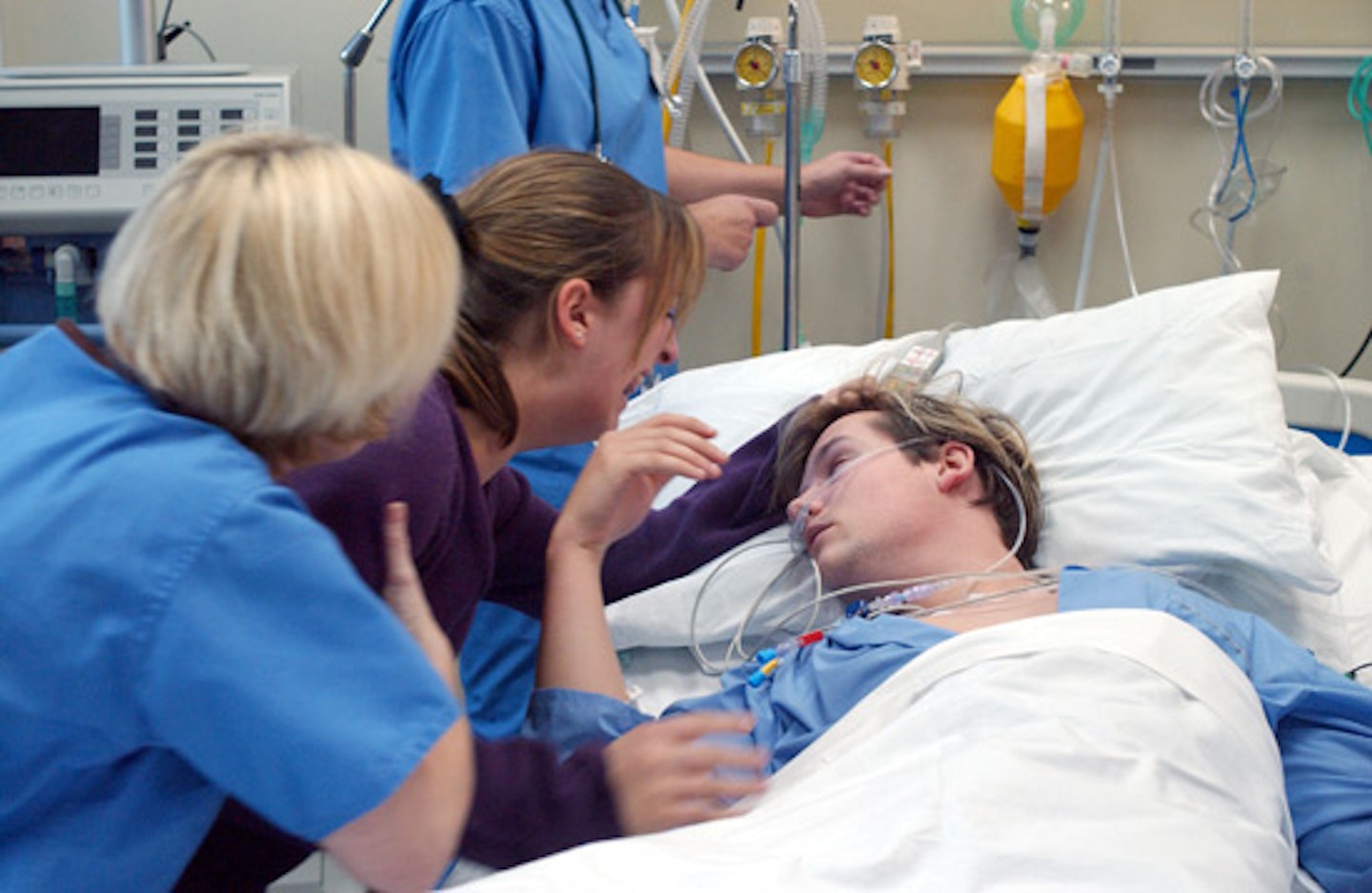 6 of 35
CREDIT: BBC
Jamie Mitchell's death
Teenage lovebirds Sonia Jackson and heartthrob Jamie Mitchell were tragically torn apart on Christmas Day 2002 after Jamie was run over by Martin Fowler (who was texting whilst driving, tut tut!)While Little Mo and Billy Mitchell exchanged vows back in the Square, Jamie was declaring his true feelings for Sonia whilst fighting for his life, he even presented her with an engagement ring. However, the machines keeping Jamie alive soon began to bleep and he died in her arms.That kiss on the forehead gets us every time…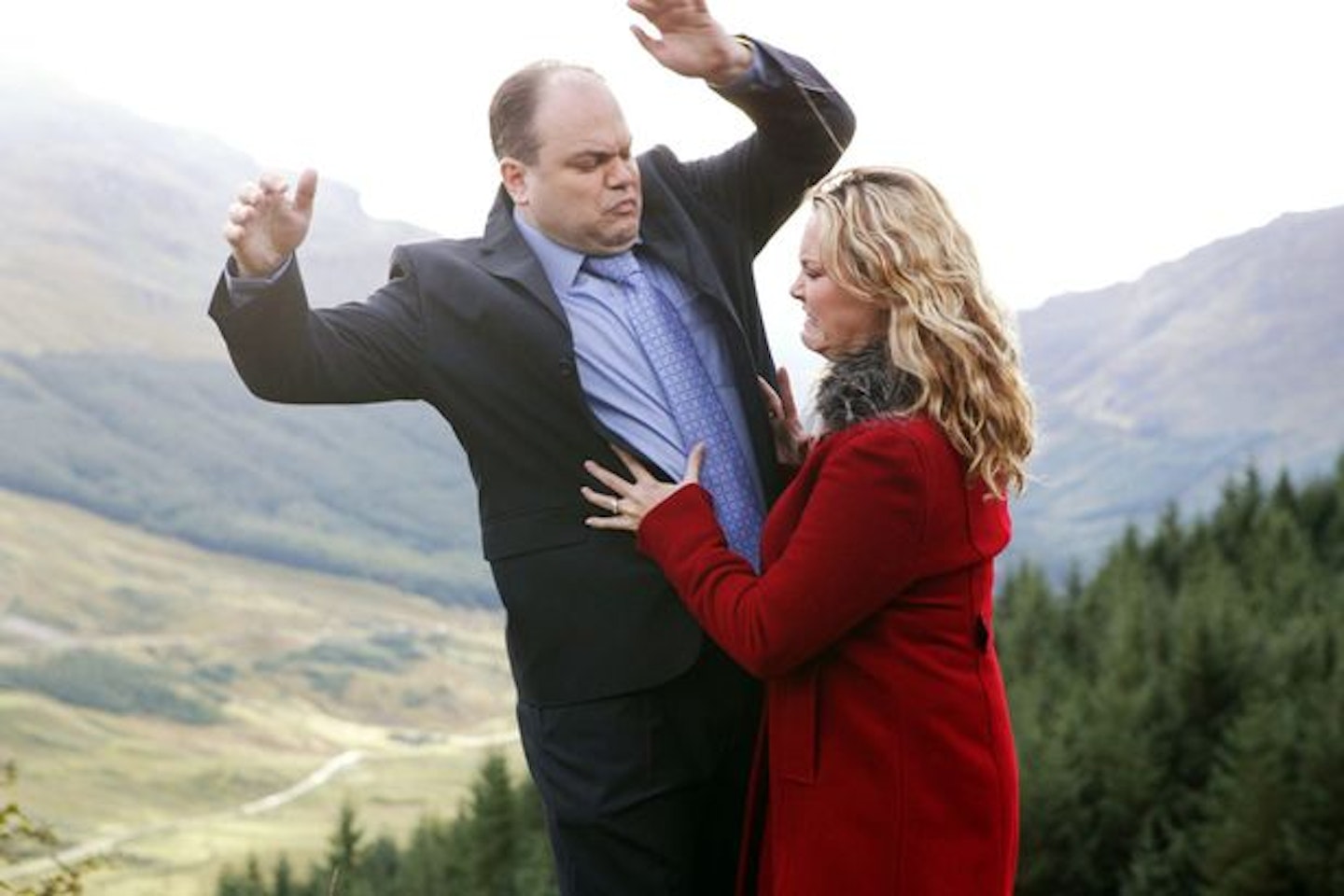 7 of 35
CREDIT: BBC
Barry Evans's death
This is Janine at her very best, don't you think?Businessman Barry Evans fell head over heels in love with Walford's resident cold-hearted cow Janine Butcher, who hatched a plan with her secret boyfriend Paul Trueman to rinse him of all his riches. They married on New Years Eve in 2003 and travelled to Scotland for their honeymoon.The ULTIMATE showdown takes place on a cliff face, where Barry begs her to leave him. But in true EastEnders style, Barry takes a tumble on the cliff and falls to his death.Doof doof!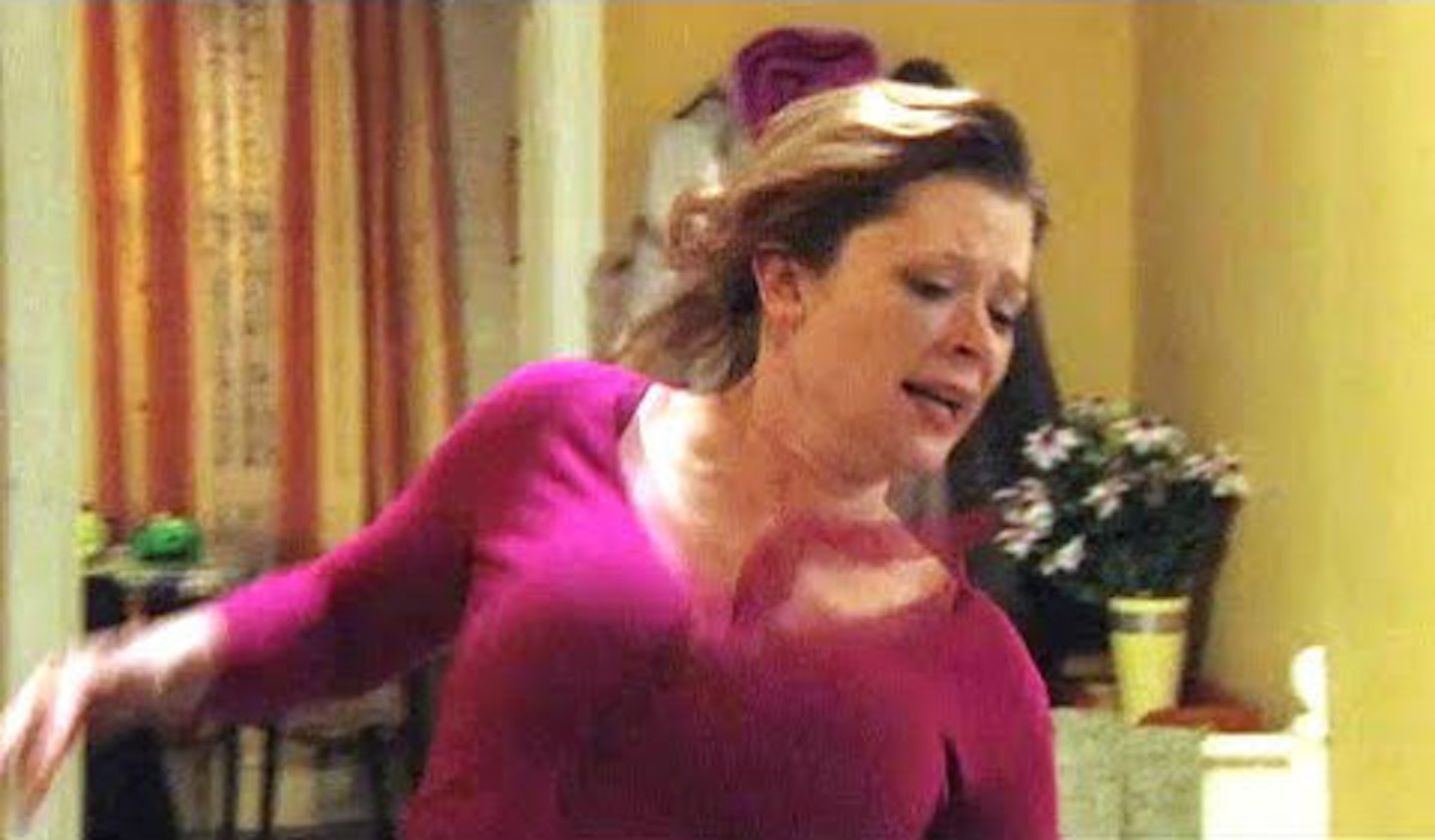 8 of 35
CREDIT: BBC
Laura Beale's death
Laura was the unbelievably unlucky third wife of Ian Beale, and mother to his youngest son Bobby Beale. Their marriage was ruined when an unfortunate encounter with Garry Hobbs left Ian questioning whether he could be the father and Laura was left, jobless miserable and on her own.Writing Ian a letter insisting that he was the father, Laura got up to answer the door, tripped on a shoe and fell down the stairs, dying instantly of a broken neck. Owch - didn't see that one coming!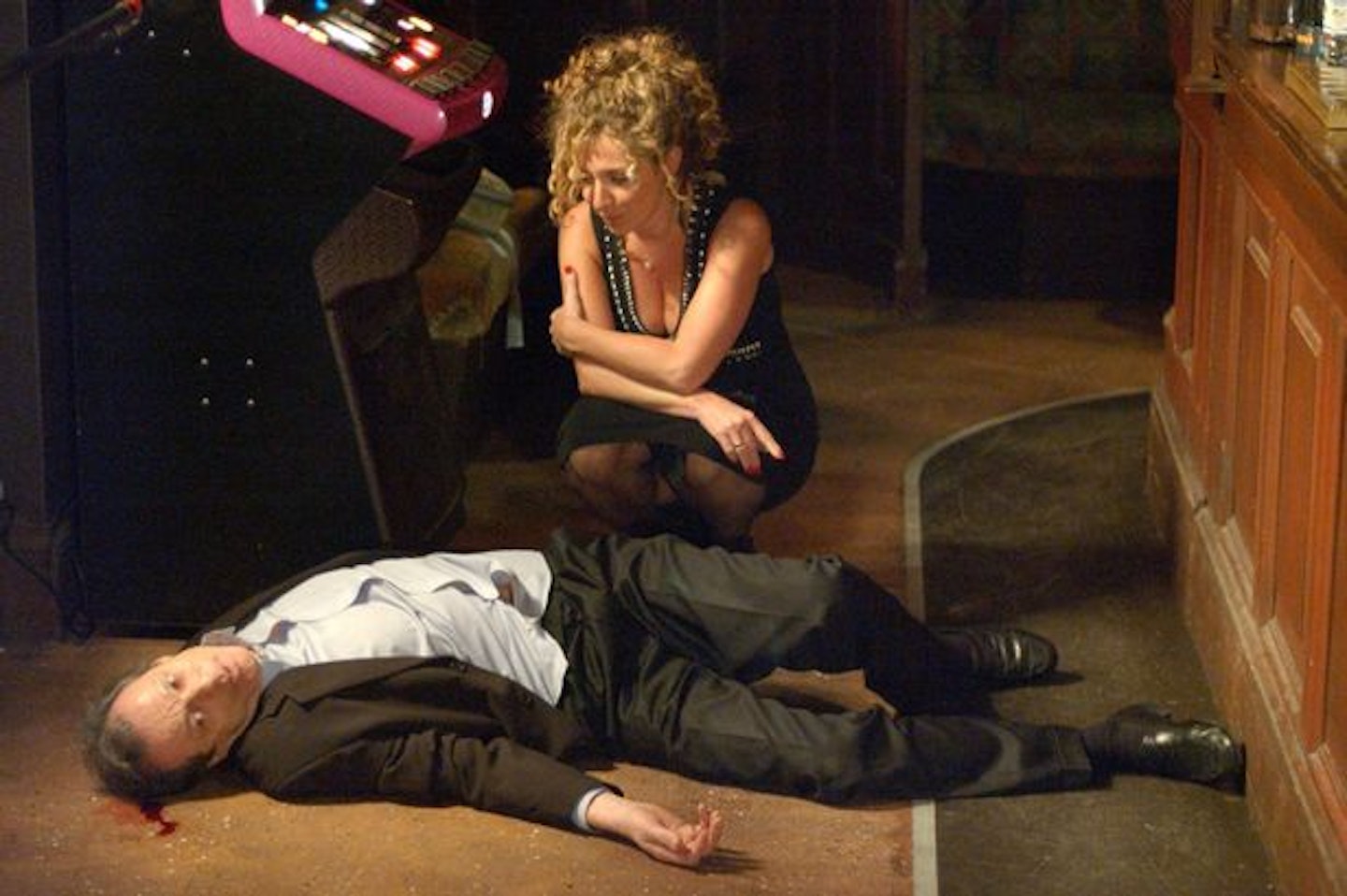 9 of 35
CREDIT: BBC
Den Watts' death
After miracously coming back from the dead (after falling into the canal in 1989), dirty Den Watts was finally bludgeoned to death by his wife Chrissie – after she vowed to get her demise on her cheating husband.The 20th anniversary episode was watched by 17 million people and kickstarted one of EastEnders most famous 'whodunnits'.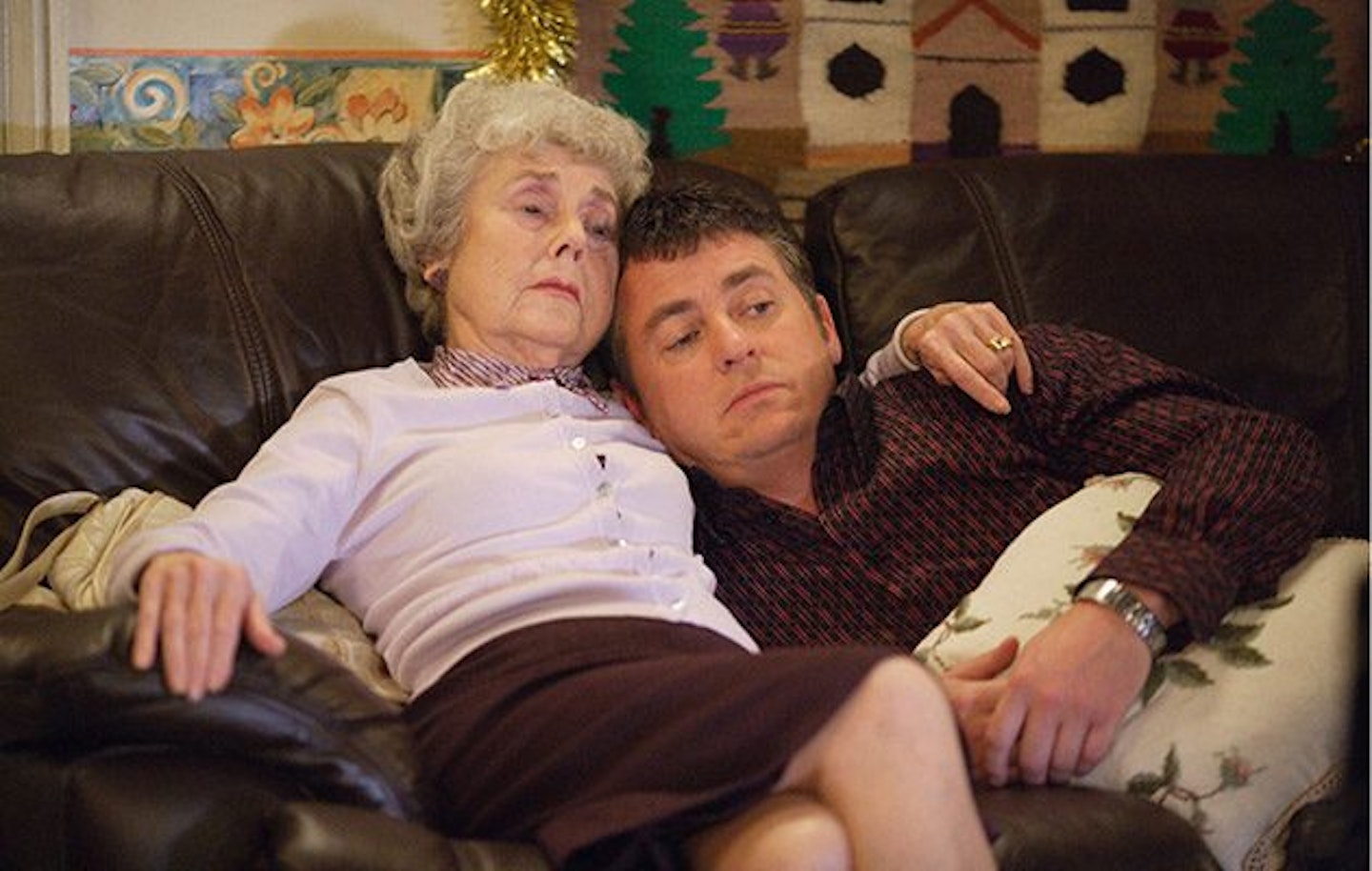 10 of 35
CREDIT: BBC
Nana Moon's death
Alfie Moon's beloved Nana – the sweetest soul in Walford – died peacefully in her sleep in the arms of her eldest grandsons as the nation collectively ran out of tissues.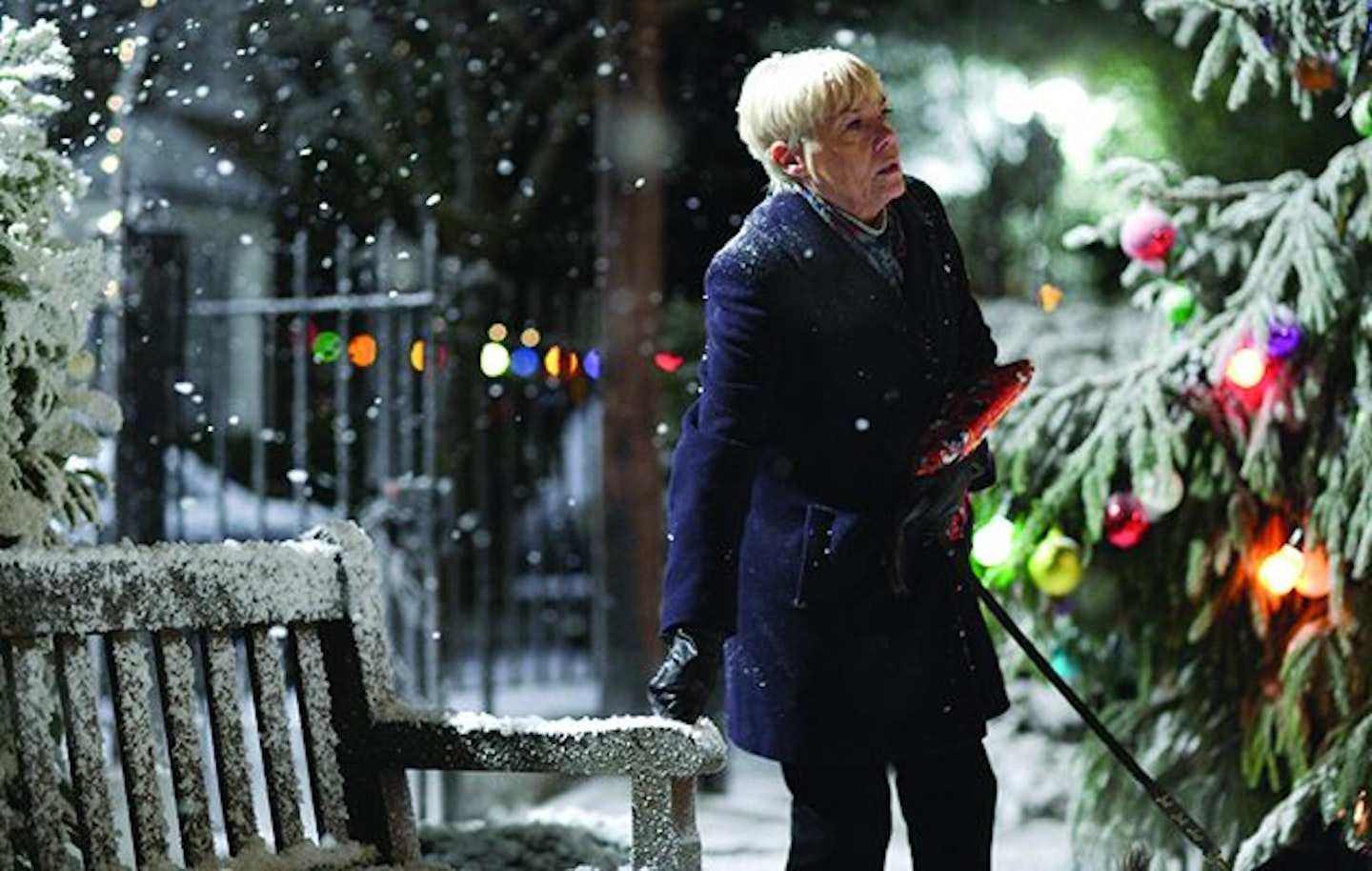 11 of 35
CREDIT: BBC
Pauline Fowler's death
Just like her mother before her, Pauline Fowler was Walford's much-loved battleaxe – she said what she wanted and had no qualms over causing tensions and arguments.However, Pauline's cold heart thawed in old-age, but instead of dying surrounded by her family, Pauline died alone in the snow as a result of a brain haemorrhage - a cruel fate, we think you'll agree.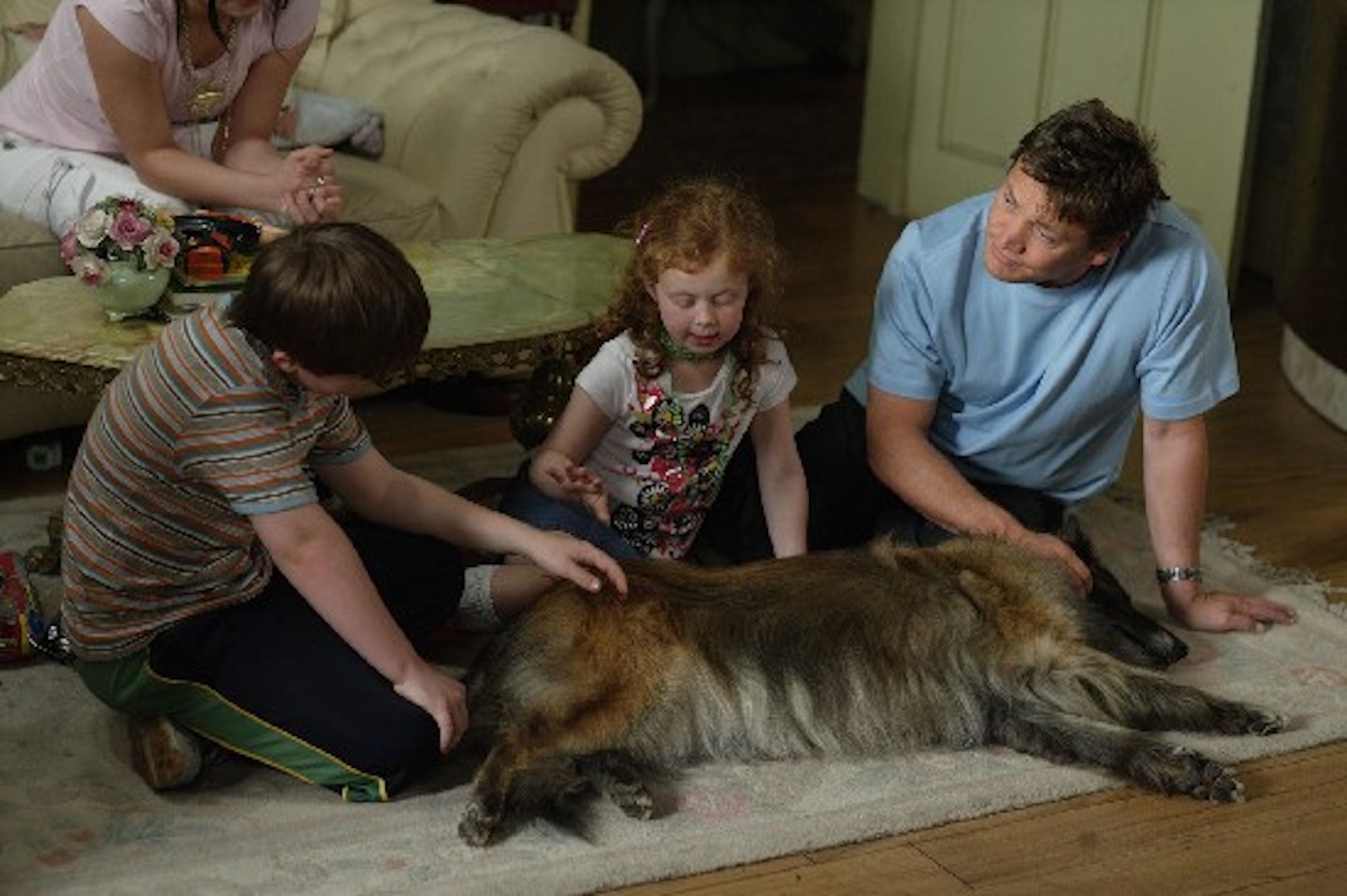 12 of 35
CREDIT: BBC
Wellard's death
Try and watch this one without shedding a tear. We dare you.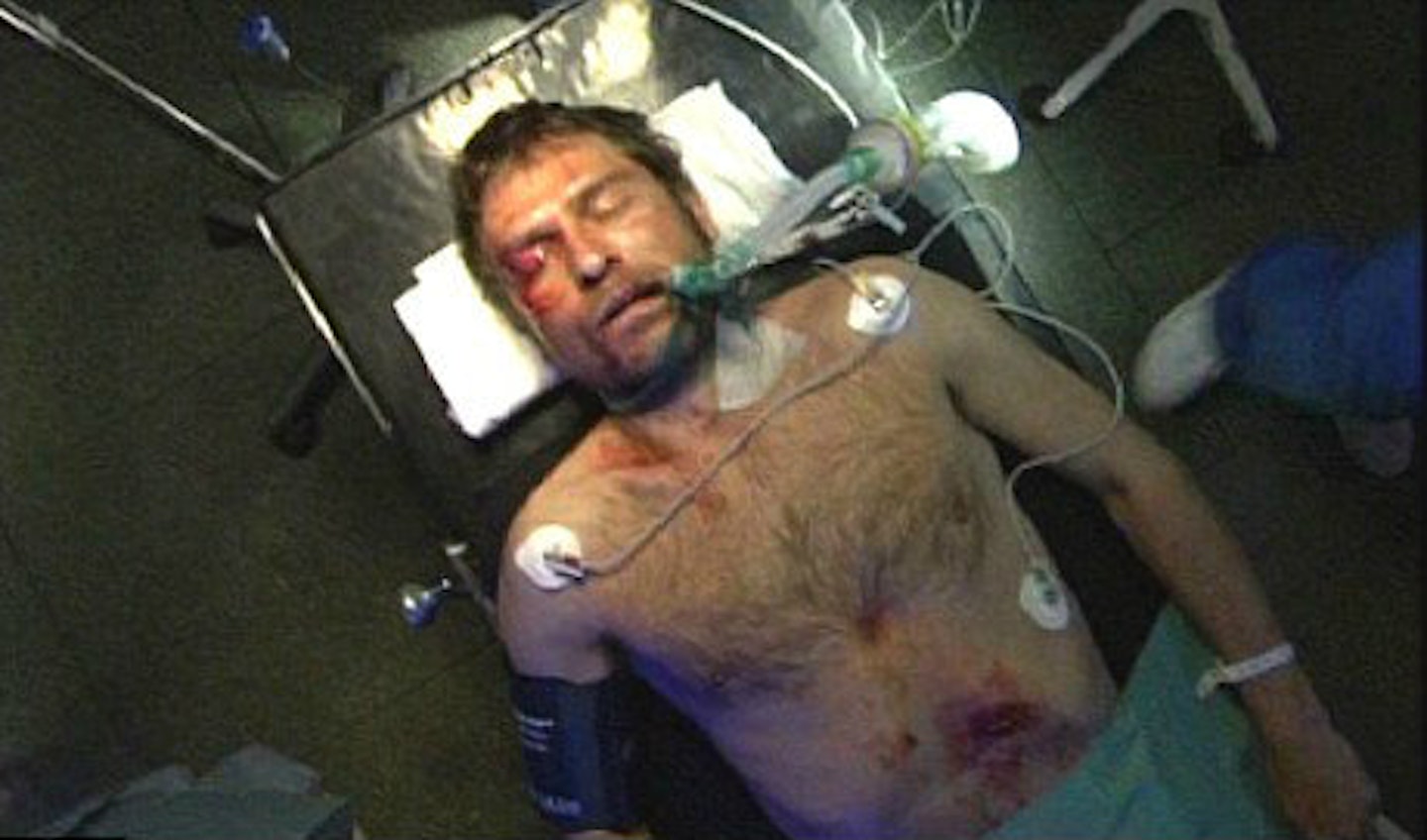 13 of 35
CREDIT: BBC
Jase Dyer (Jay's dad)'s death
Little Jay was left orphaned when his beloved dad, Jason, got caught up in money/hostage plot devised by evil gang leader Terry Bates. Jase took Billy Mitchell along as getaway driver but the pair were met by Terry and a gang of lads wielding baseball bats – eventually killing Jase.Billy witnesses the brutal assault on Jase by the men; but was too frightened to help and hides in the bathroom.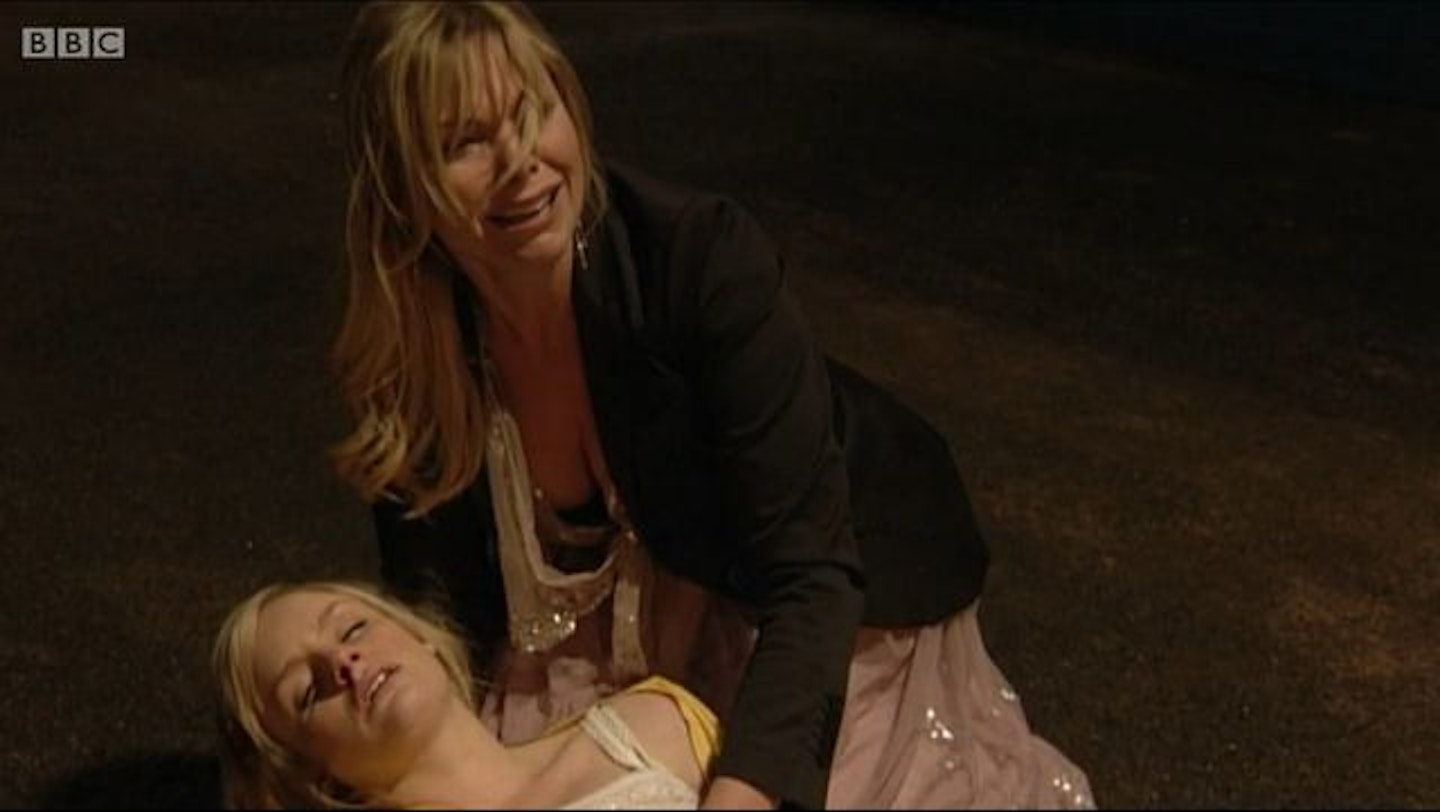 14 of 35
CREDIT: BBC
Danielle Jones' death
Hours after Ronnie Mitchell finally found out that Danielle was her daughter (her dad Archie forced her to give her up for adoption when she was a teenager) – Danielle was mown down by a speeding Janine Butcher.One of the most emotional scenes EastEnders have ever aired, don't you think?
15 of 35
CREDIT: BBC
Trina Johnson's death
Never ones to do things by halves, EastEnders gave us possibly the most shocking (and gruesome) death of all time when evil Lucas Johnson impailed his ex-wife Trina on a gardening rake and basically just left her to rot.Lovely.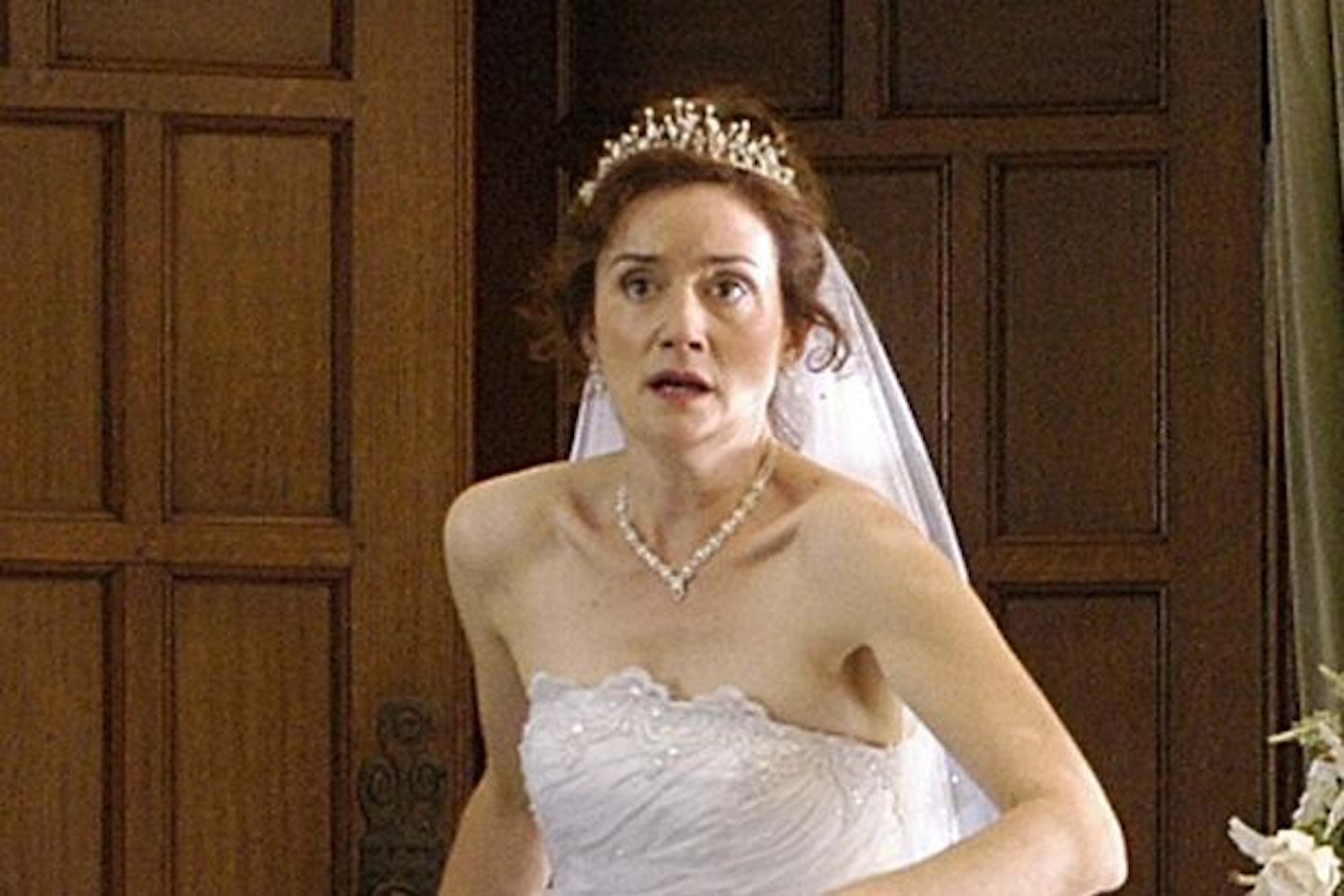 16 of 35
CREDIT: BBC
Stella Crawford's death
Phil Mitchell's ex-wife Stella spent most of her time in Walford tormenting her stepson Ben Mitchell; calling him names, pinching him, burning him with a spoon and then tricking him into trusting her.As everything reaches its climax on a rooftop on their wedding day 2010, Phil finally comes to his senses, telling Stella that he doesn't love her and that he only chose her because it was convenient. Stella then jumps off the roof, killing herself instantly…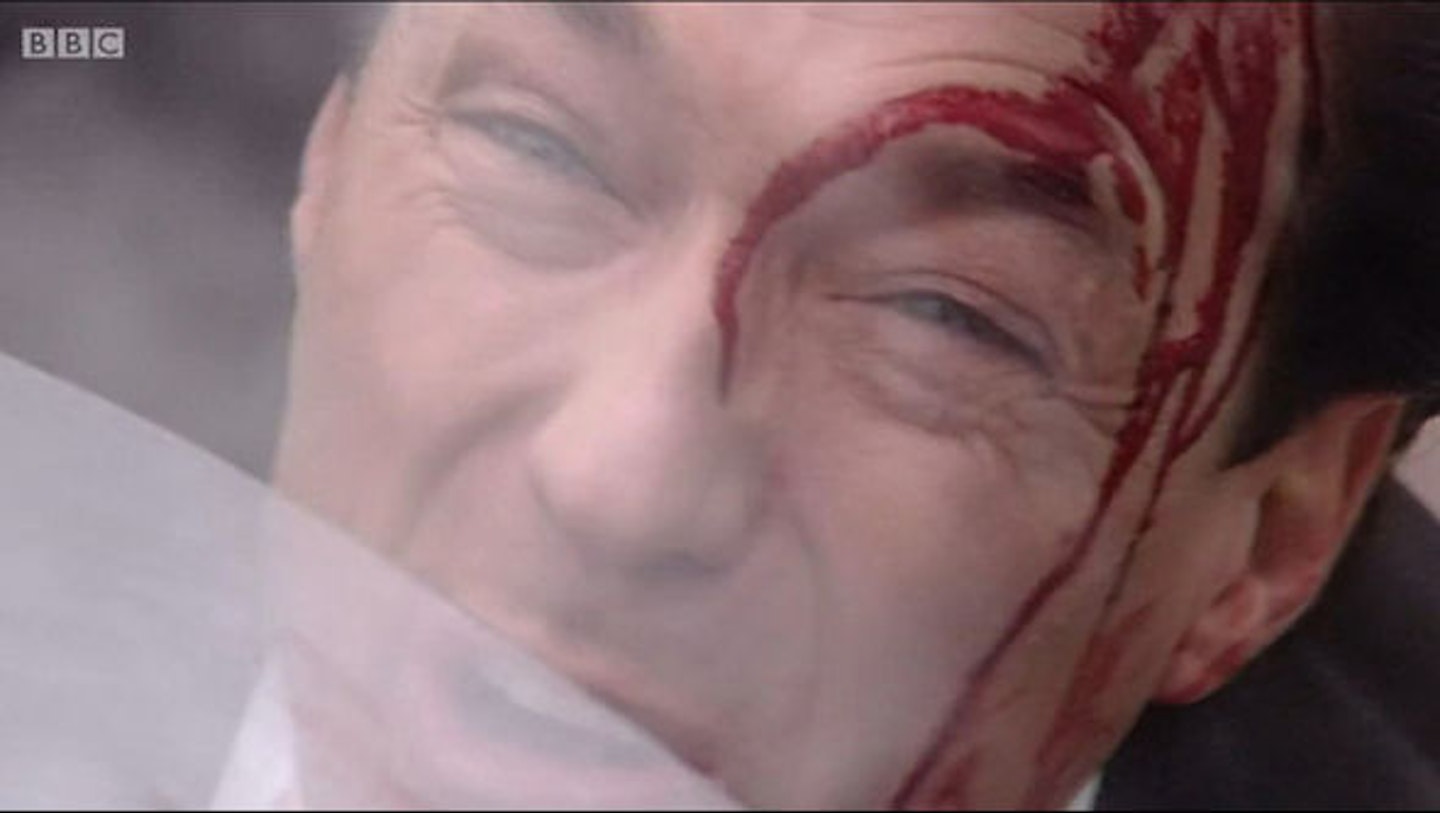 17 of 35
CREDIT: BBC
Steve Owen's death
Baddie Steve Owen, played by Martin Kemp, definitely left EastEnders with a bang. Which is the way everyone wants to go, right?After a savage car chase with his arch enemy Phil Mitchell that saw Steve take Phil's baby daughter Louise hostage, his car goes up in flames after colliding into two petrol tanks, with Steve dead at the scene.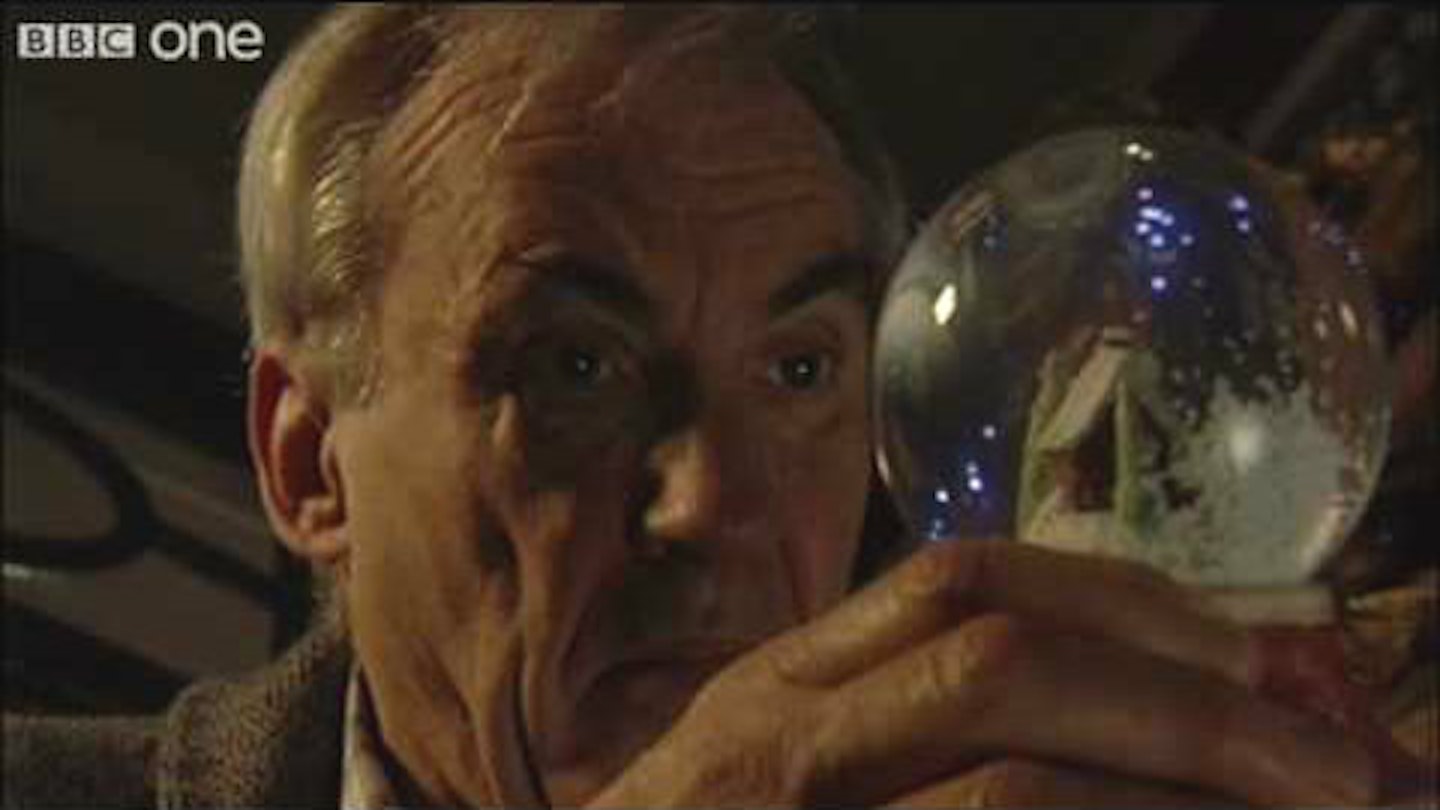 18 of 35
CREDIT: BBC
Archie Mitchell's death
'Who killed Archie?' was another one of EastEnders incredible whodunnits, with evil Archie Mitchell right at the centre of it all – a character that was hated so much that there was no shortage of suspects.The events led up to the almighty 25th anniversary live episode of the soap in 2010. There was so much secrecy about the killer's identity that Lacey Turner (Stacey Slater) only being told that she was the killer THIRTY minutes before the broadcast aired.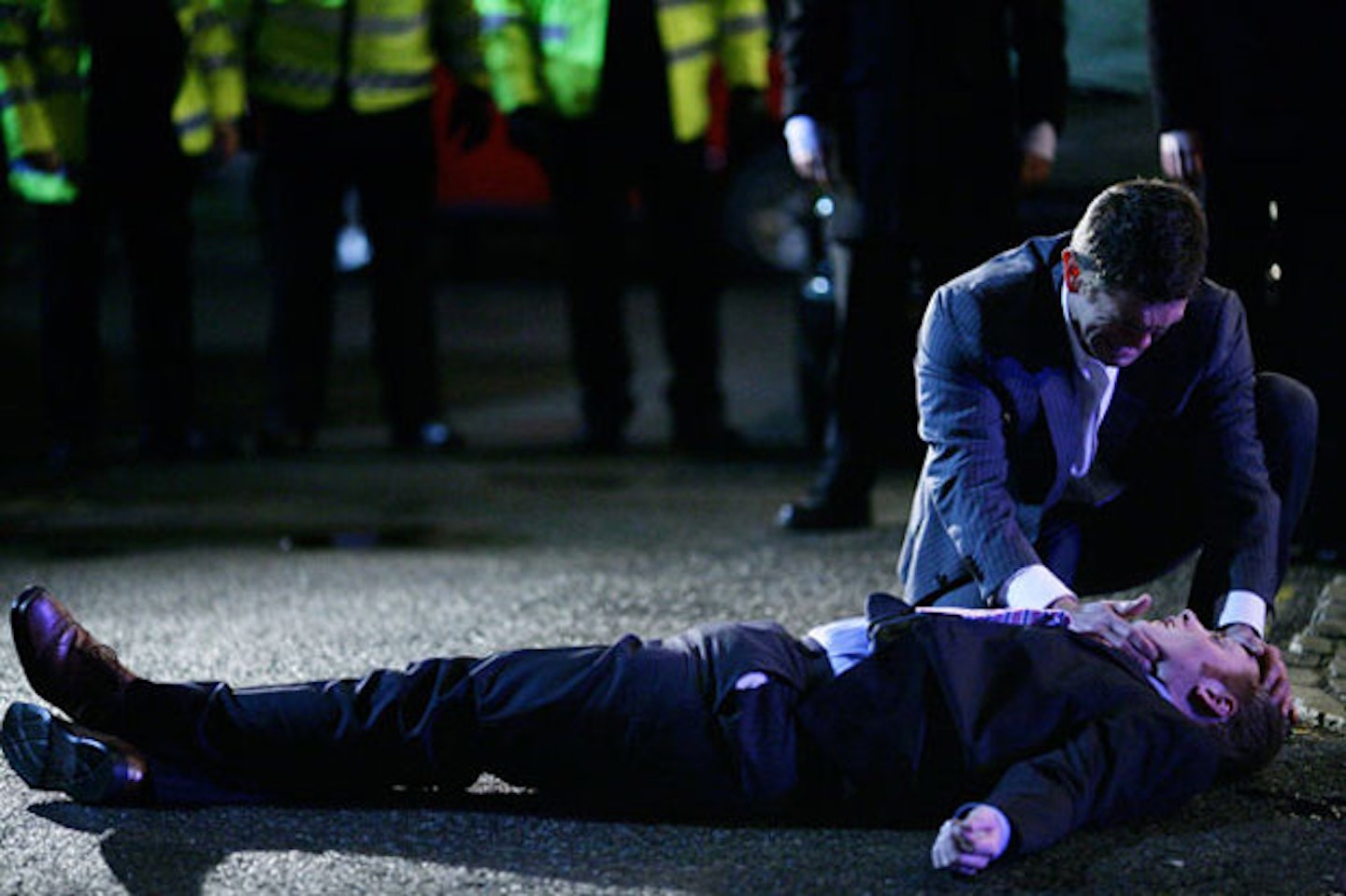 19 of 35
CREDIT: BBC
Bradley Branning's death
Forever protecting the love of his life Stacey Slater, Walford's sweetheart Bradley Branning accidently fell to his death trying to protect his wife after they tried to flee the square – away from the police investigation investigating Archie Mitchell's death.It was later revealed that Stacey killed Archie after he raped her and she fled the country to get away from her guilt and memories of Bradley.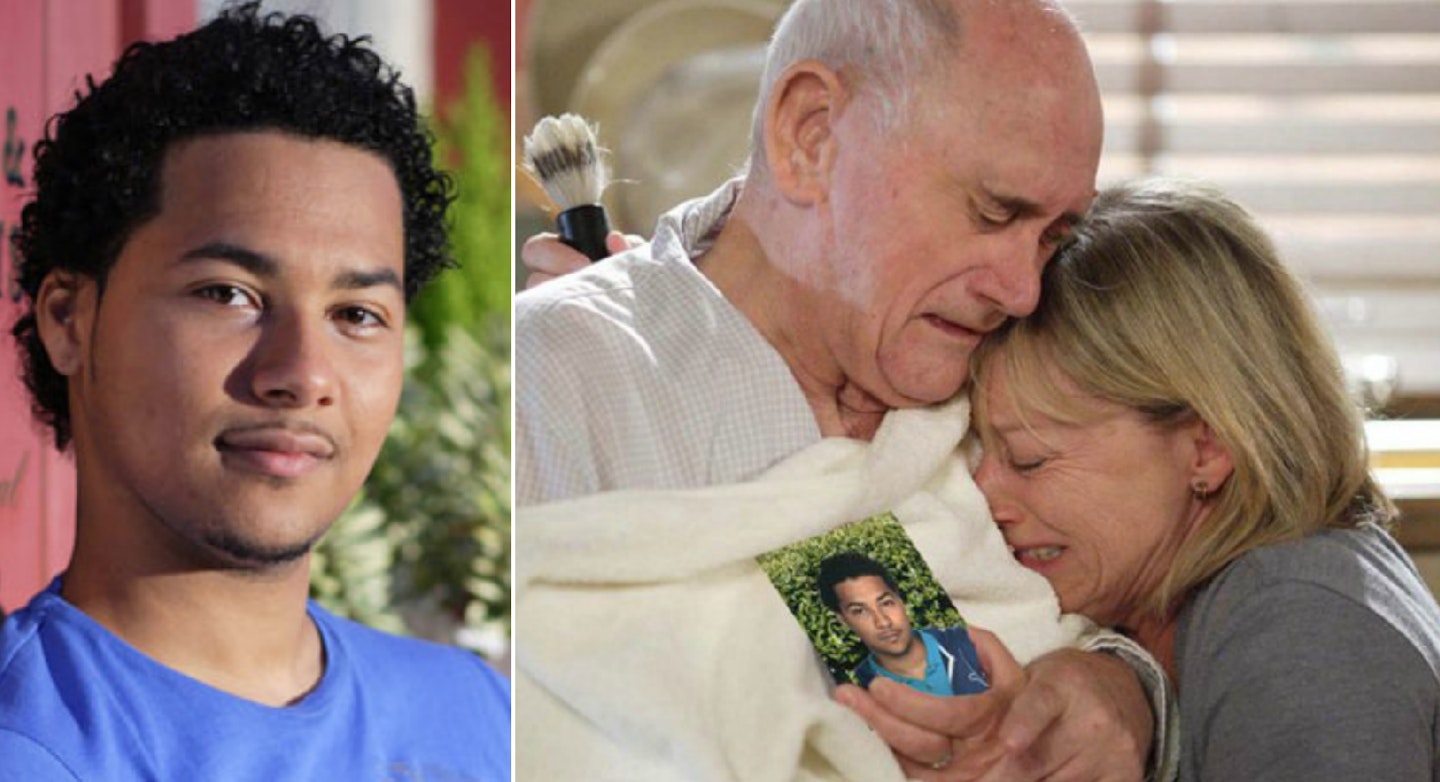 20 of 35
CREDIT: BBC
Billie Jackson's death
EastEnders viewers were left shocked as Billie died of alcohol poisoning following his 22nd birthday party – with Bianca heartbreakingly finding him lying on the sofa the morning after.
21 of 35
CREDIT: BBC
James Branning's death
New mum Ronnie Mitchell was ecstatic to bring her newborn baby boy James home to the square on New Years Eve 2010. Sadly, later that day Ronnie discovered that little James has died of Sudden Infant Death Syndrome.Devastated and heartbroken, Ronnie then swaps her with Tommy Moon (Kat and Alfie's newborn born on the same day). The 'babyswap' storyline made headlines all over the country and was described as the 'most controversial ever'.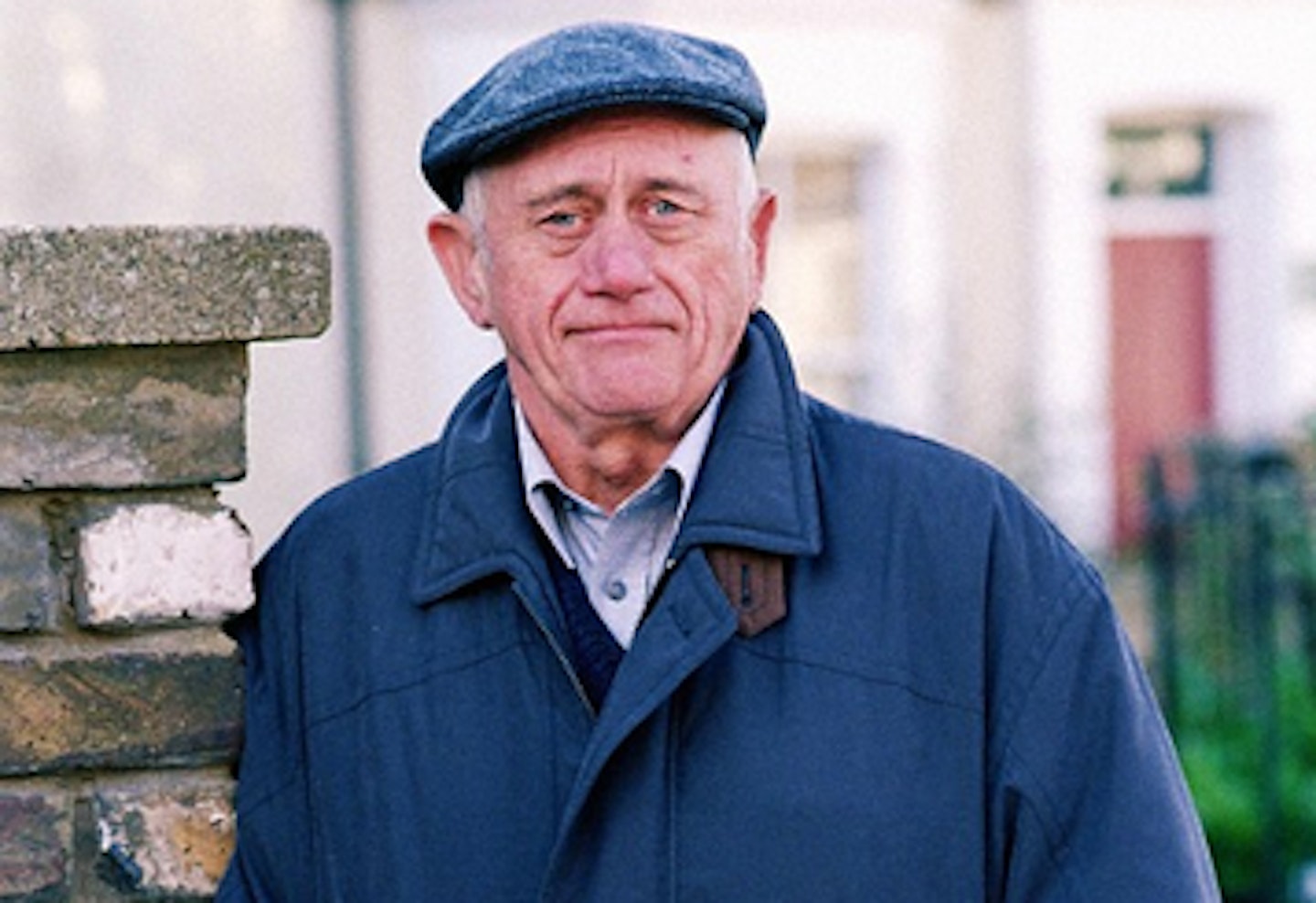 22 of 35
CREDIT: BBC
Jim Branning's death
One of the most emotional EastEnders deaths of all time has to be Jim Branning's death. After John Bardon, who played the infamous character, suffered from a stroke in 2007 he took time out from the soap. He later returned to the BBC show and his onscreen character Jim Branning was reunited with his wife Dot Cotton. However after Dot struggled to look after Jim she decided it was best for him to live in a care home. On September 12 2014, John passed away and EastEnders bosses decided to dedicate an episode to him and then again at Jim Branning's funeral.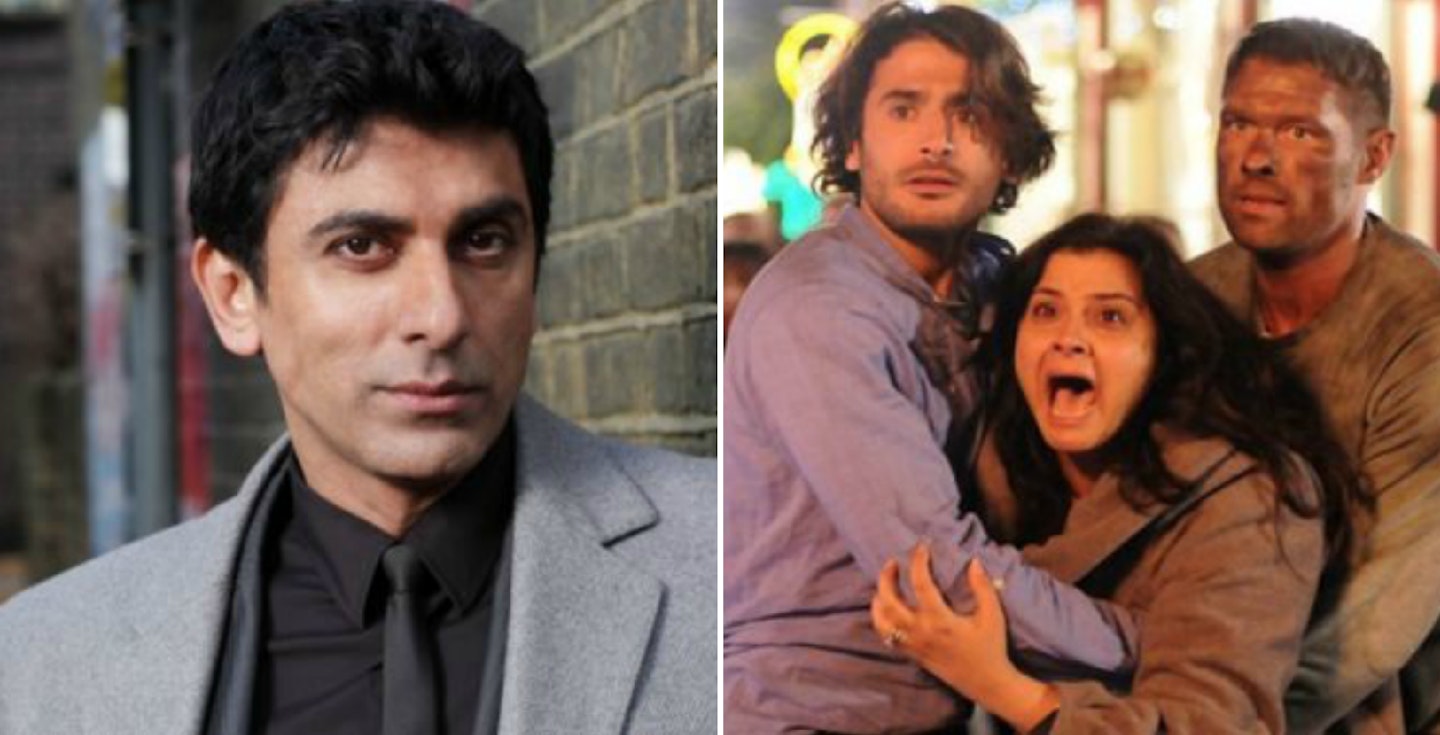 23 of 35
CREDIT: BBC
Yusef Khan's death
Zainab's abusive second husband Yusef Khan made it his mission to scheme against his wife's ex-husband Masood and did so by locking him in the B&B and setting it alight.But things didn't go to plan as outside, with the fire raging, he taunted Zainab - who then lied and told him that his daughter Afia was inside. Yusef fought his way into the burning B&B at met his death. Not before the fire made it's mark on Tamwar - leaving him with horrific burns after he tried to save his father Masood.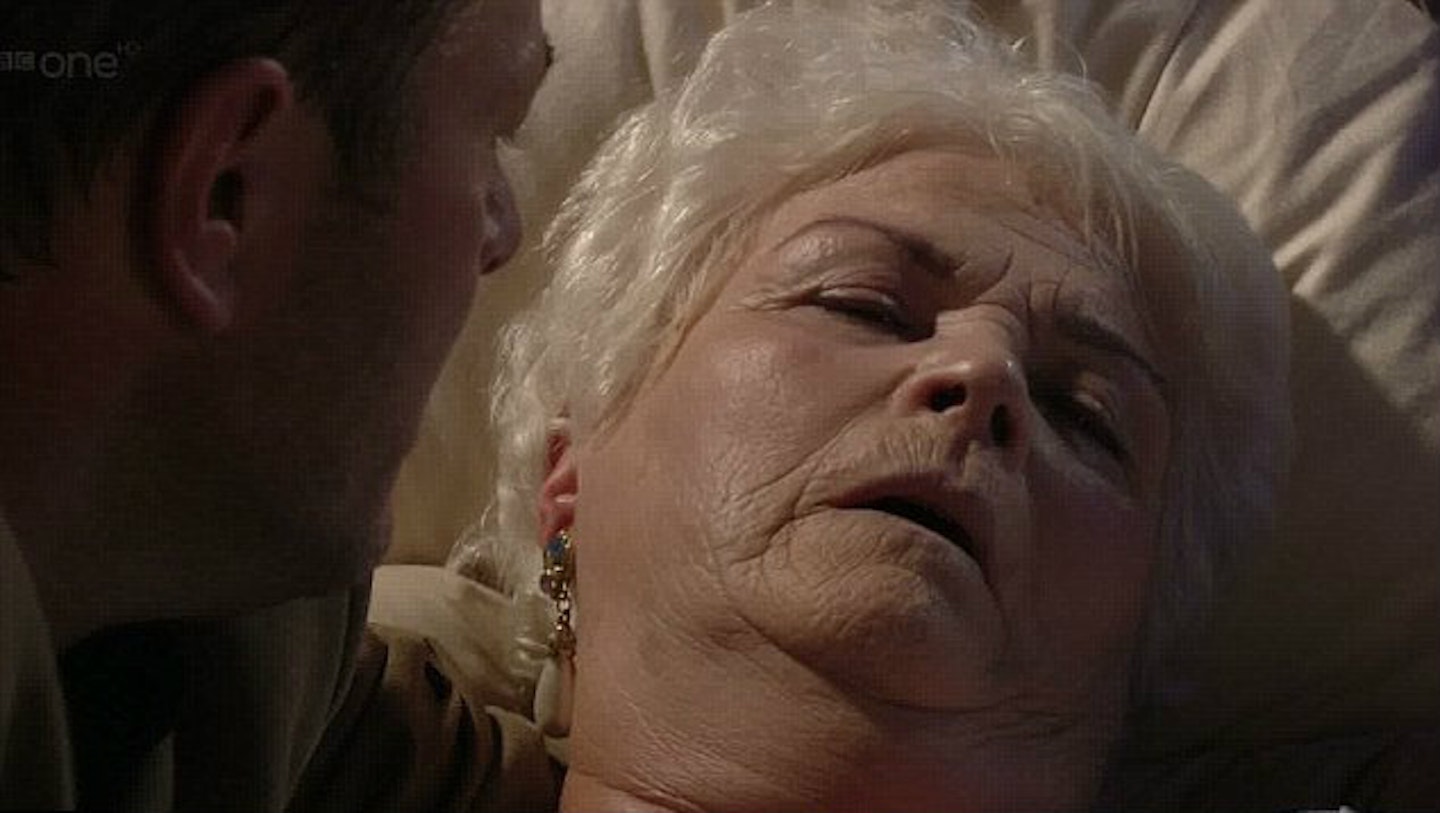 24 of 35
CREDIT: BBC
Pat Butcher's death
After a long and painful battle with pancreatic cancer, legendary EastEnders matriarch Pat Butcher finally breathed her last breath surrounded by her beloved family and friends - not before making amends with them all one last time. Awwww.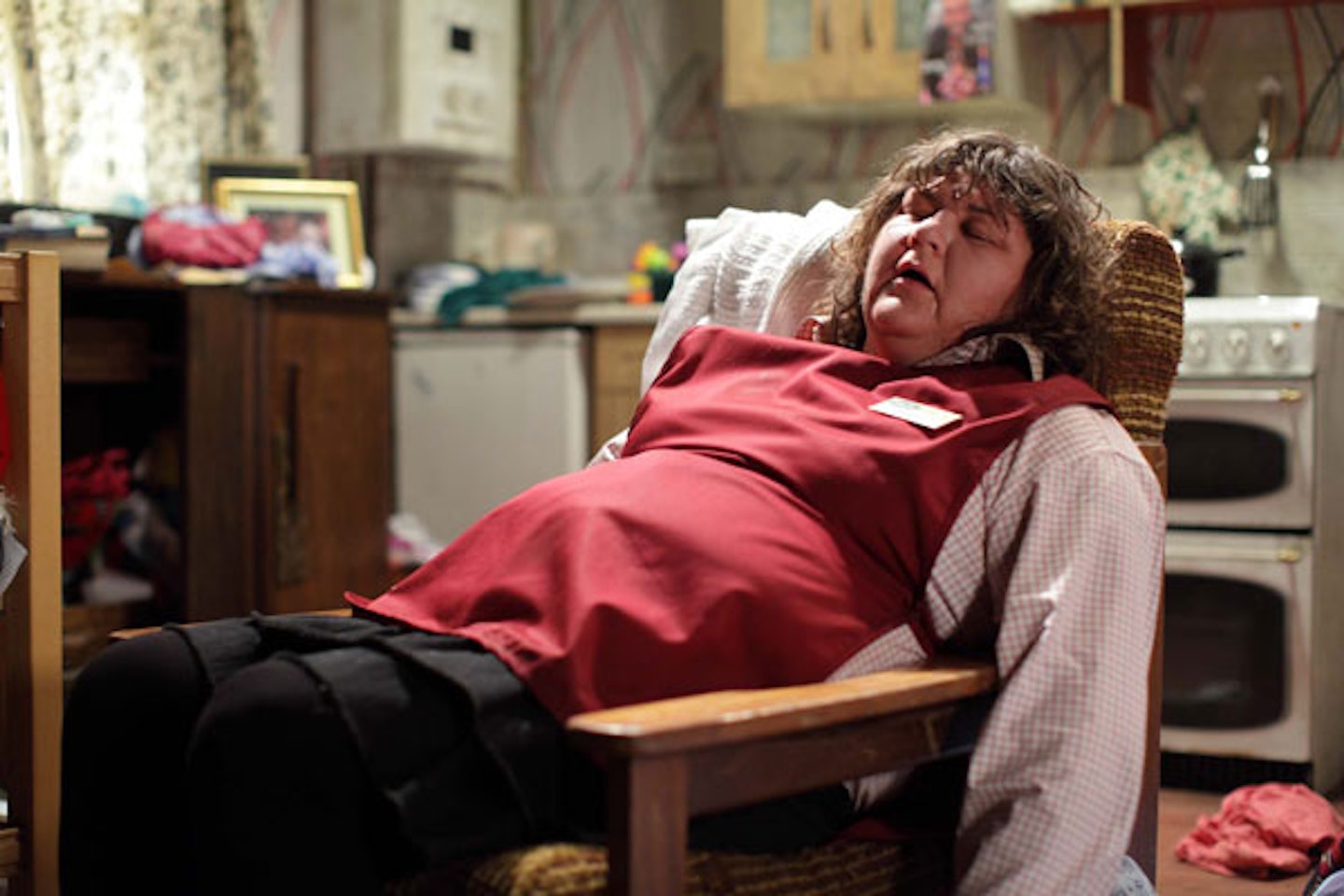 25 of 35
CREDIT: BBC
Heather Trott's death
Poor old Hev.Eternal optimist and all-round good egg Heather Trott was bludgeoned (unintentionally) to death by Ben Mitchell.A who-dunnit storyline ensued, with Phil Mitchell doing his very best to cover up his son's crimes. However, justice was served when Ben faced up to 10 years in prison for murder.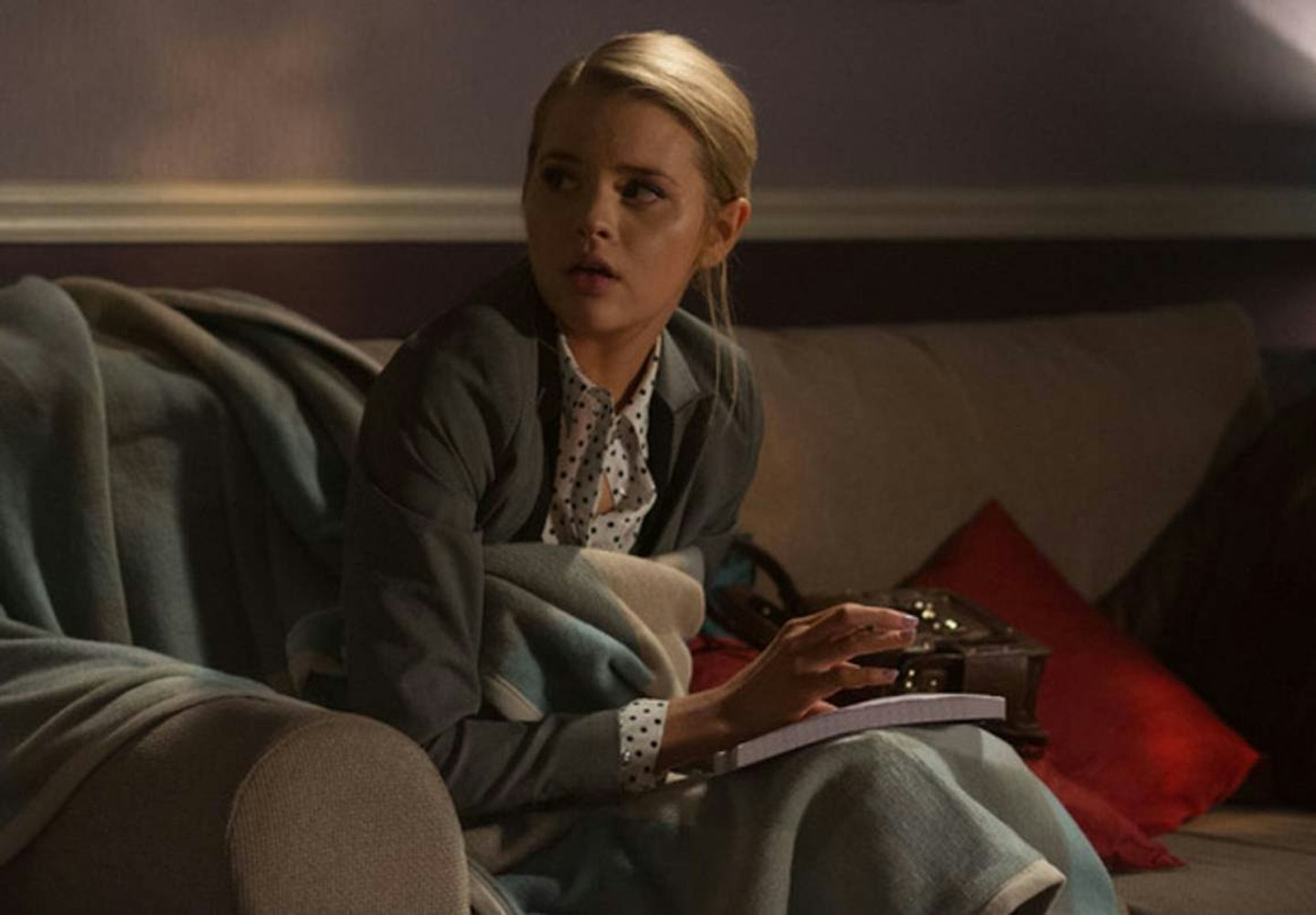 26 of 35
CREDIT: BBC
Lucy Beale's death
More than 10 million people tuned into the live episode of 'Who Killed Lucy Beale' back in 2015 after a year-long wait.Lucy's young brother Bobby was revealed as the killer.The 11-year-old was found by his stepmother, Jane Beale, clutching what appeared to be the weapon he used to kill his sister off.The vast majority of EastEnders characters (including Lucy's twin Peter Beale) were in the frame as the storyline reached it's final climax - and what an episode that was!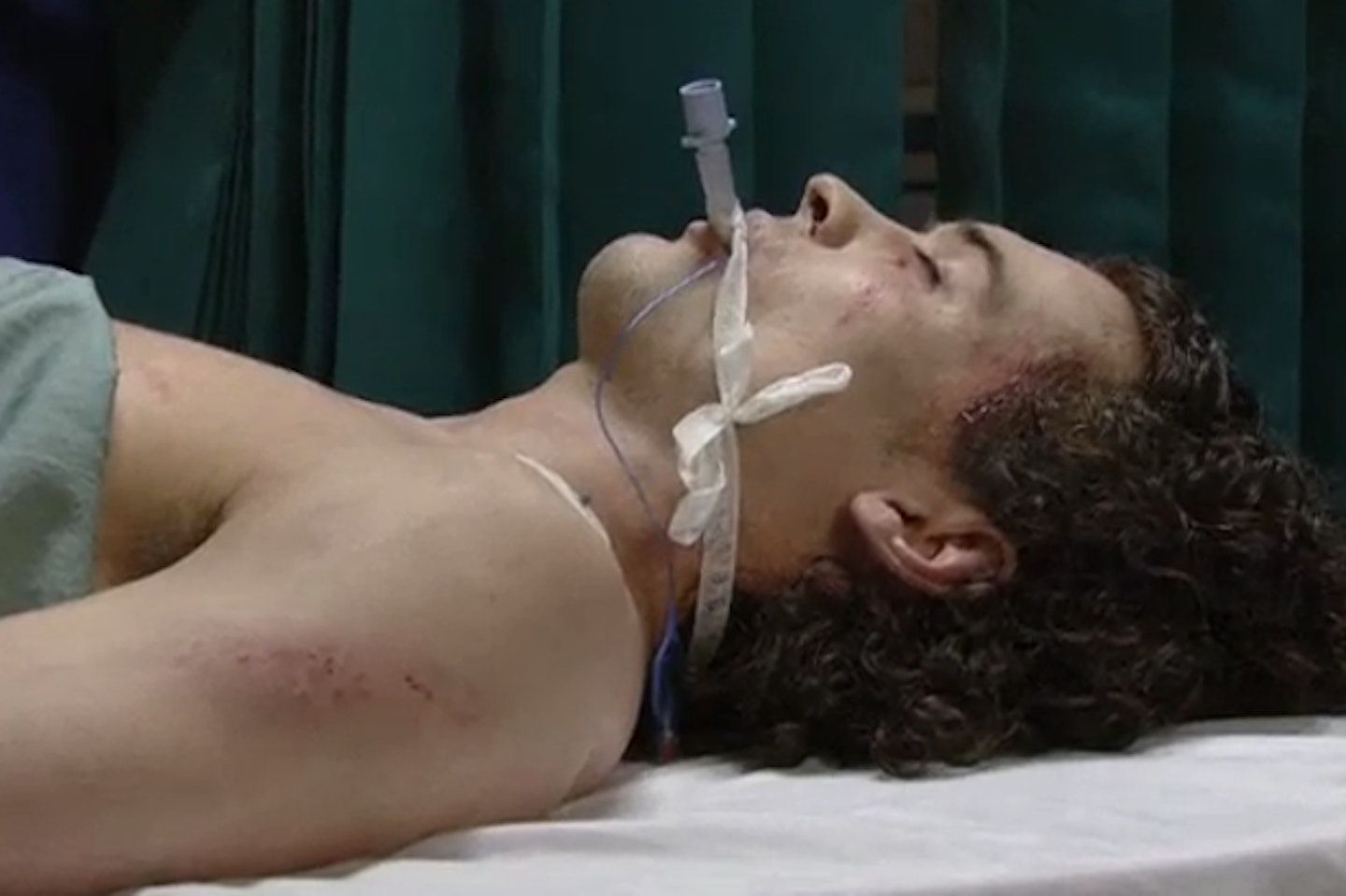 27 of 35
CREDIT: BBC
Paul Coker's death
After finally finding happiness with boyfriend Ben Mitchell, Paul was cruelly snatched away from his family after falling victim to a homophobic attack.Following his death, actor Johnny Labey, labelled his exit storyline as 'important' and 'beautifully written.' We agree.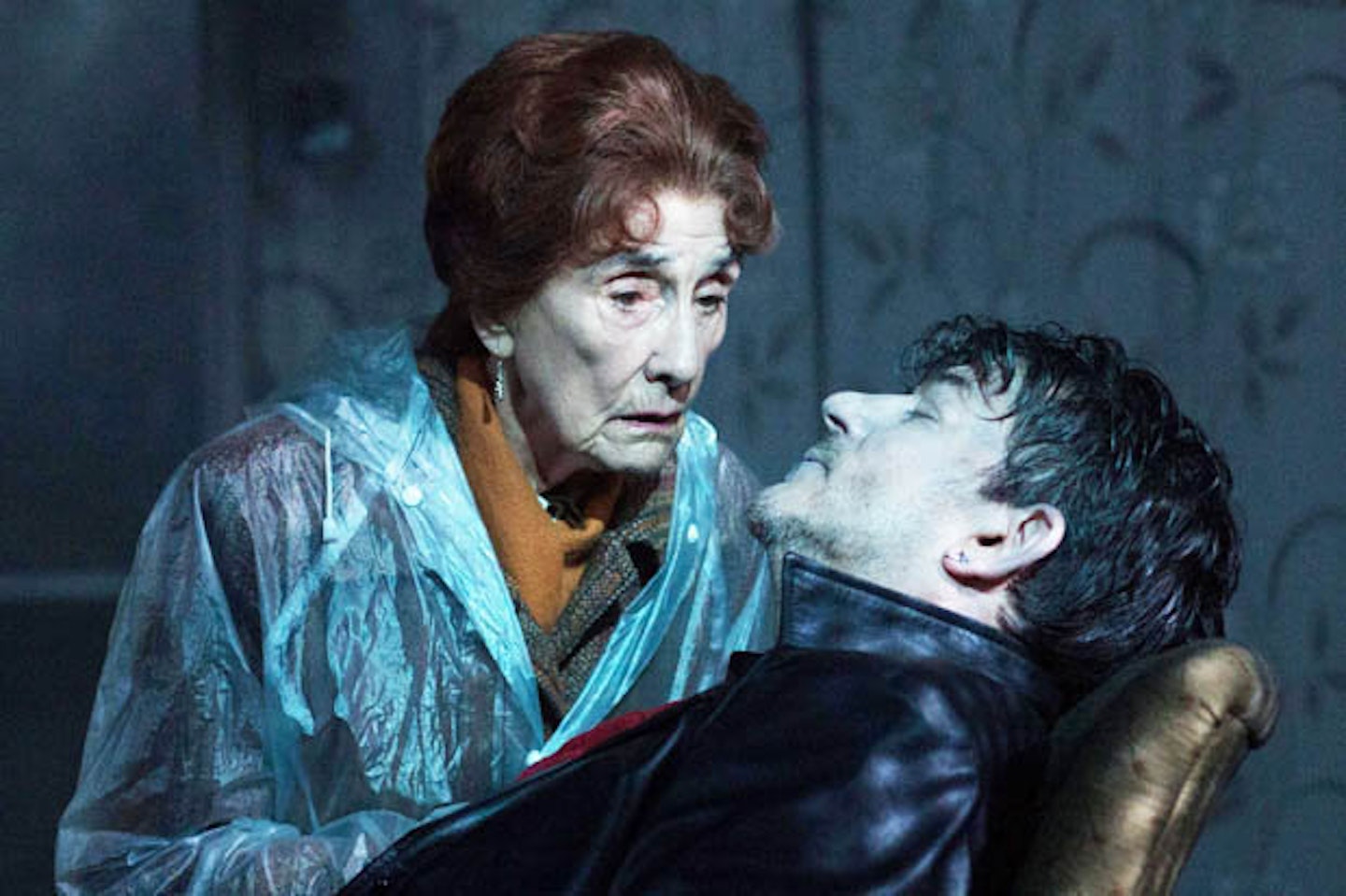 28 of 35
CREDIT: BBC
Nick Cotton's death
After faking his own death a few years previously, nasty Nick Cotton finally succumbed to his heroin addiction, dying in his ma's (Dot Cotton) arms in the exact same spot he murdered Reg Cox 30-years earlier. Poetic justice if ever we saw it!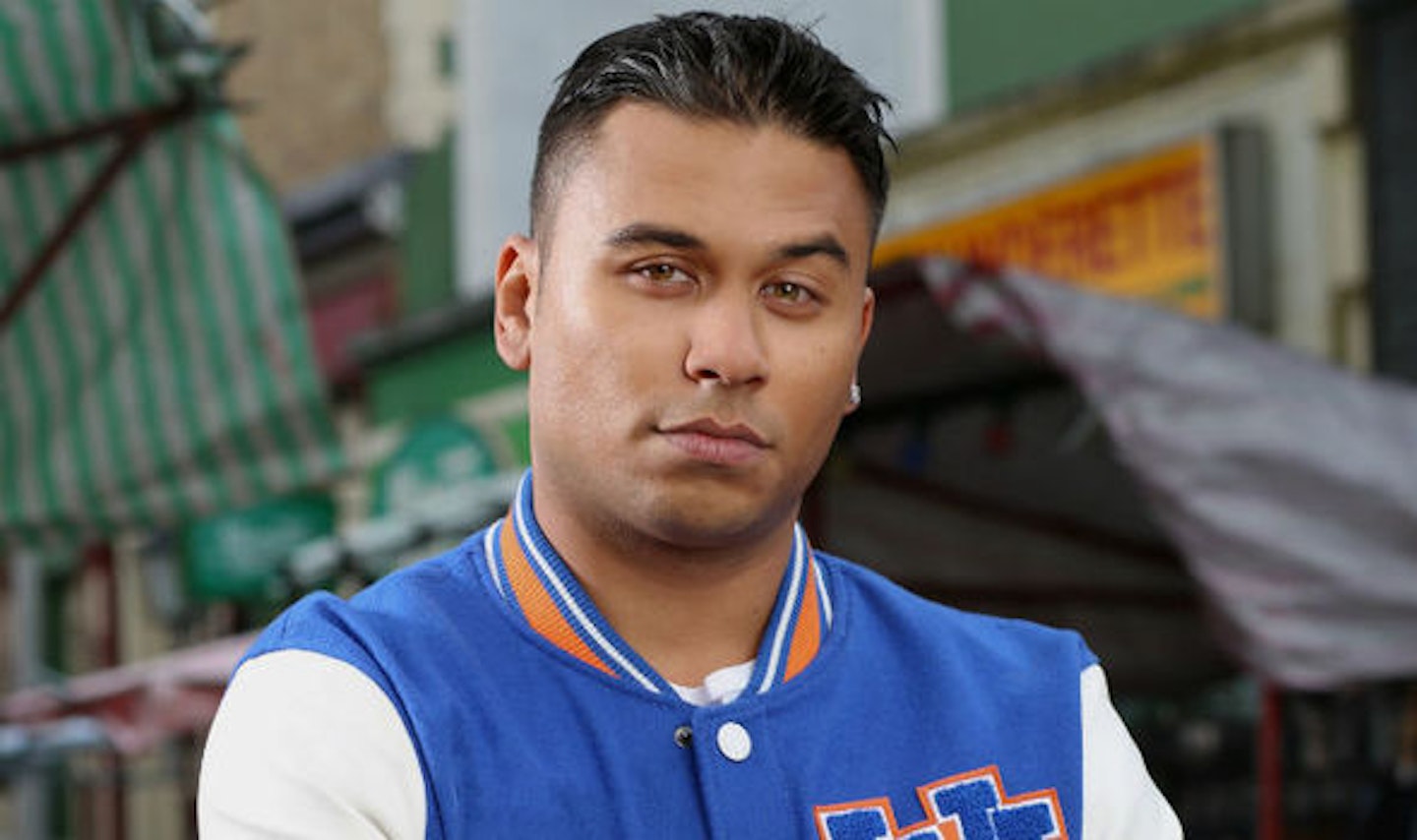 29 of 35
CREDIT: BBC
Fatboy's death
In 2015, EastEnders fans were left devastated when Fatboy was accidentally murdered.The Mitchell family and Vincent Hubbard had been feuding for a while and Ronnie decided to take matters into her own hands. She hired a hitman to kill Vincent and have him crushed in his car but thanks to Claudette Hubbard, Fatboy was brutally murdered instead.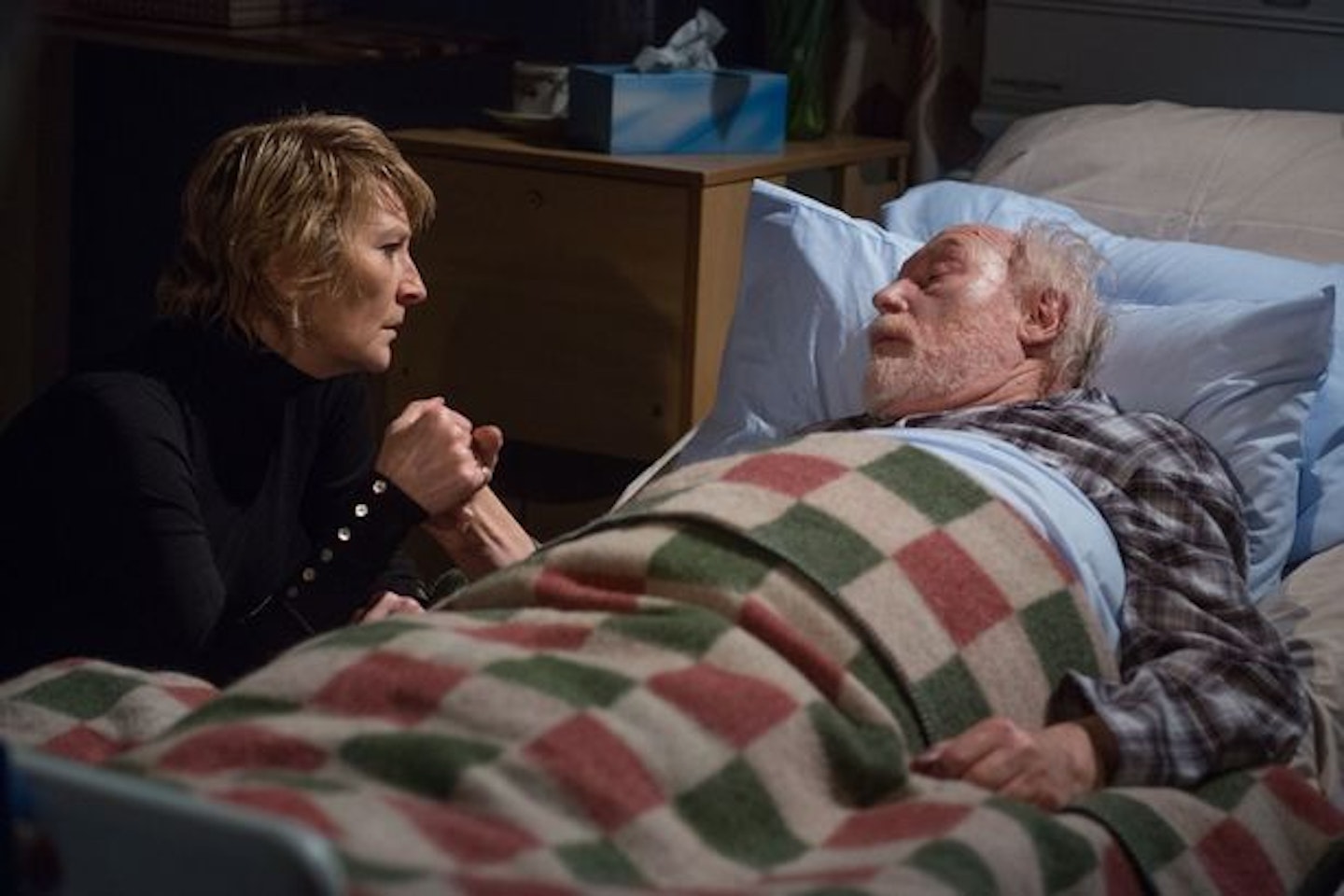 30 of 35
CREDIT: BBC
Stan Carter's death
Despite having difficult relations with the majority of the Carter family, they all gathered around to bid the steel-hearted Stan an emotional farewell.He also found peace with his daughter Linda Carter, who spent most of her adult life resenting him.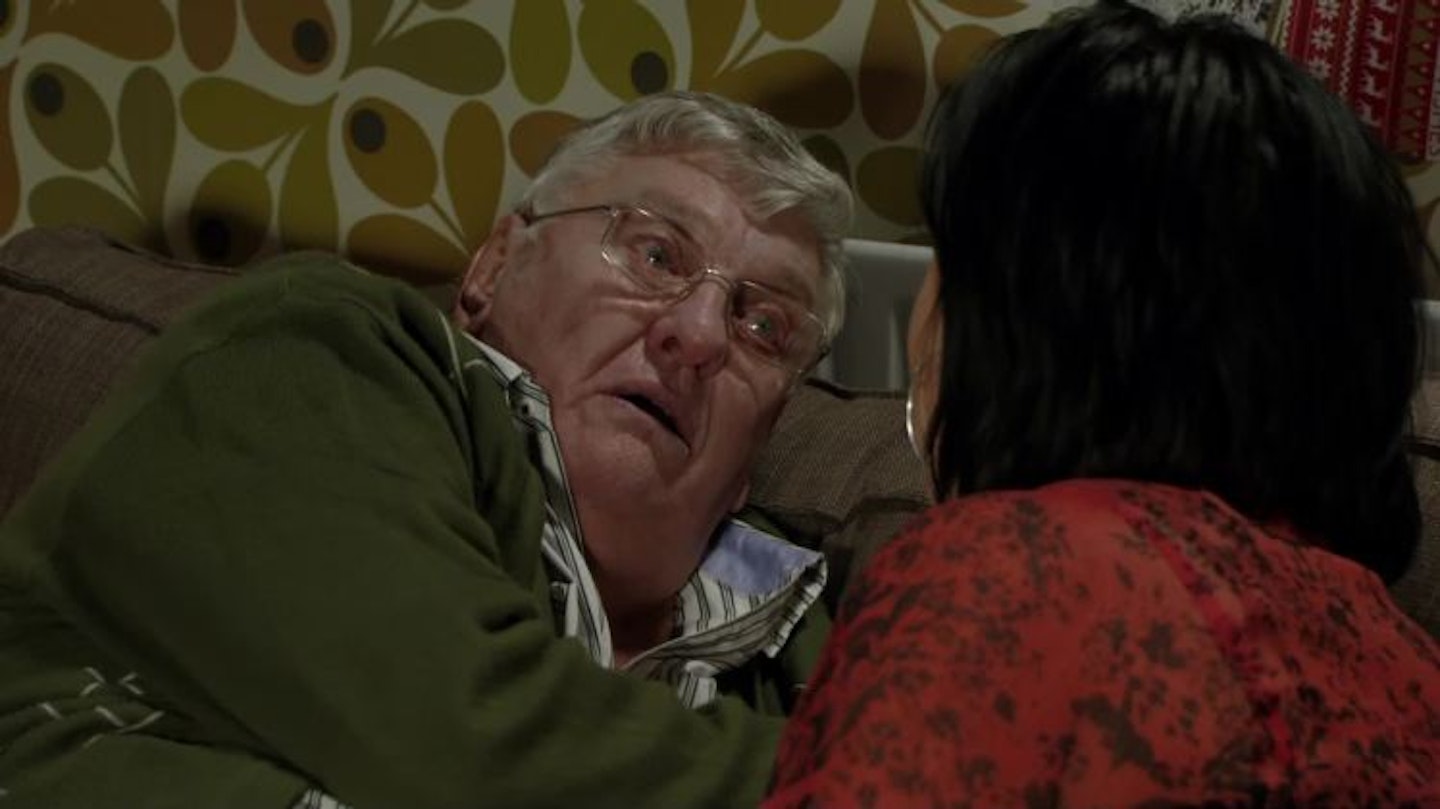 31 of 35
CREDIT: BBC
Charlie Slater's death
Cab driver Charlie was the beating heart of the Slater family - who was often overshadowed by his daughters. Throughout all the endless Slater secrets, and many mistakes, he was a devoted dad until the bitter end and we all loved him to bits.Charlie died suddenly of a massive heart attack early in 2016 in the arms of his beloved daughter Kat Slater, and again we all blubbed.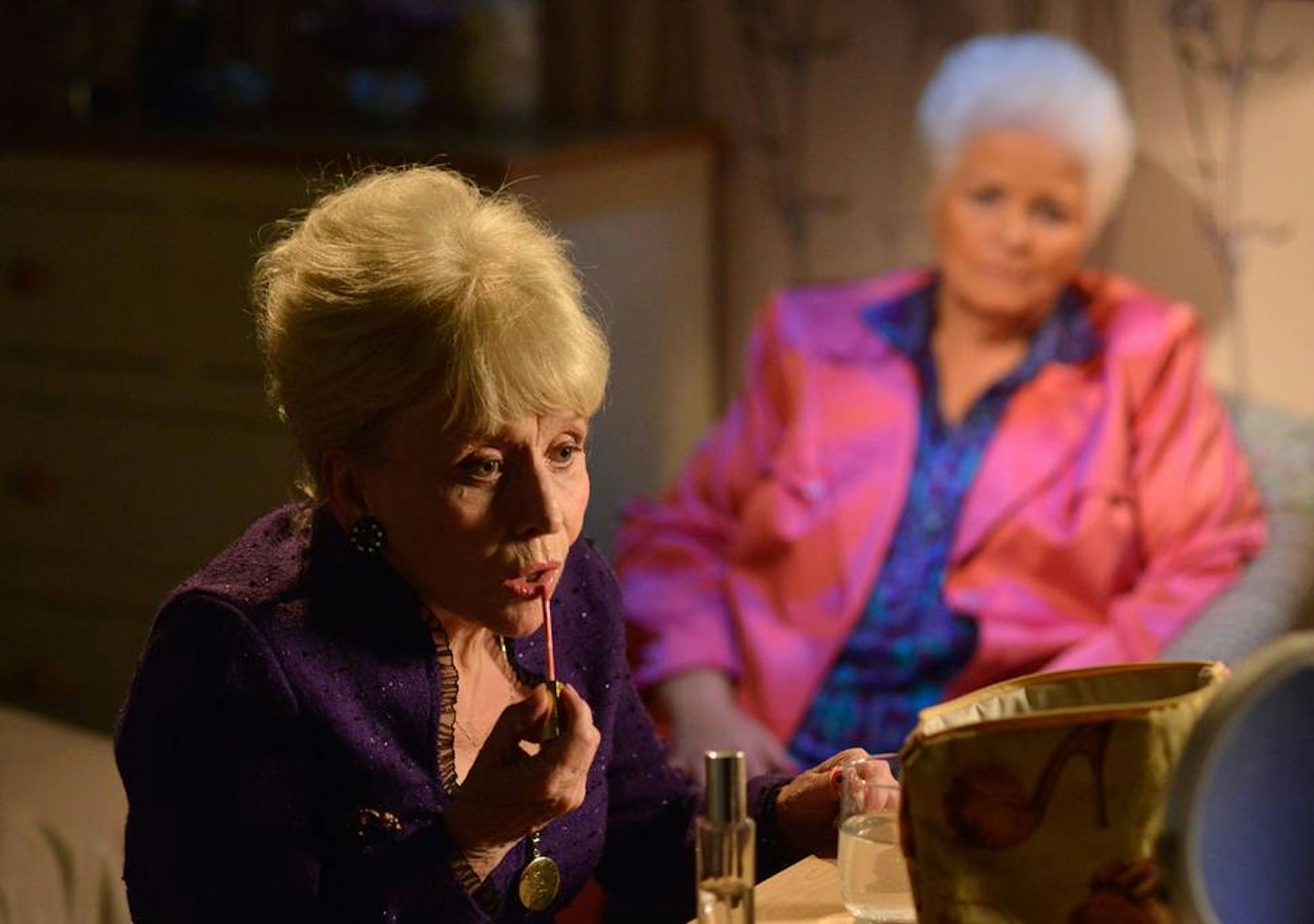 32 of 35
CREDIT: BBC
Peggy Mitchell's death
"I will go as I have lived," promised Peggy Mitchell, the legendary EastEnders landlady."Straight back, head high, like a queen."East End matriarch Peggy, played by Barbara Windsor, was never going to let cancer defeat her. So she planned to take her own life instead when she felt ready, accompainied by her old pal/arch rivil Pat Butcher.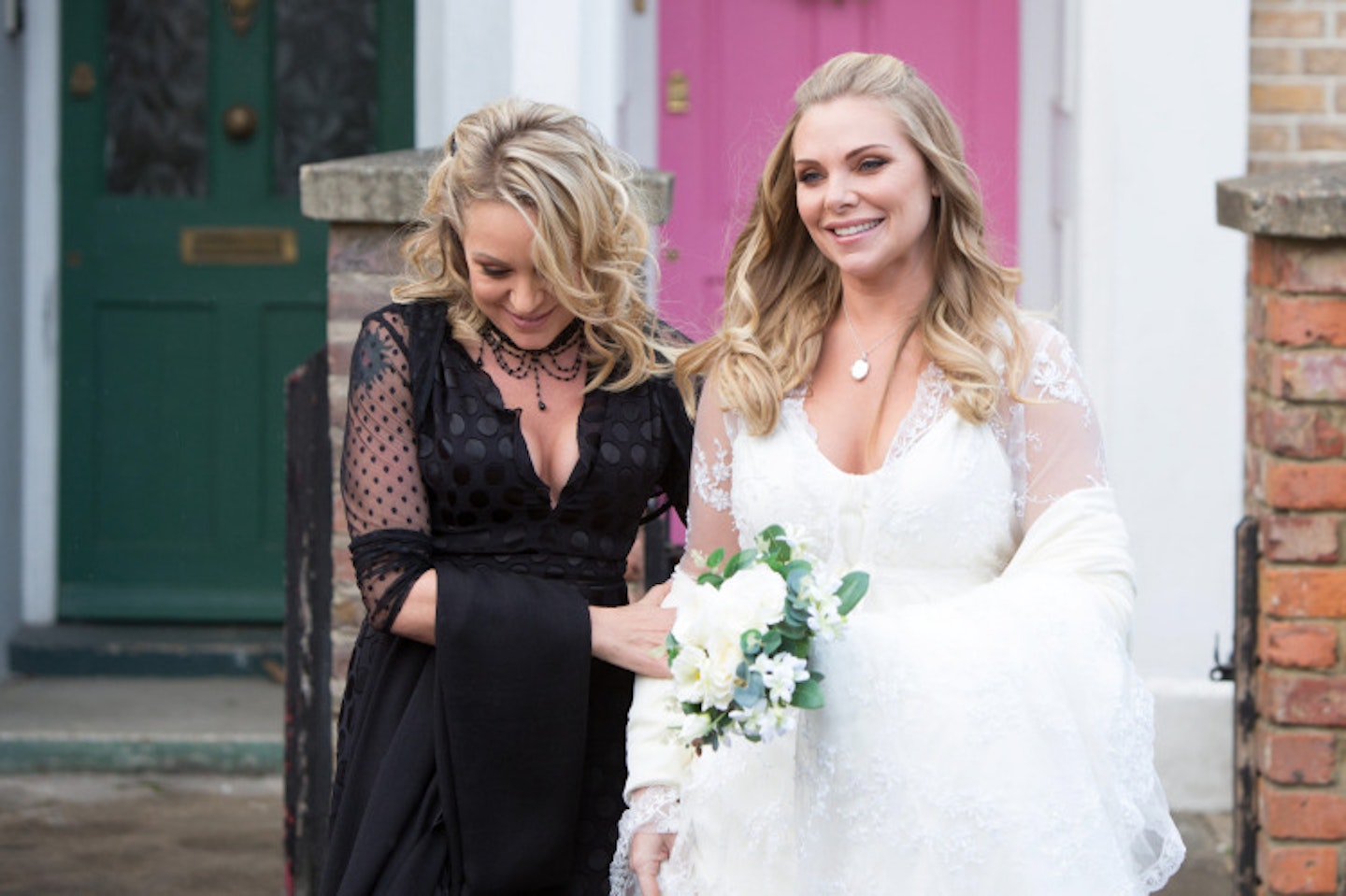 33 of 35
CREDIT: BBC
Ronnie and Roxy Mitchell's death
We will never forget EastEnders New Years Day episode in 2017 when the infamous Mitchell sisters died on Ronnie and Jack's wedding day.Talk about drama.The pair had been feuding for months but after they finally reunited and were all going to move to Ongar, the pair drowned in the swimming pool. While Roxy suffered a heart attack, Ronnie jumped in to save her sister but drowned also because of her wedding day.
34 of 35
CREDIT: BBC
Abi Branning's death
A year after Ronnie and Roxy bowed out of the show there was another shocking incident between two sister - Lauren and Abi Branning. Following in the footsteps of their half-brother Bradley Branning, the sister fell off the Queen Vic pub.While Lauren managed to have a recover from the fall, Abi was left brain dead. The doctors then decided to turn off her life support machine.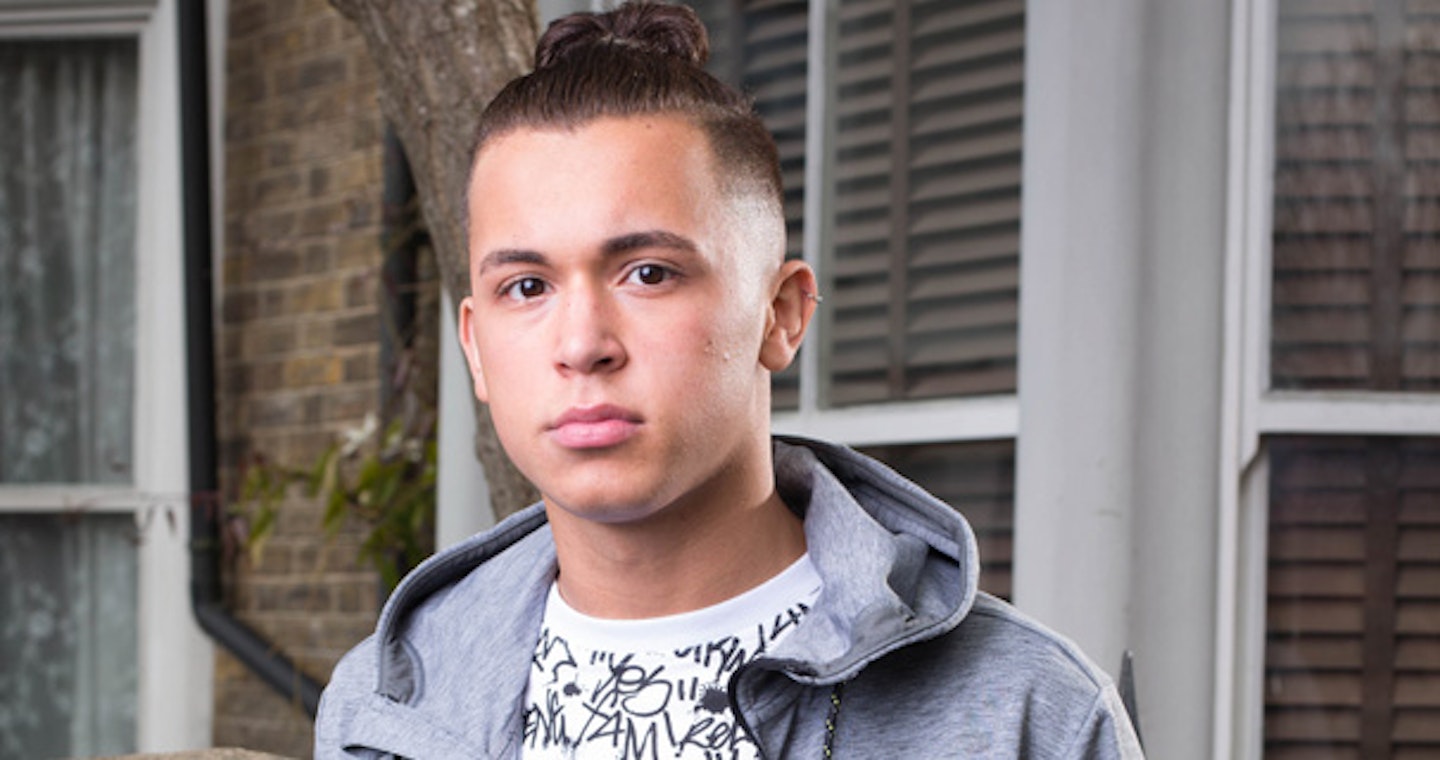 35 of 35
CREDIT: BBC
Shakil Kazemi's death
Who does Danny Dyer play in EastEnders?
Danny has played pub landlord Mick Carter since 2013 alongside his on-screen wife who is played by former Strictly star Kelly Bright.
Is Danny Dyer leaving EastEnders?
In January 2022, BBC bosses confirmed that Danny Dyer will be leaving the show later this year.
During his time on the show, Mick has struggled with his mental health, discovered his wife Linda was raped by his brother Dean Wick and found out that Shirley Carter was actually his mum and not his sister.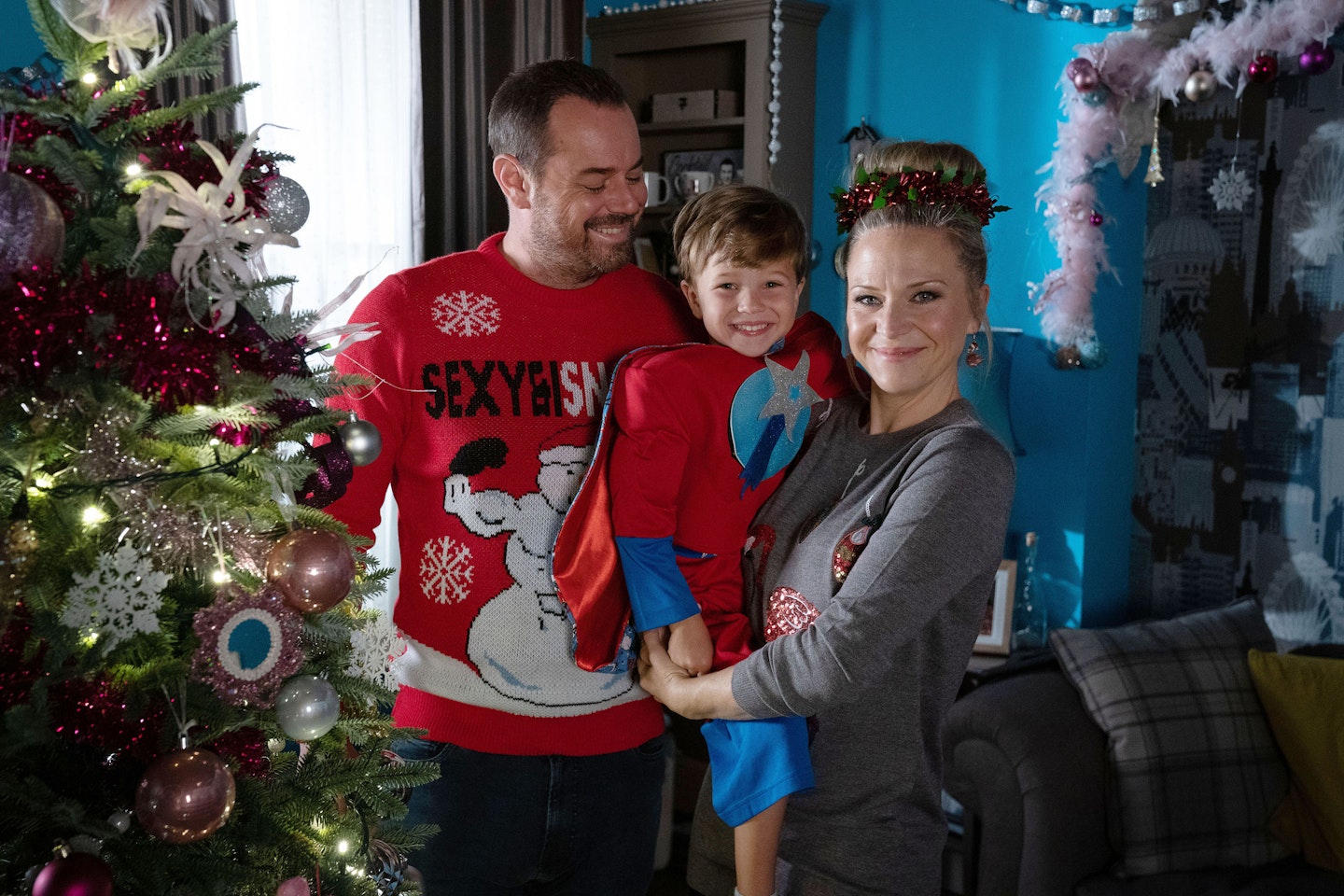 What films have Danny Dyer been in?
Outside of Albert Square, Danny Dyer is a pretty successful Brit-flick actor. He first caught our eye in coming-of-age film Human Traffic, then went on to star in gangsta films like Mean Machine, The Football Factory and The Business.
Did you know he also appeared in Skins and Hollyoaks Later?
Where does Danny Dyer live?
Danny lives in Essex with his family. Their house (nay, mansion) is pretty amazing. Want to take a peek inside? Take a look around here.
Did Danny Dyer have an affair with Sarah Harding?
In 2017 it came to light that Danny had a six-week affair with Girls Aloud singer Sarah Harding.
He briefly split with Joanne and left the family home but the pair reunited after Danny made it very clear that he just wasn't the same man without his wife.
We reckon Danny has learnt his lesson because he's apparently going to renew his vows with his wife.
Who is Danny Dyer related to in royalty?
In a truly bizarre turn of events, Danny appeared on Who Do You Think You Are? and found out that he's related to William the Conquerer, Edward III and Henry VIII's advisor Thomas Cromwell.
Speaking to Radio Times, he said, "Cromwell wrote his last letter to Henry VIII begging for his life, on July 24, which is my birthday… And I drink in the Anne Boleyn pub."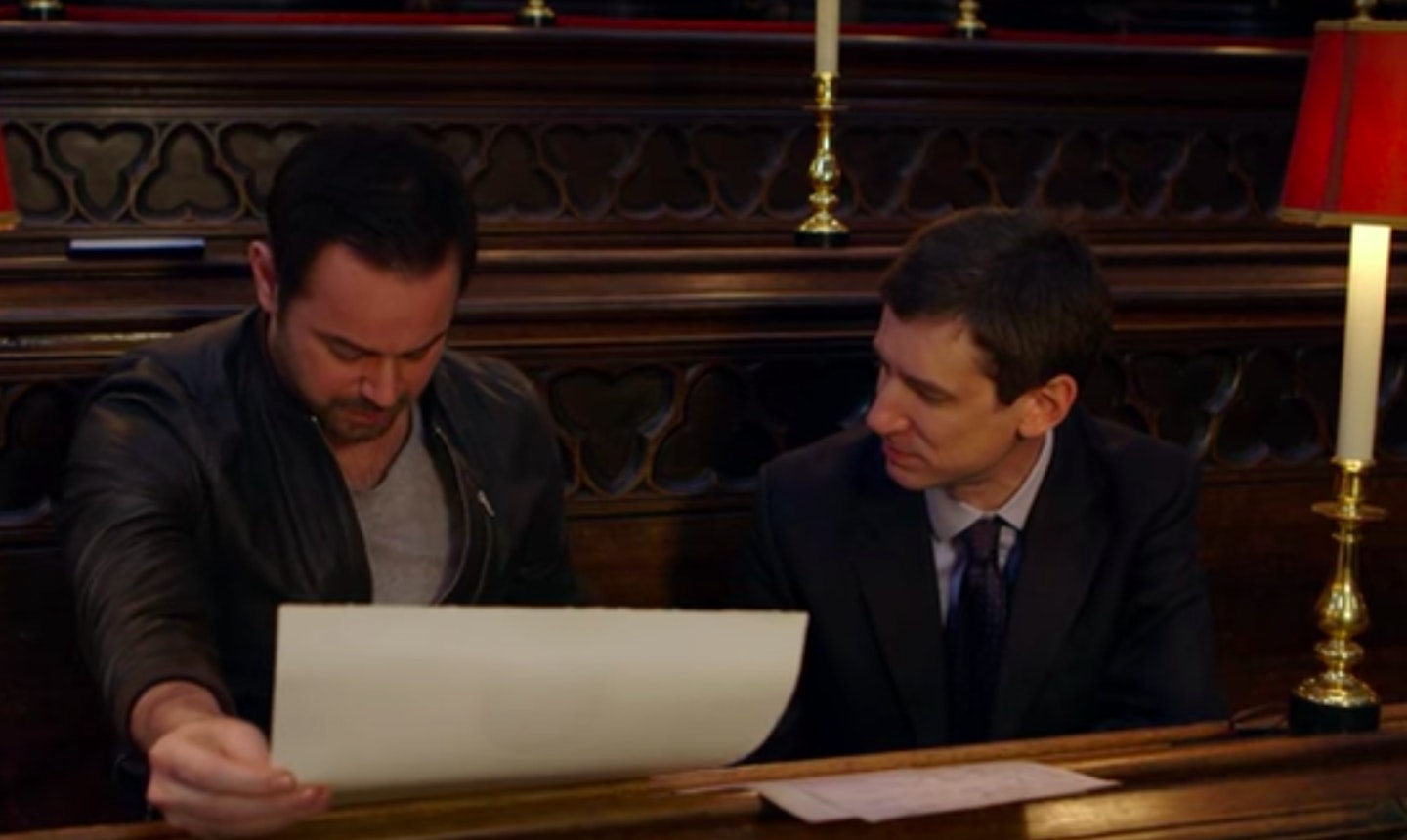 You really could not make this up...
WATCH: Marcel Somerville CONFIRMS secret beach days | Love Island Secrets
READ MORE
EastEnders fans STUNNED as barmaid Tracey reveals Phil Mitchell's saucy secret
EastEnders: James Forde reveals new job after Liam Butcher axe and hats off to him
Discover Eastenders' Jessie Wallace's quirky London home with flower wall and cool vintage fixtures
Is Danny Dyer on social media?
Unsurprisingly, Danny has been a bit mouthy on social media in the past. He gave Katie Hopkins a piece of his mindwhen she made a comment about Danny's wife.
He's a bit of a comedy genius - whether he intends to be or not - so it's well worth following him on Twitter (@MrDDyer) and Instagram (@OfficialDannyDyer).
What are Danny Dyer memes?
Being the TV legend that he is, Danny Dyer is the star of many a meme. Shall we take a gander at a couple? Oh go on then...
How much is Danny Dyer worth?
We can't possibly know, but it was reported in 2017 The Telegraph reported that Danny was paid £400,000 for his work on EastEnders.
But we think this bobby-dazzler is totally priceless.