Alison Hammond has become one of the UK's most sought-after presenters, sealing her rise to the top when – along with Dermot O'Leary – she became a regular presenter on This Morning.
But it hasn't all been plain-sailing. The TV duo, who replaced Eamonn Holmes and Ruth Langsford last November, previously admitted it took them "two months to feel comfortable", with Alison saying it felt like an "arranged marriage."
And a source at the time said, "Dermot has been a big star for many years and has presented some big shows, while Alison has always wanted a less high-profile career and has far less experience.
"They are impatient with one another, mainly because they do things so differently. It has led to on-set bickering and awkward tensions off-air."
The duo – who have become favourites with viewers – are now said to have become "firm friends", despite representatives for the channel being forced to deny reports last month that suggested they were still feuding.
But insiders confirm how navigating their partnership and adapting to her huge new TV role has been a strain, and reveal how the "pressure and scrutiny" of her new job has led Alison, 47, to reflect on the sacrifices she's made to pursue the next step in her career.
A source says, "Alison never asked for all of this attention and was so happy with her role before – interviewing all the celebs was her dream job.
"Of course she wasn't going to turn down the chance to present a prime-time slot on This Morning and loves all of the extra experience it is giving her – but that has come at a cost.
"The extra pressure and scrutiny sometimes sets her on a spiral of believing it would be easier to have her old job back."
After first joining the award-winning daytime show back in 2003 as their celebrity interviewer, Alison – who had shot to fame in the Big Brother house the previous year – quickly became a household name for her grounded nature, cheeky sense of humour and hilarious celebrity interviews.
Her candid interview with A-list actors Harrison Ford and Ryan Gosling in 2017 went viral when she awkwardly admitted she hadn't ever watched the Blade Runner film they were promoting at the time, and struggled to think of any questions to ask – opting for a glass of whisky instead.
The self-proclaimed "terrible" interviewer received over 10 million hits, with US and Australian TV shows urging her to launch her own show.
She later "married" The Rock – wrestler and actor Dwayne Johnson – live on air, and persuaded hunky actor Hugh Jackman to feed her olives on an interview "date".
But five years on and, while her recent glow-up has had sponsorship deals and TV requests flooding in, the source says her seemingly unstoppable popularity boom has also meant she's become more aware of "backstabbers" who may want to knock her from the top spot.
The source adds, "Alison has been warned by the likes of Holly and Phil that there will be toxic people who want to knock her from her pedestal – but they've advised her that it comes with the territory and to completely ignore any haters.
"But behind her smile and warmth, Alison still feels very new and is living in fear of TV backstabbers. She worries about who she can trust, both professionally and personally, and doesn't feel as savvy as Holly and Phil. What you see is what you get with Alison and she hasn't been hardened to life in the public eye just yet. When she reads any negative comments about herself, she feels sensitive and hurt."
Closer recently reported how Alison – who has a 17-year-old son, Aiden – has also struggled with sharing details of her personal life with her ever-growing fan base.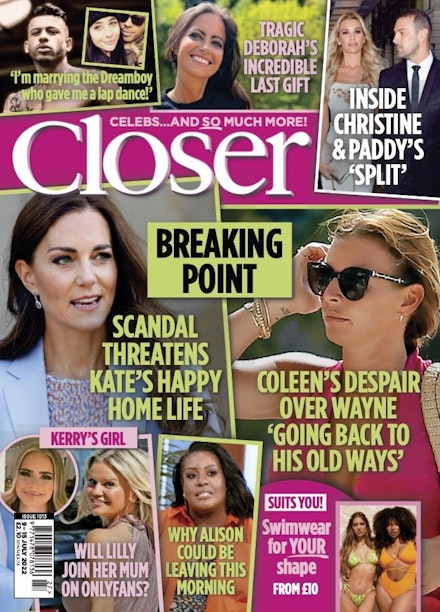 In May, Alison had been torn over going public with her new relationship with a mystery man before it was later revealed on-screen by Dermot when he slipped up and admitted she is "off the market".
But while she feels more at home on the sofa with famous faces, the source says feedback from fans has given Alison the confidence boost she needs.
During a special royals segment ahead of the Queen's Jubilee, which saw Holly Willoughby and Phillip Schofield present their weekday show from Buckingham Palace, Alison held her own as she rounded off the show solo from ITV's London studio.
At the time, Alison received congratulatory messages from fans on social media, with one Tweeting, "Alison, you looked fabulous on This Morning today. You can do this on your own and own it."
And the source reveals how Alison is so popular, even ITV have been fighting to keep her.
They add, "Alison is such a hit with the viewers and all networks want to have her, so This Morning will do anything to keep her. It's certainly boosting Alison's confidence and giving her the determination and grit she needs not to be replaced. She's determined to rise above it."
Read more in the latest issue of Closer magazine - OUT NOW.