If you, like me, are a veteran of the 'burnt hair' club, then keep reading because, months on from first writing this, I've never been more impressed by the L'Oréal Steampod...
For years I've been waking up to the smell of my own singed hair as I heat the dear life out of it, trying with all my might to eliminate any hint of a wave (anyone else?). I've tried all the styling tools. From the £19.99 Remington straighteners that, granted, do the job, but burn all the keratin out of your hair, to the £200-odd ghds straighteners that look after your hair but still don't quite do a thorough job unless you comb them through your hair excessively - I'm quite the straightener aficionado if I do say so myself.
So, when I heard about the L'Oréal Professionnel Steampod, it'd be fair to say I was intrigued.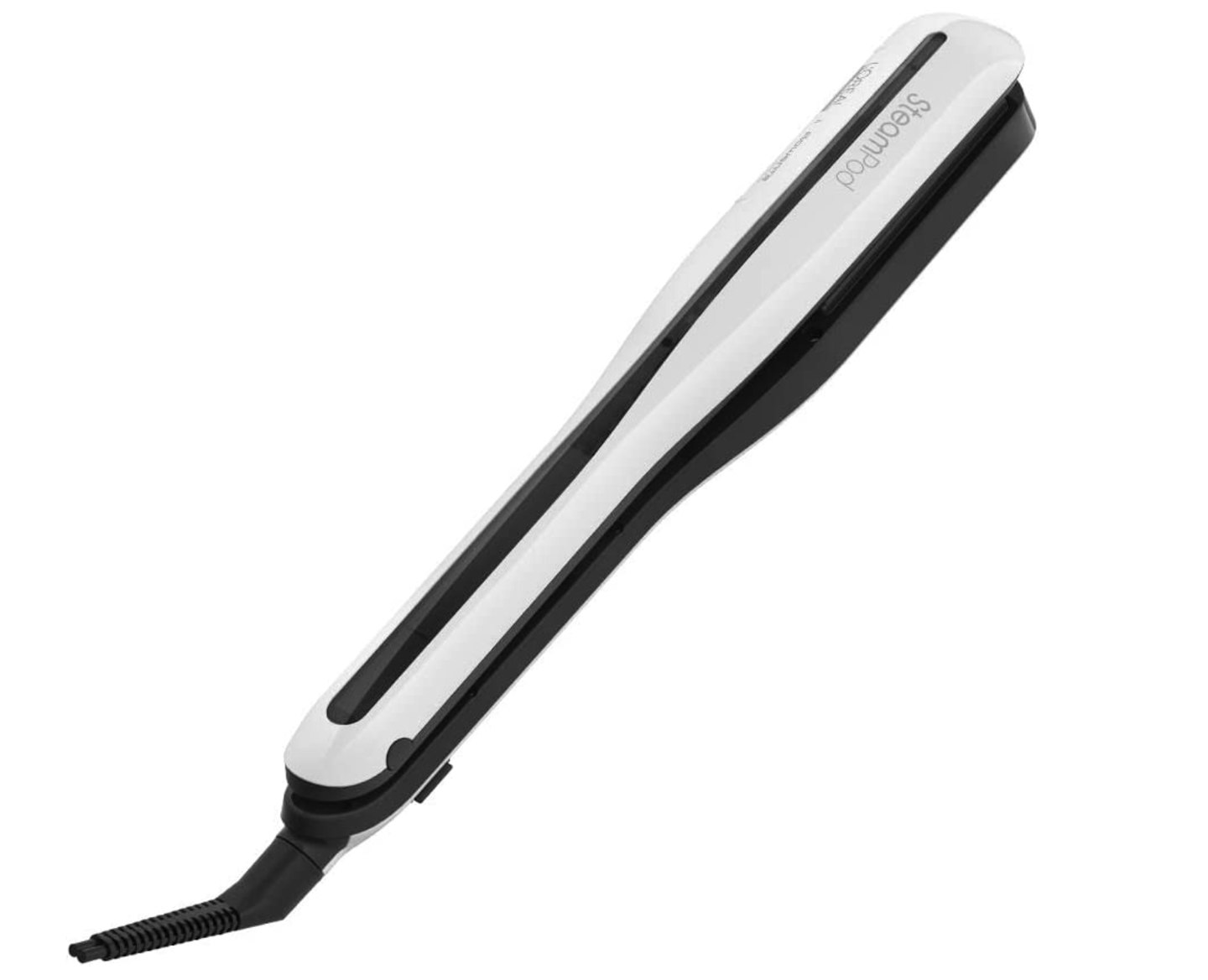 amazon
Description
Delivers effortless salon looks with the power of steam. Enjoy styles ranging from straight and
How does the L'Oréal Steampod work?
The L'Oréal Steampod uses steam to bypass the damage that a straightener's heated plates can inflict on your hair, and it's the first product on the market to try it.
That's not to say that the Steampod is damage-free. No, heat is never good for your hair, but, this way, your hair will come away from its daily styling with 78% less damage compared to a 'regular' straightener. And, it's better for coloured hair, too.
It combines an inbuilt comb, for a smoother finish, with a constant flow of steam through seven small outputs, to produce a glossy, quick and less damaging result.
The water is kept in an inbuilt tank (about the length of a teaspoon) and needs to be refilled after you've straightened "two times the height of Big Ben" in hair... For me, this meant about five or six straightening sessions, and the Steampod comes with a tiny refilling bottle, so topping up the tank is super easy.
One caveat with the water tank is that it requires you to fill it with "de-mineralised water" so as to prevent scaling (and scaling isn't covered as a valid reason for breakage on your warranty, FYI).
De-mineralised water is a bit of a pain to get hold of in the shops, but it's fairly easy to come by online, so I've linked it down below. (And we'll just overlook the fact that I couldn't get hold of any and used bottled Evian instead...)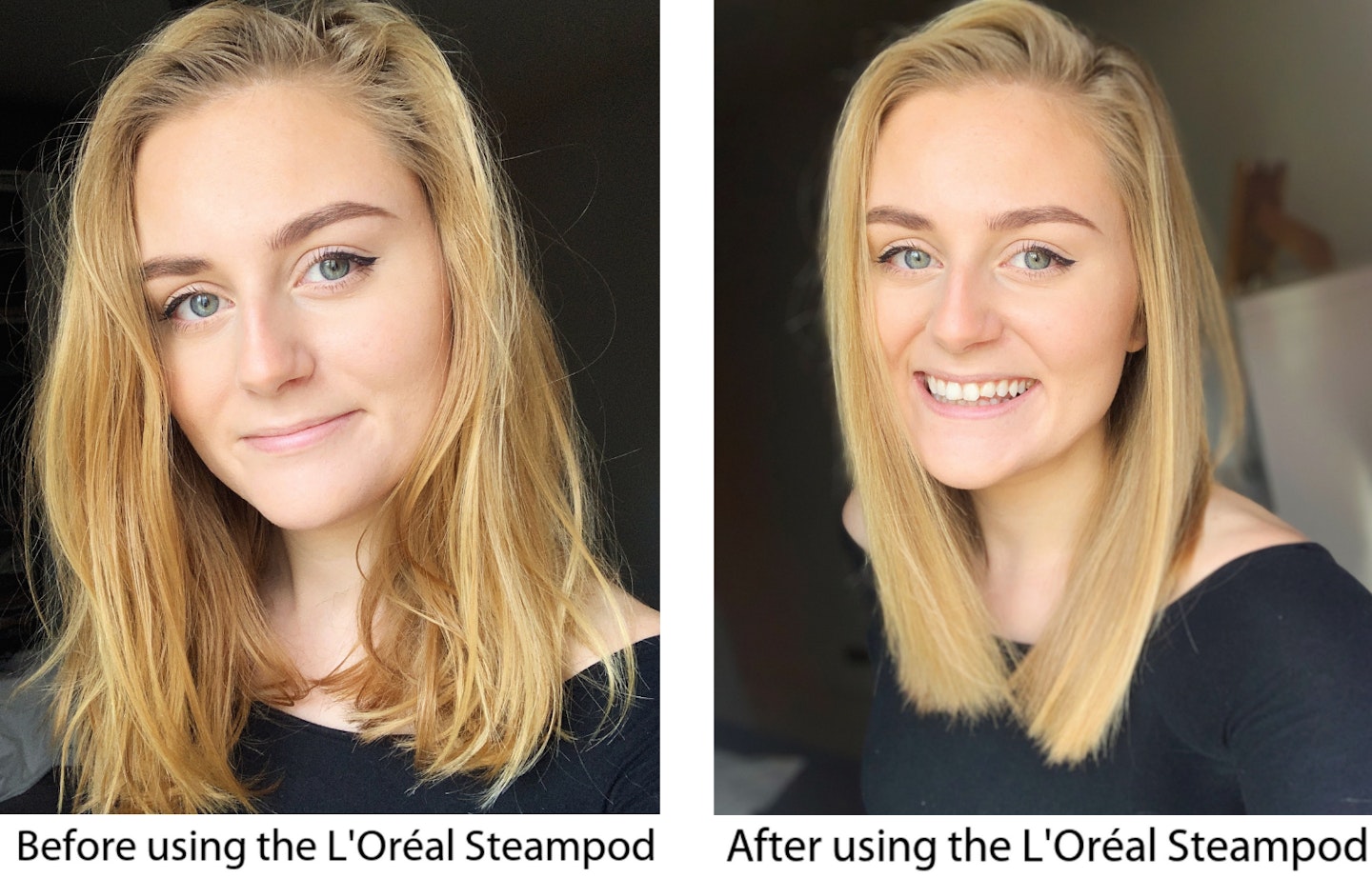 Does the L'Oréal Steampod actually work?
So, for my honest review of the L'Oréal Steampod...
Yes, it does work, and I would recommend it. Normally, I have to combine a hairbrush with my straightener to achieve any sort of gloss, and even then I come away from my mirror with slightly burnt-smelling hair. With the Steampod, the inbuilt comb meant that any hard-to-wrangle strands were pulled straight without any hassle and the effect of the steam seemed to give my hair that 'hairdresser blow-dry' sort of freshness.
My one complaint would be the weight of the Steampod. Though the Steampod 3.0 is 37 per cent lighter than its previous edition, I still found it to be quite bulky. It didn't hurt my arms, though, so this is only a mild complaint. I just wouldn't brand it as 'travel-friendly.'
Is the L'Oréal Steampod worth the money?
The L'Oréal Professionnel Steampod comes in at £235 (RRP) and...drumroll, I think that's a fair price for the product you get.
Granted, if you want your Steampod to stand the test of time, you should probably invest in some de-mineralised water, too. But, overall, this is the first straightener I've used that practically does it all, and quickly.
I feel like I've cut down my daily straightening time by at least 10 minutes each day (AKA valuable sleep time) AND the Steampod doubles as a waver/curler, as well. It's a win-win if you ask me.
So...am I still using the Steampod?
Did I stick to using the Steampod more than my basic straighteners? No - but, did my hair pay the price for my laziness? Yes.
As I mentioned previously, the Steampod certainly does save time if you're looking to achieve a glossy, salon-fresh look. However, it does require a little bit more attention while you're actually styling your hair.
Compared to my basic ceramic-plate straighteners - which I can almost blindly comb through my hair half asleep (I don't recommend this...) - the Steampod needs a tad more care, and you'll need to take it through your hair in approximately one-inch chunks. In essence, if I'm late for work, I'll probably end up raking my old straighteners through my hair.
That said, on a trip to the hairdresser, the stylist did make a comment about the state of my dry ends as a result and, ever since, I've returned to the Steampod in my daily routine.
The Steampod kept my ends looking just as good as the day they were trimmed - something I know wouldn't be the case if I'd be using my usual ghds.
To summarise? I'm definitely going to keep using the Steampod, even if it does require me to pack in my lazy habits and, if dry ends are your worst enemy, well, I'd definitely recommend swapping out your usual straighteners, too.
So, if you like the sound of the Steampod, shop it now below.
CHECK OUT: L'Oréal Professionnel's Steampod collection
Shop the L'Oreal Professionnel Steampod 3.0 NOW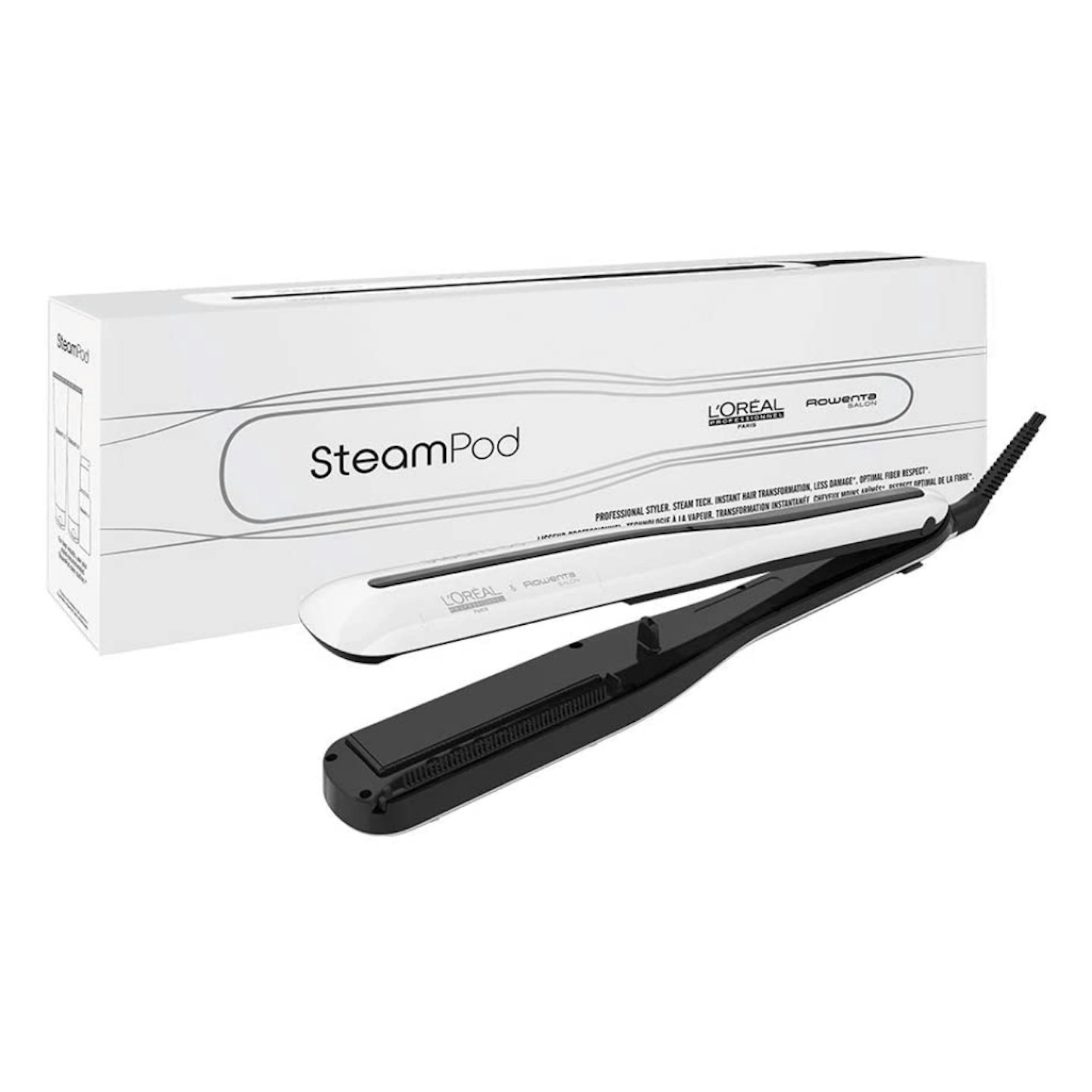 1 of 2
CREDIT: Amazon
L'Oréal Professionnel Steampod 3.0 Hair Straightener and Styling tool
The original Steampod in its third generation comes in a sleek white. Your hair needs this, trust us.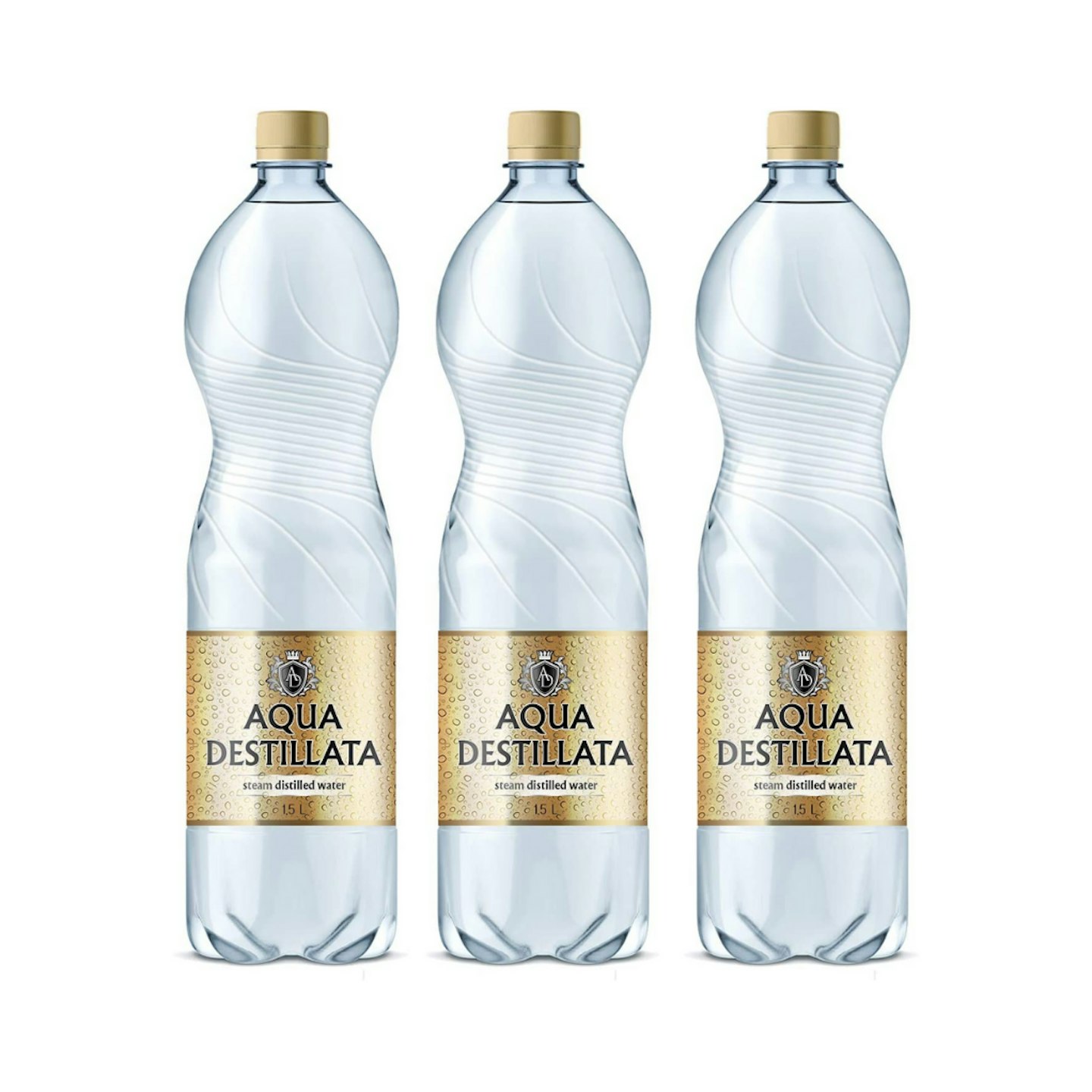 2 of 2
CREDIT: Amazon
Distilled Water 4.5 L (3 Bottles x 1.5 L) 100% Pure Steam Distilled Water
This seems like a faff, but when you're paying over £200, it's best not to take any risks.
What water should you use in a L'Oréal Steampod?
You should use demineralised water in the L'Oréal Steampod as, if you live in an area with hard water, scalage (and the styler's inevitable breakage) won't be covered under warranty.
How can you descale a L'Oréal Steampod?
If you've got to a point where you can see white mineral deposits around the seven steam outputs on the styler then, chances are, you might need to descale your Steampod to prevent breakage (note: this shouldn't happen if using demineralised water).
The general rule of thumb when it comes to descaling a steamer is, in a jug, to combine one part white vinegar with two parts demineralised water, then simply fill the Steampod's water tank with the solution, turn on, and allow the styler to steam (snap the tongs closed) until you can no longer see the white mineral residue around the steam outputs.
Warning: The Steampod will be hot so follow these steps with caution.
If necessary, repeat the process. Once the styler appears clean, you'll then want to clean out the vinegar from within the tank/inner tubes so, when the Steampod has been turned off and fully cooled from your initial steam, refill the tank with demineralised water and steam again. Allow the styler to cool and dry, et voila!