This week, Love Island star Dani Dyer's boyfriend (and the father of her son Santiago) Sammy Kimmence was jailed for three and a half years after pleading guilty to five counts of fraud.
Dani now faces life as a single mum, and Santiago faces the first three or so years of his life without a father figure. Dani's presence as a social media influencer is huge – she's got 3.5 million Instagram followers - but in just 24 hours her Instagram posts have been flooded with a substantial amount of trolling for a crime she herself didn't commit. She has disabled the comments on every single picture of her and Sammy, demonstrating that Dani is very aware of some people's opinions but she doesn't want to hear them. Why should she?
Many are accusing Dani of being complicit in her boyfriend's crimes and arguing that she was well aware of his past when she chose to start a family with him. Sammy's scams occurred way before she welcomed Santiago in January 2021 and before she chose to rekindle her relationship with him in 2019 following her split from Love Island boyfriend Jack Fincham.
Since Sammy's sentence was announced, Dani was seen on Instagram getting ready for a holiday with Santiago; which is probably the best move as she attempts to deal with the prospect of an uncertain future.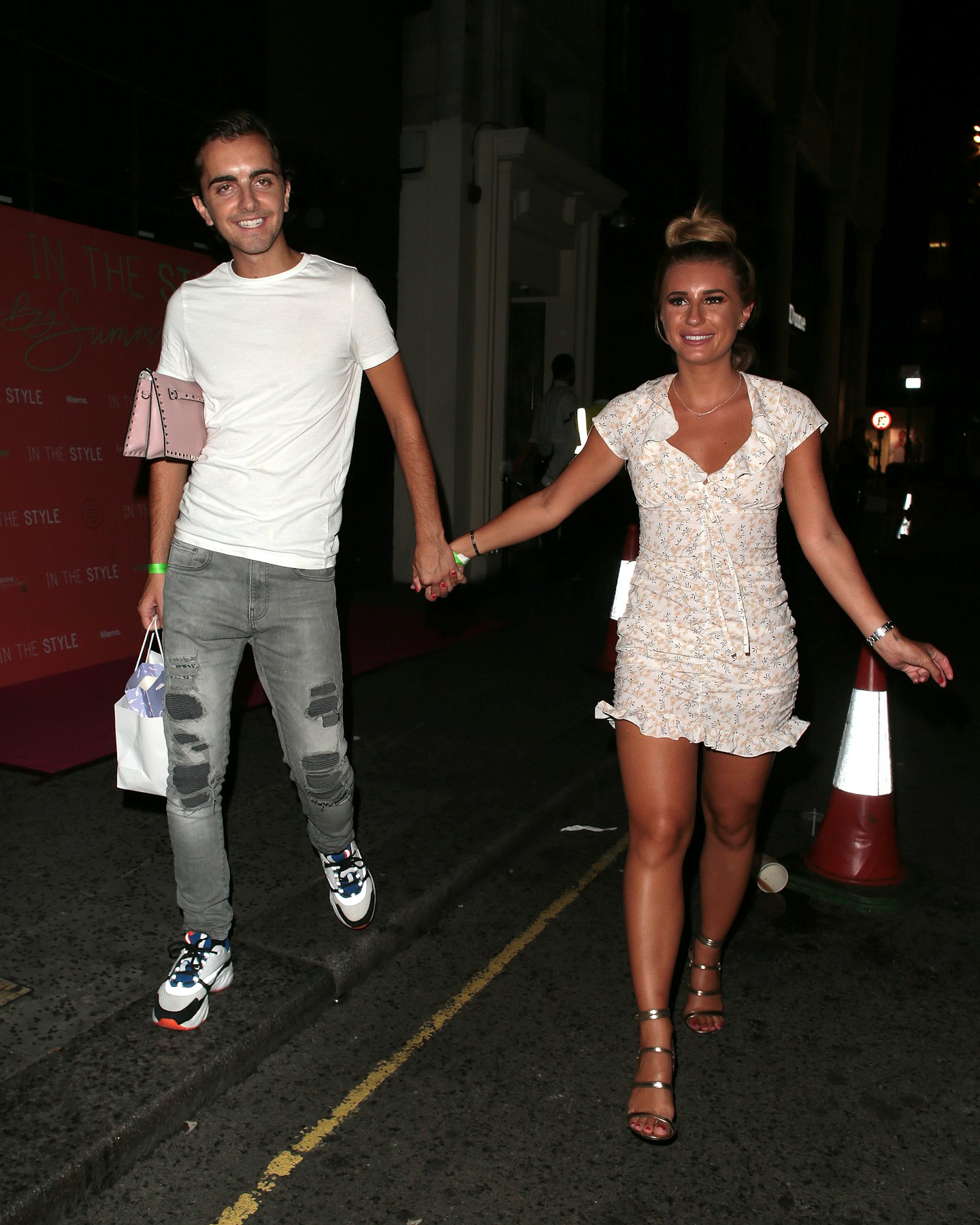 According to a source, Dani has already made the decision to split from Sammy, with one telling Mail Online, "She is absolutely floored by what's happened with Sammy. She knows she has to make massive changes in her life and she's so distraught...
"All she knows is that her baby boy Santiago is the only thing that matters now and she is trying to work out how best to look after him as a single parent."
They added, "He led her to believe he hadn't done anything too serious and that he would get a suspended sentence. Now she knows the full horror of the crime... she is broken. She feels desperately sorry for the two men he scammed and whose lives he ruined."
No one knows if Dani has actually split from Sammy, as she is yet to address anything to do with the news, but could distancing herself away from it all be the best career move she'll ever make?
CHECK OUT all the Love Islanders Instagram earnings RANKED
WATCH Love Island's Dani Dyer on getting her first wax OUCH | My First Times
It's going to be incredibly tough for the Love Island 2019 winner to escape completely from the furore surrounding Sammy, but it might be the only thing that can help salvage her career. People can say what they want about Sammy, but Dani made her money on her own and her career is incredibly important to her.
Since rocketing to fame on Love Island and becoming a mum, Dani has started her own YouTube channel where she vlogs about her life with Santi, has a lucrative clothing range with InTheStyle, has written a book 'What Would Dani Do?', co-hosts a Spotify podcast with her dad Danny Dyer, has appeared in EastEnders, has worked with brands such as Surf, mybabiieofficial and even set up her own private firm I Want It, I Got It. She's said to make more money per year than her incredibly famous dad, Danny.
Read more news
Trolling Dani Dyer's Instagram about Sammy Kimmence's jail sentence is not only harassment, but a futile exercise
Shaming Kerry Katona for her OnlyFans is a masterclass in snobbery
Why Shannon Singh's nudes are not something you should search for
The Tab has estimated that Dani, 23, is worth 1.7 million and can charge 15k for a sponsored Instagram post.
You don't need me to tell you that we all fell a little bit in love with Dani whilst she was on Love Island, she struck me personally as a girl who loved hard, whether that be her family or her friends. She glided through her time on the ITV2 show without a hint of controversy, and now she's at the centre of a storm. Sure, you can't help who you love and some will speculate about what will happen when Sammy is set free but for now, Dani is just a mum trying to make a living for her son.
She glided through her time on the ITV2 show without a hint of controversy, and now she's at a centre of a storm.
You only need to look at Ferne McCann, who has turned her life around since her ex-boyfriend (and father to her daughter Sunday) Arthur Collins carried out a traumatising acid attack in a London nightclub which left 14 people injured.
He was jailed for twenty years in 2017 after being found guilty of five counts of grievous bodily harm with intent, and nine counts of actual bodily harm against 14 people.
Ferne has completely distanced herself away from anything to do with her ex and has publicly condemned him. She is proof that sometimes, despite how painful it is, that the best thing to do is look after yourself and your own.