Rosie Fortescue always looks great on screen so we jumped at the chance to pick her brains on her health and fitness.
We attended a session at the Zumba Instructor Academy, which was directed by the creator of Zumba, Beto Perez.
And after the hour-and-a-half long session, Made in Chelsea's Rosie told us all about what she eats to stay healthy, what tips she has for the gym, and how she stays looking lovely.
When did you start getting into Zumba?
I started getting into it this year and I've been taking my agent to classes with me, and we just have a great time. We have a laugh and it's fun, and it's really uplifting and everyone's having a good time.
Yes, and people don't take it too seriously...
No, they don't and that's what's so good because I feel like some gym classes you go to, like bootcamp for instance, I'm petrified to go because I don't want to be the newbie in the class.
But for something like Zumba you can always go and just wing it and have fun, laugh, enjoy it.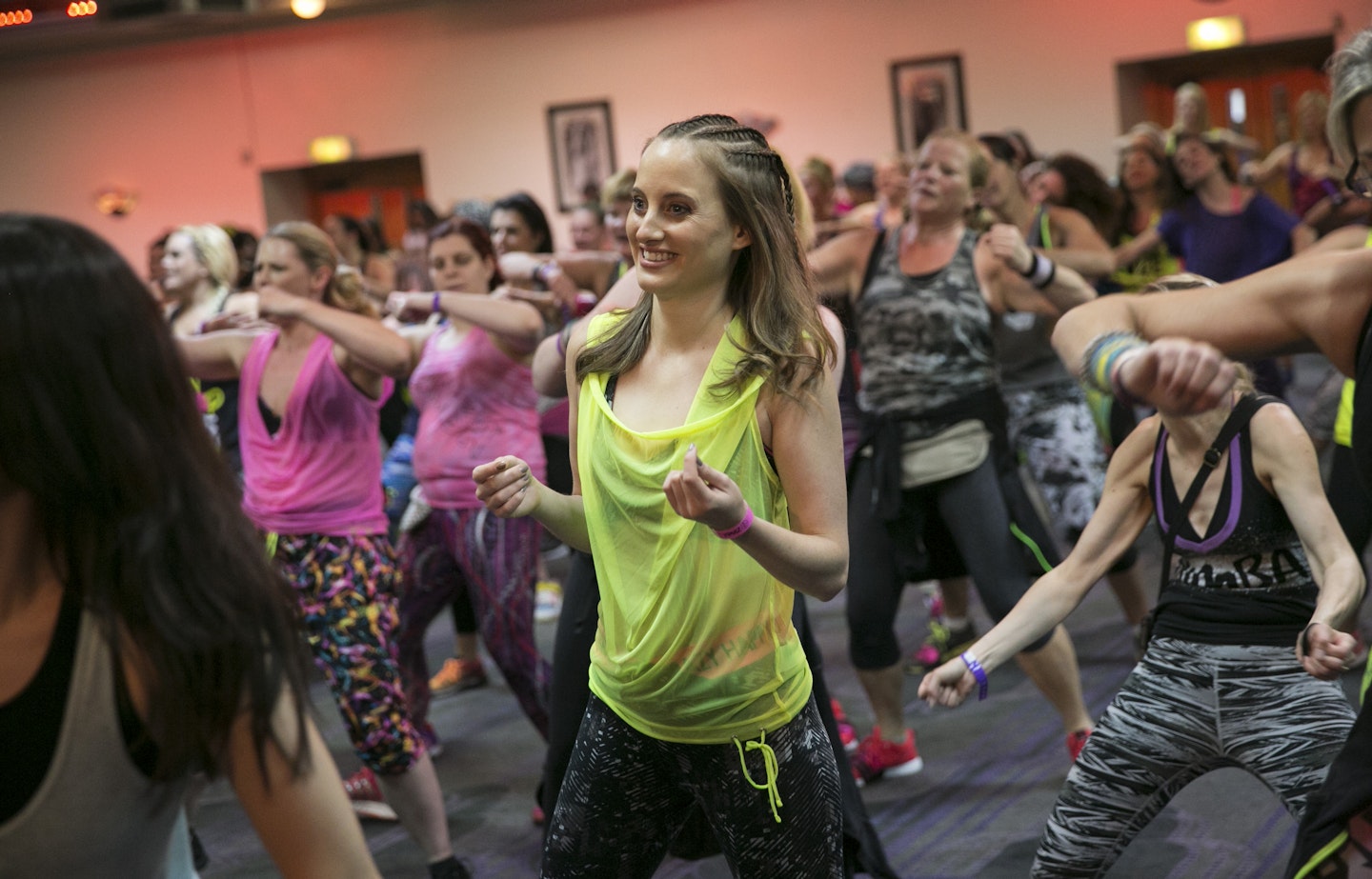 Do you like to go to the gym on your own or with friends?
I actually go on my own a lot. I do classes though and there's always people in the class so you're not in a deserted gym on your own.
I will try and go with friends when I can but sometimes I need to go at a certain time because that's the only time I've got, so if it doesn't work out with other people then I'm happy to go solo.
That's confidence! We couldn't do that.
But the classes are easy because I think you kind of zone out and you focus.
When I used to do personal training I found that actually I used to sit around and talk to my trainer a lot and look at funny things on Instagram and he would say to me, 'Crank up the bike and stand up on the bike,' and I would be like, 'No way, I'm getting off it now, that's my warm-up done,' after a minute.
So I feel like if you get too close to someone and too friendly you start not listening to what they say.
Whereas in a class, you're just kind of on your own and you just zone out and do it.
What classes do you go to?
I do boxing, Zumba, there's a gym called Core Collective that I go to that my friend owns where they do a resistance class, they do a HIIT class, then there's boxing place that I go to.
I find it too repetitive otherwise. If you're doing the same thing the whole time, you just don't want to go because it's boring but if you mix it up then it's great.
Do you wear make-up to the gym?
I am today. I don't actually, I normally like to go to the gym in the morning, unless I'm going from a meeting, but I like to go to the gym in the morning and then have a fresh face.
It's so bad for your skin to have make-up and sweat and everything, but no, I don't wear make-up to the gym. I don't really care, I'm like, 'Do you know what, I'm in the gym, I'm here to sweat.' I Don't care what I look like.
**So you don't feel insecure when there's guys there? **
No, I just don't even care. But also I'm really strong as well so I'm like, 'You can judge me for looking like a dog this morning, but I'm going to get down and do 10 more push-ups than you are.' I'm fit, I can just own it I don't need the make-up to do it, I just get down.
How do you have your hair?
Tie it back, pony tail. I normally wear my glasses because if I'm going in the morning I'm always a bit tired and I've been working, so I've been on my laptop and just pop my glasses on and just get down to it.
But we've tried wearing glasses and they just slip off my face because we're sweating…
They do sometimes, I take them off, but sometimes they're quite good for me to just focus.
Who is your gymspiration?
Tash Oakley is the dream. I'm kind of friends with her now as well, she's the dream.
She's just super fit, she's curvy, she's really toned, she's just got a really, I would say inspirational, figure for younger people.
Do you eat certain stuff, what's your diet?
I don't do the whole protein shake thing. That's not really something I've got my head around, I don't really understand it that much. Sometimes I'll get them in the gym or I will make them occasionally but I'm not into the religious need to eat protein.
If I'm running to a lunch meeting, I'm running to a lunch meeting. If I've got time to go home, I'll try and make something healthy. I won't go to the gym and then nail a pizza but, if I go to the gym on Sunday morning, I'm going to go and eat loads of food because it's a Sunday, and I'm going to the pub and maybe having a roast with friends.
It's just all about moderation.
Any tips on staying motivated for the gym?
Mixing it up. Not always doing the same thing, doing different classes, trying something like Zumba that's really fun but always really energetic and it still burns a lot of calories, and it's still really good for you.
So, you've led quite an interesting life, did you ever see or talk to the Duchess of Cambridge at school?
I didn't know her at school because she was older, but she was a day girl as well and I was boarding.
Who is your most famous contact in your phone?
Oh god, I don't think I have anyone famous in my phone.
Okay, so yourself then?
My mum...
You have some exciting projects coming up this year, can you tell us about anything or give us a hint?
Yes, we have, but just nothing we can give away.
The jewellery is the new thing, because that was only last week. That's launched now online.
There is stuff coming up, but we're not allowed to talk about it at the moment. But Zumba at the moment is kind of my thing.
**So you're a reality star, you have a fashion blog. What's next? **
I launched my second jewellery collection recently at Fortnum and Mason which is exciting, so that's kind of like my third baby at the moment.
I've got like my blog, the show, my jewellery. So for now I'm kind of just focusing on the jewellery. But I'd love to think about doing more fitness things in the future.
I love working out and it's just the whole lifestyle thing really.
To find a class head to Zumba.com.
You might also like to read...
Scarlett Johansson has shock reaction to news she's highest-grossing actress - with good reason
The internet is going crazy over this HOT granddad - would you date him?