Whether you're a health-kick newbie or a fully-fledged gym bunny, everyone who's ever tried to run a mile or do a single squat knows the importance of having a pair of leggings that won't let you down.
See-through, baggy and flimsy simply won't do - you need workout leggings that are well-made, squat-proof, with a heavy-duty waistband and that don't lose their edge when they're washed.
Closer's best gym leggings at a glance
Best overall: lululemon Align™ High-Rise Pant, £88, lululemon
Most comfortable leggings: CRZ YOGA Workout Leggings, £23, Amazon
As more and more of us undertake healthy activities, (such as swapping out our weekly treat for a healthy takeaway instead) brands have really stepped up their game when it comes to leggings. All leggings, though, are not created equal.
Luckily for you, we've pulled together the best gym leggings from some of the top brands around for all of these options, as well as some lesser-known brands that have received rave reviews online. Ready to meet your match? Let's do this.
SHOP: The best women's gym leggings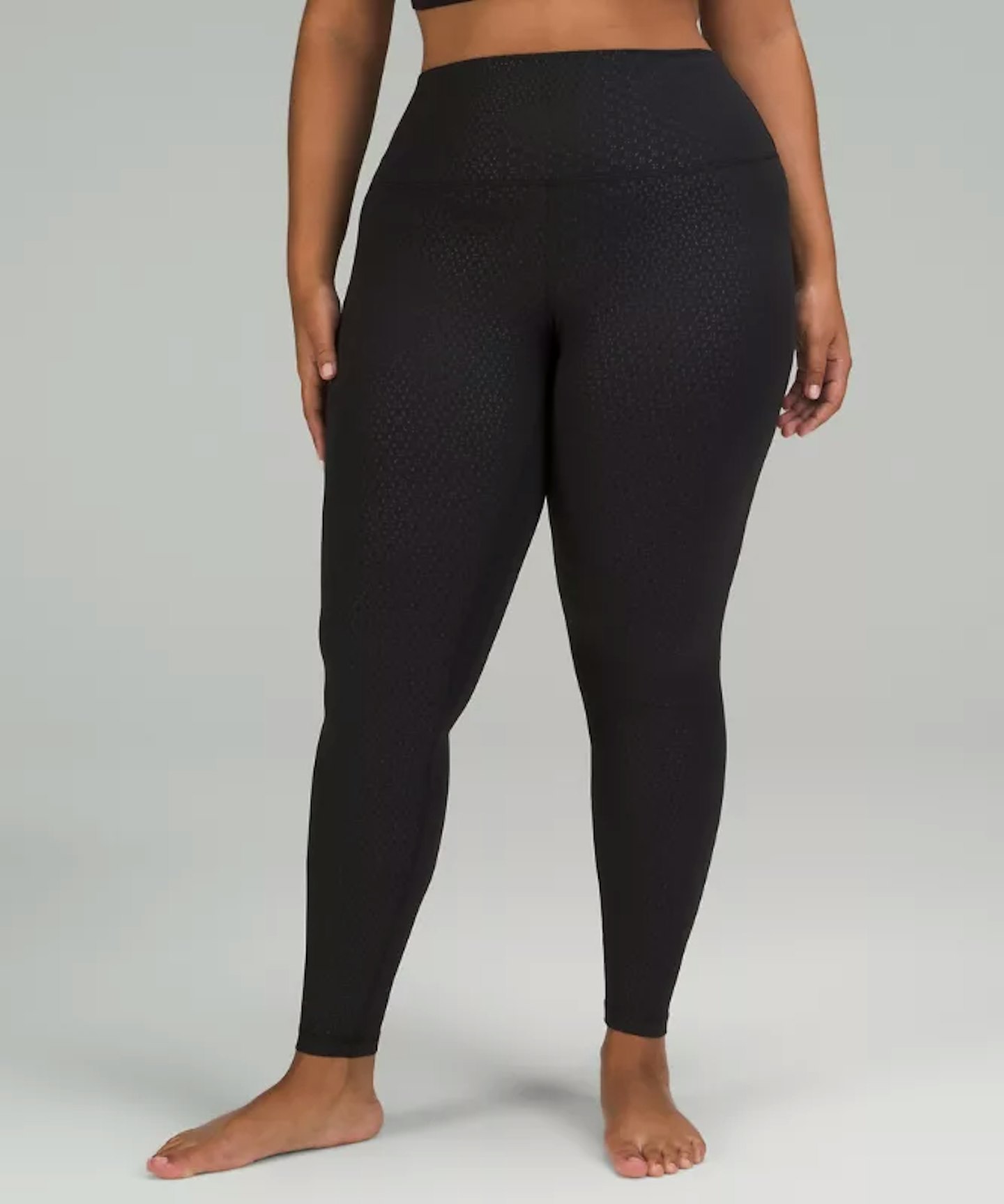 1 of 12
lululemon Align™ High-Rise Pant 28"
Best overall
Although they're pricey, Lululemon's Align pants have cult status in the legging world. With a hidden waistband pocket for your gym card or key and buttery soft fabric so delightful that you'll want to live in them if you can afford to splash out, they're worth it.
Sizing: True to size
Material: Nulu™ Fabric and Lycra®
Comfort rating: 10/10
Our review: "These are so comfy, like a second skin. They're intended to be worn for low-impact activity, like yoga, but if you wear them for more intense exercise, like running or indeed boxing, they are still a dream."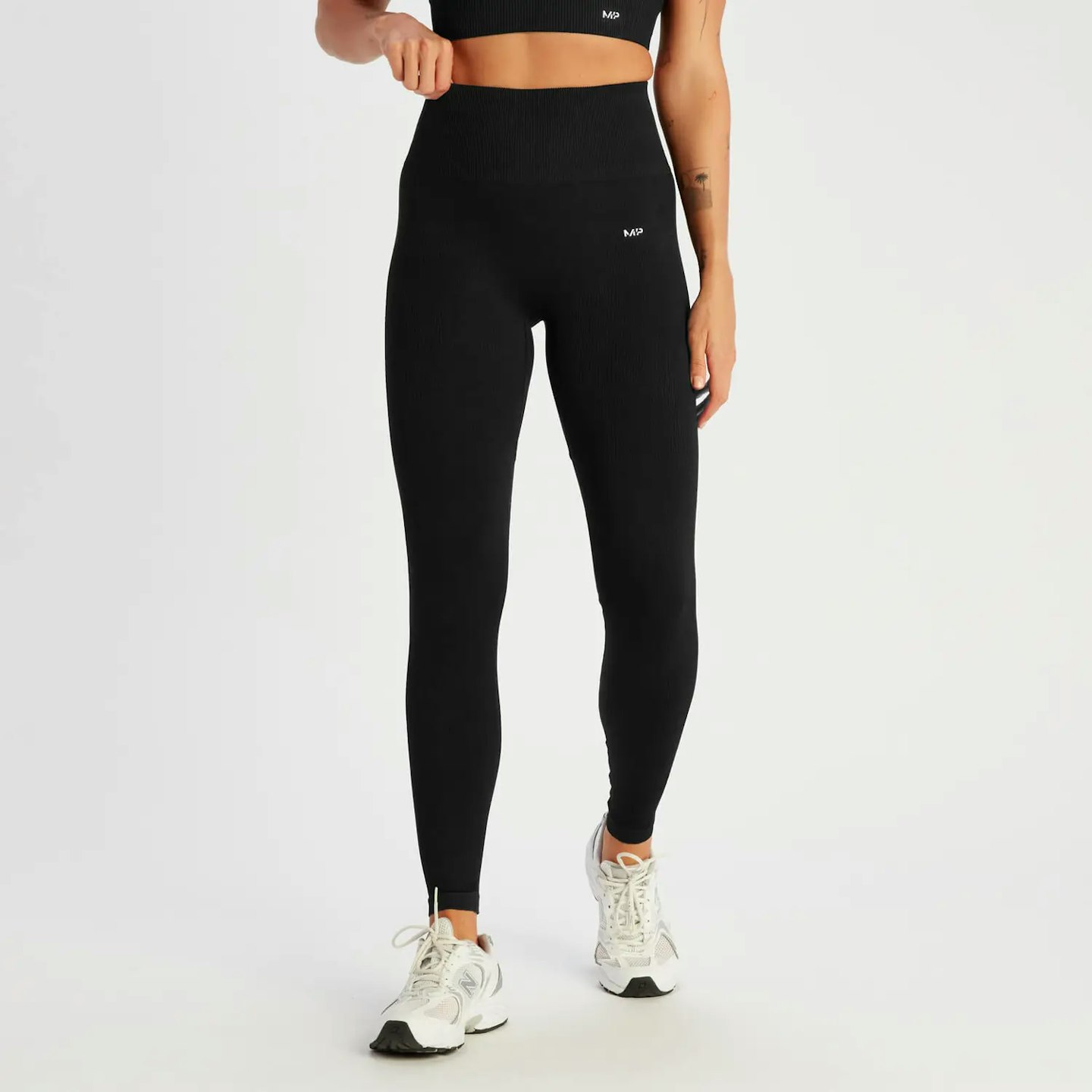 2 of 12
MP Women's Tempo Rib Seamless Leggings - Black
Best seamless leggings
These seamless leggings are thick but breathable, which is great for helping you feel supported in the gym. Totally squat-proof, they're made from recycled polyamide and are available in seven colours.
Sizing: True to size
Material: 92% Polyamide, 8% elastane
Comfort rating: 9/10
Our review: "You can immediately feel the high quality of these leggings - they're built to last. The waistband literally doesn't move, even through the most vigorous of workouts. They've got a good stretch to them and really hold everything in, although, on first wear, they feel a bit stiff. They do loosen up, though, after washing a couple of times and are now lovely and comfortable. They're true to size but a little long (our tester is 5"7 and folded up the bottoms a little), so check the measurements before ordering, if you're petite. The colourways are also lovely, so we might have to order in every shade!"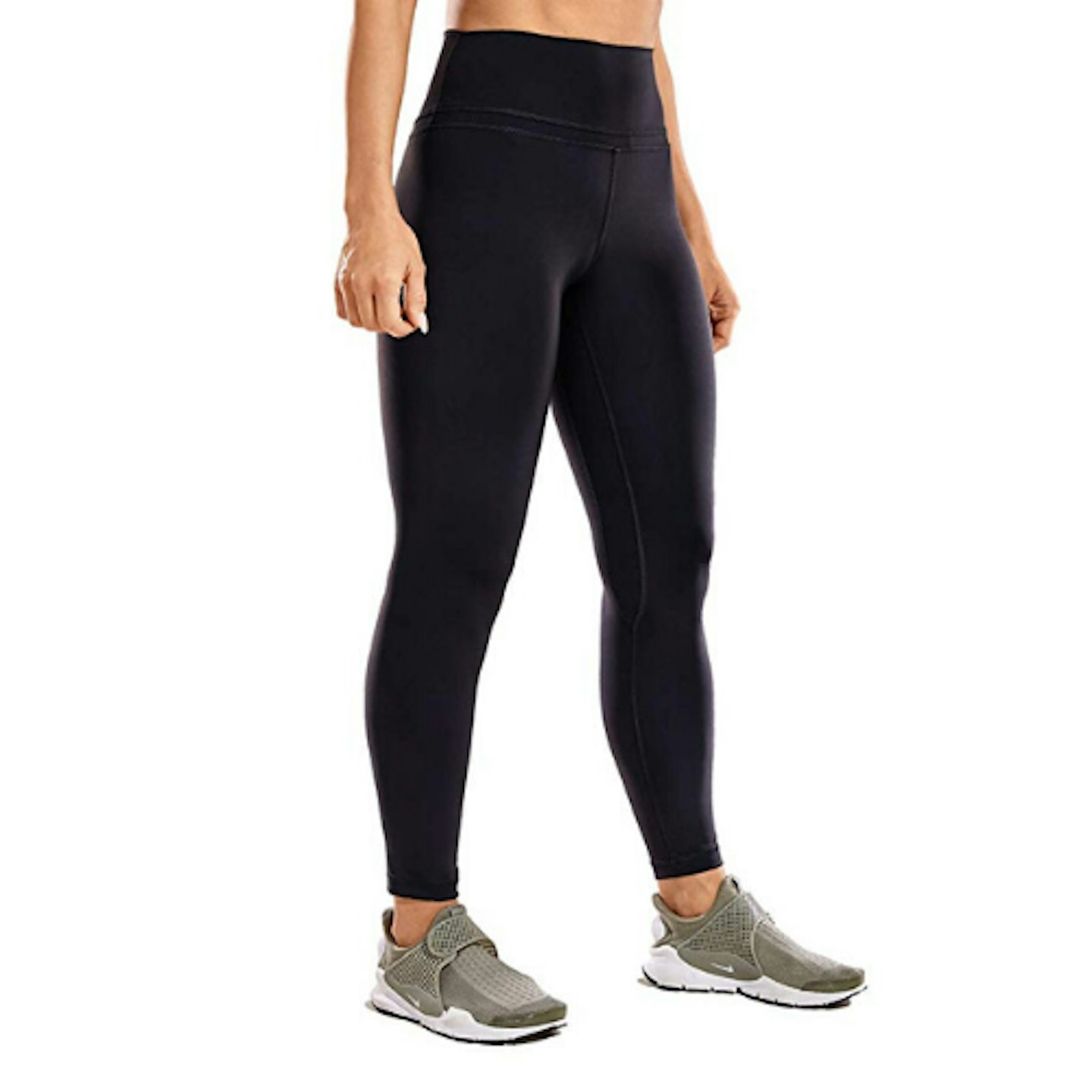 3 of 12
CRZ YOGA Women's Naked Feeling High Waist Tight Yoga Pants
Best leggings for comfort
Ideal for yoga, running, or just lounging, these leggings feel like a second skin. The material is more like a bathing suit than traditional leggings. While these aren't fully squat-proof, the elastic high waist means they don't budge at all.
Sizing: True. tosize
Material: 71% polyamide / 29% elastane
Comfort rating: 10/10
Our review: "These are, hands down, the most comfortable leggings I've ever owned. I got them in grey leopard print and they're SO flattering. I tend to wear black underwear with them but I think if you wore white you might see them through when you squat. Nevertheless, I am obsessed, and want them in every colour."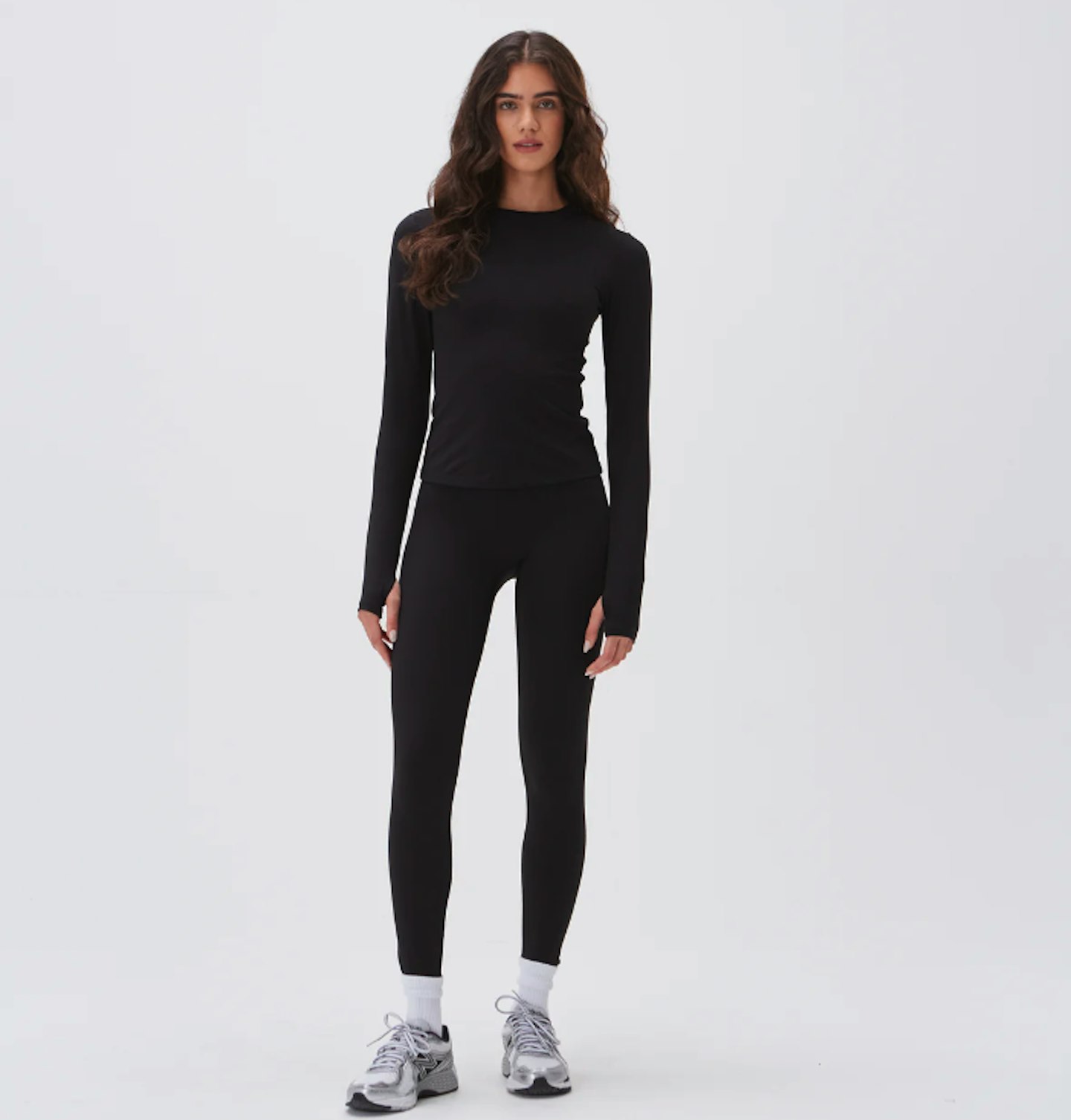 4 of 12
Adanola Ultimate Leggings - Black
Best all-rounder
If you're looking for a legging that can do it all, this is the one. From pilates to running errands, these comfortable, sculpting leggings will be your best friend for everyday wear. Designed without a front seam, there isn't a camel toe in sight.
Sizing: True to size
Material: 70% Nylon, 30% elastane
Comfort rating: 10/10
Our review: "These leggings feel like a second skin, they never roll down when you're working out and they're the perfect high-waisted length (our tester is 5"7). I basically live in them! They're true to size, buttery soft and squat-proof, but we'd recommend wearing black pants just in case. There are loads of colours available, so you can get a pair for every occasion."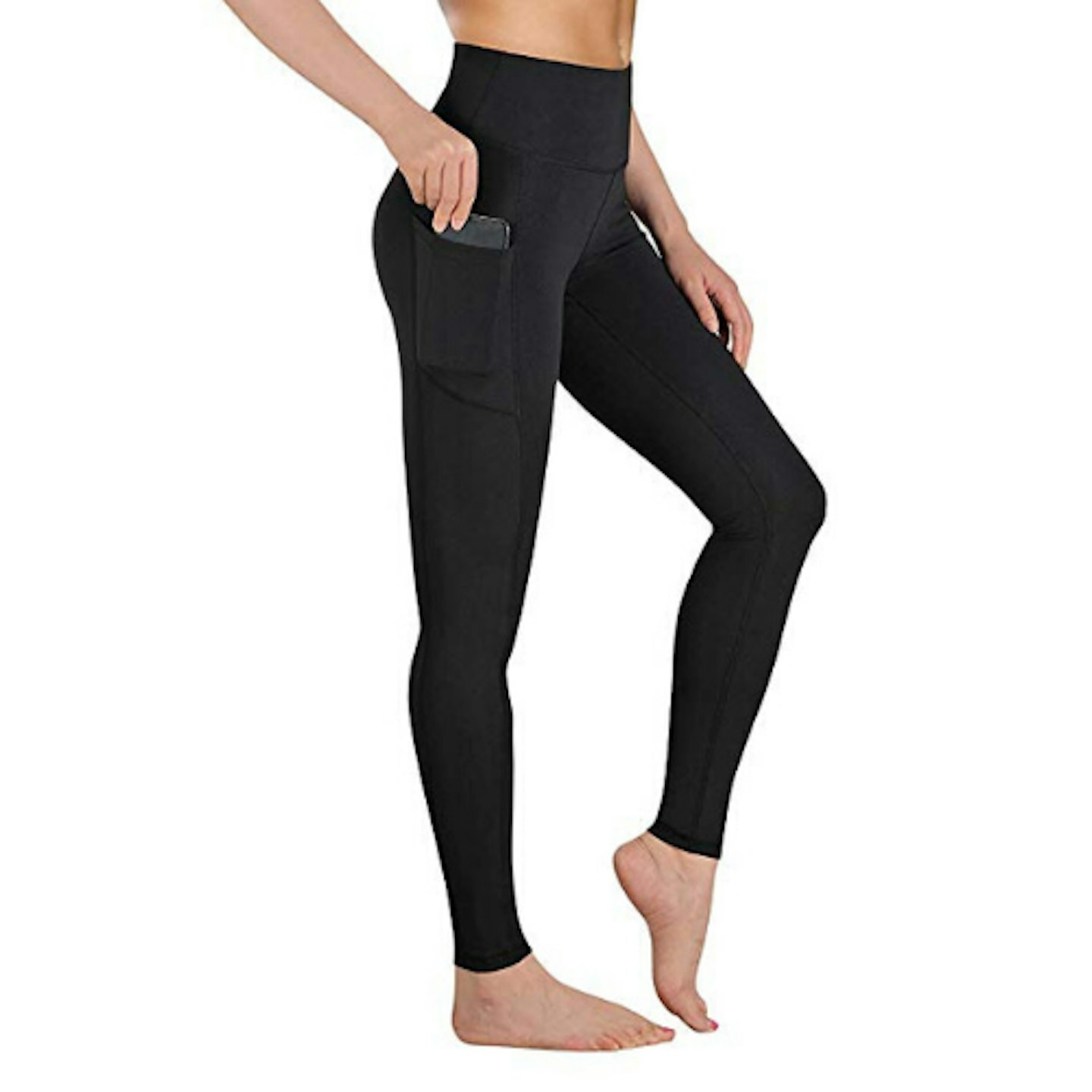 5 of 12
Gimdumasa Yoga Pants
Best high-waisted leggings
These high-waisted leggings are highly rated - and for good reason. The combination of the high waist and durable fabric means you feel secure and flattered. They're made of moisture-wicking material and are totally squat-proof. There are three pockets for your phone and keys.
Sizing: We'd recommend sizing down for the perfect fit.
Material: 75% polyester / 25% polyurethane
Comfort rating: 9/10
Our review: "If like me, you're always on the hunt for a good pair of gym leggings that double up as a loungewear item, these leggings should be on your radar. I always look for a pair of leggings that sculpt without feeling tight and uncomfortable and this pair definitely deliver. The high-waisted style is flattering yet allows you to feel extra support when working out. However, I'd recommend sizing down to get a true-to-fit pair."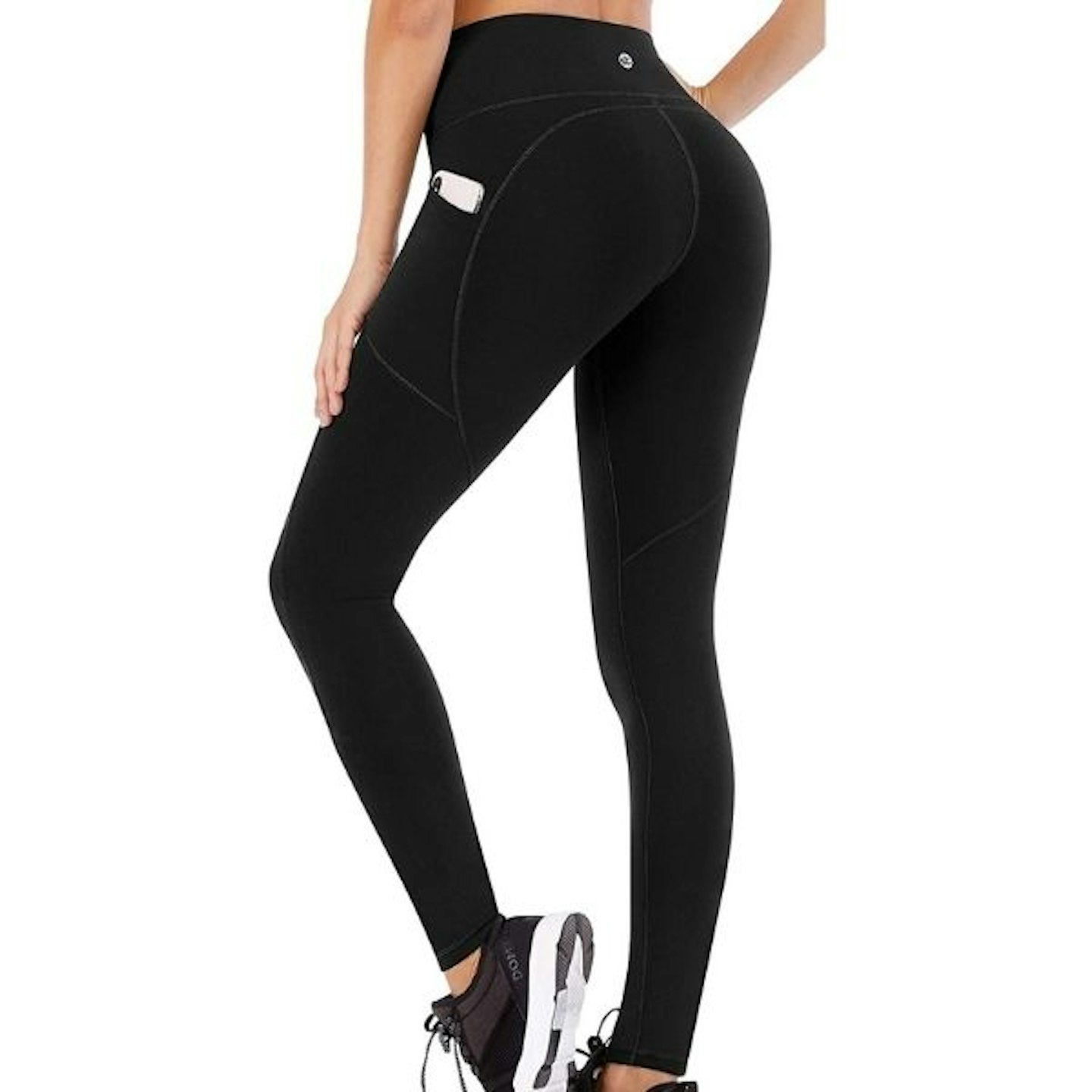 6 of 12
Ewedoos Yoga Pants for Women with Pockets
Best affordable leggings
Thanks to the non-see four-way stretchy fabric material, you can squat, stretch or do a cartwheel and this pair of leggings has got your back. The material is lightweight and breathable, and the comfort level is so high, you'll never want to take them off.
Sizing: We'd recommend sizing down for the perfect fit.
Material: 75% Polyester, 25% Elastane
Comfort rating: 10/10
Customer review: "LOVE these leggings and have just ordered two more pairs. I did tons of research and read all the reviews before ordering these, plus two other brands, all on Amazon. The whole order arrived in super fast time with Prime. These were by far the best of the ones I bought. They are a buttery soft fabric and super comfy. Not advertised as compression leggings but these are so flattering and great for holding in a tummy if you have one! Brilliant for walking, running, workouts and yoga and they wash perfectly. Pockets are a bonus; I couldn't be happier!"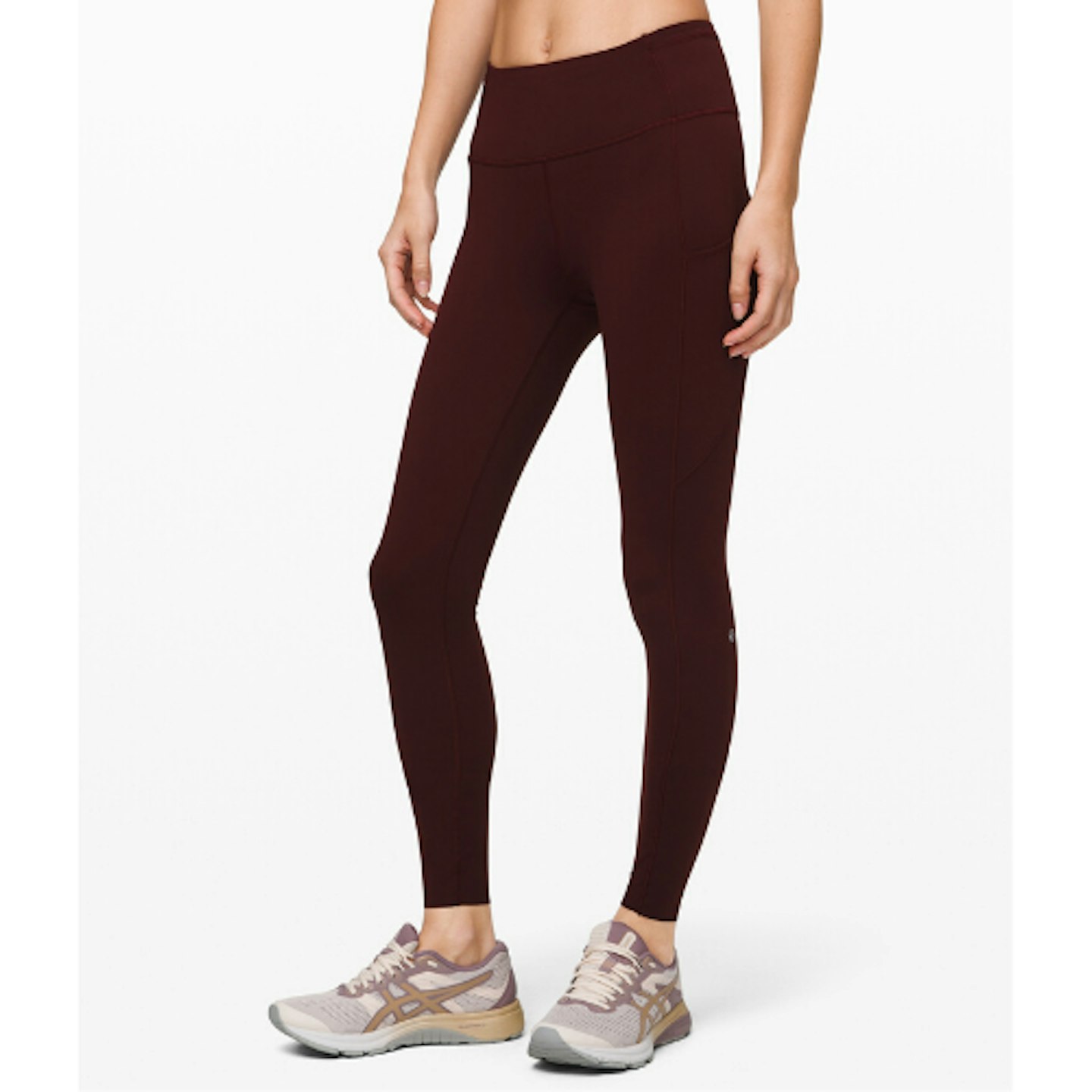 7 of 12
Lululemon Fast and Free High-Rise Tight 28" Non-Reflective Brushed Nulux
Best leggings for running
There's nothing more demotivating than when you're really feeling your run and you can't help but notice that your leggings are riding down. UGH. These Lululemon tights are designed to be distraction-free - weightless, comfortable and supportive. They have hidden pockets for your stuff and are also made of Nulux™; a sweat-wicking, quick-drying fabric that's brushed for warmth. They do run out of stock regularly due to their popularity, so keep this one bookmarked.
Sizing: True to size
Material: Nulux™
Comfort rating: 8/10
Customer review: "I love these leggings. They stay up, don't roll or move on the waist. I've trained and ran in them and they are the most comfortable leggings. I have the large iPhone and it fits in the pockets comfortably while I ran in them also."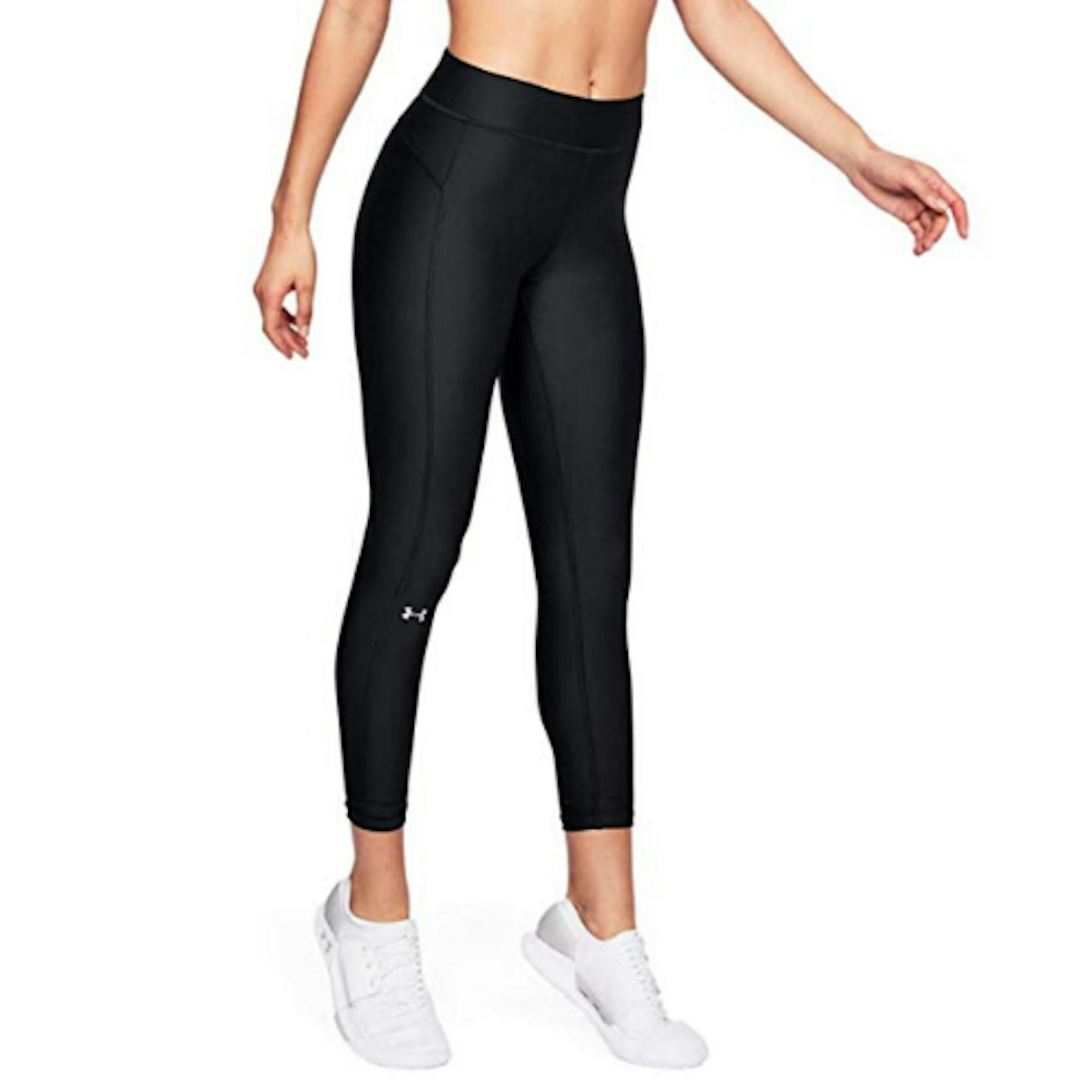 8 of 12
Under Armour HG Armour Ankle Crop Yoga Pants
Best 3/4 length leggings
If you prefer 3/4 leggings or are petite, these leggings will be the perfect length. Made from soft but durable material, they don't fall down - even when running and are SUPER comfortable.
Sizing: True to size.
Material: 87% polyester / 13% spandex
Comfort rating: 9/10
Customer review: "I love these Under Armour sports leggings, they're great for yoga as they have a high waistband and don't slip. They are a great fit and don't sag around the knees after use. I would definitely buy these again."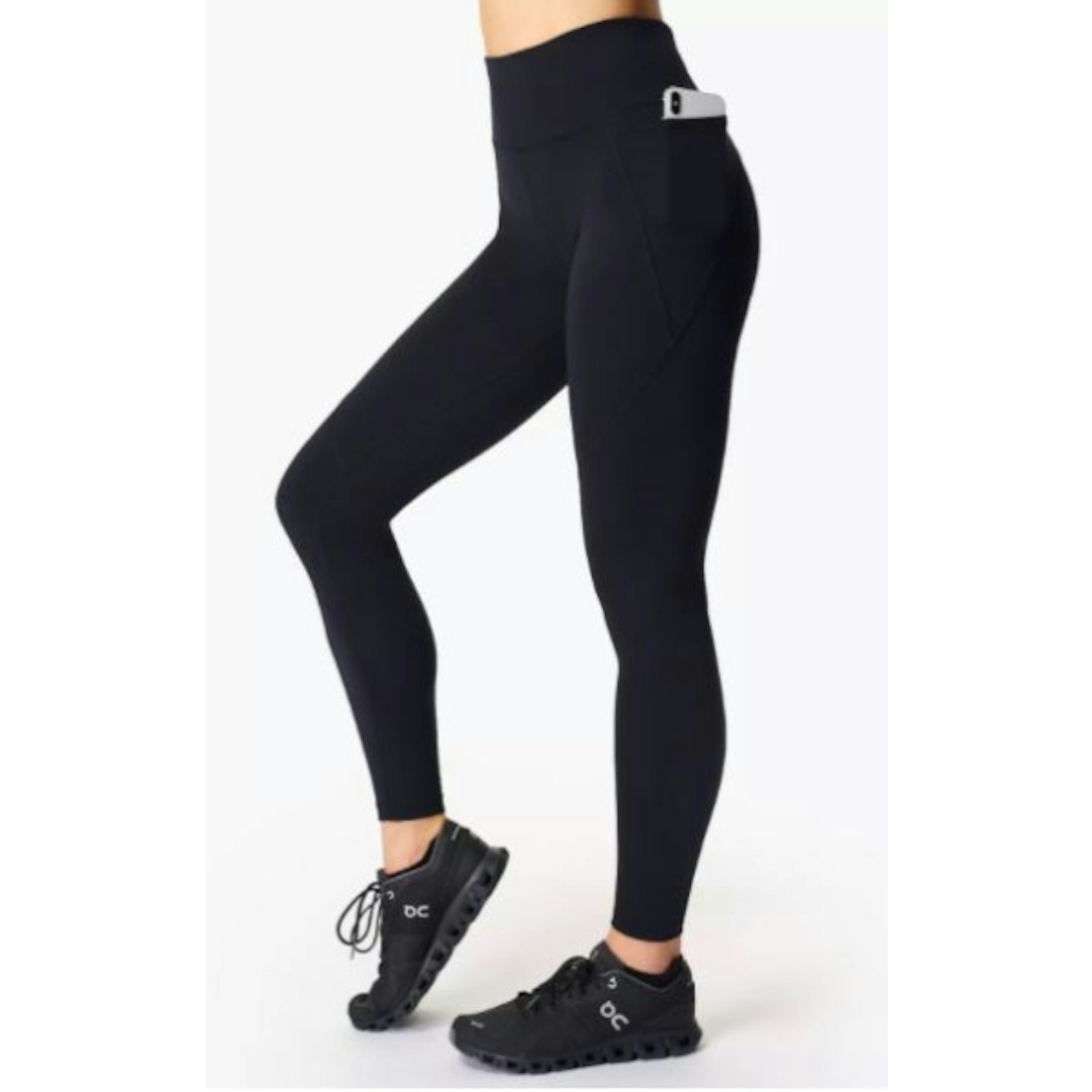 9 of 12
Power Gym Leggings
Best gym leggings for every exercise
From weightlifting to running a marathon, these Sweaty Betty gym leggings will help you cruise through any exercise. Their super stretchy fabric takes the shape of your body, and the flattering seams at the back make for a sculpted bum. The material is sweat-wicking and quick-drying for extra comfort, and the added side and back pockets are great for popping in keys or any other bits.
Sizing: Fit a little snug
Material: Polyamide elastane fabric
Comfort rating: 10/10
Customer review: "I bought these for gym classes and running. They're extremely comfortable and have a good level of compression. I'm 5'4.5 and they sit just above the ankle. The seam design is flattering and I'm so glad they have a side pocket - a must for me. Will definitely be purchasing more of these"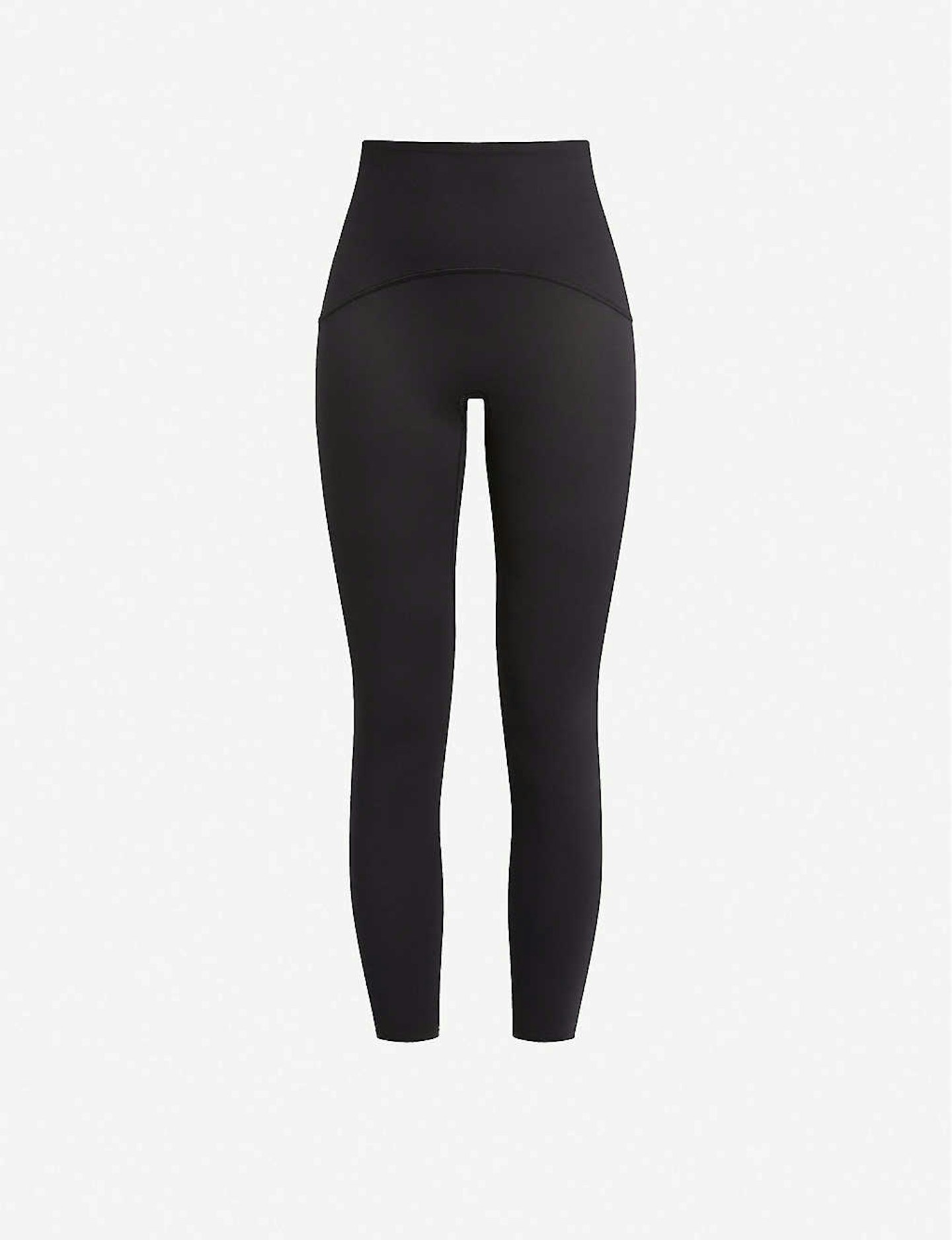 10 of 12
SPANX ACTIVE Booty Boost High-rise Stretch-jersey Leggings
Best sculpting leggings
These leggings from SPANX are perfect for uber-sculpted legs and bum, and they're totally squat-proof. We love the flattering high waist and they're nice enough to wear outside of the gym, too. You can also get a matching super supportive sports bra with criss-cross strap detailing for the full set.
Sizing: Runs a little small
Material: 60% nylon / 40% elastane
Comfort rating: 8/10
Customer review: "I can't recommend these enough! They are so comfortable and STAY UP! I have been complimented on them by so many women who have all made an order after seeing mine. Worth every penny!"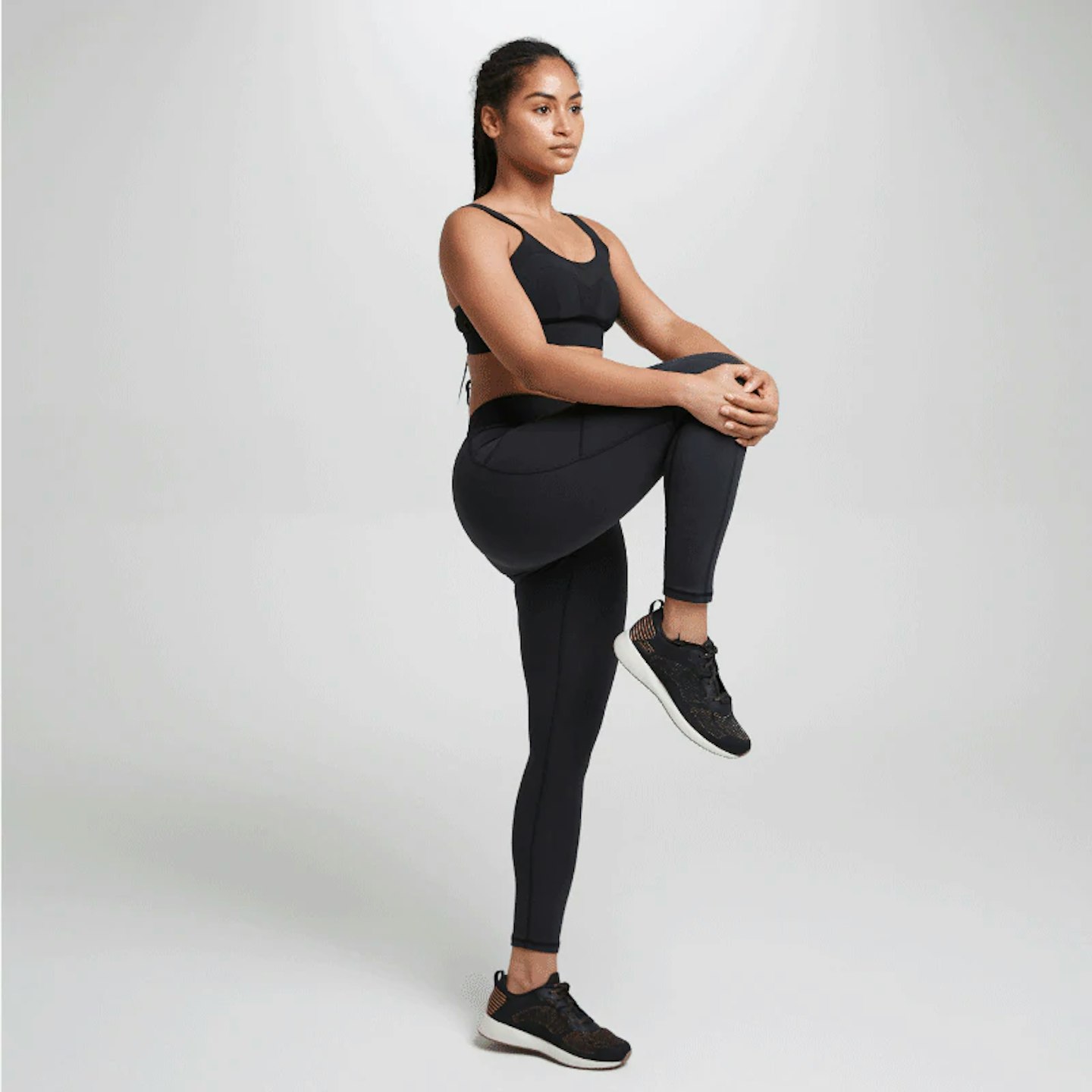 11 of 12
WUKA Perform™ Leggings
Best medium-flow period leggings
Made from eco-friendly recycled polyester, WUKA's period leggings have a lightweight, seamless fabric with a super absorbent hi-tech moisture barrier, making them period-proof and VPL-free. They're gorgeously soft, have a sturdy waistband that won't ride down, and have a neat pocket on the leg for your phone or cards. They'll hold 15ml of period flow or light leaks - around 2-3 tampons' worth.
Sizing: True to size
Material: Recycled polyester
Comfort rating: 10/10
Our review: "Perfectly sized and with a pair of period pants built in, they're ideal for those days when you want to go to the gym or for a run but need extra leak protection. They hold their shape even after washing, and I particularly like the pocket on the leg. They're a bit short, so might not be great for taller women."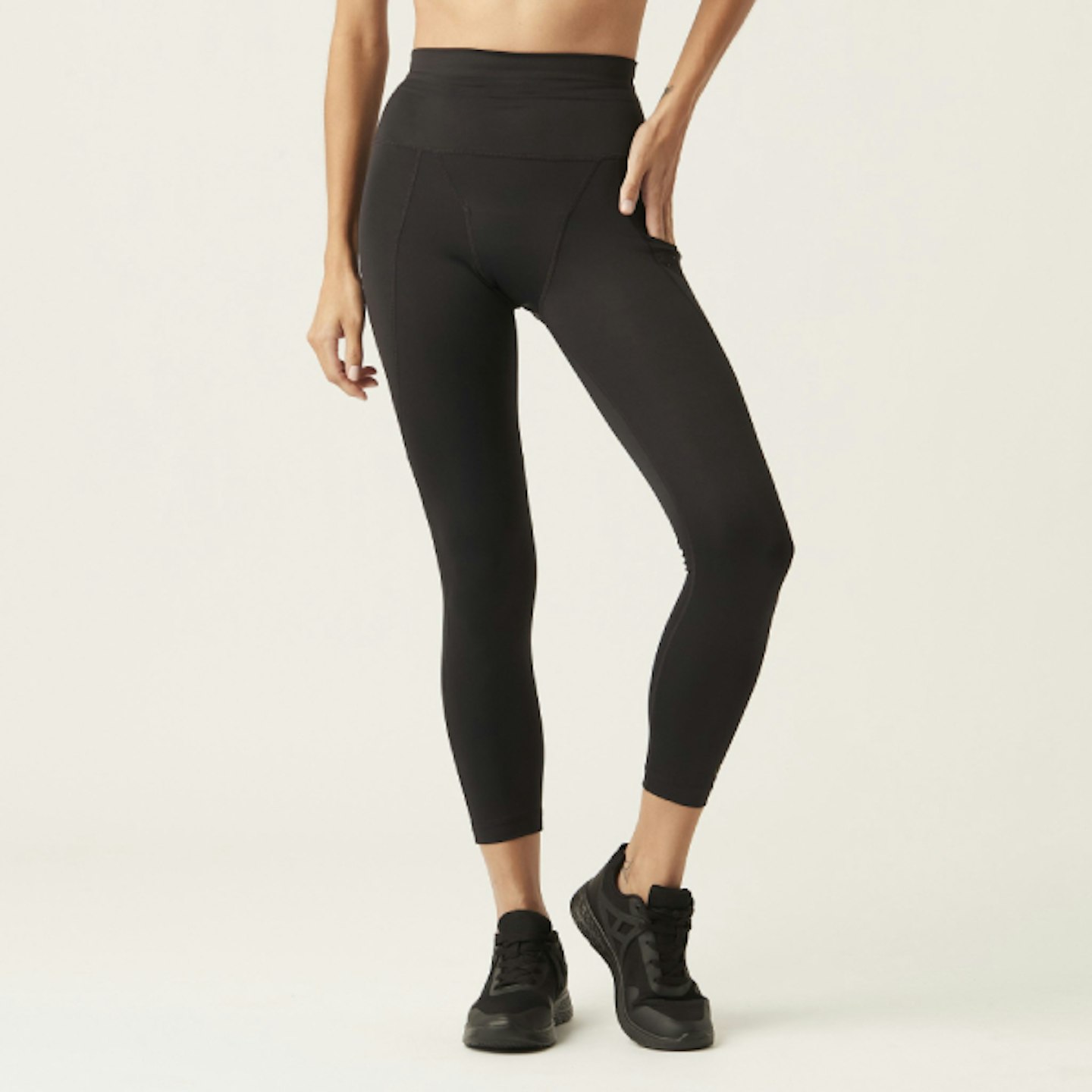 12 of 12
Modibodi 7/8 Recycled Active Legging
Best heavy-flow period leggings
Fear of leakage and general discomfort is a huge problem whilst exercising on your period, but Modibodi's period leggings are the solution we've all been waiting for. Designed with built-in 3mm Modifier Technology, these are perfect for solo use even on the heaviest days of your cycle. They will feel snug against your body, are super-absorbent and odour-resistant.
Sizing: True to size
Material: 78% Pre Consumer Recycled Nylon, 22% Elastane
Comfort rating: 10/10
Customer review: "I love these leggings. I love how they feel. They feel light and durable. The undergarment feels thick and secure, especially with the waistband. I feel it's full coverage and don't have to worry about leaks. The waistband doesn't roll down. I'm a medium in Modibodi underwear yet order large for shorts and leggings. I've ordered 3 pairs already :)"
What are the types of gym leggings?
An ever-growing market means that there are SO many choices to wrap your head around these days. Here are some of the most popular on offer:
• High-waisted
• Seamless
• Maternity leggings
• Petite
• Cropped
• 7/8 length
• Plus-sized
Benefits of wearing sports leggings
Improved performance
While joggers or sweatpants might feel as though they're designed for sports and running, in reality, leggings are truly made for the job. Giving you less resistance when you run, offering more comfort and generally looking great should help you to get that new PB or smash your current goal.
Compression
Gym leggings can also help with muscle recovery, circulation and metabolic waste. According to ACE Fitness, "the pressure from the tight clothing can improve circulation; specifically, the venous return of blood back to the heart, which helps remove metabolic waste from muscle and promotes the flow of oxygenated blood to help the tissue repair and rebuild".
Temperature
Sweatpants will make you do just that: sweat. Moisture-wicking leggings help to keep you at the right temperature as you workout, stopping you from overheating or getting too cold in the winter months.
Protection
Leggings and running tights will protect your skin from both the sun's harmful rays in summer, as well as cold winds in winter.
How do I choose gym leggings?
Size
It's important to check each brand's size guide before selecting your leggings, as they can all differ slightly. What's more, have a look at the reviews to see what previous customers think about the fit.
In our best gym leggings list above, we've tested them ourselves or checked this for you, but your experience may differ depending on your body shape.
Material
Most workout leggings are made from synthetic fibres like polyester and nylon, due to their sweat-wicking properties and ability to stretch. They dry out quickly, aren't susceptible to over-stretching and are lightweight. You may also see the addition of Spandex, Lycra or elastane, which puts the stretch into your workout gear.
If your chosen activity is light, like yoga, you can probably get away with cotton leggings, which are breathable and comfortable. Bear in mind, these do absorb moisture, so aren't really suited to heavy workouts.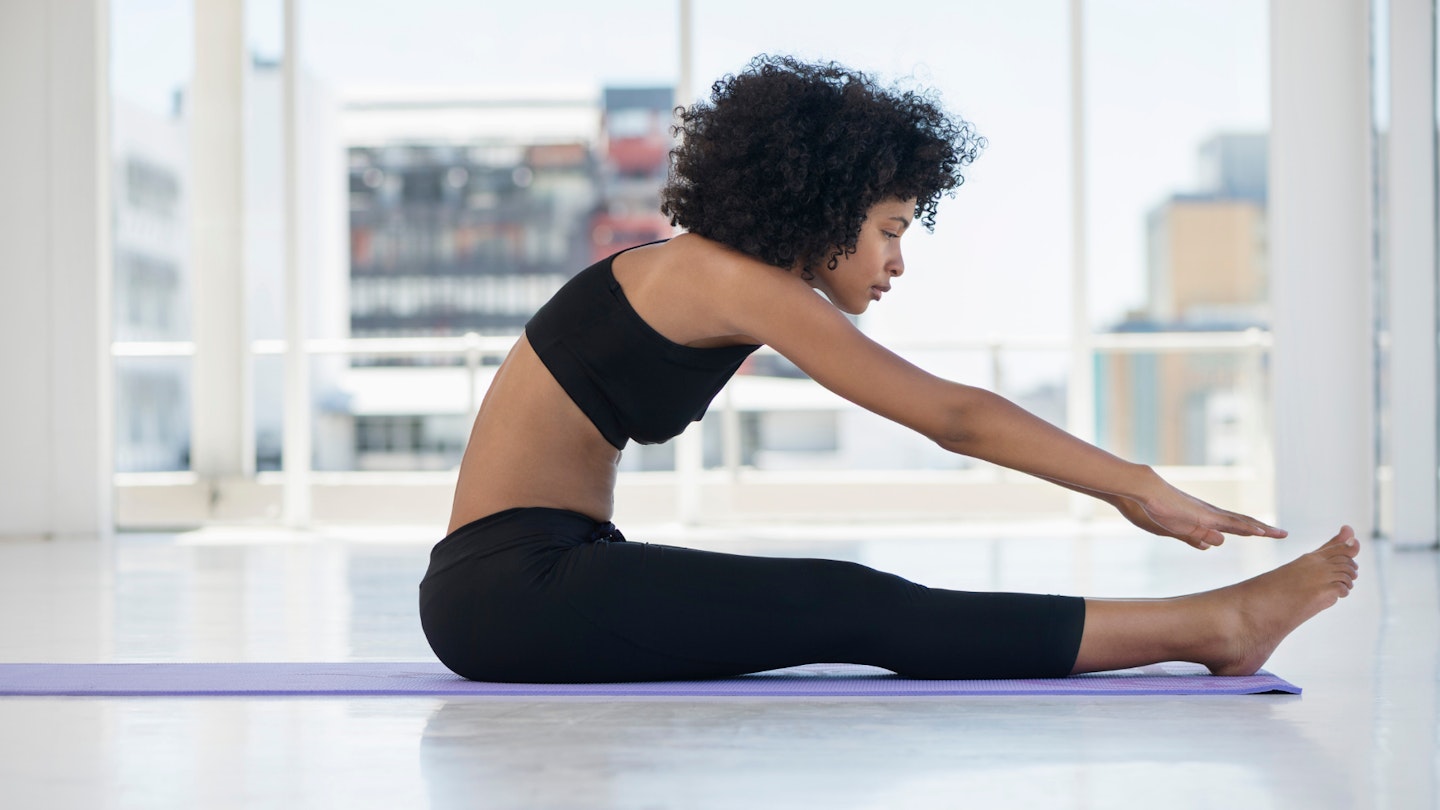 What should you wear under gym leggings?
If you're one of those people who hates a garish underwear line under your leggings, you're not alone. Sorry, granny pants - we love ya, but we don't always want everyone to know we forgot to do our washing that week.
If you wear a busier print, you shouldn't see the lines too obviously, or you could always opt for seam-free underwear, boy shorts or a breathable thong so that no lines will show.
Whatever you wear, make sure you feel comfortable - there's nothing more annoying than getting a wedgie halfway through your kick-ass run.